Looking for the Fight of the Decade? Start Your Search at 105 Pounds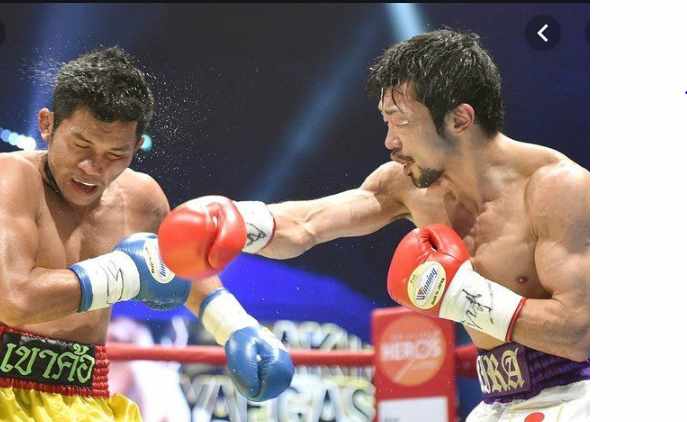 Looking for the Fight of the Decade? Start Your Search at 105 Pounds
Boxing is like any other product in that you must follow the money to understand how it works – but there is no unified theory, and for good reason. The rules that govern the money at heavyweight are not the same as the rules that govern the money at 105lbs, strawweight, minimumweight, once even "gnatweight", the much maligned often-named smallest of all the divisions. It is no coincidence that the failure of Deontay Wilder and Anthony Joshua to meet during their dual "reigns" over their division holds the temporal record. Such profligacy in the lower divisions would be unthinkable. As a general rule (for all that it's currently being flouted by divisional number one, Wanheng Menayothin), the top men at 105lbs can't afford to duck each other. Economics dictates that they must meet. As we shall see, even this does not guarantee riches.
As the 2010s run out and the fight of year argument is subsumed in the fight of the decade argument, most of the best contests at 105lbs will be ignored. That's unfair because 2010-2019 has seen some wars, two of which are stuck on contenders for the decade's number one spot. Here then, we take a look at three of the most splendid matches made at the 105lb limit in the past decade. Footage from each is linked in the clickable sub-heading for each of the three entries.
Pornsawan Porpramook  Vs Akira Yaegashi, October 2011
Akira Yaegashi, out of Kanagawa, Japan, would have a serious part to play in the machinations of the lower weight division and its most famous denizens throughout the decade, but back in 2011 he was just another Japanese boxer carrying a mediocre 14-2 record.
Against Pornsawan Porpramook, a Thai, he would be given the opportunity to prove he was something else. Porpramook (aka Somporn Seeta) had been a hot ticket in the 2000s but had come to a juddering halt when he reached title level, then surprised in overturning beltholder Muhammad Rachman in what seemed his last chance. Yaegashi would be his first defense and their combat would be one of the most extraordinary fights of this or any other decade.
The two were careful early, Yaegashi especially, circling while ruling with the most gorgeous and varied series of two-piece left hands; uppercut body/head; uppercut/left hook; double jab; hook down/up, up/down. Porpramook was set adrift by those punches.
Adrift, but making determinedly for shore. He couldn't quite cut the ring off on Yaegashi but he was able to catch him for fleeting moments and make him pay. He out-roughed and out-manned his challenger in those moments and Yaegashi, as would be demonstrated often in his late career, suffered from the dangerous and wonderful disease of machismo every bit as much as his Mexican counterparts. In spells, he began to meet and match Porpramook.
This all crystallised in round seven. This may or may not be the fight of the decade, but round seven was almost certainly the round of the decade; the two just stood in the pocket and traded for three minutes. There were no clinches. Nor was it inexcusably wild. It was just two men stood toe-to-toe trying to outthink each other. Again and again Yaegashi seemed on the verge of taking over – but Porpramook boxed incessantly, to the rhythm of a metronome only he could hear, slower than Yaegashi's but unshakable. When the Japanese hit him with four thudding jabs in a row, the Thai gave him a quick nod of respect and went back to work.
Most natural would have been for both men to seek rest in the eighth – instead, they did it again and it remains one of the most absurd, terrible, beautiful things I've seen in the boxing ring.  Yaegashi dominated while Porpramook waved him in. Then Porpramook landed a winging right hand and Yaegashi seemed, momentarily, ready to go. They ended a round that seemed to last six minutes tossing exhausted bombs ring center.
It couldn't last, and it didn't. In the tenth, Porpramook finally succumbed, rescued on his feet by the referee even as he tried to reorganize behind the jab and come again.
It's a fight that is remembered, but had it been staged in Las Vegas between two western middleweights it would be talked about by boxing fans for a hundred years; as it is the linked footage of round seven currently has fewer than 5,000 views.
Francisco Rodriguez Jr. V Katsunari Takayama, Aug 2014
For a short while during the past decade, Francisco Rodriguez Jr, out of Monterrey, Mexico, was the single best bet for making a great match. The kid came to fight, and within him beat the heart of a true Mexican. Rodriguez may have backed up occasionally, but it was only to bait his opponent onto a volley of sure punches.
Defensive flaws and a good chin guaranteed action packed rounds and in the shape of Japanese whirlwind Katsunari Takayama he found his perfect foil. Arguably the world's best 105lb fighter at the time of the contest, Takayama was also a volume puncher par excellence with the engine to make the nightmare real. No puncher, he overwhelmed opposition with sheer activity, forcing them to move, or trade.
Rodriguez chose trade.
Takayama literally ran from his corner at bell and the pattern for the fight was immediately determined: Takayama would move and flurry, Rodriguez would establish powerful left hooks upstairs and the two would share auspices to the body. The balance of combat here is exquisite.  Takayama will take a lead by virtue of his superior footwork. Rodriguez must endure but while he is enduring he must sap Takayama's strength, knowing, as he does, that Takayama can complete twelve rounds at this pace if he is unfettered – the benefit of carrying barely more than a hundred pounds to the ring – but not if he, Rodriguez, can execute punishment severe enough to bring him down off his toes and into a Mexican wheelhouse.
Rodriguez found him late in the second, uppercut and a right hand, the punch he needed to establish to win the fight. The steam Takayama answered with in the third spoke of his awareness but the left hook he walked on to for a flash knockdown made the fight a desperate one from the fourth.
There are no rounds less than scintillating in this fight, but of the those remaining, the sixth may be the most interesting and in it there are echoes of the seventh and eighth between Ponpramook and Yaegashi. Rodriguez tries to establish a pace as quick as Takayama's, to take away his volume advantage and for one minute he rules the fight. All the while, Takayama continues to deploy his punches as in the first five rounds and when Rodriguez, fighting at a pace unnatural to him, inevitably, wilts, Takayama once more takes control. Here the fight is won. Rodriguez must return to his left-hook heavy offense, lighter in number but heavier in artillery and nothing like enough to close the gap.
These are the two vintage 105lb displays from the decade and were it not for the rivalry between Rafael Marquez and Israel Vazquez, they arguably would have been number one and number two at any weight for this century.
Oswoldo Novoa vs Wanheng Menayothin, November 2014
As noted above, the current 105lb number one, Wanheng Menayothin, is shirking the top challenges within the division, but as challenger, he did not have that luxury. The beginning of his stewardship of his alphabet strap of choice began back in November 2014 with victory over the Mexican, Oswoldo Novoa. Novoa was the weakest of the 105lb strapholders and to tempt him out to Thailand to meet Menayothin, his promoter broke the bank – with a tiny purse bid of $170,000. Keep in mind that to pull the same trick up at heavyweight, Anthony Joshua's promoter had to pay Charles Martin an eye watering $5,000,000.
Fight fans who tracked this one down though, were rewarded with a spectacle. Not the equal of the two above wars, this was a high-class squabble from first to last, filled with surging exchanges and a ceaseless quest for dominance on behalf of both men.
Menayothin has rarely ventured into the top ten for opposition for his own defenses, but here, against the world's then number six, he proves the more compact, more technically assured fighter and hinted at the beginnings of something really special.
Novoa became increasingly desperate but he never shirked the brawl, even when in the eighth and ninth he started to ship three and four punch combinations instead of single shots; even when his strength abandoned him and Menayothin was able to lay upon him and work ceaselessly.
Novoa's corner finally pulled him from the contest, but for all that the concluding rounds were edging towards one-sided, his resistance, and the fight, remained stirring.
As 2019 trickles into 2020, the 105lb decade promises much and hopefully will deliver its fair share.  Missing these fights is all too easy with matches made in far-flung cities at all hours of the day and night but perseverance can bring reward – certainly one for noting is the possible match between Menayothin and Thammanoon Niyomtrong, the legitimate pretender to the number one throne and a man who shares his nationality if not his promoter.
Should it come off it will be a legitimate superfight east of India and more than likely a contender for all those "fights of the decade" lists you may choose to wade through in ten years.
Have a happy New Year.
Check out more boxing news on video at The Boxing Channel 
To comment on this story in The Fight Forum CLICK HERE
Garcia Promotions' Event in San Bernardino was a Showcase for Saul Rodriguez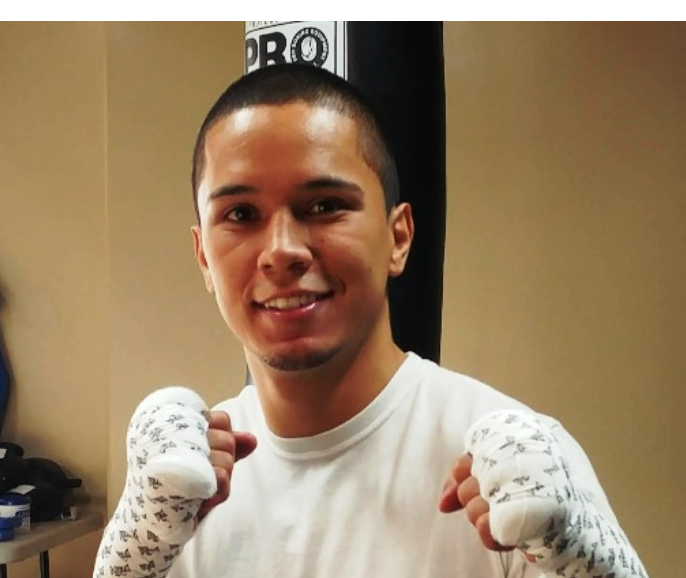 SAN BERNARDINO-Saul "Neno" Rodriguez, out of action for nearly three years, returned to the prize ring on Saturday in San Bernardino at the Club Event Center in a Garcia Promotions event. San Bernardino is in the Inland Empire which is two counties just east of Los Angeles.
Riverside's Rodriguez (24-1-1) weighed much more than the designated weight and his match with Mexico's Juan Meza Angulo was demoted to an exhibition because of the weight disparity. Despite wearing head gear, the popular Riverside fighter was able to stop Angulo (6-1) in his first fight since February 28, 2020.
Though Rodriguez looked slightly over-weight as a super lightweight, it didn't dampen his sharp punching skills. He immediately caught Meza with a well-timed overhand right. Luckily, Rodriguez didn't put muscle on it. The fight proceeded.
Because of inactivity, Rodriguez seemed to relish getting back to work. He moved around and tried different combinations. Everything seemed to be working in his favor. But Meza countered a left by Rodriguez with a strong right. It proved the popular Riverside fighter needs work on bringing back his left quickly.
After Meza connected things got serious.
Rodriguez immediately opened the third round at a quicker tempo and seemed intent on changing from a wait-and-see attitude to one of bad intentions. Meza didn't notice the change and looked to catch Rodriguez with a combo and instead was caught with a monster counter-right. Down went Meza with a thud. The fight was stopped.
Fans, many of them wearing Team Neno t-shirts, were deliriously happy to see Rodriguez back in action.
In the co-main event, San Bernardino's Leo Ruiz clashed with granite-chinned Cameron Krael.
Ruiz (11-0, 7 KOs) unloaded horrific bombs on Krael (19-25-3) who calmly kept his gloves covering his head and although some managed to connect flush, nothing fazed the Las Vegas fighter.
Round after round Ruiz unloaded on Krael only to quickly realize that attempting a knockout was futile. The reputation of Krael's chin was correct and no need to break a knuckle trying to score a knockout. Instead, Ruiz went six rounds and won every one to take a win by unanimous decision by scores of 60-54 on all three cards.
Other Bouts
Gabe Muratalla (9-0) knocked out Michael Nielsen (6-3) with a four-punch combination in the third round of a bantamweight fight. Body shots dropped Nielsen in the second round.
Ventura's Jose Delgado (10-1-4), a southpaw, overcome a sluggish start with body shots to defeat San Bernardino's Jesus Beltran (6-3-1) by majority decision after four rounds in a lightweight fight.
Riverside's Victor Pelayo (2-0) defeated Milwaukee's D'Angelo Hopgood (2-1) by decision after four rounds in a very close super bantamweight match. Both fighters showed solid fundamentals in a fight that could have easily been scored a draw. Pelayo won by decision 39-37 on all cards.
Riverside's Jose Rodriguez (2-0) stopped Henry Mendez (0-9-2) in the fourth round of a super welterweight bout. Mendez was deducted a point in the second round for incessant holding after numerous warnings.
Alexis Rocha KOs Brave but Overmatched George Ashie on DAZN.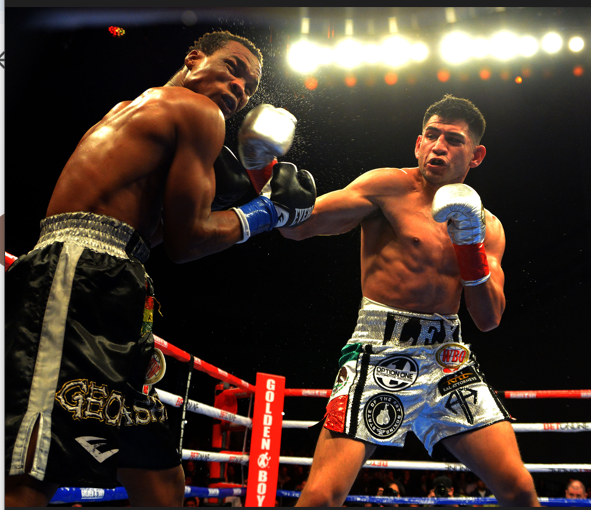 Golden Boy Promotions' potted their first offering of 2023 at the recently opened YouTube Theater, a 6,000-seat venue situated inside the stadium built to house LA's two NFL franchises. The main event was a scheduled 12-round welterweight match between Alexis Rocha, a southpaw from nearby Santa Ana and George Ashie, a 38-year-old Ghanaian making his U.S. debut. Ashie was a late substitute for Anthony Young who reportedly suffered a nose injury in training. The match and supporting bouts were live-streamed on DAZN.
Ashie, who was fighting above his normal weight class and carried a career-high 146 pounds, was brave but out-gunned. Rocha knocked him down in the third frame with a right hook and hurt him several more times as the fight progressed although Ashie never stopped trying. In round six, an accidental clash of heads left Rocha with a nasty cut on his left eyebrow. He fought with more urgency after this incident and knocked Ashie out cold in the next round. The official time was 2:08 of round seven.
It was the fifth straight win for Rocha who improved his ledger to 22-1 (14 KOs). After the bout, he expressed an interest in fighting Terence Crawford. Ashie fell to 33-6-1 (25).
Other Bouts of Note
Floyd "Austin Kid" Schofield, a precocious 20-year-old lightweight, had Albert Mercado on the canvas in the second round but was unable to put him away despite hurting him multiple times and went 10 rounds for the first time in his young career.
Schofield, the 2022 TSS Prospect of the Year, improved to 13-0 (11), winning 100-89 on all three cards. Mercado, a 35-year-old Connecticut-born Puerto Rican, declined to 17-5-1 but retained his distinction of having never stopped.
Super middleweight Bektemir Melikuziev, a 2016 Olympic silver medalist for Uzbekistan who lives and trains in Indio, California, overpowered San Diego's Ulises Sierra who was on the deck twice from body punches before the fight was waived off at the 2:59 mark of round three. It was the fourth straight victory for Melikuziev (11-1, 9 KOs) after suffering a stunning one-punch knockout at the hands of seemingly shopworn Gabriel Rosado with whom he is pursuing a rematch. Sierra was 17-2-2 heading in with eight of his wins coming in Mexico.
In a match framed as a WBO minimumweight title eliminator, Oscar Collazo (6-0, 4 KOs) scored an impressive fifth-round stoppage of Yudel Reyes. Collazo knocked Reyes down twice in the fifth round, the second with a vicious right hand that put Reyes down so hard that the referee didn't bother to count. The official time was 2:59 of round five.
In theory, Collazo's next fight will come against the Filipino Melvin Jerusalem who won the title earlier this month with a second-round stoppage of Masataka Taniguchi in Osaka. Reyes, a 26-year-old Mexican making his U.S. debut, declined to 15-2.
Photo credit: Al Applerose
Artur Beterbiev TKOs Anthony Yarde in a London Firefight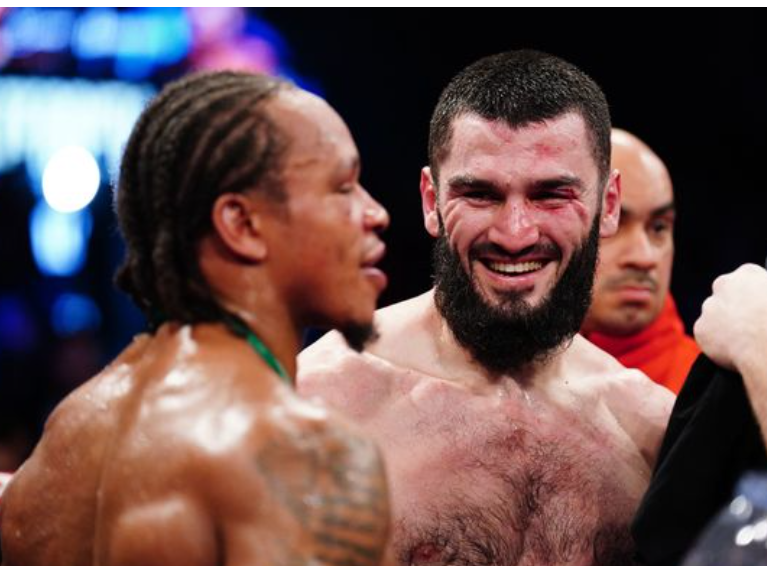 The presumption, echoed by ESPN boxing commentator Bernardo Osuna, was that tonight's bout at Wembley Arena in London between Artur Beterbiev and Anthony Yarde would be explosive and entertaining for as long as it lasted. That proved to be true and when the smoke cleared, Beterbiev, the rugged Montreal-based Russian had retained his three light heavyweight title belts and had added another knockout to his ledger, his nineteenth as a pro in as many opportunities.
Both men landed hard shots during the fight and both were marked up at the finish. Yarde had a cut under his right eye and Beterbiev had a cut on his left eyelid.
A chopping right hand from Beterbiev late in the first minute of the eighth round marked the beginning of the end for Yarde, the muscular 31-year-old Londoner who entered the contest sporting a record of 23-2 with 22 knockouts. The punch sent him reeling backward toward his corner where he landed on his knees. He beat the count, but turned toward his corner rather than referee Steve Gray.
Gray let the bout continue, but Beterbiev pressed his advantage and after a few more unanswered punches Yarde's trainer Tunde Ajayi stepped up on the ring apron and summoned Gray to stop it. The official time was 2:01 of round eight.
Beterbiev hasn't lost since losing a decision to amateur nemesis Oleksandr Usyk in the quarter finals of the 2012 London Olympics. At age 38, he shows no signs of slowing down.
In his post-fight interview, the self-effacing Russian said, "I hope some day I will be a good boxer," and acknowledged that he would welcome a unification fight with fellow Russian Dmitry Bivol, the WBA title-holder.
WBA Title Fight
In a bout that was in theory the co-feature but went off during the earlier portion of the ESPN+ livestream, Artem Dalakian (21-0, 15 KOs) retained his WBA world flyweight title with a unanimous and somewhat controversial 12-round unanimous decision over Costa Rica's David Jimenez (12-1). The judges had it 116-112 and 115-113 twice.
An Azerbaijan-born Ukrainian, Dalakian was making the sixth defense of the title he won in 2018 with a 12-round decision over Brian Viloria in Los Angeles in his lone previous appearance at a venue in the English-speaking world. His five title defenses were in Kiev. Jimenez was coming off a 12-round majority decision over Ricardo Sandoval in what ranked as one of the bigger upsets of 2021.
A Split for the Itauma Brothers
Promoter Frank Warren's newest signee, 18-year-old heavyweight Moses Itauma, made a big splash in his pro debut, blasting out Czechoslovakia's Marcel Bode (2-2) in 23 seconds. Moses and his older brother Karol Itauma are sons of a British citizen of Nigerian ancestry and a Slovakian mother.
In a shocking upset, Ezequiel Osvaldo Maderna, a 36-year-old Argentine who had lost six of his previous eight fights, forged a fifth-round stoppage of well-touted Karol Itauma who was 9-0 (7 KOs) as a pro coming in. Itauma ate numerous straight right hands before a straight right hand knocked him down for the count. The official time was 1:04 of round five. Maderna improved to 29-10 (11).
Also
The Frankham cousins, super welterweight Joshua and super featherweight Charles, improved their ledgers to 7-0 with 6-round shutouts over their respective opponents. The cousins are grandsons of John "Gypsy Johnny" Frankham, a former British light heavyweight champion.