The Top Ten Cruiserweights of the Decade 2010-2019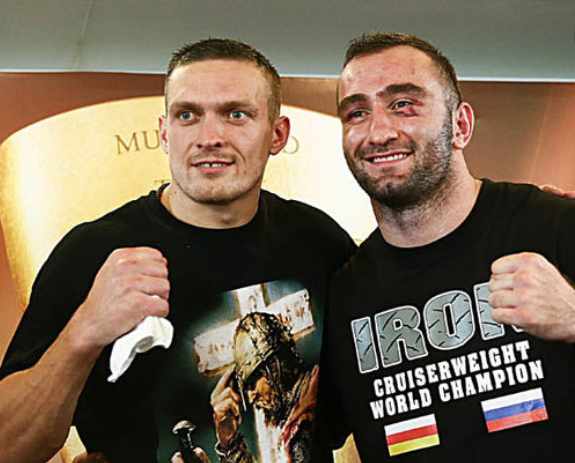 The decade of 2010-2019 was a great one for the cruiserweights and it is quite possible that in this divisional rundown of the ten best in each weight class, 200lbs will not be bettered. It was two eras, really, with one or two of the giants from the first throwing wild hooks at giants from the second as the decade roared to an end. Multiple lineal champions, quality contenders of varied styles and proclivities made it the finest decade for fights and fighters in the division's short history.
Rankings are by Ring Magazine until the inception of the TBRB in October of 2012.
10 – Ola Afolabi
Peak Ranking: 3 Record for the Decade: 8-4-1 Ranked For: 58% of the Decade
I suspect Ola Afolabi will be something of a controversial pick.
He shouldn't be. This man defined the term "road warrior" after the retirement of light-heavyweight Glen Johnson. British, born to Nigerian parents, he was a fighter who trained out of California but came out swinging in places as far flung as Argentina, Russia, and many spots in between. A chin hewn of titanium and an underrated jab saw him do damage on four different continents. That story began in earnest in 2009 when he got his first of four shots at cruiserweight Don Marco Huck and dropped the narrowest of decisions in an excellent fight. Treading water through the early part of the decade, he was re-matched with Huck in 2012.
That fight was probably the best of the year and among the best of the decade; Huck-Afolabi II was a heart-fueled war fought tight by two men made of granite. They may have delivered the best twelfth round of the century.
The wider context here is the result of the fight as seen by the judges, which was both gratifying and surprising in Huck's adopted German stronghold: a draw. Anything close would have been reasonable but Afolabi earned his share, the best result he would achieve against the Serbian tough in four attempts.
That draw and the fact that Afolabi over-achieved away from home is enough to get him to #10 here. It may sound thin but thin is enough; Afolabi's best cruiserweight win is over Rakhim Chakhkiev, a victory from an Indian summer interrupting what was at times a bizarre final act in his career. It objectively puts him alongside the likes of Tony Bellew and Steve Cunningham (who did most of his good work in the decade before) so that precious draw with Huck makes Afolabi one of the ten most accomplished cruiserweights of the decade.
09 – Krzysztof Wlodarczyk
Peak Ranking: 2 Record for the Decade: 16-2 Ranked For: 70% of the Decade
Diablo ("Devil)" was at the vanguard of the European assault on the cruiserweight division in the early part of the decade, a clever, adaptable fighter who was well tooled but battled physical limitations while establishing himself at the top of the division.
Neither particularly fast, strong, nor powerful, Krzysztof Wlodarczyk isn't even an elite counterpuncher in the truest sense of the word, rather he uses baiting footwork to invite opposition to pressure his space whereupon he launches left-hand heavy attacks led by the jab and a well-disguised hook. His underused right became something of a surprise weapon for him, almost by default. It rescued him against the likes of Danny Green, thousands of miles from home and behind on the scorecards. Diablo had some layers.
What he does not have is a deep resume for the decade, his best win a breakdown of Giacobbe Fragomeni in 2010. Fragomeni had been the recipient of a gift in the form of a draw the year before and in the rematch the Pole seemed determined to robe the judges of their responsibilities. In a signature performance he dominated with mobility and jab before introducing hurtful punches which had a terminal cumulative effect. Disciplined and controlled and only allowing himself to fight with more commitment when he had his opponent off balance or out of step, Wlodarczyk stepped up the pain and the pressure in the seventh to earn his stoppage win.
2013 was his prime year and included a curbstomp of anointed prospect Rakhim Chakhkiev but he could not stem the tide; Grigory Drozd and then Murat Gassiev found him, forcing him to make way for a new generation. He is still active though – and well-handled prospects still give him a wide-berth.
08 – Yuniel Dorticos
Peak Ranking: 2 Record for the Decade: 22-1 Ranked For: 34% of the Decade
Here then is the first entry from the second era of the decade, Cuban puncher Yuniel Dorticos, although it should be noted that he started boxing professionally way back in 2009. It's been a long and winding road for the Miami resident who has taken a relaxed route to the top but whose patience is now revealing the counterpunch. He meets Mairis Briedis in March to determine who is the first best cruiser of the new decade in a fight that is not to be missed.
Dorticos graduated against Youri Kalenga, an established fighter and a juddering puncher in his own right.  Joyfully, Dorticos confirmed himself as a boxer of direct aggression up against top-line opposition just as he was in dusting journeymen; his work also carries a pragmatists streak, however, and he recognizes advantages and actions them accordingly. Dorticos is listed at 6'3" with an 80" reach and so sometimes uses the backfoot.
He moved through the gears after Kalenga and Dmitry Kudryashov (his next opponent) to face Murat Gassiev in what was another wonderful fight but was also a step too far for Dorticos. Gassiev eventually broke the Cuban and sent him spilling through the ropes but not before he had swallowed bomb upon bomb and proven his chin and heart both. Rebounding since that lost with two wins against fighters ranked in the top five (Mateusz Masternak and Andrew Tabiti), Dorticos showed ambition to match that heart and chin.
07 – Krzysztof Glowacki
Peak Ranking: 3 Record for the Decade: 23-2 Ranked For: 37% of the Decade
Krzysztof Glowacki emerged from Poland to replace Wlodarczyk as his country's premier cruiserweight and soon had overhauled him, becoming one of a stacked division's preeminent fighters. In a 200lb class stuffed with deluxe brawlers he was, for a time, the best.
He proved it most dramatically by out-thugging Marco Huck, nearing the end, but still venomous in a throwdown, dangerous enough that he held a narrow lead at the opening of the eleventh round.  Glowacki, technically unequal to the task of out-fighting Huck, had invested heavily in the body.  Gradually, ominously, Huck's hands began to drop to try to keep those booming hooks from his ribs and gut. Huck had been beaten just once that decade, in a questionable decision up at heavyweight, and to watch the younger, less experienced, but more substantial Glowacki crumble Huck's battlement was one of the great sights of the decade in any division for those paying attention. There seemed a dreamlike inevitability to it which certainly had not existed at the first bell and when Glowacki landed a delightful little short right traveling up and through the head behind a grazing left-hook it made a strange kind of sense.  Huck survived that knockdown – they say the power is the last thing to go, though often it is the heart – but no man would have survived what Glowacki brought behind it. It was a minor upset and a true passing of the torch, from one streetfighter to another.
In his very next fight he devastated another old man, burying Steven Cunningham –39 and confusingly matching a fighter who is the very definition of nightmarish for an ageing warrior – under a barrage of knockdowns and picking up a decision, before running afoul of Oleksander Usyk. There is no shame here but when, after beating number five contender Maksim Vlasov, he was stopped in three rounds by Mairis Briedis in a rough fight, there was a sense that he had found his level – better than most, but not capable of hanging with the very best.
Hence, number seven.
06 – Mairis Briedis
Peak Ranking: 1 Record for the Decade: 25-1 Ranked For: 28% of the Decade
That Mairis Briedis is ranked outside the top six is indicative of just how strong this list of ten is. I'll wager that no other weight division has a number six of this quality.
Briedis is iron-hued. He reportedly took some of Wladimir Klitschko's finest punches in sparring without giving ground. A stylish and skillful boxer, he has delivered nineteen knockouts for his twenty-six victories and lost just a single contest, a majority decision where Oleksandr Usyk defeated him by a single point.
That, alone, is enough to get him on the shortlist, but Briedis has done fine work. He landed on the division in earnest in 2016, beating up a fellow prospect who had achieved contender status in the shape of Olanrewaju Durodola. It was a performance that oozed confidence and seemingly belied his limited experience although even as he (somewhat controversially) closed the show in a hurtful ninth round, Briedis seemed perhaps a little short of gas.
In light of that fact I was a little surprised to see him matched with Marco Huck little less than a year later.  Huck was on his way down the rankings, Briedis on his way up, but if ever there was a veteran possessed of the ability to make an inexperienced fighter short of stamina pay it was Huck. I needn't have worried. This was the fight where Briedis showed his left hand as directly comparable to that of Usyk, taking a clear decision over his veteran foe all while smothering Huck's offense and coping with his rougher tactics like a ten-year veteran
Briedis came up short against Usyk of course, barely, but has since dispatched no less a figure than Krzystztof Glowacki in three rounds. That, probably, was Briedis's best win and it leaves him poised to become the pre-eminent cruiserweight of the next decade should he master Dorticos in March.
05 – Yoan Pablo Hernandez
Peak Ranking: Ch. Record for the Decade: 9-0 Ranked For: 43% of the Decade
In a sense, Yoan Pablo Hernandez was the decade's big disappointment. A product of the Cuban amateur system and German professional promotion, he was a strange mix of schooled and staid in style, borrowing from both boxing cultures and his southpaw right jab was a noted punch.
Lineal champion in the first part of the decade, Hernandez suffered badly with injuries and even illness.  Plagued by knee and elbow problems he spent the best part of a year sat out and plotting his comeback after a rather flat 2014 win over Firat Arslan. It would be his last. He never returned to the ring.
He had been dazzling, however, against Steve Cunningham in 2011 with the legitimate cruiserweight title on the line. A consummate boxer, Cunningham sought to move his way through that fight but Hernandez controlled him with superb footwork, keeping his toe outside of Cunningham's left foot almost throughout while dropping an excellent jab to the body.
In his rematch with the deposed champion, he staged the best performance of his career and one of the finest in the divisional decade, battering Cunningham to a virtual standstill in the fourth and coming within a hair's breadth of stopping him, the star punches a right hook to the body and a two-piece built from a jab and uppercut.
Hernandez's resume for the decade isn't particularly deep with victories over Troy Ross and Firat Aslan probably his next best; he wasn't always as glittering as he was that second night against Cunningham either and it seemed for every such performance there was a Steve Helerius where he remained in control but perhaps not imperious.
Still, he was the lineal champion and a very good fighter. It is hard to picture the top five without him.
04 – Denis Lebedev
Peak Ranking: 1 Record for the Decade: 13-3 Ranked For: 88% of the Decade
Denis Lebedev is arguably the definitive cruiserweight puncher for the decade and is certainly the definitive survivor. No man was ranked for more weeks than the Russian, who managed to hang on for nearly nine of the ten years at hand, something both unusual and impressive.
He has been around long enough to have beaten up an injured James Toney and obliterated an out-gunned Roy Jones in 2011 but also to have staged a failed comeback attempt against current #8 contender Thabiso Mchunu just last year. In the trunk of his career he lost two fights: in 2010 he was unlucky to drop a desperately close split to Marco Huck in his German stronghold. Six years later he met fellow Russian Murat Gassiev, the "new Huck" in many ways and was unlucky once more in receiving the stiff end of the decision.
Lebedev was robbed in neither contest, but I preferred him in both. Huck was given the benefit of the doubt in three close rounds on my scorecard and I saw the result, still, as a draw. Against Gassiev I had it to the older man by a single point despite his being dropped heavily with body punches. These narrow, narrow losses hurt Lebedev. Had he won both, he would have been unbeaten for the decade, that disastrous comeback aside, and would have a case for making the #1 slot; had he won one or the other, he would rank above the defeated man. On such tiny margins do legacies turn.
Still, those close losses speak for him somewhat as do wins over Kalenga, Pawel Kolodziej, Toney, Jones and, best of all, a brutal second round dispatch of Victor Emilio Ramirez.
03 – Marco Huck
Peak Ranking: 1 Record for the Decade: 14-4-1 Ranked For: 71% of the Decade
Second only to Denis Lebedev for longevity of relevance, Marco Huck's name resounds throughout the decade as one that matters.
In honesty though, he needed that decade to build his legacy; Huck has done more than the likes of Briedis but needed twice the time to organize it. His impact in the second part of the decade was very limited. The made men who fell to Huck fell during the first half of the decade when he was in his fearsome prime.
And what a prime it was. Huck's rambling offense looked disorganized but was anything but and there was no fighter more skilled in the art of the wait. Patience is a commodity much less valuable since the reduction of the championship distance from fifteen to twelve rounds but Huck, from very early his career, had the smarts and the guts to make it work. The benefits were many but chief among them were that he carried his power and his workrate late into fights and his sense of when his opponent was beginning to give was as well developed as his strategic timing. With the possible exception of Usyk, nobody ever had Huck completely and finally beat; there was always the chance he might rally and crush a tiring opponent.
Lebedev was probably the finest scalp Huck took in his pomp, but Afolabi and Firat Arslan both succumbed more than once to Huck's guile.
The second half of the decade though, overall, was not a success. Glowacki cracked him in eleven rounds, devastating his mystique; a relatively unimpressed Briedis outpointed him by distance; then Usyk put a bitter beating upon him.
Huck was my first choice for the second slot but a closer look gave me a feeling, despite his longevity as a contender that he was making up the numbers from around 2015. Still, a powerfully impressive first half of the decade secures him the number three slot.
02 – Murat Gassiev
Peak Ranking: 1 Record for the Decade: 26-1 Ranked For: 29% of the Decade
Murat Gassiev was ranked for a fraction of the time that Huck was ranked for, but only once could he have been considered a true underdog. Gassiev was Huck plus, patient in the stalk but both more powerful and precise in the punch.
The year after his razor-thin defeat of Lebedev, Gassiev found himself in the ring with another veteran in the shape of Wlodarczyk, still clinging on to a top ten ranking and still respected enough to command a berth in the cruiserweight World Boxing Super Series tournament. As detailed above, Wlodarczyk, like Lebedev, like Huck, had all the necessary qualities to torture a less experienced foe. Gassiev steam-rolled him. He was thoughtful about it; he felt his man out – but in the end, he just bombed through him.  The body punch that ended matters was hard enough to end all resistance but casual enough to strike fear into the hearts of lesser men.
Yunier Dorticos though, didn't box scared against Gassiev when the two met early in 2018 but Gassiev sat down on his work in the second half of the fight and finally dumped his game opponent out of the ring and onto the apron in the dying seconds of the twelfth. He had turned in two winning performances against two elite cruisers in back-to-back contests and when the match with Usyk was made that summer the boxing world appeared to have the fight it most wanted to see.
In fact, it proved a mismatch. Usyk summited to greatness that night and Gassiev found himself scrambling around in the foothills seeking survival rather than victory. Injury has since robbed him of heavyweight riches.
Nevertheless, he was a prestigious puncher at the 200lb limit and seemingly impervious to the violent attentions of elite opposition. Gassiev isn't locked at number two, and Huck, certainly, has a very reasonable case for being ranked above him, but in the end I've been more forgiving of Gassiev's failure to beat Usyk in his prime than Huck's failure to beat Glowacki, Briedis and Usyk just past his.
01 – Oleksandr Usyk
Peak Ranking: Ch. Record for the Decade: 17-0 Ranked For: 46% of the Decade
I'm unsure how many undisputed decadal number ones we will run into in the course of this series, but I do know that Oleksandr Usyk is one.
Marco Huck, ranked number three here, made the bad mistake of making things personal with Usyk in the run-up to their September 2017 contest. That is the Usyk fight to watch or re-watch if you want to see him at his most vicious. Not a noted puncher but one who hit often and hard enough to mix his man's mind, Uysk is happy with a decision as a general rule but it was clear in the case of Huck that he coveted the stoppage. So motivated, he turned the trick more quickly than the brute Glowacki, taking him out in ten, faster than any other fighter. Tony Bellew, too, who returned from his adventures at heavyweight late in 2018 to confront Usyk, felt the full wrath of Usyk's most full-blooded shots, succumbing in eight.
But it is as a boxer, not a puncher, that he has most excelled in the second half of this stacked decade, most of all (and in doing so proving his indisputable supremacy over the field) in his defeat of decadal number two Gassiev. Usyk completely outclassed Gassiev, turned his stalking style against him with deluxe footwork of the highest order that saw the division's premier puncher reaching for nothing.
Briedis stretched him further with that cultured left-hand and smarts on defense closing the gap but dropped a decision, nonetheless. Throw in wins that had something of a routine feeling over divisional strongmen like Huck and Glowacki and two things become clear: Usyk is clearly the best cruiserweight of the decade and must be named among the very best fighters of the decade.
Check out more boxing news on video at The Boxing Channel 
To comment on this story in The Fight Forum CLICK HERE
In Defense of Julie Lederman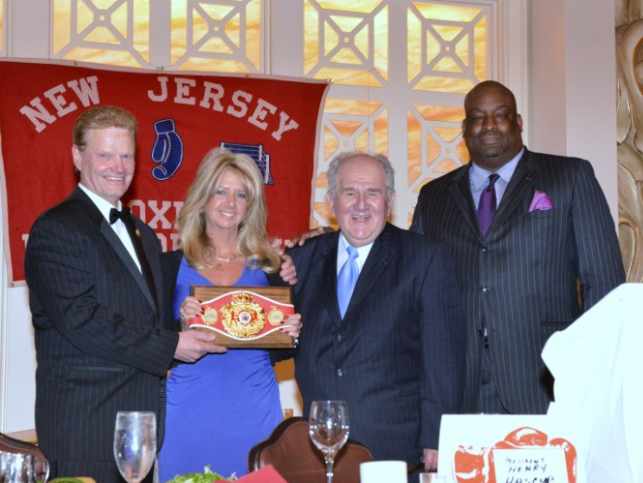 Some years ago, Matt Podgorski (a former boxing official) came up with a formula for evaluating the performance of boxing judges worldwide by determining the percentage of instances his or her scores were consistent with the other two judges working the same fights. He called it the Pod Index. It was a rare effort to quasi-quantify the work of boxing judges. "Boxing and MMA judges are often evaluated based on whether or not they have had a controversial decision. This is a poor way to assign and regard professional judges," said Podgorski in an interview with former RingTV editor Michael Rosenthal.
Matt's Disclaimer: "We are not claiming that judges with low Pod Index scores are bad judges. The Pod Index is simply a measurement of round by round variation compared to other judges."
Julie Lederman placed very high in Podgorski's study. In fact, only one  veteran judge — Canada's Benoit Roussel — had a better score.
For more information about the Pod Index, see http://theboxingtribune.com/2014/12/19/the-pod-index-a-step-in-the-right-direction/
Confirmation Bias
Some of this writer's favorite judges, in addition to Lederman, are Steve Weisfeld, Glen Feldman, Dave Moretti, Glenn Trowbridge, Joe Pasquale, Max DeLuca, Hubert Earle, Benoit Roussel, Burt Clements, Rocky Young, Joel Scobie, Tom Shreck, Don Trella, William Lerch, Pinit Prayadsab, and Raúl Caiz, Jr. All of them have been maligned at one time or another.
Being a judge is a thankless endeavor and attention is mostly received when something controversial happens. Once a judgment is made about a bad job, that judgment influences future perceptions. This is known as "confirmation bias."
Thus, Julie Lederman's highly questionable scoring in the Loma-Lopez fight, though it didn't change the result, will most certainly label her a bad judge, tarnishing her reputation despite all of the fine work she has done in the past. Moreover, it's now fashionable to "pile on" and castigate her with a nasty Bob Arum leading the charge.
"…what kind of fight was she watching,…these judges are the craziest…I would advise any fighter I would have to ask the commission not to appoint her…" — Arum
This wasn't the first time that Arum criticized Julie. Back in 2014, Tim Bradley and Diego Gabriel Chaves fought to a draw. Lederman scored the fight 116-112 in favor of Chaves. Arum had this to say: "She should never be allowed to work in Nevada again….Her scorecard for Chaves is an absolute disgrace …[She was appointed] because they let these [expletive] Showtime guys put a fight on the same night that we did it. They don't have enough judges. They don't have enough referees. They want to accommodate both parties. Why? Because they'll do anything the [expletive] MGM asks them to do."
"It's easy to criticize boxing judges. But it's not that easy to have a sound basis for the criticism. One needs to see the fight the judge saw to be in the position to rightly criticize. Critics should temper criticisms in light of the situations boxing judges are in when judging fights. And judges should likewise understand criticisms from the boxing public, however baseless these may seem."  — Epifanio M. Almeda
Lederman, 52, is in her 24th year as a professional boxing judge. Her assignments have taken her to eight foreign countries and Puerto Rico. And she has been a fixture this year at the MGM Bubble, working 18 fights across seven shows without incident prior to this past Saturday night.
This, of course, does not excuse Julie's scoring on Saturday (119-109 for Teofimo Lopez), but it needs to be kept in mind that she has been ranked high over the years and does not have in her past work a pattern of poor judging such as seemed to exist, for example, in Texas and which drew the ire of Paulie Malignaggi.
When she first hit the scene, cries of nepotism and politics accompanied her, but those complaints quickly evaporated. Whether she can bounce back from this controversy remains to be seen. This writer hopes she can.
Photo: Julie Lederman and her father are flanked by Henry Hascup, President of the New Jersey Boxing Hall of Fame and Aaron Davis, former President of the New Jersey State Athletic Control Board
Ted Sares can be reached on Facebook or at tedsares@roadrunner.com
Check out more boxing news on video at the Boxing Channel 
To comment on this story in the Fight Forum CLICK HERE
"—C'mon!" (from the pen of Springs Toledo)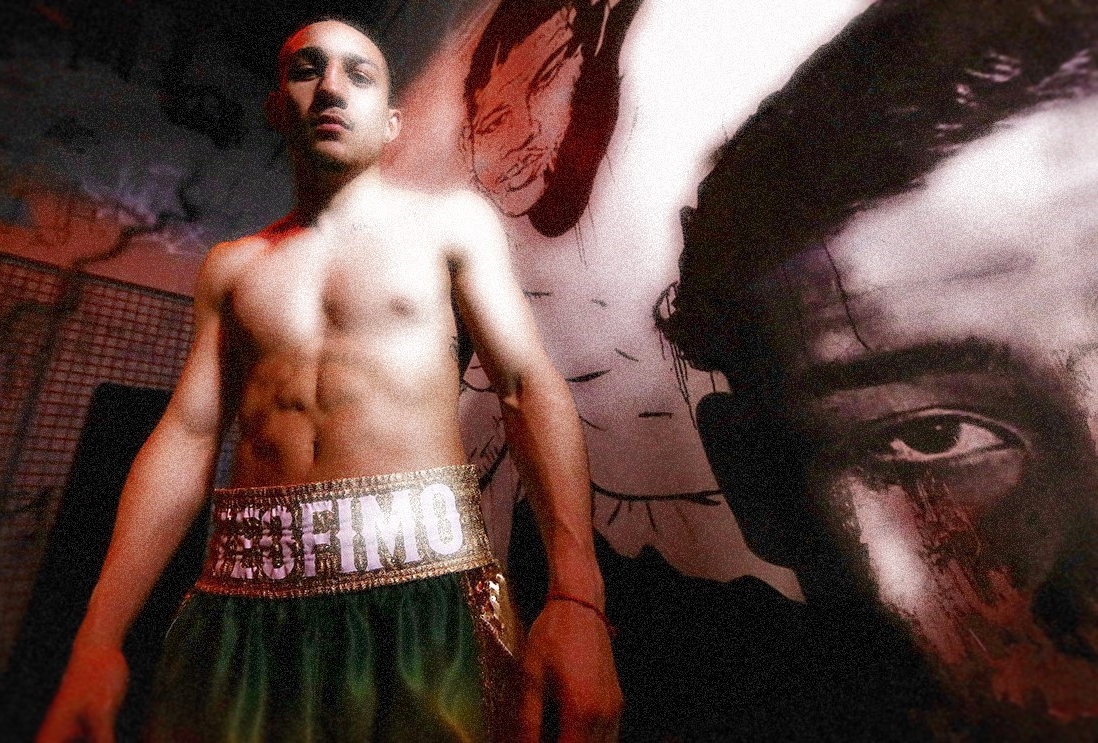 "—C'mon!" said Teofimo Lopez with two seconds left in the 12th round. It was a Brooklyn thing to say on a Brooklyn-type Saturday night, and Lopez timed it well. He'd just crashed two hooks at either side of Vasiliy Lomachenko's head and ended their saga as it began—with sharp words.
"My son will destroy Lomachenko," Lopez's father told EsNews in August 2017. Three months later Lopez was in the gym mimicking his style. "Same side always," he said as he tapped the bag and dipped to his right. "Nuthin' different." "Lomachenko is a diva," he said last week. "I don't like him … I'm the type of person, I say something I mean it. If you have a problem with it, come see me." Lomachenko came to see him all right, and both brought their fathers as if the whole thing was a schoolyard scrap.
Lomachenko's father is a silent sage. His modern training techniques are part of the "performance revolution" that has transformed every sport, including the sport that's barely a sport, and not necessarily for the better. Papa Chenko's futurama theories seem at once scientific and idiosyncratic. Pundits who never heard of Freddie Brown think they're next-level stuff. There's Lomachenko holding his breath under water to build lung strength; there he is touching that board with blinking lights to improve hand-eye coordination. When Lomachenko was 9, his father went so far as to enroll him in a Ukrainian folk dance school to expose him to hobak, hutsulka, and the kolomiyka, and you can see it in all the hopping and side-stepping he does around the ring at 32.
Papa Lopez is anything but silent, though he too is a sage—a naysaying sage with street instincts picked up during a few round trips through hell. He takes no one's word for anything and if he takes a break from a tirade and asks a question, it has about as much tact as a shiv. When Lomachenko is holding his breath in the pool is someone else there too, denting his rib cage with hooks? Those lights blinking on the screen, do they feint? And dancing school? Dancing school? Brooklyn itself rolls its collective eyes.
Papa Lopez laughs without mirth at the consensus opinion, at the so-called experts. But he couldn't laugh off the indisputable fact that Lomachenko has been knocking off a parade of world-class fighters. So he plopped down in front of YouTube to see for himself what was happening.
And what did he see?
He saw that the so-called Matrix style is a series of tricks; that Lomachenko is pulling fast ones on the gullible in the opposite corner and in press row. He saw opponents cooperating with him as he gauged their strengths and weaknesses in the first round or two and measured the distance between his glove and their chin. He saw them mesmerized by nothing-shots—"pitty pats," he called them, "patty-cakes," and wondered if it would have been easier or harder, given the language barrier, if Lomachenko just came out and asked them to throw something so he can find the best route around it to sock them in the chops.
Papa Lopez also saw that Lomachenko is preoccupied with not getting hurt; that he habitually slips, dips, and veers off to his right against the conventional stance. Teofimo, 23, saw the same thing. They both know why he prefers that direction: it's the safest route.
His offense, which has two prongs and lots of frills, doesn't contradict his preoccupation. Lomachenko wants to draw out his opponents to counter them. He stands a half-step off the perimeter where they can't quite reach him and he can't reach them. Then he baits them. If they take the bait, he hops in with a jab and then hops back out of reach. He's making calculations, looking for patterns, and once he finds them he exploits them with minimal risk to himself because, like Floyd Mayweather, he already has a pretty good idea of what they're going to throw. When is he most aggressive? When his opponent is least aggressive—out of position or covering up. He isn't comfortable with uncalculated risks. Like Floyd, he wants control; and that only happens with an opponent's cooperation.
Stanley Crouch, the late cultural critic and Brooklynite who was at least as contentious as Papa Lopez, understood the set-up. "What a boxer ideally wants to do is turn the opponent into an assistant in his own ass-whipping," he said. "That's really what you want the other guy to do—to assist you in whipping his ass."
Lomachenko built a reputation on willing assistants.
And defeating him was easier than anyone anticipated. The fighter of the future bowed to all-American unruliness and old-fashioned fundamentals.
Old School's comeback Saturday night was long, long overdue. Lopez used his strength and length to draw an invisible border with a warning that said "this far and no farther." Then he enforced it. Instead of letting Lomachenko freely angle around him like he's some stiff at the prom, he angled with him and threw punches. When Lomachenko slipped and sallied past his invisible border, he adjusted his distance and sent the dogs out. He stopped his momentum. He never let him take control. He never cooperated.
By the 8th round, Lomachenko realized that he had no chance to win unless he let go of his preoccupation with defense. He had to "sell out," as Andre Ward said, by getting closer and sallying in when it wasn't safe. Lomachenko won the 8th round—the first of only three that two judges scored his way—but it didn't matter. His mouth had dropped open as if he was getting ready to admit futurama's failure. "I heard him huffing and puffing and I knew I had him," said Lopez.
The 12th round reminds us that Old School remains the gold standard in the sport that's barely a sport. When Papa Lopez had a nervous moment in the corner and urged caution, Lopez refused. "I'm a fighter, I can't give him that," he said, as if to remind us that Old School is more than dust, that it's a disposition.
Teofimo Lopez now stands in a succession of lightweight kings whose dispositions were the impetus behind achievements that make this succession very possibly the most majestic of them all: Joe Gans. Benny Leonard. Tony Canzoneri. Barney Ross. Henry Armstrong. Ike Williams. Carlos Ortiz. Roberto Duran. Julio Cesar Chavez. Pernell Whitaker.
Floyd Mayweather is in that succession too, but the business model that guided his career was rebuked Saturday night. Lopez pointed to the past, polished it up, and declared its superiority. "We're bringing back what the Old School was. You fight the best and push on it. I'm not here to pick and choose who I want to fight because I want to defend my title and keep that 0," he said and shook his head. "No. Nah!"
The lightweight king now beckons chief rivals Devin Haney, Ryan Garcia, and Gervonta Davis to disavow the business model and take up the red flag. He looks north to Josh Taylor and Jose Carlos Ramirez's battle for the jr. welterweight crown and beckons either of them—or both.
 "—C'mon!"
Photo credit: Mikey Williams / Top Rank
Check out more boxing news on video at the Boxing Channel 
To comment on this story in the Fight Forum CLICK HERE
Kelsey McCarson's HITS and MISSES: Takeover Edition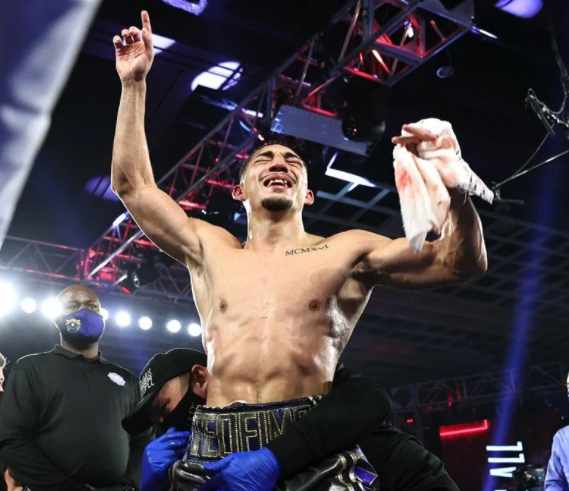 Boxing is back!
Okay, boxing had technically been back for a few months now. But didn't it seem to be more fully back to normal with the weekend's lightweight unification battle between Teofimo Lopez and Vasiliy Lomachenko on ESPN?
Make that double the case now that another edition of HITS and MISSES follows the latest big weekend in boxing, the first installment since the global pandemic began. 
HIT: Teofimo Lopez's Undisputed Takeover
It's one thing to parade something like "Takeover" around as your nickname while promising to be the next great fighter in the sport. It's quite another to actually pull that takeover off, and do it at the tender age of 23 against a three-division world champion that's a massive betting favorite. 
But that's what Lopez did on Saturday night in Las Vegas, and he accomplished it in a way that almost nobody expected. 
Lopez dominated Lomachenko from the start of the fight. He outboxed the clever southpaw savant in a way few people dreamed possible and took home the unanimous decision win. Even among the few who thought the young lion might somehow usurp the old guard, most of that crew thought it would probably be one big punch that sent Loma down for the count.
By the end of the night, Lopez had solidified his status as boxing's newest superstar. He also became the first undisputed lightweight champion since Pernell Whitaker. 
But even if the whole WBC Franchise fiasco leaves you in a place that questions that specific designation, Lopez used his post-fight celebration time to call the other WBC belt holder Devin Haney about a possible future showdown. 
So, Lopez is the undisputed best thing to happen to boxing in a long time. 
MISS: Vasiliy Lomachenko's Slow Start
I like to think Lomachenko is still somewhere out there right now feinting and shuffling his feet around like a dancer. Seriously, though, what was Lomachenko doing for most of Saturday night? He certainly wasn't attempting to win the fight. 
Much was made by the ESPN announcers about how Lomachenko would start slow in fights because he liked to download his opponents' movements before settling on his attacks. But Lomachenko didn't seem all that interested in attacking Lopez until somewhere around the eighth-round. By that time, the 32-year-old was way too far down on the scorecards for anything to matter all that much.
Sure, the last third of the fight was fun to watch. Lomachenko did end up having his moments including a strong 11th round, but it would have been a better fight if Lomachenko had started sooner. 
Instead, the fighter ESPN has long argued deserved to be ranked above everyone else regardless of weight class dispassionately saw his titles ripped away from him with relative ease. 
HIT: Edgar Berlanga's KO Streak
Last year, I noted that Berlanga's incredible streak was probably a case of matchmaking gone awry and that Berlanga would likely suffer later in his career because he wasn't getting any rounds under his belt that mattered. 
My reasoning? Even terrifying power punchers like Deontay Wilder and Gennadiy Golovkin didn't dispatch their early opponents in such decisively one-sided ways. 
Maybe it was just the lack of boxing around due to the global pandemic, but now I've flipped on Berlanga's knockout streak. The 23-year-old scored his 15th first-round stoppage in a row against Lanell Bellows on Saturday's Top Rank on ESPN card. 
It's become one of the most interesting and noteworthy streaks in the sport, and this time Berlanga stopped an opponent who had never suffered that fate before in any round, much less the first. 
Berlanga's 15 KOs in 15 fights is good television. 
MISS: Boxing Judge's Viral 'Social Dilemma'
Lewis Ritson was awarded a split-decision victory over former lightweight titleholder Miguel Vazquez on Saturday in England in a junior welterweight bout dubbed by the Sporting News as the "worst decision of 2020."
According to CompuBox, Ritson's "constant forward movement and snappier punches" earned him the nod on two of the judges' scorecards even though Vazquez had out-landed him in all the important punch stat categories (193-141 overall, 80-75 jabs, 113-66 power).
But the biggest controversy was the viral picture of judge Terry O'Connor apparently looking at his phone during the fight that he scored 117-111 for Ritson. 
That didn't sit well with anyone who believes judges should be watching the fights they're tasked with scoring.
But in the wake of Netflix's documentary film "The Social Dilemma," that shows just how ingenious today's artificial intelligence is at boosting user engagement so companies can sell advertising time to the unwitting people on the other end who don't know why they can't put their phones down. Maybe O'Connor and others should be mandated to place their phones in a place they can't be accessed during fights. 
That would keep the social media outrage that's going on right now over the few seconds O'Connor spent looking away from the action and point it more toward what appears to be boxing's bigger problem: phones or no phones, too many boxing judges don't know how to score fights. 
HIT: The Wonder of Complementary Programming 
Boxing counterprograms itself so much these days through the different promotional companies and networks out there that it's nice to enjoy at least one day in recent history where a big fight happened and there weren't any other big fights attempting to grab our attention. 
Not only did that happen, but ESPN wisely chose not to split programming between it's MMA and boxing audiences on Saturday. 
ESPN is the home to Top Rank on ESPN boxing as well as the world's leading MMA promotional company, UFC.
Like Top Rank, the UFC had a massive fight card on its schedule on Saturday, and the boxing/UFC audiences are fractured enough that both cards could have somewhat reasonably ran against each other. 
Instead, the UFC's Fight Night card in Abu Dhabi ran early in the evening, and it meant UFC fans who might be somewhat interested in the big fight in boxing could be funneled to the main card featuring Lopez vs. Lomachenko. 
That's great for both sports, the promoters and ESPN, too. Top Rank's Bob Arum and UFC's Dana White might hate each other for personal and political reasons, but the rising tide of complementary programming on ESPN will ultimately have all ships rising. 
Check out more boxing news on video at the Boxing Channel 
To comment on this story in the Fight Forum CLICK HERE
Photo credit: Mikey Williams / Top Rank