The Top Ten Cruiserweights of the Decade 2010-2019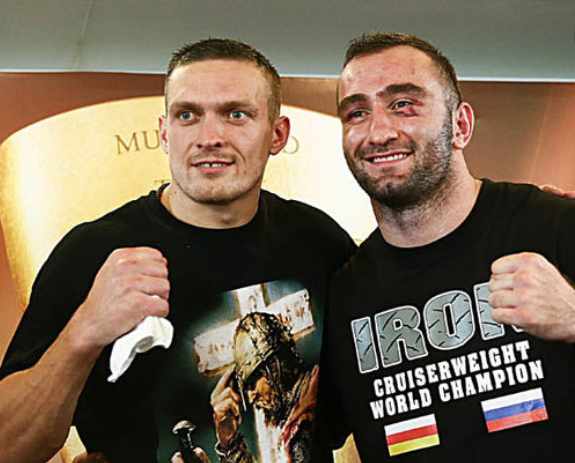 The decade of 2010-2019 was a great one for the cruiserweights and it is quite possible that in this divisional rundown of the ten best in each weight class, 200lbs will not be bettered. It was two eras, really, with one or two of the giants from the first throwing wild hooks at giants from the second as the decade roared to an end. Multiple lineal champions, quality contenders of varied styles and proclivities made it the finest decade for fights and fighters in the division's short history.
Rankings are by Ring Magazine until the inception of the TBRB in October of 2012.
10 – Ola Afolabi
Peak Ranking: 3 Record for the Decade: 8-4-1 Ranked For: 58% of the Decade
I suspect Ola Afolabi will be something of a controversial pick.
He shouldn't be. This man defined the term "road warrior" after the retirement of light-heavyweight Glen Johnson. British, born to Nigerian parents, he was a fighter who trained out of California but came out swinging in places as far flung as Argentina, Russia, and many spots in between. A chin hewn of titanium and an underrated jab saw him do damage on four different continents. That story began in earnest in 2009 when he got his first of four shots at cruiserweight Don Marco Huck and dropped the narrowest of decisions in an excellent fight. Treading water through the early part of the decade, he was re-matched with Huck in 2012.
That fight was probably the best of the year and among the best of the decade; Huck-Afolabi II was a heart-fueled war fought tight by two men made of granite. They may have delivered the best twelfth round of the century.
The wider context here is the result of the fight as seen by the judges, which was both gratifying and surprising in Huck's adopted German stronghold: a draw. Anything close would have been reasonable but Afolabi earned his share, the best result he would achieve against the Serbian tough in four attempts.
That draw and the fact that Afolabi over-achieved away from home is enough to get him to #10 here. It may sound thin but thin is enough; Afolabi's best cruiserweight win is over Rakhim Chakhkiev, a victory from an Indian summer interrupting what was at times a bizarre final act in his career. It objectively puts him alongside the likes of Tony Bellew and Steve Cunningham (who did most of his good work in the decade before) so that precious draw with Huck makes Afolabi one of the ten most accomplished cruiserweights of the decade.
09 – Krzysztof Wlodarczyk
Peak Ranking: 2 Record for the Decade: 16-2 Ranked For: 70% of the Decade
Diablo ("Devil)" was at the vanguard of the European assault on the cruiserweight division in the early part of the decade, a clever, adaptable fighter who was well tooled but battled physical limitations while establishing himself at the top of the division.
Neither particularly fast, strong, nor powerful, Krzysztof Wlodarczyk isn't even an elite counterpuncher in the truest sense of the word, rather he uses baiting footwork to invite opposition to pressure his space whereupon he launches left-hand heavy attacks led by the jab and a well-disguised hook. His underused right became something of a surprise weapon for him, almost by default. It rescued him against the likes of Danny Green, thousands of miles from home and behind on the scorecards. Diablo had some layers.
What he does not have is a deep resume for the decade, his best win a breakdown of Giacobbe Fragomeni in 2010. Fragomeni had been the recipient of a gift in the form of a draw the year before and in the rematch the Pole seemed determined to robe the judges of their responsibilities. In a signature performance he dominated with mobility and jab before introducing hurtful punches which had a terminal cumulative effect. Disciplined and controlled and only allowing himself to fight with more commitment when he had his opponent off balance or out of step, Wlodarczyk stepped up the pain and the pressure in the seventh to earn his stoppage win.
2013 was his prime year and included a curbstomp of anointed prospect Rakhim Chakhkiev but he could not stem the tide; Grigory Drozd and then Murat Gassiev found him, forcing him to make way for a new generation. He is still active though – and well-handled prospects still give him a wide-berth.
08 – Yuniel Dorticos
Peak Ranking: 2 Record for the Decade: 22-1 Ranked For: 34% of the Decade
Here then is the first entry from the second era of the decade, Cuban puncher Yuniel Dorticos, although it should be noted that he started boxing professionally way back in 2009. It's been a long and winding road for the Miami resident who has taken a relaxed route to the top but whose patience is now revealing the counterpunch. He meets Mairis Briedis in March to determine who is the first best cruiser of the new decade in a fight that is not to be missed.
Dorticos graduated against Youri Kalenga, an established fighter and a juddering puncher in his own right.  Joyfully, Dorticos confirmed himself as a boxer of direct aggression up against top-line opposition just as he was in dusting journeymen; his work also carries a pragmatists streak, however, and he recognizes advantages and actions them accordingly. Dorticos is listed at 6'3" with an 80" reach and so sometimes uses the backfoot.
He moved through the gears after Kalenga and Dmitry Kudryashov (his next opponent) to face Murat Gassiev in what was another wonderful fight but was also a step too far for Dorticos. Gassiev eventually broke the Cuban and sent him spilling through the ropes but not before he had swallowed bomb upon bomb and proven his chin and heart both. Rebounding since that lost with two wins against fighters ranked in the top five (Mateusz Masternak and Andrew Tabiti), Dorticos showed ambition to match that heart and chin.
07 – Krzysztof Glowacki
Peak Ranking: 3 Record for the Decade: 23-2 Ranked For: 37% of the Decade
Krzysztof Glowacki emerged from Poland to replace Wlodarczyk as his country's premier cruiserweight and soon had overhauled him, becoming one of a stacked division's preeminent fighters. In a 200lb class stuffed with deluxe brawlers he was, for a time, the best.
He proved it most dramatically by out-thugging Marco Huck, nearing the end, but still venomous in a throwdown, dangerous enough that he held a narrow lead at the opening of the eleventh round.  Glowacki, technically unequal to the task of out-fighting Huck, had invested heavily in the body.  Gradually, ominously, Huck's hands began to drop to try to keep those booming hooks from his ribs and gut. Huck had been beaten just once that decade, in a questionable decision up at heavyweight, and to watch the younger, less experienced, but more substantial Glowacki crumble Huck's battlement was one of the great sights of the decade in any division for those paying attention. There seemed a dreamlike inevitability to it which certainly had not existed at the first bell and when Glowacki landed a delightful little short right traveling up and through the head behind a grazing left-hook it made a strange kind of sense.  Huck survived that knockdown – they say the power is the last thing to go, though often it is the heart – but no man would have survived what Glowacki brought behind it. It was a minor upset and a true passing of the torch, from one streetfighter to another.
In his very next fight he devastated another old man, burying Steven Cunningham –39 and confusingly matching a fighter who is the very definition of nightmarish for an ageing warrior – under a barrage of knockdowns and picking up a decision, before running afoul of Oleksander Usyk. There is no shame here but when, after beating number five contender Maksim Vlasov, he was stopped in three rounds by Mairis Briedis in a rough fight, there was a sense that he had found his level – better than most, but not capable of hanging with the very best.
Hence, number seven.
06 – Mairis Briedis
Peak Ranking: 1 Record for the Decade: 25-1 Ranked For: 28% of the Decade
That Mairis Briedis is ranked outside the top six is indicative of just how strong this list of ten is. I'll wager that no other weight division has a number six of this quality.
Briedis is iron-hued. He reportedly took some of Wladimir Klitschko's finest punches in sparring without giving ground. A stylish and skillful boxer, he has delivered nineteen knockouts for his twenty-six victories and lost just a single contest, a majority decision where Oleksandr Usyk defeated him by a single point.
That, alone, is enough to get him on the shortlist, but Briedis has done fine work. He landed on the division in earnest in 2016, beating up a fellow prospect who had achieved contender status in the shape of Olanrewaju Durodola. It was a performance that oozed confidence and seemingly belied his limited experience although even as he (somewhat controversially) closed the show in a hurtful ninth round, Briedis seemed perhaps a little short of gas.
In light of that fact I was a little surprised to see him matched with Marco Huck little less than a year later.  Huck was on his way down the rankings, Briedis on his way up, but if ever there was a veteran possessed of the ability to make an inexperienced fighter short of stamina pay it was Huck. I needn't have worried. This was the fight where Briedis showed his left hand as directly comparable to that of Usyk, taking a clear decision over his veteran foe all while smothering Huck's offense and coping with his rougher tactics like a ten-year veteran
Briedis came up short against Usyk of course, barely, but has since dispatched no less a figure than Krzystztof Glowacki in three rounds. That, probably, was Briedis's best win and it leaves him poised to become the pre-eminent cruiserweight of the next decade should he master Dorticos in March.
05 – Yoan Pablo Hernandez
Peak Ranking: Ch. Record for the Decade: 9-0 Ranked For: 43% of the Decade
In a sense, Yoan Pablo Hernandez was the decade's big disappointment. A product of the Cuban amateur system and German professional promotion, he was a strange mix of schooled and staid in style, borrowing from both boxing cultures and his southpaw right jab was a noted punch.
Lineal champion in the first part of the decade, Hernandez suffered badly with injuries and even illness.  Plagued by knee and elbow problems he spent the best part of a year sat out and plotting his comeback after a rather flat 2014 win over Firat Arslan. It would be his last. He never returned to the ring.
He had been dazzling, however, against Steve Cunningham in 2011 with the legitimate cruiserweight title on the line. A consummate boxer, Cunningham sought to move his way through that fight but Hernandez controlled him with superb footwork, keeping his toe outside of Cunningham's left foot almost throughout while dropping an excellent jab to the body.
In his rematch with the deposed champion, he staged the best performance of his career and one of the finest in the divisional decade, battering Cunningham to a virtual standstill in the fourth and coming within a hair's breadth of stopping him, the star punches a right hook to the body and a two-piece built from a jab and uppercut.
Hernandez's resume for the decade isn't particularly deep with victories over Troy Ross and Firat Aslan probably his next best; he wasn't always as glittering as he was that second night against Cunningham either and it seemed for every such performance there was a Steve Helerius where he remained in control but perhaps not imperious.
Still, he was the lineal champion and a very good fighter. It is hard to picture the top five without him.
04 – Denis Lebedev
Peak Ranking: 1 Record for the Decade: 13-3 Ranked For: 88% of the Decade
Denis Lebedev is arguably the definitive cruiserweight puncher for the decade and is certainly the definitive survivor. No man was ranked for more weeks than the Russian, who managed to hang on for nearly nine of the ten years at hand, something both unusual and impressive.
He has been around long enough to have beaten up an injured James Toney and obliterated an out-gunned Roy Jones in 2011 but also to have staged a failed comeback attempt against current #8 contender Thabiso Mchunu just last year. In the trunk of his career he lost two fights: in 2010 he was unlucky to drop a desperately close split to Marco Huck in his German stronghold. Six years later he met fellow Russian Murat Gassiev, the "new Huck" in many ways and was unlucky once more in receiving the stiff end of the decision.
Lebedev was robbed in neither contest, but I preferred him in both. Huck was given the benefit of the doubt in three close rounds on my scorecard and I saw the result, still, as a draw. Against Gassiev I had it to the older man by a single point despite his being dropped heavily with body punches. These narrow, narrow losses hurt Lebedev. Had he won both, he would have been unbeaten for the decade, that disastrous comeback aside, and would have a case for making the #1 slot; had he won one or the other, he would rank above the defeated man. On such tiny margins do legacies turn.
Still, those close losses speak for him somewhat as do wins over Kalenga, Pawel Kolodziej, Toney, Jones and, best of all, a brutal second round dispatch of Victor Emilio Ramirez.
03 – Marco Huck
Peak Ranking: 1 Record for the Decade: 14-4-1 Ranked For: 71% of the Decade
Second only to Denis Lebedev for longevity of relevance, Marco Huck's name resounds throughout the decade as one that matters.
In honesty though, he needed that decade to build his legacy; Huck has done more than the likes of Briedis but needed twice the time to organize it. His impact in the second part of the decade was very limited. The made men who fell to Huck fell during the first half of the decade when he was in his fearsome prime.
And what a prime it was. Huck's rambling offense looked disorganized but was anything but and there was no fighter more skilled in the art of the wait. Patience is a commodity much less valuable since the reduction of the championship distance from fifteen to twelve rounds but Huck, from very early his career, had the smarts and the guts to make it work. The benefits were many but chief among them were that he carried his power and his workrate late into fights and his sense of when his opponent was beginning to give was as well developed as his strategic timing. With the possible exception of Usyk, nobody ever had Huck completely and finally beat; there was always the chance he might rally and crush a tiring opponent.
Lebedev was probably the finest scalp Huck took in his pomp, but Afolabi and Firat Arslan both succumbed more than once to Huck's guile.
The second half of the decade though, overall, was not a success. Glowacki cracked him in eleven rounds, devastating his mystique; a relatively unimpressed Briedis outpointed him by distance; then Usyk put a bitter beating upon him.
Huck was my first choice for the second slot but a closer look gave me a feeling, despite his longevity as a contender that he was making up the numbers from around 2015. Still, a powerfully impressive first half of the decade secures him the number three slot.
02 – Murat Gassiev
Peak Ranking: 1 Record for the Decade: 26-1 Ranked For: 29% of the Decade
Murat Gassiev was ranked for a fraction of the time that Huck was ranked for, but only once could he have been considered a true underdog. Gassiev was Huck plus, patient in the stalk but both more powerful and precise in the punch.
The year after his razor-thin defeat of Lebedev, Gassiev found himself in the ring with another veteran in the shape of Wlodarczyk, still clinging on to a top ten ranking and still respected enough to command a berth in the cruiserweight World Boxing Super Series tournament. As detailed above, Wlodarczyk, like Lebedev, like Huck, had all the necessary qualities to torture a less experienced foe. Gassiev steam-rolled him. He was thoughtful about it; he felt his man out – but in the end, he just bombed through him.  The body punch that ended matters was hard enough to end all resistance but casual enough to strike fear into the hearts of lesser men.
Yunier Dorticos though, didn't box scared against Gassiev when the two met early in 2018 but Gassiev sat down on his work in the second half of the fight and finally dumped his game opponent out of the ring and onto the apron in the dying seconds of the twelfth. He had turned in two winning performances against two elite cruisers in back-to-back contests and when the match with Usyk was made that summer the boxing world appeared to have the fight it most wanted to see.
In fact, it proved a mismatch. Usyk summited to greatness that night and Gassiev found himself scrambling around in the foothills seeking survival rather than victory. Injury has since robbed him of heavyweight riches.
Nevertheless, he was a prestigious puncher at the 200lb limit and seemingly impervious to the violent attentions of elite opposition. Gassiev isn't locked at number two, and Huck, certainly, has a very reasonable case for being ranked above him, but in the end I've been more forgiving of Gassiev's failure to beat Usyk in his prime than Huck's failure to beat Glowacki, Briedis and Usyk just past his.
01 – Oleksandr Usyk
Peak Ranking: Ch. Record for the Decade: 17-0 Ranked For: 46% of the Decade
I'm unsure how many undisputed decadal number ones we will run into in the course of this series, but I do know that Oleksandr Usyk is one.
Marco Huck, ranked number three here, made the bad mistake of making things personal with Usyk in the run-up to their September 2017 contest. That is the Usyk fight to watch or re-watch if you want to see him at his most vicious. Not a noted puncher but one who hit often and hard enough to mix his man's mind, Uysk is happy with a decision as a general rule but it was clear in the case of Huck that he coveted the stoppage. So motivated, he turned the trick more quickly than the brute Glowacki, taking him out in ten, faster than any other fighter. Tony Bellew, too, who returned from his adventures at heavyweight late in 2018 to confront Usyk, felt the full wrath of Usyk's most full-blooded shots, succumbing in eight.
But it is as a boxer, not a puncher, that he has most excelled in the second half of this stacked decade, most of all (and in doing so proving his indisputable supremacy over the field) in his defeat of decadal number two Gassiev. Usyk completely outclassed Gassiev, turned his stalking style against him with deluxe footwork of the highest order that saw the division's premier puncher reaching for nothing.
Briedis stretched him further with that cultured left-hand and smarts on defense closing the gap but dropped a decision, nonetheless. Throw in wins that had something of a routine feeling over divisional strongmen like Huck and Glowacki and two things become clear: Usyk is clearly the best cruiserweight of the decade and must be named among the very best fighters of the decade.
Check out more boxing news on video at The Boxing Channel 
To comment on this story in The Fight Forum CLICK HERE
Johnny Famechon was a Hero in Australia Where Willie Pep Had a Bad Night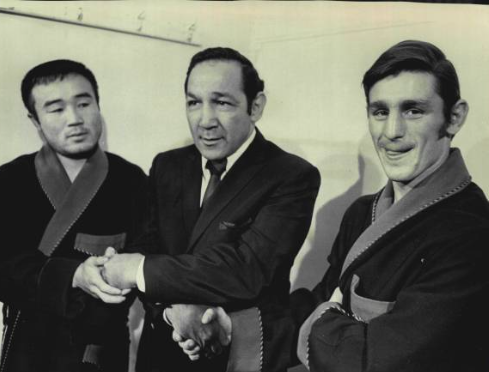 Willie Pep was good at boxing. He wasn't so good at math. Ah, but hold the phone; we are getting ahead of ourselves. This isn't a story about Willie Pep, but about former world featherweight champion Johnny Famechon who passed away last Thursday, Aug. 4, in Melbourne, Australia, at age 77.
Famechon was five years old when his parents left his birthplace in Paris and settled in Melbourne. He came to the fore in an era when boxing was still a mainstream sport and home-grown champions were national idols. The locals turned out in droves for the parade in Johnny's honor when he returned to Melbourne after taking the featherweight crown from the Cuban-born Spaniard Jose Legra in a big upset at London's Prince Albert Hall.
Famechon's first title defense came against Japan's Fighting Harada. They met in Sydney, Australia, on July 28, 1969.
At age 26, Harada was a battle-tested veteran. He previously held world titles at flyweight and bantamweight and would be remembered as the only man to defeat the great Brazilian boxer Eder Jofre, a feat he accomplished not once, but twice.
Only two boxers in history – Bob Fitzsimmons and Henry Armstrong – had won world titles in three of the eight classic weight divisions. Harada, who entered the International Boxing Hall of Fame in 1995, was bidding to become the third.
Team Harada insisted on a neutral referee. The British promoters chose Willie Pep. A legend in the sport, Pep had previously shared a ring with another Famechon, having out-pointed Johnny's uncle Ray Famechon in a featherweight title defense at Madison Square Garden in 1950.
Some thought that Pep would favor Fighting Harada. American referees put a higher premium on aggression than did their foreign counterparts and Harada was a little buzzsaw who rarely took a backward step. But others thought that Pep's selection favored Famechon, an elusive counterpuncher with whom the Connecticut "Will-'o-Wisp" could identify; their styles were similar.
Pep had been the third man in the ring for four previous title fights, three in Jamaica and one in Brazil. But this fight would be different. He would be the sole arbiter. If the fight went the full 15 rounds, Willie Pep would be the judge and jury.
During the bout, Famechon scored one knockdown, sending Harada to the canvas in round five, but Harada scored three, knocking Famechon down in rounds two, 11, and 14. The last of the three knockdowns was the harshest, but Famechon made it to the final bell.
The fight ended in a clinch. Immediately upon separating the fighters, Pep raised both of their hands, a signal that the fight was a draw.
Fighting Harada's handlers were outraged and demanded to see the scorecard. A policeman at ringside was empowered to give it a look-over (Australia had no boxing commission). What the policeman found was that there was indeed a discrepancy. However, it was the opposite of what Team Harada anticipated!
The fight was scored on the antiquated system whereby the winner of a round was awarded five points and the loser four points or less. In the case of an even round, both fighters got five points.
After 13 rounds, Fighting Harada had amassed 59 points on Pep's card. He won the 14th round, giving him an aggregate total of 64 points. But when Pep added up the numbers "59" and "5" in the column where he kept the aggregate total, he came up with "65."
Oops.
When Pep signaled that the fight was a draw, people stormed the ring from all sides. Newspaper reports said the belligerents were about evenly divided. Famechon, the Aussie, was the crowd favorite, but Fighting Harada was well-backed in the betting markets, a very big industry in Australia. Many were even angrier when Famechon was summoned back to the ring to have his hand raised.
The Famechon-Harada fight aired live on Japanese television. In Japan, there was a great outpouring of outrage. Pep had been instructed to score a round 5-4 if the round was narrow and 5-3 if there was a clear-cut winner. Despite the knockdowns, Pep scored every round 5-4 or 5-5. In the revised tally, he had Famechon winning 6-5-4 in rounds.
"Harada loses to referee" was the headline in Japan's leading sports daily. Willie Pep made no friends in Australia either. There were shouts of "Yankee go home" as he left the ring.
Famechon and Harada met again five months later in Tokyo. One would assume that Fighting Harada proved superior and got a fair shake, winning the third title denied him in Sydney. But don't assume.
Harada was well ahead after ten rounds but faded. On the deck in round 10, Famachon returned the favor three rounds later, knocking Harada down hard with a perfectly placed left hook. Harada was in dire straights when he came out for round 14 and Famechon put him away.
Harada never fought again and Famechon left the sport six months later after losing his crown to Vicente Saldivar. Johnny was only 25 years old, but had crammed 67 fights into a nine-year pro career and said enough is enough.
Famechon's post-boxing life took a tragic turn in 1991 when he was hit by a car while out jogging on a Sydney highway. He spent several weeks in a coma and several years in a wheelchair but eventually recovered most of his motor skills and regained his speech to the point where he could serve as a boxing color commentator on television. In 2018, a larger-than- life statue of Famechon was unveiled at a public park in the Melbourne suburb of Frankston where he was a longtime resident.
For the record, Johnny Famechon finished his career with a record of 56-5-6 with 20 KOs. We here at The Sweet Science send our condolences to his loved ones.
Arne K. Lang's latest book, titled "George Dixon, Terry McGovern and the Culture of Boxing in America, 1890-1910," will shortly roll off the press. The book, published by McFarland, can be pre-ordered directly from the publisher (https://mcfarlandbooks.com/product/clashof-the-little-giants) or via Amazon.
To comment on this story in the Fight Forum CLICK HERE
Fast Results from Fort Worth Where Vergil Ortiz Jr Won His 19th Straight by KO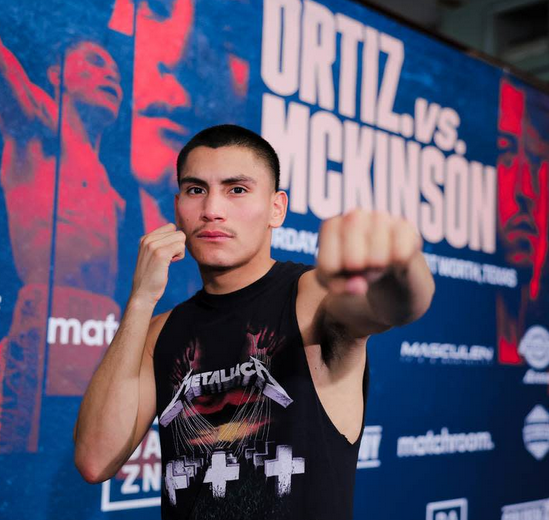 In a match pushed back from March 19, Vergil Ortiz Jr moved one step closer to a mega-fight with Terence "Bud" Crawford or Errol Spence Jr or Boots Ennis with a ninth-round stoppage of England's feather-fisted Michael McKinson. The end came 20 seconds into round nine when McKinson appeared to injure his knee as he fell to the canvas, an apparent residue of the body punch that put him on the deck late in the previous stanza. To that point, Ortiz had seemingly won every round.
It was the 19th win inside the distance in as many opportunities for Ortiz who resides in nearby Grand Prairie and was making his first start with new trainer Manny Robles. McKinson was undefeated heading in, but had scored only two knockouts while building his record to 22-0.
Ortiz, ranked #1 at welterweight by the WBA and the WBO, pulled out of the March 19 bout after being diagnosed with rhabdomyolysis, a muscle disorder associated with over-training.
Ortiz's promoter, Oscar De La Hoya, says that Ortiz will fight the winner of Errol Spence vs Terence Crawford next assuming that the fight gets made, and if doesn't get made, Ortiz's next fight will be with one or the other. The WBA, which stamped tonight's fight an eliminator, may push to have Ortiz fight their secondary title-holder, Eimantas Stanionis.
Co-Feature
Houston's Marlen Esparza (13-1, 1 KO) successfully defended her WBA/WBC world flyweight title with a unanimous decision over plucky 4'11 ½" Venezuelan southpaw Eva Guzman who had won 14 straight coming in, albeit against soft opposition. The judges had it 98-92 and 99-91 twice.
Guzman (19-2-1) was game, but just didn't have the physical tools to overcome Esparza whose lone defeat came at the hands of talented Seneisa Estrada.
Other Fights of Note
In a 10-round match contested at the catchweight of 150 pounds, Blair "The Flair" Cobbs rebounded from his first defeat with a career-best performance, a wide decision over former WBO 140-pound world titlist Maurice Hooker. It was the second straight loss for Hooker who returned to the ring after a 17-month hiatus and came out flat. Cobbs put him on the canvas in the opening frame with a combination and decked him twice more with straight lefts in round two.
Things got somewhat dicey for Cobbs in round five when he suffered a bad gash on his forehead from an accidental head butt, but Hooker, who had stablemate Bud Crawford in his corner, hesitated to let his hands go and couldn't reverse the tide. The judges had it 96-91 and 97-90 twice for the flamboyant Cobbs who improved to 16-1-1 (10). Hooker, a consensus 5/2 favorite, lost for the third time in his last five starts and slumped to 27-3-3.
In the opener to the main portion of the DAZN card, Uzbekistan's Bektimir Melikuziev (10-1, 8 KOs), a super middleweight growing into a light heavyweight, dominated and stopped overmatched Sladan Janjanin. Melikuziev put Janjanin down with a body punch in the opening minute of the fight and scored two more knockdowns before the bout was halted at the 2:18 mark of round three.
This was Melikuziev's third fight back after his shocking one-punch annihilation by Gabriel Rosado. Janjanin, a well-traveled Bosnian who fought three weeks ago in Massachusetts, declined to 32-12 and was stopped for the eighth time.
Also
Chicago welterweight Alex Martin (18-4, 6 KOs) overcame a first-round knockdown to win a unanimous decision over 38-year-old Philadelphia journeyman Henry Lundy. The judges had it an unexpectedly wide 98-91, 97-92, 97-92.
Martin was coming off a points loss to McKinson and this bout was his reward for taking that fight on short notice. Lundy (31-11-1) has lost five of his last seven.
Floyd "Austin Kid" Schofield, a lightweight who appears to have a big upside, advanced to 11-0 (9 KOs) at the expense of Mexican trial horse Rodrigo Guerrero whose corner wisely pulled him out after five one-sided rounds. It was the ninth straight loss for Guerrero (26-15).
To comment on this story in the Fight Forum CLICK HERE
Conlan Wins His Belfast Homecoming; Breezes Past Lackadaisical Marriaga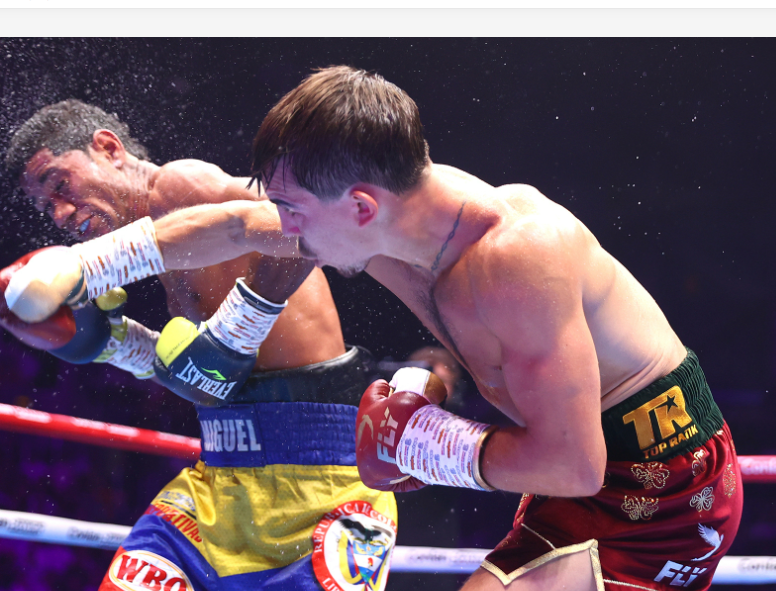 "The Return of the Mick" was the label attached to tonight's show at the SSE Arena in Belfast, Northern Ireland. The reference was to local fan favorite Michael "Mick" Conlan who returned to his hometown in hopes of jump-starting his career after suffering his first pro loss in a brutal encounter with Leigh Wood.
In that bout, a strong "Fight of the Year contender, Conlan was narrowly ahead on all three cards heading into the 12th and final round when the roof fell in. Wood, who was making the first defense of his WBA world featherweight title on his home turf in Nottingham, knocked the favored Conlan unconscious and clear out of the ring.
This was the sort of fight that can shorten a man's career. Hence the intrigue in Conlan's homecoming fight tonight against Miguel Marriaga. On paper, the Colombian, a three-time world title challenger, was a stern test considering the circumstances.
To the contrary, Marriaga had no fire in his belly until the final round when he hit Conlan with a shot that buckled his knees. But, by then Conlan was so far ahead without overly exerting himself that there was virtually no chance of another meltdown.
While Conlan won lopsidedly, the scores – 99-89 and 99-88 twice – were somewhat misleading. True, "Mick" had Marriaga on the deck in rounds 7, 8, and 9, but the punches that put him there did not look particularly hard.
Conlan, 30, improved to 17-1 (8). Marriaga, 35, declined to 30-6.
After the fight, Conlan expressed the hope that Leigh Wood would give him a rematch.
Other Bouts of Note
In an entertaining 10-round welterweight scrap that could have gone either way, Belfast's Tyrone McKenna (23-3-1, 6 KOs) rebounded from his defeat in Dubai to Regis Prograis (TKO by 6) with a hard-fought unanimous decision over 33-year-old Welshman Chris Jenkins (23-6-3). The judges favored the local fighter by scores of 97-94 and 96-95 twice.
Jenkins, a former British and Commonwealth title-holder, had the best of the early going, working the body effectively while frequently finding a home for his uppercut, but he could not sustain his advantage.
Thirty-four-year-old Belfast super middleweight Padraig McCrory who got a late start in boxing, scored the most important win of his career with a fifth-round stoppage of Marco Antonio Periban, a former world title challenger. McCrory had Periban on the deck three times – once in the second and twice in the fifth – before the bout was halted at the 2:14 mark of round five.
It was the fourth straight win inside the distance for McCrory who improved to 14-0 (8 KOs). Mexico's Periban, who returned to the sport in April after missing all of 2020 and 2021, fell to 26-6-1.
Highly-touted welterweight Paddy Donovan improved to 9-0 (6) with an 8-round unanimous decision over Yorkshireman Tom Hall (10-3). The referee scored every round for Donovan, an Irish Traveler trained by Tyson Fury's bosom buddy Andy Lee, the former world middleweight title-holder.
Photo credit: Mikey Williams / Top Rank via Getty Images
To comment on this story in the Fight Forum CLICK HERE