Tom Molineaux and the Mule Faced Boy: Deconstructing Slave Fight Folklore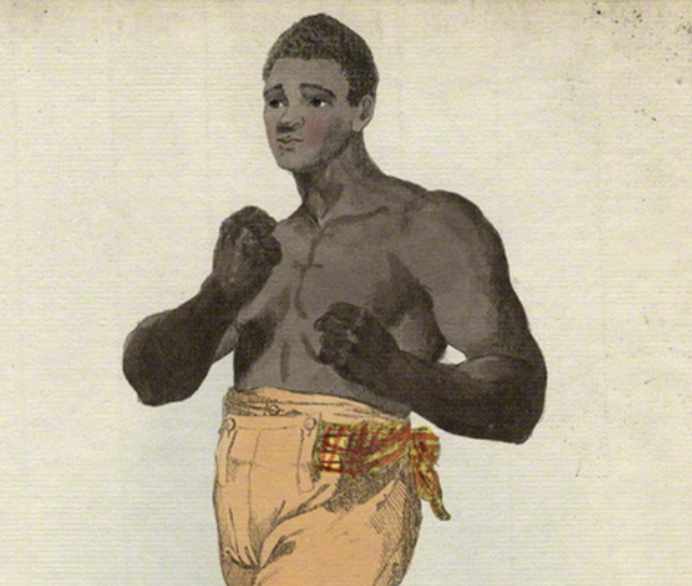 Tom Molineaux and the Mule Faced Boy: Deconstructing Slave Fight Folklore
February is black history month in the United States and Canada, a tradition that dates to the 1970s. Nat Fleischer, the co-founder and publisher of The Ring magazine, was ahead of the curve. Fleischer authored Black Dynamite, a five-volume series released in 1938 that celebrated the achievements of black boxers in the prize ring.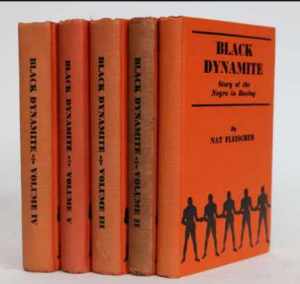 Black Dynamite was seminal, especially Volume 1 which covered the bare-knuckle era. Post-1938, most of what would be written about antiquarian black prizefighters was culled from Fleischer. The challenge now for modern day boxing historians is to figure out how much of what he wrote is actually true. The inconvenient truth is that a lot of rubbish was published under Nat Fleischer's byline.
Vol. 1 is rich in information about Tom Molineaux. An American slave by birth, Molineaux turned up in England about 1809 and after a few minor bouts succeeded in landing a fight with England's topmost fighter Tom Cribb. They actually fought twice, first in December of 1810 and then again in September of 1811. In their first encounter, Molineaux was cheated of victory when a mob burst through the ropes and bullied the referee into giving Cribb extra time to recuperate when he was just about finished. In the rematch, contested without incident, Molineaux was knocked out.
The various retellings of these two fights differ in little details, but what is indisputable is that these fights, although ignored by the American press, gripped men of all social classes in England, notwithstanding the fact that prizefighting was a bootleg sport with matches necessarily held outside densely populated areas. Tom Cribb was recognized as the champion of England, tantamount to being the champion of the world, and it was a matter of considerable importance to the Brits that he did not yield his title to a foreigner, especially a black foreigner. His victory over Molineaux in their rematch inspired a great outpouring of affection. When he died, his admirers commissioned a handsome stone statue of a lion to ornament his tomb.
The dates and results of Molineaux's prizefights in England are a matter of public record. But what about Molineaux's background? And how, pray tell, did he get from point A to point B, how did he shake free of the shackles of slavery in the United States and wind up becoming one of the most famous pugilists in all of Great Britain?
Fleischer doesn't identify his sources, but says that through arduous research he learned that Tom Molineaux was born into a family of great bare-knuckle fighters. His father Zachary and Tom's brothers Elizah, Ebenezer, Franklin, and Moses were also renowned pugilists "and they outclassed all rivals in Virginia."
Tom earned his freedom from bondage, says Fleischer, by defeating a slave from a rival planation. Tom's master, Squire Algernon Molineaux (all of his slaves took his surname) was one of the wealthiest men in Virginia and wagered such an immense sum that he faced bankruptcy if Tom was defeated. Manumission was Tom's reward.
On the subject of slave fights in general, Fleischer says, "Tournaments were held to determine which slave was plantation champion and, inevitably, these rivalries soon transcended plantation boundaries…The slaves (in inter-plantation fights with huge sums at risk) fought and trained on a reward-punishment basis, the best of their lot being excused from the gruesome field work and perhaps even gaining their freedom while the less talented might be denied food for several days or even put to death for an inept performance."
Nat Fleischer's credibility as a boxing historian was such that his rendering came to be accepted as gospel. The lurid 1957 best-seller Mandingo, the debut novel of the shameless Falconhurst series, calcified Fleischer's perspective,
Falconhurst is the name that author Kyle Onstott gave to the antebellum plantation where his story was centered, a place where incest and miscegenation were rife and slaves were hideously dehumanized, even mutilated and murdered. And yes, brutal slave fights factor into the narrative.
The novel Mandingo spawned the 1975 movie of the same name and its sequel Drum, movies in which Ken Norton played a prominent role. Quentin Tarantino's 2012 blaxploitation Western Django Unchained pays homage to Mandingo. A bare-knuckle fight to the death between two black slaves is a key plot point in the movie. Fights of this description would acquire the name Mandingo fights.
Tarantino's movie heightened interest in slave fights, reviving the question of whether Mandingo fights actually happened. And by now, educators well-versed in African-American history could see that fights of this nature just didn't pass the smell test.
A male slave had value to a plantation owner as a field worker and as a breeding mechanism and, like all his slaves, was property he could pass on to his heirs or sell if times got tough. A slave with the strength and stamina to become a champion prizefighter would logically be especially valuable. To risk a man of this caliber in a fight where he stood the risk of being severely damaged, makes no sense economically. It would be akin to a luxury car dealer entering his most expensive vehicle in a demolition derby.
There are a few first-person accounts of organized matches among slaves (I am aware of only two), but in no way do they resemble the battle in which Tom Molineux purportedly won his freedom. Betting on horse races was a popular pastime among Southern planters, but old newspapers contain no reports of inter-plantation prize fights and if it were true that life-changing sums were actually being bet on these competitions, they would have almost certainly attracted notice.
After winning his freedom, says Fleischer, Molineaux found his way to Baltimore where he found work as a stevedore on the docks. He then hired out as a deckhand on a boat to Liverpool. "The seas were rough," says Fleischer, "and at times it appeared the vessel was about to take a dive into Davey Jones locker."
The best boxing gyms were then in London. The sport's wealthiest backers were also found there. So, Tom hied his way to London, trudging off on foot, says Fleischer, late in the winter of 1809 when the weather was inconducive to walking. He arrived penniless and hungry.
Wow, that was some walk, and in inclement weather no less. If one were driving from Liverpool to London, one would travel 220 miles.
The Mule Faced Boy
Many years ago, when I was in my early teens, I chanced upon Milo the Mule Faced Boy on a visit to Coney Island. More exactly, I chanced upon the gaudy mural on which he was depicted, the come-on that enticed passersby into the freak show where he was appearing. The commercial display of people with physical abnormalities came to be seen as exploitive, if not downright creepy, but it hadn't yet run its course as a popular amusement.
In person, Milo, who appeared to be a man in his mid-20's, didn't look anything like the caricature of him on the mural outside. There was some misshapenness there, but I wouldn't have drawn the correlation to a mule if it hadn't already been stamped in my mind.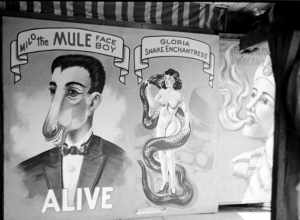 Milo made a short talk – or maybe it was the spieler who did all the talking; my memory is fuzzy – and the show, as it were, concluded with an exhortation to purchase his biography, a cheap little pamphlet that was within my limited means and so I bought it.
My goodness, what an exciting life Milo had led. It was a life chock full of harrowing adventures reminiscent of the Saturday matinee serials that inspired filmmaker George Lucas to create the Indiana Jones franchise.
That cheap souvenir is long gone. My mother likely tossed it away with my baseball cards and other clutter left behind when I went off to college. It is what mothers do, bless their souls. But I have come to learn that these flimsy biographies were standard fare for freaks that worked the fair circuit or appeared in so-called dime museums and that these little storybooks shared a common scaffolding, differing only in the details. They weren't all written by the same person, but whoever got the ball rolling set the template and subsequent generations of ghostwriters adhered to the formula.
– – –
Tom Molineaux fought sporadically after his second match with Tom Cribb. He died in Ireland in 1818 at age 34.
In the last years of his life, Tom worked the fair circuit in the British Isles, giving exhibitions and undoubtedly regaling his audiences with a little talk about his escapades. His traveling companions would have been other freaks, both organic such as giants and dwarfs and self-made such as snake charmers and sword swallowers. He would have had a little biography for sale.
Take away all the embellishments and the saga of Tom Molineaux is still a remarkable story, but the embellishments have distorted the truth to where the real flesh-and-blood Tom Molineux is lost in the rubble of history. Brian Phillips, writing for Grantland in 2012, had it right when he wrote that if you were to look up Molineaux in an encyclopedia, "what you'll find is less an authoritative account of the facts than two centuries worth of distilled legend."
Molineaux was obviously a brave and resourceful man, a man with an adventurous spirit who led an incredibly exciting life. But that bit about his kinfolk — his father Zachary and his brothers, all bare-knuckle fighters of great renown – and the bit about the fabulous sums wagered on inter-plantation slave fights, why that's all hokum, fictions born in the fertile imagination of a hired pen freelancing as a circus pitchman.
Can I prove it? No. But of this, I am quite certain.
Check out more boxing news on video at The Boxing Channel 
To comment on this story in The Fight Forum CLICK HERE
Jaron Ennis KOs Sergey Lipinets and Other Results from the Mohegan Sun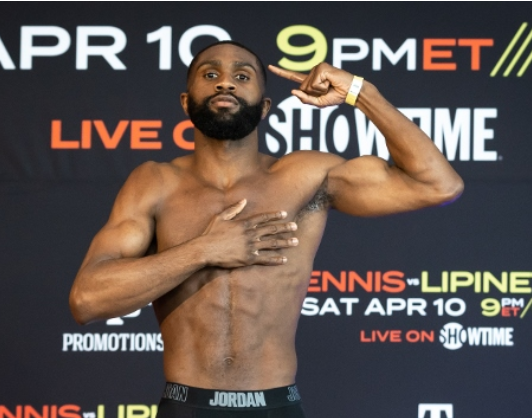 Philly is on the up. Again.
Jaron "Boots" Ennis kicked his stature into another gear with an impressive knockout of former world champion Sergey Lipinets on Saturday.
"It's on the up now for bigger and better fights," said Ennis.
Those Philly fighters know how to do it.
Before a small audience Philadelphia's Ennis (27-0, 25 KOs) showed that he's ready for the elite level class by dominating the always tough Lipinets (16-2-1, 12 KOs) at Mohegan Sun Casino in Uncasville, Conn.
Is there any other American welter looking for action?
Ennis walked into the arena with all of the physical advantages, but experience can be a tricky matter in the fight game. Lipinets was ready to provide the lesson.
For the first two rounds Ennis used his superior reach, height and speed to keep the former super lightweight world titlist from entering his domain. The Philly fighter wacked at the Russian fighter's body and head while taking minimal return fire.
Lipinets finally found his way inside and both fighters traded big blows. A wicked right uppercut by Ennis connected and Lipinets bounced a right cross on the Philly fighter. Both absorbed the big blows with little effect.
Still, Ennis was winning all of the rounds and Lipinets realized that maintaining the status quo was not doing him any good. He increased his attack and slipped on Ennis foot and went down. It was incorrectly ruled a knockdown by the referee but it was the least of the Russian fighter's problems.
Both fighters attacked the body but Lipinets shot one far below the belt and the fight was stopped for a moment. Lipinets was warned. Both went into attack inside and it seemed to be Lipinets best round. He seemed to find his way back into a groove.
"I saw he wasn't as skilled on the inside as I was so that's when I started getting a little closer," Ennis said.
Ennis may have realized that Lipinets had a good round and he wasn't about to allow another. As the two fighters re-engaged in their war inside, Ennis connected with a right hook to the chin and a left uppercut finished the job. Down went Lipinets and referee Arthur Mercante waved off the fight at 2:11 of the sixth round without a count.
"We worked on a lot of power shots and a lot of speed. That's what we did," said Ennis. "Everything is all natural."
The impressive knockout of Lipinets proved that Ennis has more than enough ability to hang with the best welterweights around.
"Maybe one of the guys will want to fight me. Who knows?", said Ennis.
Other Bouts
IBF super flyweight titlist Jerwin Ancajas (33-1-2, 22 KOs) floored Mexico's Jonathan Rodriquez (22-2, 16 KOs) and hammered out a win by unanimous decision. But it wasn't an easy fight. It never is when you put the Philippines versus Mexico.
Ancajas needed the win to keep his name handy for a possible match in the now heated super flyweight division that features Juan Francisco Estrada, Roman Gonzalez, and Carlos Cuadras.
A battle between welterweight contenders saw Eimantis Stanionis (13-0) power his way to a unanimous decision win after 12 rounds versus Thomas Dulorme (25-5-1).
Check out more boxing news on video at the Boxing Channel
To comment on this story in the Fight Forum CLICK HERE
Fast Results from Tulsa: Joe Smith Jr Nips Vlasov, Wins WBO Title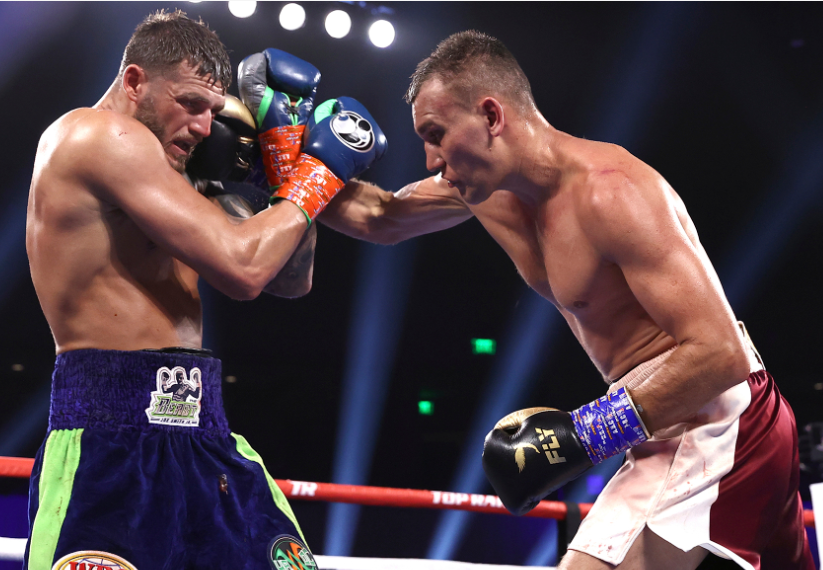 Joe Smith Jr had to dig down deep to upend Russian veteran Maxim Vlasov, but pulled the fight out of the fire with a late rally to capture the vacant WBO light heavyweight title before a sold-out crowd of 500 masked-up fight fans at Tulsa's Osage Casino. Smith prevailed by a majority decision. One of the judges had it a draw (114-114), but he was overruled by his cohorts who each turned in tallies of 115-113.
Smith, the quintessential blue-collar fighter, suffered a cut above his left eye in the first round and it troubled him throughout. Vlasov fought a smart fight, out-working the more one-dimensional Smith in most of the rounds, but a cut inside his mouth and Smith's body punches eventually took their toll. Smith had a strong seventh round but Vlasov recaptured the lead only to let it slip away in a good action fight. There were no knockdowns, but Vlasov went down in the 11th from a punch that landed behind his head, an illegal punch, hence no knockdown.
Smith Jr improved to 27-3 and earned a date with WBC/IBF champion Artur Beterbiev. Vlasov, whose effort commanded a rematch that won't happen — at least not any time soon — falls to 45-4. All four of the Russian's losses have come on U.S. soil, two right here in Tulsa where Vlasov was out-pointed by future world title challenger Isaac Chilemba way back in 2011.
—
The were nine bouts in all the card, the majority of which were intended to showcase up-and-coming heavyweights. The result was a predictable slew of quick stoppages, resulting in plenty of dead time between bouts.
The match between Efe Ajagba and Brian Howard was packaged as the co-feature. Ajagba had been less than impressive in some of his recent starts, but tonight the 6-foot-6 former Olympian for Nigeria scored a devastating one-punch knockout to restore whatever luster he may have lost. The lightning bolt came at the 1:29 mark of round three. Howard was unconscious before he hit the canvas. Ajagba advanced to 15-0 with his 12th knockout. Howard declined to 15-5.
Other Bouts
In the last of the seven preliminary fights on ESPN's subscription channel, Jared Anderson improved to 9-0 (9) with a second-round stoppage of West Virginia southpaw Jeremiah Karpency. The gifted 21-year-old Anderson, from Toledo, Ohio, scored two knockdowns with hard body shots before the bout was halted after only 38 seconds of the second round. The grossly overmatched Karpency was 16-2-1 heading in.
Local fan favorite Trey Lippe Morrison advanced his record to 17-0 with his 17th knockout, stopping 36-year-old Alabama journeyman Jason Bergman (27-20-2) in the third frame. Bergman came to fight and actually scored a knockdown in the opening round that the ref erroneously called a push. Fighting with his back against the ropes, Bergman landed a left that knocked Morrison off his pins.
It was a quirky knockout, coming at the 1:27 mark of round three when Bergman rolled his ankle while throwing an errant punch. He fell to the canvas in obvious pain and the bout was stopped. Bergman had lost seven of his last nine coming in, but was meeting an undefeated opponent for the fifth straight time.
Tulsa native Jeremiah Milton (3-0, 3 KOs) had a successful homecoming, bombing out Mississippi's Jayvone Dafney in the first round. An overhand right by Milton left Dafney out on his feet with his back pinned against the ropes. Milton, realizing that his opponent was seriously hurt, held back, waiting for the referee to intervene. The time was 1:19.
In the ESPN+ opener, Philadelphia's Sonny Conto (7-0, 6 KOs) returned after a 15-month absence and dismissed paunchy Waldo Cortes in the opening round. Conto put Cortes (6-4) down for the 10-count with a perfectly placed right hand. The official time was 1:41.
Photo credit: Mikey Williams / Top Rank via Getty Images
Check out more boxing news on video at the Boxing Channel
To comment on this story in the Fight Forum CLICK HERE
Conor Benn Embarrasses His Detractors, Demolishes Vargas in 80 Seconds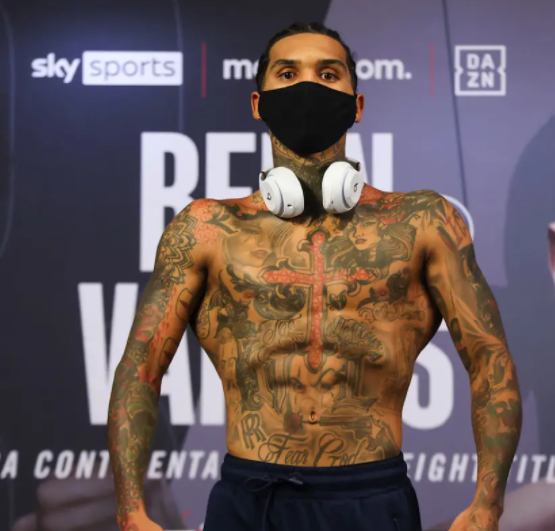 Conor Benn fought Samuel Vargas in London today (Saturday, April 10). Although Benn was a solid favorite, he was stepping up in class. Vargas, a 31-year-old Canadian via Columbia, brought a 31-6-2 record. He had been in with the likes of Errol Spence Jr and Danny Garcia and had extended Amir Khan 12 rounds on Khan's turf in Manchester.
Vargas's best days were behind him , but the prevailing sentiment was that he would make it interesting, likely taking the fight into the late rounds and perhaps lasting the distance. So much for prevailing sentiment. Benn walked right through him. Vargas couldn't cope with Benn's superior speed. He was being battered against the ropes and offering nothing in return when referee Michael Alexander stepped in and waived it off. It was all over in 80 seconds. Benn improved to 18-0 with his 12th win inside the distance.
Benn, 24, is the son of Nigel Benn, a former two-division world champion who was one of England's most celebrated fighters. Conor had a brief amateur career in Australia before turning pro at age 19 in London, the city of his birth. While his record is unblemished, it would be incorrect to say that he passed every test as he was climbing the ladder. His first fight with Cedric Peynaud, a marginally skilled Frenchman, has haunted him.
Benn was knocked down twice in the opening round, but scored two knockdowns of his own late in the 6-round fight and was awarded the decision. Peynaud brought a 5-4-3 record and to say that Conor's performance was underwhelming would be an understatement. At the finish, his right eye was badly swollen.
Scott Gilfoid offered up the most damning criticism: "To say that Benn looked poor tonight is being kind. He was absolutely horrible….The flaws that I saw in Benn's game tonight are ones that likely won't go away anytime soon….His performance has to be viewed as a warning sign that he's not destined to go far in the sport like his famous father."
Benn and Peynaud fought on Dec. 13, 2017. This was Benn's 12th pro fight. He had one more bout under his belt before he and the Frenchman had another go at it. The rematch, scheduled for 10 rounds, took place on July 28, 2018, on a show headlined by the heavyweight match between Dillian Whyte and Joseph Parker.
Benn knocked Peynaud down three times but couldn't finish him. However, the outcome was never in doubt. He won by scores of 98-90 and 98-91 twice.
Trevor McIntyre, a stablemate of the aforementioned Scott Gilfoid (rumor has it that Gilfoid and McIntyre are the same person, and that both are aliases of the owner of the web site where their bylines appear) conceded that Benn showed improvement, but was otherwise unimpressed: "(He) still looked like someone that would be blown away by a halfway decent journeyman fighter….Benn's defense was leaky, his hand speed slow, and his movements looked uncoordinated throughout."
Benn's most recent fight before tonight came against Sebastian Formella, a sturdy but feather-fisted German who was coming off a 12-round defeat to Shawn Porter, a bout in which he showed great heart but won nary a round. Benn won lopsidedly. The scorecards read 100-91, 99-91, and 98-92.
The mysterious Barry Holbrook, whose byline appears at the same web site as Gilfoid and McIntyre, acknowledged that Benn proved some of his doubters wrong, but wrote that "a top welterweight like Errol Spence, Keith Thurman, Danny Garcia, Terence Crawford, or Vergil Ortiz Jr would have knocked him out. If they didn't score a knockout, they would have battered him to the point where the referee would have needed to stop it."
The respected British scribe Ron Lewis offered a different take: "(Conor) looked a completely changed fighter from the wild youngster of his early professional career, switching well from head to body, being patient, and picking his spots well." Lewis did not speculate how Benn would have fared against some of the division's top guns, but certainly hinted that Nigel's son could become a factor in what is currently a very strong welterweight division.
As today's showing proved, Mr. Lewis is a more perceptive observer than his counterpart(s) at the web site where Benn has been repeatedly 'dissed. Nigel's son has made enormous strides in the last few years. He's also an interesting character. Having spent much of his formative years living on the Spanish island of Majorca, he's fluent in Spanish which is always a useful attribute from a marketing standpoint. But as for how good he is, let's not jump to conclusions, mindful that Samuel Vargas was on the wrong side of the curve, having lost three of his last five heading in.
The question doesn't yet have a definitive answer, but tonight in London, Conor Benn was very good, very very good.
Check out more boxing news on video at the Boxing Channel
To comment on this story in the Fight Forum CLICK HERE