Oscar Negrete Returns to his Winning Ways at Fantasy Springs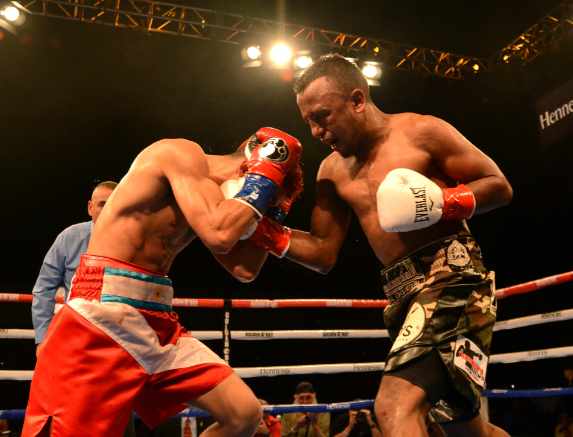 INDIO, Calif.-After a slow start Colombia's Oscar "Jaguar" Negrete slipped into gear and used his experience to win a unanimous decision over Argentina's Alberto Melian and capture the vacant WBA International bantamweight title on Thursday.
Negrete (19-2-2, 7 KOs) out-smarted his less-experienced opponent Melian (6-2, 4 KOs) in front of more than 800 people at Fantasy Springs Casino in a 10-round fight. He also proved that despite three consecutive fights without a win, he still has gas left in the tank.
Melian started quick against Negrete (pictured on the right) who simply allowed the Argentine fighter to do as he pleased the first two rounds. Then he figured out the slightly taller fighter and went to work with short and concise punching.  After 10 rounds in a fight with no knockdowns, the judges scored it 97-93 and 98-92 twice for Negrete.
"I have to recognize that Alberto Melian is an amazing fighter. He came to win. He won the public's respect tonight," said Negrete. "I did what I had to do to win the fight. We want an opportunity to fight for a world title. I deserve it. We worked extremely hard to get here."
In a flyweight clash Riverside's Ricardo Sandoval (18-1, 13 KOs) won by stoppage in the seventh round against Filipino fighter Raymond Tabugon (22-12-1, 11 KOs), a very resilient fighter.
Sandoval showed off excellent boxing skills and connected with a check left hook that floored Tabugon in the second round. But the Filipino fighter survived the round and proved even more resilient thereafter despite a heavy attack by the Riverside fighter.
But despite his sturdiness Tabugon had no answer from the body and head attack mixed by Sandoval and after a barrage of 16 straight blows in the sixth round, the next round proved more of the same and referee Eddie Hernandez stopped the bludgeoning at 1:43 of the seventh round.
"Raymond (Tabugon) was a tough opponent with a lot of experience. I needed that kind of experience," said Sandoval.
Female Fight
A female bout saw Arizona's Sulem Urbina get her first professional win on American soil with a unanimous decision over Florida's Noemi Bosques in a six round flyweight contest.
Urbina, a former Mexican Olympian, had been fighting in Mexico though she lives in Phoenix, Arizona. In her first U.S. foray she used her speed and combination punching to win every round against experienced veteran Bosques.
Left uppercuts scored repeatedly in almost every round for Urbina who has improved immensely since her first three pro fights. A counter-left hook in the fourth round by Urbina staggered Bosques, but she remained upright.
All three judges scored it 60-54 for Urbina.
"I tried to get the stoppage, but she had a strong will. I learned a lot from my opponent. It was an honor to fight her," said Urbina, 29, whose parents were able to see her fight professionally for the first time. "I hope Golden Boy keeps an eye out for me."
Other Bouts
In a featherweight battle between two tough Mexicans it was Leonardo Baez (18-2, 9 KOs) who pulled out a win by unanimous decision over Moises "Chucky" Flores (25-3, 17 KOs) after eight rugged and unapologetic rounds.
Baez needed a few rounds to figure out what "Chucky" liked to do and then targeted the body with lefts and rights uppercuts to the mid-section. This was only after figuring out Flores could not be hurt with blows to the head which he absorbed with glee.
Flores got the name Chucky because of his facial resemblance to the fictional horror movie character. He even has a tattoo of Chucky on his arm. But it couldn't help the Guadalajara fighter against the scoring punches of Mexicali's Baez. After eight rounds all three judges scored it 80-72 for Baez.
A clash of heads between flashy newcomer Anthony Reyes (7-0-1, 5 KOs) and Mexican veteran Diuhl Olguin (14-13-4, 9 KOs) stopped the fight at 35 seconds of the third round. Coachella's Reyes emerged with a cut over his forehead and the ringside physician advised referee Ray Corona to halt the super bantamweight fight. It was an interesting pairing as Reyes flashed his ability to connect with rights and Olguin was able to force the youngster to think inside the boxing ring. The fight was ruled a technical draw. Olguin fights out of Guadalajara.
Southpaw Oscar Acevedo (7-0) won by technical majority decision at 2:36 of round six over New Jersey's Dan Murray (5-3) in a lightweight match set for six rounds. A clash of heads with 24 seconds remaining in the fight caused a cut over the left forehead of Murray who yelled in pain immediately after the collision. On advice of the ringside physician the fight was stopped and the scores were 57-57, 59-55 twice for Acevedo who fights out of Los Angeles.
Oakland's Anthony Garnica (5-0, 3 KOs) won by majority decision over southpaw Luis Alvarado (1-1) in a four round super featherweight fight. Garnica was tentative throughout the four rounds and his lack of action almost allowed Washington's Alvarado to take the fight. One judge scored it even 38-38 but two other judges saw it 39-37 and 40-36 for Garnica. "I settled down through the rounds and got the win," said Garnica.
Jan Salvatierra (4-0, 2 KOs) floored Miguel Rebullosa (4-10) with a six punch combination in the second round, and after he beat the count he was met with three-punch head-snapping combination that forced referee Tom Taylor to stop the fight at 1:47 of the second round.
Photo credit: Al Applerose
Check out more boxing news on video at The Boxing Channel 
To comment on this story in The Fight Forum CLICK HERE
Wilder – Fury Predictions & Analyses from the TSS Panel of Writers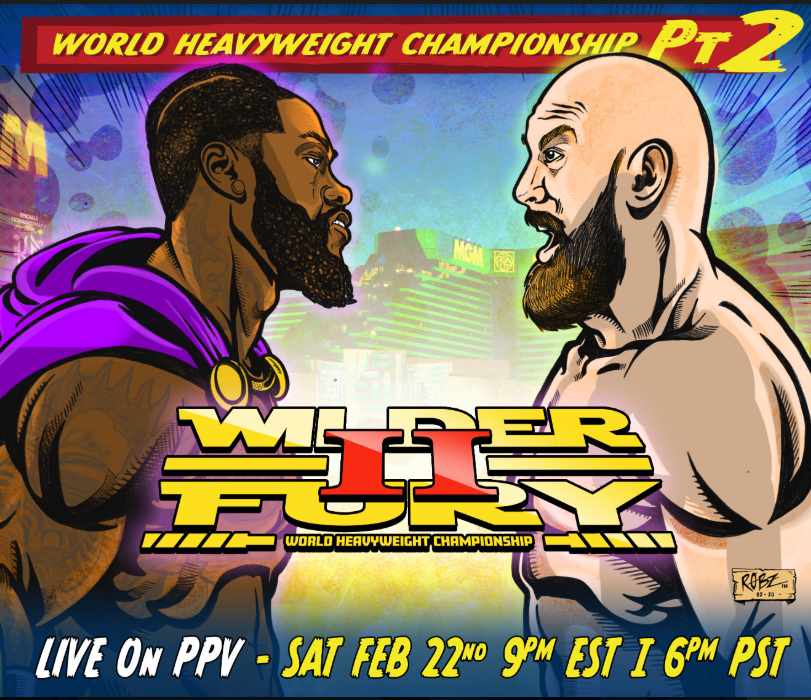 Whenever there is a big fight with a high level of intrigue, we survey members of our writing community to get their thoughts. In terms of pre-fight intrigue, Saturday's rematch in Las Vegas between fellow unbeatens Deontay Wilder (42-0-1, 41 KOs) and Tyson Fury (29-0-1, 20 KOs) ranks among the top heavyweight title fights of all time.
As is our usual custom, we are listing our panelists alphabetically. The graphic is by Colorado comic book cover artist ROB AYALA whose work has attracted a lot of buzz. Ayala's specialty is combat sports. Check out more of his very cool work at his web site fight posium.
MATT ANDRZEJEWSKI — In the first fight, my prediction was that Fury would easily out-box Wilder. I am sticking to my guns with the same prediction for the second fight. I know Fury is making a lot of noise about knocking out Wilder but I think this is more psychological than anything else. Fury will box cautiously behind the jab, pick his spots to counter and focus very carefully on his defense. He is not going to go for the knockout and will turn this into an even more tactical affair than the first fight. But he will be more successful this time and coast to a wide unanimous decision victory.
BERNARD FERNANDEZ — Fury is saying he's going to meet Wilder in the center of the ring and take him out in two rounds. I'm guessing that's a ruse, so I don't put much stock in it. But even if the big Brit elects to outbox Wilder over 12 rounds, which he is capable of doing, that means he has to avoid getting clocked with a huge right hand for 12 rounds. Gotta go with the home run hitter here. Wilder by KO or stoppage in eight rounds.
JEFFREY FREEMAN — Tyson Fury and Deontay Wilder are equally charged with restoring much needed prestige to the heavyweight division in America. It's a long slow slog. As a result, the powers caring about this have to be careful not to give away what they can sell. That's why the first Wilder-Fury fight was called a draw. Neither fighter can afford a loss on their undefeated record and Bob Arum won't be giving paying fans an actual result in exchange for their hard earned PPV dollars. Not yet anyway. So, it's going to happen again! Wilder-Fury II ends in another draw but don't worry, you can pay for the trilogy rubber-match "tie breaker" spectacular soon enough!
ARNE LANG – We performed this exercise before the first-Wilder Fury fight. No one was more bullish on Wilder than me. Properly chastened, I am going to pass the buck this time. Here are the observations of a long-time friend who resides on the Isle of Man and is known for having a sharp opinion: "Fury was cut badly in his last fight and will be very cautious, having tasted Wilder's power. Training at Kronk isn't the same without Manny Steward there. Fury has had multiple distractions and I don't regard him as a world class puncher. DW has 36 minutes to land the one punch that will turn the tide."
KELSEY McCARSON — Can you imagine what Deontay Wilder might feel on fight night? Across the ring from him will again be Tyson Fury, the same fighter who ate Wilder's best punch and got back up on his feet. The only other time Wilder didn't score a knockout was when he faced Bermane Stiverne in 2015. But Wilder broke his right hand in that fight, so he could explain that mystery away until he got the rematch with Stiverne two years later and ended up folding him in half in the first round like a lawn chair. But neither of Wilder's hands were broken against Fury. Worse for the 34-year-old American is that Fury outboxed him for the majority of the fight. I like Fury to win the rematch by decision. Wilder will overcommit on his punches, and Fury will box his ears off for the clear victory.
MATT McGRAIN — Predicting a Tyson Fury fight is rather like predicting the weather. Even with all the pertinent information on hand it's impossible to know exactly what will occur. Fury has been running less but reportedly sparring more; he has spoken openly of targeting 270lbs for the weigh-in; he has a new trainer who may or may not be motivating him; he has looked consistently bored and disinterested at more recent pressers; he has spoken openly of the crushing depression that envelopes him every Sunday. So, we might get an overweight, disinterested, under-motivated Fury on Saturday night. And he still might win. Put me down for Fury on points, but the right answer is, 'nobody knows'.
SEAN NAM — Tyson Fury's body may be as taut as its ever been, but his mind is in free-floating mode these days. Between hinting at an early retirement and opening up about certain sexual proclivities, Fury seems to have one foot perpetually out of the ring. In fact, ever since he linked up with Top Rank, it has been one big, gaudy publicity tour after another for the Manchester man. A stint with the WWE, the publication of his autobiography (as though his legacy in the ring had already been set in stone), and repeated desires to fight in an MMA crossover bout give the impression that Fury may not be as dialed-in for the most important fight of his life. Not to mention, Fury inexplicably canned his former trainer, Ben Davison. Meanwhile, Deontay Wilder, he of the thunderous right-hand fame, has been quiet as a church mouse. Wilder TKO9.
TED SARES –  An in-shape Fury schools Wilder in the early to mid rounds with focus and discipline, but then Wilder's right connects and a stunned Fury backs off. Wilder then presses the action and KOs the giant in the next round – maybe the 9th or 10th – with a windmill shot (left or right) or a paralyzing straight ala Breazeale. We know Fury can go down. We know he can get up. But so also do Wilder and Mark Breland.
PHIL WOOLEVER – Wilder's KO percentage gives him the coin-flip edge (Fury better remember what happened to Stiverne) but I have no clear idea what might happen where I see another draw just as likely as a decision either way. What intrigues me most are the over/under bet propositions listed around the 11th (take the under) and the possibility of this rematch joining a list of outrageous circumstances like the long count, ear bite or paraglider.
Check out more boxing news on video at The Boxing Channel 
To comment on this story in The Fight Forum CLICK HERE
Wilder vs. Fury: What History Tells Us About the Boxer and the Puncher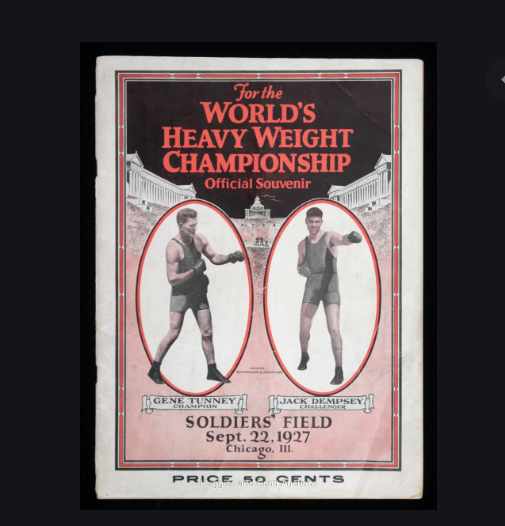 Wilder vs. Fury: What History Tells Us About the Boxer and the Puncher
Jack Dempsey was "so badly out-boxed and out-classed" according to pre-eminent newspaper man Damon Runyon "he seemed more of a third-rater than one of the greatest champions that ever lived."
"Gene Tunney is the best man I ever fought," said Dempsey himself. "But if we ever meet again, I'll beat him. There's no maybe about that, either. He's a grand man and a great fighter, but I know I can stop him."
"Time after time," wrote ringside reporter David Avila of the first Deontay Wilder-Tyson Fury fight, "Wilder's windmill rights hit air." But here the Dempsey-Tunney comparisons end. Wilder did find Fury, dropping him "hard and seemingly for good" in the twelfth, Fury undertook his miracle recovery and the unsatisfactory draw was rendered.
What about this Saturday's rematch? And what about the Tunney-Dempsey rematch? And what about other heavyweight rematches where the puncher and the boxer met for a second time, and what do they tell us about the upcoming meeting between the best and second-best heavyweight on the planet?
The first months of boxer Gene Tunney's heavyweight championship reign were troubled. He incurred the wrath of New York's press and public who preferred their champions humble and brutal. Tunney was neither and was actually booed in Madison Square Garden when presented to the crowd two weeks after his triumph. Dempsey was subjected to a two-minute standing ovation that same night, a new experience for him.
Dempsey, the puncher, wrestled with uncertainty about his fistic future before matching the mercurial Jack Sharkey, who was immediately installed as an 8-5 favorite. Here parallels begin to emerge between Dempsey and Wilder who both elected to meet serious opposition behind their nightmare encounter with pure boxers, although Wilder certainly wasn't an underdog for his November 2019 encounter with Luis Ortiz. Ortiz, like Sharkey, was technically superb and more skilled than his respective punching opponent. Just as Ortiz was able to outbox Wilder throughout their contest, Sharkey set all kinds of problems for Dempsey who struggled to impose himself despite Sharkey's determination to fight him in the pocket.
And like Ortiz, Sharkey fell victim to a brutal knockout though Dempsey's victory was awash with controversy and the accusation of a finishing low blow that even modern analysis of fight footage cannot settle. Each man was rescued by his power in a significant fight staged before their respective rematches. But how did Dempsey fare with Tunney second time around?
What was both different and exciting about the second fight was Tunney's overwhelming confidence in meeting Dempsey's fire with fire. He didn't seek a brawl, but he did seek to smother Dempsey's work on the inside while sharing space with him. Tunney had experienced Dempsey and found him wanting; he dominated their first fight so completely that he feels, now, that he can take certain liberties with his man.
Fury talks like this may be his own thinking. He feels, and is right in my view, that his dominance in the first fight was legitimate, for all that he found himself on the ground looking up. He now talks openly about knocking Wilder out. There is a certain kind of consistency in his thinking; he ruled before and so can rule more directly now. He's also hyping a fight though, and we all know how that works.
Fury should note that Tunney went straight back to the box-and-move strategy that brought him success in the first fight; he should also note that Tunney was able to hurt Dempsey by bringing him on to accurate punches he himself was sitting down on, especially in the fourth. Finally, it's worth noting that after ten hot rounds it was Dempsey, not Tunney, who was struggling to reach the final bell despite the latter's trip to the canvas in the seventh. Just like Fury, Tunney climbed from the canvas and by the end of the round was out-boxing the puncher.
In summary, Tunney became a little over-confident, much to the disgust of his cornerman Jimmy Bronson who repeatedly warned him that he was becoming neglectful of the Dempsey left. For Dempsey, there appears to be no secured advantage from having previously boxed ten rounds with Tunney. He drew a comparable blank to his first effort, despite the knockdown.
Billy Conn was unable to recreate Gene Tunney's success against the even more fearsome Joe Louis in the 1946 rematch of their legendary 1941 encounter. In that first fight, Conn, contrary to the popular retelling, hadn't so much hit and run as stayed in the champion's wheelhouse and tried to stay on him, a declared strategy but one Conn surprised everyone by following through on. In the second fight, Conn froze: "this is going to be the worst fight ever" he told his father-in-law minutes before the ringwalk. Here the balance of power shifted in favor of the puncher mainly due to the ravages of time and the excessive toll they take on the boxer's legs as opposed to the puncher's power; Conn substituted his fighting retreat of five years before with a straight-up retreat and was dusted off in eight.
Louis excelled in rematches. Lee Ramage made it to the eighth in their first contest but seemed near death such was the destruction of the knockout he suffered in just two rounds of their rematch.  Max Schmeling, famously, out-boxed and out-thought the great Brown Bomber in their first fight in 1936 but was summarily executed in a single round of their rematch. Bob Pastor made Louis "look silly" according to some, and even managed to win a couple of rounds of their 1937 contest; Louis became the first man to stop him in their 1939 rematch. Godoy, Simon, Buddy Baer, all suffered terribly in rematches for one reason: Louis had learned how they moved.
This is the real disaster for any box mover and although he excelled in rematches against all styles, Louis is the ultimate example of this. He may have struggled to find his man on occasion, but once he did, he had found him forever.
Most famously of all, this fate befell Joe Walcott, who extended Louis the full fifteen in the first fight but was brutally dispatched in the rematch. Walcott was a master boxer, a man so smooth he seemed to have been poured rather than born, but he was as susceptible to the heatseeking puncher as the next man. He bedeviled Rocky Marciano in 1952, seemed ahead of him at every turn until, finally, caught by the Rock in the thirteenth he was undone. In the second fight, the puncher found the boxer in just a single round, Walcott decoded by Marciano just as he had been by Louis.
What about Wilder?  Does he have that kind of fighting IQ?  Can he unravel a boxer of Tyson Fury's quality having put a serious glove on him twice in the first fight?
It's a confused picture, but there is data: Wilder has boxed two interesting rematches.  The first was against Bermane Stiverne in 2017, having previously handily out-boxed him in 2015. As a promotional prospect it hardly set the grass alight, but in fairness, Stiverne had remained ranked and fought in one of Wilder's more reasonable title defenses. The fight itself was butchery, and if it were to be analyzed as a part of a pattern it wall fall firmly onto the Louis side of the equation: Wilder learned about Stiverne in the first fight and crushed him in the second fight.
Wilder's more recent rematch with Ortiz contradicts that notion. It ended, once again, in a savage knockout for Wilder, and that, once again, hints at his having unlocked his man, but in fact Ortiz was once more completely out-boxing Wilder at the time of the stoppage. Wilder, I thought, was even beginning to become a little uncertain.
By the time of the second Stiverne fight Stiverne was on the slide having last won a meaningful fight nearly four years previously, and but one more fight and loss from retirement. Wilder had also improved, and some of his gliding offense belied his reputation at times. The combination is what makes Wilder's destruction of Stiverne look so Louis-like, I think.
In the second fight with Ortiz, we saw a truer Wilder. Tyson Fury has named him "a seven-year-old with an AK-47."  This sounds a little like Furybabble, but it's actually rather succinct. Wilder is indeed over-armed relative to his technique and he throws punches that are wildly under-schooled. But that is a part of what makes him so dangerous.
Re-watching him in the second Ortiz fight I was struck by the notion of a wind-up toy rather than a child, a persistent and vitally dangerous one. Wilder didn't so much decode his opposition as deploy himself with consistent venom and opportunism. It's a fundamental and sinister combination that clearly makes him difficult to face but I don't think he's learning in the way Louis or Marciano learned. I think he's "just" improving, and a heinous puncher.
What that means for the Wilder-Fury rematch is that the specific nature of the contest will be decided by Fury. It will be he who decides whether to try to out-box the puncher while moving as we saw in Dempsey-Tunney, smother and out-fight the puncher as we saw in Louis-Conn I, or even duel the puncher, something like what we saw Archie Moore try with Marciano. Fury decides. Wilder will just be Wilder.
It all comes down then to Fury's choice and to each man's relative preparedness for it. Has Wilder guessed right?  And has Fury? A poor selection on strategy would be disastrous.
Lastly, have I got this wrong?  If Wilder decoded Stiverne for the devastating second knockout, if he decoded Ortiz thereby stopping him sooner, if he's channeling Joe Louis in seeing more the second time around, I think there is only one possible winner, whatever version of Tyson Fury shows.
Check out more boxing news on video at The Boxing Channel 
To comment on this story in The Fight Forum CLICK HERE
The Javan 'Sugar' Hill Factor, a Wild Card in the Fury-Wilder Rematch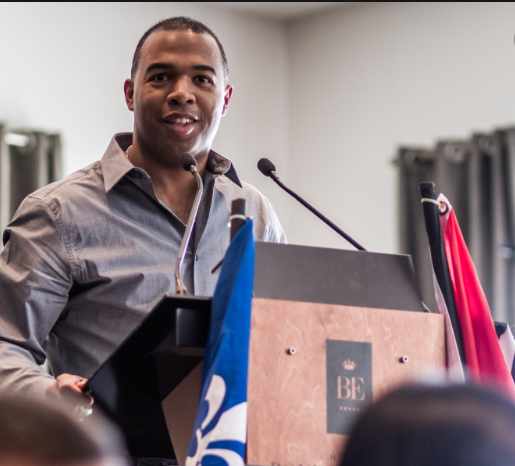 True "pick-'em" fights don't come down the pike very often, but Saturday's rematch between Deontay Wilder and Tyson Fury is about as close as it gets. At last look, most shops listed Wilder a very slight favorite. A professional bettor with a range of off-shore accounts at his disposal could lock in a wager at "even money" no matter which side he fancied. But ferreting out the ultimate winner is a head-scratcher, at least for most people, or so it seems.
The first Wilder-Fury encounter was memorable. On Saturday when they renew acquaintances, Tyson Fury will have a new trainer in charge of his corner. Two months ago, in mid-December, the Gypsy King announced that he had hired Javan "Sugar" Hill to help him prepare for the rematch.
Fury is turning back the clock. Back in 2010, with 10 pro fights under his belt, Fury spent a month at the Kronk Gym in Detroit where Hill worked as the chief assistant to his uncle, the late Emanuel Steward. Fury was there with his cousin, the future WBO middleweight title-holder Andy Lee who had turned pro under Steward's tutelage after representing England in the 2004 Olympics. Fury recalls that he would have stayed in Detroit longer but could not bear to spend more time away from his wife and baby daughter. (Mr. and Mrs. Fury, Tyson and Paris, now have five children.)
Javan "Sugar" Hill, a former Detroit policeman who became the cornerstone of the Kronk Gym operation following the death of his uncle in 2012, was hired to improve Fury's punching power. But is that possible?
"Power is one thing that can't be mentored," says long-time Montreal Gazette sportswriter Herb Zupkowsky, echoing a widely-shared opinion. "It's a God-given talent. A fighter has it or he doesn't. It's that simple." (It's also worth noting that Fury stands six-foot-nine and that, historically, tall heavyweights don't hit all that hard.)
That being said, it is a fact that Javan Hill, 49, has been in the company of some of the sport's most fearsome punchers. He witnessed up close the evolution of  Thomas Hearns. As a pro, the "Hit Man" was never better than on the night he knocked Roberto Duran into dreamland with a bombshell of a right cross, leaving the legendary Duran splattered face first on the canvas in the center of the ring.
Four years after Hearns flattened Duran, another fighter who would become known as a great knockout artist, Michael Moorer, turned pro under the Kronk Gym banner. Moorer won his first 26 fights inside the distance, nine in the opening round, before being extended the full "10" by six-foot-10 Mike "The Giant" White, about whom it was said that his punches couldn't crack an egg.
Javan "Sugar" Hill was involved only peripherally in the pro career of Moorer, but Steward entrusted him with rising light heavyweight contender Adonis Stevenson and they became a formidable duo. In 2013, Stevenson won the WBC (and lineal) light heavyweight title with a spectacular one-punch, first-round knockout of Chad Dawson.
But that wasn't the most devastating one-punch knockout that Hill helped orchestrate. On Jan. 28, 2005, Johnathon Banks, carrying 193 pounds on his six-foot-three frame for his fifth pro fight, knocked out an Ohio journeyman named Arterio Vines in 31 seconds. This was a frightening knockout. It would be several minutes before Vines could be revived and a good 10 minutes before he could leave the ring on his own power. (Banks left the sport in 2015 with a record of 29-3-1 and, like his Kronk buddy Javan "Sugar" Hill, is now a prominent trainer.)
Leverage and torque are the keys to landing hard shots and neither is possible without the proper balance. Following Adonis Stevenson's blowout of Chad Dawson, Hill was asked what was Stevenson's chief asset. "His balance is exceptional," he told the aforementioned Zupkowsky. "That's why he's bringing more and more punching power, from his balance. He can throw jabs and hurt you. He can throw hooks, body shots, left hands. Every punch is a dangerous punch."
Interestingly, Tyson Fury  cited his need to be better balanced as the reason he hooked up with Hill. "I've always had this God-given athleticism and mobility, but while that herky jerky movement puts opponents off, I don't only want to make 'em miss, I want to make 'em miss and make 'em pay. This time I will be balanced and set to make Deontay pay when he misses," he told Jeff Powell of the Daily Mail.
Fury was inactive for 31 months after deposing long-reigning heavyweight champion Wladimir Klitschko in November of 2015. During his hiatus, as is well-documented, he battled depression and addictions and his weight ballooned to almost 400 pounds. He returned to the sport with a new trainer, Ben Davison.
That was a surprising choice as Davison was relatively obscure and four years younger than Fury. But in hindsight — and hindsight is always 20/20 — that was a smart pick. Fury's first order of business was to push away his demons and get his body back in shape and Davison, who would come to define his role as that of a trainer, psychologist, physiologist, and nutritionist, was foremost a conditioning coach. He was the right man for the job.
Now that he has his act together, Fury doesn't need a psychologist or physiologist to baby him back to what he used to be. Now the main emphasis is on sharpening his ring tools. Enter Javan "Sugar" Hill, the man from Kronk. (Ben Davison says he has no ill-feelings; that he and Tyson will always remain friends.)
Like most people with whom we have compared notes, we have no firm conviction as to who will win Saturday's big fight. But the Javan "Sugar" Hill factor tilts us Tyson's way, if only for the moment.
Check out more boxing news on video at The Boxing Channel 
To comment on this story in The Fight Forum CLICK HERE