Tyson Fury Goes on the Offensive For Rematch With Wilder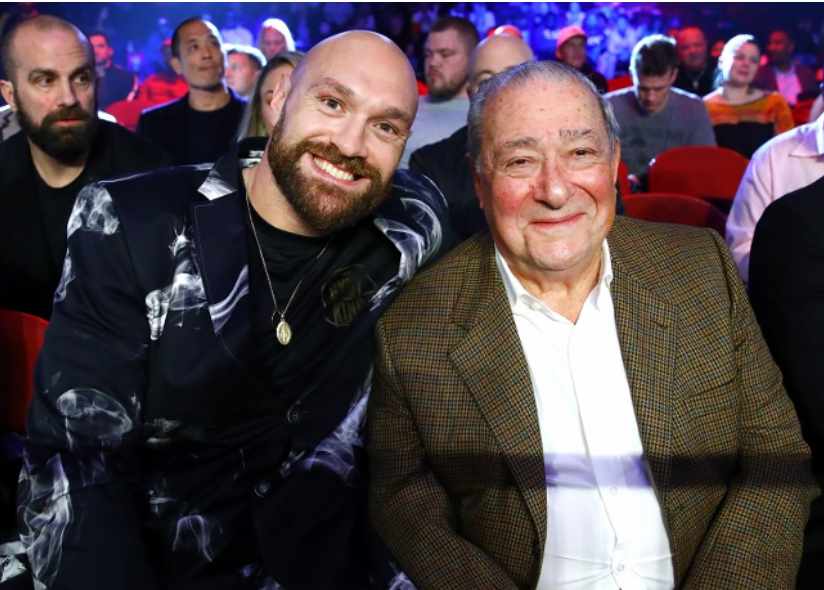 Tyson Fury Goes on the Offensive For Rematch With Wilder
It has been said that a kangaroo is a horse designed by a committee, but nature tends to work best when a horse doesn't try to be anything but a horse and a kangaroo happily remains a kangaroo. But that doesn't stop the experimenters among us, always looking to modify what was or is, from fiddling with the status quo in an effort to produce a new and hopefully superior version of something.
When lineal heavyweight champion Tyson Fury (29-0-1, 20 KOs) enters the ring for his rematch with WBC titlist Deontay Wilder (42-0-1, 41 KOs) on Feb. 22 at Las Vegas' MGM Grand, he won't exactly be a patchwork kangaroo with a few residual equine traits. Nor will he have three trainers, all of whom have had their turn constructing the "Gypsy King" to their preferred specifications, working his corner that night. The last of that trio of chief seconds is recently hired Javan "Sugar" Hill, nephew of the late, great overseer of Detroit's legendary Kronk Gym, Emanuel Steward. Manny, a 1996 inductee into the International Boxing Hall of Fame who was 68 when he died in 2012, was like a pass-happy offensive coordinator in football, as are his disciples, all partial to high-scoring contests in which their guy wins by making more splashy big plays (think knockdowns and impressive displays of power-punching) than whomever is working the other sideline and playing D.
There are two ways, and two ways only, to win any athletic contest or boxing match. One is to score more than the other side; the other is to allow the other side to score less than you do. Those objectives might sound the same, but they are fundamentally worlds apart. Rare is the team or fighter equally adept at mastering both strategies and employing them interchangeably.
Hill takes the place of the more defense-oriented Ben Davison, jettisoned after his most recent outing as Fury's coach du jour, a unanimous but nonetheless worrisome decision over Sweden's Otto Wallin on Sept. 14, 2019, at the MGM Grand, a bout in which Fury incurred an ugly gash over his right eye that required 47 total stitches to close. It would not have been a travesty of justice had referee Tony Weeks or the ring physician stopped the fight at some point in the later rounds and awarded the underdog Scandinavian southpaw a shocking upset victory.
"I had a good defensive coach in Ben Davison," Fury, who also will have a new cut man, "Stitch" Duran, noted of the young trainer who took the place of his original trainer and uncle, Peter Fury, who also was determined to be lacking in some way. "We worked a lot on defense every single day for two years. It was defense, defense, defense.
"But I needed an aggressive trainer. I worked with Sugar Hill in the past. I knew he was a good guy. I knew we got on well, which was very important. Communication is key to any relationship. That's why I brought him in. It was one of the best decisions I ever made."
Now that he is better acquainted with the attacking Kronk methods passed on by Steward to Hill and some of his other assistants, it is little wonder that the 31-year-old Fury is uncharacteristically predicting a second-round knockout of Wilder, whose modus operandi is always the same: throw right-hand bombs -until one connects and dude laying on the canvas has been counted out. If you want to call the "Bronze Bomber" from Tuscaloosa, Ala., a one-trick pony, that's all right. He knows who and what he is, and he makes no apologies for unalterably adhering to the singular principle that has made him one of the hardest-hitting heavyweights of all time, and arguably the biggest bopper ever, according to Top Rank founder and CEO Bob Arum, who promotes Fury. You wouldn't think Arum would approve of Fury, a clearly more polished boxer, choosing to slug it out with Wilder in the center of the ring, but, as always, there are different paths to victory. The best fight plan indisputably is whichever one works.
"I have confidence in Tyson," Arum said of his new-look heavyweight headliner. "There are guys who say they're going to knock out their opponent, but it's like a baseball player getting up to the plate and trying to hit a home run. Anybody who knows baseball will say that the guy who looks to make contact has a better chance to hit a home run than the guy that's swinging from his heels."
A let-'er-fly guy like Wilder, in other words.
"Tyson is a great boxer, but he has the determination to knock out Wilder," Arum continued. "He's not going to force it, but the knockout will come. Unlike the first fight, when he got Wilder into trouble – and Wilder was in trouble a couple of times – he's not going to let him off the hook."
To Fury's way of thinking, the huge Briton – when you're 6-foot-9 and 254½ pounds, as the badly bleeding Gypsy King was for his excursion into the danger zone against Wallin – the only certainty of outcome is when the winner snatches the pencils out of the judges' hands. In their first clash, on Dec. 1, 2018, in Los Angeles' Staples Center, Fury was floored twice, a flash knockdown in the ninth round and something far more perilous in the 12th and final round, but he barely beat referee Jack Reiss' count and somehow managed to stay upright for more than two minutes until the final bell.
The outcome – a split draw – satisfied neither Wilder, who figured two knockdowns should have given him the edge, nor Fury, who seemingly stockpiled most of the non-knockdown rounds as a squirrel might horde acorns for the winter. The tabulations read 115-111 for Wilder on Alejandro Rochin's scorecard, 114-112 for Fury on Robert Tapper's, and 113-113 on the one submitted by swing judge Phil Edwards.
"I didn't get the decision because I didn't keep working on my boxing," Fury said. "I believe I can outbox Deontay Wilder very comfortable, but the fact of the matter is I outboxed him very comfortable the last time. But it's no good me believing it; the judges have to believe it. To guarantee victory, I've got to get a knockout. I don't want another controversial decision.
"Look, I'm not a judge. They see what they see. That's what they get paid to do. This time my destiny lies in my own two fists."
But what of the presumed imbalance of power? What if Wilder really does wield the biggest hammer in heavyweight history? Won't going toe-to-toe with him be like engaging Babe Ruth in home run derby or Michael Jordan in a slam-dunk competition?
"That was one of my easiest fights," Fury said of his first go at Wilder. "Other than the two knockdowns it was a pretty much one-sided fight. I've had fights much harder than that. My toughest opponent was Steve Cunningham, the former cruiserweight champion (who decked Fury in the second round of their April 20, 2013, bout in New York before finally succumbing on a seventh-round stoppage). It was my first step up to anybody with that type of ability. He was slick and hard to hit, awkward but a very good boxer."
It is Fury's contention that his various trainers have supplied him with the versatility to enter the lion's den and emerge relatively unscathed, while Wilder lacks the imagination and ability to go to a Plan B, if indeed he has one.
"I think there's nothing to worry about," Fury said of what he expects from Wilder. "He's got a big right hand and that's it. He's a one-dimensional fighter. The one who should be concerned is Deontay Wilder. He had me down twice, but he couldn't finish me. He landed the two best punches any heavyweight in the world could ever land on somebody else and the Gypsy King rose, like a phoenix, from the ashes.
"I'm match-fit, I'm ready, I'm confident, I'm injury-free. I'm ready for a war, one round or 12. And when I get him hurt, I'll throw everything but the kitchen sink at him. He won't know what hit him."
Maybe. But if another stylistic makeover on short notice doesn't yield the desired result, Tyson Fury could wind up looking like the horse that tried to be a kangaroo.
Wilder-Fury II can be accessed via ESPN+ and Fox Pay-Per-View. The suggested list price is $79.99.
Check out more boxing news on video at The Boxing Channel 
To comment on this story in the Fight Forum CLICK HERE
Johnny Famechon was a Hero in Australia Where Willie Pep Had a Bad Night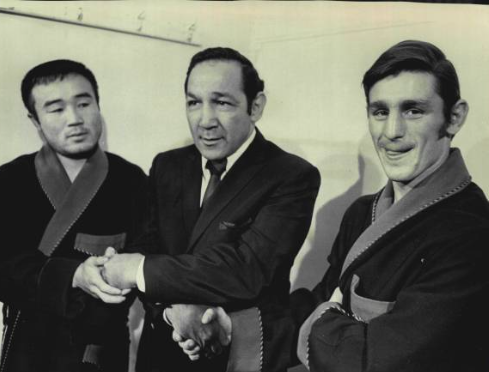 Willie Pep was good at boxing. He wasn't so good at math. Ah, but hold the phone; we are getting ahead of ourselves. This isn't a story about Willie Pep, but about former world featherweight champion Johnny Famechon who passed away last Thursday, Aug. 4, in Melbourne, Australia, at age 77.
Famechon was five years old when his parents left his birthplace in Paris and settled in Melbourne. He came to the fore in an era when boxing was still a mainstream sport and home-grown champions were national idols. The locals turned out in droves for the parade in Johnny's honor when he returned to Melbourne after taking the featherweight crown from the Cuban-born Spaniard Jose Legra in a big upset at London's Prince Albert Hall.
Famechon's first title defense came against Japan's Fighting Harada. They met in Sydney, Australia, on July 28, 1969.
At age 26, Harada was a battle-tested veteran. He previously held world titles at flyweight and bantamweight and would be remembered as the only man to defeat the great Brazilian boxer Eder Jofre, a feat he accomplished not once, but twice.
Only two boxers in history – Bob Fitzsimmons and Henry Armstrong – had won world titles in three of the eight classic weight divisions. Harada, who entered the International Boxing Hall of Fame in 1995, was bidding to become the third.
Team Harada insisted on a neutral referee. The British promoters chose Willie Pep. A legend in the sport, Pep had previously shared a ring with another Famechon, having out-pointed Johnny's uncle Ray Famechon in a featherweight title defense at Madison Square Garden in 1950.
Some thought that Pep would favor Fighting Harada. American referees put a higher premium on aggression than did their foreign counterparts and Harada was a little buzzsaw who rarely took a backward step. But others thought that Pep's selection favored Famechon, an elusive counterpuncher with whom the Connecticut "Will-'o-Wisp" could identify; their styles were similar.
Pep had been the third man in the ring for four previous title fights, three in Jamaica and one in Brazil. But this fight would be different. He would be the sole arbiter. If the fight went the full 15 rounds, Willie Pep would be the judge and jury.
During the bout, Famechon scored one knockdown, sending Harada to the canvas in round five, but Harada scored three, knocking Famechon down in rounds two, 11, and 14. The last of the three knockdowns was the harshest, but Famechon made it to the final bell.
The fight ended in a clinch. Immediately upon separating the fighters, Pep raised both of their hands, a signal that the fight was a draw.
Fighting Harada's handlers were outraged and demanded to see the scorecard. A policeman at ringside was empowered to give it a look-over (Australia had no boxing commission). What the policeman found was that there was indeed a discrepancy. However, it was the opposite of what Team Harada anticipated!
The fight was scored on the antiquated system whereby the winner of a round was awarded five points and the loser four points or less. In the case of an even round, both fighters got five points.
After 13 rounds, Fighting Harada had amassed 59 points on Pep's card. He won the 14th round, giving him an aggregate total of 64 points. But when Pep added up the numbers "59" and "5" in the column where he kept the aggregate total, he came up with "65."
Oops.
When Pep signaled that the fight was a draw, people stormed the ring from all sides. Newspaper reports said the belligerents were about evenly divided. Famechon, the Aussie, was the crowd favorite, but Fighting Harada was well-backed in the betting markets, a very big industry in Australia. Many were even angrier when Famechon was summoned back to the ring to have his hand raised.
The Famechon-Harada fight aired live on Japanese television. In Japan, there was a great outpouring of outrage. Pep had been instructed to score a round 5-4 if the round was narrow and 5-3 if there was a clear-cut winner. Despite the knockdowns, Pep scored every round 5-4 or 5-5. In the revised tally, he had Famechon winning 6-5-4 in rounds.
"Harada loses to referee" was the headline in Japan's leading sports daily. Willie Pep made no friends in Australia either. There were shouts of "Yankee go home" as he left the ring.
Famechon and Harada met again five months later in Tokyo. One would assume that Fighting Harada proved superior and got a fair shake, winning the third title denied him in Sydney. But don't assume.
Harada was well ahead after ten rounds but faded. On the deck in round 10, Famachon returned the favor three rounds later, knocking Harada down hard with a perfectly placed left hook. Harada was in dire straights when he came out for round 14 and Famechon put him away.
Harada never fought again and Famechon left the sport six months later after losing his crown to Vicente Saldivar. Johnny was only 25 years old, but had crammed 67 fights into a nine-year pro career and said enough is enough.
Famechon's post-boxing life took a tragic turn in 1991 when he was hit by a car while out jogging on a Sydney highway. He spent several weeks in a coma and several years in a wheelchair but eventually recovered most of his motor skills and regained his speech to the point where he could serve as a boxing color commentator on television. In 2018, a larger-than- life statue of Famechon was unveiled at a public park in the Melbourne suburb of Frankston where he was a longtime resident.
For the record, Johnny Famechon finished his career with a record of 56-5-6 with 20 KOs. We here at The Sweet Science send our condolences to his loved ones.
Arne K. Lang's latest book, titled "George Dixon, Terry McGovern and the Culture of Boxing in America, 1890-1910," will shortly roll off the press. The book, published by McFarland, can be pre-ordered directly from the publisher (https://mcfarlandbooks.com/product/clashof-the-little-giants) or via Amazon.
To comment on this story in the Fight Forum CLICK HERE
Fast Results from Fort Worth Where Vergil Ortiz Jr Won His 19th Straight by KO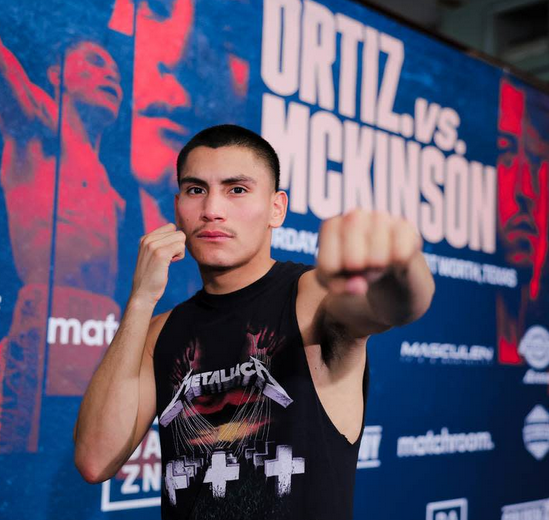 In a match pushed back from March 19, Vergil Ortiz Jr moved one step closer to a mega-fight with Terence "Bud" Crawford or Errol Spence Jr or Boots Ennis with a ninth-round stoppage of England's feather-fisted Michael McKinson. The end came 20 seconds into round nine when McKinson appeared to injure his knee as he fell to the canvas, an apparent residue of the body punch that put him on the deck late in the previous stanza. To that point, Ortiz had seemingly won every round.
It was the 19th win inside the distance in as many opportunities for Ortiz who resides in nearby Grand Prairie and was making his first start with new trainer Manny Robles. McKinson was undefeated heading in, but had scored only two knockouts while building his record to 22-0.
Ortiz, ranked #1 at welterweight by the WBA and the WBO, pulled out of the March 19 bout after being diagnosed with rhabdomyolysis, a muscle disorder associated with over-training.
Ortiz's promoter, Oscar De La Hoya, says that Ortiz will fight the winner of Errol Spence vs Terence Crawford next assuming that the fight gets made, and if doesn't get made, Ortiz's next fight will be with one or the other. The WBA, which stamped tonight's fight an eliminator, may push to have Ortiz fight their secondary title-holder, Eimantas Stanionis.
Co-Feature
Houston's Marlen Esparza (13-1, 1 KO) successfully defended her WBA/WBC world flyweight title with a unanimous decision over plucky 4'11 ½" Venezuelan southpaw Eva Guzman who had won 14 straight coming in, albeit against soft opposition. The judges had it 98-92 and 99-91 twice.
Guzman (19-2-1) was game, but just didn't have the physical tools to overcome Esparza whose lone defeat came at the hands of talented Seneisa Estrada.
Other Fights of Note
In a 10-round match contested at the catchweight of 150 pounds, Blair "The Flair" Cobbs rebounded from his first defeat with a career-best performance, a wide decision over former WBO 140-pound world titlist Maurice Hooker. It was the second straight loss for Hooker who returned to the ring after a 17-month hiatus and came out flat. Cobbs put him on the canvas in the opening frame with a combination and decked him twice more with straight lefts in round two.
Things got somewhat dicey for Cobbs in round five when he suffered a bad gash on his forehead from an accidental head butt, but Hooker, who had stablemate Bud Crawford in his corner, hesitated to let his hands go and couldn't reverse the tide. The judges had it 96-91 and 97-90 twice for the flamboyant Cobbs who improved to 16-1-1 (10). Hooker, a consensus 5/2 favorite, lost for the third time in his last five starts and slumped to 27-3-3.
In the opener to the main portion of the DAZN card, Uzbekistan's Bektimir Melikuziev (10-1, 8 KOs), a super middleweight growing into a light heavyweight, dominated and stopped overmatched Sladan Janjanin. Melikuziev put Janjanin down with a body punch in the opening minute of the fight and scored two more knockdowns before the bout was halted at the 2:18 mark of round three.
This was Melikuziev's third fight back after his shocking one-punch annihilation by Gabriel Rosado. Janjanin, a well-traveled Bosnian who fought three weeks ago in Massachusetts, declined to 32-12 and was stopped for the eighth time.
Also
Chicago welterweight Alex Martin (18-4, 6 KOs) overcame a first-round knockdown to win a unanimous decision over 38-year-old Philadelphia journeyman Henry Lundy. The judges had it an unexpectedly wide 98-91, 97-92, 97-92.
Martin was coming off a points loss to McKinson and this bout was his reward for taking that fight on short notice. Lundy (31-11-1) has lost five of his last seven.
Floyd "Austin Kid" Schofield, a lightweight who appears to have a big upside, advanced to 11-0 (9 KOs) at the expense of Mexican trial horse Rodrigo Guerrero whose corner wisely pulled him out after five one-sided rounds. It was the ninth straight loss for Guerrero (26-15).
To comment on this story in the Fight Forum CLICK HERE
Conlan Wins His Belfast Homecoming; Breezes Past Lackadaisical Marriaga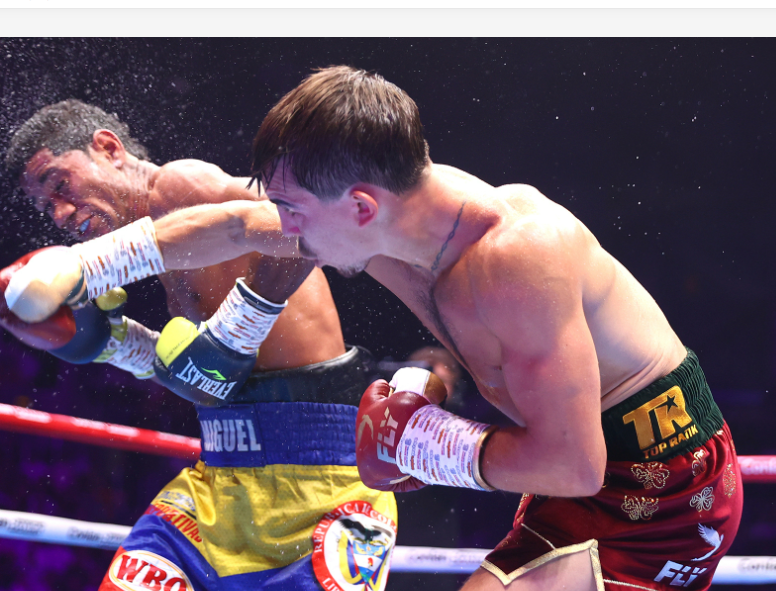 "The Return of the Mick" was the label attached to tonight's show at the SSE Arena in Belfast, Northern Ireland. The reference was to local fan favorite Michael "Mick" Conlan who returned to his hometown in hopes of jump-starting his career after suffering his first pro loss in a brutal encounter with Leigh Wood.
In that bout, a strong "Fight of the Year contender, Conlan was narrowly ahead on all three cards heading into the 12th and final round when the roof fell in. Wood, who was making the first defense of his WBA world featherweight title on his home turf in Nottingham, knocked the favored Conlan unconscious and clear out of the ring.
This was the sort of fight that can shorten a man's career. Hence the intrigue in Conlan's homecoming fight tonight against Miguel Marriaga. On paper, the Colombian, a three-time world title challenger, was a stern test considering the circumstances.
To the contrary, Marriaga had no fire in his belly until the final round when he hit Conlan with a shot that buckled his knees. But, by then Conlan was so far ahead without overly exerting himself that there was virtually no chance of another meltdown.
While Conlan won lopsidedly, the scores – 99-89 and 99-88 twice – were somewhat misleading. True, "Mick" had Marriaga on the deck in rounds 7, 8, and 9, but the punches that put him there did not look particularly hard.
Conlan, 30, improved to 17-1 (8). Marriaga, 35, declined to 30-6.
After the fight, Conlan expressed the hope that Leigh Wood would give him a rematch.
Other Bouts of Note
In an entertaining 10-round welterweight scrap that could have gone either way, Belfast's Tyrone McKenna (23-3-1, 6 KOs) rebounded from his defeat in Dubai to Regis Prograis (TKO by 6) with a hard-fought unanimous decision over 33-year-old Welshman Chris Jenkins (23-6-3). The judges favored the local fighter by scores of 97-94 and 96-95 twice.
Jenkins, a former British and Commonwealth title-holder, had the best of the early going, working the body effectively while frequently finding a home for his uppercut, but he could not sustain his advantage.
Thirty-four-year-old Belfast super middleweight Padraig McCrory who got a late start in boxing, scored the most important win of his career with a fifth-round stoppage of Marco Antonio Periban, a former world title challenger. McCrory had Periban on the deck three times – once in the second and twice in the fifth – before the bout was halted at the 2:14 mark of round five.
It was the fourth straight win inside the distance for McCrory who improved to 14-0 (8 KOs). Mexico's Periban, who returned to the sport in April after missing all of 2020 and 2021, fell to 26-6-1.
Highly-touted welterweight Paddy Donovan improved to 9-0 (6) with an 8-round unanimous decision over Yorkshireman Tom Hall (10-3). The referee scored every round for Donovan, an Irish Traveler trained by Tyson Fury's bosom buddy Andy Lee, the former world middleweight title-holder.
Photo credit: Mikey Williams / Top Rank via Getty Images
To comment on this story in the Fight Forum CLICK HERE