132,000-Plus….A Boxing Attendance Record Unlikely to Ever be Broken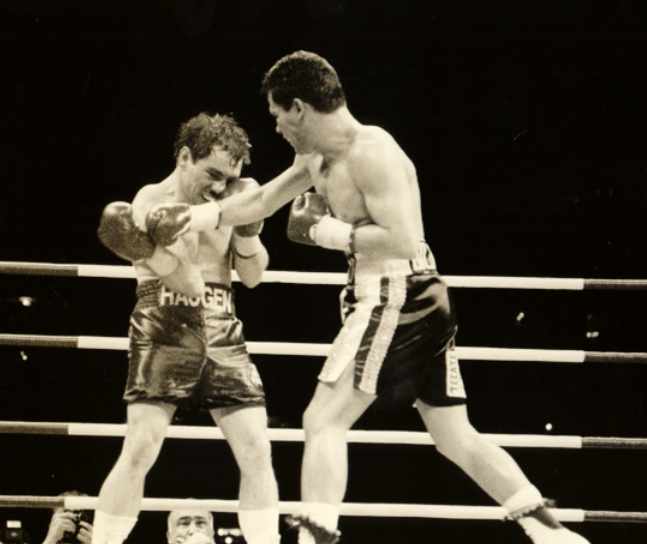 You always hear that records are meant to be broken, but, barring a stunning change in national policy by a Communist country unwelcoming to outsiders, the 132,000-plus that turned out to see Julio Cesar Chavez pummel Greg Haugen on Feb. 20 1993, at Mexico City's Estadio Azteca likely will forever stand first for live attendance for a boxing event.
Chavez's intentionally cruel thrashing of the lippy Haugen enabled the Mexican national hero variously known as "JC Superstar" and El Gran Campeon to successfully defend his WBC super lightweight title for the 10th time. That fight was the capper to an incredibly deep card dubbed the "Grand Slam of Boxing" by promoter Don King, which also featured title retentions by such top-shelf attractions as Azumah Nelson, Terry Norris and Michael Nunn. But make no mistake, those outstanding fighters – Nelson and Norris, like Chavez, have been inducted into the International Boxing Hall of Fame – merely served as fillers until the main event. The massive crowd might have been nearly as large and boisterous had the only scheduled bout been the white-hatted Chavez vs. Haugen, the presumptive American villain.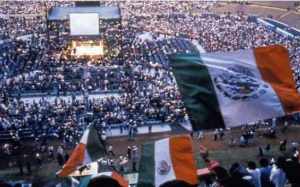 The announced attendance of 132,247 for a showdown fast approaching its 27th anniversary shattered the previous high for a boxing event, the 120,470 that filled Philadelphia's Sesquicentennial Stadium on Sept. 23, 1926, to see Gene Tunney lift Jack Dempsey's heavyweight title on a 10-round unanimous decision. (A crowd estimated at 135,000 turned up in a public park in Milwaukee to see Tony Zale fight Billy Pryor on Aug. 16, 1941, but that doesn't count as there was bleacher seating for only a few thousand and the event was free for everyone.)
The recent incidence of stadium bouts with impressively large gatherings – 90,000 jammed London's Wembley Stadium on April 29, 2017, to watch Great Britain's Anthony Joshua retain his WBA and IBF heavyweight titles on an 11th-round TKO of long-reigning previous champion Wladimir Klitschko – hints at more large throngs willing to leave the comfort of their living rooms to see live boxing, but no promoter can fit a gallon into a quart bottle. Live attendance at least partially hinges on how much space there is in a place, and there is only one stadium that presently has a seating capacity larger than that of Estadio Azteca in 1993. That would be Rungrado 1st of May Stadium in Pyongyang, North Korea, which has a capacity of 150,000. But that huge facility is used primarily as a means of the country's populace dutifully assembling for the purpose of feeding the ego of dictator Kim Jong Un.
It's a sharp drop from Rungrado 1st of May Stadium to the 110,000-seat capacity of Sardar Patel Gujarat Stadium in India, known mostly as a cricket venue, and the 107,601-seat Michigan Stadium, the "Big House" of college football in the United States. Sesquicentennial Stadium (later known as John F. Kennedy Stadium) was demolished in 1992, and even Estadio Azteca, which was erected to host the soccer matches at the 1968 Mexico City Olympics, has been downsized, having undergone renovations in 1999, 2013 and 2016. It now lists a capacity of "only" 87,523.
All of which likely stamps Chavez-Haugen as a pugilistic equivalent to Woodstock as a you-had-to-be-there human magnet in the estimation of renowned ring announcer Jimmy Lennon Jr., whose memories of the literally biggest event he ever worked are as vivid now as they were then.
"I can't remember if they had large projection screens like they do now, but I'm assuming they didn't have them then," recalled Lennon, who joined referee Joe Cortez in sharing their recollections for this story. "Here you had this vast sea of people.  I saw these little fires high up in the stands. People brought their own food and were cooking way up in the more distant seats. I remember thinking this was more of a mass celebration than just a sporting event. Whether or not a lot of people could really see much down in the ring, it certainly seemed that they were enjoying themselves. It was kind of like the huge crowd for Woodstock; just being there was a huge part of it."
Cortez, now 76 and retired from refereeing, said he also was amazed by the gargantuan crowd.
"Walking into the stadium that day was like walking into a different world," he said. "You had to be there to believe it, an event with that many fans, almost all of them rooting for Chavez.
"When Chavez was making his walk to the ring, the cheers were so incredibly loud I almost had to cover my ears, and the boos for Haugen when he was making his walk to the ring were just about as loud. It was an intense feeling, I think, for everybody. I knew it was for me. I never had been in a situation like that. I remember thinking, `What the hell can the people in the seats farthest away from the ring see, unless they have binoculars? The fighters must have seemed like two little ants, with me the third ant, in a tiny box. I knew then it was going to be an experience I would remember the rest of my life, and I still feel that way."
Even though Chavez was and is the most popular Mexican fighter ever, the scene might not have been so incredibly jam-packed or emotional were not for the opponent. The ill will Chavez harbored toward Haugen, a onetime "Tough Man" contestant who had risen above those humble circumstances to win titles at both lightweight and super lightweight, was palpable, and had been simmering for three years. Each new affront by Haugen only served to harden JCC's determination to someday make him pay.
The feud began behind closed doors, when Haugen showed up at a Chavez sparring session. As Chavez left the ring, Haugen approached him and sneeringly said that his sparring partners were "nothing but young little girls with dresses on."
"I hated him from that moment on," Chavez would later say, with Haugen seemingly enjoying any occasion by which he could verbally torment a fighter who the trash-talking antagonist knew would represent his biggest payday.
The stakes were raised on Dec. 13, 1992, moments after Chavez had scored a sixth-round TKO of Marty Jakubowski at The Mirage in Las Vegas. Haugen entered the ring and again confronted Chavez, telling him that his 84-0, with 72 wins inside the distance, had been crafted against "Tijuana taxi drivers that my mom could whip." But this insult was heard on television, a flung gauntlet that Chavez was only too glad to pick up. He would make Haugen, who came in 32-4-1 with 16 KO victories, regret such impudence.
"I will not have mercy on you," Chavez told Haugen. "I will rip your head off."
King immediately realized that this fight called for the biggest possible setting, and what could be bigger than Estadio Azteca? His Hairness played up the revenge angle to the hilt, which was to be expected, except that it wasn't standard pre-fight hype this time. Chavez, who was known to inflict as much pain as possible on any opponent who did not pay him his due as a great fighter, was on a mission to hurt and humiliate Haugen more so than anyone he had faced. There is little doubt that Chavez's making the bout personal imbued his many supporters with the determination to be there so they could someday regale their children and grandchildren with the tale of how they witnessed their glorious knight slay the impudent dragon.
"I arrived very early at the stadium, maybe 1 p.m. or 1:30," Lennon recalled. "I was in my tuxedo and practicing my announcements, but even then, maybe nine hours before the main event went on, there had to be 15,000 people in the stands. They were cheering as I practiced my introduction of Chavez. It's always kind of awkward to practice your introductions in an empty arena, but it sure wasn't empty then. Of course, all 132,000 hadn't shown up either."
Cortez, as was the case with almost everyone there except the few hardy souls who had come to support Haugen, figured Chavez to win. But what if the brash underdog from Washington state pulled off the upset that could spoil the festive mood of all those JCC supporters?
"The security was unbelievable," Cortez said. "There were so many police officers and military people with their plastic shields, and a lot of them had German Shepherds on leashes. If a riot broke out, which nobody wanted, the security people were ready, but how ready could they have been with a crowd that big?"
Fortunately for all concerned, maybe even Haugen, the hordes of Chavez fans who had come anticipating another sterling performance by their hero got it, which enabled all of them to go home happy. Chavez dropped Haugen with an overhand right just 25 seconds into the first round, the first time the challenger had been decked as a pro, and he might have finished him off shortly thereafter had he pressed the issue. But Chavez eased his foot off the gas pedal, the better to do what he had vowed to do, which was to prolong the pain he was so intent on dishing out. That plan must have been obvious to everyone, even to the folks in the nosebleed section who paid only 5,000 pesos for their bargain tickets, then the equivalent of about $1.65 U.S.
"He has no way to keep Julio Cesar Chavez off, except mercy on the part of Chavez, and he has none," TV commentator Ferdie Pacheco said of the systematic disassembly of a fighter who had no chance of winning but was too proud and determined to quit.
"I remember the way Chavez punished Haugen to the body instead of getting him out of there quickly," Lennon said. "But that was the way Chavez was. You had the sense he was controlling every moment of the fight and could have ended it whenever he wanted to."
Finally, after an elapsed time of 2 minutes, 2 seconds in the fifth, Chavez decided Haugen had had enough. Or maybe it was the compassionate Cortez who chose to intervene, wrapping his arms around the valiant but thoroughly beaten-up American.
Asked what he thought about all those "Tijuana taxi drivers" who he had characterized as Chavez victims, Haugen said, "They must have been very tough taxi drivers."
No fight is made memorable solely by the number of butts occupying the seats. Upon reflection, Chavez vs. Haugen was utter domination of a good fighter by a clearly superior one. There have been many of those in the annals of the sport. But still …
"That is definitely one fight I won't forget," Lennon said. "When people ask me about the most memorable fights I've done, that one is right up there. If it isn't No. 1, it's pretty close, if only for the size of the crowd."
Check out more boxing news on video at The Boxing Channel 
To comment on this story in The Fight Forum CLICK HERE
Bazinyan Improves to 29-0, but Gollaz and Gaumont Steal the Show in Montreal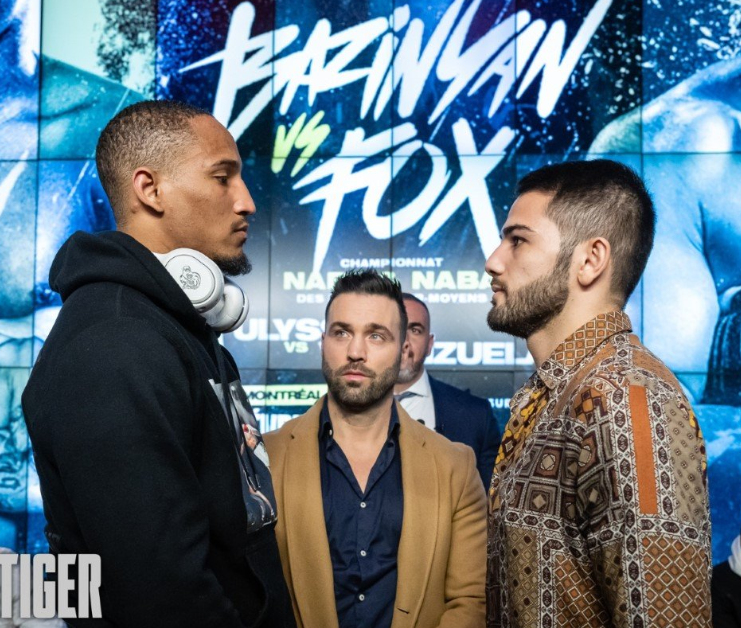 Super middleweight Erik Bazinyan, ranked #3 by the WBA and the WB0 and #4 by the WBC, advanced his record to 29-0 (21) on Thursday night at the Casino de Montreal with a hard-earned majority decision over Alantex Fox. The judges had it 95-95 and 98-92 twice.
A member of the National Team in Armenia before moving with his parents to Quebec at age 16, Bazinyan was moving up in class while making the first defense of two North American titles. In Fox, one of two fighting brothers from Upper Marlboro, Maryland, he was meeting a 12-year pro who brought a 28-3-1 record.
The fight was messy at times as was often the case with the six-foot-four Fox who tends to tie up his opponents when they happen to borrow inside his long arms. The fight was fairly even through the first six frames, but Bazinyan forged ahead as Fox's workrate declined.
There were two brutal upsets on the undercard, both of which ended in the opening round.
In a super lightweight match slated for 10, Guadalajara's Gabriel Gollaz, who was billed for this fight under his mother's maiden name, Valenzuela, solidified his reputation as a treacherous spoiler with a first round blast-out of Yves Ulysse Jr. The Mexican, who improved to 26-3-1 with his 16th knockout, caught Ulysses leaning in and crumpled him with a brutal uppercut. Ulysse, who hadn't previously been stopped, appeared to suffer a leg injury as he fell and was carried from the ring.
In 2021, Gollaz went to London and upset former British Commonwealth champion Robbie Davies Jr. More recently, he came within a shade of upsetting Matchroom signee Montana Love, losing a 12-round decision.
A 34-year-old Montreal native of Haitian ancestry, Ulysse (22-3) was considered a bright prospect after taking Cletus Seldin to school in 2017. After tonight's match, which lasted all of 52 seconds, he indicated that he would retire.
Another Mexican import, middleweight Carlos Gallego, wasn't as fortunate. Gallego, 8-4 heading in, was knocked out in the opening round by local fan favorite Alexandre Gaumont (7-0, 5 KOs).
Gaumont forced the stoppage with a barrage of punches after snapping Gallego's head back with a vicious uppercut. Gallego tried to rise and then fell back to his knees as the bout was being waived off. The official time was 2:26.
Gaumont, 27, knocked out 12 of his 21 opponents as an amateur. He bears watching.
Presented by Camille Estephan's Eye of the Tiger Promotions, tonight's card aired in the U.S. on ESPN+.
To comment on this story in the Fight Forum CLICK HERE
Alycia Baumgardner vs Elhem Mekhaled: Female Splendor at MSG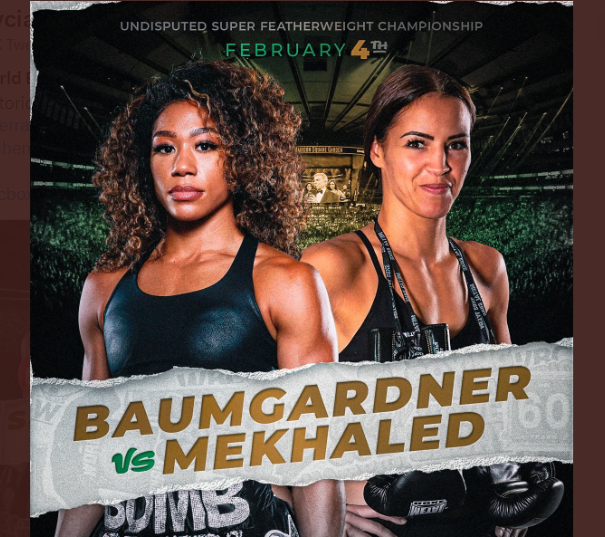 Alycia Baumgardner vs Elhem Mekhaled: Female Splendor at MSG
Two bouts between women, which will turn the winners into undisputed champions in the featherweight and super featherweight divisions, will create an electrifying atmosphere this Saturday, February 4th at Madison Square Garden.
In the duel between the two southpaws, Puerto Rican Amanda Serrano (43-2-1, 30 KOs), based in Brooklyn), will defend her 126-pound WBC, IBF and WBO titles, while Mexican Erika Cruz (15-1, 3 KOs) will defend her WBA title.
Also, of great interest will be the fight between American Baumgardner (13-1, 7 KOs), 130-pound WBC, IBF and WBO champion and her opponent, French challenger Elhem Mekhaled (15-1, 3 KOs), who will try to snatch Baumgardner's titles and get the vacant WBA title, which belonged to the undefeated Korean Choi Hyun-Mi (20-1, 5 KOs).
Choi, who was born in Pyongyang, North Korea but left the country with her family at the age of 14 and settled in Seoul, South Korea, was declared "Champion in Recess", as she suffers from a medical condition that prevents her from fighting. Once she fully recovers, she will have the possibility of facing, as a mandatory challenger, the winner between Baumgardner and Mekhaled.
For Baumgardner, who was born 28 years ago in Ohio, but now lives and trains in Michigan, the fight in New York will once again allow her to showcase her skills in the United States after three consecutive fights in the United Kingdom.
In her most recent bout, Baumgardner defeated her compatriot Mikaela Mayer (17-1, 5 KOs) in a difficult brawl, from whom she snatched the IBF and WBO belts, while retaining the WBC belt. The bout was October 15th of last year at the O2 Arena in London. Two of the officials, Steve Gray and John Latham, scored the fight 96-95 in favor of Baumgardner, but Terry O'Connor saw it 97-93 for Mayer.
Four days later, Choi unanimously defeated Canada's Vanessa Bradford (6-4-2, 0 KOs) in Seoul, earning the Asian her ninth successful defense of the WBA super featherweight crown, which she has held since May 2014, when she anesthetized the now retired Thai, Siriwan Thongmanit.
The following month, in November, the WBA ordered Choi to defend her belt in a mandatory duel against Baumgardner, making the winner the undisputed queen of 130 pounds.
ELHEM MEKHALED FILLS THE VACANCY OF SOUTH KOREAN CHOI
To fill the vacancy of the South Korean Choi, the IBF Committee awarded the position to Mekhaled who ranks third in the women's 130-pound rankings.
Former interim WBC titleholder, Mekhaled, 31 years old and born in Paris, has recently lost by unanimous decision to Belgian Delfine Persoon (47-3, 19 KOs) at the Etihad Arena in Abu Dhabi where they disputed the vacant WBC silver belt.
The duel against Baumgardner not only allows Mekhaled to debut in the United States, but also provides her the opportunity to become the undisputed champion at 130 pounds.
Mekhaled emphasized that the February 4th event has great significance for women fighters and that this is a sign that the discipline is growing, with more and more fight cards in which women exhibit the leading role.
The French boxer said that after winning the interim title in 2015, she waited a long time for the opportunity to fight for the regular belt, but unfortunately it never materialized.
Mekhaled explained that after a long period of focusing on her personal life and not really training, she accepted the duel with Delfine Persoon with only two weeks of preparation, which led to the setback against the Belgian boxer.
"Since my WBC interim 2019 title, I've been waiting for this moment," said Mekhaled. "Maybe fate has played well; instead of one belt, they're all on the line. I am super excited to fight on February 4th at the legendary MSG in New York. God knows how determined I am! It's my time to shine. Thank you to my advisor Sarah Fina."
Article submitted by Jorge Juan Álvarez in Spanish.
Please note any adjustments made were for clarification purposes and any errors in translation were unintentional.
To comment on this story in the Fight Forum CLICK HERE
How good is Jake Paul? Shane Mosley's Answer May Surprise You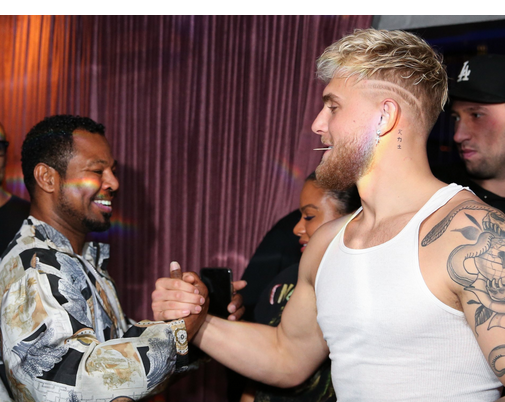 Few celebrities in the world today are as polarizing as Jake Paul. The 26-year-old Cleveland native who fights Tommy Fury in an 8-round match on Feb. 26 in Riyadh, Saudi Arabia, has fervent fans and equally fervent detractors. To long-time aficionados of boxing, especially those born before the arrival of the internet, Jake Paul and his ilk are widely looked upon as a scourge.
Paul first entered the squared circle on Aug. 25, 2018, at the Manchester Arena in England. He fought fellow YouTube star Deji Olatunji in the co-feature to a match between their respective older brothers, Logan Paul and the "influencer" known as KSI. The combatants promoted the event on their social media platforms
These were exhibitions fought with headgear. Jake Paul stopped Olatunji whose corner pulled him out after five rounds. However, the results wouldn't appear on boxrec, the sport's official record-keeper.
No serious boxing fan paid this curious event any heed, but the folks that profit from the sport without taking any punches stood up and took notice. The on-site gate reportedly exceeded $3 million. The event reportedly generated 1.3 million pay-per-view buys worldwide (youtube charged $10 a pop) with nearly as many beholders catching a free ride on a pirate stream. A new era was born, or at least a new sub-set of a heretofore calcified sport.
Jake Paul had his first professional fight on Jan. 30, 2020, in Miami. In the opposite corner was a British social media personality of Saudi Arabian lineage who took the name AnEsonGib. Paul stopped him in the opening round.
Paul fought once more that year, knocking out former NBA star Nate Robinson, and three times in 2021, opposing Ben Askren and then Tyron Woodley twice. Askren and Woodley were former MMA champions who had fabled careers as U.S. collegiate wrestlers, but both were newcomers to boxing.
According to Forbes, Jake Paul made $31 million from boxing in 2021. And therein lies the rub. While thousands of would-be future champions, many with deep amateur backgrounds, toiled away in boxing gyms honing their craft while hoping to attract the eye of an important promoter, a guy like Jake Paul came along and jumped the queue. It just ain't fair.
In preparation for his pro debut against AnEson Gib, Paul spent time in Big Bear, California, training at the compound of Shane Mosley. A first ballot Hall of Famer (class of 2020), Mr. Mosley needs no introduction to readers of this web site. And when he says that Jake Paul is legit, one is inclined to give him the benefit of the doubt.
"I taught him the fundamentals," says Mosley, "but Jake was a good listener and a hard worker. He's a good athlete and he has a boxer's mentality. We took him down the street to Abel Sanchez's gym and had him spar with real professional fighters. He would spar with anybody and when he got caught with a hard punch he wouldn't back down. He loves the sport and he relished the competition."
Mosley stops short of saying that Jake Paul could hold his own with Canelo Alvarez – Paul preposterously called out Canelo after out-pointing 47-year-old MMA legend Anderson Silva in his most recent fight – but with so many titles up for grabs in this balkanized sport, it wouldn't   surprise Mosely if the self-styled "Problem Child" latched hold of one before this phase of his life was over.
A three-time national amateur champion and a world champion at 135, 147, and 154 pounds as a pro, Shane Mosley put Pomona, California on the boxing map. He represented that city in LA county throughout his illustrious career. His son of the same name was born there.
Mosley fought twice in his hometown as he was coming up the ladder and will be back there again on Feb. 18 when Shane Mosley Jr appears on the undercard of a Golden Boy Promotions card at Pomona's historic Fox Theater. It's not official yet so we won't divulge the name of Shane's opponent, but the main event will pit Luis Nery against Azat Hovhannisyan in a WBC Super Bantamweight Eliminator, a match that shapes up as an entertaining skirmish as both have fan-friendly styles.
Shane Mosley Jr, who turned 31 in December, will never replicate his father's fistic accomplishments; his dad set the bar too high. But the younger Mosley is a solid pro who is on a pretty nice roll, having won five of his last six since losing a 10-round decision to Brandon Adams in the finals of season 5 of The Contender series. In his last outing, he out-slicked rugged Gabriel Rosado to win a regional super middleweight title.
The elder Mosley has been working with his son at Bones Adams gym in Las Vegas and will be in junior's corner on Feb. 18. It will be a double-homecoming for Pomona's favorite sons.
To comment on this story in the Fight Forum CLICK HERE
Arne K. Lang's third boxing book, titled "George Dixon, Terry McGovern and the Culture of Boxing in America, 1890-1910," has rolled off the press. Published by McFarland, the book can be ordered directly from the publisher or via Amazon.