132,000-Plus….A Boxing Attendance Record Unlikely to Ever be Broken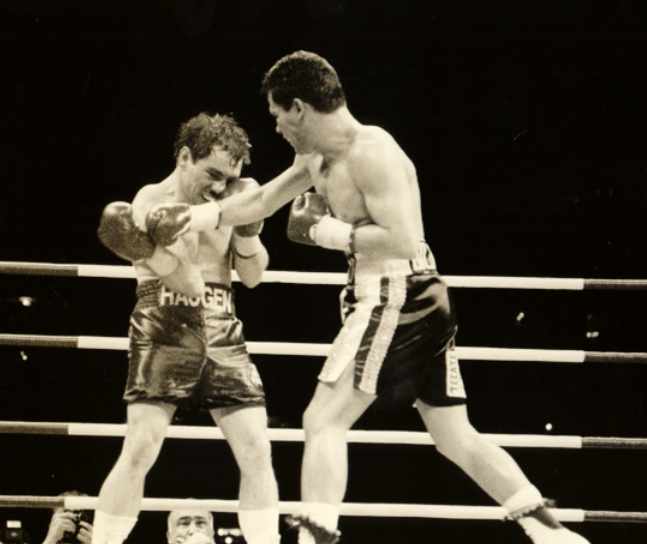 You always hear that records are meant to be broken, but, barring a stunning change in national policy by a Communist country unwelcoming to outsiders, the 132,000-plus that turned out to see Julio Cesar Chavez pummel Greg Haugen on Feb. 20 1993, at Mexico City's Estadio Azteca likely will forever stand first for live attendance for a boxing event.
Chavez's intentionally cruel thrashing of the lippy Haugen enabled the Mexican national hero variously known as "JC Superstar" and El Gran Campeon to successfully defend his WBC super lightweight title for the 10th time. That fight was the capper to an incredibly deep card dubbed the "Grand Slam of Boxing" by promoter Don King, which also featured title retentions by such top-shelf attractions as Azumah Nelson, Terry Norris and Michael Nunn. But make no mistake, those outstanding fighters – Nelson and Norris, like Chavez, have been inducted into the International Boxing Hall of Fame – merely served as fillers until the main event. The massive crowd might have been nearly as large and boisterous had the only scheduled bout been the white-hatted Chavez vs. Haugen, the presumptive American villain.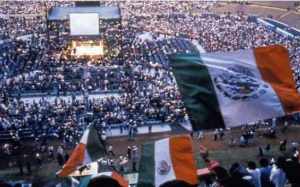 The announced attendance of 132,247 for a showdown fast approaching its 27th anniversary shattered the previous high for a boxing event, the 120,470 that filled Philadelphia's Sesquicentennial Stadium on Sept. 23, 1926, to see Gene Tunney lift Jack Dempsey's heavyweight title on a 10-round unanimous decision. (A crowd estimated at 135,000 turned up in a public park in Milwaukee to see Tony Zale fight Billy Pryor on Aug. 16, 1941, but that doesn't count as there was bleacher seating for only a few thousand and the event was free for everyone.)
The recent incidence of stadium bouts with impressively large gatherings – 90,000 jammed London's Wembley Stadium on April 29, 2017, to watch Great Britain's Anthony Joshua retain his WBA and IBF heavyweight titles on an 11th-round TKO of long-reigning previous champion Wladimir Klitschko – hints at more large throngs willing to leave the comfort of their living rooms to see live boxing, but no promoter can fit a gallon into a quart bottle. Live attendance at least partially hinges on how much space there is in a place, and there is only one stadium that presently has a seating capacity larger than that of Estadio Azteca in 1993. That would be Rungrado 1st of May Stadium in Pyongyang, North Korea, which has a capacity of 150,000. But that huge facility is used primarily as a means of the country's populace dutifully assembling for the purpose of feeding the ego of dictator Kim Jong Un.
It's a sharp drop from Rungrado 1st of May Stadium to the 110,000-seat capacity of Sardar Patel Gujarat Stadium in India, known mostly as a cricket venue, and the 107,601-seat Michigan Stadium, the "Big House" of college football in the United States. Sesquicentennial Stadium (later known as John F. Kennedy Stadium) was demolished in 1992, and even Estadio Azteca, which was erected to host the soccer matches at the 1968 Mexico City Olympics, has been downsized, having undergone renovations in 1999, 2013 and 2016. It now lists a capacity of "only" 87,523.
All of which likely stamps Chavez-Haugen as a pugilistic equivalent to Woodstock as a you-had-to-be-there human magnet in the estimation of renowned ring announcer Jimmy Lennon Jr., whose memories of the literally biggest event he ever worked are as vivid now as they were then.
"I can't remember if they had large projection screens like they do now, but I'm assuming they didn't have them then," recalled Lennon, who joined referee Joe Cortez in sharing their recollections for this story. "Here you had this vast sea of people.  I saw these little fires high up in the stands. People brought their own food and were cooking way up in the more distant seats. I remember thinking this was more of a mass celebration than just a sporting event. Whether or not a lot of people could really see much down in the ring, it certainly seemed that they were enjoying themselves. It was kind of like the huge crowd for Woodstock; just being there was a huge part of it."
Cortez, now 76 and retired from refereeing, said he also was amazed by the gargantuan crowd.
"Walking into the stadium that day was like walking into a different world," he said. "You had to be there to believe it, an event with that many fans, almost all of them rooting for Chavez.
"When Chavez was making his walk to the ring, the cheers were so incredibly loud I almost had to cover my ears, and the boos for Haugen when he was making his walk to the ring were just about as loud. It was an intense feeling, I think, for everybody. I knew it was for me. I never had been in a situation like that. I remember thinking, `What the hell can the people in the seats farthest away from the ring see, unless they have binoculars? The fighters must have seemed like two little ants, with me the third ant, in a tiny box. I knew then it was going to be an experience I would remember the rest of my life, and I still feel that way."
Even though Chavez was and is the most popular Mexican fighter ever, the scene might not have been so incredibly jam-packed or emotional were not for the opponent. The ill will Chavez harbored toward Haugen, a onetime "Tough Man" contestant who had risen above those humble circumstances to win titles at both lightweight and super lightweight, was palpable, and had been simmering for three years. Each new affront by Haugen only served to harden JCC's determination to someday make him pay.
The feud began behind closed doors, when Haugen showed up at a Chavez sparring session. As Chavez left the ring, Haugen approached him and sneeringly said that his sparring partners were "nothing but young little girls with dresses on."
"I hated him from that moment on," Chavez would later say, with Haugen seemingly enjoying any occasion by which he could verbally torment a fighter who the trash-talking antagonist knew would represent his biggest payday.
The stakes were raised on Dec. 13, 1992, moments after Chavez had scored a sixth-round TKO of Marty Jakubowski at The Mirage in Las Vegas. Haugen entered the ring and again confronted Chavez, telling him that his 84-0, with 72 wins inside the distance, had been crafted against "Tijuana taxi drivers that my mom could whip." But this insult was heard on television, a flung gauntlet that Chavez was only too glad to pick up. He would make Haugen, who came in 32-4-1 with 16 KO victories, regret such impudence.
"I will not have mercy on you," Chavez told Haugen. "I will rip your head off."
King immediately realized that this fight called for the biggest possible setting, and what could be bigger than Estadio Azteca? His Hairness played up the revenge angle to the hilt, which was to be expected, except that it wasn't standard pre-fight hype this time. Chavez, who was known to inflict as much pain as possible on any opponent who did not pay him his due as a great fighter, was on a mission to hurt and humiliate Haugen more so than anyone he had faced. There is little doubt that Chavez's making the bout personal imbued his many supporters with the determination to be there so they could someday regale their children and grandchildren with the tale of how they witnessed their glorious knight slay the impudent dragon.
"I arrived very early at the stadium, maybe 1 p.m. or 1:30," Lennon recalled. "I was in my tuxedo and practicing my announcements, but even then, maybe nine hours before the main event went on, there had to be 15,000 people in the stands. They were cheering as I practiced my introduction of Chavez. It's always kind of awkward to practice your introductions in an empty arena, but it sure wasn't empty then. Of course, all 132,000 hadn't shown up either."
Cortez, as was the case with almost everyone there except the few hardy souls who had come to support Haugen, figured Chavez to win. But what if the brash underdog from Washington state pulled off the upset that could spoil the festive mood of all those JCC supporters?
"The security was unbelievable," Cortez said. "There were so many police officers and military people with their plastic shields, and a lot of them had German Shepherds on leashes. If a riot broke out, which nobody wanted, the security people were ready, but how ready could they have been with a crowd that big?"
Fortunately for all concerned, maybe even Haugen, the hordes of Chavez fans who had come anticipating another sterling performance by their hero got it, which enabled all of them to go home happy. Chavez dropped Haugen with an overhand right just 25 seconds into the first round, the first time the challenger had been decked as a pro, and he might have finished him off shortly thereafter had he pressed the issue. But Chavez eased his foot off the gas pedal, the better to do what he had vowed to do, which was to prolong the pain he was so intent on dishing out. That plan must have been obvious to everyone, even to the folks in the nosebleed section who paid only 5,000 pesos for their bargain tickets, then the equivalent of about $1.65 U.S.
"He has no way to keep Julio Cesar Chavez off, except mercy on the part of Chavez, and he has none," TV commentator Ferdie Pacheco said of the systematic disassembly of a fighter who had no chance of winning but was too proud and determined to quit.
"I remember the way Chavez punished Haugen to the body instead of getting him out of there quickly," Lennon said. "But that was the way Chavez was. You had the sense he was controlling every moment of the fight and could have ended it whenever he wanted to."
Finally, after an elapsed time of 2 minutes, 2 seconds in the fifth, Chavez decided Haugen had had enough. Or maybe it was the compassionate Cortez who chose to intervene, wrapping his arms around the valiant but thoroughly beaten-up American.
Asked what he thought about all those "Tijuana taxi drivers" who he had characterized as Chavez victims, Haugen said, "They must have been very tough taxi drivers."
No fight is made memorable solely by the number of butts occupying the seats. Upon reflection, Chavez vs. Haugen was utter domination of a good fighter by a clearly superior one. There have been many of those in the annals of the sport. But still …
"That is definitely one fight I won't forget," Lennon said. "When people ask me about the most memorable fights I've done, that one is right up there. If it isn't No. 1, it's pretty close, if only for the size of the crowd."
Check out more boxing news on video at The Boxing Channel 
To comment on this story in The Fight Forum CLICK HERE
Berchelt TKOs Valenzuela in Mexico City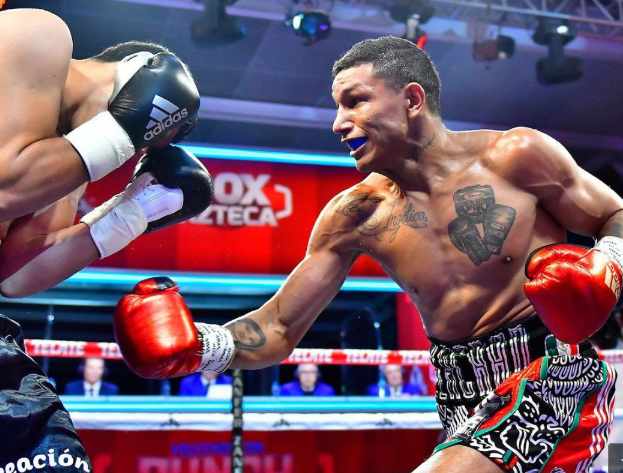 Mexico's Miguel Berchelt hammered his way to a decisive knockout victory over fellow Mexican Eleazar Valenzuela in a non-title light fight on Saturday.
After nearly nine months off, WBC super featherweight titlist Berchelt (38-1, 34 KOs) unraveled a withering body attack including numerous low blows but Valenzuela remained upright in front of a sparse TV studio audience until he could take it no longer.
Berchelt used a seven-punch combination to knock the senses out of the very tough Valenzuela who hails from Sinaloa. The referee saw enough and stopped the fight with Valenzuela leaning against the ropes with a dazed look.
The champion from Cancun used a triple left hook in the first round to floor Valenzuela and it looked like the fight would not last more than two rounds. But Valenzuela, a sturdy veteran, bored into Berchelt to keep him off balance and was able to stop the momentum.
It did not last.
A vicious attack to the body sapped the energy from Valenzuela who has fought many elite fighters in the past, but none like Berchelt. He was able to batter the veteran round after round.
Valenzuela sought to reverse the momentum with some combinations of his own. Berchelt opened up with some combinations from the outside and cracked his foe with some skull-numbing blows that clearly affected Valenzuela's senses. The referee wisely stopped the fight at 1:03 of the sixth round to give the win to Berchelt by knockout.
The victory opens the door to a potential clash with featherweight world titlist Oscar Valdez of Nogales, Mexico who has a fight of his own planned next month. Both champions are promoted by Top Rank.
Other Bouts       
Omar Aguilar (18-0, 17 KOs) bushwacked veteran Dante Jardon (32-7, 23 KOs) within a minute of the first round to win by technical knockout. A barrage of blows by Ensenada's Aguilar opened up the fight and a four-punch combination forced the referee to stop the super lightweight fight with Mexico City's Jardon against the ropes.
A battle between super bantamweights saw the taller Alan Picasso (14-1) out-hustle Florentino Perez (14-6-2) in an eight round clash between Mexican fighters. Mexico City's Picasso fought effectively inside against the shorter Perez of Monterrey and was able to maintain a consistent pace. Neither fighter approved the use of a jab but Picasso was more effective inside with body shots and uppercuts and dominated the last half of the fight.  The six judges scored in favor of Picasso.
The WBC instituted the extra judges as a means of tabulating score cards efficiently. Three judges scored from the television studios and another three judges scored from the USA. It was the second time WBC judges officiated remotely and all six scorecards were official.
Photo credit: Zanfer Promotions
To comment on this story in The Fight Forum CLICK HERE
Boxing Odds and Ends: Big Baby Miller, Roberto Duran and More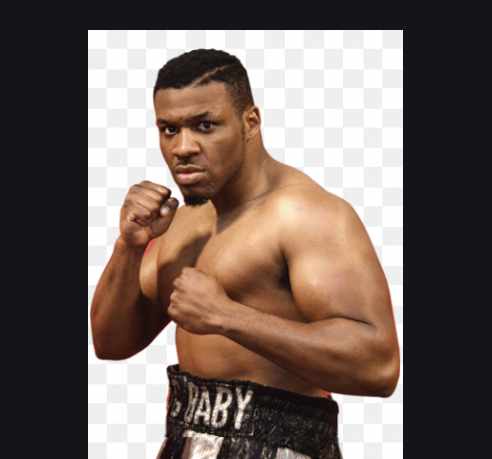 Jarrell "Big Baby" Miller just can't keep his hands out of the cookie jar. It was announced today (Saturday, June 27) that the jumbo-sized heavyweight from Brooklyn tested positive for a banned substance, forcing him out of a July 9 fight at the MGM Grand "Bubble" against Jerry Forrest. The story was broken by Mike Coppinger of The Athletic who breaks more hard news stories than any other boxing writer.
Miller, needless to say is a repeat offender. He failed three different PED tests in a span of three days for three different banned substances leading into his planned June 2019 match at Madison Square Garden with WBA/IBF/WBO world heavyweight champion Anthony Joshua. That cost him the fight and a reported $5 million-plus payday. Andy Ruiz filled the void and scored an historic upset.
When the first test came back positive, Miller wailed that he was the victim of a faulty test. "My team and I stand for integrity, decency and honesty and will fight this with everything we have," he said in a prepared statement. He later changed his tune. "I messed up," he said.
In a story that appeared on these pages, Thomas Hauser noted that Big Baby had a history of PED use dating to 2014. In that year, he was slapped with a nine-month suspension by the California Athletic Commission following a kickboxing event in Los Angeles.
Counting this latest revelation, it's five strikes for Big Baby. He's taking quite a roasting right now on social media. Some of the harshest criticism is coming from his fellow boxers.
Assuming that Top Rank can't find a replacement for Miller, this is another tough break for Jerry Forrest, a 32-year-old southpaw from Virginia with a 26-3 (20) record. Forrest was scheduled to fight hot prospect Filip Hrgovic on April 17 on a card at the MGM National Harbor in Oxon Hill, Maryland, a show swept away by the coronavirus outbreak. Forrest has been matched very soft throughout his career, but he acquitted himself well in his lone previous TV appearance, losing a split decision to undefeated Jermaine Franklin on "Showtime: The New Generation." The decision was controversial.
There's talk now that Carlos Takam is angling to replace Big Baby. The French-Cameroonian, a former world title challenger who turns 40 in December, was billed out of Henderson, Nevada, in his last ring appearance that saw him winning a unanimous decision over fellow greybeard Fabio Maldonado in Huntington, NY.
—-
When it comes to Murphy's Law ("anything that can go wrong, will"), there's no sport quite like boxing. Just ask Bob Arum. The most mouth-watering matchup in his ESPN "summer series" fell out this week when Eleider Alvarez suffered a shoulder injury in training, forcing a postponement of his July 16 date with Joe Smith Jr. The match between Alvarez (25-1, 13 KOs) and Smith (25-3, 20 KOs) would have been a 12-rounder with the winner guaranteed a shot at the vacant WBO light heavyweight title, a diadem that Alvarez previously owned.
Joe Smith Jr, a Long Island construction worker once dismissed as nothing more than a club fighter, won legions of new fans in his last start, a one-sided (to everyone except one myopic judge) win over Jesse Hart in Atlantic City.
Cancelled matches have become a recurrent theme in ESPN's semi-weekly boxing series. The very first card in the series lost what shaped up as its most competitive fight when Mikaela Mayer tested positive for COVID-19, scuttling her bout with Helen Joseph. In subsequent weeks, the manager of Mikkel Les Pierre tested positive for COVID-19 as did WBO junior lightweight champion Jamel Herring. Those bad test results forced the postponement of two main events. Then earlier this week, hot lightweight prospect Joseph Adorno was lopped off Tuesday's card after feeling sick after coming in overweight at the previous day's weigh-in.
The undercards of the Tuesday/Thursday ESPN fights have left something to be desired, but that's understandable. As Bob Arum noted in a conversation with veteran boxing scribe Keith Idec, Top Rank's matchmakers Bruce Trampler and Brad "Abdul" Goodman have had a hard time fleshing out the cards because with so many gyms closed there's a shortage of boxers who are in shape to fight on short notice. Then there are the COVID-19 travel restrictions and (something Arum did not acknowledge) budgetary restrictions more severe than an ordinary Top Rank card. Most of the undercard fighters have come from neighboring states such as Utah, saving Top Rank the cost of air fare. Fighters from faraway places, with some exceptions, were already training in Las Vegas.
Kudos to the entire Top Rank staff for keeping boxing alive during these challenging times.
—
It's old news now, but Panamanian boxing legend Roberto Duran, 69, tested positive for the coronavirus and was hospitalized in Panama City with a viral infection. There's been no update on his condition but his son Robin Duran wrote on Instagram that his father is not having any symptoms beyond those associated with a common cold. We will update you when new details become available.
Duran's hospitalization came just a few days after the 40th anniversary of his first fight with Sugar Ray Leonard in what would say was Duran's finest hour. They met on June 20, 1980 at Olympic Stadium in Montreal.
Duran won a unanimous decision. Converting the "10-point must" system into rounds, Duran prevailed by scores of 3-2-10, 6-5-4, and 6-4-5. As Yogi would have said, you could look it up.
Check out more boxing news on video at The Boxing Channel 
To comment on this story in the Fight Forum CLICK HERE
Fast Results from the Bubble: Jason Moloney TKOs Baez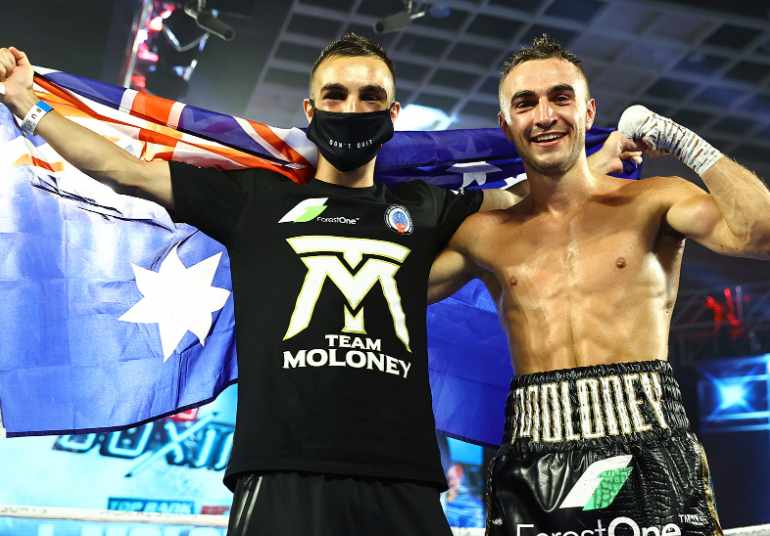 Top Rank was back inside the MGM Grand "Bubble" tonight for chapter six of their semi-weekly ESPN summer series. Jason Moloney, one-half of Australia's Moloney twins, accomplished what his brother Andrew Moloney was unable to accomplish in this ring on Tuesday night, adding a "W" to his ledger and looking good doing it. It came at the expense of Mexicali's Leonardo Baez.
It was Jason Moloney's second start on U.S. soil after coming up just a tad short in a bid for the vacant IBF world bantamweight title at Orlando in October of 2018. Against Baez, he fought a smart tactical fight, blunting the Mexican's superior reach by fighting him at close quarters. Baez fought from the third round on with a cut over his right eye and then suffered a cut over his left eye in the seventh round. By then the fight was becoming increasingly one-sided and Baez's corner did not let him come out for round eight.
Jason Moloney improved to 21-1 with his 18th knockout. Leonardo Baez, who took the fight on short notice after Maloney's original opponent Oscar Negrete was forced to withdraw with a detached retina, slumped to 18-3.
Co-Feature
In the 10-round co-feature, Abraham Nova advanced to 19-0 with a unanimous decision over Philadelphia's Avery Sparrow but won no new fans with a lackadaisical performance. Nova, born in Puerto Rico to parents from the Dominican Republic and raised in Albany, NY, showed little but his jab through the first seven rounds until hurting Sparrow with a big right hand in the eighth. The judges had it 96-94, 97-93, and 99-91.
Sparrow (10-2), whose lone previous loss was by disqualification, was making his first start in 15 months. He was slated to fight Ryan Garcia in Los Angeles last Sept. 14 but never made it to the weigh-in after being arrested by U.S. marshals on a charge of threatening a woman with a gun after she threw his clothes out the window…
Other Bouts
In an 8-round featherweight contest, Puerto Rican southpaw Orlando Gonzalez advanced to 15-0 with a unanimous decision over Ecuador's Luis Porozo (15-3). The scores were 76-74 and 77-73 twice.
Gonzalez wasn't particularly impressive although he did score two knockdowns. He decked Porozo near the end of round two with a left hook following a straight left and decked him again near the end of round seven with a left uppercut to the body.
In a rather ho-hum fight, welterweight Vlad Panin improved to 8-1 with 6-round majority decision over San Antonio's 36-year-old Benjamin Whitaker (13-4). Panin, a Belarusian who grew up in Las Vegas and earned a BA in English from UCLA, has a good back story but seemingly a limited upside in the fight game.
In an entertaining 6-round welterweight clash, Filipino campaigner Reymond Yanon improved to 11-5-1 with a split decision (59-55, 58-56, 56-58) over Clay Burns. A 33-year-old ex-Marine from Fort Worth, Burns declined to 9-8-2.
The opener, a heavyweight bout slated for six rounds, matched two Phoenix-based fighters in a rematch. Kingsley Ibeh, a former standout defensive lineman for the Washburn College Ichabods, avenged his lone defeat and improved to 4-1 with a fourth-round stoppage of Waldo Cortes (5-3). Ibeh, who at 286 had a 39-pound weight advantage, softened Cortes up with a series of uppercuts and Cortes was on his way down when he was tagged with a glancing left hand. He got to his feet, but referee Vic Drakulich waived it off. The official time was 1:41.
Photo credit: Mikey Williams for Top Rank
Check out more boxing news on video at The Boxing Channel 
To comment on this story in The Fight Forum CLICK HERE