A Peek Inside Justin Fortune's Old-School LA Boxing Gym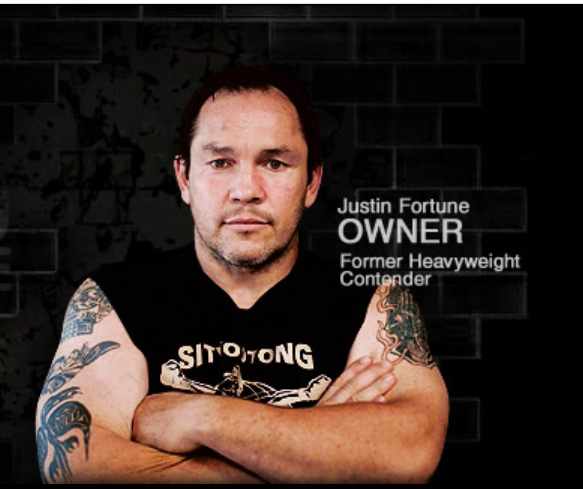 Stepping foot inside the Justin Fortune Boxing Gym is like taking a giant step back in time. Located in the Fairfax District of Los Angeles and situated across the street from Fairfax High, the gym could easily be confused for old-style gyms like Stillman's or Gleason's in New York City, the Fifth Street Gym in Miami or the Main Street Gym in Los Angeles. Because it's on the second floor, one must enter from the street level and then walk up a dozen or so steps, fit your way through a narrow hallway before meeting Tamara Frapasella, Justin's wife.
When I arrived at 9:30 a.m., the place was somewhat busy, but not overly so. There is one ring, but a bevy of heavy bags, a speed bag, a treadmill, several jump ropes, a shower and a steam room. A handful of professional personal trainers were working with eager students as sweat poured off their faces, arms and legs.
Over the course of the next five hours, the gym, which is adorned with old-time fight posters and signed pictures of ring legends like Muhammad Ali, Manny Pacquiao, Marvelous Marvin Hagler and Roberto Duran, would be fairly bursting with energy.
A few hours in, one professional heavyweight was working with Fortune in the ring as he prepared for an upcoming bout at the Barclays Center in Brooklyn. It's not uncommon to see celebrities at the Fortune Boxing Gym. On this day, a longtime actor, Frank Grillo, was there going through his paces with steely determination.
Fortune, originally from Perth, Australia, has been involved in a multitude of professions, including nearly two decades as a heavyweight boxer. "I'm a chef by trade so I never thought that I'd end up here," said Fortune, who has also owned a restaurant. "I was always interested in boxing. I was heavily involved in sport. They were all one-on-one sports. I wasn't much for team sports. Boxing I always enjoyed because it's the ultimate one-on-one combat. That's why I liked it so much." Fortune said he has always liked keeping active. "Then I was heavily into power lifting and from power lifting I switched to boxing. I'm an idiot," he said.
Fortune, who is 54 years old, knew the fight game isn't an easy way to make money and was smart enough to exit at the right time. "I set myself time and monetary goals," he noted. "And once I met them, whichever came first, I was out. I stuck to it. That's why I'm not punchy or broke. This sport sucks you in. It's really tough to get out of. You always want that one last fight."
Fortune began his professional boxing career in 1990 and ended it in 2009. Along the way, he carved out a 15-9-2 record with nine knockouts. Fortune's biggest fight came against future three-time world heavyweight titleholder and a two-time lineal champion Lennox Lewis in July 1995 in Dublin, Ireland, that concluded with a fourth-round stoppage. "Lennox is a very underrated fighter," said Fortune, who had 20 wins in 24 amateur fights in Australia that included participating in the Commonwealth Games. "At that stage, in my mind, it didn't matter. I only had 14 fights, but I would have gotten into the ring with anybody. I didn't care." Fortune said that he wanted the fight to continue. "I got screwed. I wouldn't have won the fight, but in England, the judge is the referee," he said. "I had only 14 fights, and I got hit with an uppercut, and that was it. The referee stopped it. It would have gone a lot longer."
Fortune opened his initial gym not too far away on Sunset Boulevard in 2008 and was in business until December 2019 when it was demolished. "This is what I originally wanted," Fortune said of the current site, reminiscent of the gyms in the 1940s and 1950s. "This style of gym. The wooden floors. The posters. The pictures. The old-time look." Fortune's clients range from Academy Award-winning actors to musicians and every day folks. "My clients are a good bunch of people," he said. "They respect the place and they like coming here. It's their gym." Fortune also noted that 65 percent of the people who populate the gym are women.
Frapasella, a former actress and film producer, does all the behind-the-scene work at the gym, but also finds time to be a personal trainer for primarily women and some men. "I think it took us a lot of years to build that," she said of the welcoming vibe that is clearly present. "We have every nationality you can think of. Everyone is fighting for whatever their reason, but we all get along. We built a family in here and at the end of the day, we're a family." Frapasella said the atmosphere and appearance are intentional. "This place is spotless," she pointed out. "I do have a staff that helps me. I don't do it all by myself. You want something that's clean and is welcoming."
Philadelphia-based heavyweight Joey Dawejko was there preparing for a fight with undefeated Frank Sanchez on March 7 at Barclays Center that will be televised on FOX. "My opponent is a prospect and 14-0," said Dawejko, who is 20-7-4 with 11 knockouts and nicknamed "The Tank." Dawejko is hoping to pull off a major upset against Sanchez, who has 11 knockouts. "This is a big opportunity for me because it jumpstarts this year, not only for more to come," he said. "I've gotta get this win and we go from there. Bigger and better things."
Jose Navarro is a retired World Boxing Council Continental Americas super flyweight champion and Olympian who capped his pro career 27-6 with 12 knockouts. Navarro is currently a personal trainer who works with roughly 50 clients. "It's the same sport, but you're on the outside," he said. "It's been different. Being in there you get to make your own choices. You see things from a different angle. I actually enjoy this a lot more because you're teaching what you learned your entire career. So now you're looking at it from a much different perspective." Navarro said he likes working at the Fortune Gym. "It's something you never stop learning," he said. "You learn something every day. That's why it's called the sweet science."
Joe La Russo is a onetime professional photographer whose specialty was shooting jazz legends such as Dizzy Gillespie and Miles Davis. La Russo has been taking boxing lessons for nearly two decades. "I just started coming here the first of the year. I was at another gym for 13 years," said La Russo, who comes to the Fortune Gym three times a week. "I started when I was 66 years old. In April, I'll be 80. I just got a nice vibe. I knew people. I knew trainers. I'm dropping down in weight, so I'm on a new program. I feel great." La Russo said he has always been fascinated with the manly art. "Boxing is all around," he said. "When I was 16 growing up in Brooklyn, I wanted to go into the Golden Gloves, but my mother wouldn't let me go," he said. "So, 50 years later I'm at the Wild Card Gym in Hollywood with Freddie Roach. But I came here for a change of pace. Different energy. Different vibe. It's what keeps me young."
Originally from South Africa, Vuyo Noyce, spent years in the fashion industry and is married and a mother of two. Noyce has been coming to the Fortune Gym for about four years and pays a visit two or three days a week for about two hours. "I like the environment here. It's super laid back," Noyce offered. "It's not pretentious. I think the trainers are good and Justin's fantastic. It's like going to a friend's house."
Kylie Fulmer is an Australian and the World Boxing Federation Women's Intercontinental super bantamweight champion who lives in Los Angeles and also calls the Fortune Gym home. "I spent five years out in Las Vegas, so I was training at TMT, the Floyd Mayweather Gym and Floyd Sr. was my coach for 14 months. Then I went over to [trainer] Dewey Cooper and I've been with him for three years," said Fulmer, who has pieced together a perfect 7-0 record with six knockouts. "The goal this year is to stay active and fight as much as we can. I decided to come out here for a few weeks and had a chat with Justin and I had to make the decision to move over here."
Fulmer said the decision to stay was fairly easy. "Justin being Australian, you know I've got a home away from home and a family," she said. When asked why she selected the Fortune Gym, Fulmer said that it would help her reach her goals and that she feels comfortable here. "I just really need to focus on the fundamentals of boxing and make those corrections I feel are going to take me to the next level to get these world class fights," she said.
Frankie Lopez is a 24-year-old cruiserweight, but will drop down in weight to super middleweight. Lopez can be found at the Fortune Gym because he's also a personal trainer. That day he left for several hours because he had a few clients at UCLA. "I like to be around what I do because I like to incorporate everything with the patients, with my clients, but also patients in the ring to allow myself to better myself and my craft," explained Lopez, who began as a kickboxer and owns a 12-1-1 mark with nine knockouts. "I used to be trained by Virgil Hill. He's a five-time world champion and a Hall of Famer, a silver medalist in the 1984 Olympics and his wife [Carla] as well. She's a four-time Olympian and they trained me for the longest time. But then I went on Google and this gym popped up out of nowhere. So, I came back the next day and I fell in love with it. They welcome you with open arms."
What takes place in a boxing gym is serious business because if one doesn't train properly there are consequences. What Fortune and Frapasella have constructed and designed at their gym is in some way atypical. "I make sure everybody's good," said Frapasella. "I'm like the gym mom. I want to make sure you have someone to talk to. You want to have a good experience."
Check out more boxing news on video at The Boxing Channel 
To comment on this story in The Fight Forum CLICK HERE
Mercito Gesta Victorious Over Jojo Diaz at the Long Beach Pyramid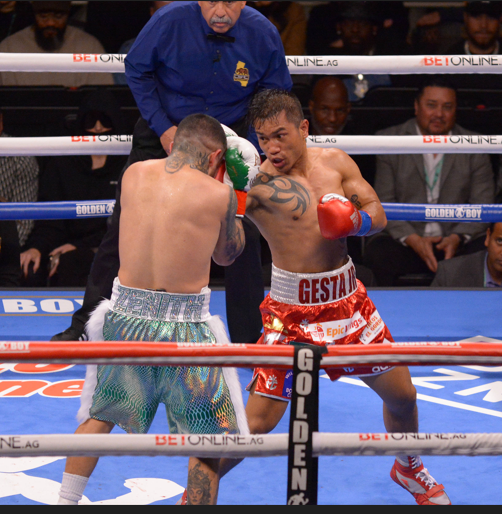 LONG BEACH, CA.-Those in the know knew Mercito Gesta and Jojo Diaz would be a fight to watch and they delivered.
Gesta emerged the winner in a super lightweight clash between southpaws that saw the judges favor his busier style over Diaz's body attack and bigger shots and win by split decision on Saturday.
Despite losing the main event because the star was overweight, Gesta (34-3-3, 17 KOs) used an outside method of tactic to edge past former world champion Diaz (32-4-1, 15 KOs) in front of more than 5,000 fans at the Pyramid.
The speedy Gesta opened up the fight with combination punching up and down against the peek-a-boo style of Diaz. For the first two rounds the San Diego fighter overwhelmed Diaz though none of the blows were impactful.
In the third round Diaz finally began unloading his own combinations and displaying the fast hands that helped him win world titles in two divisions. Gesta seemed stunned by the blows, but his chin held up. The counter right hook was Diaz's best weapon and snapped Gesta's head back several times.
Gesta regained control in the fifth round after absorbing big blows from Diaz. He seemed to get angry that he was hurt and opened up with even more blows to send Diaz backpedaling.
Diaz targeted his attack to Gesta's body and that seemed to slow down Gesta. But only for a round.
From the seventh until the 10th each fighter tried to impose their style with Gesta opening up with fast flurries and Diaz using right hooks to connect with solid shots. They continued their method of attack until the final bell. All that mattered was what the judges preferred.
After 10 rounds one judge saw Diaz the winner 97-93 but two others saw Gesta the winner 99-91, 98-92. It was a close and interesting fight.
"I was expecting nothing. I was the victor in this fight and we gave a good fight," said Gesta. "It's not an easy fight and Jojo gave his best."
Diaz was surprised by the outcome but accepted the verdict.
Everything was going good. I thought I was landing good body shots," said Diaz. "I was pretty comfortable."
Other Bouts
Mexico's Oscar Duarte (25-1-1, 20 KOs) knocked out Chicago's Alex Martin (18-5, 6 KOs) with a counter right hand after dropping him earlier in the fourth round. The super lightweight fight was stopped at 1:14 of the round.
A battle between undefeated super welterweights saw Florida's Eric Tudor (8-0, 6 KOs) emerge the winner by unanimous decision after eight rounds versus Oakland's Damoni Cato-Cain.
The taller Tudor showed polished skill and was not bothered by a large cut on his forehead caused by an accidental clash of heads. He used his jab and lead rights to defuse the attacks of the quick-fisted southpaw Cato-Cain. The judges scored the fight 80-72 and 78-74 twice for Tudor.
San Diego's Jorge Chavez (5-0, 4 KOs) needed less than one round to figure out Nicaragua's Bryan Perez (12-17-1, 11 KOs) and send him into dreamland with a three-punch combination. No need to count as referee Ray Corona waved the fight over. Perez shot a vicious right followed by another right and then a see-you-later left hook at 3.00 of the first round of the super featherweight match.
Photo credit: Al Applerose
Jojo Diaz's Slump Continues; Mercito Gesta Prevails on a Split Decision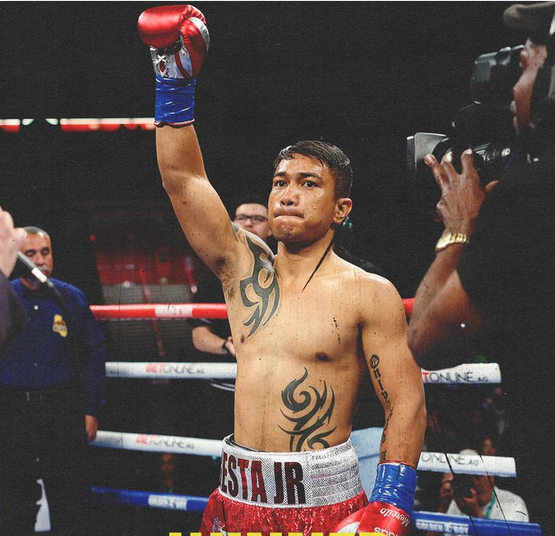 At age 30, Jojo Diaz's career is on the skids. The 2012 U.S. Olympian, a former world title holder at 126 and 130 pounds and an interim title holder at 135, Diaz suffered his third straight loss tonight, upset by Mercito Gesta who won a split decision at the Walter Pyramid in Long Beach, CA.. The scoring was strange with Gesta winning nine of the 10 rounds on one of the cards and only three rounds on another. The tie-breaker, as it were, was a 98-92 tally for Gesta and even that didn't capture the flavor of what was a closely-contested fight.
Originally listed as a 12-rounder, the match was reduced to 10 and that, it turned out, did Diaz no favors. However, it's hard to feel sorry for the former Olympian as he came in overweight once again, having lost his 130-pound title on the scales in February of 2021.
Diaz also has issues outside the ropes. Best elucidated by prominent boxing writer Jake Donovan, they include a cluster of legal problems stemming from an arrest for drunk driving on Feb. 27 in the LA suburb of Claremont.
With the defeat, Diaz's ledger declined to 32-4-1. His prior losses came at the hands of Gary Russell Jr, Devin Haney, and William Zepeda, boxers who are collectively 83-2. Mercito Gesta, a 35-year-old San Diego-based Filipino, improved to 34-3-3.
Co-Feature
Chihuahua, Mexico super lightweight Oscar Duarte has now won nine straight inside the distance after stopping 33-year-old Chicago southpaw Alex Martin in the eighth frame. Duarte, the busier fighter, had Martin on the deck twice in round eight before the fight was waived off.
Duarte improved to 25-1-1 (20). Martin, who reportedly won six national titles as an amateur and was once looked upon as a promising prospect, declined to 18-5.
Other Bouts of Note
New Golden Boy signee Eric Tudor, a 21-year-old super welterweight from Fort Lauderdale, overcame a bad laceration over his right eye, the result of an accidental clash of heads in round four, to stay unbeaten, advancing to 8-0 (6) with a hard-fought unanimous 8-round decision over Oakland's Damoni Cato-Cain. The judges had it 80-72 and 78-74 twice. It was the first pro loss for Cato-Cain (7-1-1) who had his first five fights in Tijuana.
In the DAZN opener, lanky Hawaian lightweight Dalis Kaleiopu went the distance for the first time in his young career, improving to 4-0 (3) with a unanimous decision over 36-year-old Colombian trial horse Jonathan Perez (40-35). The scores were 60-52 across the board. There were no knockdowns, but Perez, who gave up almost six inches in height, had a point deducted for a rabbit punch and another point for deducted for holding.
To comment on this story in the Fight Forum CLICK HERE
'Big Baby' Wins the Battle of Behemoths; TKOs 'Big Daddy' in 6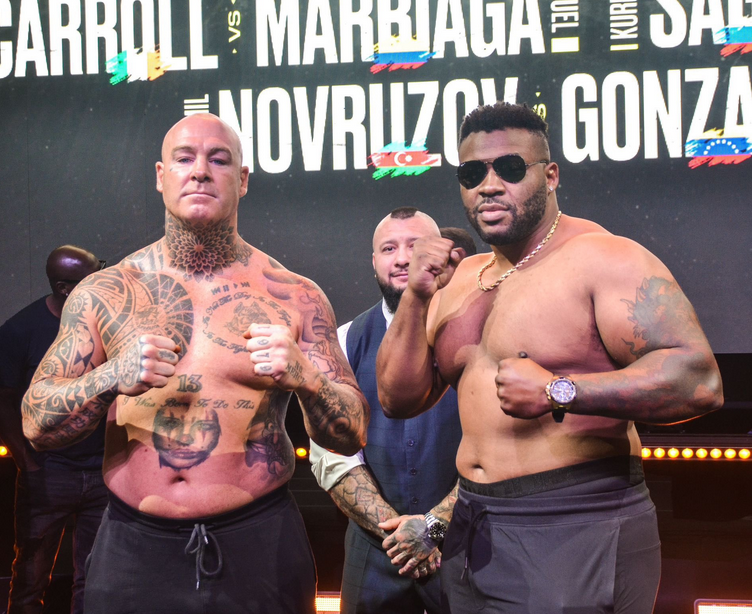 Lucas "Big Daddy" Browne weighed in at a career-high 277 pounds for today's battle in Dubai with Jarrell "Big Baby" Miller, but he was the lighter man by 56 pounds. It figured that one or both would gas out if the bout lasted more than a few stanzas.
It was a war of attrition with both men looking exhausted at times, and when the end came it was Miller, at age 34 the younger man by nine years, who had his hand raised.
Browne was the busier man, but Miller, whose physique invites comparison with a rhinoceros, hardly blinked as he was tattooed with an assortment of punches. He hurt 'Bid Daddy' in round four, but the Aussie held his own in the next frame, perhaps even forging ahead on the cards, but only postponing the inevitable.
In round six, a succession of right hands knocked Browne on the seat of his pants. He beat the count, but another barrage from Miller impelled the referee to intervene. The official time was 2:33. It was the 21st straight win for Miller (26-0-1, 22 KOs). Browne declined to 31-4 and, for his own sake, ought not fight again. All four of his losses have come inside the distance, some brutally.
The consensus of those that caught the livestream was that Floyd Mayweather Jr's commentary was an annoying distraction that marred what was otherwise an entertaining show.
As for what's next for "Big Baby" Miller, that's hard to decipher as he has burned his bridges with the sport's most powerful promoters. One possibility is Mahmoud Charr who, like Miller, has a big gap in his boxing timeline. Now 38 years old, Charr – who has a tenuous claim on a WBA world title (don't we all?) —  has reportedly taken up residence in Dubai.
Other Bouts of Note
In a 10-round cruiserweight affair, Suslan Asbarov, a 30-year-old Russian, advanced to 4-0 (1) with a hard-fought majority decision over Brandon Glanton. The judges had it 98-92, 97-93, and a more reasonable 95-95.
Asbarov was 12-9 in documented amateur fights and 1-0 in a sanctioned bare-knuckle fight, all in Moscow, entering this match. He bears watching, however, as Glanton (18-2) would be a tough out for almost anyone in his weight class. In his previous fight, at Plant City, Florida, Glanton lost a controversial decision to David Light, an undefeated Australian who challenges WBO world title-holder Lawrence Okolie at Manchester, England next week.
A 10-round super featherweight match between former world title challengers Jono Carroll and Miguel Marriaga preceded the semi-windup. Carroll, a 30-year-old Dublin southpaw, overcame a cut over his left eye suffered in the second round to win a wide unanimous decision in a fairly entertaining fight.
It was the sixth straight win for Carroll (24-2-1, 7 KOs) who elevated his game after serving as a sparring partner for Devin Haney. Marriaga, a 36-year-old Colombian, lost for the fourth time in his last five outings, declining to 30-7.
To comment on this story in the Fight Forum CLICK HERE