Avila Perspective, Chap. 90: Travels with Henry Ramirez, Roger and More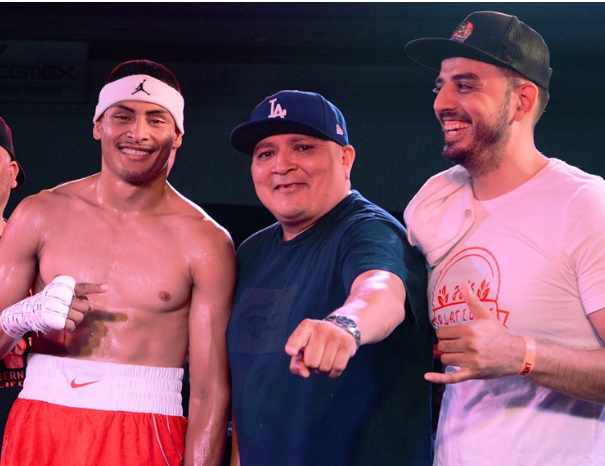 Not all boxing trainers are wheeler-dealers like Henry Ramirez. One day he's getting on a jet across country and another day he's driving up the 101 Freeway with a carload of amateur boxers.
The jet-setting ways of Ramirez came to a sudden halt last week.
"It happened so fast. Within a day we were told to head home," Ramirez said, who was in Washington D.C. with prizefighter Marcos Hernandez who was set to face James Kirkland at MGM National Harbor on a Premier Boxing Champions card.  It was canceled.
Ramirez and hundreds of other boxing people discovered that the Coronavirus had derailed all fight cards in March. Now they are learning that April is gone too.
"It's crazy," he said.
Ramirez has a small army of boxers ranging from eight-year-old amateurs to 30-year-old professionals at his Rain Cross Boxing Gym in Riverside, California. No matter the season, the gym cranks out noise like one of those chain guns.
"I've been doing this since 2000 back when Andy Suarez had a gym," said Ramirez, who back then was boxing and helping the late Suarez train fellow boxers.
Andy Suarez passed away in 2006. Ramirez picked up the training baton and kept working with fighters like Josesito Lopez and Chris "the Nightmare" Arreola. Both still are active but Ramirez no longer trains them. He still has more than 30 boxers in his gym located in the northern end of Riverside.
"We're pretty busy all of the time. California has one of the busiest boxing schedules in the country," said Ramirez who had his crew ready to perform in Washington D.C., Orange County, San Diego County, Ventura County and also in Reno, Nevada.
All were shut down.
Worldwide nearly all boxing cards have been erased except in Mexico and South America were apparently the virus has not hit.
This past weekend Tijuana, Mexico, which sits on the other side of the U.S. border next to San Diego, California, had several boxing cards on the same night. Boxing did not skip a beat in Tijuana.
"The only thing they did was close some schools," said Felipe Leon, a journalist living in Tijuana. "Everything else is normal."
Normally, for Ramirez in Riverside, he would be hustling to arrange fights for his amateurs and his pros.
"They canceled the Golden Gloves," said Ramirez who had several boxers ready to participate. "We had a fight at Chumash Casino, also on the Thompson Boxing card and in Reno that was scheduled. Now we lose all that money. That was a lot of money we were expecting to make that's out of our hands now."
The Riverside trainer gave all of his fighters time off for a short while so things can be re-assessed. He receives calls from all of his team wondering if they should head to the gym. He's got a lot of eager beavers on his crew.
Ramirez has always been able to attract potential boxers to his gym. He credits television as his weapon.
"Basically, they see me working someone's corner on television and they contact me," he said. "Television is a big way to attract fighters."
Over the years Ramirez has been seen working on numerous high-profile fights beginning with Arreola back in October 2005 when he fought Domonic Jenkins at Pechanga Resort and Casino in Temecula, Calif. It was a televised fight that featured the late Vernon Forrest in the main event. Arreola won by knockout and continued to grow into a heavyweight contender.
Last Saturday, at the MGM National Harbor, Ramirez's fighter Hernandez was set to perform in the main event that was being televised by FOX. It was canceled abruptly.
"We got there on Wednesday and by Thursday we were told they might not allow the public to see the fight. Then they told us to pack up and go home. They were canceling the fight and on Friday I was heading back home," Ramirez said.
Rival fight cards in New York City were also canceled.
"We're hoping things get back to normal by the middle of May," said Ramirez who had potential fights set for May. "It's crazy but not only sports is affected, it's the whole world."
Even the ever-busy Henry Ramirez has to slow down.
Roger Knows
Sadly, boxing great Roger Mayweather passed away. Many times I would talk to the former fighter turned trainer; whenever I could.
Very few knew boxing better than Roger Mayweather.
Unknown to many was his love for teaching the youth. Over the years he passed his knowledge on to hundreds of aspiring boxers of all ages.
One of those was Melinda Cooper one of the best female prizefighters of her era.
"He used to work a lot with Melinda," said James Pena who mentored Cooper throughout her boxing career. "He went with us to at least five tournaments when she was very young. He bought her boxing shoes. He used to call her a bad MF."
Pena remembers going to Midland, Texas for a tournament back in the 90s and with the money Mayweather was paid to assist, he used it for other things.
"He spent $500 to buy stuff for the other kids to eat at a restaurant," said Pena of Mayweather. "He really enjoyed helping kids in boxing. He got a big kick out of it."
My own familiarity with Mayweather came when he was coaching Laila Ali in Las Vegas. I would often visit the Top Rank Gym in town and would sit down and just talk boxing with Mayweather.
On one occasion some young aspiring boxing journalist sat in the small office with us and proclaimed that both Julio Cesar Chavez and Oscar De La Hoya were flukes.
"They're all hype," said this young guy.
Mayweather looked at him like he was a space alien.
"How are you going to say De La Hoya won world championships in seven weight divisions and call him a fluke," said Mayweather to the surprised young writer. "You win any world title and you are a champion. If everybody could win a world title they would. You don't know shit about boxing."
Upset at the young journalist's statement, he then proceeded to test his boxing IQ.
"Who do you think is the greatest fighter of all time?" asked Mayweather to the youngster.
The kid responded with somebody I can't recall who.
Then, Mayweather looked at me and asked my opinion.
"I kind of think Sam Langford," I answered.
Mayweather looked at me and did a double-take.
"You know boxing," he said.
I swear, hearing Mayweather say that to me made my career. I had watched him as a fighter and as a trainer for Floyd Mayweather and considered him one of the top boxing minds in the world.
Mayweather then asked me which Las Vegas newspaper I worked for?
I answered I work for the Riverside newspaper. He looked at me in surprise.
"I see you here all the time," Mayweather said. "I never see the Las Vegas guys in this gym."
That day kind of inspired me to continue covering boxing like a madman. I've retold this story many times because I love the boxing world and all of its participants. No other sport has its history, personality and reach. Whether from Grand Rapids, Michigan or East Los Angeles; whether from Moscow, Dublin, Tokyo, Mexico City or Accra, Ghana, prizefighters come from all over the world.
Losing Roger Mayweather really hurts. We've lost another tie to boxing's history and a man who contributed greatly to its continued success.
Rest in peace Roger Mayweather.
30 Years Ago
This St. Patrick's Day was the 30th anniversary of the epic fight between Julio Cesar Chavez and Meldrick Taylor that took place in Las Vegas for the WBC super lightweight world title. It was March 17, 1990.
It brings back vivid memories for me.
At the time I was a fledgling journalist for a small free newspaper in the San Gabriel Valley area in Southern California. Money was tight and I could not afford pay-per-view television or cable network viewing. Back then I was living in the suburban city of Montebello. The Montebello Mall was just built and a new sandwich shop opened and claimed it was showing the Chavez-Taylor fight for customers.
I arrived early that day and got an elevated seating spot to watch the small television screen. By the time the main event appeared the place was packed with fans. I forget the name of the sandwich spot, it didn't last more than a year.
That fight vividly remains in my memory. It was fiercely fought with both displaying their individual talent. Taylor had blinding speed and could take a heck of a punch. Chavez was relentless and his defense was better than most expected, especially against those Taylor combinations.
Of course, nobody knew that Chavez was far behind on two judges scores after 11 rounds, but the commentators felt he needed a knockdown or knockout to win. They were right, and Chavez did exactly that by dropping Taylor in the corner. Referee Richard Steele looked into his eyes and called the fight over with two seconds remaining. Chavez was declared the winner and inside the Montebello sandwich shop about 100 fans erupted in cheers.
I went home and told my live-in girlfriend at the time what had transpired. She just smiled. Oh well. Ironically my ex-girlfriend's family was from Culiacan where Chavez hailed from.
That same sandwich shop also showed Roberto Duran's upset of Iran Barkley a year earlier. It proved to be my savior for watching big fights.
Photo credit: Al Applerose
Check out more boxing news on video at The Boxing Channel 
To comment on this story in The Fight Forum CLICK HERE
Mercito Gesta Victorious Over Jojo Diaz at the Long Beach Pyramid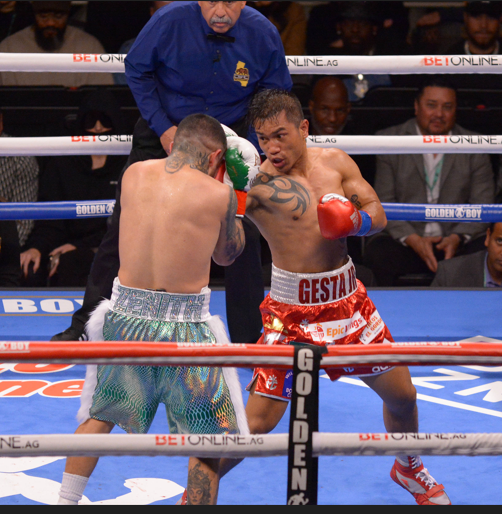 LONG BEACH, CA.-Those in the know knew Mercito Gesta and Jojo Diaz would be a fight to watch and they delivered.
Gesta emerged the winner in a super lightweight clash between southpaws that saw the judges favor his busier style over Diaz's body attack and bigger shots and win by split decision on Saturday.
Despite losing the main event because the star was overweight, Gesta (34-3-3, 17 KOs) used an outside method of tactic to edge past former world champion Diaz (32-4-1, 15 KOs) in front of more than 5,000 fans at the Pyramid.
The speedy Gesta opened up the fight with combination punching up and down against the peek-a-boo style of Diaz. For the first two rounds the San Diego fighter overwhelmed Diaz though none of the blows were impactful.
In the third round Diaz finally began unloading his own combinations and displaying the fast hands that helped him win world titles in two divisions. Gesta seemed stunned by the blows, but his chin held up. The counter right hook was Diaz's best weapon and snapped Gesta's head back several times.
Gesta regained control in the fifth round after absorbing big blows from Diaz. He seemed to get angry that he was hurt and opened up with even more blows to send Diaz backpedaling.
Diaz targeted his attack to Gesta's body and that seemed to slow down Gesta. But only for a round.
From the seventh until the 10th each fighter tried to impose their style with Gesta opening up with fast flurries and Diaz using right hooks to connect with solid shots. They continued their method of attack until the final bell. All that mattered was what the judges preferred.
After 10 rounds one judge saw Diaz the winner 97-93 but two others saw Gesta the winner 99-91, 98-92. It was a close and interesting fight.
"I was expecting nothing. I was the victor in this fight and we gave a good fight," said Gesta. "It's not an easy fight and Jojo gave his best."
Diaz was surprised by the outcome but accepted the verdict.
Everything was going good. I thought I was landing good body shots," said Diaz. "I was pretty comfortable."
Other Bouts
Mexico's Oscar Duarte (25-1-1, 20 KOs) knocked out Chicago's Alex Martin (18-5, 6 KOs) with a counter right hand after dropping him earlier in the fourth round. The super lightweight fight was stopped at 1:14 of the round.
A battle between undefeated super welterweights saw Florida's Eric Tudor (8-0, 6 KOs) emerge the winner by unanimous decision after eight rounds versus Oakland's Damoni Cato-Cain.
The taller Tudor showed polished skill and was not bothered by a large cut on his forehead caused by an accidental clash of heads. He used his jab and lead rights to defuse the attacks of the quick-fisted southpaw Cato-Cain. The judges scored the fight 80-72 and 78-74 twice for Tudor.
San Diego's Jorge Chavez (5-0, 4 KOs) needed less than one round to figure out Nicaragua's Bryan Perez (12-17-1, 11 KOs) and send him into dreamland with a three-punch combination. No need to count as referee Ray Corona waved the fight over. Perez shot a vicious right followed by another right and then a see-you-later left hook at 3.00 of the first round of the super featherweight match.
Photo credit: Al Applerose
Jojo Diaz's Slump Continues; Mercito Gesta Prevails on a Split Decision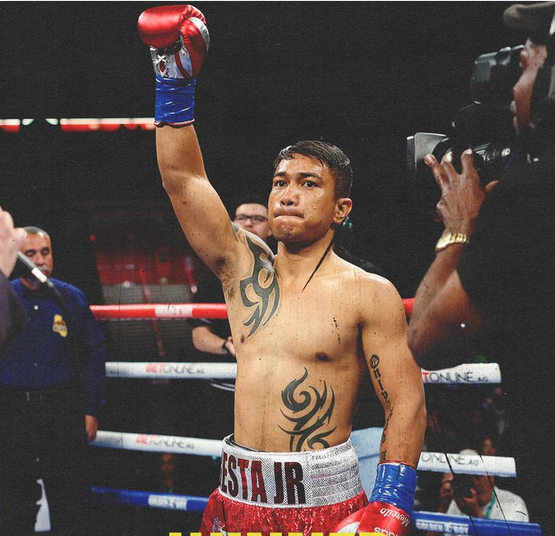 At age 30, Jojo Diaz's career is on the skids. The 2012 U.S. Olympian, a former world title holder at 126 and 130 pounds and an interim title holder at 135, Diaz suffered his third straight loss tonight, upset by Mercito Gesta who won a split decision at the Walter Pyramid in Long Beach, CA.. The scoring was strange with Gesta winning nine of the 10 rounds on one of the cards and only three rounds on another. The tie-breaker, as it were, was a 98-92 tally for Gesta and even that didn't capture the flavor of what was a closely-contested fight.
Originally listed as a 12-rounder, the match was reduced to 10 and that, it turned out, did Diaz no favors. However, it's hard to feel sorry for the former Olympian as he came in overweight once again, having lost his 130-pound title on the scales in February of 2021.
Diaz also has issues outside the ropes. Best elucidated by prominent boxing writer Jake Donovan, they include a cluster of legal problems stemming from an arrest for drunk driving on Feb. 27 in the LA suburb of Claremont.
With the defeat, Diaz's ledger declined to 32-4-1. His prior losses came at the hands of Gary Russell Jr, Devin Haney, and William Zepeda, boxers who are collectively 83-2. Mercito Gesta, a 35-year-old San Diego-based Filipino, improved to 34-3-3.
Co-Feature
Chihuahua, Mexico super lightweight Oscar Duarte has now won nine straight inside the distance after stopping 33-year-old Chicago southpaw Alex Martin in the eighth frame. Duarte, the busier fighter, had Martin on the deck twice in round eight before the fight was waived off.
Duarte improved to 25-1-1 (20). Martin, who reportedly won six national titles as an amateur and was once looked upon as a promising prospect, declined to 18-5.
Other Bouts of Note
New Golden Boy signee Eric Tudor, a 21-year-old super welterweight from Fort Lauderdale, overcame a bad laceration over his right eye, the result of an accidental clash of heads in round four, to stay unbeaten, advancing to 8-0 (6) with a hard-fought unanimous 8-round decision over Oakland's Damoni Cato-Cain. The judges had it 80-72 and 78-74 twice. It was the first pro loss for Cato-Cain (7-1-1) who had his first five fights in Tijuana.
In the DAZN opener, lanky Hawaian lightweight Dalis Kaleiopu went the distance for the first time in his young career, improving to 4-0 (3) with a unanimous decision over 36-year-old Colombian trial horse Jonathan Perez (40-35). The scores were 60-52 across the board. There were no knockdowns, but Perez, who gave up almost six inches in height, had a point deducted for a rabbit punch and another point for deducted for holding.
To comment on this story in the Fight Forum CLICK HERE
'Big Baby' Wins the Battle of Behemoths; TKOs 'Big Daddy' in 6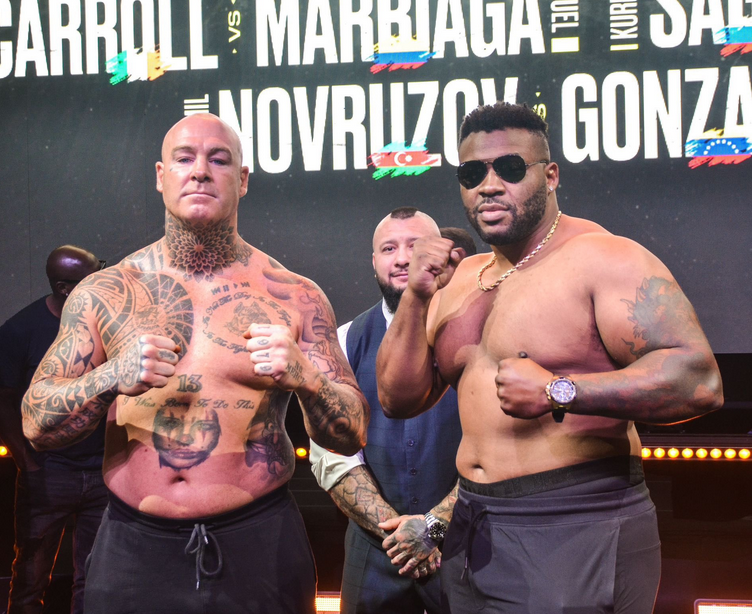 Lucas "Big Daddy" Browne weighed in at a career-high 277 pounds for today's battle in Dubai with Jarrell "Big Baby" Miller, but he was the lighter man by 56 pounds. It figured that one or both would gas out if the bout lasted more than a few stanzas.
It was a war of attrition with both men looking exhausted at times, and when the end came it was Miller, at age 34 the younger man by nine years, who had his hand raised.
Browne was the busier man, but Miller, whose physique invites comparison with a rhinoceros, hardly blinked as he was tattooed with an assortment of punches. He hurt 'Bid Daddy' in round four, but the Aussie held his own in the next frame, perhaps even forging ahead on the cards, but only postponing the inevitable.
In round six, a succession of right hands knocked Browne on the seat of his pants. He beat the count, but another barrage from Miller impelled the referee to intervene. The official time was 2:33. It was the 21st straight win for Miller (26-0-1, 22 KOs). Browne declined to 31-4 and, for his own sake, ought not fight again. All four of his losses have come inside the distance, some brutally.
The consensus of those that caught the livestream was that Floyd Mayweather Jr's commentary was an annoying distraction that marred what was otherwise an entertaining show.
As for what's next for "Big Baby" Miller, that's hard to decipher as he has burned his bridges with the sport's most powerful promoters. One possibility is Mahmoud Charr who, like Miller, has a big gap in his boxing timeline. Now 38 years old, Charr – who has a tenuous claim on a WBA world title (don't we all?) —  has reportedly taken up residence in Dubai.
Other Bouts of Note
In a 10-round cruiserweight affair, Suslan Asbarov, a 30-year-old Russian, advanced to 4-0 (1) with a hard-fought majority decision over Brandon Glanton. The judges had it 98-92, 97-93, and a more reasonable 95-95.
Asbarov was 12-9 in documented amateur fights and 1-0 in a sanctioned bare-knuckle fight, all in Moscow, entering this match. He bears watching, however, as Glanton (18-2) would be a tough out for almost anyone in his weight class. In his previous fight, at Plant City, Florida, Glanton lost a controversial decision to David Light, an undefeated Australian who challenges WBO world title-holder Lawrence Okolie at Manchester, England next week.
A 10-round super featherweight match between former world title challengers Jono Carroll and Miguel Marriaga preceded the semi-windup. Carroll, a 30-year-old Dublin southpaw, overcame a cut over his left eye suffered in the second round to win a wide unanimous decision in a fairly entertaining fight.
It was the sixth straight win for Carroll (24-2-1, 7 KOs) who elevated his game after serving as a sparring partner for Devin Haney. Marriaga, a 36-year-old Colombian, lost for the fourth time in his last five outings, declining to 30-7.
To comment on this story in the Fight Forum CLICK HERE