McGovern vs. Palmer: The First Big International Prizefight on American Soil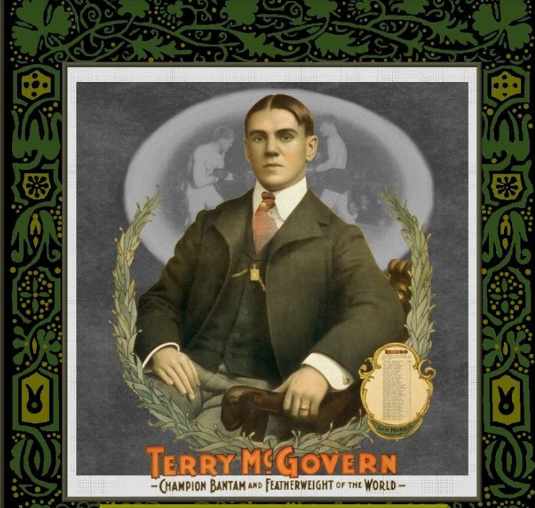 If asked to name the first big international prizefight on American soil, most boxing historians would name the 1921 match between Jack Dempsey and Georges Carpentier, the idol of France. It's hard to disagree. Dempsey's heavyweight title was at stake and the event was a grand spectacle, attracting a crowd of more than 80,000, begetting the sport's first million-dollar gate. However, 22 years earlier a match-up between Terry McGovern and Pedlar Palmer attracted considerable buzz and the event organizers contorted it into a spectacle by packaging it with frills that became standard pomp for international mega-fights.
Terrible Terry McGovern stood only five-foot-three and his best weight was a shade under 120 pounds. But my how he could hit. The noted boxing referee and pugilistic authority Charley White said of McGovern that he was a thunderstorm, a Krupp cannon and a Gatling gun all at the same time. Prominent boxing writer Robert Edgren said, "No other man in his class ever developed anything approaching his tremendous burst of fighting energy, his tremendous aggressiveness and his terrific punching power."
When Jack Dempsey started concussing opponents left and right, it was said that he was a larger version of Terry McGovern, a supreme compliment.
McGovern had suffered only two defeats prior to meeting Pedlar Palmer, both by disqualification. He was in excellent form, having won 13 straight, 11 by KO. His knockout victims included top-notchers Harry Forbes, the pride of Chicago, Austin Rice, the Connecticut Iron Man, and Casper Leon, the Sicilian Swordfish. McGovern was recognized as the American bantamweight champion.
Born in 1880, Terry was six months old when his parents moved from Johnstown, Pennsylvania to Brooklyn, beating the great flood by nine years. The Brooklyn of Terry's boyhood was America's fourth largest city, a distinction it lost in 1898 when it was consolidated with the boroughs of Queens, the Bronx, and Staten Island into the modern city of New York.
Brooklyn's poster boy circa 1880 was Henry Ward Beecher, the pastor of Brooklyn's Plymouth Congregational Church. A spellbinding orator, Beecher was America's first great celebrity preacher; his sermons ran in dozens of major newspapers and anthologies of them out-sold popular fiction.
His fame was such that Brooklyn, in the eyes of outsiders, was perceived to be an overwhelmingly WASPish community. But the reality was different. By 1860, half the population was foreign born and half of that was Irish Catholic. And the Irish, with their knack for political organizing, soon dominated the political life of the city.
While Brooklyn's Protestant clergymen condemned prizefighting from their pulpits, the city nonetheless developed a robust prizefighting subculture. Several bare-knuckle title claimants spent their formative years in Brooklyn, as did the first Jack Dempsey, the Nonpareil, an important transitional fighter as the sport moved into the gloved era.
McGovern was 18 years old when he engaged in his first 20-round fight. His performance caught the eye of Sam H. Harris, an ambitious young man then in his mid-20s. Harris arranged to be become Terry's manager and proved to be an excellent fit. Then, as now, no matter how talented a boxer, he wasn't going far without a well-connected manager. (Harris went on to have an illustrious career on Broadway, producing or co-producing 130 shows including many of Broadway's biggest hits.)
Brooklyn in McGovern's day, although a patchwork of ethnic enclaves, had an esprit-de-corps, a sense of togetherness that welded the populace into a tighter community. Among current Brooklyn boxers, none has a more avid fan base than Adam Kownacki. Take Kownacki's level of popularity and multiply it several times over and that was Terrible Terry McGovern.
Pedlar Palmer
Thomas "Pedlar" Palmer grew up in a circus family. He was an acrobat who developed a novelty act in tandem with his brother. He took up boxing at age 15 and was performing at the National Sporting Club while still in his teens. He had 16 fights at the NSC before sailing off to the U.S. to keep his date with McGovern. Six of those fights were billed for the world bantamweight title, a division with no firm ceiling, fluctuating between 112 and 118 pounds. He never lost.
To a young British boxer, nothing matched the prestige of fighting at the National Sporting Club. The exclusive men's club in London's fashionable Covent Garden district was patronized by the crème-de-la-crème of London's entrepreneurial class. They watched the fights in formal evening attire while adhering to a strict code of decorum that prohibited shouting. The Queensberry rules weren't invented here, but were firmly applied here (with a few modifications), a big step toward universal acceptance. The NSC was the precursor of the British Boxing Board of Control.
The president of the National Sporting Club was the fabulous Earl of Lonsdale, but the day-to-day affairs of the club, and the matchmaking, were in the hands of A.F. "Peggy" Bettinson. A former English amateur lightweight champion, the autocratic Bettinson enforced the rules of the club with an iron fist.
Bettinson took a pecuniary interest in Pedlar Palmer, becoming his manager.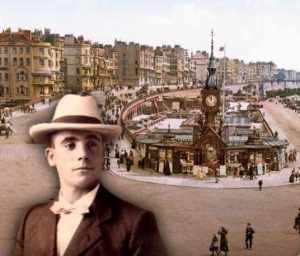 Palmer (pictured against the backdrop of Brighton, the seaside resort city where he lived and trained) was reportedly illiterate, but his ring IQ, reflected in his nickname, "Box-o'-Tricks," was off the charts. "He fights according to the style of his opponent and never fights two men the same way," noted a British writer. "Quick and agile as a cat, he is here, there, and everywhere, putting into execution more dodges and expedients than two ordinary men," said a leading boxing authority.
When Pedlar Palmer and "Peggy" Bettinson arrived in New York from London, a brass band was waiting at the pier to greet them. The following day, the fighter and his manager were feted with a banquet at their hotel.
The Venue
McGovern vs. Palmer was staged in an outdoor arena in Tuckahoe, a little village in Westchester County, 16 miles from midtown Manhattan and 22 minutes by train from Manhattan's Grand Central depot. The arena, which was enclosed by a wooden fence, was situated directly across from Tuckahoe's new railroad station. The land sloped gently down to where the ring was pitched. Situated in the back, roughly 100 yards from the ring, were two cottages that were deployed as dressing rooms. They had windows that looked down on the enclosure. Terry McGovern's young wife stayed in one of the cottages with their two-month-old baby. She would not have been welcome at ringside as it was taboo for a woman to attend a prizefight.
The crowd at the Sept. 12, 1899 fight was variously estimated at 8,000 to 12,000. Nowadays, this would hardly be considered a large crowd, but it was a large crowd for this era; an era when the law restricted prizefights to property owned or leased by an athletic club. The attendance would have been larger if the bout had gone off the previous day as scheduled as that was a Monday and the racetracks would have been dark. Racetrack workers and racetrack denizens, by and large, were big fight fans. Unfortunately for the promoters, rain pushed the fight back one day where it went head-to-head with the opening day of the autumn meet at the Gravesend track in Coney Island.
In those days, the indicator of a mega-fight wasn't how many people were there, but who was there and McGovern vs. Palmer attracted a who's-who of luminaries from the fields of sports and entertainment plus seemingly every person of influence in Tammany Hall, New York City's corrupt political machine. Special trains carrying fight fans arrived from Boston, Providence, Hartford, Philadelphia and Buffalo.
The pugilistic contingent, said a reporter, included every boxer of note, "from the top-notchers in the heavyweight division to the paper weights in the amateur ranks." The list included John L. Sullivan, who received the loudest ovation as he came down the aisle, James J. Corbett, Tom Sharkey, Bob Fitzsimmons and Kid McCoy. The British delegation included grocery chain magnate Sir Thomas Lipton, the famous yacht racer whose name would be immortalized in a popular brand of tea.
In those days, the lion's share of the large wagers on a big fight were made in the arena through so-called betting commissioners. The commissioners filled orders, betting "x" amount of dollars at specified odds if they were able to obtain those odds. Bets by prominent people were a staple of post-fight stories. With no federal income tax, a gambler had less reason to be discreet.
McGovern was favored. Odds of 10/8 were widely available as the arena was filling up, lengthening to 10/7 as the bout drew closer to its mid-afternoon starting time. The well-known bandleader John Phillip Sousa was no greenhorn when it came to getting the best of it. He reportedly risked $300 on McGovern to win $275.
The Preamble and the Fight
The Revolutionary War was old history, but there was still a trace of hard feeling between the two nations and the promoters seized upon it to ratchet up the drama.
Pedlar Palmer appeared first. Someone in his cottage signaled the band to strike up "God Save The Queen" and the anthem accompanied him as he made his walk to the ring behind a man holding aloft the British flag.
After Palmer climbed through the ropes, the band struck up "The Star Spangled Banner," McGovern's cue to begin his ring walk. Twelve-year-old Phil McGovern, the youngest of Terry's two younger brothers, led the way, carrying the American flag. The fellow at the back of the procession waved the green flag of Ireland with its golden harp.
According to the correspondent for the New York World, when McGovern slipped through the ropes the cheer was deafening, reverberating in the hills miles away. The combatants were then gloved in the ring, as was the custom, and then went at it in one of the most anti-climatic fights in the history of the prize ring. It was all over in 152 seconds and that included the unscheduled 12-second break when the hammer slipped out of the timekeeper's hands and he rang the bell by mistake.
Before the bout was 90 seconds old, Palmer was on the canvas, deposited there by a right-left combination. He got up but looked woozy and McGovern moved in for the kill. But he was over-anxious and Palmer was able to dodge his punches until he succeeded in tying him up. But as soon as the referee pried them apart, McGovern resumed his attack, snapping Palmer's head back with a left to the jaw that sent him staggering toward the ropes and then putting him down for the count with a straight right hand to the point of the jaw. "America Forever: Knocks Out England in One Round," read the headline above the Associated Press dispatch in the next day's Los Angeles Times.
McGovern was mobbed as he left the ring. The horseshoe-shaped floral arrangement that was presented to him after the fight was robbed of all its flowers by souvenir-hunters. Back in Brooklyn, the scene was even more tumultuous.
According to the Brooklyn Daily Eagle, bonfires were kindled and fireworks in large quantities were set off as McGovern alighted from the streetcar, holding his baby in his arms with his wife at his side. With much difficulty, the police cleared a path to his residence. The McGoverns then resided in an apartment above a saloon that he had recently purchased. Downstairs, the saloon was mobbed and so much money was going across the bar, said the paper, that it seemed as if everyone in the neighborhood had won something.
The Aftermath
Terry McGovern's star shone even brighter the following year. In 1900, he added the world featherweight belt to his laurels with an eighth-round stoppage of long-reigning title-holder George Dixon, stopped the formidable Oscar Gardner, the Omaha Kid, in three rounds, and needed only three rounds to put away lightweight champion Frank Erne in their non-title fight. He also became a big attraction on the vaudeville circuit, eventually assuming the lead role in the hokey melodrama (that's redundant) "The Bowery After Dark." McGovern played the hero, the fellow that gets to rescue the damsel in distress.
On Thanksgiving Day, 1901, in a mammoth upset, McGovern was knocked out cold in the second round by Young Corbett II (born William Rothwell), an unheralded fighter from Denver. Terrible Terry was never the same and washed out of the sport while still in his twenties. He was in and out of sanitariums the last few years of his life and exhibiting signs of dementia when he died of pneumonia at age 37. As for Pedlar Palmer, he returned to England and recaptured the bantamweight title after McGovern abandoned it, but he lost the title in his first defense and gradually became just another name fighter playing out the string, earning his largest paydays in bouts where he served as a building block for young fighters on the rise. He died at age 73 in Brighton.
—-
In searching for a parallel to McGovern-Palmer, Mike Tyson's 91-second blowout of Michael Spinks at Atlantic City in 1988 jumped quickly to mind. Akin to McGovern-Palmer it was a match between a slugger and a clever boxer. The slugger was favored but not overwhelmingly so. It too was a unification fight: Tyson held the belts of all three major sanctioning bodies, but Spinks, who had been stripped by the IBF, had a stronger claim to the lineal heavyweight title. The bout attracted enormous buzz, drew a celebrity-studded crowd, and the victor, who never let the clever boxer display his wares, experienced a big spike in his famousness.
Tyson vs. Spinks attracted a crowd of roughly 22,000. A far more intimate gathering witnessed Terry McGovern's fast demolition of Pedlar Palmer, but yet, as measured by goose pimples, it was every bit as spectacular. I wish that I had been there.
Check out more boxing news on video at The Boxing Channel 
To comment on this story in The Fight Forum CLICK HERE
This Former College Cheerleader Just May be Boxing's Second-Best Heavyweight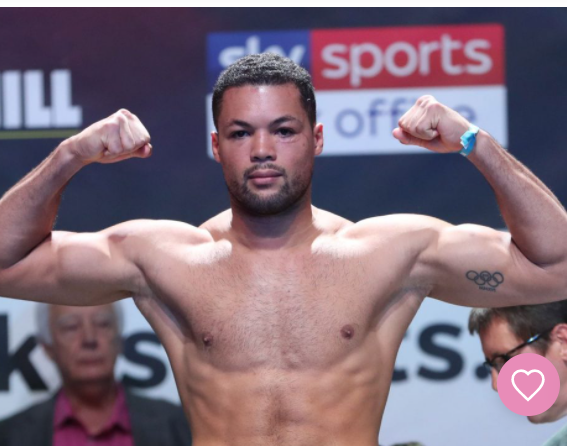 Here's something that you probably don't know about Joe Joyce. The British bomber was once an exchange student at California's Sacramento State University and during his enrollment, which was in the fall semester (football and basketball season), he joined the cheerleading squad.
Wish we had a picture to share, but we don't. In general, male cheerleaders tend to be not much taller than their female counterparts — think the body type of a gymnast – and the six-foot-six Joyce, whose thick torso appears to have been hewn from oak, must have been quite the sight.
Joyce studied fine arts at Sac State, his major at London's Middlesex University where he earned his degree. As an exchange student in California, it figured that Joyce would find a physical activity to keep him occupied when he wasn't studying or in class. He's an accomplished painter, we have been told, but one doesn't associate him with an activity that one performs while sitting down.
Currently ranked #1 by the WBO and #3 by the WBA, the undefeated (13-0, 12 KOs) Joyce, a former Olympic silver medalist, has the most diversified athletic background of any boxer on the planet. Before boxing became all-consuming, he was immersed in rugby, swimming, track and field ("long jump, triple jump, shot put, you name it") and martial arts.
It's hard to transition into boxing from a different sport – there are very few success stories – but apparently having sampled a wide range of athletic endeavors is useful. A match between Joe and 10-0 Jared Anderson, whose exertions have been applied exclusively to boxing, would provide an interesting contrast.
Anderson would have youth on his side, but the nectar of youth was of no help to Daniel Dubois when Joe Joyce caught up with him last November at the historic Church House in Westminster. Dubois, 12 years the younger man, had no antidote for Joe's steady diet of left jabs and bowed out in the 10th round with a busted eye socket. The upset earned Joyce, now 36 years old, the British, European, and Commonwealth heavyweight titles.
A fight between Juggernaut Joe and Jared Anderson is unlikely to happen anytime soon, if ever. Rematches with Anthony Joshua and Oleksandr Usyk are closer at hand.
Rematches?
Indeed. One can find 66 amateur bouts for Joe Joyce documented at boxrec. The first entry is Anthony Joshua. They met back in 2011 and Joyce failed to survive the opening round. Three standing 8-counts terminated the match.
Joyce recalls that he made the mistake of circling into Joshua's line of fire, rather than away from it. He had just got done fighting a southpaw on the same bill and had precious little time to recalibrate for an opponent with an orthodox style.
Joyce opposed Oleksandr Usyk in March of 2013 in an England vs. Ukraine event at London's venerated York Hall and lost a 5-round decision. This would be one of only two setbacks he suffered in 16 engagements under the rubric of the World Series of Boxing.
Joyce didn't expect Usyk to beat Joshua when they met this past September before a crowd of 65,000 at Tottenham Hotspur Stadium. "I imagined Joshua was a bit too strong for him," he says. But Joe wasn't greatly surprised either. "After the first round, I could see how it would go. Usyk makes you box how he wants you to box."
Joyce doesn't yet have an opponent for his next fight. There are reports that it will be Kubrat Pulev, but Joe says all he knows is what he's read on social media. Tony Yoka's name has also been bandied about. A match between him and the 29-year-old Frenchman, currently 11-0, would also profit from the rematch-angle.
Joyce was the busier fighter when he fought Yoka in the finals of the super heavyweight division at the 2016 Rio Summer Games, but Yoka walked away with the gold medal by virtue of winning a split decision.
"I could sense something dodgy was going on in the dressing room [before the fight]," he told this reporter. And while he refused to say flat-out that he thought the fight was fixed, he didn't have to, as Joyce vs. Yoka was one of 11 cited by Canadian law professor Richard McLaren in his blockbuster 2021 report which gave credence to the scuttlebutt that the outcomes of some of the matches in Rio were manipulated for money or political favors.
Joe Joyce's biggest fan is his mother, Marvel Opara, and it's a mutual admiration society. Joe proudly notes that she has hiked Mount Kilimanjaro and ridden with Joe on a tandem bicycle through the streets of Thailand despite being almost completely blind. She raised Joe and his little brother by herself when her Scotch-Irish husband left the fold, but Joe and his father Philip — who remarried and established a new family – have a warm relationship. After his parents split, Joe saw his dad every Wednesday and every other weekend.
Joyce signed with David Haye's Hayemaker Ringstar Promotions coming out of the amateur ranks. Haye was still active, having returned to the sport after a 42-month hiatus, and Ismael Salas was training him. The globetrotting Salas, a legend in his native Cuba, prepared Joyce for his match with Daniel Dubois but wasn't around to work the corner, having been detached by the authorities after testing positive for COVID.
Joyce and Salas have hooked up again in Las Vegas where Salas, who is none the worse for wear, operates a boxing academy. Joyce and his attractive girlfriend Nadine Davison arrived in Las Vegas in mid-November for a month-long stay. Salas puts Joe through his paces each afternoon. Here in the states, Joe previously trained at Abel Sanchez's compound in Big Bear.
Joe Joyce isn't getting any younger, but heavyweights tend to have a longer shelf life than fighters in other divisions and Joe anticipates that he will keep fighting until the age of 40. And then what?
"I have thought about getting into coaching [when I leave the sport]," he says. "I can earn money selling my paintings and perhaps I have a future in punditry." (The reference here is to employment as TV color commentator for which Joyce would seem to be ideally suited, although being naturally soft-spoken, he would probably have to ratchet his voice up a notch.)
We would suggest another alternative, graduate school at Sacramento State University. We hear there's an opening on the cheerleading squad.
Check out more boxing news on video at the Boxing Channel
To comment on this story in the Fight Forum CLICK HERE
The Day Canelo Got Buzzed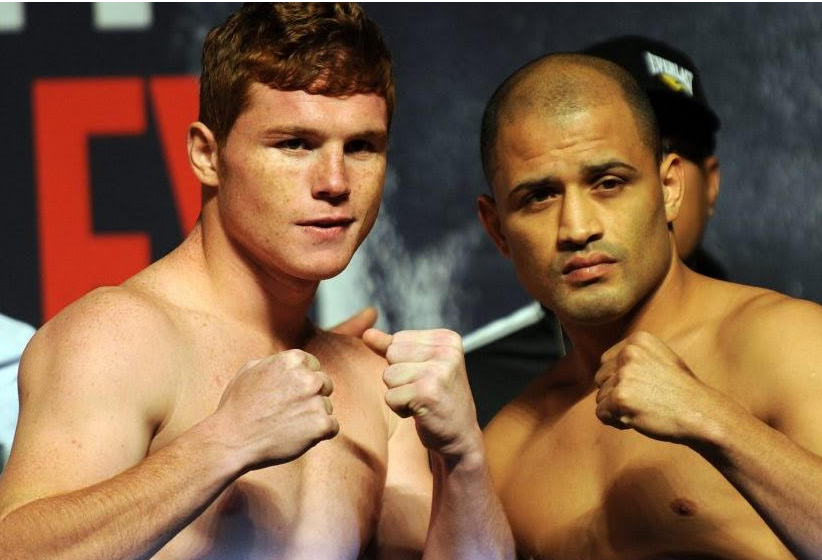 The Day Canelo Got Buzzed
Puerto Rican Jose Miguel Cotto, the older brother of future Hall of Famer Miguel Cotto, retired in 2012 with a fine record of 33-4-1. He was stopped just once, by streaking Juan Diaz (28-0 at the time) and fought a number of high-level competitors including Shane Gannon (22-6), Freddy Cruz (51-19-8), Pantan Narongwet (30-2-1), Ilido Julio (39-15-1), and later Paulie Malignaggi (28-4).
On May 1, 2010, his opponent was Saul Alvarez (31-0-1). Cotto (31-1-1 coming in) was short and stocky, fought in an orthodox style, and possessed a strong chin. It would turn out to be Jose's career-defining battle.
The fight was televised on HBO PPV from the MGM Grand in Las Vegas and was designed as a coming out party for the young Alvarez—hereafter to be known as "Canelo." The fight was the co-feature to the Floyd Mayweather vs. Shane Mosley fight on a Cinco De Mayo weekend and garnered tremendous exposure.
Once the fight started, the fans received an early shock as Cotto caught the young Mexican redhead flush with a left-hook at the round's half-way point. It sent Canelo stumbling back into the ropes—in fact, had the ropes not held him up, it could have been ruled a knockdown by referee Tony Weeks. Sensing the kill, Cotto attacked with several follow-up shots, including at least two right hands that landed flush from the other side.
Everyone invested in this fight (and in Canelo), not to mention his rabid Mexican fans and this writer, were watching in disbelief. How could this be happening? Canelo had just been buzzed and almost decked. Was an upset in the making? Was the build-up bogus?
"I know the first round was a little scary but I gained my confidence as the rounds went on." — Canelo
And come back he did as he regrouped and floored Cotto in round two with what would later become his signature punch—the uppercut. Alvarez then picked up the pace, breaking down the rugged Cotto with great combos and accurate power shots. The fight soon became one-sided. Finally, in the ninth round, Canelo maneuvered his opponent into a corner, trapped and stunned him and then launched a barrage of malefic right hands (more than a dozen, interspersed with a few set-up lefts). The one-sided barrage forced Weeks to step in and end matters. The scorecards through the completed rounds read 78-73 across the board, all for Canelo Alvarez.
Canelo is currently 57-1-2 and is the top PFP fighter in boxing. He holds the WBA, WBC, IBF, and WBO world super middleweight titles and seems poised to move up to cruiserweight and fight Ilunga Makabu for the WBC cruiserweight title. If he does and wins, he will become a five-division titleholder. And yet despite this rugged schedule, Saul "Canelo" Alvarez has been "buzzed" only once.
"Miguel Cotto's brother can make you do the chicken dance, but I can't? Okay." — Caleb Plant
Ted Sares enjoys writing about boxing. He can be reached at tedsares@roadrunner.com
Check out more boxing news on video at the Boxing Channel
To comment on this story in the Fight Forum CLICK HERE
It's Just Another Day for Birthday Boy Ben Davison, Boxing's Hottest Young Trainer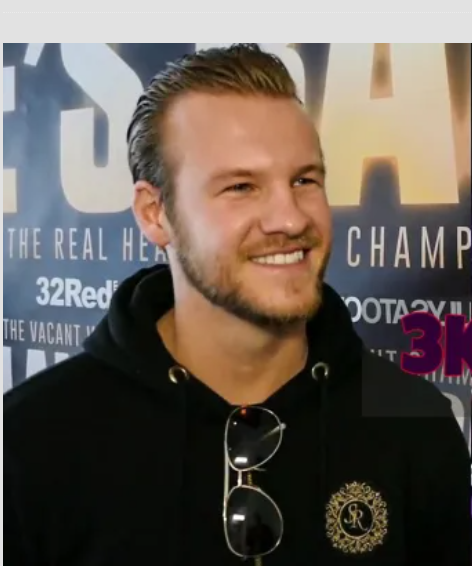 Happy birthday to British boxing coach Ben Davison who turned 29 today, Nov. 29. Davison is in Las Vegas where many people come to celebrate a birthday, but for him it's merely another day at the office.
Actually, he's currently plying his trade at two "offices." In the morning, he's at the Top Rank gym where his main focus is preparing unified 140-pound world champion Josh Taylor for his Feb. 26 title defense in Glasgow against Jack Catterall. In the afternoon he joins the horde at Bones Adams gym where Devin Haney is putting the finishing touches on his preparation for Saturday's encounter with Jojo Diaz at the MGM Grand Garden, a Matchroom promotion that will be live-streamed around the world on DAZN. Davison will be in Haney's corner assisting Haney's dad Bill Haney.
Few people had heard of Ben Davison before April of 2018 when Tyson Fury introduced Ben as his new trainer at a glitzy London press conference to announce Fury's comeback fight with sacrificial lamb Sefer Seferi. At that juncture, the Gypsy King had been out of the ring for 30 months during which he battled depression and addictions and allowed his weight to balloon to almost 400 pounds.
It seemed odd to many people that Fury, who was previously trained by his uncle Peter Fury, would choose an obscure trainer, a man younger than himself, to prepare him for his comeback. The presumption was that he was throwing a bone to the fellow that helped him get back in shape.
Broadly speaking, there are two types of boxing trainers. One is primarily a conditioner and the other a strategist whose strength is devising a battle plan. Boxing pundits, who knew little about Ben Davison other than his connection to Tyson Fury, rucked Ben into the first category.
Davison lived in Tyson Fury's home for 14 months during which he oversaw the greatest renaissance in boxing history in the words of Daily Mail writer Simon Jones. But Davison was no generic physical fitness instructor. "I would study two, three, four fights of Deontay Wilder every day," he told this reporter, recollecting the months he spent with Fury preceding the first Fury-Wilder fight.
When viewing a tape, says Davison, it's important to throw out all preconceptions regarding what a fighter does well and what he does not do so well. "Casual fans tend to see only the punches," he says. "They miss the subtleties."
This doesn't sound like the musing of a one-dimensional boxing coach.
Following his bout with Otto Wallin, Fury replaced Davison with SugarHill Steward, previously known as Javan "Sugar" Hill, the nephew and protégé of the renowned Kronk Gym maestro Emanuel Steward. Ben's pride was wounded, but he did not let the disappointment color his feelings about Tyson Fury. "We will always be friends," he says.
Davison could have stayed on with Team Fury, albeit in a secondary role to Steward, but he had another fighter under his wing in Fury's cousin, Billy Joe Saunders, and new opportunities were opening up. He chose to move on.
A bantamweight from Glasgow, Scotland, Lee McGregor, had approached him about becoming his primary coach. Davison was now free to give McGregor the proper attention. And as luck would have it, McGregor's best buddy was Josh Taylor who had become disenchanted with his father/son management team of Barry McGuigan and trainer Shane McGuigan.
Lee McGregor was 9-0 when Davison entered the picture. He's now 11-0 and set to defend his European title on Dec. 18 with Armenia's Narek Abgaryan in the opposite corner. Josh Taylor was fresh off his grueling battle with Regis Prograis in the finals of the World Boxing Super Series when he severed his tie with the McGuigans. The Scotsman then owned two pieces of the 140-pound world title and under Davison's tutelage he went on to win a hard-earned decision over Jose Ramirez, thereby acquiring the other two pieces and becoming only the sixth boxer of the four-belt era to become an undisputed champion.
Nottingham's Leigh Wood would be Ben's next title-holder. On July 31 of this year, in his second fight with Davison, Wood wrested the WBA world featherweight diadem from Can Xu with a 12th-round stoppage. Wood was comfortably ahead on the cards going into the final round.
Davison's relationship with Devin Haney was born out of a chance encounter with the boxer at Jorge Capetillo's gym in Las Vegas. Capetillo was Tyson Fury's cut man for Fury's bout with Otto Wallin.
Ben struck up a conversation with Devin after watching the fighter beat the tar out of two sparring partners. As they were discussing the finer points of boxing, Haney called his dad over to give a listen. The elder Haney was impressed and when Devin entered the ring to fight Jorge Linares, there was Ben Davison working alongside Bill Haney in Devin Haney's corner.
It has been noted that all of Davison's marquee fighters were well-formed when he took them under his wing. For example, Leigh Wood had been a pro for almost 10 years before hooking up with him. This has led skeptics to wonder if he can build a fighter from scratch. Mark Dickinson, one of Ben's newest charges, may provide the answer.
A highly decorated amateur, Dickinson has only one pro fight under his belt. He eliminated his opponent in 36 seconds. His potential is such that Davison did not leave him behind when he jetted off to Las Vegas with Team Josh Taylor.
There have been two important fights during Davison's current stateside stay, both of which have implications for fighters with whom he is involved.
There has been talk of Josh Taylor moving up to welterweight to challenge Terence Crawford. That match may yet to come to fruition although Davison concedes that it became a harder fight to make when Crawford announced that he was leaving Top Rank.
Many people were upset at Kenny Porter, Shawn Porter's father and trainer, for stopping the Crawford-Porter fight. The stoppage, which came in round 10, struck many as premature and the elder Porter made no friends when he rationalized his behavior by saying that he wasn't satisfied with the way that his son had prepared.
Davison is of the opinion that father knew best. "We don't know what went on at Shawn's training camp. Kenny may have seen some things that he hadn't seen before. Shawn was becoming fatigued and when a fighter becomes fatigued, he becomes more reckless and is thus more vulnerable. So, what was the point of continuing?"
Davison also refuses to say anything negative about Teofimo Lopez who was on the wrong end of a big upset this past Saturday in New York. "I would never kick a man while he is down," says Davison. "He probably had a lot going on outside the ring the last year."
The Lopez- Kambosos shocker opened new vistas, at least in theory.
Before he stepped into the ring with boxing's newest Cinderella Man, Teofimo was contemplating a move to 140 where his most attractive opponent would have been Josh Taylor (assuming Taylor gets by Jack Catterall). That match is still live, but now Devin Haney suddenly has a new option should he get by Jojo Diaz on Saturday. A match between Haney and multiple-belt champion George Kambosos would be a delicious pairing and the Aussie appears to be on board with it although he would be chalked the underdog. In fact, Matchroom has arranged a meet-and-greet between Kambosos and credentialed media this coming Thursday in Las Vegas.
—
Back in London, more exactly Essex, Ben Davison runs the MTK Performance Center, a gym that shares space in the same building with the electrical testing company founded by his father. Ben spends a lot of time on the road, needless to say, but he's reached the stage in his career when he can afford to hire someone to mind the store when he is out of town and pay several assistants to lighten his workload wherever he happens to be.
One of those assistants is Lee Wylie whose primary role is that of a video analyst. If the name seems familiar, that's because Wylie's byline has appeared in several online boxing magazines, including right here at The Sweet Science! In common with former TSS writer Frank Lotierzo, Wylie has a keen eye; he sees things when he watches a fight that aren't apparent to laymen and Ben Davison is now the beneficiary of his insights.
If you happen to see Mr. Davison in the next few days, wish him a belated happy birthday. Enjoy the tailpiece of your twenties, sir, life comes at you fast.
Check out more boxing news on video at the Boxing Channel
To comment on this story in the Fight Forum CLICK HERE