Remembering Hedgemon Lewis (1946-2020); Welterweight Champ, Hollywood Pet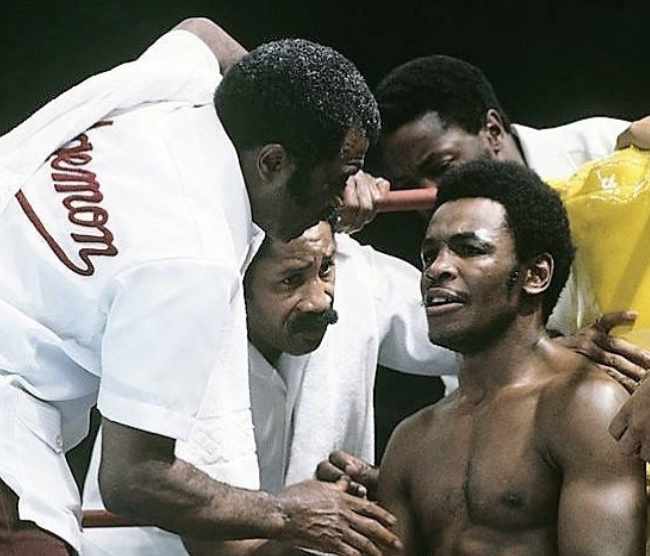 Hedgemon Lewis, who came up short in three stabs at the world welterweight title but won the New York version of this diadem, died on Sunday, March 30, at an assisted living facility in Detroit. Lewis, who was 74, had health issues in recent years that made him vulnerable to COVID-19, and that vulnerability was compounded by residing in Detroit which has become one of the epicenters of the scourge. The evil pathogen sought him out and in his debilitated condition it wasn't a fair fight.
Lewis was 72-6 as an amateur and won a National Golden Gloves title as a lightweight and AAU and National Golden Gloves titles at welterweight. He was 53-7-2 (26 KOs) as a pro. But those numbers barely tell the story of a fighter who led an interesting life and was admired by his peers for what he accomplished outside the ring.
Hedgemon Lewis turned pro in 1966 under the guidance of Luther Burgess who would be best remembered as one of Emanuel Steward's chief lieutenant's at Detroit's fabled Kronk Gym. Burgess, a fine featherweight in his fighting days, had been trained and managed by Eddie Futch.
Lewis was eight fights into his pro career and not quite 21 years old when Burgess brought him to Los Angeles where Futch was then plying his trade. Futch loved what he saw and Burgess left his young fighter in the care of his former mentor who was better able to "move" Lewis as the Southern California fight scene was then percolating.
Undoubtedly it wasn't merely Hedgemon's potential that excited Eddie Futch. The two had much in common. Both had been born in small towns in the Jim Crow South and had spent their formative years in Detroit. Moreover, a Futch Fighter was a fighter who conducted himself like a gentleman outside the ring and Hedgemon Lewis fit that mold. Futch had no tolerance for loudmouths.
Hedgemon became a staple at the Olympic Auditorium where he had 15 pro fights. When paired against a top-shelf opponent with a Mexican bloodline, these bouts drew big crowds. An estimated 4,000 were turned away when he fought Ernie "Indian Red" Lopez on July 18, 1968. The teak tough Lopez, then ranked #2 in the world, saddled Hedgemon with his first defeat, winning by TKO 9. The bout was so exciting that Lopez's manager and chief cornerman Howie Steindler fainted during the battle and would be taken to a hospital for observation.
By then, Hedgemon had wealthy backers that allowed him to give boxing his full attention, or we should say his full attention when he wasn't studying for his real estate license or taking classes in speech and drama at Los Angeles City College.
When Muhammad Ali and Joe Frazier turned pro, they both had syndicate backing. The syndicates were comprised of wealthy businessmen in Louisville and Philadelphia, respectively. A California man named Dell Jackson put together a syndicate to back the next world heavyweight champion but with no good heavyweights available, the consortium settled on Hedgemon Lewis.
Jackson had friends in show business. The actor Ryan O'Neal, the comedian Bill Cosby, and the Broadway star and recording artist Robert Goulet hopped on board. The Hoover Street Gym, where Lewis trained and where his backers were constantly popping in to check on their investment, became a hot spot for the paparazzi. Lewis always looked good in the gym because he was a stylish fighter (which curried no sway with the legendary LA Times columnist Jim Murray who was partial to boxers of the blood-and-guts stripe; Murray did Hedgemon Lewis no favors when he described Hedgemon's style as "mostly ballet.")
Lewis won six straight after his setback to Indian Red, advancing his record to 28-1. The sixth was a rematch with Lopez wherein he avenged his lone defeat, winning a close but unanimous decision, but Indian Red won the rubber match, stopping Hedgemon in the 10th at the LA Sports Arena.
The top gun of the welterweight division in those days was Jose Napoles, a fighter of consummate skill who left Cuba when Fidel Castro came to power and settled in Mexico City. Napoles held both of the meaningful welterweight belts when Hedgemon caught up with him on Dec. 14, 1971 at the Inglewood Forum. Napoles prevailed in one of his toughest fights. Had he not won the final round, the bout would have been scored a draw.
They would fight again 32 months later in Mexico City and this would be a much easier fight for Napoles who scored a ninth round TKO. Between these two world title fights, Hedgemon had two 15-round affairs with Billy Backus on Backus's turf in Syracuse, New York. Lewis won both by unanimous decision, winning the second fight by a more lopsided margin than the first.
Backus, the nephew of the great Carmen Basilio, had dethroned Napoles in December of 1970 in a fight stopped on cuts, some say prematurely. It was The Ring magazine Upset of the Year. In a better measure of their respective skills, Napoles dominated the rematch. Backus was a bloody mess when the bout was stopped in the eighth round.
The New York State Athletic Commission, in their infinite wisdom, demanded a rubber match. When Napoles refused, the NYSAC stripped him of his title. Both of Hedgemon Lewis's bouts with Billy Backus were billed for the New York version of the world welterweight title, which was something of a joke although in an earlier day the New York version of a title had considerable cachet.
Lewis's third stab at the world welterweight title came in what would what be his final bout. He walked away from the sport after suffering a 10th round stoppage at the hands of John H. Stracey in London.
Unlike so many fighters, he knew when it was time to say goodbye. "It's such a strange thing when that happens to you," Hedgemon told LA Times sportswriter John Hall, reflecting on his match with Stracey. "I trained well. I felt good. But once the fight began, it all went in an instant. Nothing worked. My legs, my hands. Suddenly I was a stranger in my own body."
In retirement, Lewis became an assistant trainer under Eddie Futch, dabbled in fight promotions, and looked after his real estate investments. And he remained great friends with Ryan O'Neal who stayed with Lewis until the very end as other members of the syndicate dropped out.
Hedgemon Lewis was the oldest child and only boy of his mother's five children. She raised her children alone after her husband walked out one day, never to be seen again. Lewis was very close to his mother and his sisters and when his mom took ill, circa 2002, he returned to Detroit to live out his days. Mrs. Lewis died in 2017.
—
This reporter first met Hedgemon Lewis in the late 1980s when Team Futch – Eddie Futch, Thell Torrence, Hedgemon, and the tyro, Freddie Roach, were training Virgil Hill at the long-gone Golden Gloves Gym in Las Vegas. In hindsight, I have come to believe that this quartet was the greatest team of trainers ever assembled. If not, it was undoubtedly the team with the best chemistry. "Everything we did was formulated around Eddie's knowledge and techniques," said Torrence.
The news of Lewis's death prompted a call to Torrence. Eighty-three years young and still in-demand as a boxing coach, he had just gotten off the phone with Ryan O'Neal, informing him of the sad news. And he was kicking himself for not following through on the recent promise that he had made to himself to go visit his friend and former associate in Detroit. "And now it's too late," he rued.
Thell Torrence believes that Hedgemon left the sport in better shape financially than any boxer in his weight class who had a similar career. He credits O'Neal with making this possible, although when Lewis invested in a parcel of real estate, he had done his homework.
Lewis allowed himself a few luxuries. "He drove the first Mercedes I had ever seen," said Torrence, and when he started to make good money, he moved into a fancy apartment in fancy Malibu. But he could have had many more luxuries if he had not felt an obligation to help out his family. He purchased a home for his mother in Detroit and, according to Torrence, put several of his sisters through college.
Hedgemon Lewis was inducted into the California Boxing Hall of Fame in 2006 and into the Alabama Boxing Hall of Fame — he was born in Greensboro – last year. Health problems prevented him from attending the induction ceremony in Tuscaloosa. Two of his sisters accepted the honor for him.
To reiterate, Hedgemon Lewis was 72-6 as an amateur and 53-7-2 as a pro. And that barely touches the surface of a very good fighter who was a credit to his sport.
R.I.P. Champ.
Check out more boxing news on video at The Boxing Channel 
To comment on this story in The Fight Forum CLICK HERE
Every Joe Gans Lightweight Title Fight: Part 1; Frank Erne 1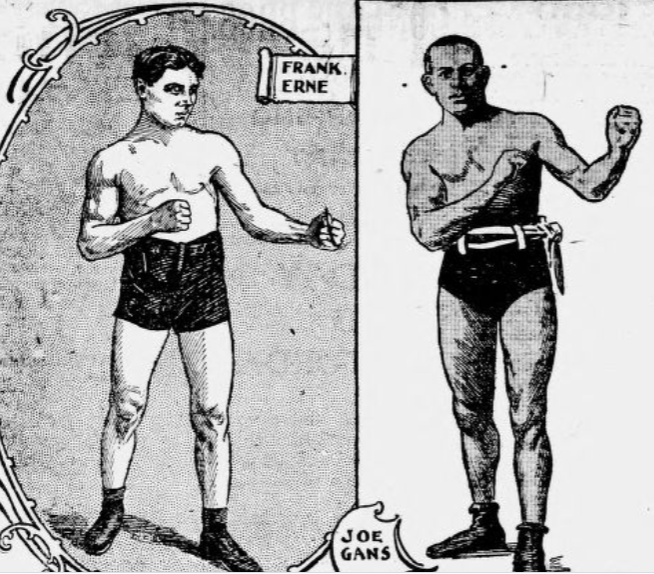 Joe Gans of Baltimore lost the confidence and respect of the sporting public last night by deliberately quitting in the twelfth round of the bout with Frank Erne at the Broadway Athletic club. He had an excellent chance of becoming lightweight champion. He will now be looked upon as the champion quitter. – The New York Evening World, March 24th, 1900.
Eleven years after the Emancipation Proclamation, Joe Gans was born. His was a world in which the enslaved were reborn as fourth-class citizens into a country reeling from war. The average African- American could expect to live thirty-three years; the average white American, forty-seven.
Joe Gans scratched out more years on this earth than the average African American, but barely. In thirty-five years, thirty-five years marked with violence and dash, he made a mark so indelible upon the fistic universe that it continues to echo down the ages. Even among the early black boxing champions, men who had to battle a hostile power-structure in addition to lethal boxers fighting in the toughest conditions, men like George Dixon, Joe Walcott, and Jack Johnson, he is a giant. I could not name ten fighters who achieved more.
And yet, as the 1900s dawned, he made himself a pariah. Gans engaged in conduct regarded as outrageous and career-threatening at a time when much more moderate sporting offences could cause a black contender to be excluded for years. He fought two fights in 1900 which would have rendered a lesser man a footnote, one of which was so notorious as to remain infamous even today.
The other was his first fight for the lightweight title.
In this series, we will tell the story of each one of the title fights Joe Gans fought during his lightweight career which is the same as telling the story of the sport's greatest division in the first decade of the century. Gans towered over the most stacked lightweight division ever assembled for most of those years.
But in 1900, the champion was Frank Erne.
"Erne is conceded to be one of the brainiest, fastest, cleverest boxers in the ring to-day," reported The Brooklyn Daily Eagle in previewing the fight. "He has a long and successful career in the ring and won his title of champion by defeating Kid Lavigne in a memorable battle."
Lavigne himself was one of four men from this deepest lightweight era to hold an argument for placement among the twenty greatest lightweights in history; Erne had "battered his opponent out of the title" while "never once losing his cool." It was a masterful performance from a speedy, clever, self-possessed fighter, probably one of the ring's great jackals.
Gans though, was different. Lavigne was diminutive and sought out an equalising punch against superior boxers, but Gans backed his generalship and skill against any and every opponent he had or would ever meet. This would include Erne.
Still, one newspaper named Erne "far more clever" but nevertheless noted that Gans was "a cool ring general" who "seems able to hit harder." This last would prove an understatement – Gans would go on to stop at least a hundred men in the ring. His mission to stop Erne began at the Broadway Athletic Club, on March 23, 1900 over twenty-five rounds, both men having agreed to weigh in that afternoon at 133 pounds. At stake were fifty percent of the gross receipts.
The poundage was the problem; Gans was reportedly not a fan of the champion's 133lb limit but what the Waterbury Evening Democrat called "a monster betting event" was something more certain to go ahead then than it is now. Joe Gans was installed as an early favourite.
As the boxing world turned its collective eyes towards the monolithic contest that was Jim Corbett's defence of the heavyweight title against the surging James Jeffries, Gans and Erne began training.  Erne moved from his base in Buffalo to Sheepshead Bay in Brooklyn where his camp, as always, was run to the rigid discipline enforced by his own mother.
"I wanted a chance at Gans," Erne told reporters," and now there is nothing to do but prepare myself in the physical way. I expect to enter the ring weighing 132lbs, and although Gans may be a little heavier, I think I will be heavy enough to win out…I like to box these clever fellows."
The excellence of his condition was noted but the betting line refused to budge and as the fight came closer, sporting men in search of money for Gans complaining bitterly of prices available to them.
"It is generally admitted that Erne is the cleverest boxer in the business," reported The St. Paul Globe. "Those who have watched him train for the coming fight declare he has developed the ability to punch hard. This will be good news to a host of admirers who have been slow to back him."
Slow with reason. The picture of Gans that begins to emerge is formidable. Swift, confident and above all economical, he is repeatedly referred to in the build-up as the favourite and the thousands being wagered upon him are revealed in eye-watering detail. A man named Al Smith took it upon himself to wager a thousand dollars on Gans, around thirty thousand today; others were only slightly less forthcoming. The men making these wagers were "sporting men", the fuel that drove championship boxing. This was the weight of responsibility that Gans nonchalantly wore when stepping into that Broadway ring.
"Never before," wrote The Brooklyn Eagle of the fight, "have two so clever lightweights met in the roped arena. Erne, the holder of the championship was never in better condition. The muscles showed under his pink skin like living steel, and there was a dangerous glint in his eye."
Gans, for his part, "was the more symmetrically built and looked the heavier of the two" and wore "an expression of supreme confidence." Betting at ringside continued apace, always with those betting upon Gans receiving the rougher edge while a bizarre argument about the judges erupted in the ring. Neither man appeared perturbed. When the bell for the first rang, Erne charged Gans.
But let us be clear: there is charging and then there is charging. Erne was a counterpuncher and determined to press the pace, draw the lead and punish mistakes. Gans declined. This led to "considerable sparring" according to The New York Tribune, with "only a few blows struck." Gans, having successfully forced Erne to lead, a huge concession, blocked with genius, though Erne's own defences were also noted.
In the fourth, Gans began to take control, to the displeasure of the packed crowd which showed a preference "for Erne, perceptibly, probably on account of his color" according to The New York Herald. In the fifth, Erne challenged Gans for ring centre and the fight broke out in earnest. First, they traded lefts, Erne then sought out the body while Gans rattled two-handed shots off Erne's face; a short brawl broke out; Gans dominated, then they clinched, Erne emerged and "tried for a knockout with his right" a punch taken nonchalantly on the shoulder by Gans according to The New York Morning Telegraph. The New York Evening World, which put Joe's apparent slow start down to nerves, saw him now in control of the fight.
Erne's second was the fistic genius Kid McCoy, a ring general of note in his absolute prime coming off back-to-back wins over Peter Maher and Joe Choynski. Between rounds McCoy offered Erne stark advice that may have been crucial: that it was "useless" trying to outhit Gans to the head and that he should turn his focus to the body. "When the bell rang for the beginning of the sixth," continued the World, "Erne came out of his corner…and immediately started in to obey [McCoy's] instructions."
The round nevertheless belonged to Gans. He countered Erne's left-hand viciously, although "Erne surprised everybody by replying with similar blows," by some reports, landing a vicious right hand to the neck close to bell that rattled Gans. It was Erne who emerged from the round bleeding though, his face smeared, while Gans wore not a mark. Erne's new problem was more serious than a little blood however: his straight punches were now being countered by the Gans hook.
In a twelve-round fight, we are able as fight fans to pick out key rounds. As a rule of thumb if one fighter should dominate for three consecutive rounds, we know the next round to be key. A twenty-five round fight is different. A fighter can lose ten consecutive rounds and still win clearly on points.  Still, this left-handed crisis made Erne's situation acute and the seventh seemed a round of meaning.
This was reflected in its violence.
According to The Sun, Erne rushed Gans "like a tiger" but Gans "used his feet skilfully whenever Erne attacked him and yet always had heavy counters ready." It was his right hand that did the damage here, dashing blood from Erne's face and to the canvas while Erne countered with the left to the body and a single right hand to the head. Towards the round's end they swapped hard punches, Gans taking control, Erne fighting back, Gans "on the defensive" at bell.
Erne's solution to the left-handed problem seems to be one of aggression, accepting the role of pressure-fighter and augmenting his assault by the total number of bodypunches he threw, which were many. Gans continued to joust with great skill, deflecting headshots with the same consummate ease as throughout but the bodypunches were troubling him. Erne's shots to the gut made him vulnerable to the Gans right but also opened up right-handed opportunities of his own; at the beginning of the eighth, Erne played for the stomach with his left but was able to dash shots to the nose, too. Gans seemed to find a new level for his own boxing, whipping a right hand to the mouth, first drawing Erne's guard up with a left-handed feint to the temple. The Gans right "was doing considerable execution for he did nearly all of his punching with it" – what had begun a left-handed contest won by Gans had become an exchange of lefts (mainly to the body) for rights (mainly to the head).
But the eighth was a round Erne may have won, stopping the rot that had begun in the fourth, although many sources have it even; either way, Erne was now back in the fight with both the seventh and the eighth unclear where Gans had been dominating. In the ninth, Erne found another gear, but was never more committed to his left-handed attack to the body; Gans landed a crackling right-hand to the mouth which brought on terrible fighting. "For a full minute," wrote The Eagle, "both men dropped science and slugged with both hands." Erne took the honours in this brutal shootout: "At this game Erne showed that he was dangerous," commented The Sun, "and the Baltimore man knew it."
Applauded back to his corner at the end of the round, Erne emerged for the tenth with the utmost aggression and the truth of it is a question of the eye of the beholder. For some onlookers, Erne was "rushing Gans around the ring" while doing meaningful bodywork; The Eagle took a different view, seeing Gans as the matador, he "side-stepped and Frank almost shot through the ropes. Several times Erne rushed but Gans met him with short lefts to the face."
Such is the genius of Gans that he has reduced Erne to a bull; such is the brilliance of Erne that he could become one and remain competitive with Gans.
The eleventh was bedlam; Gans consistently timed Erne with his left hand at range so Erne was forced to rush once more, there was simply no other way for him to work. Inside, and during exchanges as Gans reclaimed distance, the fighting was close and hotly contested and would favour the man who could exert himself the least to sustain the balance. That man, probably, was Gans, but Erne by now was fully committed.
So, at the opening of the twelfth round, Erne rushed once more. Remember the right-hand Erne threw earlier in the fight that Gans took casually on the shoulder? Here, I believe, was another such punch, but this time it found its home. Gans doubled up immediately and moved towards Erne's corner, Erne in hot pursuit. The best description of what followed is likely from the Evening World:
"Gans tried to run away and Erne, forcing him against the ropes, dealt him a fearful right-hand swing over the heart. As he did so, Gans swung his right and there was a collision, Erne's head cutting a big gash over Gans's eye."
Gans pawed at his eye, and then dropped his gloves. Referee Charley White pressed in to hear him:
"I'm blind.  I can't see any more."
Gans turned his back and walked to his corner. White took the only option available to him and raised the hand of Frank Erne. The champion had successfully defended his title.
"Blood streamed copiously from a cut," reported the same paper, but this was a disaster for Gans.  He was "denounced in the strongest possible terms" by the gambling men ringside. Gans "quit like a steer" to the "thorough disgust" of those in attendance according to The St. Louis Republic. The Sun spoke to many who were "loud in their expressions of opinion that the colored boxer simply quit when he saw that he was overmatched, declining to subject himself to additional punishment in a contest which he was satisfied was a losing one."
As to whether this was the case, it seems unlikely given what we know of Joe Gans. Already he had seen out twenty-five rounds several times, including against the teak-tough Elbows McFadden.  More, most newspaper reports give Gans the edge at the time of the stoppage, not Erne, and although the fight was in the balance during that fateful twelfth round there was no reason to believe Erne would have emerged with the advantage; in fact, the opposite seems more likely.
Still, it was unusual in this era for a fighter to quit with a cut.  Nearly a decade later, Stanley Ketchel and Billy Papke would beat one another into blindness in back-to-back fights rather than risk the stigma associated with quitting. Even today it can be difficult for a fighter to bounce back from a perceived quit job; in 1900 such matters were even more acute for a fighter. Gans was labelled with the dreaded "yellow streak", the white feather. He defended himself as robustly as was possible.
"The blow that cost me the fight with Frank Erne was delivered with his head," he told The World. "I do not blame him for it. We were both fighting close in at the time. We both swung at the same time and ducked. Our heads came together with a crash. The blow was an awful one. Immediately the blood poured from the cut and run into my left eye. I was blinded. I could not see Erne. Knowing that I would be knocked out, I told Charley White that I could not see Erne and would have to give up. Up to the time I received the blow on the head I had things my own way. I was taking things easily and waiting till I could knock Erne out. I had his face in a bad way. I could always reach him with my right.  All I ask is a return match. I think the next time we meet I will whip him easily."
Erne feared no man but was not of a mind to provide the dangerous Gans a rematch quickly with his stock so low. Instead, he elected to drop down in weight for a legitimate superfight with a new and emerging superstar named Terry McGovern.
Gans, too, stalked McGovern. This was a money fight against a smaller man and although McGovern had proved himself a terrific puncher – including against Erne, who he dispatched in three – Gans was not about to turn it down. A six round contest was staged in Chicago, in which McGovern only had to last the distance to take the winner's end of the purse.  Instead, he blasted Gans out in two.
Gans was ridiculed and pilloried for engaging in the lowest form of subterfuge, a fake fight, culminating in the misery of a falsified knockout. "He never attempted to mix it up," said The Daily Morning Journal of Gans, "he never made an effort to use his counter left for which he is so famous…he was rolled down on the floor time and again after every rush McGovern made." Chicago banned boxing for a quarter of a century in the wake of what remains perhaps the single greatest debacle in boxing history.
It was Christmas of 1900. The dawning of the year saw Joe Gans rated one of the most prominent fistic stars in America but as he carved the turkey, he was three things, two of them new: a cheat, a quitter, and an African American. Any one of these things might have been enough to keep Gans from a championship ring.
But by the summer of 1902, Joe Gans would reign as the lightweight champion of the world.
(AUTHOR'S NOTE: SERGEI YURCHENKO CONTRIBUTED TO THIS STORY)
Check out more boxing news on video at the Boxing Channel
To comment on this story in the Fight Forum CLICK HERE
Fury-Wilder III is Apparently Back on Again, Kicking Fury-Joshua to the Curb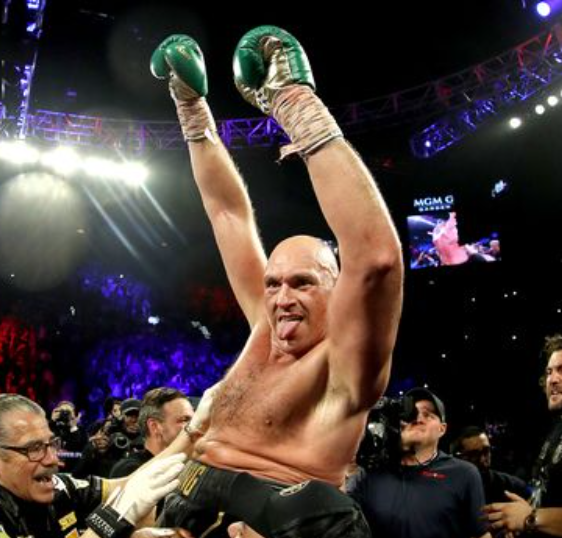 Yesterday, May 16, it was widely reported that all the roadblocks to the eagerly-anticipated heavyweight unification showdown between Anthony Joshua and Tyson Fury had been removed and that the fight would take place on Aug. 14 in Saudi Arabia. The source for this information was Fury who posted the news on his Twitter page. "This is going to be the biggest sporting event ever to grace planet Earth," bloviated the Gypsy King with his characteristic understatement.
The news that Fury-Joshua was a done deal was splashed all over the web with even reputable journalists participating in the feeding frenzy, lest they be seen as being asleep at the switch. But since when does a boxer become the unimpeachable source for news of this nature? Here at TSS we have an unofficial policy that confirmation must come from the promoter(s).
Joshua vs. Fury may yet come off on Aug. 14 in Saudi Arabia. Nothing that happens in boxing would surprise us. But at the moment, it appears that Deontay Wilder will be in the opposite corner when the Gypsy King makes his return to the ring.
When Deontay Wilder agreed to give Tyson Fury a rematch, the contract specified a rubber match in the event that Wilder should lose. Wilder's manager Shelly Finkel activated the rematch clause immediately. There was talk that Fury-Wilder III would take place in July 2020 but the pandemic put the fight in limbo.
Bob Arum, who co-promotes Wilder, would come to claim that the rematch clause ran out in October, freeing Fury to fight Anthony Joshua instead. Fury vs. Joshua would be a bigger fight (translation: more lucrative) because it would unify the title and because Fury dominated Wilder so thoroughly in their second encounter that it diminished interest in a third meeting. Wilder did not help his cause by claiming that Fury's gloves were loaded. "I highly believe you put something bad in your glove," he said. "Something the size and shape of an egg weight." (Bob Arum dismissed the wild allegation as "Trumpian.")
Team Wilder took their grievance to arbitration. Today, retired federal judge Daniel Weinstein, after four days of testimony, ruled that Wilder was entitled to a third fight. Weinstein, like Arum, is a graduate of Harvard Law School. He is, say various web sites, something of a Moses in the arbitration field, "recognized as one of the premier mediators of complex, multi-party, higher stakes cases, both in the United States and abroad." Weinstein previously mediated disputes involving Oscar De La Hoya and Manny Pacquiao plus a laundry list of Hollywood celebrities.
Weinstein did not award Wilder any damages. He ruled that Fury-Wilder III must occur before Sept. 15, but yet left open the possibility of an extension. It's a fair guess that Wilder will accept step-aside money to let Fury-Joshua go forward with the proviso that he gets to fight the winner.
According to ESPN's Mark Kriegel, Arum had reserved Allegiant Stadium in Las Vegas for July 24 as his parachute in the event that the Fury-Joshua fight fell out.
None of the key principals – promoters Arum, Frank Warren, and Eddie Hearn, or Shelly Finkel – have yet to comment on this new development. This is an evolving story. Stay tuned.
Check out more boxing news on video at the Boxing Channel
To comment on this story in the Fight Forum CLICK HERE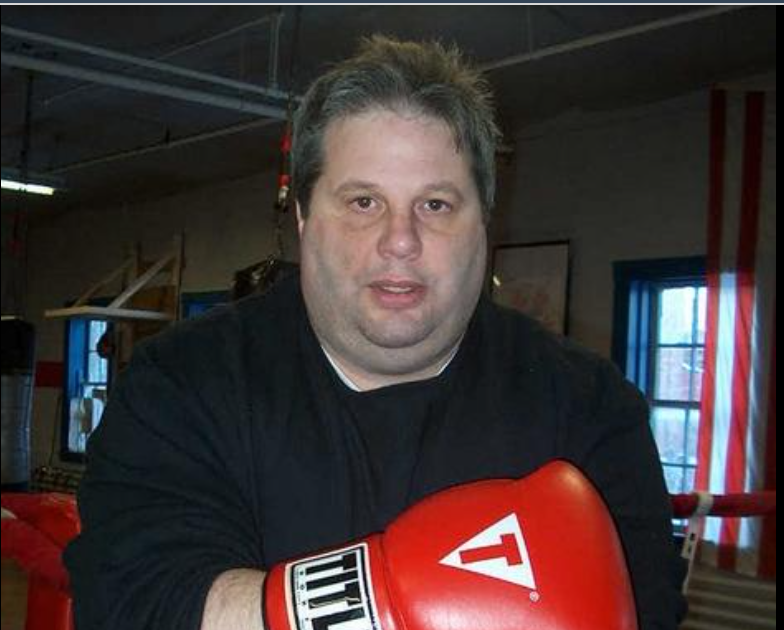 A number of bizarre events unfolded during a boxing show at the Palladium in Worcester, MA, on March 9, 2007. This was foreseeable. The main event was a freak fight that pit Eric "Butterbean" Esch, the "King of the Four Rounders," against Joe Siciliano, a 49-year-old Leominster, MA, narcotics detective. Siciliano, who had a 4-3 record, came in at a grotesque 313 pounds, but "The Bean," then 40 years old and sporting a 76-7 record, weighed a humungous 417. On paper it was a terrible mismatch, and a potentially dangerous mismatch at that.
The corpulent Siciliano (pictured) didn't lack for guts. "The people want to see a fight, and I'm not going in there and dance around and make it boring," he said. "People come to see Butterbean because he loves to brawl. Well, he's going to get one. Whether the fight lasts 30 seconds or four rounds, it's going to be action-packed. You're not going to see any love taps. You're going to see power punches. I'm not going to give up easy. I'm psyching myself up for this."
"This is definitely a big step up for me," said the 49-year-old, "but I feel real good. I'm fresh, and I've been training a lot. I've been given the chance to fight this guy, and I'm feeling very confident."
We're hoping for a four-round decision," added Jimbo Isperduli, Siciliano's trainer/manager and the fight's promoter. Translation: If Joe lasts four rounds, it would be deemed a monster upset.
Earlier in the show, Butterbean's son Brandon Esch (aka Babybean) got poleaxed by Matthew Eckerly. The 266-pound kid remained on the canvas unconscious for several scary minutes. It was Brandon's professional debut and would be his last boxing fight. And the guy who beat him was no world beater. Eckerly was 1-3 coming in and would proceed to lose his next and final seven fights, all by KO.
After watching his son, Butterbean was subdued and likely very anxious.
The Fight
In the first round, Joe was knocked down and there was a good deal of running, hugging and holding. At one point, Joe spit out his mouthpiece ala Chico Corrales to buy some time and extend the fight. When the round ended, he raised his hands in some sort of celebration. He had done what Peter "Hurricane" McNeely and many others couldn't do; he had survived the first round. Esch had crushed many of his opponents in the first stanza, ending the bout as soon as one of his power shots hit home.
Unfortunately for Joe, he had nothing left to hold off his stalking and grotesque opponent. Round Two was Bean Time and Joe's chances had now become zero to none. The end was in sight. Bean mercifully resorted mostly to body shots so as not to do any needless damage to the terribly mismatched detective. After several knockdowns in which Joe seemed to bounce off the canvas, two towels were thrown in to stop the massacre. But Joe had pocketed $4,000 and gained some serious bragging rights.
Despite Butterbean's cult following, throngs of Siciliano fans booed. Now there's high camp and there's cornball, but this was something else. Siciliano had a huge following in the Leominster-Fitchburg-Gardner area and had personally sold 1,000 tickets for the fight.
Butterbean was winding down his career and this would be his last boxing win. His final record was 77-10-4. Joe finished at 5-4.
As he pursued other viable options, Butterbean's  legacy as one of the greatest four-round boxers of all time remained intact.
Ted Sares enjoys researching and writing about boxing. He can be reached at tedsares@roadrunner.com
Check out more boxing news on video at the Boxing Channel
To comment on this story in the Fight Forum CLICK HERE