Teddy Atlas: Trainer, Ringside Analyst, and now a Podcaster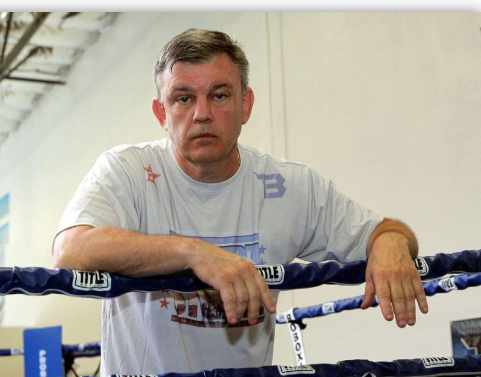 As a teenager, Teddy Atlas was a troublemaker. One could have predicted that he would grow into a man who would get thrown out of places. And that has proved true. He's been thrown out of London and thrown out of Australia.
Ah, but we are getting ahead of ourselves.
Atlas needs no introduction. During a 21-year-career as a ringside analyst with ESPN, his face and distinctive voice became synonymous with boxing. Since leaving that role with the network – not of his own volition – he has transitioned into a podcaster while continuing to bob up now and then as the trainer of an important boxer seeking to elevate his game.
Atlas didn't quite know what a podcast was when he was approached to do the audio program. Anything "high tech" was never his bag. He still doesn't e-mail.
Rob Mohr, the founder and partner of a public relations firm called Hit Hard Media, pitched the idea to Teddy. "He said to me, 'Listen Teddy, I think you have a voice that should be heard and I think there's an audience out there,'" recalled Atlas. But Teddy would not have come on board if his daughter Nicole, an attorney, hadn't pushed him to give it a try. (Atlas also has a son, Teddy III, who is the assistant director of college scouting for the Las Vegas Raiders with aspirations of someday becoming an NFL GM).
Mohr serves as the producer of the podcast which is done in a studio in New York. Mohr's friend Ken Rideout is Teddy's sidekick on the podcast which is called "THE FIGHT with Teddy Atlas." Mohr and Rideout, who reside on opposite coasts, New York and California, have a Massachusetts tie and a shared passion for long-distance running. Mohr is one of the world's top amateur triathletes.
Rideout is a financial advisor. He had no previous connection to boxing, unless one were to count the time that he was a prison guard working alongside Micky Ward. But he has always been a big fan of the sport. "Commenting on boxing is like my dream job," he says. On the air, Atlas, who has a tendency to ramble, does most of the talking.
Mohr's assumption was prophetic; there is indeed an audience out there. The podcast has been running a little over a year. As of last week, the episodes had attracted over 10 million views, one million downloads, and 800,000 subscriptions. Atlas's unfiltered take on all things pugilistic is a welcome respite in a sport saturated with hyperbole and chicanery. Teddy doesn't care if some of his opinions rile the fat cats at the top of the boxing food chain. We suspect he rather enjoys it.
Before he started talking into a microphone, Teddy Atlas attracted notice as a trainer. A disciple of the late Cus D'Amato, who molded Floyd Patterson and Mike Tyson into world heavyweight champions, Atlas has been associated with 18 world title-holders. He gave up training several years ago, but teaching is in his blood and he would be lured back on several occasions. Most recently, he handled Oleksandr Gvozdyk for three fights beginning with Gvozdyk's upset of Adonis Stevenson, an 11th round stoppage that earned the Ukrainian the lineal light heavyweight title.
Atlas didn't reach out to Gvozdyk. Egis Klimas, Gvozdyk's promoter, reached out to him. But Atlas wouldn't give his consent until he got to know the fighter a little better.
"My only qualification was that he had to be a decent person; a person I would like to be around," says Atlas who had previously applied the same yardstick to Tim Bradley. Before taking on Bradley, who reached out to him, Teddy spent three days with Bradley in Bradley's hometown of Palm Springs.
Teddy Atlas is a no-nonsense trainer, a hard taskmaster. He concedes that his style isn't for everyone. But a trainer of Atlas's stripe would seem to be an especially good fit for a boxer with a reputation for being a slacker. It was inevitable that his name would be linked with former heavyweight champion Andy Ruiz who weighed an ungainly 283 ½ pounds for his rematch with Anthony Joshua.
We broached the subject of him possibly training Ruiz during a long telephone conversation with Atlas on Sunday. He told us what he then told his listeners the next day. Yes, Ruiz's people had reached out to him and there was one follow-up call, but that was it; they never called back. And he told them that if they wished to explore it further, then Ruiz would have to come to New York so that they could get further acquainted, "so I could see how comfortable I am with the fighter and if he and his team would be comfortable with me."
Atlas did not reveal that he had these conversations until someone at the other end let the cat out of the bag. However, on Monday's podcast, he came with a meticulous list of things that Andy Ruiz could do to improve, both inside and outside the ropes. The list had the scent of a job application.
In addition to being a noted trainer and broadcaster, Teddy Atlas is also known as a great philanthropist.
He started the Dr. Theodore A. Atlas Foundation, named for his late father who practiced medicine in Staten Island for 55 years, doing house calls until he was 80 years old, and built two hospitals, the first a 22-bed unit that was eventually purchased by the city and torn down to make way for the Verrazano Bridge and the second a unit roughly three times as large that lasted for 35 years. At these facilities, Dr. Atlas administered to the poor, performing tonsillectomies and delivering babies and such, for free. (There were no HMOs in those days, notes Atlas.)
The Dr. Atlas Foundation, in a nutshell, helps people in need, covering the cost of hospital care, building ramps for the handicapped, and whatnot. Thanksgiving means free turkeys for the poor and Christmas means free toys for the kids. The foundation, notes the well-known New York sportswriter Wallace Matthews, "raises money and puts it directly into the hands of the people who need it, without being funneled through the hands of highly paid fundraisers and publicists."
The foundation holds an annual dinner. The most recent edition was the twenty-third. At the dinner, sportscaster Bob Ley, the longest tenured employee at ESPN when he retired last June, was presented an award named for the late investigative reporter Jack Newfield. "He was my friend, a gutsy writer who didn't care about the repercussions," says Atlas of the man who wrote "Only in America: The Life and Crimes of Don King." The foundation also honors Newfield by helping to subsidize a scholarship for a journalism student at Hunter College, Jack Newfield's alma mater.
The annual Dr. Theodore A. Atlas Foundation dinner is held on the Thursday before Thanksgiving. "For whatever reason," says Atlas, "my dad always took off on Thursdays. In my mind, it was the only day of the week that he could join us (in spirit)."
The foundation also supports youth programs which until recently included three boxing gyms, two on Staten Island and one in Brooklyn. The gyms were formerly run by the Police Athletic League which backed out under pressure from "reformers" who thought that the instructors were teaching kids how to fight rather than how to box.
Teddy balked at keeping the gyms afloat, but reconsidered. "I came to see them as havens," he says, "as shelters." But he insisted that certain rules had to be followed.  Among them, a boy had to bring his report card to stay enrolled and he had to pull up his pants.
By one measure, these gyms — The Dr. Atlas Cops & Kids Gyms — were enormously successful. Atlas guesses that they produced 100 Golden Gloves champions. Alumni include U.S. Olympian and future light heavyweight champion Marcus Browne, Chris Colbert, currently ranked #1 at 130 pounds by the WBA, and two hot young prospects who were lured out of the amateur ranks by Eddie Hearn: middleweight Nikita "White Chocolate" Abibay and welterweight Reshat Mati.
As these gyms were becoming powerhouses, they lost track of their mission, says Atlas, with the result that Dr. Atlas's name is no longer attached to them. Asked if he was particularly proud of one of the former attendees, Atlas cited a girl from Brooklyn who was living in a car with her mother when she started attending the Flatbush gym. She is now serving in the U.S. Navy.
Okay, about those instances when Teddy Atlas was 86ed, kicked out the door as if he were toxic:
The first occurred in London at the 2012 Olympics, his fourth for NBC. Some of the scores turned in by the judges were head-scratchers which was nothing new for Olympic boxing. "Corruption was happening right before my eyes," says Atlas. Referencing a bus that brought Olympic officials to London, he said on the air "they should turn that into a Department of Corrections bus and get them out of here."
Dr. Ching-Kuo Wu, the Taiwanese architect who was the president of AIBA, the international governing body of amateur boxing, had Atlas and his broadcast partner Bob Papa physically removed from the arena.
The second incident occurred in July of 2017 in Brisbane, Australia, where Atlas worked the welterweight title fight between Manny Pacquiao and Brisbane-native Jeff Horn. The title changed hands when Horn, a massive underdog, won a unanimous decision. The decision didn't sit well with Atlas whose commentary during the fight was deemed by the locals and others to be very biased toward Horn.
After the fight, there was talk of a rematch with speculation that the fight would go back to Australia. Dean Lonergan, Jeff Horn's promoter, said that if that were to be the case, then he would demand that ESPN remove Atlas from the broadcasting team. And barring that, he told reporters, "I will lobby the Immigration Minister to not allow Teddy Atlas through our border."
Ever the cynic, Atlas still believes that the decision favoring Jeff Horn was a "business decision." And as for being persona non grata in Australia, Atlas quips, "I don't know if I have been thrown out of better places, but I have never been thrown out of a bigger place."
"Telling it like it is" was the self-styled catchphrase of the abrasive sportscaster Howard Cosell, a catchphrase that invited a lot of derision. Teddy Atlas tells it like it is and that catchphrase fits him a lot better than it fitted Cosell. You may not always agree with him, but you know the man is genuine.
P.S. – A new podcast normally goes up on Mondays. Check it out.
Check out more boxing news on video at The Boxing Channel 
To comment on this story in The Fight Forum CLICK HERE
Mercito Gesta Victorious Over Jojo Diaz at the Long Beach Pyramid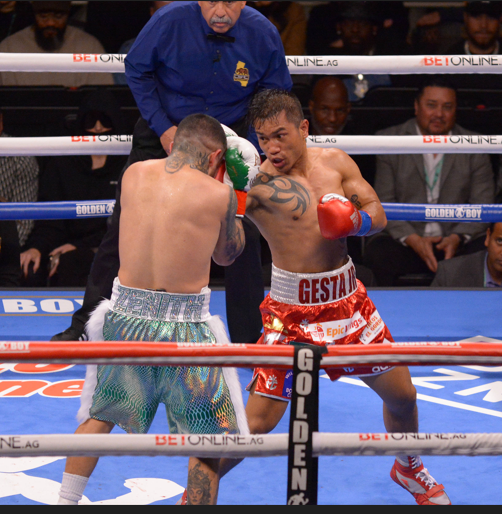 LONG BEACH, CA.-Those in the know knew Mercito Gesta and Jojo Diaz would be a fight to watch and they delivered.
Gesta emerged the winner in a super lightweight clash between southpaws that saw the judges favor his busier style over Diaz's body attack and bigger shots and win by split decision on Saturday.
Despite losing the main event because the star was overweight, Gesta (34-3-3, 17 KOs) used an outside method of tactic to edge past former world champion Diaz (32-4-1, 15 KOs) in front of more than 5,000 fans at the Pyramid.
The speedy Gesta opened up the fight with combination punching up and down against the peek-a-boo style of Diaz. For the first two rounds the San Diego fighter overwhelmed Diaz though none of the blows were impactful.
In the third round Diaz finally began unloading his own combinations and displaying the fast hands that helped him win world titles in two divisions. Gesta seemed stunned by the blows, but his chin held up. The counter right hook was Diaz's best weapon and snapped Gesta's head back several times.
Gesta regained control in the fifth round after absorbing big blows from Diaz. He seemed to get angry that he was hurt and opened up with even more blows to send Diaz backpedaling.
Diaz targeted his attack to Gesta's body and that seemed to slow down Gesta. But only for a round.
From the seventh until the 10th each fighter tried to impose their style with Gesta opening up with fast flurries and Diaz using right hooks to connect with solid shots. They continued their method of attack until the final bell. All that mattered was what the judges preferred.
After 10 rounds one judge saw Diaz the winner 97-93 but two others saw Gesta the winner 99-91, 98-92. It was a close and interesting fight.
"I was expecting nothing. I was the victor in this fight and we gave a good fight," said Gesta. "It's not an easy fight and Jojo gave his best."
Diaz was surprised by the outcome but accepted the verdict.
Everything was going good. I thought I was landing good body shots," said Diaz. "I was pretty comfortable."
Other Bouts
Mexico's Oscar Duarte (25-1-1, 20 KOs) knocked out Chicago's Alex Martin (18-5, 6 KOs) with a counter right hand after dropping him earlier in the fourth round. The super lightweight fight was stopped at 1:14 of the round.
A battle between undefeated super welterweights saw Florida's Eric Tudor (8-0, 6 KOs) emerge the winner by unanimous decision after eight rounds versus Oakland's Damoni Cato-Cain.
The taller Tudor showed polished skill and was not bothered by a large cut on his forehead caused by an accidental clash of heads. He used his jab and lead rights to defuse the attacks of the quick-fisted southpaw Cato-Cain. The judges scored the fight 80-72 and 78-74 twice for Tudor.
San Diego's Jorge Chavez (5-0, 4 KOs) needed less than one round to figure out Nicaragua's Bryan Perez (12-17-1, 11 KOs) and send him into dreamland with a three-punch combination. No need to count as referee Ray Corona waved the fight over. Perez shot a vicious right followed by another right and then a see-you-later left hook at 3.00 of the first round of the super featherweight match.
Photo credit: Al Applerose
Jojo Diaz's Slump Continues; Mercito Gesta Prevails on a Split Decision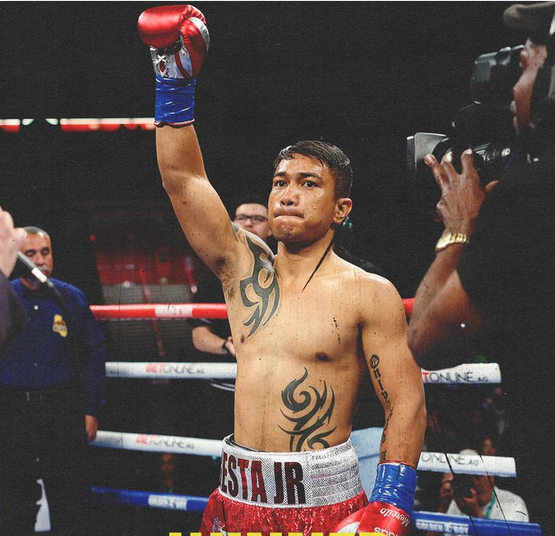 At age 30, Jojo Diaz's career is on the skids. The 2012 U.S. Olympian, a former world title holder at 126 and 130 pounds and an interim title holder at 135, Diaz suffered his third straight loss tonight, upset by Mercito Gesta who won a split decision at the Walter Pyramid in Long Beach, CA.. The scoring was strange with Gesta winning nine of the 10 rounds on one of the cards and only three rounds on another. The tie-breaker, as it were, was a 98-92 tally for Gesta and even that didn't capture the flavor of what was a closely-contested fight.
Originally listed as a 12-rounder, the match was reduced to 10 and that, it turned out, did Diaz no favors. However, it's hard to feel sorry for the former Olympian as he came in overweight once again, having lost his 130-pound title on the scales in February of 2021.
Diaz also has issues outside the ropes. Best elucidated by prominent boxing writer Jake Donovan, they include a cluster of legal problems stemming from an arrest for drunk driving on Feb. 27 in the LA suburb of Claremont.
With the defeat, Diaz's ledger declined to 32-4-1. His prior losses came at the hands of Gary Russell Jr, Devin Haney, and William Zepeda, boxers who are collectively 83-2. Mercito Gesta, a 35-year-old San Diego-based Filipino, improved to 34-3-3.
Co-Feature
Chihuahua, Mexico super lightweight Oscar Duarte has now won nine straight inside the distance after stopping 33-year-old Chicago southpaw Alex Martin in the eighth frame. Duarte, the busier fighter, had Martin on the deck twice in round eight before the fight was waived off.
Duarte improved to 25-1-1 (20). Martin, who reportedly won six national titles as an amateur and was once looked upon as a promising prospect, declined to 18-5.
Other Bouts of Note
New Golden Boy signee Eric Tudor, a 21-year-old super welterweight from Fort Lauderdale, overcame a bad laceration over his right eye, the result of an accidental clash of heads in round four, to stay unbeaten, advancing to 8-0 (6) with a hard-fought unanimous 8-round decision over Oakland's Damoni Cato-Cain. The judges had it 80-72 and 78-74 twice. It was the first pro loss for Cato-Cain (7-1-1) who had his first five fights in Tijuana.
In the DAZN opener, lanky Hawaian lightweight Dalis Kaleiopu went the distance for the first time in his young career, improving to 4-0 (3) with a unanimous decision over 36-year-old Colombian trial horse Jonathan Perez (40-35). The scores were 60-52 across the board. There were no knockdowns, but Perez, who gave up almost six inches in height, had a point deducted for a rabbit punch and another point for deducted for holding.
To comment on this story in the Fight Forum CLICK HERE
'Big Baby' Wins the Battle of Behemoths; TKOs 'Big Daddy' in 6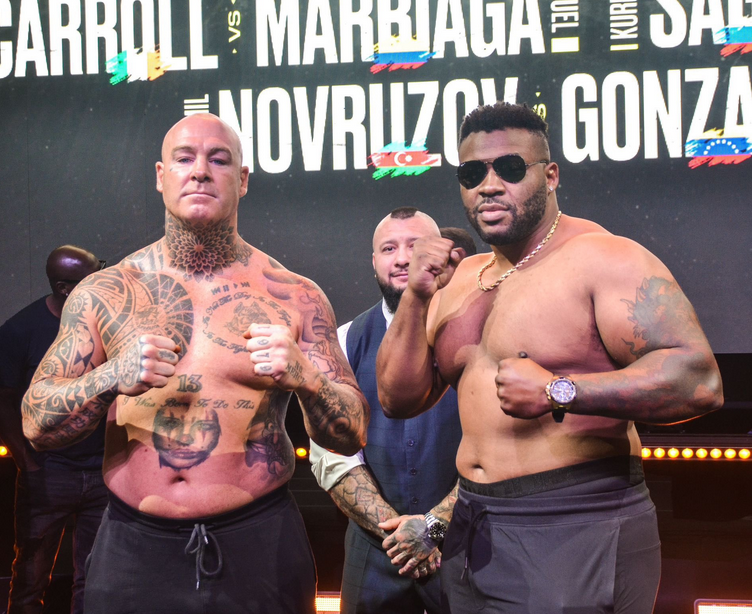 Lucas "Big Daddy" Browne weighed in at a career-high 277 pounds for today's battle in Dubai with Jarrell "Big Baby" Miller, but he was the lighter man by 56 pounds. It figured that one or both would gas out if the bout lasted more than a few stanzas.
It was a war of attrition with both men looking exhausted at times, and when the end came it was Miller, at age 34 the younger man by nine years, who had his hand raised.
Browne was the busier man, but Miller, whose physique invites comparison with a rhinoceros, hardly blinked as he was tattooed with an assortment of punches. He hurt 'Bid Daddy' in round four, but the Aussie held his own in the next frame, perhaps even forging ahead on the cards, but only postponing the inevitable.
In round six, a succession of right hands knocked Browne on the seat of his pants. He beat the count, but another barrage from Miller impelled the referee to intervene. The official time was 2:33. It was the 21st straight win for Miller (26-0-1, 22 KOs). Browne declined to 31-4 and, for his own sake, ought not fight again. All four of his losses have come inside the distance, some brutally.
The consensus of those that caught the livestream was that Floyd Mayweather Jr's commentary was an annoying distraction that marred what was otherwise an entertaining show.
As for what's next for "Big Baby" Miller, that's hard to decipher as he has burned his bridges with the sport's most powerful promoters. One possibility is Mahmoud Charr who, like Miller, has a big gap in his boxing timeline. Now 38 years old, Charr – who has a tenuous claim on a WBA world title (don't we all?) —  has reportedly taken up residence in Dubai.
Other Bouts of Note
In a 10-round cruiserweight affair, Suslan Asbarov, a 30-year-old Russian, advanced to 4-0 (1) with a hard-fought majority decision over Brandon Glanton. The judges had it 98-92, 97-93, and a more reasonable 95-95.
Asbarov was 12-9 in documented amateur fights and 1-0 in a sanctioned bare-knuckle fight, all in Moscow, entering this match. He bears watching, however, as Glanton (18-2) would be a tough out for almost anyone in his weight class. In his previous fight, at Plant City, Florida, Glanton lost a controversial decision to David Light, an undefeated Australian who challenges WBO world title-holder Lawrence Okolie at Manchester, England next week.
A 10-round super featherweight match between former world title challengers Jono Carroll and Miguel Marriaga preceded the semi-windup. Carroll, a 30-year-old Dublin southpaw, overcame a cut over his left eye suffered in the second round to win a wide unanimous decision in a fairly entertaining fight.
It was the sixth straight win for Carroll (24-2-1, 7 KOs) who elevated his game after serving as a sparring partner for Devin Haney. Marriaga, a 36-year-old Colombian, lost for the fourth time in his last five outings, declining to 30-7.
To comment on this story in the Fight Forum CLICK HERE