Boxing in Las Vegas: The Silver Slipper Years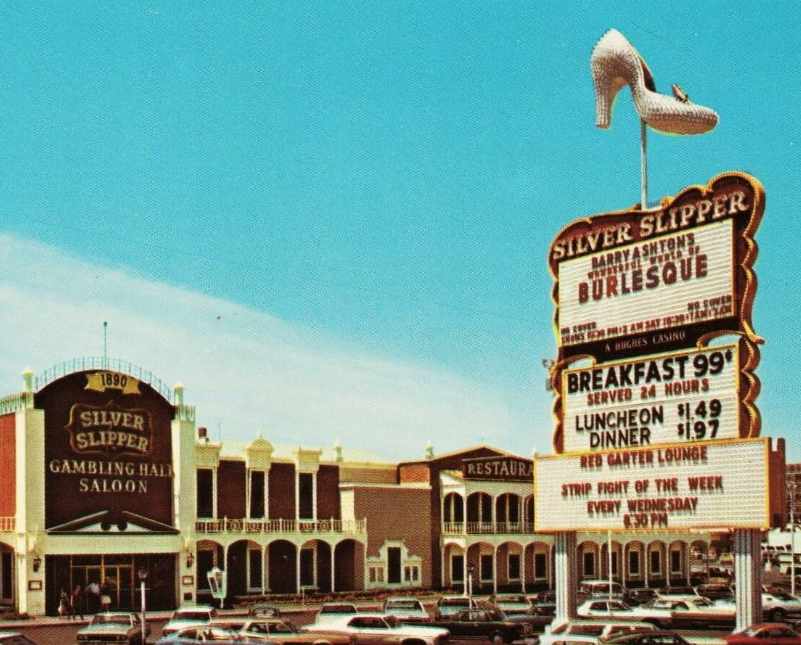 The Silver Slipper gambling saloon opened in 1950. Unlike its neighbors on the dusty highway that came to be called the Las Vegas Strip, it was never a hotel. The allurements were 24/7 gambling, entertainment, and the Chuck Wagon buffet, the first of its kind in Las Vegas.
The Silver Slipper was a grind joint, a place that catered to small-fry gamblers. It was also a bump-and-grind joint. Some of the era's best-known strippers performed in the long-running burlesque show. The early show started at 10 pm and the late show at 2:45 am. Las Vegas locals and visitors had a lot more stamina in those days.
The gambling saloon also became identified with boxing. The Silver Slipper became the primary home of the "Strip Fight of the Week." The fight cards there, more than 700 according to one count, were held in an upstairs ballroom.
Bill Miller, the promoter, began his first Silver Slipper "Fight of the Week" run on Oct. 2, 1961. The main event was a 10-round flyweight contest between Ray Pacheco, a local man, a painter by trade, and Willie Kee, a Navajo Indian from Reno. It must have been a humdinger of a fight because the local paper reported that "ecstatic" patrons showered the ring with coins at the conclusion of the bout.
"All Miller looks for is good action in a fight; names are not important," wrote local sportswriter Bill Guthrie in 1965. But this wasn't always true. More often than not, Miller matched the fighters that he had under contract very carefully – and Guthrie's assertion came with a caveat. Many of Miller's last-minute subs, he wrote, "weren't really boxers. They were just warm and reasonably alive."
While the bouts weren't always rousing, the price was right — general admission tickets were priced at $5; ringside went for $7.50 – and you couldn't beat the atmosphere. The room was loud and dark and smoky and the fights attracted some colorful characters. "(Man-to-man) wagers and propositions were as much a part of the atmosphere as the fights themselves," reminisced Scott Schettler, the former Director of the iconic Stardust race and sports book.
Bill Miller, who grew up in Elmira, New York, owned the Thorobred Lounge which was situated a stone's throw from the Silver Slipper, but on the opposite side of the street where the Wynn now stands. He out-fitted the basement of his lounge into a boxing gym.
A balding man with an ample midsection, often seen with a cigar clenched between his teeth, Miller was a man with boundless energy. Boxing was his passion; some would say his addiction. A promoter, manager, trainer, and cut man, his first fighter of note was Eddie Andrews, a middleweight from Lowell, Massachusetts, who finished his boxing career in Nevada while working as a blackjack dealer.
Andrews had a few good wins in Las Vegas rings, but quit the sport in 1963. Miller had far deeper runs with Ferd Hernandez, Denny Moyer, and Freddie Little. Like Andrews, they were middleweights for most of their careers.
One of four fighting brothers from Nebraska – three of whom fought at the Silver Slipper – Ferdinand "Ferd" Hernandez had 38 of his 57 pro fights in Las Vegas during an eight-year career that began in 1961. At his peak he was ranked #2 in The Ring ratings.
In retirement, Hernandez became, however briefly, Nevada's top boxing referee. He then had a steady job as a graveyard shift bartender at a place called the Plush Horse. When he went to referee a show at the Silver Slipper, he often brought a gaggle of his regular customers with him. He was the only referee with an entourage.
Hernandez couldn't solve Denny Moyer who out-pointed him twice. A comet coming out of the amateur ranks, the stylish Moyer had split two fights with a faded Sugar Ray Robinson at Madison Square Garden prior to winning a world title in the newly created 154-pound weight class. In Las Vegas, where he had 27 fights, 21 at the Silver Slipper, he breathed new life into his flagging career.
Moyer ran into a speed bump early into the second phase of his career in the form of Freddie Little who knocked him out in the fourth round. No one saw this coming. Moyer, who by then had 65 pro fights under his belt, had been stopped only once previously, that coming in Miami Beach against the great Cuban fighter Luis Rodriguez, a stablemate of Muhammad Ali.
Denny Moyer's conqueror Freddie Little turned pro in New Orleans while attending school at Dillard University. He quit boxing after accepting a job as a schoolteacher in Chicago, but the itch returned. After stopping Moyer, he settled in Las Vegas. Bill Miller became his manager, so in hindsight Miller stood to gain no matter who won the Moyer-Little match.
The under-appreciated Little finished his career with a record of 54-6 that included a 4-2-1 mark in world title fights, all but one of which took place overseas.
In addition to the aforementioned Ferd Hernandez, several good fighters cut their eye teeth on Bill Miller's shows. Ernie "Indian Red" Lopez had 22 fights in Las Vegas (six at the Silver Slipper) before becoming a big draw in Los Angeles. Featherweight Ruben Castillo, like Indian Red a future two-time world title challenger, fought nine times at the Silver Slipper when he was just starting out.
Marvin Camel, who came off the Flathead Indian Reservation in Montana, had 11 of his first 13 pro fights at the Slipper. Camel, who finished 45-13-4, wasn't a great fighter but would acquire a unique distinction when he out-pointed Croatia's Mate Parlov in 1980. It made him the very first cruiserweight champion. The cruiserweight lineage begins with him.
Earnie Shavers was still an unknown boxer when he appeared at the Silver Slipper on Jan. 6, 1971. Working his corner that night was his 29-year-old manager Dean Chance, the 1964 Cy Young Award winner, and Chance's former roommate with the California Angels, the noted playboy Bo Belinsky.
Shavers, one of the hardest punchers in heavyweight history, made quick work of his opponents in his five Silver Slipper engagements. None of his fights lasted beyond the third round.
During the early 1970s, some good fighters emerged from the local amateur ranks. Junior bantamweight Willie "Birdlegs" Jensen and junior welterweight Leroy Haley made their pro debuts one month apart at the Silver Slipper in the spring of 1973.
Birdlegs Jensen came oh-so-close to winning the WBC 115-pound title in 1980 when he was held to a draw in a 15-round bout with Venezuela's Rafael Orono in Caracas. Haley was born in Arkansas but was hailed as the first native Las Vegan to win a world title when he wrested the WBC 140-pound belt from Saoul Mamby in 1982.
For every fighter on the way up, however, Bill Miller roped in two on the way down. His standard purse for a main event fighter was $500 or one-half of 50 percent of the gate, whichever was higher. Some fighters commanded more, such as Harold Johnson, a top-shelf light heavyweight in his day, but when a man of Johnson's caliber turned up at the Silver Slipper he was invariably in the sunset of his career.
Miller used some boxers over and over and over again. The busiest was Benito Juarez, a welterweight (as a rule) from San Antonio. Juarez packed 123 fights into an 11-year pro career, finishing 55-56-12. Forty-seven of those fights were at the Silver Slipper.
Juarez was fungible. It wasn't unusual for him to fight in a 6-rounder, return the next week in a 10-rounder, win this fight and then turn up in a 5-rounder in his next outing. The running joke was that Miller didn't pay Juarez per fight, but kept him on a retainer like an attorney. Bouts were constantly falling out at the 11th hour and it was important to have a man like Benito Juarez in the bullpen.
Benito didn't have much of a punch, but he was a high-octane fighter who always gave a good effort and the regulars never seemed to tire of him. Besides, for many the bill of fare was of no great import. The fights, which normally ran on Wednesdays, were like a gathering of fraternity brothers.
Eventually the Silver Slipper would be one of only two venues in the entire United States running a weekly fight card, sharing that distinction with LA's Olympic Auditorium. The indefatigable Bill Miller found a way to keep the doors open in the face of constant challenges.
For a brief time, a rival promoter took to running weekly shows downtown at the Fremont Hotel using many of the same fighters that Miller had groomed. In mid-1964, Miller was forced to pull up stakes when the Nevada Gaming Control Board shuttered the Silver Slipper after undercover agents discovered craps dealers using shaved dice. After sitting dark for more than a year, the property reopened in October of 1965 under new ownership. During the interregnum, Miller shifted his Strip Fight of the Week to the Hacienda, a property at the south end of the Strip where Mandalay Bay now sits. Two other Strip properties, the Castaways and Circus Circus, also harbored his weekly shows during periods when he was at loggerheads with the Silver Slipper management, beefs that would eventually get patched-up.
One would think that being a boxing promoter, especially at the grass roots level, would be one of the world's most stressful occupations; things constantly go wrong. In October of 1975, Miller suffered an external stress when an explosion of indeterminate origin destroyed his tavern and an adjacent Italian restaurant. It happened in the wee hours when neither place was occupied, but Miller wasn't insured.
A hot-tempered workaholic, Bill Miller was a walking time bomb and it was no surprise that he died young, passing away in 1976 at age 49 during open-heart surgery. His wife Cheryl and son Tim took over but couldn't make a go of it, nor could their successor, Elmer Boyce, a man from Missoula, Montana, who controlled the aforementioned Marvin Camel and a light heavyweight of note, Roger Rouse.
The fights ceased in 1982 and the Silver Slipper faded into memory six years later. All places like it along the Strip were fated to meet the wrecking ball as the city's tourism industry matured and a new breed of corporate casino operators shunted aside the locals. In 1950, when the Slipper opened, Clark County, which encompasses Las Vegas, was home to 49,000. In the ensuing years before the property was demolished, the population increased almost ten-fold. (Today Clark County is home to 2.2 million and Las Vegas is a larger city than Baltimore, St. Louis, Cleveland or Pittsburgh.)
It's hard to imagine anyone running a weekly fight card at a permanent location in the United States ever again. For one thing, the cost of accommodating the regulators has outpaced inflation. So, here's a toast to the long-gone but not forgotten Silver Slipper and to the stouthearted Bill Miller, rest his soul.
Check out more boxing news on video at The Boxing Channel 
To comment on this story in The Fight Forum CLICK HERE
Alexis Rocha KOs Brave but Overmatched George Ashie on DAZN.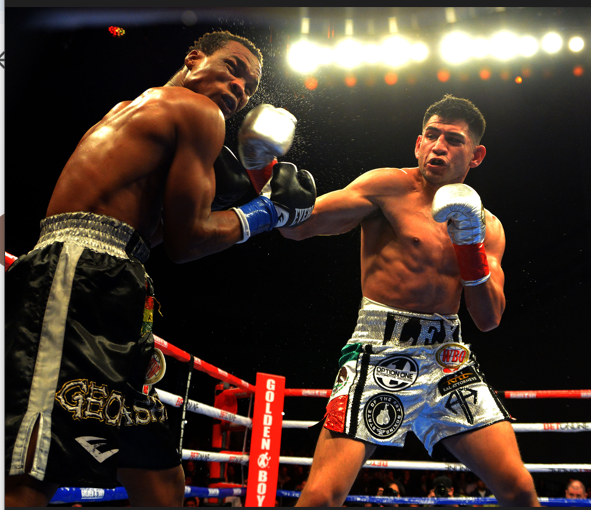 Golden Boy Promotions' potted their first offering of 2023 at the recently opened YouTube Theater, a 6,000-seat venue situated inside the stadium built to house LA's two NFL franchises. The main event was a scheduled 12-round welterweight match between Alexis Rocha, a southpaw from nearby Santa Ana and George Ashie, a 38-year-old Ghanaian making his U.S. debut. Ashie was a late substitute for Anthony Young who reportedly suffered a nose injury in training. The match and supporting bouts were live-streamed on DAZN.
Ashie, who was fighting above his normal weight class and carried a career-high 146 pounds, was brave but out-gunned. Rocha knocked him down in the third frame with a right hook and hurt him several more times as the fight progressed although Ashie never stopped trying. In round six, an accidental clash of heads left Rocha with a nasty cut on his left eyebrow. He fought with more urgency after this incident and knocked Ashie out cold in the next round. The official time was 2:08 of round seven.
It was the fifth straight win for Rocha who improved his ledger to 22-1 (14 KOs). After the bout, he expressed an interest in fighting Terence Crawford. Ashie fell to 33-6-1 (25).
Other Bouts of Note
Floyd "Austin Kid" Schofield, a precocious 20-year-old lightweight, had Albert Mercado on the canvas in the second round but was unable to put him away despite hurting him multiple times and went 10 rounds for the first time in his young career.
Schofield, the 2022 TSS Prospect of the Year, improved to 13-0 (11), winning 100-89 on all three cards. Mercado, a 35-year-old Connecticut-born Puerto Rican, declined to 17-5-1 but retained his distinction of having never stopped.
Super middleweight Bektemir Melikuziev, a 2016 Olympic silver medalist for Uzbekistan who lives and trains in Indio, California, overpowered San Diego's Ulises Sierra who was on the deck twice from body punches before the fight was waived off at the 2:59 mark of round three. It was the fourth straight victory for Melikuziev (11-1, 9 KOs) after suffering a stunning one-punch knockout at the hands of seemingly shopworn Gabriel Rosado with whom he is pursuing a rematch. Sierra was 17-2-2 heading in with eight of his wins coming in Mexico.
In a match framed as a WBO minimumweight title eliminator, Oscar Collazo (6-0, 4 KOs) scored an impressive fifth-round stoppage of Yudel Reyes. Collazo knocked Reyes down twice in the fifth round, the second with a vicious right hand that put Reyes down so hard that the referee didn't bother to count. The official time was 2:59 of round five.
In theory, Collazo's next fight will come against the Filipino Melvin Jerusalem who won the title earlier this month with a second-round stoppage of Masataka Taniguchi in Osaka. Reyes, a 26-year-old Mexican making his U.S. debut, declined to 15-2.
Photo credit: Al Applerose
Artur Beterbiev TKOs Anthony Yarde in a London Firefight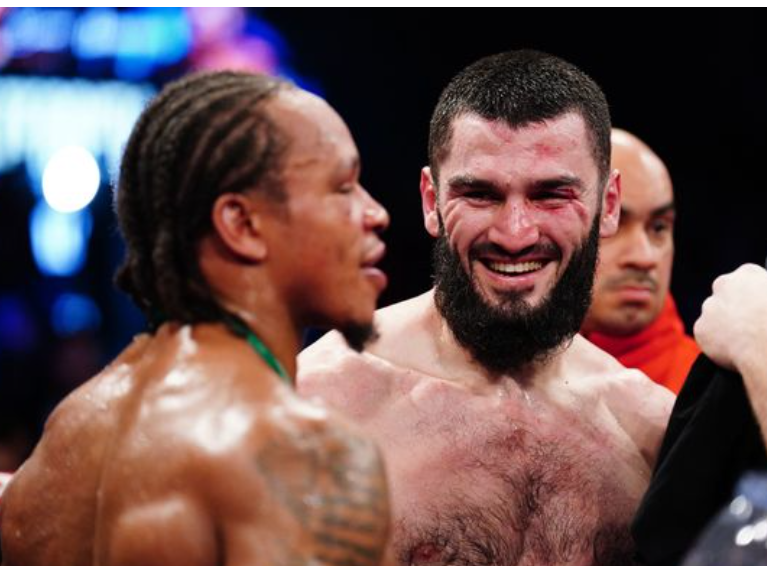 The presumption, echoed by ESPN boxing commentator Bernardo Osuna, was that tonight's bout at Wembley Arena in London between Artur Beterbiev and Anthony Yarde would be explosive and entertaining for as long as it lasted. That proved to be true and when the smoke cleared, Beterbiev, the rugged Montreal-based Russian had retained his three light heavyweight title belts and had added another knockout to his ledger, his nineteenth as a pro in as many opportunities.
Both men landed hard shots during the fight and both were marked up at the finish. Yarde had a cut under his right eye and Beterbiev had a cut on his left eyelid.
A chopping right hand from Beterbiev late in the first minute of the eighth round marked the beginning of the end for Yarde, the muscular 31-year-old Londoner who entered the contest sporting a record of 23-2 with 22 knockouts. The punch sent him reeling backward toward his corner where he landed on his knees. He beat the count, but turned toward his corner rather than referee Steve Gray.
Gray let the bout continue, but Beterbiev pressed his advantage and after a few more unanswered punches Yarde's trainer Tunde Ajayi stepped up on the ring apron and summoned Gray to stop it. The official time was 2:01 of round eight.
Beterbiev hasn't lost since losing a decision to amateur nemesis Oleksandr Usyk in the quarter finals of the 2012 London Olympics. At age 38, he shows no signs of slowing down.
In his post-fight interview, the self-effacing Russian said, "I hope some day I will be a good boxer," and acknowledged that he would welcome a unification fight with fellow Russian Dmitry Bivol, the WBA title-holder.
WBA Title Fight
In a bout that was in theory the co-feature but went off during the earlier portion of the ESPN+ livestream, Artem Dalakian (21-0, 15 KOs) retained his WBA world flyweight title with a unanimous and somewhat controversial 12-round unanimous decision over Costa Rica's David Jimenez (12-1). The judges had it 116-112 and 115-113 twice.
An Azerbaijan-born Ukrainian, Dalakian was making the sixth defense of the title he won in 2018 with a 12-round decision over Brian Viloria in Los Angeles in his lone previous appearance at a venue in the English-speaking world. His five title defenses were in Kiev. Jimenez was coming off a 12-round majority decision over Ricardo Sandoval in what ranked as one of the bigger upsets of 2021.
A Split for the Itauma Brothers
Promoter Frank Warren's newest signee, 18-year-old heavyweight Moses Itauma, made a big splash in his pro debut, blasting out Czechoslovakia's Marcel Bode (2-2) in 23 seconds. Moses and his older brother Karol Itauma are sons of a British citizen of Nigerian ancestry and a Slovakian mother.
In a shocking upset, Ezequiel Osvaldo Maderna, a 36-year-old Argentine who had lost six of his previous eight fights, forged a fifth-round stoppage of well-touted Karol Itauma who was 9-0 (7 KOs) as a pro coming in. Itauma ate numerous straight right hands before a straight right hand knocked him down for the count. The official time was 1:04 of round five. Maderna improved to 29-10 (11).
Also
The Frankham cousins, super welterweight Joshua and super featherweight Charles, improved their ledgers to 7-0 with 6-round shutouts over their respective opponents. The cousins are grandsons of John "Gypsy Johnny" Frankham, a former British light heavyweight champion.
Jake Paul vs Tommy Fury on Feb. 26 in a Potential Pay-Per-View Blockbuster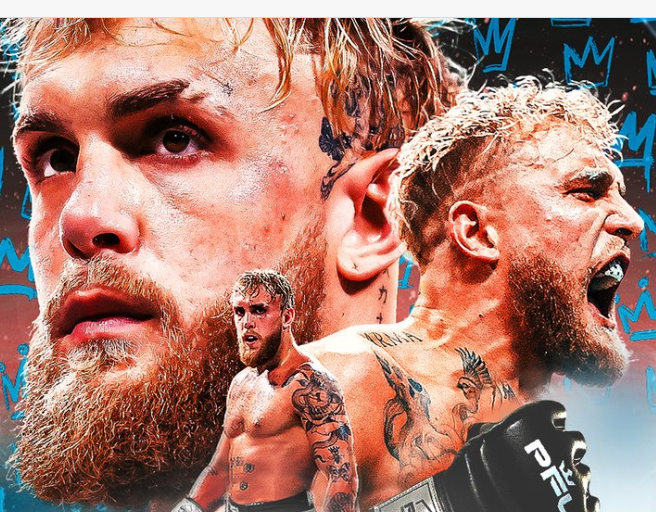 It's now official. The twice-postponed "grudge match" between Jake Paul and Tommy Fury will come to fruition on Sunday, Feb. 26, at Riyadh in the Kingdom of Saudi Arabia. An 8-rounder contested at a catch-weight of 185 pounds, the match and several supporting bouts will air in the U.S. on ESPN+ PPV at a cost of $49.99.
The hook for this promotion – a come-hither that will be hammered home incessantly in the coming weeks – is that Jake Paul will finally touch gloves with a legitimate professional boxer. Paul's previous opponents were a fellow YouTube influencer (AnEsonGib), a retired NBA player (Nate Robinson), and three former MMA champions: Ben Askren, Tyron Woodley, and Anderson Silva. He fought Woodley twice.
Tommy Fury, the half-brother of reigning WBC world heavyweight champion Tyson Fury, made his pro debut in December of 2018 in a four-round bout in his hometown of Manchester. He was two fights into his pro career when he became a contestant on the TV reality show "Love Island." An enormously popular show in Great Britain, especially among the coveted 18-34 demographic, "Love Island" was in its fifth season.
Fury was paired with supermodel Molly-Mae Hague with whom he finished second. They developed a great chemistry, on and off the set, became engaged, and purportedly welcomed a baby girl this week.
What about Tommy Fury the boxer? How legitimate is he?
Fury's record currently stands at 8-0 (4 KOs). His first opponent was a professional loser from Latvia whose current ledger reads 10-113-3. His next six opponents were a combined 4-73-2. Finally, in his last fight, which occurred in April of last year, he met an opponent with a good record, Poland's Daniel Bocianski, who was 10-1. But look closer and one discovers that all but one of Bocianski's 10 triumphs came against opponents with losing records. The exception was a 6-round decision over a fellow Pole whose record currently stands at 18-16-1 and who has been stopped 13 times.
Fury bloodied Bocianski and won a wide 6-round decision, but his performance was underwhelming. "Fury had the Hollywood teeth, tan, and diamante-colored shorts," wrote Chasinga Malata of the London Sun, "leaving only his performance without sheen and sparkle."
There is nothing in Tommy Fury's background, aside from his biological pedigree, to suggest that he has the tools to become a world-class boxer. If he were a member of the Three Stooges, he would be Shemp.
Jake Paul, by contrast, may actually be legit. Those in the know that have watched him train have come away impressed. It says here that Paul isn't moving up in class on Feb. 26; it's the other way around.
In the co-feature, Ilunga Makabu (29-2, 25 KOs) will make the third defense of his WBC world cruiserweight title against Badou Jack (27-3-3, 16 KOs). A Congolese-South African, Makabu is the older brother of heavyweight contender Martin Bakole. Jack, four years older than Makabu at age 39, formerly held world titles at 168 and 175 pounds.
Although Badou Jack was born in Sweden and keeps a home in Las Vegas where he has long been affiliated with the Mayweather Boxing Club, he will have the home field advantage in Saudi Arabia where he has cultivated a loyal following. A devout Muslim, Jack will be making his fourth straight start in the Persian Gulf Region. In his last outing, he outpointed Richard "Popeye" Rivera at Jeddah, winning a 10-round split decision.
To comment on this story in the Fight Forum CLICK HERE