Thomas Hauser's Foreword to 'Sporting Blood,' Carlos Acevedo's New Book
The Internet has changed sportswriting, particularly when it comes to writing about boxing. Very few newspapers or magazines now have a writer on staff who understands the sport and business of boxing. Meanwhile, the number of websites devoted to the sweet science keeps growing. Some of these websites are quite good. Others are awful. Reprinting a press release with a new lead is not journalism. Simply voicing an opinion without more is not journalism.
As Carlos Acevedo – the author of Sporting Blood – wrote in another forum, "Boxing is immune to critical consensus because of the number of fanboys who pretend to be journalists. No other sport has such an unsophisticated mediascape covering it."
Acevedo was born in the Bronx in 1972 and now lives in Brooklyn. He was drawn to boxing as a boy, grew up reading The Ring, and recalls being captivated by Larry Holmes, Marvelous Marvin Hagler, and Marvin Johnson. Decades later, when the Internet gave a platform to anyone with a computer and modem, he decided to write about the sweet science.
Acevedo's journey as a boxing writer began in 2007. Two years later, he founded a website called The Cruelest Sport. Since then, he has written for numerous print publications and websites including Hannibal Boxing (his current primary outlet), MaxBoxing, Undisputed Champion Network, Boxing Digest, Boxing World, Remezcla, and Esquina Boxeo.
"I love the fights and the narrative that comes with them," Carlos says. "Each fight is a story unto itself; a drama that exposes character and offers the ideal of self-determination."
I'm not sure when I first became aware of Acevedo's writing. I do remember laughing out loud years ago while reading his description of promoter Gary Shaw, who Carlos opined "deserves credit for tenacity, like certain insects that become immune over time to Raid and Black Flag." I first quoted him in my own writing in 2011 in conjunction with less-than-stellar refereeing by Russell Mora and Joe Cortez.
"Incompetence is usually the answer for most of the riddles in boxing," Acevedo wrote of Mora's overseeing Abner Mares vs. Joseph Agbeko. "But Mora was a quantum leap removed from mere ineptitude. He was clearly biased in favor of Mares and, worse than that, seemed to enter the ring with a predetermined notion of what he was going to do. Mares had carte blanche to whack Agbeko below the belt as often as he wanted."
As for Cortez's refereeing in Floyd Mayweather vs. Victor Ortiz, Acevedo proclaimed, "Cortez, whose incompetence has been steadily growing, is now one of the perpetual black clouds of boxing. Why let Cortez, whose reverse Midas touch has marred more than one big fight recently, in the building at all on Saturday night?"
Acevedo doesn't have a big platform. He doesn't have a wealth of contacts in the boxing industry or one-on-one access to big names. In part, that's because he has never compromised his writing to curry favor or ingratiate himself to the powers that be in an effort to gain access or ensure that he receives press credentials for a fight.
But Carlos has several very important things going for him: (1) He appreciates and understands boxing history; (2) He has an intuitive feel for the sport and business of boxing; and (3) He's a provocative thinker and a good writer who puts thoughts together clearly and logically.
Look at the "Contents" page of Sporting Blood and you'll see essays (in order) on Carlos Negron, Jack Johnson, Roberto Duran, Esteban De Jesus, Aaron Pryor, Don Jordan, Joe Frazier, Johnny Saxton, Wilfredo Gomez, Lupe Pintor, Davey Moore, Johnny Tapia, Mike Tyson, Evander Holyfield, Bert Cooper, Sonny Liston, Jake LaMotta, Ad Wolgast, Tony Ayala Jr, Al Singer, Michael Dokes, Eddie Machen, Mike Quarry, and Muhammad Ali.
That's an eclectic mix. But each essay goes beyond the name of the fighter attached to it to underscore a fundamental truth about, and capture the essence of, boxing.
Acevedo calls boxing "a dark art." Phrases like "the hard logic of the ring" characterize the gritty realism of his writing. Some of the thoughts in Sporting Blood that captured my attention include:
*         "Sadism, whether one admits it or not, is an essential part of boxing. So is masochism."
*         "Nothing can take away from the terrible symmetry boxing gives its practitioners: a hardscrabble life, followed by a hardscrabble profession, followed by a hardscrabble retirement."
*         "Disillusion is as much a part of boxing as the jab is."
*         "In boxing, the enemies of promise are numerous: entourages, managers, promoters, injuries, other fighters. But self-destruction ranks up there with the best of the worst."
*         "There is very little afterlife for a fighter who has failed to succeed."
Acevedo has an economical writing style that leads readers to the intended destination without unnecessary verbiage or digressions. Consider his description of Aaron Pryor's origins, a fighter who Carlos describes as "one of the most exciting fighters during an era when action was a prerequisite for fame."
After noting that Pryor "matched his unbridled style in the ring with an apocalyptic personal life that kept him in boldface for over a decade," Acevedo explains, "Aaron Pryor was an at-risk youth before the term came into vogue. Dysfunction was in his DNA. He was born out of wedlock in 1955 to an alcoholic mother whose moodiness could lead to impromptu gunplay. Sarah Pryor, who gave birth to seven children from five different fathers, occasionally whipped out the nickel-plated hardware when some of her brood became unruly. Years later, she wound up shooting her husband five times in the kind of supercharged domestic dispute in which the Pryor clan excelled."
"Pryor," Acevedo continues, "had a family tree whose branches were gnarled by tragedy. Its roots were blood-soaked. One of his brothers, Lorenzo, was a career criminal who eventually wound up doing hard time for an armed robbery conviction in Ohio. Another brother, David, became a transsexual hooker. His half-brother was shot and paralyzed by his father. His sister, Catherine, stabbed her lover to death. As if to solidify the epigenetics involved in the Pryor family – and to concretize the symbolism of the phrase 'vicious cycle' – Sarah Pryor had seen her own mother shot and murdered by a boyfriend when Sarah was a child."
Want more?
"As an eight-year-old already at sea in chaotic surroundings," Acevedo notes, "Pryor was molested by a minister."
There . . . In a little more than two hundred words, Acevedo has painted a portrait. Do you still wonder why Aaron Pryor had trouble conforming to the norms that society expected of him?
In a chilling profile of Tony Ayala Jr, Acevedo writes, "In the ring, he was hemmed in by the ropes. For more than half his life, he was trapped behind bars. The rest of the time? He was locked inside himself."
Ayala spent two decades in prison in conjunction with multiple convictions for brutal sexual assaults against women. Acevedo sets up the parallel between Ayala's misogynist conduct and his ring savagery with a quote from the fighter himself about boxing.
"It's the closest thing to being like God – to control somebody else," Ayala declared. "I hit a guy and it's like, I can do anything I want to you. I own you. Your life is mine, and I will do with it what I please. It's a really sadistic mentality, but that's what goes on in my mind. It's really evil. There's no other way to put it. I step into that dark, most evil part of me and I physically destroy somebody else, and I will do with them what I want."
Acevedo also has a gift for dramatically recreating the action in classic ring battles. After recounting the carnage that Ad Wolgast and Battling Nelson visited upon each other on February 22, 1910, he observes, "What Wolgast and Nelson produced was not, in retrospect a sporting event, but a gruesome reminder of how often the line between a blood sport and bloodlust was crossed during an era when mercy was an underdeveloped concept in boxing."
A vivid description of the December 3, 1982, title bout between Wilfredo Gomez and Lupe Pintor is followed by the observation, "At the core of these apocalyptic fights, where two men take turns punishing each other from round to round, lies the question of motivation. Not in the sporting sense; that is, not in the careerist sense or anything so mundane as competition, but in an existential sense. And while boxing lends itself far too often to an intellectual clam chowder (common ingredients: social Darwinism, atavism, gladiatorial analogies, talk of warriors), the fact remains that what Gomez and Pintor did to each other, under the socially-sanctioned auspices of entertainment, bordered on madness."
This is powerful writing. Enjoy it.
EDITOR'S NOTE: Reproduced by permission of Thomas Hauser and Hamilcar Publications, the book publishing arm of Hannibal Boxing Media, LLC.  Learn more about Sporting Blood and how to purchase it here: https://hamilcarpubs.com/books/sporting-blood-tales-from-the-dark-side-of-boxing/
Thomas Hauser's email address is thomashauserwriter@gmail.com. His most recent book – A Dangerous Journey: Another Year Inside Boxing – was published by the University of Arkansas Press. In 2004, the Boxing Writers Association of America honored Hauser with the Nat Fleischer Award for career excellence in boxing journalism. He will be inducted into the International Boxing Hall of Fame with the Class of 2020.
Check out more boxing news on video at The Boxing Channel 
To comment on this story in The Fight Forum CLICK HERE
Mercito Gesta Victorious Over Jojo Diaz at the Long Beach Pyramid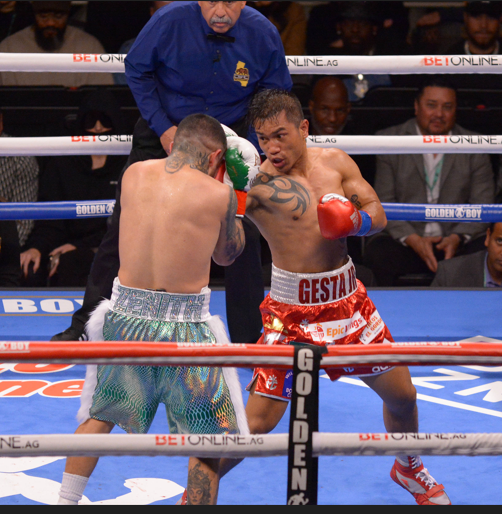 LONG BEACH, CA.-Those in the know knew Mercito Gesta and Jojo Diaz would be a fight to watch and they delivered.
Gesta emerged the winner in a super lightweight clash between southpaws that saw the judges favor his busier style over Diaz's body attack and bigger shots and win by split decision on Saturday.
Despite losing the main event because the star was overweight, Gesta (34-3-3, 17 KOs) used an outside method of tactic to edge past former world champion Diaz (32-4-1, 15 KOs) in front of more than 5,000 fans at the Pyramid.
The speedy Gesta opened up the fight with combination punching up and down against the peek-a-boo style of Diaz. For the first two rounds the San Diego fighter overwhelmed Diaz though none of the blows were impactful.
In the third round Diaz finally began unloading his own combinations and displaying the fast hands that helped him win world titles in two divisions. Gesta seemed stunned by the blows, but his chin held up. The counter right hook was Diaz's best weapon and snapped Gesta's head back several times.
Gesta regained control in the fifth round after absorbing big blows from Diaz. He seemed to get angry that he was hurt and opened up with even more blows to send Diaz backpedaling.
Diaz targeted his attack to Gesta's body and that seemed to slow down Gesta. But only for a round.
From the seventh until the 10th each fighter tried to impose their style with Gesta opening up with fast flurries and Diaz using right hooks to connect with solid shots. They continued their method of attack until the final bell. All that mattered was what the judges preferred.
After 10 rounds one judge saw Diaz the winner 97-93 but two others saw Gesta the winner 99-91, 98-92. It was a close and interesting fight.
"I was expecting nothing. I was the victor in this fight and we gave a good fight," said Gesta. "It's not an easy fight and Jojo gave his best."
Diaz was surprised by the outcome but accepted the verdict.
Everything was going good. I thought I was landing good body shots," said Diaz. "I was pretty comfortable."
Other Bouts
Mexico's Oscar Duarte (25-1-1, 20 KOs) knocked out Chicago's Alex Martin (18-5, 6 KOs) with a counter right hand after dropping him earlier in the fourth round. The super lightweight fight was stopped at 1:14 of the round.
A battle between undefeated super welterweights saw Florida's Eric Tudor (8-0, 6 KOs) emerge the winner by unanimous decision after eight rounds versus Oakland's Damoni Cato-Cain.
The taller Tudor showed polished skill and was not bothered by a large cut on his forehead caused by an accidental clash of heads. He used his jab and lead rights to defuse the attacks of the quick-fisted southpaw Cato-Cain. The judges scored the fight 80-72 and 78-74 twice for Tudor.
San Diego's Jorge Chavez (5-0, 4 KOs) needed less than one round to figure out Nicaragua's Bryan Perez (12-17-1, 11 KOs) and send him into dreamland with a three-punch combination. No need to count as referee Ray Corona waved the fight over. Perez shot a vicious right followed by another right and then a see-you-later left hook at 3.00 of the first round of the super featherweight match.
Photo credit: Al Applerose
Jojo Diaz's Slump Continues; Mercito Gesta Prevails on a Split Decision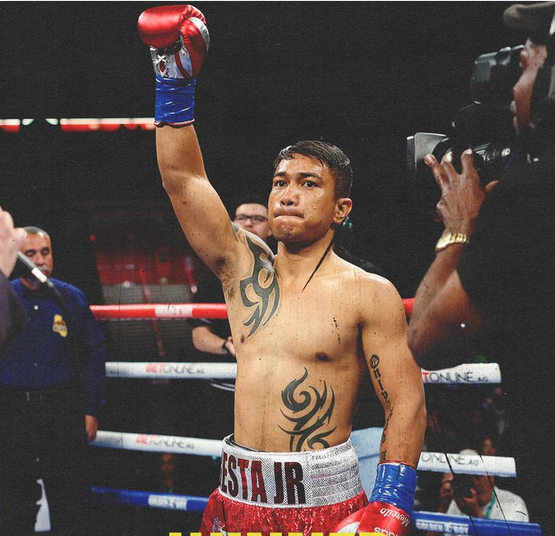 At age 30, Jojo Diaz's career is on the skids. The 2012 U.S. Olympian, a former world title holder at 126 and 130 pounds and an interim title holder at 135, Diaz suffered his third straight loss tonight, upset by Mercito Gesta who won a split decision at the Walter Pyramid in Long Beach, CA.. The scoring was strange with Gesta winning nine of the 10 rounds on one of the cards and only three rounds on another. The tie-breaker, as it were, was a 98-92 tally for Gesta and even that didn't capture the flavor of what was a closely-contested fight.
Originally listed as a 12-rounder, the match was reduced to 10 and that, it turned out, did Diaz no favors. However, it's hard to feel sorry for the former Olympian as he came in overweight once again, having lost his 130-pound title on the scales in February of 2021.
Diaz also has issues outside the ropes. Best elucidated by prominent boxing writer Jake Donovan, they include a cluster of legal problems stemming from an arrest for drunk driving on Feb. 27 in the LA suburb of Claremont.
With the defeat, Diaz's ledger declined to 32-4-1. His prior losses came at the hands of Gary Russell Jr, Devin Haney, and William Zepeda, boxers who are collectively 83-2. Mercito Gesta, a 35-year-old San Diego-based Filipino, improved to 34-3-3.
Co-Feature
Chihuahua, Mexico super lightweight Oscar Duarte has now won nine straight inside the distance after stopping 33-year-old Chicago southpaw Alex Martin in the eighth frame. Duarte, the busier fighter, had Martin on the deck twice in round eight before the fight was waived off.
Duarte improved to 25-1-1 (20). Martin, who reportedly won six national titles as an amateur and was once looked upon as a promising prospect, declined to 18-5.
Other Bouts of Note
New Golden Boy signee Eric Tudor, a 21-year-old super welterweight from Fort Lauderdale, overcame a bad laceration over his right eye, the result of an accidental clash of heads in round four, to stay unbeaten, advancing to 8-0 (6) with a hard-fought unanimous 8-round decision over Oakland's Damoni Cato-Cain. The judges had it 80-72 and 78-74 twice. It was the first pro loss for Cato-Cain (7-1-1) who had his first five fights in Tijuana.
In the DAZN opener, lanky Hawaian lightweight Dalis Kaleiopu went the distance for the first time in his young career, improving to 4-0 (3) with a unanimous decision over 36-year-old Colombian trial horse Jonathan Perez (40-35). The scores were 60-52 across the board. There were no knockdowns, but Perez, who gave up almost six inches in height, had a point deducted for a rabbit punch and another point for deducted for holding.
To comment on this story in the Fight Forum CLICK HERE
'Big Baby' Wins the Battle of Behemoths; TKOs 'Big Daddy' in 6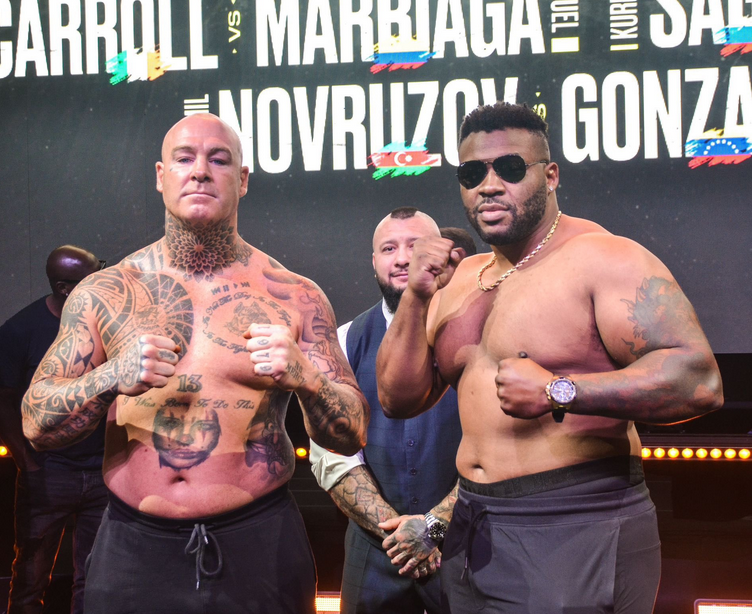 Lucas "Big Daddy" Browne weighed in at a career-high 277 pounds for today's battle in Dubai with Jarrell "Big Baby" Miller, but he was the lighter man by 56 pounds. It figured that one or both would gas out if the bout lasted more than a few stanzas.
It was a war of attrition with both men looking exhausted at times, and when the end came it was Miller, at age 34 the younger man by nine years, who had his hand raised.
Browne was the busier man, but Miller, whose physique invites comparison with a rhinoceros, hardly blinked as he was tattooed with an assortment of punches. He hurt 'Bid Daddy' in round four, but the Aussie held his own in the next frame, perhaps even forging ahead on the cards, but only postponing the inevitable.
In round six, a succession of right hands knocked Browne on the seat of his pants. He beat the count, but another barrage from Miller impelled the referee to intervene. The official time was 2:33. It was the 21st straight win for Miller (26-0-1, 22 KOs). Browne declined to 31-4 and, for his own sake, ought not fight again. All four of his losses have come inside the distance, some brutally.
The consensus of those that caught the livestream was that Floyd Mayweather Jr's commentary was an annoying distraction that marred what was otherwise an entertaining show.
As for what's next for "Big Baby" Miller, that's hard to decipher as he has burned his bridges with the sport's most powerful promoters. One possibility is Mahmoud Charr who, like Miller, has a big gap in his boxing timeline. Now 38 years old, Charr – who has a tenuous claim on a WBA world title (don't we all?) —  has reportedly taken up residence in Dubai.
Other Bouts of Note
In a 10-round cruiserweight affair, Suslan Asbarov, a 30-year-old Russian, advanced to 4-0 (1) with a hard-fought majority decision over Brandon Glanton. The judges had it 98-92, 97-93, and a more reasonable 95-95.
Asbarov was 12-9 in documented amateur fights and 1-0 in a sanctioned bare-knuckle fight, all in Moscow, entering this match. He bears watching, however, as Glanton (18-2) would be a tough out for almost anyone in his weight class. In his previous fight, at Plant City, Florida, Glanton lost a controversial decision to David Light, an undefeated Australian who challenges WBO world title-holder Lawrence Okolie at Manchester, England next week.
A 10-round super featherweight match between former world title challengers Jono Carroll and Miguel Marriaga preceded the semi-windup. Carroll, a 30-year-old Dublin southpaw, overcame a cut over his left eye suffered in the second round to win a wide unanimous decision in a fairly entertaining fight.
It was the sixth straight win for Carroll (24-2-1, 7 KOs) who elevated his game after serving as a sparring partner for Devin Haney. Marriaga, a 36-year-old Colombian, lost for the fourth time in his last five outings, declining to 30-7.
To comment on this story in the Fight Forum CLICK HERE