Corrales-Castillo I: The Hors d'oeuvres Before the Feast Were Tasty, Too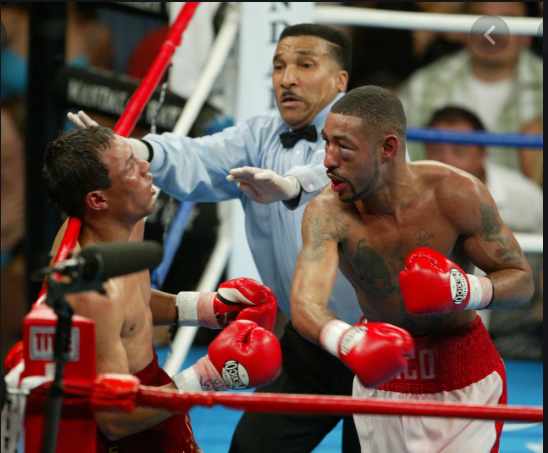 The anniversary date is approaching of the best boxing match I ever saw live and in person, the epic first meeting of lightweight champions Diego Corrales and Jose Luis Castillo, which Corrales won the night of May 7, 2005, by miraculously rallying to win on a 10th-round stoppage after being decked twice himself in that very same round. There have been more consequential fights I have covered from ringside – Hagler-Leonard, Tyson-Spinks, Tyson-Douglas and Chavez-Taylor I immediately spring to mind – but for unrelenting excitement and nearly incomprehensible momentum swings, Corrales-Castillo I tops even Arturo Gatti's two slugfests with Ivan Robinson and his unforgettable trilogy with Micky Ward.
But lost, or nearly so, in the annual homages paid to what Corrales and Castillo did in the ring that night at Las Vegas' Mandalay Bay is the celebration that preceded it at the same site the night before. That would be the 80th annual Boxing Writers Association of America Awards Dinner, the first for the organization not held on the East Coast. I have particularly fond memories of that historic occasion because I, the then-BWAA president, had an instrumental role in making it happen, as did several others, but I couldn't have known that the accompanying attraction the following night – Corrales-Castillo, which was televised by Showtime – would arguably make for the best weekend for boxing in the memories of many who were on hand for both events. If Corrales-Castillo I is a top contender for best fight ever, then the BWAA Awards Dinner the night before still stands as the undisputed champion of any such commemoration of the sweet science.
It was BWAA member and Las Vegas Review-Journal boxing writer Kevin Iole who first forwarded the idea that, since so many big fights were staged in his town, it might make sense to stage the 2005 dinner there. That seemed reasonable to me, so months in advance I sought to set things in motion. There were two prerequisites: the dinner would have to be paired with an attractive fight card the following evening, and be held at the same casino property hosting that card. I contacted officials at both HBO and Showtime, but it was then-Showtime Sports executive Jay Larkin – now, sadly, deceased – who enthusiastically said he would not only furnish an appropriate main event, but was willing to go a half-million dollars over his normal budget to make just the right pairing. Given today's bloated financial figures (see Mayweather-Pacquiao), that might not seem like much, but it was a major commitment on the part of Jay's company 15 years ago. With Showtime aboard, the Mandalay Bay also came on board as the host casino-hotel for the fight and the dinner, with Gordon Absher as gung-ho as Larkin and BWAA officers to ensure that everything went as smoothly as possible. What did happen, of course, exceeded ever our wildest expectations.
Interestingly, the 95th BWAA Awards Dinner, which remains in limbo because of the pandemic, was being discussed for Vegas in early May, to be held in conjunction with a Canelo Alvarez bout as is his custom for Cinco de Mayo weekend. Although our event still takes place most often in New York, we returned to The Strip a couple of times since 2005 and even went farther west, to Los Angeles, on another occasion. But wherever and whenever current BWAA president Joe Santoliquito and event coordinator Gina Andriolo choose to go, topping that 2005 dinner will be as daunting a task as attaching our event with a fight that can match or exceed Corrales-Castillo I.
—
Here is the column I wrote about the 80th annual BWAA Awards Dinner that appeared in the Philadelphia Daily News on May 10, 2005:
The wife was straightening the tie to my rental tuxedo when I made the mistake of fishing for a compliment.
"So what do you think?" I asked. "Cary Grant, right?"
"You look nice," my wonderful but honest Annie finally allowed. "But Cary Grant? I don't think so."
OK, so I'm never going to get a casting call for the remake of North by Northwest. Doesn't matter. An hour after adjusting those tricky cuff links, I was made to feel like a suave and debonair star of the screen at the 80th annual Boxing Writers Association of America's Awards Dinner, which was as close to Hollywood glitz as an ink-stained media wretch ever is going to get.
The host venue, Las Vegas' Mandalay Bay Resort and Casino, literally rolled out the red carpet for arriving guests. Fight fans were lined to the side holding out gloves and programs for the many current or former world champions to sign. None of the autograph seekers confused me for Cary Grant either, or for Bernard Hopkins for that matter, but, as president of the BWAA, I got pulled over for five television interviews. As I offered my thoughts on whatever to a microphone wielder with a blow-dried haircut, a camera crew to my left was interviewing Sugar Ray Leonard. One to my right was quizzing Don King.
At a resort that has a shark habitat, it occurred to me that I was chum in the water during a TV feeding frenzy. And I couldn't help but think that there never had been a night like this since the BWAA was founded in 1925 as the Boxing Writers Association of Greater New York.
Every year, usually in April (note: dinners now are held in various months, depending on the fight with which it can be linked), the BWAA convenes at a New York hotel to pass out awards to the Fighter of the Year, Manager of the Year, Trainer of the Year and so forth. It's a nice affair, reasonably well-attended, and a blip on the radar screen of the Big Apple's daily social calendar. Put it this way: the BWAA dinner isn't knocking the Yankees off the back pages of that city's tabloids.
Fourteen months ago, however, Las Vegas Review-Journal boxing writer Kevin Iole, the Western representative to the BWAA's board of directors, posed some simple questions. How come there never had been a BWAA Awards Dinner in Las Vegas, which is now the site of most major fight cards held in this country? And shouldn't the organization's premier event be accessible to members from California, Nevada, Arizona and New Mexico, most of whom had never or would never make it to New York for our annual shindig?
Hey, even the Army-Navy football game was played in the Rose Bowl once. So I told Kevin I would consider a BWAA road trip if (1) a host casino-hotel stepped forward, and (2) a suitable fight card could be arranged the following night as an anchor to our event.
Kevin soon advised me that the Mandalay Bay was willing to come aboard for May 7. Shortly after that, Showtime Sports head Jay Larkin committed to providing the best card he possibly could for the following night.
Saturday night, after Diego Corrales stopped Jose Luis Castillo in 10 rounds in a lightweight unification slugfest that became an instant classic, people still were coming up to me and saying this had been one of boxing's best weekends ever.
Hey, after 79 BWAA dinners – 76 in New York, two at Catskills resorts, one in Atlantic City – it probably was time for someone to float a test balloon in the southern Nevada desert. All I did was let go of the string that had kept us tethered to New York, New York.
The person most responsible for making the BWAA Awards Dinner a happening is Gordon Absher, public relations director for the Mandalay Bay. Gordon recruited so many big names, the group photographed in the ring that had been set up in place of a dais was the most impressive assemblage of boxing talent in one place anyone could remember.
Anyone lucky enough to be holding a ticket – and the event sold out, which probably is a first – could look around the room and see, among others, Leonard, Hopkins, Oscar De La Hoya, Vitali Klitschko, James Toney, Chris Byrd, Lamon Brewster, Winky Wright, Floyd Mayweather, Hasim Rahman, Shane Mosley, Erik Morales and Zab Judah.
There were Imax screens set up to either side of the ring for video highlights of the nominated fights and fighters, and a snappy, tightly scripted format that the people responsible for staging the Academy Awards would be wise to emulate.
Additional kudos go to Iole, our point guy at the scene; BWAA event coordinator Gina Andriolo and BWAA vice president Jack Hirsch, who helped stuff the goody bags attendees took home along with their memories.
Perhaps the most amazing development of all is that representatives of several prospective host venues, on both sides of the country, approached me with preliminary offers to host the 2006 BWAA Awards Dinner.
Hey, so what if Clint Eastwood, Hilary Swank and Morgan Freeman, the Oscar-winning stars of Million Dollar Baby, declined my invitation to meet and mingle with the fight folk?
The way this Cary Grant wannabe looks at it, that was their loss, not ours.
Check out more boxing news on video at The Boxing Channel 
To comment on this story in The Fight Forum CLICK HERE
Canelo Alvarez Returns to Form; Proves Too Strong for Jermell Charlo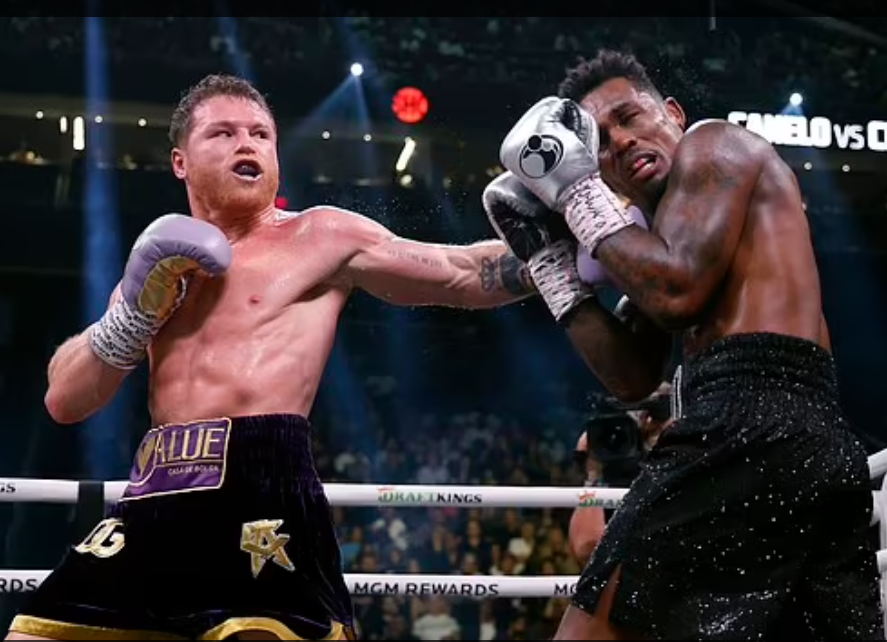 Canelo Alvarez Returns to Form; Proves Too Strong for Jermell Charlo
Daring to be great does not guarantee success.
Mexico's Saul "Canelo" Alvarez powered his way past fellow undisputed but lighter world champion Jermell Charlo for a unanimous decision in front of a pro-Mexican crowd who cheered every attack by their champion on Saturday.
The difference in weight proved daunting.
A seemingly refreshed Alvarez (60-2-2, 39 KOs) returned to form in soundly defeating Houston's Charlo (35-2-1, 19 KOs) who fired back like the champion he is at the T-Mobile Arena. More than 60 percent of the crowd seemed overwhelmingly pro-Canelo.
It was Canelo's night and he was not going to disappoint.
Though his recent performances had been subpar, the real Canelo showed up looking sharp from the opening bell. He was not underestimating Charlo, a fellow pound-for-pound fighter according to many boxing publications.
After a tenuous opening round the fight slipped into its real rhythm in the second round as the taller and more slippery moving fighter decided to engage. While inside the range of fire, Charlo opened up with jabs and a crisp left hook. Canelo stalked the taller fighter and connected twice with combinations to the head and body. Neither fighter was hurt. Charlo showcased a fast triple jab. But when he tried to clinch, he was tossed away like a dangling tree branch by the stronger Alvarez.
It was a telling moment.
"I'm a strong fighter all the time. Nobody can beat Canelo," said Alvarez.
In the third round Alvarez fired three rapid jabs and a right to the body that left the crowd in a collective exasperation. A right uppercut by Charlo connected and he was met by Canelo attacking the body viciously. Charlo held on twice.
It became apparent that Charlo could not handle Alvarez's power and strength inside the pocket. And whenever he clinched he was met by powerful left hook shots to the body and a right to the head.
Charlo showed a very good chin and resilience despite getting pounded occasionally by the Mexican redhead's body attack. It's why he was undisputed super welterweight champion.
The fighter from Houston was gambling that he could match wits against boxing's biggest draw. He was gambling that Alvarez's recent performances were proof that he was ready to be toppled. And Charlo was not going to shy away from the fire.
The lanky Texas fighter showed brilliant speed and solid defense to go along with his championship heart. In the seventh round. Canelo pressured Charlo against the ropes with three jabs and a quick right to the forehead, followed by a right uppercut to Charlo's chin. After a few seconds Charlo dropped to a knee for the count. He survived.
"We worked on that. He's a great fighter and knows how to work in the ring," said Alvarez.
For the remainder of the match, Alvarez remained in stalking mode and Charlo looking to counter with left hooks and an occasional right uppercut. Nothing seemed to work for Charlo who was hoping the rise from 154-pounds to 168-pounds would not prove a problem. It was.
After 12 rounds all three judges scored in favor of Alvarez 119-108, 118-109 twice. He retains the undisputed super middleweight world championship. Charlo will go back down to super welterweight where he reigned supreme.
"I wasn't me tonight. This is boxing. Sometimes you win, sometimes you lose," said Charlo who was knocked down for only the second time in his career. "Truthfully, you can tell the difference in the weight."
Alvarez hugged Charlo after the fight and told him he respected the gamble Charlo accepted in moving up.
"I love boxing so f——g much. Boxing is my life," said Alvarez.
Other Bouts
In a battle between reluctant contenders, Erickson Lubin captured the win by unanimous decision over Arizona's Jesus Ramos to maintain his place in line for a world title match.
"I stuck to the game plan. We came back with the victory tonight," said Lubin.
"I was in control of the fight. I'm one of the top dogs in the division."
Both super welterweights seemed hesitant to open up with any semblance of combinations. Lubin countered while Ramos worked the body with jabs. After 12 low-key rounds Lubin was declared the winner by scores of 115-113, 116-112, 117-111.
Ramos was surprised but never really formed an all-out attack.
"I was trying to show different dimensions to my game," Ramos said. "Maybe a little bit more pressure."
Mario Barrios (28-2, 18 Ks) put it all together and defeated Yordenis Ugas (27-6, 12 KOs) in a battle between ex-world champions. That left jab and left hook did all the work in picking apart Cuba's excellent fighter Ugas.
"I just concentrated on my jab," Barrios said.
Knockdowns by Barrios in the second and twelfth round proved emphatically the difference between the two former champions.
"All the work I put in paid off. Early on he hurt me with a right liver shot," said Barrios who trained in Las Vegas with Bob Santos. "I knew he was coming with it. I was prepared."
A counter left hook dropped Ugas twice.
Arizona's Elijah Garcia (16-0, 13 KOs) out-slugged Mexico's Armando Resendiz (14-2, 10 KOs) in a spirited middleweight battle and stopped the fighter in the eighth round. The 20-year-old southpaw from Phoenix connected with a powerful right hook that Resendiz did not see and that ended the regional title fight at 1:23 of the eighth round.
"He was 100 percent my toughest opponent," said Garcia.
To comment on this story in the Fight Forum CLICK HERE
Undercard Results from the Canelo-Charlo Card in Las Vegas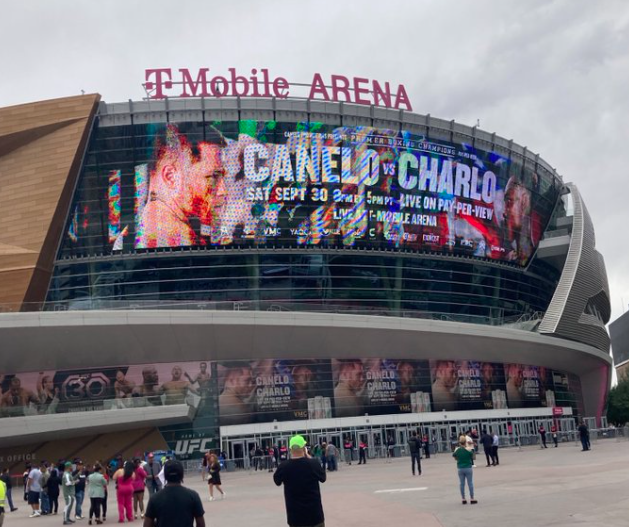 Undercard Results from the Canelo-Charlo Card in Las Vegas
In a heavyweight battle slated for 10, Frank Sanchez (23-0, 16 KOs) stopped LA trial horse Scott Alexander (17-6-2) after four frames. Alexander's corner attempted to stop it in the waning seconds of the fourth, but the referee did not see it and the bell rang before the fight was waived off.
Alexander had one big moment. In the opening round, he rocked Sanchez with a short right hand. But from there, it was all Sanchez in a rather messy fight.
A Miami-based Cuban defector, Frank Sanchez came in ranked #3 by the WBO, #4 by the WBC, and #5 by the IBF. His best win came in this building, a comfortable decision over Efe Ajagba in October of 2021. Alexander also fought here. In his previous visit to the T-Mobile, he was knocked out in the opening round by Zhilei Zhang.
Former WBO light heavyweight champion Oleksandr Gvozdyk, in his third fight back since ending his retirement, improved to 20-0 (16) with a second-round stoppage of 38-year-old Brazilian Isaac Rodrigues (28-5). Gvozdyk, 36, left the sport after getting beat up by Artur Beterbiev, but got the itch and is pursuing a fight with Dmitry Bivol.
In an 8-round middleweight fight, 2012 U.S. Olympian Terrell Gausha (24-3-1) won a majority decision over Keandre Leatherwood (23-9-1). The judges had it 76-76 and 78-74 twice. Once a highly regarded prospect, Gausha is spinning his wheels. Leatherwood, from Tuscaloosa, Alabama, had been stopped four times.
Guadalajara super lightweight Gabriel Gollaz Valenzuela advanced to 28-3-1 (17 KOs) with a sixth-round stoppage of overmatched Colombia import Yves Gabriel Solano (15-3).  This was redemption of sorts for Valenzuela who lost an unpopular 12-round decision to Montana Love in his last outing inside these walls.
Kazakh super middleweight Bek Nuramaganbat (11-0) continued his fast ascent of the 168-pound ladder with a third-round stoppage of Bola Osundairo. A 30-year-old Chicago-based Nigerian, Osundairo was a 2021 USA National Champion at 178 pounds.
A four-round middleweight contest between Abilikhan Amankul (4-0-1, 4 KOs) and Joeshon James (7-0-2, 4 KOs) ended in a draw. Although he didn't win, Sacramento's James continued to exceed expectations. In previous contests he KOed previously undefeated Richard Brewart and fought to a draw with Top Rank signee Javier Martinez. Amankul, a 26-year-old Kazakh, lost a split decision to eventual gold medal winner Hebert Conceicao in the Tokyo Olympics.
To comment on this story in the Fight Forum CLICK HERE
—
David Avila is ringside. Check back later for his report of the Canelo-Charlo fight and the main supporting bouts.
Opetaia Demolishes Thompson in London; Wallin Upsets Gassiev in Turkey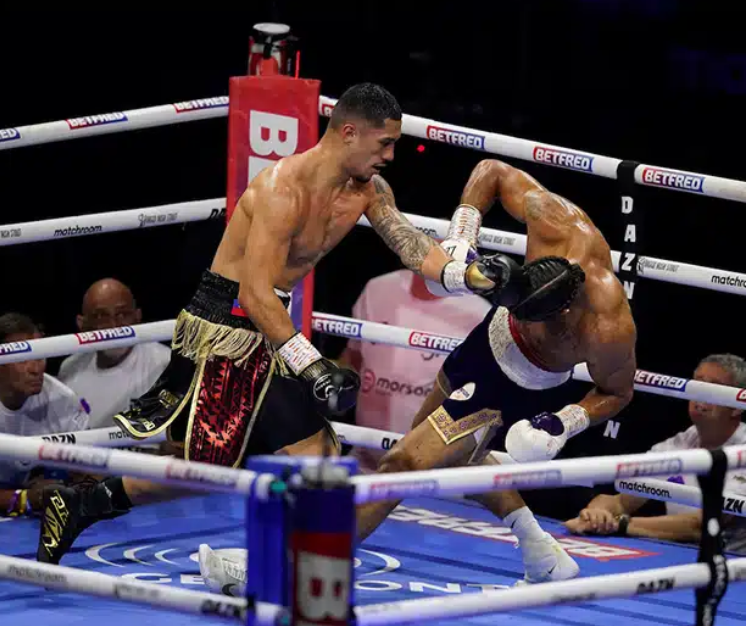 In his first defense of his IBF cruiserweight title, Australian southpaw Jai Opetaia demolished overmatched Jordan Thompson in the featured bout of a Matchroom card at London's Wembley Arena. Opetaia (23-0, 18 KOs) overwhelmed Thompson (15-1) from the opening gun and had the six-foot-six Mancunian on the canvas twice before the match was waived off at the 20-second mark of round four.
An Olympian at the age of 16, Opetaia won the title 15 months ago with a unanimous decision over longtime title-holder Mairis Briedis. Noting that Opetaia broke his jaw in two places early in that contest, prominent Australian sporting journalist Simon Smale called it "one of the bravest, gutsiest, victories in Australian boxing history."
Following that fight, Opetaia had to eat through a straw for several months. Hence, there were questions about whether his jaw would hold up and whether he would show ring rust in his first title defense. But the towering Thompson, whose nickname is Troublesome, although game, proved to be no trouble whatsoever for Opetaia who would be favored to beat any cruiserweight in the world, no matter the locale.
Opetaia may return to England for his next fight which would be a unification match with Bournemouth's 18-1 Chris Billam-Smith who captured the WBO version of the 200-pound title in May with a surprisingly one-sided decision over favored Lawrence Okolie. The other cruiserweight title-holders are the well-traveled Badou Jack (WBC) and the French-Armenian boxer Arsen Goulamirian (WBA).
Four female fights were on the undercard including two 10-rounders, both of which were won by the "A side" Englishwomen.
In her first title defense, Ellie Scotney, a 25-year-old Londoner, retained her IBF world super bantamweight title and improved to 8-0 at the expense of 37-year-old Argentine veteran Laura Soledad Griffa (20-9). In a rather monotonous fight, Scotney won every round on two of the scorecards and nine rounds on the other.
Rhiannon Dixon, a 29-year-old southpaw, had a surprisingly easy time with Norwegian veteran Katharina Thanderz, a former world title challenger. Dixon (9-0) won every round on all three cards. Thanderz, who trains in Spain, declined to 16-2.
Wallin-Gassiev
In a 12-round heavyweight fight in Antalya, Turkey, Swedish southpaw Otto Wallin (26-1, 14 KOs) won a split decision over Murat Gassiev (30-2). This was a dull fight. Owing to various issues, Gassiev had answered the bell for only eight rounds in the previous seven years and his vaunted power had deserted him. True, he landed the harder punches, but Wallin, who kept pecking away with his jab, was far busier and won the fight on volume alone. Two of the judges had it 115-113 for the Swede who is 6-0 since going 12 rounds with Tyson Fury. The other judge scored it for Gassiev by a bizarre 117-111.
Opetaia-Thompson photo credit: Mark Robinson / Matchroom
To comment on this story in the Fight Forum CLICK HERE