Corrales-Castillo I: The Hors d'oeuvres Before the Feast Were Tasty, Too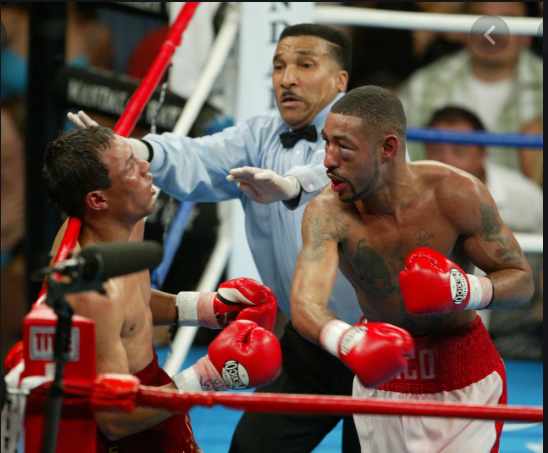 The anniversary date is approaching of the best boxing match I ever saw live and in person, the epic first meeting of lightweight champions Diego Corrales and Jose Luis Castillo, which Corrales won the night of May 7, 2005, by miraculously rallying to win on a 10th-round stoppage after being decked twice himself in that very same round. There have been more consequential fights I have covered from ringside – Hagler-Leonard, Tyson-Spinks, Tyson-Douglas and Chavez-Taylor I immediately spring to mind – but for unrelenting excitement and nearly incomprehensible momentum swings, Corrales-Castillo I tops even Arturo Gatti's two slugfests with Ivan Robinson and his unforgettable trilogy with Micky Ward.
But lost, or nearly so, in the annual homages paid to what Corrales and Castillo did in the ring that night at Las Vegas' Mandalay Bay is the celebration that preceded it at the same site the night before. That would be the 80th annual Boxing Writers Association of America Awards Dinner, the first for the organization not held on the East Coast. I have particularly fond memories of that historic occasion because I, the then-BWAA president, had an instrumental role in making it happen, as did several others, but I couldn't have known that the accompanying attraction the following night – Corrales-Castillo, which was televised by Showtime – would arguably make for the best weekend for boxing in the memories of many who were on hand for both events. If Corrales-Castillo I is a top contender for best fight ever, then the BWAA Awards Dinner the night before still stands as the undisputed champion of any such commemoration of the sweet science.
It was BWAA member and Las Vegas Review-Journal boxing writer Kevin Iole who first forwarded the idea that, since so many big fights were staged in his town, it might make sense to stage the 2005 dinner there. That seemed reasonable to me, so months in advance I sought to set things in motion. There were two prerequisites: the dinner would have to be paired with an attractive fight card the following evening, and be held at the same casino property hosting that card. I contacted officials at both HBO and Showtime, but it was then-Showtime Sports executive Jay Larkin – now, sadly, deceased – who enthusiastically said he would not only furnish an appropriate main event, but was willing to go a half-million dollars over his normal budget to make just the right pairing. Given today's bloated financial figures (see Mayweather-Pacquiao), that might not seem like much, but it was a major commitment on the part of Jay's company 15 years ago. With Showtime aboard, the Mandalay Bay also came on board as the host casino-hotel for the fight and the dinner, with Gordon Absher as gung-ho as Larkin and BWAA officers to ensure that everything went as smoothly as possible. What did happen, of course, exceeded ever our wildest expectations.
Interestingly, the 95th BWAA Awards Dinner, which remains in limbo because of the pandemic, was being discussed for Vegas in early May, to be held in conjunction with a Canelo Alvarez bout as is his custom for Cinco de Mayo weekend. Although our event still takes place most often in New York, we returned to The Strip a couple of times since 2005 and even went farther west, to Los Angeles, on another occasion. But wherever and whenever current BWAA president Joe Santoliquito and event coordinator Gina Andriolo choose to go, topping that 2005 dinner will be as daunting a task as attaching our event with a fight that can match or exceed Corrales-Castillo I.
—
Here is the column I wrote about the 80th annual BWAA Awards Dinner that appeared in the Philadelphia Daily News on May 10, 2005:
The wife was straightening the tie to my rental tuxedo when I made the mistake of fishing for a compliment.
"So what do you think?" I asked. "Cary Grant, right?"
"You look nice," my wonderful but honest Annie finally allowed. "But Cary Grant? I don't think so."
OK, so I'm never going to get a casting call for the remake of North by Northwest. Doesn't matter. An hour after adjusting those tricky cuff links, I was made to feel like a suave and debonair star of the screen at the 80th annual Boxing Writers Association of America's Awards Dinner, which was as close to Hollywood glitz as an ink-stained media wretch ever is going to get.
The host venue, Las Vegas' Mandalay Bay Resort and Casino, literally rolled out the red carpet for arriving guests. Fight fans were lined to the side holding out gloves and programs for the many current or former world champions to sign. None of the autograph seekers confused me for Cary Grant either, or for Bernard Hopkins for that matter, but, as president of the BWAA, I got pulled over for five television interviews. As I offered my thoughts on whatever to a microphone wielder with a blow-dried haircut, a camera crew to my left was interviewing Sugar Ray Leonard. One to my right was quizzing Don King.
At a resort that has a shark habitat, it occurred to me that I was chum in the water during a TV feeding frenzy. And I couldn't help but think that there never had been a night like this since the BWAA was founded in 1925 as the Boxing Writers Association of Greater New York.
Every year, usually in April (note: dinners now are held in various months, depending on the fight with which it can be linked), the BWAA convenes at a New York hotel to pass out awards to the Fighter of the Year, Manager of the Year, Trainer of the Year and so forth. It's a nice affair, reasonably well-attended, and a blip on the radar screen of the Big Apple's daily social calendar. Put it this way: the BWAA dinner isn't knocking the Yankees off the back pages of that city's tabloids.
Fourteen months ago, however, Las Vegas Review-Journal boxing writer Kevin Iole, the Western representative to the BWAA's board of directors, posed some simple questions. How come there never had been a BWAA Awards Dinner in Las Vegas, which is now the site of most major fight cards held in this country? And shouldn't the organization's premier event be accessible to members from California, Nevada, Arizona and New Mexico, most of whom had never or would never make it to New York for our annual shindig?
Hey, even the Army-Navy football game was played in the Rose Bowl once. So I told Kevin I would consider a BWAA road trip if (1) a host casino-hotel stepped forward, and (2) a suitable fight card could be arranged the following night as an anchor to our event.
Kevin soon advised me that the Mandalay Bay was willing to come aboard for May 7. Shortly after that, Showtime Sports head Jay Larkin committed to providing the best card he possibly could for the following night.
Saturday night, after Diego Corrales stopped Jose Luis Castillo in 10 rounds in a lightweight unification slugfest that became an instant classic, people still were coming up to me and saying this had been one of boxing's best weekends ever.
Hey, after 79 BWAA dinners – 76 in New York, two at Catskills resorts, one in Atlantic City – it probably was time for someone to float a test balloon in the southern Nevada desert. All I did was let go of the string that had kept us tethered to New York, New York.
The person most responsible for making the BWAA Awards Dinner a happening is Gordon Absher, public relations director for the Mandalay Bay. Gordon recruited so many big names, the group photographed in the ring that had been set up in place of a dais was the most impressive assemblage of boxing talent in one place anyone could remember.
Anyone lucky enough to be holding a ticket – and the event sold out, which probably is a first – could look around the room and see, among others, Leonard, Hopkins, Oscar De La Hoya, Vitali Klitschko, James Toney, Chris Byrd, Lamon Brewster, Winky Wright, Floyd Mayweather, Hasim Rahman, Shane Mosley, Erik Morales and Zab Judah.
There were Imax screens set up to either side of the ring for video highlights of the nominated fights and fighters, and a snappy, tightly scripted format that the people responsible for staging the Academy Awards would be wise to emulate.
Additional kudos go to Iole, our point guy at the scene; BWAA event coordinator Gina Andriolo and BWAA vice president Jack Hirsch, who helped stuff the goody bags attendees took home along with their memories.
Perhaps the most amazing development of all is that representatives of several prospective host venues, on both sides of the country, approached me with preliminary offers to host the 2006 BWAA Awards Dinner.
Hey, so what if Clint Eastwood, Hilary Swank and Morgan Freeman, the Oscar-winning stars of Million Dollar Baby, declined my invitation to meet and mingle with the fight folk?
The way this Cary Grant wannabe looks at it, that was their loss, not ours.
Check out more boxing news on video at The Boxing Channel 
To comment on this story in The Fight Forum CLICK HERE
Yoka TKO 12 Djeko in France: Claressa Pitches a Shutout on Ladies Day in Flint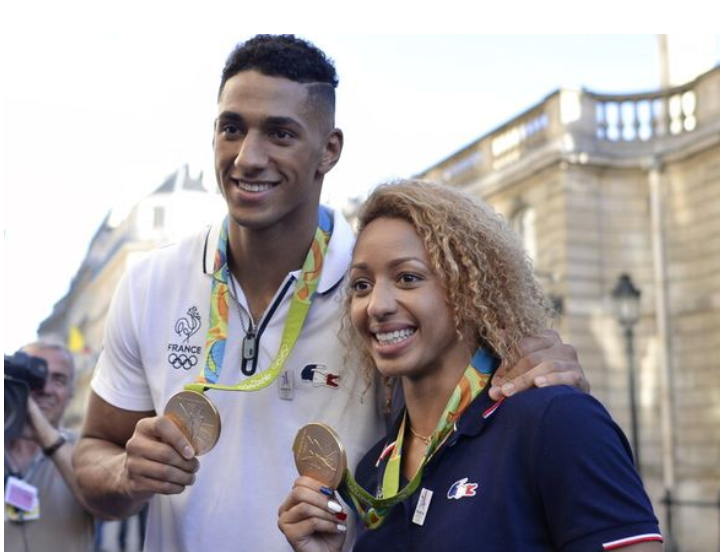 March 8 is International Women's Day which is actually a formal holiday in many parts of the globe. It was somehow fitting that female boxers were on display on the Friday feeding into it, a weekend without a must-see attraction on the men's side.
Today's activity began in the French port city of Nantes where 2016 Olympic gold medal winners Tony Yoka and Estelle Mossely, husband and wife, kept their undefeated records intact, both advancing to 10-0, against European opponents. Yoka (10-0, 8 KOs) was matched against Joel "Big Joe" Djeko (17-3-1), a 31-year-old Brussels native of Congolese and Cuban extraction who had fought most of his career as a cruiserweight. Mossely, a lightweight who now goes by Yoka-Mossely, drew Germany's Verena Kaiser (14-2).
At the Rio Olympiad, Yoka got by Filip Hrgovic in the semis and Joe Joyce in the finals to win the gold, winning both bouts by split decision. Both would be favored over the Frenchman in a rematch fought under professional rules.
Against the six-foot-six Djeko, Yoka controlled the fight with his jab, repeatedly backing his foe against the ropes. Very few of Djeko's punches got through Yoka's high guard. Had the fight gone to the scorecards, it would have been a rout for Yoka, but it didn't quite get there as Djeko turned his back on the proceedings midway through the 12th round after absorbing a sharp jab and it went into the books as a TKO for Yoka. At stake was some kind of European title or a derivation thereof.
Mossely's fight with Kaiser, slated for 10 two-minute rounds, followed a somewhat similar tack, save that it went the full distance. With only one knockout to her credit at the pro level, Mosseley, typical of female boxers, lacks a knockout punch. But she's a good technician and had too much class for the German.
Flint
A Covid-19 limited crowd of perhaps 300 was on hand to watch hometown heroine Claressa Shields oppose IBF 154-pound title-holder Marie Eve Dicaire at a 4,400-seat arena in Flint. There were five bouts on the undercard, three of which were women's bouts.
Shields, a two-time Olympic gold medalist, was seeking to become a four-belt title-holder in a second weight class, having previously turned the trick at 160. Dicaire, a 34-year-old southpaw, brought a 17-0 record but she had never won a fight inside the distance and all of her previous bouts took place in French-speaking Canada.
The self-proclaimed GWOAT, Shields has no peer between 154 and 168 pounds. Heading into this contest, she had hardly lost a round since meeting Hanna Gabriels and tonight was another total whitewash, her fourth overall in 10-round fights.
Claressa Shields, now 11-0 (2) may be too good for her own good. Her fights are so one-sided that they are monotonous. Her TV ratings have actually been falling. Today's show was a $29.99 pay-per-view on FITE when the established networks refused to meet her purse demands. It will be interesting to see how many tuned in.
In another fight of note, 2012 Olympic bronze medalist Marlen Esparza, in her first fight as a bantamweight, dominated Toronto's Shelly Barnett en route to winning a 6-round unanimous decision. There were no knockdowns, but the scorecards (60-54, 60-53 twice) were indicative of Esparza's dominance.
Esparza, who pushed her record to 9-1 (1), came in ranked #1 by the WBC in the flyweight class. Her lone defeat came at the hands of rugged Seniesa Estrada. Barnett declined to 4-4-3.
Check out more boxing news on video at the Boxing Channel
To comment on this story in the Fight Forum CLICK HERE
Brandon Adams Bursts Bohachuk's Bubble in Puerto Rico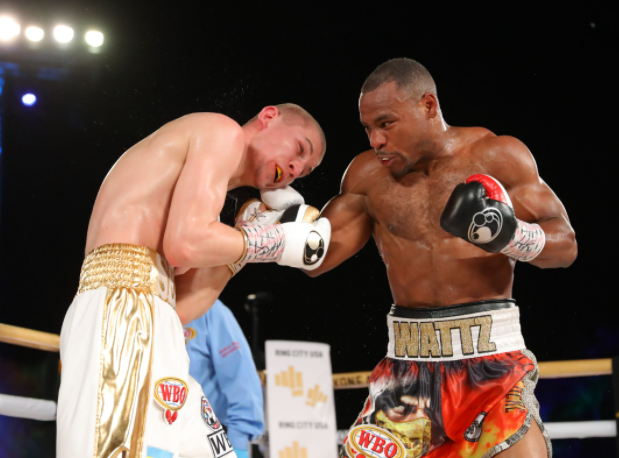 Brandon Adams Bursts Bohachuk's Bubble in Puerto Rico
Ring City USA, a new promotional entity, debuted on Nov. 19, 2020 with a show staged in the parking lot of Freddie Roach's Wild Card Boxing Club in Hollywood, CA. Ring City stayed outdoors for their first offering of 2021, but the company was a long ways from California. Tonight's card was staged on a roundabout near a municipal gym in Guaynabo, Puerto Rico.
The headline attraction was an attractive match between junior middleweights Serhii Bohachuk and Brandon Adams. The bout was originally set for Dec. 3, but had to be pushed back when Bohachuk tested positive for the coronavirus.
Bohachuk, a 25-year-old California-based Ukrainian, had stopped all 18 of his previous opponents. He had never gone past six rounds. Brandon Adams, a former world title challenger, represented a step up in class.
Bohachuk was well on his way to winning a unanimous decision when the tide turned dramatically in round eight. Fighting on a slick canvas, Adams suddenly found a new gear, unloading a series of punches climaxed by a thunderous left hook as Bohachuk retreated. The Ukrainian beat the count, but was teetering on unsteady legs and the referee properly called a halt.
Adams was without his regular trainer, 80-year-old Dub Huntley, who remained back in LA as a health precaution. In winning, he elevated his records to 23-3 (15). It was his best performance since defeating Shane Mosley Jr in the finals of Season 5 of the "Contender" series.
—
In the co-feature, an 8-round featherweight contest, Puerto Rico's Bryan Chevalier improved to 15-1-1 (12) with a third-round stoppage of Peru's Carlos Zambrano (26-2). Chevalier scored two knockdowns, the first a sweeping left hook that appeared to land behind Zambrano's head, and the second a punch to the liver that left Zambrano in severe distress. The referee waived the fight off in mid-count.
The official time was 2:21. Chevalier, a tall featherweight (5'11") made a very impressive showing; he bears watching. This was Zambrano's first fight since April of 2017 when he was knocked out in the opening round by Claudio Marrero in a bout for the WBA interim featherweight title.
—
The TV opener was an entertaining fight between contrasting styles that produced a weird conclusion when Danielito Zorrilla was awarded a technical decision over Ruslan Madiyev. The bout was stopped at the 1:16 mark of round eight after Zorrilla sank to his knees after absorbing a punch to the back of the head. The ringside physician examined him for evidence of a concussion, but ultimately it was Zorrilla's choice as to whether the bout would continue. He declined and was reportedly taken to a hospital for observation.
Madiyev, a California-based Kazahk, was the aggressor. He fought the fight in Zorilla's grill, often bullying him against the ropes. In round five, he had a point deducted for hitting behind the head, squandering what was arguably his best round.
The fight went to the scorecards with Zorrilla winning a split decision (77-74, 77-75, 73-76), thereby remaining undefeated: 15-0 (12). Ironically, Madiyev (13-2, 5 KOs), suffered his previous loss in a similar fashion.
Madiyev's new trainer Joel Diaz reportedly discouraged his charge from taking this fight for fear that he wouldn't get a fair shake in Puerto Rico. Diaz's apprehensions were well-founded.
Photo credit: Tom Hogan / Ring City USA
To comment on this story in the Fight Forum CLICK HERE
Ed Odeven's New Book Pays Homage to Sports Journalist Jerry Izenberg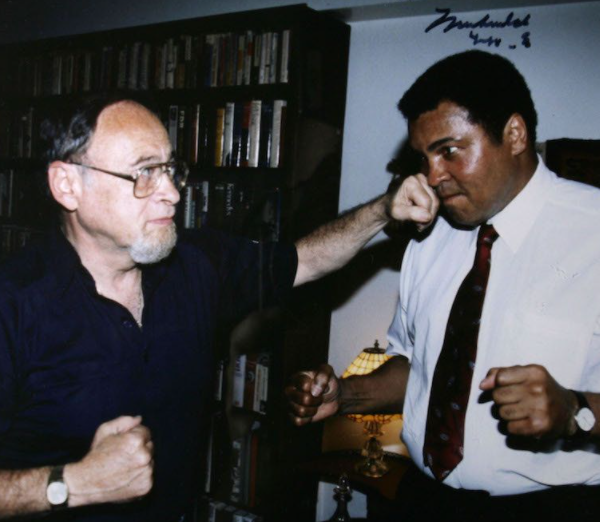 It's one thing to get to the top, but it's something else entirely to remain there for more than half a century. Jerry Izenberg, longtime sports columnist for the Newark Star-Ledger, now semi-retired and living in Henderson, Nevada, has done just that.
Izenberg is the subject of Ed Odeven's book, "Going 15 Rounds With Jerry Izenberg," which was released New Year's Eve and is available at amazon.com.
"By all accounts, he should be recognized as one of the greatest American sports columnists," said Odeven, a 1999 graduate of Arizona State University who has lived in Japan since July 2006 and is the sports editor for the website Japan Forward. "A versatile professional, he was equally skilled at writing books and magazine articles and producing sports documentaries and crafting essays for the groundbreaking 'Sports Extra' television program on Channel 5 in New York in the 1970s."
Odeven went on: "Jerry has seen everything and been seemingly everywhere. He brought gravitas to the newspaper sports section with decades of sustained excellence."
During a seven-decade career in sports journalism, the 90-year-old Izenberg, found time to write 15 non-fiction books and one novel. His affinity for the manly sport is reflected in his 2017 book, "Once There Were Giants: The Golden Age Of Heavyweight Boxing."
"From the 1950s to the present day [including recent years' coverage of Tyson Fury and Manny Pacquiao, for instance, Izenberg has shined in his boxing coverage," Odeven said. "You can't ignore his remembrance pieces on fighters and boxing personalities across the decades [such as a terrific column on the late Leon Spinks in which he weaved a tapestry of the fighter's life and his family's struggles into a powerful piece], either."
One of Izenberg's favorite topics is Muhammad Ali.
"Izenberg first observed the great fighter's infectious personality, popularity and boxing talent on display at the 1960 Rome Olympics," Odeven said. "Cassius Clay was unlike any other famous pugilist in those days and for the rest of his life."
Odeven spoke about the support Ali received from Izenberg: "When very few were publicly taking a stand to support Ali, Izenberg wrote columns that defended his right to fight. He took the boxing establishment to task for stripping Ali of his titles even while Ali's case was making its way through the courts – and ultimately the United States Supreme Court."
Izenberg, a graduate of Rutgers University who covered the first 53 Super Bowls, and Ali were close. "As friends, they were around each other in all corners of the earth," Odeven said. "They shared highs and lows during periods of personal and professional success and disappointment."
Here's Jerry Izenberg talking about Ali's humanity: "I was a single father and when my children came to live with me, they were very nervous. I took them to Deer Lake [Pennsylvania] for a television show I was filming as an advance to the Foreman-Ali fight. After the filming, knowing my situation, (Ali) took my son aside and put his arm around him and said, "Robert, you have come to live with a great man. Listen to him and you will grow to be a great man just like him.
"On the way up my daughter, who was seven, had said, 'I hope Foreman beats him up because he brags too much and you always told me to not brag.' "I told her, 'you are seven and you have nothing to brag about. Both of these men are my friends. When you get there, keep your mouth shut.' When we were packing up the equipment, he saw her in the back of the room and hollered, 'come up here little girl. You with the braids.' She was convinced I had ratted her out about what she said and tried her best to melt into the wall because she was frightened. As she walked toward him, she lost the power of speech and mumbled. He was 6-3 and she was 4-5. He grabbed her and held her over his head. 'Is that man your daddy?' All she could do was nod. 'Don't you lie to me little girl, look at him,' and he pointed at me. 'That man is ugly…ugly. You are beautiful, now gimme a kiss.' On the way home she said, 'I hope Muhammad can win,' and I said, 'you are just like the rest of them. The only difference is your age.' He was one of my five best friends. When he died, I cried."
Odeven offered his slant on why Izenberg was at home at major boxing events: "It was clear that Jerry was in a comfort zone on the week of a big fight, writing the stories that set the stage for the mano a mano encounter and the follow-up commentary that defined what happened and what it meant."
Izenberg, noted Odeven, had worked under the legendary Stanley Woodward, as had Red Smith and Roger Kahn, among others, the latter most well-known for having penned the baseball classic, "The Boys Of Summer." Many insist that Woodward, who read the classics, was the greatest sports editor.
Woodward, Odenven believes, helped shape Izenberg's world outlook. "Izenberg became keenly aware of this human drama at its rawest form that existed in boxing," he said, noting that in decades past the public was captivated by the big fights. "Examples, of course, include the first and third Ali-Frazier bouts and The Rumble In The Jungle [against Foreman]. Let's not forget they were cultural touchstones."
Referencing the third installment of Ali-Frazier in Manila, Izenberg said, "I've probably seen thousands of fights, but I never saw one when both fighters were exhausted and just wouldn't quit…My scorecard had Ali ahead by one which meant if Joe knocked him down in the 15th, he would have won on my card. But there was no 15th because Joe's trainer, Eddie Futch, ordered the gloves cut off after the 14th.
"At the finish, Ali collapsed. Later as Ali walked slowly up the aisle supported by his seconds, he leaned over toward the New York Times' Dave Anderson and me and said through puffy lips, 'Fellas. That's the closest you will ever see to death.'"
Izenberg remembered his lead: "Muhammad Ali and Joe Frazier did not fight for the WBC heavyweight title last night," he wrote. "They did not fight for the heavyweight championship of the planet. They could have fought in a telephone booth on a melting ice flow. They were fighting for the championship of each other and for me that still isn't settled."
What makes Izenberg relevant even today? "His canvas was the global sports landscape and he explored the human condition in each of his columns in some way," Odeven stated. "He recognized what made a good story and sought out individuals and topics that fit that description – and he still does.
"You could read a random stack of columns about any number of topics from the 1960s or '90s and be enlightened and entertained at the same time…He has always had a razor- sharp eye for details that illuminate a column and a source's words to give it added verve." Moreover, added Odeven, Izenberg had a never-wavering commitment to championing a just cause: "Speaking out against racism and religious bigotry, he gave a voice to the voiceless or those often ignored."
Note: Jerry Izenberg was inducted into the International Boxing Hall of Fame in the Observer category in 2015.
To comment on this story in the Fight Forum CLICK HERE