What's Your Favorite Boxing Match? Rigby-Ayers Tops My List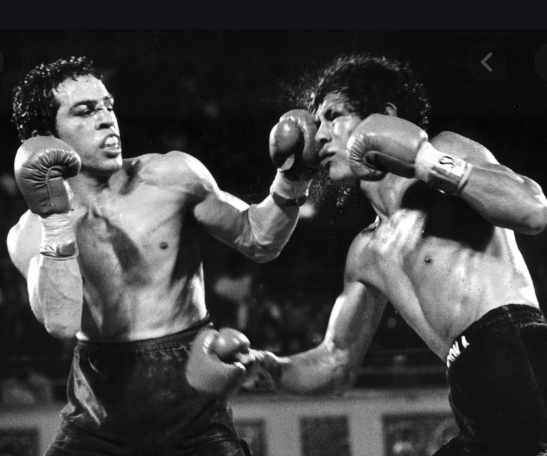 Many count Castillo vs. Corrales (2005) as their favorite. Fans of an earlier generation were partial to Graziano vs. Zale (1947), Pep vs. Saddler (1949), DeMarco vs. Basilio (1955), and Durelle vs. Moore (1958). The "War" between Hagler and Hearns (1985) rightfully tops many lists. When Hearns came out fast at the opening bell only to be met by a bald-headed monster, it was spine-tingling electricity at its best; it was anticipative mayhem.
Jorge Castro–John David Jackson (1994) was high drama. Morales-Barrera (2000) and Vazquez-Marquez (2008) showcased Mexican fighters who combined technique with a brawler's proclivity and that amounted to an atomic cocktail. Mancini vs. Frias was short but furious.
Bobby Chacon's 1982 battle with Rafael Limon, the most compelling and memorable of their four fights, was a classic and Chacon's battle the next year with Cornelius Boza-Edwards was legendary. The first Gatti vs. Ward is at the top end of many memory banks and, of course, Ali's bouts with Frazier and with Foreman are up there along with the frenzy of Pryor vs. Arguello (1982).
Lyle and Foreman exchanged bombs and knockdowns in 1976. Then in 1992, Michael Moorer and Bert Cooper did the same. These two brawls could easily be someone's favorite. However, the Nardico-Norkus eight knockdown Pier Six in 1954 was quintessentially old school and it is on many leaderboards. Under the radar Muriqi vs. Ahmad (2002) was new school but could be any school for its back-and-forth mayhem.
The Tommy Morrison vs. Joe Hipp slugfest in Reno in 1992 was "bone crunching." Morrison's jaw and both of his hands were broken, but Joe lost via a 9th round comeback stoppage by the "Duke." Not to be outdone, Hipp suffered a complete shattering of his cheekbones.
Bruce Curry and Monroe Brooks put on their own version of "To Live and Die in LA" in 1978 at the Olympic Auditorium. For those who witnessed the fifth round of the incredible Somsak Sithchatchawal vs. Mahyar "Little Tyson" Monshipour savagery in 2006, Brooks-Curry was like that for almost nine full rounds. Neither man died in L.A.; they both lived on, but in different ways.
Thus, it seems that every serious fan, aficionado, or writer has that One favorite fight, the one that is indelible and is locked into the memory like concrete. Here are several on my list:
Lee Roy "Solid Gold" Murphy vs. Chisanda Mutti (1985)
One of the most unique happenings in a boxing match occurred in Monte Carlo in 1985 when Chicagoan Lee Roy "Solid Gold" Murphy (the IBF cruiserweight titleholder) and rugged Zambian Chisanda Mutti simultaneously scored brutal knockdowns in the waning moments of the fight. A badly hurt Murphy barely beat referee Larry Hazzard's count while Mutti remained down and was counted out. The crowd was up and roaring in disbelief. Mutti had to be helped from the ring.
This was no Rocky movie; this was real and unforgettable and it came after an 11th round that had to be seen to be believed. In fact, the entire fight involved seesaw exchanges that were of the career-ending type.
Carl Thompson vs. Ezra Sellers (2001)
"Thompson looks to be hurt by every shot he takes, but then again so does Sellers."—Spencer Oliver
High up on my list is Carl "The Cat" Thompson vs. the late Ezra Sellers, a classic match in 2001 (with the somewhat recalcitrant but prime Steve Smoger refereeing) that involved at least six official knockdowns; Thompson hit the deck four times, Sellers twice. This was no boxing match but rather a no-holds-barred fight between two very exciting punchers.
Going into the third round, both men had been staggered and dropped hard; both were on the verge of being put to sleep. Finally, Sellers became the Sandman when he KOd The Cat in the fourth round with a crunching counter right hook, ending a winning streak that started after Thompson lost to Johnny Nelson in 1999. Thompson had been knocked down many times, but he always got up. This time he was separated from his senses and sent to Feline Dreamland. He finally rose from the canvas to the applause of the stunned and worried crowd.
My Number One: Michael Ayers vs. Wayne Rigby (July 1, 2000)
"Squinting at features even more battered than his own, Michael Ayers could tell from the look of resignation in Wayne Rigby's eyes that his opponent was finished. The fire which raged fiercely for 10 rounds had been doused. Then, with Rigby helpless and American referee Arthur Mercante Jr. hesitating, came a moment unique in boxing." — Mike Lewis, The Telegraph
…a credit to the sport f—– nearly brought me to tears i would've emptied my pockets and thrown it in the ring. — poster named Tony Stephenson
It was a shining example of the old fight game at its noble best. — Mike Casey
This bout, which occurred at the Bowler's Arena in Manchester, UK, had all the ingredients for a classic Brit dust-up and it didn't disappoint. And like Mutti-Murphy, it also involved unique happenings. The participants were late-substitute Wayne Rigby (17-5) from Manchester and Michael "Shaka" Ayers (28-3-1) from London. "Shaka" was the IBO lightweight titleholder.
On paper, Ayers, a stylist, looked to be the strong favorite. In fact, the accomplished Ayers had stopped the highly rated Colin Dunn in 1996. But the Mancunian challenger Rigby came to fight.
In the early going Rigby started fast showing surprisingly fast hand speed and a punishing right uppercut that he landed repeatedly. Things heated up in the third round as both men exchanged bruising shots, but Rigby was dictating the action to this point.
In the 4th round, Ayers fought back using a variety of punches behind a good jab and tightened things up. Then, in the 6th, "Shaka" put the lad from Manchester down with a beautiful straight right, but he failed to close matters.
Rigby came storming back in the 7th as both men engaged in mutual savagery, but Ayers managed to get in two crunching blows just before the bell that probably won the round for him. Rigby was fortunate the bell rang.
Again, showing great recuperative powers in the 8th round, Rigby drilled Shaka with every punch in the book and finally landed two hammering left hooks that sent the Londoner to the canvas like he had been hit with a Bobby's sap. Somehow, someway, the tough champion, who was in danger of being stopped for the first time in his long career, got up and signaled to Rigby at the bell that he had indeed been rocked. Mutual respect and uncommon sportsmanship was now in play. What else was in play was that Ayers was at risk of losing to a man, albeit a former British champion, who had taken the fight on short notice.
Ayers also showed his ability to recuperate as he came out fast in the 9th, but the round was Rigby's as he forced the action with straight rights, hooks and uppercuts to the rousing approval of his hometown fans. However, he expended valuable energy in the process. Both men continued to engage in malefic violence. Ayer's mouth was bleeding and Rigby's eyes were badly bruised.
The first half of the tenth round was even as both combatants continued to engage in what had become a closet classic. Ayers then began to use effective stinging right crosses and right leads. He took control with 1:26 left and accelerated his assault until the gallant Rigby found himself with an empty tank.
Then it Happened!
With only 29 seconds left, Ayers signaled to Mercante that the fight should be stopped, but for some inexplicable reason Mercante was not responsive. Ayers then pummeled his helpless and badly bloodied opponent until both men signaled that enough was enough, touched gloves, and headed back to their corners. This occurred with just 14 seconds left.
It was a rare moment of poignancy that made those who witnessed it feel chills run down their spines.
Mercante finally put his arms around Rigby to officially halt the fight, but the two noble warriors had already taken away that important responsibility from him. In fact, Mercante's potentially dangerous hesitation could well have resulted in Rigby taking career-altering punishment.
As Mike Lewis writes, "Dropping their hands, Ayers and Rigby decided there and then that this memorable bruising battle was over. They touched gloves, nodded at one another and headed back to their respective corners. [It was] an extraordinary finish to an extraordinary contest. Hardened Manchester ringsiders had never seen anything like it.
"Barry Hearn, my manager, said it was eerie," recalled the then 36-year-old Londoner Ayers of his remarkable victory which went into the books as a TKO. "It was almost as though Wayne and myself had communicated through telepathy. Somehow he got it across to me that he'd taken enough and I stopped."
But the very best quote came from Jerry Storey, Ayers' Irish trainer, when he said, "Those two guys showed boxing still had a soul."
Like most, I keep my own list of favorite fights. This one is at the top.
What's yours?
Ted Sares can be reached at tedsares@roadrunner.com
To comment on this story in The Fight Forum CLICK HERE
Mercito Gesta Victorious Over Jojo Diaz at the Long Beach Pyramid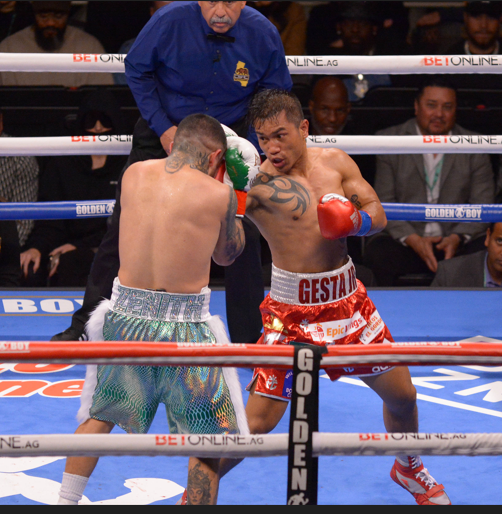 LONG BEACH, CA.-Those in the know knew Mercito Gesta and Jojo Diaz would be a fight to watch and they delivered.
Gesta emerged the winner in a super lightweight clash between southpaws that saw the judges favor his busier style over Diaz's body attack and bigger shots and win by split decision on Saturday.
Despite losing the main event because the star was overweight, Gesta (34-3-3, 17 KOs) used an outside method of tactic to edge past former world champion Diaz (32-4-1, 15 KOs) in front of more than 5,000 fans at the Pyramid.
The speedy Gesta opened up the fight with combination punching up and down against the peek-a-boo style of Diaz. For the first two rounds the San Diego fighter overwhelmed Diaz though none of the blows were impactful.
In the third round Diaz finally began unloading his own combinations and displaying the fast hands that helped him win world titles in two divisions. Gesta seemed stunned by the blows, but his chin held up. The counter right hook was Diaz's best weapon and snapped Gesta's head back several times.
Gesta regained control in the fifth round after absorbing big blows from Diaz. He seemed to get angry that he was hurt and opened up with even more blows to send Diaz backpedaling.
Diaz targeted his attack to Gesta's body and that seemed to slow down Gesta. But only for a round.
From the seventh until the 10th each fighter tried to impose their style with Gesta opening up with fast flurries and Diaz using right hooks to connect with solid shots. They continued their method of attack until the final bell. All that mattered was what the judges preferred.
After 10 rounds one judge saw Diaz the winner 97-93 but two others saw Gesta the winner 99-91, 98-92. It was a close and interesting fight.
"I was expecting nothing. I was the victor in this fight and we gave a good fight," said Gesta. "It's not an easy fight and Jojo gave his best."
Diaz was surprised by the outcome but accepted the verdict.
Everything was going good. I thought I was landing good body shots," said Diaz. "I was pretty comfortable."
Other Bouts
Mexico's Oscar Duarte (25-1-1, 20 KOs) knocked out Chicago's Alex Martin (18-5, 6 KOs) with a counter right hand after dropping him earlier in the fourth round. The super lightweight fight was stopped at 1:14 of the round.
A battle between undefeated super welterweights saw Florida's Eric Tudor (8-0, 6 KOs) emerge the winner by unanimous decision after eight rounds versus Oakland's Damoni Cato-Cain.
The taller Tudor showed polished skill and was not bothered by a large cut on his forehead caused by an accidental clash of heads. He used his jab and lead rights to defuse the attacks of the quick-fisted southpaw Cato-Cain. The judges scored the fight 80-72 and 78-74 twice for Tudor.
San Diego's Jorge Chavez (5-0, 4 KOs) needed less than one round to figure out Nicaragua's Bryan Perez (12-17-1, 11 KOs) and send him into dreamland with a three-punch combination. No need to count as referee Ray Corona waved the fight over. Perez shot a vicious right followed by another right and then a see-you-later left hook at 3.00 of the first round of the super featherweight match.
Photo credit: Al Applerose
Jojo Diaz's Slump Continues; Mercito Gesta Prevails on a Split Decision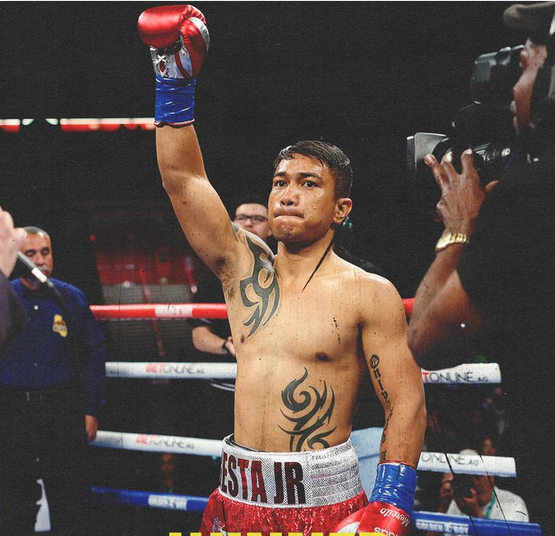 At age 30, Jojo Diaz's career is on the skids. The 2012 U.S. Olympian, a former world title holder at 126 and 130 pounds and an interim title holder at 135, Diaz suffered his third straight loss tonight, upset by Mercito Gesta who won a split decision at the Walter Pyramid in Long Beach, CA.. The scoring was strange with Gesta winning nine of the 10 rounds on one of the cards and only three rounds on another. The tie-breaker, as it were, was a 98-92 tally for Gesta and even that didn't capture the flavor of what was a closely-contested fight.
Originally listed as a 12-rounder, the match was reduced to 10 and that, it turned out, did Diaz no favors. However, it's hard to feel sorry for the former Olympian as he came in overweight once again, having lost his 130-pound title on the scales in February of 2021.
Diaz also has issues outside the ropes. Best elucidated by prominent boxing writer Jake Donovan, they include a cluster of legal problems stemming from an arrest for drunk driving on Feb. 27 in the LA suburb of Claremont.
With the defeat, Diaz's ledger declined to 32-4-1. His prior losses came at the hands of Gary Russell Jr, Devin Haney, and William Zepeda, boxers who are collectively 83-2. Mercito Gesta, a 35-year-old San Diego-based Filipino, improved to 34-3-3.
Co-Feature
Chihuahua, Mexico super lightweight Oscar Duarte has now won nine straight inside the distance after stopping 33-year-old Chicago southpaw Alex Martin in the eighth frame. Duarte, the busier fighter, had Martin on the deck twice in round eight before the fight was waived off.
Duarte improved to 25-1-1 (20). Martin, who reportedly won six national titles as an amateur and was once looked upon as a promising prospect, declined to 18-5.
Other Bouts of Note
New Golden Boy signee Eric Tudor, a 21-year-old super welterweight from Fort Lauderdale, overcame a bad laceration over his right eye, the result of an accidental clash of heads in round four, to stay unbeaten, advancing to 8-0 (6) with a hard-fought unanimous 8-round decision over Oakland's Damoni Cato-Cain. The judges had it 80-72 and 78-74 twice. It was the first pro loss for Cato-Cain (7-1-1) who had his first five fights in Tijuana.
In the DAZN opener, lanky Hawaian lightweight Dalis Kaleiopu went the distance for the first time in his young career, improving to 4-0 (3) with a unanimous decision over 36-year-old Colombian trial horse Jonathan Perez (40-35). The scores were 60-52 across the board. There were no knockdowns, but Perez, who gave up almost six inches in height, had a point deducted for a rabbit punch and another point for deducted for holding.
To comment on this story in the Fight Forum CLICK HERE
'Big Baby' Wins the Battle of Behemoths; TKOs 'Big Daddy' in 6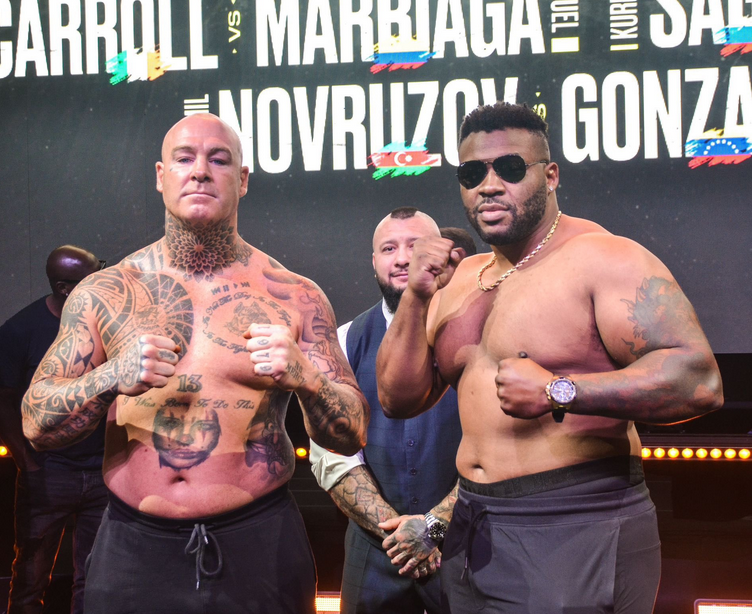 Lucas "Big Daddy" Browne weighed in at a career-high 277 pounds for today's battle in Dubai with Jarrell "Big Baby" Miller, but he was the lighter man by 56 pounds. It figured that one or both would gas out if the bout lasted more than a few stanzas.
It was a war of attrition with both men looking exhausted at times, and when the end came it was Miller, at age 34 the younger man by nine years, who had his hand raised.
Browne was the busier man, but Miller, whose physique invites comparison with a rhinoceros, hardly blinked as he was tattooed with an assortment of punches. He hurt 'Bid Daddy' in round four, but the Aussie held his own in the next frame, perhaps even forging ahead on the cards, but only postponing the inevitable.
In round six, a succession of right hands knocked Browne on the seat of his pants. He beat the count, but another barrage from Miller impelled the referee to intervene. The official time was 2:33. It was the 21st straight win for Miller (26-0-1, 22 KOs). Browne declined to 31-4 and, for his own sake, ought not fight again. All four of his losses have come inside the distance, some brutally.
The consensus of those that caught the livestream was that Floyd Mayweather Jr's commentary was an annoying distraction that marred what was otherwise an entertaining show.
As for what's next for "Big Baby" Miller, that's hard to decipher as he has burned his bridges with the sport's most powerful promoters. One possibility is Mahmoud Charr who, like Miller, has a big gap in his boxing timeline. Now 38 years old, Charr – who has a tenuous claim on a WBA world title (don't we all?) —  has reportedly taken up residence in Dubai.
Other Bouts of Note
In a 10-round cruiserweight affair, Suslan Asbarov, a 30-year-old Russian, advanced to 4-0 (1) with a hard-fought majority decision over Brandon Glanton. The judges had it 98-92, 97-93, and a more reasonable 95-95.
Asbarov was 12-9 in documented amateur fights and 1-0 in a sanctioned bare-knuckle fight, all in Moscow, entering this match. He bears watching, however, as Glanton (18-2) would be a tough out for almost anyone in his weight class. In his previous fight, at Plant City, Florida, Glanton lost a controversial decision to David Light, an undefeated Australian who challenges WBO world title-holder Lawrence Okolie at Manchester, England next week.
A 10-round super featherweight match between former world title challengers Jono Carroll and Miguel Marriaga preceded the semi-windup. Carroll, a 30-year-old Dublin southpaw, overcame a cut over his left eye suffered in the second round to win a wide unanimous decision in a fairly entertaining fight.
It was the sixth straight win for Carroll (24-2-1, 7 KOs) who elevated his game after serving as a sparring partner for Devin Haney. Marriaga, a 36-year-old Colombian, lost for the fourth time in his last five outings, declining to 30-7.
To comment on this story in the Fight Forum CLICK HERE