When Boxing Was Big on the Fourth of July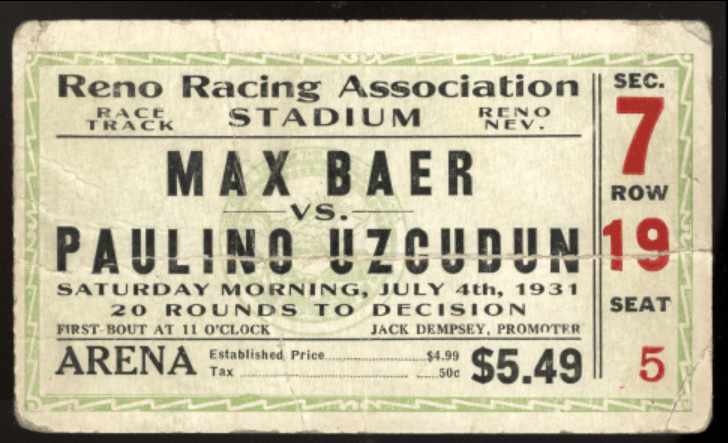 We're going way back, but there was a time when the Fourth of July was a big day for boxing in the U.S. The high-water mark, according to BoxRec, was set in 1922 when there were 67 shows spread across 27 states. In that year, the holiday fell on a Tuesday.
Two of the most historically significant fights were staged on the Fourth of July. In 1910, in a fight that "marinated" for almost five years, Jack Johnson successfully defended his world heavyweight title at the expense of former champion James J. Jeffries. Measured by the amount of newsprint expended on this story as it developed, Johnson vs. Jeffries was the biggest single-day sporting event in the history of man. In 1919, Jack Dempsey dethroned Johnson's conqueror Jess Willard, the first big bang in the Golden Era of Sports. And although it didn't move the needle, how appropriate in hindsight that Joe Louis began his pro career on the Fourth of July.
During the early years of the 20th century, promoters often hitched their events to other events – county fairs, carnivals, race meets, national conventions of fraternal organizations, and so forth. One might call these festival fights. The 1931 show in Reno featuring Max Baer and Paulino Uzcudun was an example. It was, in many ways, the quintessential Fourth of July boxing show, a window into western Americana.
In 1931, Reno (the "Biggest Little City in the World") was home to about 20,000 people. Twice that number swarmed into Reno on that year's Fourth of July. "Special trains by the score, automobiles by the hundreds and airplanes by the dozen poured into the famous divorce metropolis from the Pacific Coast. From the sandy wastes of Nevada came prospectors on burros, cowboys on horseback and ranchers in buckboard wagons," said the correspondent for the United Press.
The race meet was in progress and there were sundry other activities arranged to make the day special, but the big shebang was the prizefight.
The spearheads of the promotion, Bill Graham and James McKay, owned the Bank Club, Reno's biggest casino. Business was booming now that Nevada had legalized gambling, not that it made much difference in Reno where gambling was wide-open before the new law took effect.
Graham and McKay had made their fortunes running gambling saloons in Nevada mining towns and could afford to commit big dollars to the promotion. They brought in the great ring announcer Dan Tobey from Los Angeles (520 miles away) to serve as the master of ceremonies — Tobey was the Michael Buffer of his day — but their big coup was getting Jack Dempsey involved. Dempsey was retired, having last fought in 1927, but the Manassa Mauler was still a towering personality and his involvement insured good national newspaper coverage. For advertising purposes, he was named the actual promoter, the makeshift wooden stadium erected in the infield of the thoroughbred track was named for him, and he would serve as the bout's referee.
At this stage of their respective careers, Max Baer and Paulino Uzcudun were borderline journeymen. Baer's best days were ahead of him, but he had lost three of his last five. Uzcudun had lost four of his last seven beginning with a 15-round setback to Max Schmeling at Yankee Stadium. But Baer was still recognized as a man with a pulverizing punch and the pairing was smart from a geographical perspective. Baer had cultivated a strong following in northern California, Reno's primary tourist market. Uzcudun, who had his early fights in Paris, hailed from the Basque region of Spain.
The Reno area was home to many people of Basque descent, and Uzcudun, nicknamed the Basque Woodchopper, had a ready-made fan base. It was 11 pm on June 4 when Uzcudun arrived in Reno on the Southern Pacific to set up his training quarters, but despite the late hour, thousands were reportedly at the rail terminal waiting to greet him.
Baer arrived a few days later. It was customary in those days for the headliners in a big show outside a major metropolis to arrive in the host city several weeks before the event. They held public workouts and were squired around town to press the flesh to goose the gate.
With the city about to be inundated by a great throng, the Chamber of Commerce undertook a campaign to discourage price-gouging. The District Attorney cautioned homeowners renting beds to visitors to exercise caution when accepting checks, "particularly checks drawn on banks in other cities." Those that came by rail and could afford a berth in a Pullman car brought their own hotel rooms. The Pullmans were diverted to a side track where they sat until the excursionists were ready to leave.
There was never a dull moment in Reno, a place where gambling houses operated around the clock. Reporters had plenty to write about besides the big fight. The cantankerous mayor, E.E. Roberts, was quite a character. To boost tourism, he "advocated placing a barrel of corn whiskey on every corner of the city with a dipper attached and a sign directing all favorably inclined to drink as much as they pleased." Prohibition was still in effect and this didn't sit well with federal prohibition agents. On June 30, the day prior to the start of the racing meet and four days before the big fight, agents from the San Francisco office descended on the city, raiding 19 saloons and arresting 37 people for violating the Volstead Act. By most accounts, this barely dented the city's saloon industry.
The Fight
Although no title was at stake, the bout — billed as the "Battle of the Sagebrush" — was scheduled for 20 rounds. It was a messy affair fought on a sweltering day where the temperature at ringside climbed into the mid-90s. "On occasion they butted like goats," said a ringside reporter.
The match, which lasted the full distance, struck some reporters as vicious and others as rather tame – there were no knockdowns — but on two matters everyone agreed: it was a closely contested contest and both Baer and Uzcudun exhibited great stamina. By and large, Baer landed the cleaner punches but Uzcudun, who had a famously awkward style, a peek-a-boo defense grafted to a low crouch, stubbornly pressed the action and was commended for his tenacity.
At the end of the 19th round, referee Dempsey, the sole arbiter, leaned over to a group of reporters and told them that he would award the fight to the man that had the best of it in the final round. That proved to be the Basque Woodchopper, who had attracted most of the bets in the betting shed built adjacent to the arena.
The attendance was listed at 18,000, but it would be reported that only 9,260 paid. Looking back 10 years later, an attendee recalled that "gatecrashers by the hundreds swarmed over the racetrack fences and infiltrated from all angles. There just weren't enough cops, ushers, and guards to handle them."
The promoters reportedly lost money, but the visitors must have been good spenders because Dempsey was back in Reno with another Fourth of July prizefight the following year. The 1932 promotion, pitting Max Baer against King Levinsky in the main event, was a big disappointment, playing out in a half-empty stadium, but at least those in attendance could say that they got to see a future heavyweight champion in action. Not quite two years later, Baer massacred Primo Carnera at an outdoor arena in Queens, igniting a short- lived title reign. (Rising heavyweight contender Joe Louis would subsequently defeat all three of the Reno headliners, knocking out Levinsky, Baer, and Uzcudun, in that order, in consecutive bouts.)
Reno's second "Battle of the Sagebrush" was a would-be extravaganza that fell flat, the fate of most holiday festival fights, a development that the late, great sportswriter John Lardner attributed to "chuckleheaded boosterism."
That's a story for another day. In the meantime, here's wishing everyone a Happy Fourth of July.
EDITOR'S NOTE: This is a reprint of a story that ran on these pages on July 3, 2018.
Check out more boxing news on video at The Boxing Channel 
To comment on this story in the Fight Forum CLICK HERE
Avila Perspective, Chap. 126: Viva Puerto Rico, Claressa Shields, Canelo and More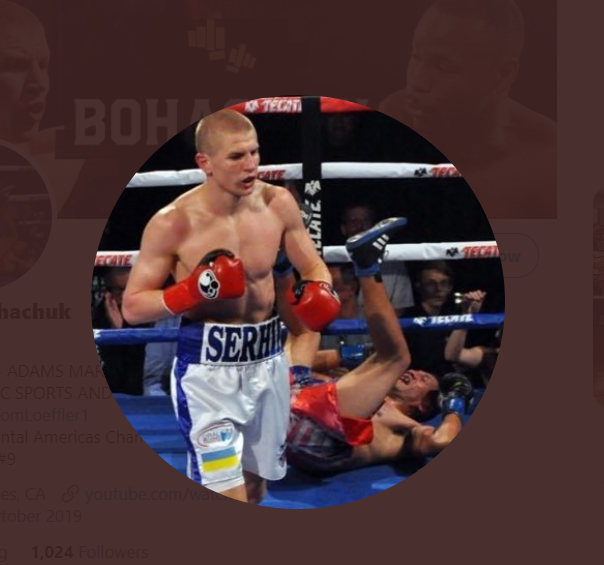 Avila Perspective, Chap. 126: Viva Puerto Rico, Claressa Shields, Canelo and More
In the age of Covid-19 fights get canceled and re-arranged and that's found here in this second attempt to stage Serhii Bohachuk versus Brandon Adams in a super welterweight showdown.
This pairing was first talked about back when the Dodgers and Lakers both won world championships last October. Finally, it's ready to cast off.
Beautiful Puerto Rico will be the locale for Bohachuk (18-0, 18 KOs) when he meets Adams (22-3, 14 KOs) on Thursday March 4, at Felix Pintor Gym in Guaynabo. NBC Sports Network will televise the Ring City USA fight card.
"Flaco" Bohachuk has rampaged through the super welterweight division like a ravenous Ukrainian version of Pacman. Who can stop him?
Adams has fought the better competition including a world title match against Jermall Charlo that he lost by decision less than two years ago.
Other factors exist.
Bohachuk was formally trained by Abel Sanchez in Big Bear Mountain but now works with Manny Robles at sea level. Will it make a difference when he trades blows against the smaller but seemingly stronger Adams?
"We're taking this fight seriously against Adams," said Robles who has trained numerous world champions including Oscar Valdez and Andy Ruiz. "Adams is a very strong fighter."
Bohachuk last fought deep in the heart of Mexico and emerged with a stoppage that saw him scrap with little-known but tough-as-nails Alejandro Davila. Both landed serious stuff but Bohachuk just had more firepower.
Adams says he has seen firepower like Bohachuk's before. He went toe-to-toe with Charlo for the WBC middleweight title and never touched the canvas. He's smaller but more muscular and has fought taller guys most of his career.
This is one of those fights that used to be held at the Olympic Auditorium back in the day. Ironically, there is a documentary that has just been released about those days before it was closed to boxing in 2005.
Added note: Fernando Vargas Jr. will also engage on the fight card. The son of "El Feroz," Fernando Vargas Jr. fights out of Las Vegas and will be in his second pro fight as a super middleweight.
Women's pay-per-view
An all-women fight card led by Claressa Shields takes place on Friday March 5. It will be streamed by FITE.tv beginning at 6 p.m. PT. Price is $29.99.
Shields (10-0) faces her toughest foe yet when she steps in the boxing ring against Canada's undefeated Marie Eve Dicaire (17-0) for the undisputed super welterweight world championship.
Dicaire is a tall southpaw with speed and agility who has defeated several world champions.
Shields is a two-time Olympic gold medalist and former undisputed middleweight world champion and super middleweight titlist who dropped down two weight divisions to pursue this venture.
Also, just added is Marlen Esparza, a USA Olympic bronze medalist, and current flyweight contender.
Esparza (8-1) agreed to fight on the pay-per-view card and meets Shelly Barnett (4-3-2) in a six-round bout set for the super flyweight division. Her last fight took place in October and she handed talented Sulem Urbina her first loss as a pro.
Barnett is a Canadian veteran of nine pro fights including an eight-round battle with Florida's Rosalinda Rodriguez.
Rumor has it that Esparza is getting prepared for a showdown with Mexico's Ibeth "La Roca" Zamora for the WBC flyweight world title later in the spring.
It's a pretty good pay-per-view card that also features Danielle Perkins, Logan Holler and Jamie Mitchell in competitive fights. If you haven't seen women fights, take a look. Shields alone can astonish with her fighting skills.
Canelo
That redhead from Mexico continues to decimate the competition whether its from England, Turkey or Russia. Line them up and let them fly.
Saul "Canelo" Alvarez holds the WBA and WBC super middleweight world titles and was forced to fight the number one contender Avni Yildirim and promptly stomped him out like a bug on the rug.
Fans get upset. They don't understand that ratings exist and with four or five sanctioning organizations all having different standings, a fighter like Alvarez who has two titles is forced to fight fighters ranked number one through 10. But it's just a part of boxing that has to be done.
Alvarez had already skipped Yildirim before to fight Callum Smith for the WBA title which he won by unanimous decision. Now he will be meeting another Brit in Billy Joe Saunders who has the WBO version of the super middleweight title. It will take place on May 8, most likely in Las Vegas. That's Cinco de Mayo weekend. Las Vegas needs the bank. Once again it depends on the Covid-19 situation.
Off topic, Canelo recently had an exchange with Claressa Shields who posted on social media that the Mexican redhead is one of her favorite fighters. She likes working on technique and posted one of her workouts where she is hitting a heavy bag with a combination that she saw Canelo use.
Canelo saw it and gave her a few tips. Champion to champion. That was kind of cool.
Farewell to L.A. Favorite
Featherweight contender Danny Valdez passed away on Sunday February 28 in Los Angeles. He was 81.
Valdez held the California Featherweight title when the state championship was not easy to gain. He also vied for the world title against Davey Moore in April 1961 in Los Angeles.
Many of his battles took place at the vaunted Olympic Auditorium where he fought the likes of Gil Cadilli and Sugar Ramos. Back in those days there was no better place to fight than the Olympic. But Valdez did engage in battles at Wrigley Field and the Hollywood Legion Stadium too.
Though Valdez fought up and down the West Coast in Oregon and California, he primarily battled at the Olympic Auditorium, a total of 24 times in all. If you ever watched a boxing card at the Olympic, it was a magical place.
Fights to Watch
(All Times are Pacific Time)
Thurs. 6 p.m. NBC Sports Network Serhii Bohachuk (18-0) vs Brandon Adams (22-3)
Fri. 6 p.m. FITE.tv.  Claressa Shields (10-0) vs Marie Eve Dicaire (17-0); Marlen Esparza (8-1) vs Shelly Barnett (4-3-2); Logan Holler (9-0-1) vs Schemelle Baldwin (3-1-2); Danielle Perkins (2-0) vs Monika Harrison (2-1-1); Jamie Mitchell (5-0-2) vs Noemi Bosques (12-15-3).
To comment on this story in the Fight Forum CLICK HERE
Ramirez vs. Taylor Adds Luster to an Already Strong Boxing Slate in May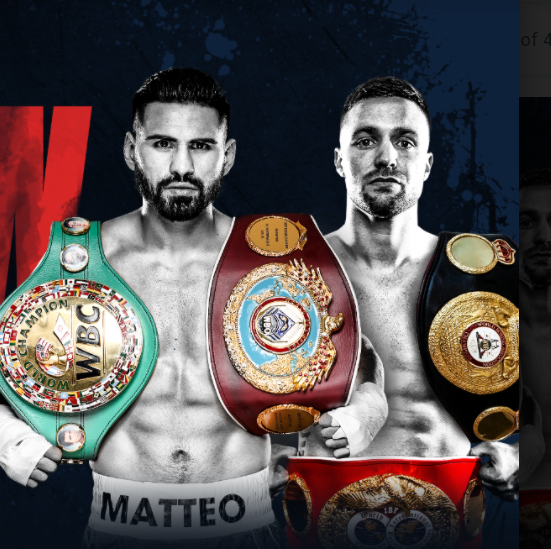 Boxing will heat up big-time in May. Canelo Alvarez will defend his WBC 168-pound title on May 8 against Billy Joe Saunders. Two weeks later, WBC/WBO 140-pound champion Jose Ramirez (26-0, 17 KOs) meets his IBF/WBA counterpart Josh Taylor (17-0, 13 KOs). Teofimo Lopez's title defense against George Kambosos may transpire in May and now there's talk that Manny Pacquiao will also return in May with Mikey Garcia in the opposite corner.
The Ramirez-Taylor fight was announced today (March 2). The match between the undefeated belt-holders, both former Olympians, will produce the fifth unified champion of the four-belt error. Middleweights Bernard Hopkins and Jermain Taylor, junior welterweight Terence Crawford, and cruiserweight Oleksandr Usyk are the only boxers to have held this distinction.
Ramirez vs. Taylor will be on ESPN. The fight appears headed to an MGM Grand property in Las Vegas. The T-Mobile Arena, the city's largest indoor sports arena, is likely in the running. The arena houses the city's professional hockey team, the Golden Knights, which played their first game in many moons with fans in attendance on Monday. Attendance was capped at 15 percent of capacity and the game was a "sellout" with all 2,605 available seats attracting occupants.
Josh Taylor, who made his pro debut in El Paso, of all places, will be making his second appearance in Las Vegas, assuming the fight transpires there. The Tartan Tornado appeared at the MGM Grand Garden on Jan. 28, 2017, on a card topped by the WBA featherweight title rematch between Carl Frampton and Leo Santa Cruz. Taylor and Frampton then shared the same trainer, Shane McGuigan.
In the words of Bob Arum, "Ramirez vs. Taylor is the best boxing has to offer, two elite fighters in the prime of their careers colliding in a legacy-defining matchup for the undisputed championship of the world. It's a true 50-50 fight…."
In boxing, unlike other sports, anything under 2-to-1 is basically a "pick-'em" fight, so Arum isn't far off the mark. For the record, however, the first betting lines to appear show the Scotsman the favorite in the 7-to-4 range, a price obviously based on the assumption that the fight will be held in Nevada, or at least anywhere other than Glasgow or Fresno.
Ramirez didn't look sharp in his last outing when he scored a majority decision over Victor Postol at the MGM Bubble. Ramirez said he was burned-out after a long training camp – the fight was postponed twice – and said he thought the sterile atmosphere affected him; he was used to feeding off the energy of a crowd. Josh Taylor also had a tough time with Postol when they met in a 12-round bout at Glasgow on June 23, 2018 (the gritty Ukrainian is a tough nut to crack), but one would not have gleaned that from the scorecards which were soaked with hometown bias.
Josh Taylor's last fight was at fan-less York Hall in London. The Scotch southpaw was entitled to a breather after his epic encounter with Regis Prograis and the IBF had just the ticket in mandatory challenger Apinun Khonsong. Taylor dismissed the overmatched Thai in the opening round with a body punch. This was Taylor's first fight with new trainer Ben Davison.
The last time that Arum called an upcoming match a 50-50 fight, he was hyping the all-Mexican showdown between Miguel Berchelt and Oscar Valdez. That was no 50-50 fight, Berchelt was a solid favorite, but as it turned out, the pricemakers had underestimated the underdog who delivered the goods in a wildly entertaining skirmish.
On paper, Ramirez vs. Taylor will also be a very entertaining affair.
Check out more boxing news on video at the Boxing Channel
To comment on this story in the Fight Forum CLICK HERE
From the Desert, Jack Dempsey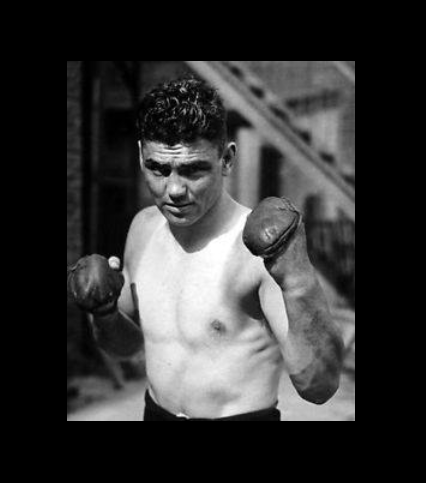 Jack Dempsey, who has been matched by Jack Goodfriend to fight at the Hippodrome Monday, May 31 is expected to arrive from Reno within a day or two.  The match will be a ten round contest and preceded by a couple of good preliminaries. (The Goldfield News, May 22nd, 1915.)
In May of 1915 Jack Dempsey found himself trapped in Nevada and between purses. Fifty miles from his payday with no rail to ride, he walked out of the desert and into Goldfield, stuck the bewildered promoter for an advance and hired a sparring partner, knocked the sparring partner out and hired another.
Walking in ninety-five-degree weather can be dangerous for even an experienced athlete, but it seemed to agree with Jack. He had marched into Goldfield to meet a light-heavyweight named Johnny Sudenberg, a game but limited battler who had for the first time strung a decent run of wins together, all of them fought in the desert Dempsey travailed on foot. Dempsey had scored a series of knockout wins in Salt Lake City, enough that his name was known and interest in his proposed match with the local man stoked.
"Jack Dempsey, the husky Pueblo middleweight, who will meet Johnny Sudenberg at the Hippodrome next Monday night in a ten round bout arrived in camp this morning," reported regional press. "Several local men have seen Dempsey in action…and all [are] united in the prediction that Johnny had better be 'right' when he crawls through the ropes."
It speaks of boxing's burgeoning's status in the United States that there were two gymnasiums in Goldfield capable of staging training. Dempsey worked out at the Unity Club, little more than a middleweight, perhaps not least because of his fifty-mile travail through the desert earlier that week. He boxed a local footnote named Dick Trounce and he may also have boxed some rounds with the world class bantamweight Roy Moore.
Sudenberg, stung by assertions that it was Dempsey, not he, who was the puncher in the fight, bristled and demanded of himself a knockout while training down the street in the Northern Gymnasium.
There is a divergence now between Dempsey's recollection of the fight and the newspaper reporting of the day. Before the fight, although he may have shared a ring with Jack Dempsey, not known for his tender attentions of even much smaller sparring partners, Roy Moore advised his sparring partner to steer clear. "Don't slug with Sudenberg.  He's awful strong. Stay away from him."
Dempsey claims to have dismissed this advice, telling Roger Kahn, author of A Flame of Pure Fire, that the match was a brutal slugfest from the first. Local press though reported on a fight that was marked by cautious sparring early, and that after "feeling each other out" for two rounds that Dempsey dominated, it was Sudenberg who changed the pattern and "owing to the greater height and reach" Dempsey possessed, brought the fight to the inside. A fine battle resulted and one that saw Dempsey descend into total chaos for the first time, a feeling that would become as familiar to him as slipping on a pair of old shoes.
"I just kept swinging. Sometimes I think I saw a face in front of me, sometimes I didn't. I kept swinging."
Dempsey claimed he could remember nothing after the fifth.
A rematch was not immediately slated, but the failure of a potential Sudenberg opponent to deliver on a sidebet let Dempsey back in just days later. Dempsey moved a bit further north with the purses, his second battle with Sudenberg staged in Tonopah. Still years from the three-ringed circus his career would become, there was interest surrounding the young scrapper who trained for the fight in the town's casino. Tonopah was a young but bustling setting, festooned with banks and lawyers and saloons as money poured in from Nevada's second largest silver strike. By 1920 they had pulled $121m out of the ground and Dempsey was there to pull out his own piece.
"A great many were dissatisfied with the decision last Monday," wrote the Tonopah Daily upon the fight's announcement. "Dempsey gave Sudenberg the best fight he has had in this part of the country."
Sudenberg, who seems to have been a prickly character, held the power in his relationship with Dempsey and so clearly backed himself to win a rematch. A fascinating aspect of the fight is their respective sizes. Dempsey was referred to as a middleweight in the earliest dispatches surrounding the fight, but in the ring made an impression upon ringsiders as the bigger man. Taller, rangier, it is possible he was already the heavier of the two or it may be that his trek through the surrounding desert left an early impression of litheness which slipped away as Dempsey, holding cash, boxed and ate his way to a size advantage during the build-up. The Goldfield News described him upon entering the ring for the rematch as looking "more like an overgrown schoolboy than a fighter" as he stepped on the canvas before noting wryly that he "proved otherwise."
The fight quite literally drew from miles around, with "Goldfield well represented at ringside" and "eight to ten auto loads" appearing from nearby mines. Dempsey grabbed their attention early, a man you will recognise, coming out of his corner like a rocket and deploying what the Tonopah Daily Bonanza named "Dempsey's mass attack," presumably an early incarnation of the terrible beating he would inflict upon Jess Willard in Toledo with the world's title at stake. Indeed, Sudenberg does appear to have visited the canvas in that first round, but Dempsey, over-eager, under-seasoned, missed with key punches following up his advantage and the canny Sudenberg survived a round of murderous intent.
Papers also report the use of straight punches by Dempsey, that he preferred range and looked to that superior range to dominate. Early Dempsey contests fascinate me in that they repeatedly throw up this story, of a fighter who at just 6'1 was able to dominate most of the desert's pugs with height and reach. Here he plays the role that would later be played by Willard, Carl Morris and Fred Fulton, longer men trying to control the range while Dempsey tormented them with slips and punches.  Here it was Sudenberg who in the third and fourth seemed to do something of a job, getting inside and hitting to the belly while the two accused each other of low blows.
Dempsey is a victim of some criticism over his own use of low blows, alleged or otherwise, in huge fights with Tommy Gibbons and Jack Sharkey. It should be remembered always that he learned his trade in spots like Tonopah and Goldfield where local referees were not sympathetic to pleas for justice to be dispensed. Dempsey fought like a fistic savage because he was raised as one.
After just four rounds in Tonopah, he was tired, feeling the effects of a difficult month and a fast fight. "Dempsey takes punishment well and ducks cleverly," noted The Bonanza, while The News saw Dempsey holding on a good deal more in the second half of the fight.
By round eight, Sudenberg began to show the effects of Dempsey's right hand which he worked "like a sledgehammer" while Sudenberg "lands heavily on Dempsey's digestive apparatus." At the final bell the two worked one another mercilessly in search of the decision, but they were greeted by a draw.
Under a more modern ruleset I suspect that Dempsey would have received the nod. He crushed Sudenberg in the early part of the fight and more than matched him late, but with the referee acting as a single judge, draws in fights where a winner was not inarguably apparent were common.  Fighters expected it and pressmen expected it, which is perhaps why some of those in attendance saw the result as eminently reasonable. Dempsey clearly landed the better shots, but Sudenberg was rewarded for his gameness in "carrying the fight" a tenet of the era.
Dempsey had impressed though. "In Dempsey, who gives the promise of developing into a heavyweight," stated The News, "there is room for a world of improvement, and with the experience he will gain during the next few years he should make a formidable opponent for any scrapper."
Portentous words.
When Dempsey left Tonopah – history does not record whether he walked out – he was mere days from his twentieth birthday, an overgrown schoolboy appearing on the good end of draws against older, more experienced men, already determined to become heavyweight champion, already of the belief he would become one. History tells of a third fight between he and Sudenberg the following February, a more mature Dempsey thrashing a cowed Sudenberg in two rounds.
I spoke to Dempsey scholar and author of the outstanding In The Ring series, Adam Pollack. "Didn't happen," was his verdict.  "I am certain it didn't take place."
It is nice to have this one cleared up. Dempsey did not need to defeat Sudenberg to leave him behind. Dempsey, like any heavyweight champion has his obsessed fans – among them the men who developed a single thin thread concerning a third Sudenberg match and turned it into a truth that was reported in A Flame of Pure Fire and elsewhere – and obsessed haters, but there is no denying what he did. Irresistible and eternal, people will generate and propagate myths about Jack Dempsey for as long as there is fighting.
This story is about his beginnings – see the single-minded determination that saw him walk fifty miles through a desert? See the legendary fast start in the second fight? The mid-round sag that would lead Jack Johnson to label him a three-round fighter? His bending of the rules? Then again, what of his seeming determination to box against a smaller opponent? This was something he abandoned in time to avoid disaster against geniuses like Tommy Gibbons although it would not be enough to save his weary legs from Gene Tunney's escape.
Dempsey's matches with Sudenberg were his emergence from the desert in more ways than one.  They were where his pursuit in earnest of the world's heavyweight title began. These were his first major steps outside of Salt Lake City where his ambitions were as penned as Sudenberg's were in the desert; the defining series of an emergent Jack Dempsey.
Check out more boxing news on video at the Boxing Channel
To comment on this story in the Fight Forum CLICK HERE