Iran Barkley and Junior Jones: After the Final Bell, the Real Fight Began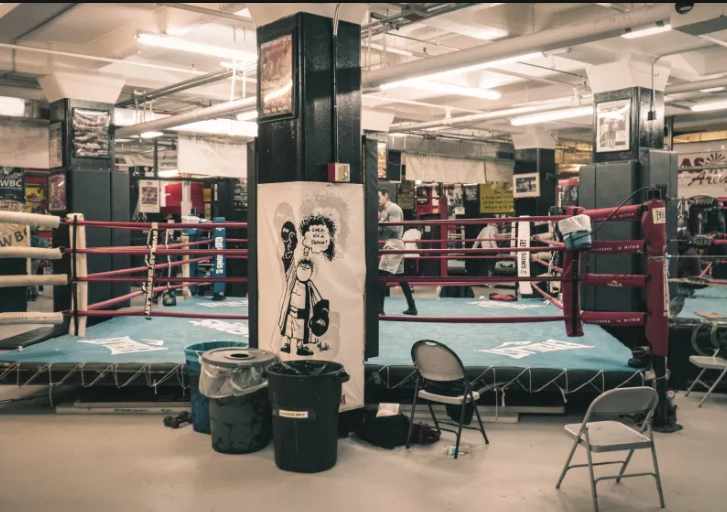 Iran Barkley and Junior Jones: After the Final Bell, the Real Fight Began
A TSS CLASSIC — The stifling heat of Gleason's Gym in Brooklyn makes for an unforgiving environment, and it seems to be taking its toll on the grunting heavyweights sparring in the main ring.
A muscular black fighter, who has made fifteen professional outings and considerably outweighs his pale amateur opponent, is dominating the affair. With one minute remaining, the pro unleashes a sustained barrage of heavy hooks to his opponent's
head. The despondent novice is backed into a corner and absorbs the blows with little resistance as his nose ruptures, turning his white face into a crimson mask.
Most ringsiders holler in approval at the striking power. But one observer is not impressed.
"Hey, hey, that's not right, shouts Iran Barkley, a physically imposing 220-pound ex- pug that wears the remnants of a 63-fight career on a battle-scarred visage. "Sparring is about learning, not getting beat-up. Nobody gets anything out of a beating.
As the vanquished fighter exits the ring holding a claret-stained towel to his nose, he is approached by Barkley. "Yo, you're not here to get beat-up, offers the three-time world champion. "Don't let anyone do that to you. You have to look after yourself.
Barkley's act of empathy contradicts his reputation as a malevolent slugger who held membership in New York's violent Black Spades street gang.
After consoling the bloody novice, the 49-year-old Barkley strides with his head-down towards a treadmill to begin an hour-long exercise routine that includes calisthenics, weightlifting and shadowboxing.
Midway through the workout Barkley pauses to wipe the trickles of sweat from his shaven skull. His left eye is barely visible through a thick mass of tissue that overhangs his brow; an everlasting consequence of claiming world titles in three different weight
classes, ranging from middleweight [160 pounds] to light heavyweight [175 pounds].
"I like to work out as much as I can, he says. "I also work a few days a week helping out kids in a neighborhood in the Bronx. It gives me something to do.
*****
A bank worker's attempts to casually ascend the steps from Manhattan's Penn Station are stymied when an opposing swarm of rush-hour commuters surge down the stairway. His unassuming demeanor proves no match for the bustling horde and his slim frame quickly becomes lost in a wave of humanity.
There is an added element of chaos to the busy walkway on 34th street as noisy groups of hockey fans make their way towards Madison Square Garden. Big events at the fabled arena create a unique energy in the vicinity; energy this worker has experienced in a deeper sense than most.
A nose curved where it should be straight and flat where it was once curved alludes to Junior Jones's former profession. He fought at the Garden on six occasions during a 56- bout prizefighting career; an occupation far removed from his current employment
in an administrative role at a New Jersey branch of the UBS financial services firm.
These days his work is conducted during daytime hours, but walking past the Garden rekindles memories of big nights at the fabled arena.
"It was such a rush fighting there in front of my hometown fans, says the Brooklyn-born Jones in a soft tone that belies the brashness of his surroundings. "But sometimes in the Garden I tried so hard to impress everybody that I got carried away."
Inside the ring, Jones was often guilty of letting his emotions overrule rationale; yearning a spectacular knockout instead of utilizing his polished skills. Such an attitude helped him halt 28 of his opponents inside the distance and merit recognition as one of leading fighters of the mid-1990s. That mind-set also saw him suffer five knockout defeats that mark his 50-6 record.
Yet despite the turbulent nature of his former career, Jones has no ill-feeling towards the outcome of a 13-year pro tenure in which he won major world titles in the bantamweight [118 pounds] and junior featherweight [122 pounds] divisions.
"I don't miss boxing and I've no real regrets, explains Jones matter-of-factly as he takes his seat in a Manhattan restaurant. "I know I did the best I could do and fought my heart out every time. I loved fighting and at times I overextended myself. But people come
to see a fight, not to see me run around the ring with my hands up. People pay good money."
Smartly attired and perpetually understated, Jones seems to take greatest pleasure in talking about his two children and current job, making it difficult to believe he engaged in some of the last decade's most exhilarating fights. And while his last professional contest was in 2002, he maintains an athletic build and looks younger than his 39 years.
"I work out at a gym I own in Brooklyn and I know that if I train hard, I still have enough left to beat a lot of the guys out there, he imparts with a wry smile.
Iran Barkley and Junior Jones share many similarities. Both fighters managed to distance themselves from street life in their respective deprived New York neighborhoods to achieve world titles and significant monetary rewards. The formative years were challenging for both men and each points to a sister as the catalyst for a boxing career.
"I was a skinny teenager and there was a big bully called the Bear who would steal kids' money and sneakers," recalls Barkley, who grew up in the menacing environs of the South Bronx Patterson housing projects. "I was really afraid of him but one day he ran
into my sister and he never touched us again."
Barkley's sister Yvonne was one of the pioneering professional female boxers and routinely defended her younger sibling. But a few years later Iran grew into a wild street fighter and became a valuable asset to the local gang. As his involvement with the Spades intensified, Yvonne appealed with Iran to turn his attention to boxing. He eventually heeded her pleas and after tasting amateur success developed a fanatical obsession with the sport.
"I trained non-stop," Barkley says after completing 50 sit-ups on the floor of Gleason's. "I worked so hard, obsessed to get my world title. When I look at some of my cousins who were dealing dope, now some of them are in prison for 30, 50 years or more, I feel
blessed I chose boxing and didn't take that route."
***
Jones' sister was also an inspiration, albeit in a rather less benevolent manner. "My sister Renee used to beat the hell out of me, hit me with pots and pans, put me out on the fire escape with no clothes," he reveals with a bashful smile. "People used to laugh that I couldn't beat her up."
Jones's humiliation came to an end when he joined the Police Athletic League gym in Bushwick and eventually gained the respect his neighbors.
"It was rough where I grew up, but the older guys, hustlers and drug dealers got to know me and knew I was doing well at boxing, so I was protected," he explains. "But I was never a follower. I was in the gym, I was travelling to competitions somewhere. I didn't
have idle time."
Jones had an exceptional ability to generate fierce punching power and earned distinction as a world titlist in 1993, overcoming Jorge Elicer Julio. But two consecutive upset defeats to relatively obscure journeymen severely damaged his standing. Even so, he worked his way back to contention and outscored future Hall of Fame entrant Orlando Canizales before being awarded a title opportunity against one of the era's great fighters, Marco Antonio Barrera.
While many boxing observers rightly denounced Jones's chances, the fighter retained the unwavering support of his long-time manager Gary Gittelsohn. In an uncommon attempt to instill confidence in his charge, Gittelsohn vowed to forsake his fee from Jones's purse regardless of the fight's outcome.
"I didn't take the money because I always had confidence in Junior that he would win and go on to become a big star," said Gittelsohn about his act that refutes the grubby reputation of boxing managers.
Jones ultimately repaid Gittelsohn with a rousing performance that resulted in a fifth- round disqualification victory when members of Barrera's team entered the ring to rescue their dazed fighter. Jones subsequently proved the triumph was no accident by out-toughing Barrera in a rematch five months later.
That win would be the zenith of his achievements and was followed by inconsistent performances. Gittlesohn urged Jones to retire after a loss to Erik Morales in 1998 and again declined to take a management fee from his fighter's check; this time without the
expectation of future remunerations. And even though Jones didn't heed Gittlesohn's pleas, he remembers with fondness the actions of his manager. "I was lucky to have him, remembers Jones. "He always stuck by me. I put the money I made away and invested it in trusts for the long-term. And now I'm not struggling financially, thank God."
Back in the searing temperatures of Gleason's, Barkley has just completed six minutes of shadowboxing and is walking towards a set of weight machines when he encounters the black heavyweight from the earlier sparring session. The young fighter, relaxing on a bench, calls out to Barkley.
"Hey man, I recognize you," he yells. "I know your face."
Barkley coldly nods his head at the fighter and keeps walking, perhaps disgruntled that his name is not remembered.
"Fighters these days," remarks Barkley as he picks up a 20-pound dumbbell. "They're not as tough today; fighting whoever they like. They have it easy, getting paid more and having easier fights."
Money is a thorny issue with Barkley. Despite reaping an estimated $5 million during his prizefighting career, he now lives a meager existence in the same housing projects he grew up in. He cites a lack of financial knowledge as the cause of his current
predicament.
Barkley burst onto the global boxing scene in 1988 when he shockingly knocked out the much-vaunted Thomas Hearns for the middleweight title in one of the sport's great upsets. And like Jones, Barkley vindicated his unexpected triumph by out-pointing
Hearns in a light heavyweight rematch four years later.
In between the battles with Hearns, Barkley suffered competitive defeats to some of the period's elite fighters, most notably Roberto Duran, Michael Nunn and Nigel Benn. He also captured a super-middleweight world championship by overpowering Darrin Van
Horn.
But in another parallel to Jones's career, Barkley's second victory over Hearns proved to be his final significant pugilistic conquest. One year after that rematch, Barkley garnered $1 million for a one-sided loss to the exceptional James Toney. The subsequent six years saw Barkley traverse America and venture to Australia and Europe in search of paychecks on small-time promotions. He lost as many fights as he won and on many occasions weighed 60 pounds greater than the middleweight limit, as the competitive edge that once earned him the moniker "Blade" steadily dulled. In 1999, his final year as an active fighter, Barkley traveled to Finland to lose a 12-round decision in a pitiful spectacle against former WWE wrestler Tony Halme.
"I take some of the blame for my [current financial] situation, but not all of it," contends Barkley. "Years ago, I just didn't know what to do with money when I had it. My family never had much when I was growing up. I didn't know how to save, how to invest it."
While Jones had the watching eye of Gittlesohn, Barkley lacked such stable guidance and was under the management of various figures throughout his career. "I had to teach them how the boxing game worked," Barkley claims.
"I learned that my only real friend is God," he continues, with his eyes fixed on the grimy gym floor. "Everyone else will let you down in the end."
Some of his money was invested in apartments and a car wash facility, but the ventures proved loss-making and after tax issues and two divorces his wealth evaporated.
"I don't know where his money went," says the owner of Gleason's Gym, Bruce Silverglade. "But he always helped people out. He'd give you the shirt off his back. He has a heart of gold. Even today he's always willing to talk at hostels and to kids."
But such admirable efforts fail to pay the rent.
Barkley now lives in an apartment with his sister and nephew in the Patterson Houses. He lost two of his brothers to cancer and his sister is currently hospitalized after recently developing a long-term respiratory illness.
Earlier this summer Ring 8, a New York-based group that provides assistance to retired boxers, held a benefit dinner for Barkley, but he says the funds generated at the event have already been spent. He claims a return to prizefighting is the only long-term
answer to his financial problems and has informed the sport's major promoters of his intentions. Thus far his approaches have been firmly dismissed.
"I can't get a promoter yet," he reveals. "But someone somewhere will promote me. I've no fear of boxing. I got through twenty years without getting hurt."
At present there is no official financial aid package for retired prizefighters, but Barkley says he has been in touch with a number of politicians in New York with the goal of lobbying for a pension plan. "Look at everything I put into boxing," he laments. "Ex-
fighters like me should be getting something. I want to have enough to provide for myself and my four daughters."
Yet Barkley has been presented with multiple opportunities to find a new direction in his life. Post-retirement, he worked brief stints as a car salesman and shop assistant before getting bored with the roles. He also had the opportunity to train fighters, but admits he
found it difficult to relate to pupils that lacked the same tenacity he was renowned for in his prime.
"I want to work for myself and I'm not going to chase fighters around either," he rasps. "I'm not calling a guy to make sure he comes to the gym. If they don't have the same determination and commitment that I had then I'm not interested. I want to be able
to find and promote talent, but I have to get a lot of money together before I can do that."
***
Changing careers can be a difficult endeavor, especially when a man has tasted the adoration that accompanies world championships and million dollar paydays. And as Junior Jones can attest, moving into an alien environment can be intimidating, even for a prizefighter.
"When I retired I'd never worked a day in my life, I was terrified of working," Jones admits. Sitting in the noisy restaurant, he keenly pulls himself forward on his chair, eager to engage as his widening eyes oppose a subdued voice.
"I've got a great job and I like everybody there," he says. "I really enjoy it. I don't miss training. I don't miss anything about fighting at all. I've done it at the highest level and I accomplished more than I ever expected to accomplish. What's better than that?"
Superficially, two years of managing deposit slips and checks at a bank may not seem like the most stimulating time in Jones' life, but the occupation seems to have provided him with a security that transcends wealth.
"You have to be comfortable who you are," he says. "I like who I am now."
Having sprayed a steak sandwich with mustard, Jones prepares to take a bite. But he abruptly becomes uncharacteristically agitated. The subject of aged fighters flouting retirement has just been raised. Jones puts down the sandwich, shakes his head and
exhales in vexation.
"It's crazy for guys to be fighting past 40," he says while stabbing his finger at the table. "The fighter knows when it's over and it's the fighters that make the sport bad too, not just the promoters. Some fighters like people telling him they're going to win and get
back to the top."
Jones retired days before his 32nd birthday after taking a sustained beating from unheralded journeyman Ivan Alvarez. Even though a fighter may leave his profession with faculties intact, the symptoms of punch-induced brain damage can take years to
appear. A variety of observers have expressed concern at the apparent decline in the clarity of Jones' speech. His voice was never particularly voluble, but in recent years it does take greater effort to discern his sentences.
In contrast to Barkley's dismissive approach, the physical costs of a boxing career do perturb Jones, whose pensive personality has led him to explore the worst possible scenario. His eyes look downward as he describes the brutal consequences of a
prizefighting vocation.
"You're getting hit with an eight or ten ounce glove with a pair of [hand] wraps on and gauze and tape," he says with a sense of reluctance. "Your brain sits on top of your head in fluid and every time you get hit, your brain hits against the skull. It crashes the wrong way.
"I want to stay the way I am now, he declares. "I want to be like this as my kids go to college and remember everything they do."
While Jones has successfully redefined his life since retirement, no matter how far he distances himself from boxing he knows nothing can reverse the effects of absorbing countless head blows. "I've been fighting since I was ten; all that adds up," he acknowledges. "I'm fine now but will I be the same when I'm 50 years old? The scary truth is it's not a guarantee."
***
After leaving the highly-charged atmosphere of Gleason's and sucking back a bottle of iced tea, Barkley seems rejuvenated as he takes a deep breath of the cool air and heads toward Clark Street subway station.
"It's good to do a workout," he says. "I always feel good afterwards."
Upon entering a crowded subway carriage, Barkley moves to sit down in the last remaining seat but quickly jumps back up when he sees a woman with a crying young boy enter the train.
"These subways can be intimidating if you're not used to them," he remarks in reference to the wailing child.
Barkley then spends the short journey making comical faces at the boy, pulling goofy smiles in a successful effort to put the youngster at ease and distract him from the daunting surroundings. The distinctive facial features that were so intimidating in
Gleason's now act as a soothing source of comfort.
Leaving the train, our conversation turns to Barkley's past trips to Europe and the sudden death of Tony Halme earlier this year.
"Wow, no way!" Barkley exclaims, evidently surprised at the news. "Wow, I didn't know he died." Barkley pauses and looks into the distance. "Halme seemed so big and strong," he finally remarks. "You never know what's around the corner. I guess it puts
my problems into perspective."
Editor's note: This story by award-winning writer Ronan Keenan first ran on Aug. 17, 2010. The photo is of Gleason's Gym.
Check out more boxing news on video at The Boxing Channel 
To comment on this story in the Fight Forum CLICK HERE
An Ode to the Polo Grounds on the (Belated) 100th Anniversary of Dempsey-Firpo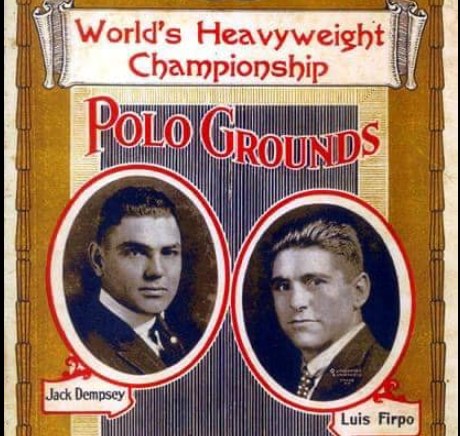 If you happen to be up in Harlem this Saturday, they are holding a little shindig at the Polo Grounds Towers Community Center in honor of the 100th anniversary of the Dempsey-Firpo fight.
Better late than never, as they say. The centennial of this storied fight was actually September 14, a week ago Thursday. But that rubbed up against Mexican Independence Day which prompted little shindigs that would take precedence in a neighborhood where many of the inhabitants speak Spanish.
The Sept. 14, 1923 bout between heavyweight champion Jack Dempsey, the Manassa Mauler, and his Argentine challenger Luis Angel Firpo, the Wild Bull of the Pampas, was staged at the Polo Grounds. The match was slated for 15 rounds, but no one expected it would go that far. "The styles of both," said a Brooklyn Times Union scribe in his pre-fight report, "eliminate the possibility of the affair becoming tedious."
That proved to be an understatement. Dempsey vs. Firpo consumed only three minutes and 57 seconds of actual fighting, but the action was breathtakingly intense and the crowd, estimated at 80,000, was on its feet the whole while.
There were so many knockdowns and they came so fast that there was disagreement among ringside reporters as to the exact number. In the first round alone, Dempsey put Firpo on the canvas at least five times, if not seven, and Firpo returned the favor twice. However, it was the Argentine that scored the most memorable knockdown. With one mighty swing of his vaunted right hand, Firpo knocked Dempsey clear out of the ring, the Mauler landing head first on a table of ringside reporters and their telegraphers with his feet up in the air. The moment inspired one of the most famous paintings in sports, George Bellows "Dempsey and Firpo," on display at the Whitney Museum of American Art in New York since the museum opened in 1931.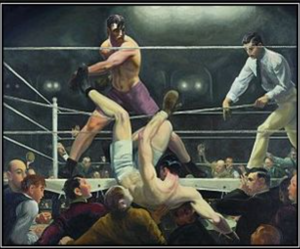 Dempsey was reeling and almost out before the first round ended, but he gathered his senses and ended the contest in the next frame. His final punch, with Firpo bleeding heavily from his mouth, "lifted the Argentine giant from his feet and hurled him headlong to the floor with the crash of a mighty oak falling from great heights." So wrote Grantland Rice.
The Polo Grounds sat in a hollow in the northern reaches of Harlem across the Harlem River from Yankee Stadium. It was the home of the New York Giants of the National League from 1891 until the franchise left for San Francisco at the end of the 1957 season. It also housed the New York Giants football team from its inception in 1925 through 1955 and in its end days, served as the temporary home of New York's two expansion teams, the Mets and the Jets.
Professional boxing was first served up at the Polo Grounds in 1922. There were four boxing shows there in 1923 preceding Dempsey-Firpo, but these were small potatoes by comparison, notwithstanding the fact that each of the four shows included a title fight. Dempsey-Firpo was the first collaboration between Tex Rickard and Charles Stoneham who owned the controlling interest in the baseball team.
Rickard and Stoneham had a lot in common. Rickard ran gambling saloons in mining camps in Alaska and Nevada before making his mark as a boxing promoter and settling in New York where he headed up the boxing department at Madison Square Garden. Charles Stoneham was a gambler too. He made his fortune operating bucket shops, funneling his winnings into a string of thoroughbred race horses and a horse track and casino in Havana. His silent partner in many of his business ventures was purportedly the infamous Arnold Rothstein. (A so-called bucket shop was a business where people could bet on the rise and fall of stocks and other commodities like wheat and oil without taking an ownership stake in any of the companies that comprised the marketplace.)
Rickard died in 1929, opening the door to Broadway ticket scalper Mike Jacobs who supplanted Rickard as New York's most powerful boxing promoter. Jacobs acquired the exclusive rights to stage boxing shows at both the Polo Grounds and Yankee Stadium. Charles Stoneham and his counterpart with the Yankees both profited when a card was held at either property.
Yankee Stadium was more modern and could accommodate a larger crowd, so Jacobs tended to pot his biggest promotions there. Joe Louis had 12 fights at Yankee Stadium, but only two at the Polo Grounds, namely his famous 1941 fight with Billy Conn and his fight later that year with Lou Nova. However, important matches continued to land at the Polo Grounds. Thirty-four boxers who would go on to be enshrined in the International Boxing Hall of Fame had one or more fights at the Polo Grounds.
—
I'm dating myself, but this reporter is among an ever-shrinking cadre of people who once sat in the grandstand of the Polo Grounds. The allurement was baseball. Although born in Brooklyn, I was a Giants fan.
I vaguely remember descending the steep iron staircase that led from the 155th Street subway station to the ticket booths. When one exited the subway, he was on Coogan's Bluff, named for the former Manhattan borough president who owned the land on which the stadium sat. Coogan's Bluff became a euphemism for the Polo Grounds itself, as Chavez Ravine would become a euphemism for Dodger Stadium.
The Polo Grounds had an odd, triangular-shaped configuration. The distance to both foul poles was short whereas centerfield was cavernous, the perfect playland for the wonderful Willie Mays whose range was unsurpassed. In the words of the late, great Jim Murray, Willie's glove was where triples went to die.
When Charles Stoneham died in 1936, the ballclub passed to his son Horace Stoneham who moved the team in San Francisco and eventually sold it to local interests. Stoneham was vilified in New York for abandoning the city, but the park and surrounding neighborhood had deteriorated. The stadium was torn down in 1964 and became the site of a giant, low-income housing project, Polo Grounds Towers, a complex consisting of four 30-story buildings run by the New York City Housing Authority. The Polo Grounds Community Center is housed in Tower #2.
The Dempsey-Firpo fight was an incandescent moment in America's Golden Era of Sports. It was a big deal in South America too. In Buenos Aires, tens of thousands of people reportedly jammed the streets around the newspaper offices to follow the progress of the fight on bulletin boards. The last boxing show at the Polo Grounds was staged on June 20, 1960. Floyd Patterson avenged his loss to Ingemar Johannson with a fifth-round stoppage. The predicted crowd of 40,000 failed to materialize. The official attendance was 31,892.
To comment on this story in the Fight Forum CLICK HERE
—
Arne K. Lang is a recognized authority on the history of prizefighting and the history of American sports gambling. His latest book, titled Clash of the Little Giants: George Dixon, Terry McGovern, and the Culture of Boxing in America, 1890-1910, was released by McFarland in September, 2022.
Avila Perspective, Chap. 253: Oscar De La Hoya Reloading in LA and More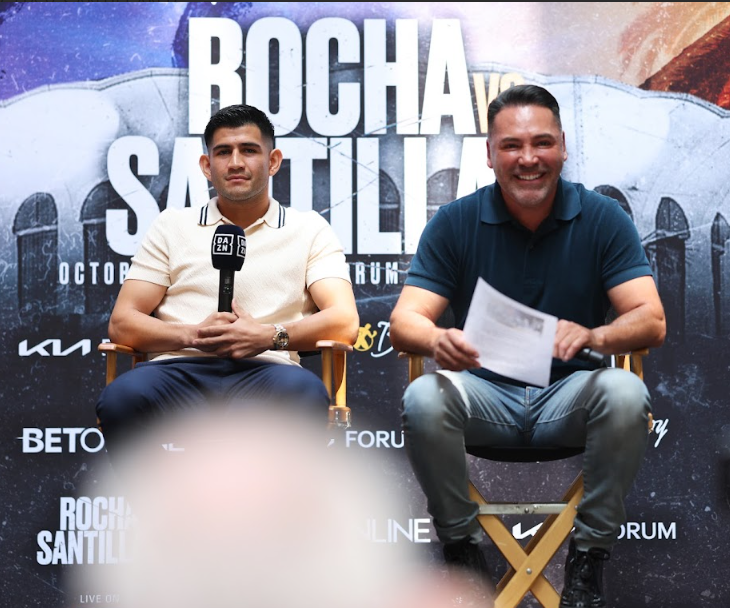 Oscar De La Hoya sat with a satisfied look inside his glittering building on Wilshire Boulevard, unveiling plans to stage a welterweight showdown between southpaw contenders next month.
Lately, the six-division world champion turned promoter from nearby East Los Angeles has attended every boxing show produced by his company Golden Boy Promotions. Big or small, the former fighter who acquired millions as a prizefighter has put full attention on expanding his boxing empire.
Golden Boy Promotions has reloaded.
On Tuesday, De La Hoya discussed plans to match Alexis Rocha with Top Rank's Giovanni Santillan on Saturday, October 21, at the Kia Forum in Inglewood, Calif. DAZN will stream the show.
Rocha (23-1, 15 KOs) seems to have gained his man strength. Five out of seven of his past foes have not heard the final bell. The Orange County fighter's seek and destroy style has made him a crowd favorite throughout Southern California.
Santillan (31-0, 16 KOs) is a different kind of cat. The San Diego-based welterweight was groomed by Thompson Boxing Promotions and then aided by Top Rank. With the loss of promoter Ken Thompson who passed away earlier this year, Top Rank has taken over the reins of the crafty fighter.
Both Rocha (pictured with Oscar) and Santillan are familiar with each other through sparring.
"I feel that I've grown so much over time and now's my moment, and I want to keep just banging on the door for a world title. I know that Giovani is going to be a good opponent," said Rocha who is based in Santa Ana.
San Diego's Santillan expressed excitement about fighting in Los Angeles.
"This isn't the first time that I go into enemy territory," Santillan said. "I think that I will gain the LA fan base after this fight."
It's the kind of fight that would have sold out the Olympic Auditorium down the street. Battles between fighters from rival towns in Southern California resulted in fights like Bobby Chacon versus Danny "Lil Red" Lopez, or East L.A.'s Ruben Navarro versus South L.A.'s Raul Rojas.
Crosstown rivalries made the Olympic Auditorium a legendary venue for decades. And the Los Angeles area has always been a hotbed for boxing talent. Always.
De La Hoya knows that and has lived it.
"As Golden Boy, we know our position, we know exactly what we have to do in order to position that fighter to get them to that world title. Alexis Rocha is knocking on the door. Giovani has an amazing opportunity. So, this is what boxing is all about," said De La Hoya.
MarvNation
Welterweights Eduard Skavynskyi (14-0) of Ukraine and Mexico's Alejandro Frias (14-9-2) headline the main event at Thunder Studios in Long Beach, California on Saturday Sept. 23.
This is Skavynskyi's first time fighting in the U.S. All his previous fights were in Russia and Ukraine.
Also, co-headlining are female minimumweights Yadira Bustillos (7-1) and Katherine Lindenmuth (5-1) in a rematch set for eight rounds.
Bustillos fights out of Las Vegas and Lindenmuth is based in New Mexico and looking to avenge her loss a year ago.
For tickets and information go to: https://www.tix.com/ticket-sales/marvnation/6815/event/1344994?fbclid=paaabuvxlnjny1dafchk0wwkftjganfmww6bayhkj7autu-mhjyz8ll__ycga
Heavyweight Rematch in England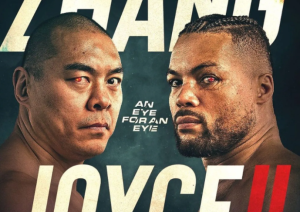 Once again, the United Kingdom presents a heavyweight show and this time a rematch between China's Zhilei Zhang (25-1-1, 20 KOs) and England's Joe Joyce (15-1, 14 KOs) on Saturday, Sept 23. ESPN will stream the Frank Warren boxing card from London.
Zhang stopped Joyce in the sixth round this past April. Can he do it again?
Welterweight showdown in Florida
Jessica McCaskill (12-3) and Sandy Ryan (6-1) meet for several welterweight world titles on Saturday, Sept. 23, in Orlando, Florida. DAZN will stream the Matchroom Boxing card.
Super lightweight Richardson Hitchins (16-0, 7 KOs) test top contender Jose "Chon" Zepeda (37-3, 28 KOs) in the co-main event. Conor Benn is also on the card.
Fights to Watch
Sat. ESPN+ 2 p.m. Zhilei Zhang (25-1-1) vs Joe Joyce (15-1).
Sat. DAZN 5 p.m. Jessica McCaskill (12-3) vs Sandy Ryan (6-1); Richardson Hitchins (16-0) vs Jose Zepeda (37-3).
Alexis Rocha photo credit: Golden Boy / Cris Esqueda
To comment on this story in the Fight Forum CLICK HERE
Conor Benn, a Lightning Rod for Controversy, Returns to the Ring on Saturday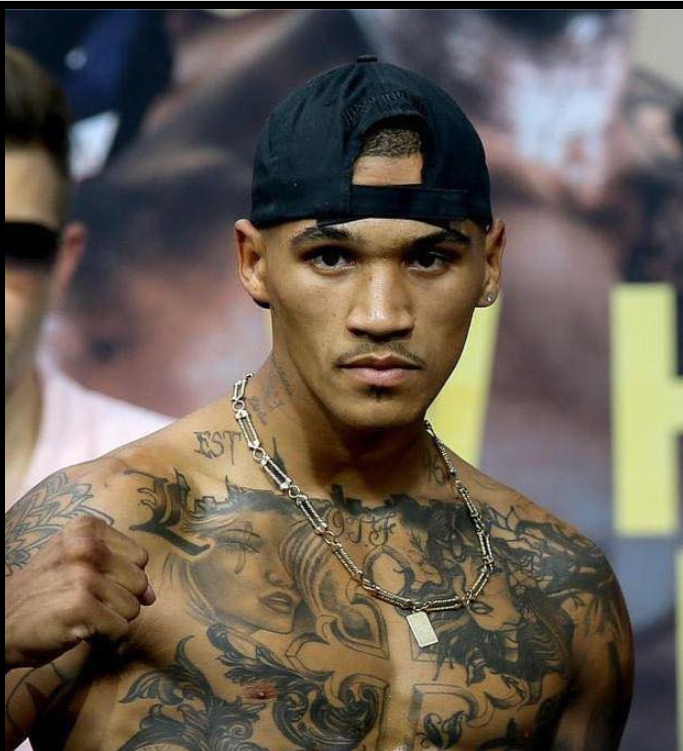 In a surprise announcement, Matchroom honcho Eddie Hearn has announced that Conor Benn will return to the ring this Saturday on the undercard of his promotion at the Caribe Royal in Orlando, Florida. Benn (21-0, 14 KOs) is matched against Mexico's Rodolfo Orozco who is 32-3-3 (24) and has never been stopped. The match is slated for 10 rounds at 154 pounds and will mark the first test for both fighters outside their native countries.
The main event on the Matchroom card is a 12-round contest in the super lightweight division between Richardson Hitchins (16-0, 7 KOs) and Jose Zepeda (37-3, 28 KOs). Hitchins, born in Brooklyn, represented his parents' homeland of Haiti in the 2016 Rio Olympics where he lost his opening round match to amateur nemesis Gary Antuanne Russell. Zepeda, a 34-year-old Mexican-American southpaw, is best remembered for his 2020 rumble with Ivan Baranchyk, the runaway pick for the Fight of the Year. The chief supporting bout pits England's Sandy Ryan against Chicago's Jessica McCaskill with the WBA, WBC, and IBF female welterweight belts on the line. The show will be live-streamed on DAZN.
Conor Benn last fought in April of last year when he TKOed South African veteran Chris Van Heerden in the second round. He was slated to return to the ring on Oct. 8, 2022 against Chris Eubank Jr, but — as is common knowledge – that bout fell to pieces when it came out that Benn had tested positive for a banned substance identified as Clomifene, a fertility drug in women that boosts testosterone in men. Making things worse for Benn, it came out that he had tested positive on VADA-administered tests on two separate occasions spaced several weeks apart. Try as they may, promoter Eddie Hearn and his partner Kelle Sauerland were unable to sway the British Boxing Board of Control into backing off on their edict that prevented the fight from going forward; the authorities wouldn't budge.

As noted in a story that ran on this website, the Benn-Eubank Jr implosion was a particularly infernal shipwreck. The plug wasn't pulled until two days before the fight, by which time all 20,000 seats at London's O2 Arena had reportedly been sold.
Conor Benn predictably insisted that he was innocent, calling it a witch-hunt. The World Boxing Council subsequently lifted its suspension of Benn, citing a report in a medical journal that showed that Clomifene could appear in one's system via an excessive consumption of eggs. With his father Nigel, a former two-division world champion at his side, Conor argued his case on a popular British TV talk show and persuaded many to see him as a sympathetic figure, the victim of a flawed testing process.
Interest in a Benn-Eubank Jr fight dissipated when Eubank was knocked out by Liam Smith, but was then rekindled when Eubank won the rematch in a dominant fashion. Various news reports say that Hearn has begun preliminary negotiations to resurrect the fight with his eye on a date in December.
As noted by several prominent fight writers, notably Dan Rafael, Conor Benn hasn't yet been cleared to resume his career in the UK. An independent National Anti-Doping Panel gave him the green light, but the BBBofC is appealing that decision. Promoter Frank Warren, Eddie Hearn's chief rival, has ventured the opinion that Team Benn is disrespecting the sport by returning to the ring before the process has run its course. In rebuttal, Eddie Hearn says the Benn-Orozco fight has the blessing of the (USA) Association of Boxing Commissioners which made this determination after consulting with the BBBofC.

To comment on this story in the Fight Forum CLICK HERE