George Kimball Remembers Budd Schulberg: A TSS Classic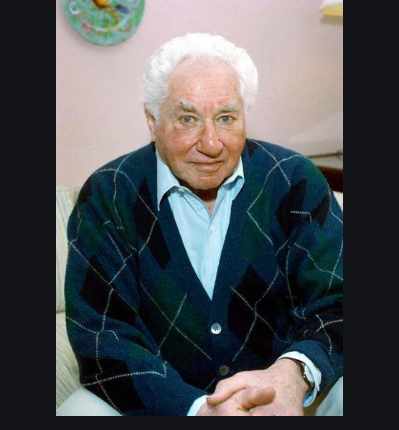 On this day in boxing history, Aug. 5, 2009, the great screenwriter, novelist, and essayist Budd Schulberg passed away at age 95. His passing inspired this tribute from his friend George Kimball, the longtime boxing writer for the Boston Herald who was then retired as a full-time newspaperman and writing extensively for this web site.
—
NEW YORK — I could tell from the choking sound on the other end of the line that the news wasn't going to be good.  It took him awhile, and when he finally got it out, the best his son could manage was "He's gone…"
Budd Schulberg was 95 years old and had been in ill health for several months, so it was hardly unexpected, but the unsettling moment arrived late Wednesday afternoon when Benn phoned to tell me his father had passed away an hour earlier. Budd was a giant in our field, and a giant in many others as well. He was the only man ever to have both won an Oscar and been inducted into the International Boxing Hall of Fame, but he was also my dear friend of many years, and I miss him already.
*  *  *
Budd Schulberg was 15 years old in 1929 when he sailed to England with his father, the Hollywood mogul B.P. Schulberg.  On that crossing the Schulbergs made the acquaintance of a fellow passenger on the Ile de France, a Georgia boxer named William Lawrence Stribling, who boxed under the nomme de guerre Young Stribling.
Upon learning that both Schulbergs were enthusiastic boxing fans, Stribling promised them a pair of ringside tickets for his upcoming bout at the Royal Albert Hall, where he was to fight an ungainly Italian giant named Primo Carnera.
If watching his father drop what he described as "a casually reckless wager" of 1,000 pounds when Carnera won by disqualification wasn't enough to inspire a healthy skepticism in the younger Schulberg, the result of the return match certainly did. In what appeared to have been a pre-arranged scenario, Carnera and Stribling  met again in Paris three weeks later, and this time Carnera returned the favor by getting himself disqualified in the seventh round.  The episode made an indelible impression on Schulberg, who years later would base his cautionary boxing novel "The Harder They Fall" on the illusory rise and inglorious fall of Carnera, the heavyweight champion known as "The Ambling Alp."
Now, think about this.
Eighty years later, this time by more modern contrivance, Budd returned to London again. This past February he flew over for the premier of "On the Waterfront," a stage adaptation of his Academy Award-winning 1954 screenplay, at the Theatre Royal in Haymarket. Perhaps determined to reprise all facets of that 1929 rite of passage, he and his wife Betsy went from London to Paris, where they spent a week in the city that had hosted Stribling-Carnera II. They returned to London, where they attended yet another performance of On the Waterfront.
Afterward Budd repaired to a nearby pub with the cast of the London production, and spent the night celebrating with the cast. When he became ill on the flight back to New York the next day the initial assumption was that the partying was to blame, but what it really was was the onset of old age. This was particularly unsettling for Budd, because he was a month shy of his 95th birthday, and he had never before felt — or seemed — particularly old. Not to himself, not to any of us.
Benn Schulberg and I were at Madison Square Garden that night, at the Cotto-Jennings fight, when he got the phone call telling him that his dad had been taken off the plane at Kennedy Airport in a stretcher and rushed to the emergency room at Jamaica Hospital. Somewhere over the Atlantic his blood pressure had dropped alarmingly, and he barely had a pulse.
Budd improved enough over the next few days to be moved to Mt. Sinai in New York, where he could be under the care of his cardiologist, and eventually he was allowed to be home, but he remained in a weakened state. He had been in congestive heart failure for some time, and he had a chronic lung condition, the result of having sucked down some toxic fumes in a home kitchen fire several decades earlier, and then a couple of months ago he was well enough to undergo what was supposed to be routine surgery to repair a hernia. That's when they found the cancer in his belly
There were several phone calls over the next few weeks while Budd and Betsy deliberated the various options, and since I'd had to make similar choices in the past, they consulted me on the matter. I'm not sure how helpful I was, other than to recommend an insistence on getting a full recitation of the potential benefits and consequences from whichever specialist had their ear at the moment, but in the end Budd opted for treatment. In June he came straight from a chemo appointment to attend the Boxing Writers dinner (where he received a standing ovation), and then just a few weeks ago he attended a staged reading of On the Waterfront in Hoboken. The event, by the New Artists Theatre, featured some cast members of "The Sopranos," on the turf Schulberg's play had immortalized, and the aura of corruption of the 50's era had just been revived when the FBI took town a bunch of New Jersey mayors (and rabbis) a few days earlier.
"He probably shouldn't have, but at the last minute he told me he wanted to go," reported Benn. "He was in pretty bad shape, and I think everyone could tell that."
"I certainly could," said Lou di Bella, who was also in attendance that night. "I knew then that it was probably the last time I'd see him."
*   *   *
I find myself thinking about the better times, and they weren't so very long ago at that.  Budd and Betsy had dinner with us at our place here in New York several times over the past few years, and when it finally became apparent that climbing the stairs of an old brownstone built before the age of elevators was a burden, we met for dinner in more nonogenarian-friendly locales. A year ago March we'd attended his 94th birthday party at an Upper West Side restaurant, along with his family and a few friends, including the artist LeRoy Neiman and the actress Patricia Neal, who'd starred in the film of Budd's "A Face in the Crowd" half a century earlier.
Even though he could doubtless feel it closing in on him over those last few years he refused to make the normal concessions to age. A couple of years ago when we were in Vegas for the Mayweather-De La Hoya fight there was a late lunch with myself, Budd and Benn, and Michael Katz. We had to find a place with a television set so we could monitor the progress of the Kentucky Derby bets we'd placed at the sports book earlier in the day. During football season, especially come playoff time, and for a big fight we'd decided not to attend in person, we'd often gather at Benn's apartment, order up obscene quantities of food and beer, and then try to stick one another with the tab through an intricate series of wagers, usually devised by Budd.
I'm 65, and at these gatherings I was often the second-youngest person in attendance. Budd didn't hang out with many people his own age, mainly because people his own age were mostly dead. But any father will tell you he'd rather have no better friend than his own son, and Benn, who didn't even come along until Budd was 67, was unquestionably Budd's best friend, his constant companion at ringside.
* *  *
I'd read Budd in my youth, long before I met him, beginning, as most do, with "What Makes Sammy Run," without even understanding at the time the bedrock of personal experience underlying that book, or that its publication would, as his father had warned him it might, severely retard what had been a promising Hollywood career. It didn't kill it altogether, of course. Budd was assigned to co-write a script with another member of the newly-fallen, F. Scott Fitzgerald, and while that project turned into a disaster, it did provide the basis for another splendid book based on the experience, "The Disenchanted."
He straddled the worlds of literature and pugilism throughout his life, but unlike some of his more boastful contemporaries he was not a dilettante when it came to either. He sparred regularly with Mushy Callahan well beyond middle age. The night of the Frazier-Ali fight of the century Budd started to the arena in Muhammad Ali's limousine, and then when the traffic got heavy, got out and walked to Madison Square Garden with Ali. A year before Jose Torres died, Budd and Betsy flew to Puerto Rico and spent several days with Jose and Ramona at their home in Ponce. Art Aragon was the best man at his wedding. And when push came to shove, he put on the gloves with both Ernest Hemingway and Norman Mailer and kicked both of their asses, though not, as some would now claim, on the same night.
*   *    *
Budd and I had sat together at another Boxing Writers Dinner at least a quarter century earlier. I remember being pretty full of myself, because I'd just come back from a fight in Vegas where I'd had a pretty good week at the tables as well. I'd not only won what seemed to me a ton of money but had spent enough time at the tables that Gene Kilroy had gotten the casino to comp my room — after they'd already issued me a receipt that would satisfy the bean counters at the newspaper.
As I was remarking on the delicious irony of it all, Budd punctured my reverie long enough to ask "Let me ask you this, George. Could you have afforded to lose $5,000?"
He knew I had two small children, and that of course I couldn't. He then proceeded to tell me the cautionary tale of his own father, whose gambling Jones put his family at the brink of bankruptcy a couple of times. That night told me the story that would later appear in Moving Pictures, the biography of his early days in Hollywood, of the floating poker game that convened at the Schulberg manse just before young Budd was sent to his room to do his homework. When he came downstairs for breakfast eight hours later, his father was still at the table, where he was writing out a check for $20,000 to Chico Marx.
He was afflicted with a lifelong stammer that seemed to grow worse when he became excited or impatient, which wasn't often. It has occurred to me more than once over the years that this probably evolved into an asset to his writing and his unerring ear for dialogue, because most conversations were so essentially one-sided that he became a very good listener.
*   *   *
In World War II he served in the OSS, and in the war's aftermath was part of the prosecution team at the Nuremburg Trials, where his job was assembling photographic and film evidence for use against the Nazis on trial for war crimes.
He had been a Communist Party member in the late1930s, but had long since repudiated his ties after he had seen firsthand the evils of Stalinism. Although unlike many former CP members he retained a leftist stance on social and political issues throughout his life, he was tarred by his agreement to testify before the House Un-American Activities Committee in 1947. Many of his colleagues who refused were blacklisted, and lives were ruined. Budd was branded a pariah in some circles, but in his own mind his politics hadn't wavered.
The episode did make him fair game on another front, particularly when On The Waterfront, directed by another former party member-turned-friendly witness, Elia Kazan, emerged in 1954. Kazan had earlier worked on another waterfront-themed project called "The Hook" with the playwright Arthur Miller. The biographer Jeffrey Meyers would later claim that "Miller had refused to turn the gangsters into communists, as the Columbia Pictures mogul Harry Cohn and the Hollywood union bosses wanted him to. The film was later written that way by Budd Schulberg (another self-serving friendly witness') as On The Waterfront."
As preposterous as the allegation seems — there are no more any bad-guy communists in On the Waterfront than there were in "A View from the Bridge," the play Miller eventually wrote from "The Hook." Moreover, Budd had purchased the rights to a New York Sun series about the Jersey docks as early as 1947, years before Miller's brief flirtation with Kazan.
"When I was working on 'On the Waterfront,' I didn't know about Arthur Miller," Budd told an English newspaper in London back in February. "They were absolutely two separate, if overlapping, projects."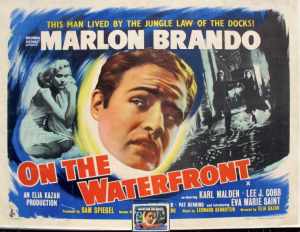 Budd said at the time he resented the accusation "because it made me seem like I was trying to imitate Arthur Miller and walk in his footsteps. I didn't like it."
Miller died without the two men ever discussing the subject. This summer I was invited to read at a literary festival, the Listowel Writers Week in Ireland. Another of the invitees was the novelist and director Rebecca Miller, who in addition to being Daniel Day-Lewis' wife is also Arthur Miller's daughter. One morning at our hotel there I read her the offending passage from Meyers' book.
"That's absurd," she said. "I'm sure my father never believed that. A View from the Bridge and On the Waterfont were always going to be two separate plays. One had nothing to do with the other."
I know I told Benn about that conversation when I returned from Europe. But now it occurs to me that I never got a chance to tell Budd, who would have, I suspect, found it comforting.
*  *  *
Over the past few weeks Pete Hamill and I had spoken often of going out to Westhampton to visit Budd, but between our travel schedules and his medical issues the timing never seemed right. Benn was with him last weekend and reported that even then he was plainly struggling to breathe, in considerable discomfort. He seemed to sense that it was time to go, and as it turned out it was their final goodbye. When Benn got the news that his father had been taken to the hospital in Riverhead Wednesday afternoon he jumped straight into his car. By the time he got there Budd was already dead.
"But," said his son as he choked back the tears, "he had a pretty good run, didn't he?"
Yes, he did.
EDITOR'S NOTE: George Kimball died on July 6, 2011, after a six-year battle with esophageal cancer. In the last years of his life he was highly productive, authoring the widely acclaimed "Four Kings: Leonard, Hagler, Hearns, Duran, and the Last Great Era of Boxing," and two boxing anthologies in collaboration with John Schulian.
Check out more boxing news on video at The Boxing Channel 
To comment on this story in the Fight Forum CLICK HERE
Tony Yoka Makes Quick Work of Duhaupas; Yoka's Wife Wins Too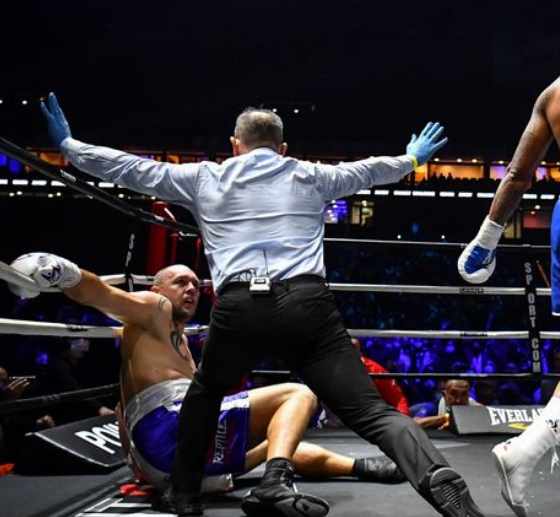 An indoor rugby stadium in Nanterre, a township in an inner suburb of Paris, was the site today of a five-fight boxing show featuring Tony Yoka and his wife Estelle Mossely in separate bouts (when they fight each other, they do it in the privacy of their home). Attendance was limited to 5,000 with social distancing protocols in place.
Yoka and Mossely, the parents of two young children, the youngest a boy born in May, were each gold medal winners in boxing at the 2016 Rio games. The six-foot-seven Yoka defeated Filip Hrgovic in the semis and Joe Joyce in the gold medal round.
Today Yoka, in his first scheduled 12-rounder, was matched against 39-year-old French warhorse Johan Duhaupas who was 38-5 (25) heading in. Duhaupas went 12 rounds with Jarrell Miller, extended Deontay Wilder into the 11th frame, and knocked out Robert Helenius, the conqueror of Adam Kownacki. Despite his advanced age, he represented a step up in class for Yoka, 28, whose pro career was disrupted by a one-year suspension from the French Boxing Federation for being a no-show at three PED tests. At the very least, Duhaupas was expected to give Yoka some rounds.
But Yoka had other ideas. He needed only 121 seconds to dismantle his countryman and show that he belongs in the conversation with Daniel Dubois, Jared Anderson, the aforementioned Hrgovic and others when talking about the next generation of heavyweight stars.
Yoka (8-0, 7 KOs) dropped Duhaupas midway through the opening round with an overhand right. Duhaupas didn't appear to be badly hurt, but he had no antidote for the barrage that followed. The coup-de-gras was a big right uppercut that sent him flying backward against the ropes. The referee stepped in immediately.
Yoka's U.S. promoter is Top Rank which is seeminly out to corner the market on bright young heavyweight prospects. When Yoka turned pro it was under the tutelage of Virgil Hunter, the trainer of Andre Ward. Yoka has spent considerable time in Las Vegas while serving as the chief sparring partner for Joseph Parker.
—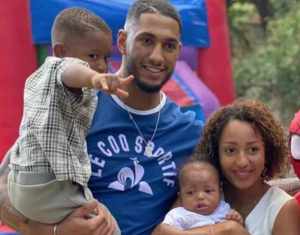 Estelle Mossely kept pace with her hubby. Mossely, 28, advanced her record to 7-0 (1) with an 8-round unanimous decision over countrywoman Aurelie Froment. The scores were 80-72 across the board.
This was an assignment designed to shed the rust. Froment, 33, entered the fight with a 3-0-1 record, but hadn't previously met an opponent with a winning record. In fact, none of Froment's previous opponents had ever won a fight. In the aggregate, the foursome was 0-32-5 at the time that she fought them. Even the world sanctioning bodies steered clear of this affair, refusing to cloak the fight in some sort of title.
That observation aside, it was a nice win for Mossely coming so soon after giving birth. Born in France of Congolese and Ukrainian descent, she is rated the world's best active female lightweight by BoxRec.
Hot prospect Souleymane Cissikho was originally scheduled to be on the card, but pulled out for an undisclosed reason. An Olympic teammate of Tony Yoka, Cissikho is a  special talent.
Check out more boxing news on video at the Boxing Channel 
To comment on this story in the Fight Forum CLICK HERE
Season 2 of the World Boxing Super Series Concludes on Saturday in Munich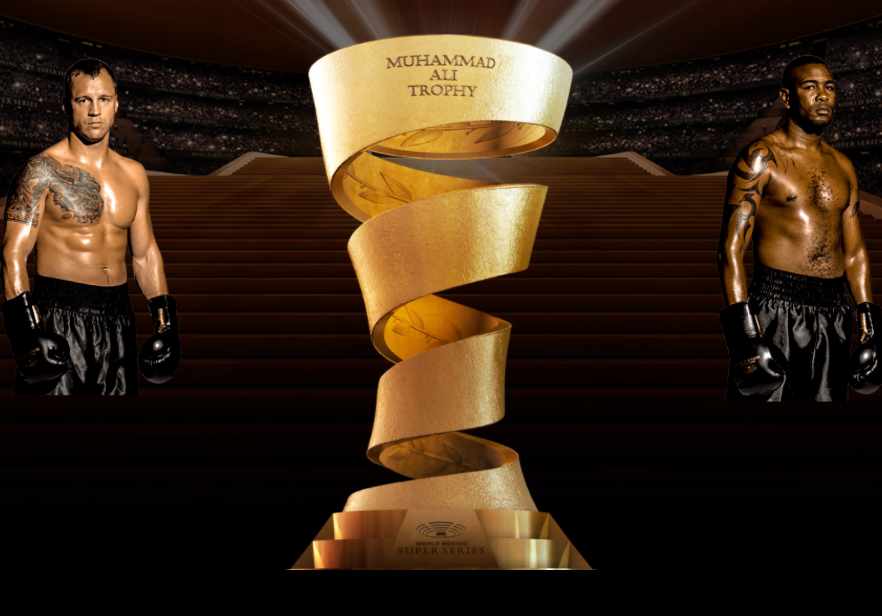 PRESS RELEASE: The hotly-anticipated World Boxing Super Series Season II Cruiserweight Final between Mairis Briedis and Yuniel Dorticos takes place behind-closed-doors in a film studio at Plazamedia Broadcasting Center in Munich, Germany on Saturday, 26 September. On the line: The Muhammad Ali Trophy, IBF World Title, and vacant Ring Magazine 200 lbs belt.
The final will be shown live on DAZN in the US and Sky Sports in the UK.
"A final for the Muhammad Ali Trophy has proved to be something extraordinary. We have seen that it brings out the best in boxers which reflects the DNA of our tournament as to deliver and continue to deliver boxing at its very best to fans of the sport," said Andreas Benz, CEO of Comosa, the event organizer.
"Plazamedia is a phenomenal solution, the studios are providing a controlled environment which is of huge benefit to us and the production team to keep everyone safe while also putting on a great show.
"At the same time, we have done everything to secure fair conditions for both teams, and to ensure they remain healthy and isolated until the action starts."
Mairis Briedis, tournament No. 1 seed, qualified for the final through wins over Noel Mikaelian (UD) and Krzysztof Glowacki (TKO3), while Dorticos, No. 2 seed conquered Mateusz Masternak (UD) and Andrew Tabiti (KO10) to enter the 200 lbs decider.
"We are very happy about the announcement of the final," said Latvia's Mairis Briedis. "I love the fact that it will be in Munich as it reminds me of every time I went to train with the Klitschko brothers in Germany and the flights were always via Munich. Those are some great memories of the time spent with them there."
Said Miami-based Cuban, Yuniel 'The KO Doctor' Dorticos, IBF World Cruiserweight Champion: "To all my fans worldwide, In Europe and especially in Munich, Germany: I am super happy the World Boxing Super Series final will take place in Munich, Germany, and I will see you all on Saturday, September 26th. The KO Doctor is back and ready to prescribe another dose of pain and take the Muhammad Ali Trophy back to Miami."
Kalle Sauerland, Chief Boxing Officer of the WBSS, said: "On 26 September we will not only crown the best cruiserweight on the planet but also send a sign to the world that boxing is back with the first major transatlantic championship bout between the undisputed number one and two in their division.
The final is not only about honour and glory, but cementing a legacy. The winner will become a member of an exclusive 'Ali Trophy Winner Club' that includes Oleksandr Usyk, Callum Smith, Naoya Inoue and Josh Taylor. It doesn't get much bigger in boxing, and we expect Briedis and Dorticos to have an absolute barnstormer!"
The Muhammad Ali Trophy was created by the late world-renowned artist Silvio Gazzaniga who also designed the iconic FIFA World Cup Trophy.
Check out more boxing news on video at the Boxing Channel 
To comment on this story in the Fight Forum CLICK HERE
Avila Perspective, Chap. 106: Return of LA Boxing, Josh Taylor, Charlos and More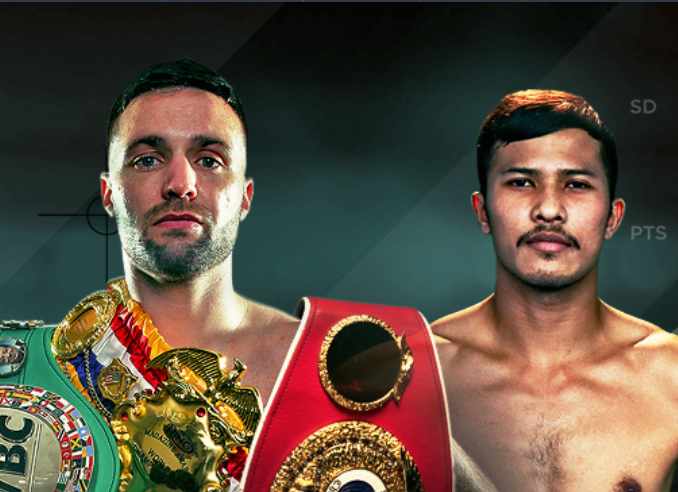 Avila Perspective, Chap. 106: Return of LA Boxing, Josh Taylor, Charlos and More
Let's call this week the Big Build Up.
Back in the 1920s to the 1950s the City of Angels was known as the place where Humphrey Bogart lived and played characters out of Raymond Chandler's novels. Books like the "Big Sleep" and "Lady in a Lake" were made into movies based in Los Angeles.
Well, here we are back where boxing thrives, people or not.
Los Angeles kicks off the big boxing week starting with a televised fight card that features home grown featherweight Vic Pasillas at the Microsoft Theater in the downtown area. Fox Sports 1 will televise the Premier Boxing Championship card on Wednesday, Sept. 23.
Pasillas (15-0,8 KOs) faces Dominican fighter Ranfis Encarnacion (17-0, 13 KOs) in the co-main event at a fan-less event that begins a crowded week of boxing as we near the end of 2020.
"Coming out on top against Encarnación is going to catapult me into some big fights at featherweight. The division is wide open and I know with hard work I can take it over," said Pasillas who is originally from Los Angeles. "This is by far the most important fight of my career. I'm coming with everything I got, because I know this is the turning point that will lead to bigger and better fights. I am ready to bring an exciting fight to the fans and get my hand raised in victory."
Both Pasillas and Encarnacion are undefeated and unknown to most of the boxing world. A win changes everything especially when it's difficult to even stage a boxing card.
Promoters are anxious to get their fighters in the ring by any means necessary.
On Thursday in Biloxi, Mississippi, super lightweight Michael Williams Jr. meets Thomas Miller in the headline attraction of a boxing card that will be streamed by UFC Fight Pass.
On Friday in southern Mexico, Serhii Bohachuk (17-0, 17 KOs) meets Alejandro Davila (21-1-2, 8 KOs) in Merida, Yucatan. No word if it will be streamed. The super welterweight from Ukraine has a 17-fight knockout streak and has become a main attraction in Hollywood, California for 360 Promotions.
"Serhii has become one of the most talked about rising stars in boxing," said Tom Loeffler, promoter of 360 Promotions. "Boxing fans are excited to see if he can continue his knockout streak against Alejandro Davila, the toughest opponent he's faced. He's been training very hard with Manny Robles for this fight and if victorious, we're certain there will be bigger opportunities for him in the near future."
These are all tasty appetizers for the big buffet coming on Saturday.
Breakfast, Lunch and Dinner
Saturday morning, especially if you live in the California area, ESPN+ will showcase the IBF, WBA super lightweight world title fight between champion Josh Taylor (16-0, 12 KOs) and Apinun Khongsong (16-0, 13 KOs) in London. It will be streamed live on Sept. 26, Saturday morning, starting at 11 a.m PST.
This is an important match for Taylor (pictured on the left) who needs a win to nail down a unification clash with Jose Carlos Ramirez the WBC and WBO titlist. If Scotland's Taylor emerges victorious the super lightweight clash will be one of the top fights of the year.
And if that fight happens to take place, then that winner more than likely meets WBO welterweight champion Terence Crawford.
But first things first. Taylor needs to defeat Thailand's Khongsong on Saturday.
"I didn't want a warm-up fight, so getting straight back in there against my mandatory challenger is great, as it's kept me fully focused. I want big fights in my career, so this is an important fight with my belts on the line," said Taylor.
Charlos Pay-per-view
The Charlos brothers asked for it and they got it.
Long have the brothers from Houston, Texas asked for a pay-per-view fight card and it never seemed possible until now. The Charlos will headline a pay-per-view double-header on Saturday via Showtime.
Beginning at 4 p.m PT/ 7 p.m. ET the Showtime pay-per-view card begins with three top notch bouts:
WBO bantamweight titlist John Riel Casimero (29-4) vs Ghana's Duke Micah (24-0, 19 KOs).
WBA super bantamweight titlist Brandon Figueroa (20-0-1, 15 KOs) vs Damien Vazquez (15-1-1, 8 KOs).
WBC middleweight titlist Jermall Charlo (30-0, 22 KOs) v Sergiy Derevyanchenko (13-2, 10 KOs).
Charlo was not impressed with Derevyanchenko's performances against Daniel Jacobs and Gennady Golovkin because both were losses. He expects to dominate.
Derevyanchenko says he's ready for Charlo.
"Golovkin is a very different fighter than Charlo, but Jacobs is similar stylistically, so that's something I'll be used to," said Derevyanchenko. "This training camp has been very similar to camps for my previous fights though. We just brought in different sparring partners for this one. We're using fighters who can show us what Charlo will bring to the ring."
After a 30-minute intermission the second half of the boxing card begins.
Former bantamweight world champion Luis Nery (30-0, 24 KOs) moves up in weight to face Aaron Alameda (25-0, 13 KOs) for the vacant WBC super bantamweight world title. Both fighters are from Mexico.
Former super bantamweight titlists Danny Roman (27-3-1) and Juan Carlos Payano (21-3) meet in a 12-round bout.
In the grand finale WBC super welterweight titlist Jermell Charlo (33-1, 17 KOs) challenges IBF and WBA super welterweight titlist Jeison Rosario (20-1-1, 14 KOs) in a fight for all three belts.
"We lions," said Charlo.
It's a very big week for boxing that begins on Wednesday and ends Saturday.
Check out more boxing news on video at the Boxing Channel 
To comment on this story in the Fight Forum CLICK HERE