Johnny Bos: Large in Life, A Cult Figure in Death (A TSS Classic by Randy Gordon)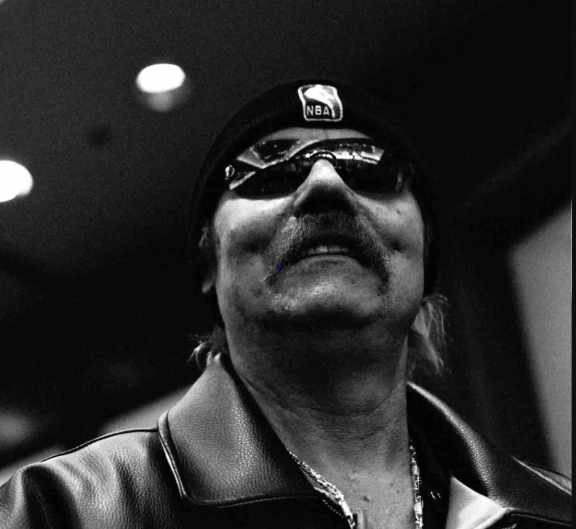 On a blustery autumn afternoon in October, 1979, Johnny Bos stepped off the elevator into my office at Ring Magazine. He was wearing a full-length white mink coat, large-rimmed sunglasses and a white ski cap. He wore jeans and a Gerry Cooney T-shirt. His coat was open, revealing a baseball-sized boxing glove which hung from one of several chains around his neck. He was unshaven, but his blond mustache stood out.
As he stepped off the elevator, he ran into Bert Sugar and me, who were heading to O'Reilly's Pub, the birthplace for so many of the classic Ring Magazines Bert and I put out. As Johnny looked at us and as we looked at him, Bert exclaimed, "What the hell are you dressed up as!!??"
Johnny just looked at Bert, in his black Fedora, paisley pants, blue denim shirt, a tie which matched nothing he was wearing plus a long cigar and said, "Look who's talking…Mr. Fashion Statement himself." We had a good laugh, then Bert said, "Come with us, we're working on the next issue. I'll buy you a drink." That was around noon when we headed to O'Reilly's. We didn't walk out of O'Reilly's until midnight, but our next magazine was all but put together. Bert bought Johnny more than one drink. He even offered to pay him. Johnny accepted the drinks—each one a rum and Coke. He refused to take the money. He said helping us put together the story ideas for an issue of The Ring—our Ring—was worth it. He was always there for us.
"Today, November 17, 2012, is 26 years I have been straight & sober. I might be the only person who went from being a successful alcoholic to (being) a sober bum." — Bos
*   *   *
I met Johnny in late 1976, in front of Sunnyside Garden Arena in Sunnyside, Queens, N.Y. We were there to catch a fight card featuring light heavyweight contender Bobby Cassidy against Luis Vinales. Also on the card was a rematch between my friend, Paddy Dolan, and Gerald Odum, who had beaten me eight months earlier in my pro debut.
Johnny and I were introduced by Malcolm "Flash" Gordon, who stood in front of the arena and sold his boxing newsletters, "Tonight's Boxing Program."
"You guys will get along great," said Flash. "You are two of the biggest boxing junkies I know."
Flash was right. Over the next 20 years, I watched Johnny move from being a gym rat (he loved spending time at Gil Clancy's Gym on 28th Street in Manhattan) to being one of the most sought after matchmakers and booking agents in the country. In the early 1980's, while on a trip to a fight card in Atlantic City, I took the 2 ½ hour ride from New York City to Atlantic City with Hall of Fame matchmaker Teddy Brenner. When the talk came to matchmakers, he said, "I want you to watch three young matchmakers. They are going to be three of the best ever." The names he mentioned were Bruce Trampler, Ron Katz and Johnny Bos. Trampler already has been inducted into the International Boxing Hall of Fame. Katz is on his way there. Hopefully, so is Bos.
October 16, 2012—They took everything away from me, but my name will only get bigger and bigger as time goes on, even after I'm gone. Gottttttttttttttttta Gooooooooooooooooo. With Love, from Bos. Ccccccccyaaaaa!
*   *   *
Johnny, whose given name was Bosdal, was born in Brooklyn, N.Y. He was a student of boxing, but little else, and left school before 11th grade. He took a job in a department store, then went to work on the graveyard shift for the U.S. Postal Service. Being up all night probably honed him for his oncoming career as a matchmaker/booking agent, as he did his best work between the hours of 11:00 p.m.-5:00 a.m.
When fledgling boxing managers Mike Jones and Dennis Rappaport signed two promising fighters from Long Island, New York—Howard Davis Jr. and Gerry Cooney—in the mid-1970's, they had the money to make things happen, but not the boxing knowledge. What they lacked in that department they more than made up for by hiring Bos to make matches for Olympic champion Davis and the towering left hook artist from Huntington, L.I. The talents of Davis and Cooney, along with the expert matchmaking of Bos, helped to quickly move each fighter into title contention.
Quickly, other managers and promoters saw what a matchmaking genius Bos was, and he became the busiest matchmaker in the boxing world. In the late 1970's, at a fight card—where else—Bos met a young matchmaker from White Plains, N.Y., Ron Katz. The two became close friends. Young Katz quickly began learning from Bos, and soon the boxing business had the Boz-Katz matchmaking seal on almost every card in the nation. If Bos-Katz didn't actually make a match on the card, they gave other matchmakers ideas for matches…gave them phone numbers or had fighters call them.
He and Katz would talk on the phone thru the night—every night. They made matches, got opponents, sparring partners and helped other matchmakers who were in desperate need of assistance. They usually got no money. Occasionally, they got a "Thank You." They didn't care. They had each other to talk boxing to.
It was nothing for them to conference-call someone—after midnight. I lost track of how many times my home phone rang after 2:00 a.m. Upon fumbling for the phone, I'd hear the two of them—Heckle & Jeckle—singing, on key, "Hello, Hello, Hello, Hello." I'd then go into another room and talk boxing with them, for a good hour or two, this, despite the fact I had to be into my office at The Ring in a few hours while Heckle & Jeckle slept the morning away. Thank goodness my boss was Bert Sugar!
"They can try as hard as they want to take the man out of boxing, but they'll never take the boxing out of the man."
*   *   *
Johnny loved music, and his tastes ran from the Temps, Four Tops and Marvin Gaye to Curtis Mayfield, David Bowie and Irene Cara (one of his favorite songs was Cara's 1980's hit, "Fame."). He also loved his wearing his chains, his oversized boxing glove, his rings and his bling. Oh, there was also that full-length mink. Johnny loved his white mink, even in the warmer months. It was as common to see Johnny walk into a press conference in late April or early October wearing it as is was to see Don King with his hair pointed to the boxing heavens. Once, before Gerry Cooney fought Jimmy Young in Atlantic City, Jones & Rappaport, known in the industry as the "Wacko Twins," told Bos he'd have to look presentable and professional at the casino in Atlantic City on the day of the fight, so they bought him a powder blue, three-piece suit.
"They told me there would be executives from CBS there and I would need to wear a suit," Bos recalled. "I told them I didn't own a suit and wasn't gonna' buy one. And what did I care if executives from CBS were there. They were there to see Cooney, not me." But after the "Wacko Twins" bought Johnny the suit, he wore it.
"I kinda' liked the way I looked," recalled Bos recently. "It brought out my best features."
Actually, Johnny's best feature was his personality. Sure, his pimp-like mode of dressing on that 6'4" frame, which always held between 260-300 pounds, drew attention, but his quick wit, along with his deep passion and knowledge of the Sweet Science—both past and present—ingratiated him to everyone he came in contact with. Here was a man who loved what he did.
In a business known for its backstabbing and underhanded business deals, Johnny could be counted on and trusted. If he shook your hand on a deal, you could consider it done. In his decades of building the careers of so many fighters, Johnny gave more of himself than he ever took in return.
Few top fighters of the 1970's, 80's and early 90's went through their career without being touched in some way by Johnny Bos. Once, he made a match for a rising contender who had stiffed him of a few thousand dollars a year earlier. It was one of the few times Johnny sought revenge. The opponent for the rising contender was a last-second replacement. Bos, who knew that styles make fights, made sure the opponent he chose was anything but the "right" opponent for the rising contender. When the fight was over, the rising contender was a fallen contender and Bos was thrilled.
After the fight, he laughed to me about what he had done.
"You're bad, Johnny," I said.
"I'm Johnny Bos, Johnny Bos, baddest dude there ever was!" he said with a roar.
But those moments were few and far between.
He watched with pride as many of the fighters he made matches for, including John "The Beast" Mugabi, John "The Heat" Verderosa, Michael Bentt, Joey Gamache, Tyrone Booze, Tracy Patterson, Jameel McCline, Paulie Malignaggi, Tyrell Biggs, Evander Holyfield, Mark Breland, Meldrick Taylor, Alex Ramos, Johnny Bumphus, Frank Bruno, Cornelius Boza-Edwards, Lloyd Honeyghan—and many more—all went on to major success in the industry.
Hall-of-Fame journalist Michael Katz once said that if he had to choose a person to be the National Commissioner of Boxing, his choice would be Johnny Bos.
To that, Johnny replied, "I could do the job, but I'd hate the politics."
It was the politics of boxing, the truly dirty side of boxing politics, which broke Johnny's big heart. After guiding and building the career of lightweight/junior welterweight Joey Gamache, Johnny steered him into a fight on February 26, 2000, against Arturo Gatti in Madison Square Garden. At that time, the New York State Athletic Commission was comprised of political hacks and cronies and run by a convicted felon who should have never been allowed to take control of the state agency.
At the weigh-in, Gatti was allowed to get on the scale and get right off, without the scale actually showing what his weight was. When Bos complained, the inept commissioner gave him a hard time, and told him the weigh-in was official. Gamache weighed 140 pounds. Gatti weighed 140 1/2. The following day, at the unofficial HBO weigh-in, Gamache was still a junior welterweight. Gatti wasn't. He had ballooned four weight classes. He weighed in at 160 pounds. That night, he crushed Gamache, knocking him out in the second round.
Bos went wild, calling out the commission's ineptitude on every level. As Gamache recovered in the hospital from the severe head trauma he suffered at the hands of the brutal-punching Gatti, Bos filed a protest on the grounds the weigh-in was handled improperly. Then he filed suit against the New York State Athletic Commission.
With the NYSAC breathing down Johnny's neck he sought what he thought would be a bright future in the Sunshine State. He settled in Clearwater, Florida, originally telling me, "Lots of people head to Florida to finish out their lives and die. I'm going to Florida to live."
It never worked out that way for him, especially after a New York court ruled in Gamache's favor in the lawsuit, finding the NYSAC negligent in their handling of the weigh-in. But then came the blow which struck Big John harder than he had ever been hit before. The court refused to award Gamache any money. Not a penny. They ruled that the NYSAC's negligence had not determined the outcome of the fight. He retreated to his apartment in Clearwater and stayed there for months.
"Don't worry if there's a hell below, because we're all going to go." -Curtis Mayfield
*   *   *
Johnny's spirits were lifted, when, in 2009, he was inducted into the Florida Boxing Hall of Fame. The induction was exactly what Bos needed. In his 58 years, he had been addicted to three things: Cigarettes, alcohol and boxing. Over the years, he was able to completely eliminate alcohol (1986) and cigarettes (a few years later). But he never could rid himself of his addiction to boxing. Many of us know that same feeling. When the call came about his upcoming induction, Bos was elated.
He took to Facebook and proclaimed he was back. Then he met and became friends with Henry Rivalta, the head Boxing Operations for Acquinity Sports, the new boxing promotion powerhouse based out of South Florida. Rivalta made Bos his matchmaker.
Last November 30, I was in Sunrise, Florida, as one of four announcers for the Khabib Allakhverdiev-Joan Guzman fight. Acquinity was the promoter. Sitting in the hotel lobby, waiting for me were two of my favorite boxing people. One was my announcing colleague that night, Ron Borges, who, for years, has been one of the top boxing writers in the world. The other was Acquinity's matchmaker, Johnny Bos.
Although I had spoken to him quite often on the phone, this was the first time I had seen Johnny in a few years. Both Borges and I didn't think he looked well. The fact is, he wasn't.
Recently, he put a photo of a cardiologists's report done on him in 2000, on Facebook. The report found Bos to have congestive heart failure, brought on by years of heavy smoking and excessive drinking. The doctor said his long term prognosis for Johnny was not encouraging. When Johnny put that doctor's note on Facebook, he said "I'm still here, so f–k all of you!"
"I spoke to him last week," said Henry Rivalta. "During our conversation, he said 'Thank you, Henry. Thank you for everything.' I don't know how much longer this old heart can hold out. So thank you for bringing me back. Thank you for everything.' He knew."
On Saturday night at around 10:30 p.m., Johnny's brother, Jeffrey, along with Jeffrey's girlfriend, Suzanne McBee, found Johnny dead in his apartment.
On so many occasions since his departure from New York, Johnny Bos said to me, "Nobody remembers me. I was once a big name in boxing and now, nobody remembers me." I assured him that wasn't true.
Now, as he sits in his white mink at the bar inside the Pearly Gates (sorry, Johnny, you were wrong about where you were heading) with Bert Sugar, Wayne Kelly, Teddy Brenner, Emanuel Steward, Angelo Dundee and other boxing luminaries who graced us, Bos sees the outpouring of love his memory is getting, and knows he hasn't been forgotten.
As long as boxing lives, he will never be forgotten.
EDITOR'S NOTE; This story first ran on May 15, 2013. For more on the late Johnny Bos, check out Thomas Hauser's fond remembrance.
Check out more boxing news on video at the Boxing Channel 
To comment on this article in the Fight Forum CLICK HERE
Fast Results from Fort Worth Where Vergil Ortiz Jr Won His 19th Straight by KO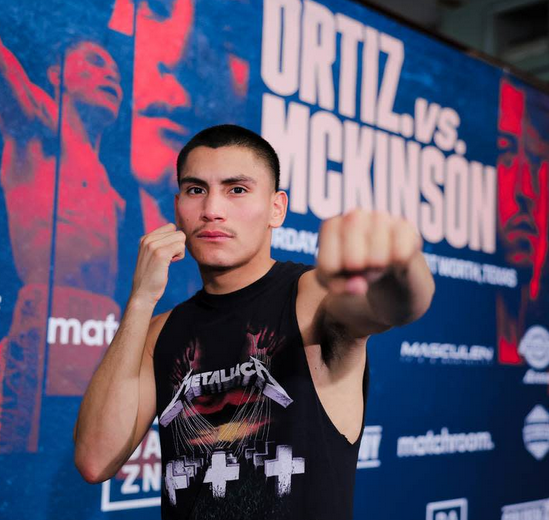 In a match pushed back from March 19, Vergil Ortiz Jr moved one step closer to a mega-fight with Terence "Bud" Crawford or Errol Spence Jr or Boots Ennis with a ninth-round stoppage of England's feather-fisted Michael McKinson. The end came 20 seconds into round nine when McKinson appeared to injure his knee as he fell to the canvas, an apparent residue of the body punch that put him on the deck late in the previous stanza. To that point, Ortiz had seemingly won every round.
It was the 19th win inside the distance in as many opportunities for Ortiz who resides in nearby Grand Prairie and was making his first start with new trainer Manny Robles. McKinson was undefeated heading in, but had scored only two knockouts while building his record to 22-0.
Ortiz, ranked #1 at welterweight by the WBA and the WBO, pulled out of the March 19 bout after being diagnosed with rhabdomyolysis, a muscle disorder associated with over-training.
Ortiz's promoter, Oscar De La Hoya, says that Ortiz will fight the winner of Errol Spence vs Terence Crawford next assuming that the fight gets made, and if doesn't get made, Ortiz's next fight will be with one or the other. The WBA, which stamped tonight's fight an eliminator, may push to have Ortiz fight their secondary title-holder, Eimantas Stanionis.
Co-Feature
Houston's Marlen Esparza (13-1, 1 KO) successfully defended her WBA/WBC world flyweight title with a unanimous decision over plucky 4'11 ½" Venezuelan southpaw Eva Guzman who had won 14 straight coming in, albeit against soft opposition. The judges had it 98-92 and 99-91 twice.
Guzman (19-2-1) was game, but just didn't have the physical tools to overcome Esparza whose lone defeat came at the hands of talented Seneisa Estrada.
Other Fights of Note
In a 10-round match contested at the catchweight of 150 pounds, Blair "The Flair" Cobbs rebounded from his first defeat with a career-best performance, a wide decision over former WBO 140-pound world titlist Maurice Hooker. It was the second straight loss for Hooker who returned to the ring after a 17-month hiatus and came out flat. Cobbs put him on the canvas in the opening frame with a combination and decked him twice more with straight lefts in round two.
Things got somewhat dicey for Cobbs in round five when he suffered a bad gash on his forehead from an accidental head butt, but Hooker, who had stablemate Bud Crawford in his corner, hesitated to let his hands go and couldn't reverse the tide. The judges had it 96-91 and 97-90 twice for the flamboyant Cobbs who improved to 16-1-1 (10). Hooker, a consensus 5/2 favorite, lost for the third time in his last five starts and slumped to 27-3-3.
In the opener to the main portion of the DAZN card, Uzbekistan's Bektimir Melikuziev (10-1, 8 KOs), a super middleweight growing into a light heavyweight, dominated and stopped overmatched Sladan Janjanin. Melikuziev put Janjanin down with a body punch in the opening minute of the fight and scored two more knockdowns before the bout was halted at the 2:18 mark of round three.
This was Melikuziev's third fight back after his shocking one-punch annihilation by Gabriel Rosado. Janjanin, a well-traveled Bosnian who fought three weeks ago in Massachusetts, declined to 32-12 and was stopped for the eighth time.
Also
Chicago welterweight Alex Martin (18-4, 6 KOs) overcame a first-round knockdown to win a unanimous decision over 38-year-old Philadelphia journeyman Henry Lundy. The judges had it an unexpectedly wide 98-91, 97-92, 97-92.
Martin was coming off a points loss to McKinson and this bout was his reward for taking that fight on short notice. Lundy (31-11-1) has lost five of his last seven.
Floyd "Austin Kid" Schofield, a lightweight who appears to have a big upside, advanced to 11-0 (9 KOs) at the expense of Mexican trial horse Rodrigo Guerrero whose corner wisely pulled him out after five one-sided rounds. It was the ninth straight loss for Guerrero (26-15).
To comment on this story in the Fight Forum CLICK HERE
Conlan Wins His Belfast Homecoming; Breezes Past Lackadaisical Marriaga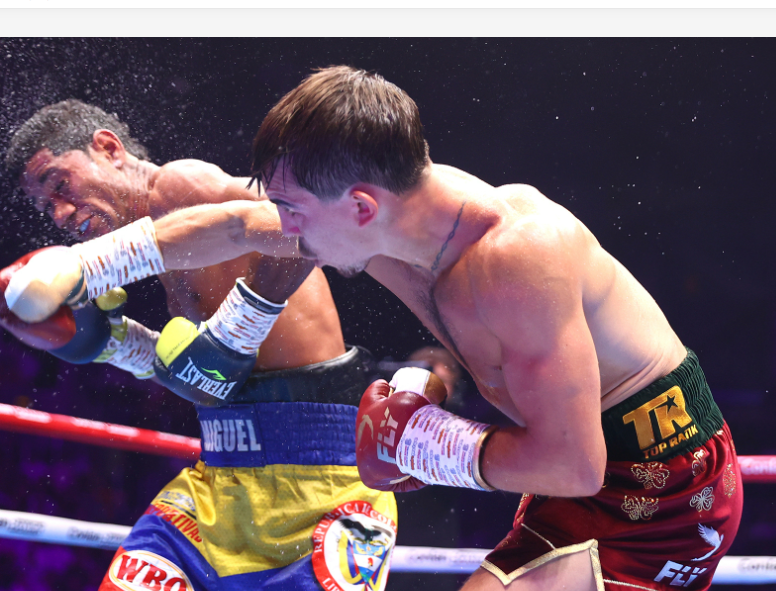 "The Return of the Mick" was the label attached to tonight's show at the SSE Arena in Belfast, Northern Ireland. The reference was to local fan favorite Michael "Mick" Conlan who returned to his hometown in hopes of jump-starting his career after suffering his first pro loss in a brutal encounter with Leigh Wood.
In that bout, a strong "Fight of the Year contender, Conlan was narrowly ahead on all three cards heading into the 12th and final round when the roof fell in. Wood, who was making the first defense of his WBA world featherweight title on his home turf in Nottingham, knocked the favored Conlan unconscious and clear out of the ring.
This was the sort of fight that can shorten a man's career. Hence the intrigue in Conlan's homecoming fight tonight against Miguel Marriaga. On paper, the Colombian, a three-time world title challenger, was a stern test considering the circumstances.
To the contrary, Marriaga had no fire in his belly until the final round when he hit Conlan with a shot that buckled his knees. But, by then Conlan was so far ahead without overly exerting himself that there was virtually no chance of another meltdown.
While Conlan won lopsidedly, the scores – 99-89 and 99-88 twice – were somewhat misleading. True, "Mick" had Marriaga on the deck in rounds 7, 8, and 9, but the punches that put him there did not look particularly hard.
Conlan, 30, improved to 17-1 (8). Marriaga, 35, declined to 30-6.
After the fight, Conlan expressed the hope that Leigh Wood would give him a rematch.
Other Bouts of Note
In an entertaining 10-round welterweight scrap that could have gone either way, Belfast's Tyrone McKenna (23-3-1, 6 KOs) rebounded from his defeat in Dubai to Regis Prograis (TKO by 6) with a hard-fought unanimous decision over 33-year-old Welshman Chris Jenkins (23-6-3). The judges favored the local fighter by scores of 97-94 and 96-95 twice.
Jenkins, a former British and Commonwealth title-holder, had the best of the early going, working the body effectively while frequently finding a home for his uppercut, but he could not sustain his advantage.
Thirty-four-year-old Belfast super middleweight Padraig McCrory who got a late start in boxing, scored the most important win of his career with a fifth-round stoppage of Marco Antonio Periban, a former world title challenger. McCrory had Periban on the deck three times – once in the second and twice in the fifth – before the bout was halted at the 2:14 mark of round five.
It was the fourth straight win inside the distance for McCrory who improved to 14-0 (8 KOs). Mexico's Periban, who returned to the sport in April after missing all of 2020 and 2021, fell to 26-6-1.
Highly-touted welterweight Paddy Donovan improved to 9-0 (6) with an 8-round unanimous decision over Yorkshireman Tom Hall (10-3). The referee scored every round for Donovan, an Irish Traveler trained by Tyson Fury's bosom buddy Andy Lee, the former world middleweight title-holder.
Photo credit: Mikey Williams / Top Rank via Getty Images
To comment on this story in the Fight Forum CLICK HERE
A Cornucopia of Accolades for Venerable Sportswriter Jerry Izenberg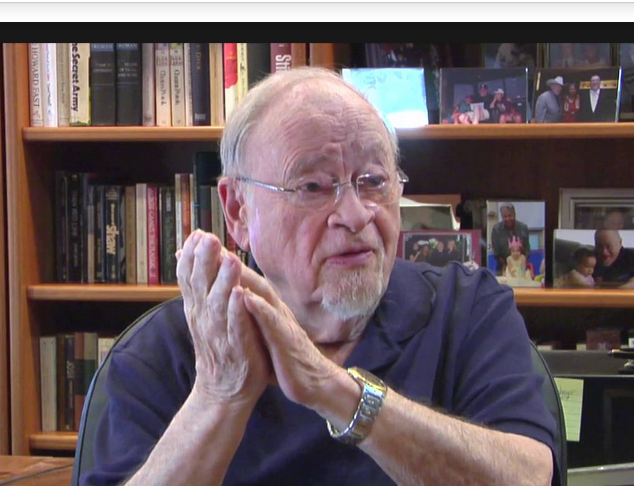 Ponder this for just a moment: Jerry Izenberg has written about sports for seventy-one years. No, this isn't a misprint.
Behind a righteous conscience, a clear mind and a cool hand, the 91-year-old New Jersey native and columnist emeritus for the Newark Star-Ledger has pounded out stories from every venue, both near and far, and on every major sport and that includes boxing which he holds near and dear and has been a great story-telling device.
"Most fans like it but don't understand it. Some writers take  advantage of the fact that because so many fans keep looking and waiting for a knockout. It's the easiest sport for a writer to fake," said Izenberg of the sweet science. "But for serious writers, it's the best…just three people inside the ring and a cut man and a trainer in each corner…when two great fighters meet, they produce at one and the same time the most brutal yet graceful ballet requiring skill, courage and the most determination in all of sports."
Izenberg, the author of more than a dozen books including "Once There Were Giants: The Golden Age of Heavyweight Boxing," has come across many interesting souls while traveling the globe dissecting the fight game, but one fighter in particular, a three-time heavyweight champion, caught his fancy.
"Muhammad Ali was someone I knew from the 1960 Olympics. He was my friend but he became my genuine friend the morning after he won the title from Sonny [Liston]. That was shortly after the press conference when as a world champion for just 24 hours, he announced his belief in a form of Islam then associated with Elijah Muhammad named the Lost Found Nation of Islam and colloquially known as the Black Muslims," he said.
"It was the first time most writers had been exposed to Ali's (then Cassius Clay) membership in the group. I may have been the first to defend his right to whatever religion he followed and whatever name he chose to be called. He respected the fact that I made it a priority to find out who the hell this guy was and that I would be writing about even after the day he died. We became close friends for about 50 years. Before that he had testified at a New York State Legislature hearing about boxing. A bunch of us were ticketed to return to Manhattan on the midnight train."
Izenberg explained how the friendship really took off:
"I was in my hotel room writing my column when he walked in at about 2 p.m."
"Man, I am so tired. Are there any empty rooms in this hotel?"
"Take my bed," I offered. "I promise to type quietly."
"After he beat Sonny, [February 1964], he started to tell everybody, 'This man, this man gave me shelter and his bed when I had no bed.' And I would say, 'that was only because I didn't know who the hell you were.'"
"And then we'd both laugh. It was a great friendship to the point where I still have trouble saying 'was' these days instead of 'is.' I miss him very much."
"I always wrote about the human condition which you would be wise to consider whether it is admirable or deplorable. When I was probably the first to defend Ali's constitutional rights, they broke out my car's windshield with sledge hammers and mailed me dog feces and alarm clocks disguised as bombs," he said. "When I explained the reasons behind [Colin] Kaepernick's Star Spangled Banner kneel we got hundreds of negative emails – none of which noted that I had carefully explained exactly what he said about why he was doing it and it had nothing to do with patriotism. I listened to exactly what he explained about a horrible wave of police brutality and I wrote what he said."
Izenberg, a graduate of Rutgers University Newark, shot back at the critics. "The trouble with these snap decisions by these knee-jerk detractors was that most of them wrapped their criticism in a tsunami of emotions but offered only a scintilla of facts," he said.
John Feinstein, a contributor to the Washington Post and Golf Digest and the author of two of the best-selling sports books of all time, added his two cents on Izenberg: "I think Jerry's done a remarkable job through the years of staying current, of remaining a REPORTER which many columnists – particularly older ones – fail to do," he said. "He rarely falls back on, 'back in the day, when I was a young reporter.' His work always feels as if it's fresh, not a rehash of material from years gone by."
The prolific Feinstein spoke about Izenberg's deft touch: "I always thought of Jerry as, 'the quiet columnist.' He never called attention to himself in press conferences or in the media room at big events," he said. "He'd just sit there, puffing on his pipe, and turn out something which would cause me to say, 'gee, I wish I'd thought of that,' when I read it. I've always said the guys who are the best at what they do don't have to tell you they're the best at what they do. Jerry falls into that category."
Izenberg reflected on his bar mitzvah at age 13, a rite of passage for Jewish boys. "My bar mitzvah ceremony was supervised nearly eight decades ago by a rabbi named Joachim Prinz. He had escaped Nazi Germany, rode a Freedom Bus during the beginning of the civil rights movement and introduced The Rev. Martin Luther King at the National Mall [in Washington, D.C.]," he said. "He was the one who called my attention to the Hebrew phrase "Tikkun Olam" – Hebrew translation: Repair the world." The most modern understanding of the phrase is that you fix the world through the individual human action of each person."
"So, I write what I believe, even if my soapbox is limited to a field of end zones and foul lines and ring posts," Izenberg added. "My work is the residue of my father, who set the standard, my teacher, Stanley Woodward, who gave me the tools and Dr. Prinz, the rabbi who kind of deputized me."
Former New York Times sports columnist Harvey Araton who wrote about the odd coupling of Ali-Liston II and Lewiston, Maine, in a story re-visited on these pages, noted that Izenberg, a longtime friend, wasn't swayed by popular opinion.
"He wrote what he thought. If that went with the wind, fine. If not, too damn bad. On his favorite topics (boxing, football, horse racing, baseball), he knew that he knew more than most and wrote with that level of authority," he said. "In other subjects, his eyes and ears were focused on what he could learn and report. He was old school all the way, not writing for clicks or retweets or to land a TV deal by manufacturing (fake) anger. Come to think of it, Jerry was one of the first crossover print sports guys when he appeared on Sports Extra on Sunday nights on Channel 5 in New York (if memory serves correct)."
"If you knew Jerry, you could actually hear his (cantankerous) voice in his column. When I was in college and grad school, working on the desk of the Staten Island Advance, a sister paper to Jerry's Newark Star-Ledger, we'd run his column," he said. "Much too brash and a  little stupid, I'd ready my editor's pen to see where I could make some changes and prove my worth. Whatever changes I'd make, my boss would undo. He'd tell me, "You don't f*** with a voice and style as distinctive as Izenberg, OK?" Jerry had his pet lines he would use, or overuse, like 'herniated snail' to describe a slow runner, or' Gomorrah-by-the-desert,' meaning Vegas. But you never knew what delightful turns of phrases would turn up in his copy, though seldom, if ever, did they obscure the message."
Araton noted Izenberg's affection for the Garden State: "Many may not remember that Jerry was not only a Jersey guy, though his love for the state in general and Newark in particular was indisputable," he said. "But in the late 70s, his columns were also picked up by the New York Post, in large part because of his friendship with Jerry Lisker, the Post sports editor, who was also a big boxing guy. So, in an era of many mega-bouts, Jerry's voice was heard in what was considered by many to be the city's best sports section."
"One last thing," said Araton. "About 9-10 years ago, I wrote a piece on the failure of the (now defunct) Newark Bears, or at least a remake of the team as an indie baseball team, to thrive despite a lovely little stadium the city and county had built," he said. "The story explores whether soccer was the more realistic pursuit. Jerry had championed the baseball cause in his columns. If you read Jerry's quote, you can see his irascible side but also his honesty; he says that people told him he was living in the past, thereby acknowledging that possibility."
Here is a link to that story.
https://www.nytimes.com/2011/08/22/sports/baseball/did-newark-bet-on-the-wrong-sport.html?smid=nytcore-ios-share
One of Izenberg's biggest fans is Japan Forward sports editor Ed Odeven who penned the well-received "Going 15 Rounds With Jerry Izenberg."
"Jerry's prose," said Odeven, "has never been saturated or bogged down with too many statistics or analytics…His stories are always anchored by human drama and a novella-like structure (with a beginning, middle and end)."
"Jerry was a progressive thinker decades ago in telling the plight of African American athletes and Historically Black Colleges and Universities (his visit to Grambling University, where he chronicled football coach Eddie Robinson's squad, which produced his groundbreaking story in True in 1967). He was far ahead of the curve in recognizing that Black and Latino athletes were rising stars and a significant part of the nation's sports culture," continued Odeven.
Ira Berkow, who spent countless hours ringside with Izenberg, echoed that observation.
"The aspect of the significance of race in sports was late in coming for many sportswriters," noted Berkow, the longtime sports columnist for the New York Times. "Not for Jerry. He was clearly in the forefront of the discussion."
Boxers are more open and introspective than other athletes according to Izenberg. And when the best of the best step into the ring, it can be magical.
Izenberg recounted two classics at which he sat ringside. One took place in 1975 in the Philippines and the other in 1985 at Caesars Palace in Las Vegas.
"I'm 91 now and I would like to say Cain-Abel but a camel died on the highway that day so I was late getting there," he said. "The best fight of any weight – Ali-[Joe] Frazier in Manila…15 rounds of hell.
The best way I can sum it up is with the lead I filed 20 minutes after the fight ended: "Muhammad Ali and Joe Frazier did not fight for the WBC heavyweight title here last night. Nor did they fight for the heavyweight title of the planet. They could have fought inside a telephone booth on a melting ice flow and had all the room they needed. "They fought, instead, for the championship of each other. And as far as I'm concerned, they could fight forever and the issue would never be settled."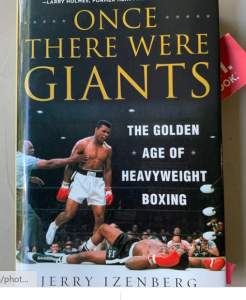 The second classic that stands out in his mind is Hagler-Hearns. "The best first round at any weight," Izenberg said. "Hearns won the explosive round, drawing blood from Marvin's forehead but when Hagler didn't take one step backward, he won the fight then and there."
For Izenberg, there have been some changes in boxing and not always for the good.
"Now when young boxers are told to hit the heavy bag by their trainers, the response is: 'Okay, but will I ever play the guitar
again?' Yes, we have a shortage of gifted fighters but so many of the ones we do have are in desperate need of gifted teachers," he said.
And with that, it appears the sport has also lost some of its shine. "Yes, because now it features more self-styled entertainers than fighters. The most exciting moment in all of sports used to be when a slight murmur began from the back of the arena and then a crescendo that grew louder and louder as they approached the ring," said Izenberg of the excitement of a big fight. "It was clear they had come to fight. Now we have smoke and mirrors, fake fog and an army of hangers-on for the walk to the ring large enough to double as extras in a cinematic re-creation of Exodus. The best fighters we have don't need the theatrics. I wish we had more of them."
Izenberg, who turns 92 on September 10, has been honored many times. Is there one that stands above the rest?
"I'm in 15 Halls of Fame but that's not it. I won the Red Smith Award and that's not it because when I was at the [New York] Herald Tribune my desk was next to his and I learned a lot and that was worth more than any award," he said.
"I was, for a time, fairly regular on Irish radio and one day the host interviewed me as what he called an important journalist. He said with all the awards, why is it you never won a Pulitzer? Nobody had ever asked me that.
"I told him that when the Star-Ledger was the eighth largest Sunday paper in the country, we had an audience of over one million. On weekdays it was around 600,000. So, if just one of every six readers read Jerry Izenberg during the week I had an extended family of 100,000. If they came back because they liked what I wrote, well, hell, the Pulitzer doesn't mean much when measured against that."
Hall of Fame boxing writer Thomas Hauser weighed in: "He should have won the Pulitzer Prize for Commentary long ago, but the jury that designates Pulitzer winners is journalism's answer to boxing's world sanctioning organizations with the New York Times playing the role of Don King."
"If we're lucky," said Hauser, "Izenberg will write his memoirs someday. But that would be the crib notes version. To fully appreciate his work, one has to have read his columns; day after day, week after week, year after year. Ten thousand columns crafted over the span of more than four decades," he said.
"Indeed, if the Newark Star-Ledger is interested in performing a true public service," continued Hauser, "it will assemble those columns in multi-volume sets, put the sets in major libraries across the country, and give Izenberg a set to take home with him."
To comment on this story in the Fight Forum CLICK HERE