Johnny Bos: Large in Life, A Cult Figure in Death (A TSS Classic by Randy Gordon)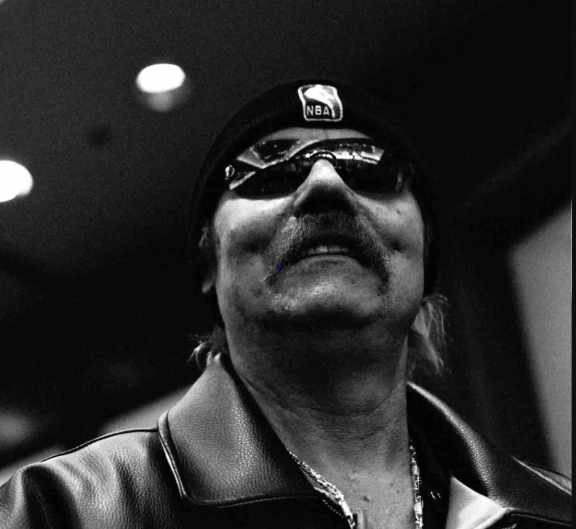 On a blustery autumn afternoon in October, 1979, Johnny Bos stepped off the elevator into my office at Ring Magazine. He was wearing a full-length white mink coat, large-rimmed sunglasses and a white ski cap. He wore jeans and a Gerry Cooney T-shirt. His coat was open, revealing a baseball-sized boxing glove which hung from one of several chains around his neck. He was unshaven, but his blond mustache stood out.
As he stepped off the elevator, he ran into Bert Sugar and me, who were heading to O'Reilly's Pub, the birthplace for so many of the classic Ring Magazines Bert and I put out. As Johnny looked at us and as we looked at him, Bert exclaimed, "What the hell are you dressed up as!!??"
Johnny just looked at Bert, in his black Fedora, paisley pants, blue denim shirt, a tie which matched nothing he was wearing plus a long cigar and said, "Look who's talking…Mr. Fashion Statement himself." We had a good laugh, then Bert said, "Come with us, we're working on the next issue. I'll buy you a drink." That was around noon when we headed to O'Reilly's. We didn't walk out of O'Reilly's until midnight, but our next magazine was all but put together. Bert bought Johnny more than one drink. He even offered to pay him. Johnny accepted the drinks—each one a rum and Coke. He refused to take the money. He said helping us put together the story ideas for an issue of The Ring—our Ring—was worth it. He was always there for us.
"Today, November 17, 2012, is 26 years I have been straight & sober. I might be the only person who went from being a successful alcoholic to (being) a sober bum." — Bos
*   *   *
I met Johnny in late 1976, in front of Sunnyside Garden Arena in Sunnyside, Queens, N.Y. We were there to catch a fight card featuring light heavyweight contender Bobby Cassidy against Luis Vinales. Also on the card was a rematch between my friend, Paddy Dolan, and Gerald Odum, who had beaten me eight months earlier in my pro debut.
Johnny and I were introduced by Malcolm "Flash" Gordon, who stood in front of the arena and sold his boxing newsletters, "Tonight's Boxing Program."
"You guys will get along great," said Flash. "You are two of the biggest boxing junkies I know."
Flash was right. Over the next 20 years, I watched Johnny move from being a gym rat (he loved spending time at Gil Clancy's Gym on 28th Street in Manhattan) to being one of the most sought after matchmakers and booking agents in the country. In the early 1980's, while on a trip to a fight card in Atlantic City, I took the 2 ½ hour ride from New York City to Atlantic City with Hall of Fame matchmaker Teddy Brenner. When the talk came to matchmakers, he said, "I want you to watch three young matchmakers. They are going to be three of the best ever." The names he mentioned were Bruce Trampler, Ron Katz and Johnny Bos. Trampler already has been inducted into the International Boxing Hall of Fame. Katz is on his way there. Hopefully, so is Bos.
October 16, 2012—They took everything away from me, but my name will only get bigger and bigger as time goes on, even after I'm gone. Gottttttttttttttttta Gooooooooooooooooo. With Love, from Bos. Ccccccccyaaaaa!
*   *   *
Johnny, whose given name was Bosdal, was born in Brooklyn, N.Y. He was a student of boxing, but little else, and left school before 11th grade. He took a job in a department store, then went to work on the graveyard shift for the U.S. Postal Service. Being up all night probably honed him for his oncoming career as a matchmaker/booking agent, as he did his best work between the hours of 11:00 p.m.-5:00 a.m.
When fledgling boxing managers Mike Jones and Dennis Rappaport signed two promising fighters from Long Island, New York—Howard Davis Jr. and Gerry Cooney—in the mid-1970's, they had the money to make things happen, but not the boxing knowledge. What they lacked in that department they more than made up for by hiring Bos to make matches for Olympic champion Davis and the towering left hook artist from Huntington, L.I. The talents of Davis and Cooney, along with the expert matchmaking of Bos, helped to quickly move each fighter into title contention.
Quickly, other managers and promoters saw what a matchmaking genius Bos was, and he became the busiest matchmaker in the boxing world. In the late 1970's, at a fight card—where else—Bos met a young matchmaker from White Plains, N.Y., Ron Katz. The two became close friends. Young Katz quickly began learning from Bos, and soon the boxing business had the Boz-Katz matchmaking seal on almost every card in the nation. If Bos-Katz didn't actually make a match on the card, they gave other matchmakers ideas for matches…gave them phone numbers or had fighters call them.
He and Katz would talk on the phone thru the night—every night. They made matches, got opponents, sparring partners and helped other matchmakers who were in desperate need of assistance. They usually got no money. Occasionally, they got a "Thank You." They didn't care. They had each other to talk boxing to.
It was nothing for them to conference-call someone—after midnight. I lost track of how many times my home phone rang after 2:00 a.m. Upon fumbling for the phone, I'd hear the two of them—Heckle & Jeckle—singing, on key, "Hello, Hello, Hello, Hello." I'd then go into another room and talk boxing with them, for a good hour or two, this, despite the fact I had to be into my office at The Ring in a few hours while Heckle & Jeckle slept the morning away. Thank goodness my boss was Bert Sugar!
"They can try as hard as they want to take the man out of boxing, but they'll never take the boxing out of the man."
*   *   *
Johnny loved music, and his tastes ran from the Temps, Four Tops and Marvin Gaye to Curtis Mayfield, David Bowie and Irene Cara (one of his favorite songs was Cara's 1980's hit, "Fame."). He also loved his wearing his chains, his oversized boxing glove, his rings and his bling. Oh, there was also that full-length mink. Johnny loved his white mink, even in the warmer months. It was as common to see Johnny walk into a press conference in late April or early October wearing it as is was to see Don King with his hair pointed to the boxing heavens. Once, before Gerry Cooney fought Jimmy Young in Atlantic City, Jones & Rappaport, known in the industry as the "Wacko Twins," told Bos he'd have to look presentable and professional at the casino in Atlantic City on the day of the fight, so they bought him a powder blue, three-piece suit.
"They told me there would be executives from CBS there and I would need to wear a suit," Bos recalled. "I told them I didn't own a suit and wasn't gonna' buy one. And what did I care if executives from CBS were there. They were there to see Cooney, not me." But after the "Wacko Twins" bought Johnny the suit, he wore it.
"I kinda' liked the way I looked," recalled Bos recently. "It brought out my best features."
Actually, Johnny's best feature was his personality. Sure, his pimp-like mode of dressing on that 6'4" frame, which always held between 260-300 pounds, drew attention, but his quick wit, along with his deep passion and knowledge of the Sweet Science—both past and present—ingratiated him to everyone he came in contact with. Here was a man who loved what he did.
In a business known for its backstabbing and underhanded business deals, Johnny could be counted on and trusted. If he shook your hand on a deal, you could consider it done. In his decades of building the careers of so many fighters, Johnny gave more of himself than he ever took in return.
Few top fighters of the 1970's, 80's and early 90's went through their career without being touched in some way by Johnny Bos. Once, he made a match for a rising contender who had stiffed him of a few thousand dollars a year earlier. It was one of the few times Johnny sought revenge. The opponent for the rising contender was a last-second replacement. Bos, who knew that styles make fights, made sure the opponent he chose was anything but the "right" opponent for the rising contender. When the fight was over, the rising contender was a fallen contender and Bos was thrilled.
After the fight, he laughed to me about what he had done.
"You're bad, Johnny," I said.
"I'm Johnny Bos, Johnny Bos, baddest dude there ever was!" he said with a roar.
But those moments were few and far between.
He watched with pride as many of the fighters he made matches for, including John "The Beast" Mugabi, John "The Heat" Verderosa, Michael Bentt, Joey Gamache, Tyrone Booze, Tracy Patterson, Jameel McCline, Paulie Malignaggi, Tyrell Biggs, Evander Holyfield, Mark Breland, Meldrick Taylor, Alex Ramos, Johnny Bumphus, Frank Bruno, Cornelius Boza-Edwards, Lloyd Honeyghan—and many more—all went on to major success in the industry.
Hall-of-Fame journalist Michael Katz once said that if he had to choose a person to be the National Commissioner of Boxing, his choice would be Johnny Bos.
To that, Johnny replied, "I could do the job, but I'd hate the politics."
It was the politics of boxing, the truly dirty side of boxing politics, which broke Johnny's big heart. After guiding and building the career of lightweight/junior welterweight Joey Gamache, Johnny steered him into a fight on February 26, 2000, against Arturo Gatti in Madison Square Garden. At that time, the New York State Athletic Commission was comprised of political hacks and cronies and run by a convicted felon who should have never been allowed to take control of the state agency.
At the weigh-in, Gatti was allowed to get on the scale and get right off, without the scale actually showing what his weight was. When Bos complained, the inept commissioner gave him a hard time, and told him the weigh-in was official. Gamache weighed 140 pounds. Gatti weighed 140 1/2. The following day, at the unofficial HBO weigh-in, Gamache was still a junior welterweight. Gatti wasn't. He had ballooned four weight classes. He weighed in at 160 pounds. That night, he crushed Gamache, knocking him out in the second round.
Bos went wild, calling out the commission's ineptitude on every level. As Gamache recovered in the hospital from the severe head trauma he suffered at the hands of the brutal-punching Gatti, Bos filed a protest on the grounds the weigh-in was handled improperly. Then he filed suit against the New York State Athletic Commission.
With the NYSAC breathing down Johnny's neck he sought what he thought would be a bright future in the Sunshine State. He settled in Clearwater, Florida, originally telling me, "Lots of people head to Florida to finish out their lives and die. I'm going to Florida to live."
It never worked out that way for him, especially after a New York court ruled in Gamache's favor in the lawsuit, finding the NYSAC negligent in their handling of the weigh-in. But then came the blow which struck Big John harder than he had ever been hit before. The court refused to award Gamache any money. Not a penny. They ruled that the NYSAC's negligence had not determined the outcome of the fight. He retreated to his apartment in Clearwater and stayed there for months.
"Don't worry if there's a hell below, because we're all going to go." -Curtis Mayfield
*   *   *
Johnny's spirits were lifted, when, in 2009, he was inducted into the Florida Boxing Hall of Fame. The induction was exactly what Bos needed. In his 58 years, he had been addicted to three things: Cigarettes, alcohol and boxing. Over the years, he was able to completely eliminate alcohol (1986) and cigarettes (a few years later). But he never could rid himself of his addiction to boxing. Many of us know that same feeling. When the call came about his upcoming induction, Bos was elated.
He took to Facebook and proclaimed he was back. Then he met and became friends with Henry Rivalta, the head Boxing Operations for Acquinity Sports, the new boxing promotion powerhouse based out of South Florida. Rivalta made Bos his matchmaker.
Last November 30, I was in Sunrise, Florida, as one of four announcers for the Khabib Allakhverdiev-Joan Guzman fight. Acquinity was the promoter. Sitting in the hotel lobby, waiting for me were two of my favorite boxing people. One was my announcing colleague that night, Ron Borges, who, for years, has been one of the top boxing writers in the world. The other was Acquinity's matchmaker, Johnny Bos.
Although I had spoken to him quite often on the phone, this was the first time I had seen Johnny in a few years. Both Borges and I didn't think he looked well. The fact is, he wasn't.
Recently, he put a photo of a cardiologists's report done on him in 2000, on Facebook. The report found Bos to have congestive heart failure, brought on by years of heavy smoking and excessive drinking. The doctor said his long term prognosis for Johnny was not encouraging. When Johnny put that doctor's note on Facebook, he said "I'm still here, so f–k all of you!"
"I spoke to him last week," said Henry Rivalta. "During our conversation, he said 'Thank you, Henry. Thank you for everything.' I don't know how much longer this old heart can hold out. So thank you for bringing me back. Thank you for everything.' He knew."
On Saturday night at around 10:30 p.m., Johnny's brother, Jeffrey, along with Jeffrey's girlfriend, Suzanne McBee, found Johnny dead in his apartment.
On so many occasions since his departure from New York, Johnny Bos said to me, "Nobody remembers me. I was once a big name in boxing and now, nobody remembers me." I assured him that wasn't true.
Now, as he sits in his white mink at the bar inside the Pearly Gates (sorry, Johnny, you were wrong about where you were heading) with Bert Sugar, Wayne Kelly, Teddy Brenner, Emanuel Steward, Angelo Dundee and other boxing luminaries who graced us, Bos sees the outpouring of love his memory is getting, and knows he hasn't been forgotten.
As long as boxing lives, he will never be forgotten.
EDITOR'S NOTE; This story first ran on May 15, 2013. For more on the late Johnny Bos, check out Thomas Hauser's fond remembrance.
Check out more boxing news on video at the Boxing Channel 
To comment on this article in the Fight Forum CLICK HERE
Mercito Gesta Victorious Over Jojo Diaz at the Long Beach Pyramid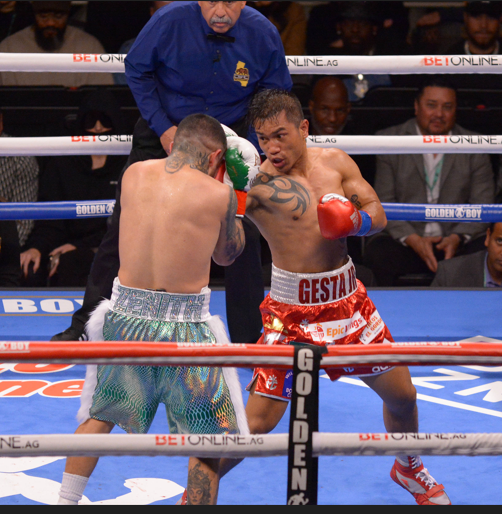 LONG BEACH, CA.-Those in the know knew Mercito Gesta and Jojo Diaz would be a fight to watch and they delivered.
Gesta emerged the winner in a super lightweight clash between southpaws that saw the judges favor his busier style over Diaz's body attack and bigger shots and win by split decision on Saturday.
Despite losing the main event because the star was overweight, Gesta (34-3-3, 17 KOs) used an outside method of tactic to edge past former world champion Diaz (32-4-1, 15 KOs) in front of more than 5,000 fans at the Pyramid.
The speedy Gesta opened up the fight with combination punching up and down against the peek-a-boo style of Diaz. For the first two rounds the San Diego fighter overwhelmed Diaz though none of the blows were impactful.
In the third round Diaz finally began unloading his own combinations and displaying the fast hands that helped him win world titles in two divisions. Gesta seemed stunned by the blows, but his chin held up. The counter right hook was Diaz's best weapon and snapped Gesta's head back several times.
Gesta regained control in the fifth round after absorbing big blows from Diaz. He seemed to get angry that he was hurt and opened up with even more blows to send Diaz backpedaling.
Diaz targeted his attack to Gesta's body and that seemed to slow down Gesta. But only for a round.
From the seventh until the 10th each fighter tried to impose their style with Gesta opening up with fast flurries and Diaz using right hooks to connect with solid shots. They continued their method of attack until the final bell. All that mattered was what the judges preferred.
After 10 rounds one judge saw Diaz the winner 97-93 but two others saw Gesta the winner 99-91, 98-92. It was a close and interesting fight.
"I was expecting nothing. I was the victor in this fight and we gave a good fight," said Gesta. "It's not an easy fight and Jojo gave his best."
Diaz was surprised by the outcome but accepted the verdict.
Everything was going good. I thought I was landing good body shots," said Diaz. "I was pretty comfortable."
Other Bouts
Mexico's Oscar Duarte (25-1-1, 20 KOs) knocked out Chicago's Alex Martin (18-5, 6 KOs) with a counter right hand after dropping him earlier in the fourth round. The super lightweight fight was stopped at 1:14 of the round.
A battle between undefeated super welterweights saw Florida's Eric Tudor (8-0, 6 KOs) emerge the winner by unanimous decision after eight rounds versus Oakland's Damoni Cato-Cain.
The taller Tudor showed polished skill and was not bothered by a large cut on his forehead caused by an accidental clash of heads. He used his jab and lead rights to defuse the attacks of the quick-fisted southpaw Cato-Cain. The judges scored the fight 80-72 and 78-74 twice for Tudor.
San Diego's Jorge Chavez (5-0, 4 KOs) needed less than one round to figure out Nicaragua's Bryan Perez (12-17-1, 11 KOs) and send him into dreamland with a three-punch combination. No need to count as referee Ray Corona waved the fight over. Perez shot a vicious right followed by another right and then a see-you-later left hook at 3.00 of the first round of the super featherweight match.
Photo credit: Al Applerose
Jojo Diaz's Slump Continues; Mercito Gesta Prevails on a Split Decision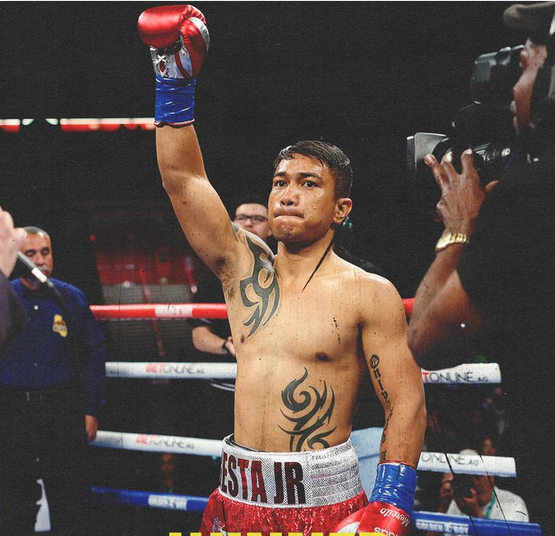 At age 30, Jojo Diaz's career is on the skids. The 2012 U.S. Olympian, a former world title holder at 126 and 130 pounds and an interim title holder at 135, Diaz suffered his third straight loss tonight, upset by Mercito Gesta who won a split decision at the Walter Pyramid in Long Beach, CA.. The scoring was strange with Gesta winning nine of the 10 rounds on one of the cards and only three rounds on another. The tie-breaker, as it were, was a 98-92 tally for Gesta and even that didn't capture the flavor of what was a closely-contested fight.
Originally listed as a 12-rounder, the match was reduced to 10 and that, it turned out, did Diaz no favors. However, it's hard to feel sorry for the former Olympian as he came in overweight once again, having lost his 130-pound title on the scales in February of 2021.
Diaz also has issues outside the ropes. Best elucidated by prominent boxing writer Jake Donovan, they include a cluster of legal problems stemming from an arrest for drunk driving on Feb. 27 in the LA suburb of Claremont.
With the defeat, Diaz's ledger declined to 32-4-1. His prior losses came at the hands of Gary Russell Jr, Devin Haney, and William Zepeda, boxers who are collectively 83-2. Mercito Gesta, a 35-year-old San Diego-based Filipino, improved to 34-3-3.
Co-Feature
Chihuahua, Mexico super lightweight Oscar Duarte has now won nine straight inside the distance after stopping 33-year-old Chicago southpaw Alex Martin in the eighth frame. Duarte, the busier fighter, had Martin on the deck twice in round eight before the fight was waived off.
Duarte improved to 25-1-1 (20). Martin, who reportedly won six national titles as an amateur and was once looked upon as a promising prospect, declined to 18-5.
Other Bouts of Note
New Golden Boy signee Eric Tudor, a 21-year-old super welterweight from Fort Lauderdale, overcame a bad laceration over his right eye, the result of an accidental clash of heads in round four, to stay unbeaten, advancing to 8-0 (6) with a hard-fought unanimous 8-round decision over Oakland's Damoni Cato-Cain. The judges had it 80-72 and 78-74 twice. It was the first pro loss for Cato-Cain (7-1-1) who had his first five fights in Tijuana.
In the DAZN opener, lanky Hawaian lightweight Dalis Kaleiopu went the distance for the first time in his young career, improving to 4-0 (3) with a unanimous decision over 36-year-old Colombian trial horse Jonathan Perez (40-35). The scores were 60-52 across the board. There were no knockdowns, but Perez, who gave up almost six inches in height, had a point deducted for a rabbit punch and another point for deducted for holding.
To comment on this story in the Fight Forum CLICK HERE
'Big Baby' Wins the Battle of Behemoths; TKOs 'Big Daddy' in 6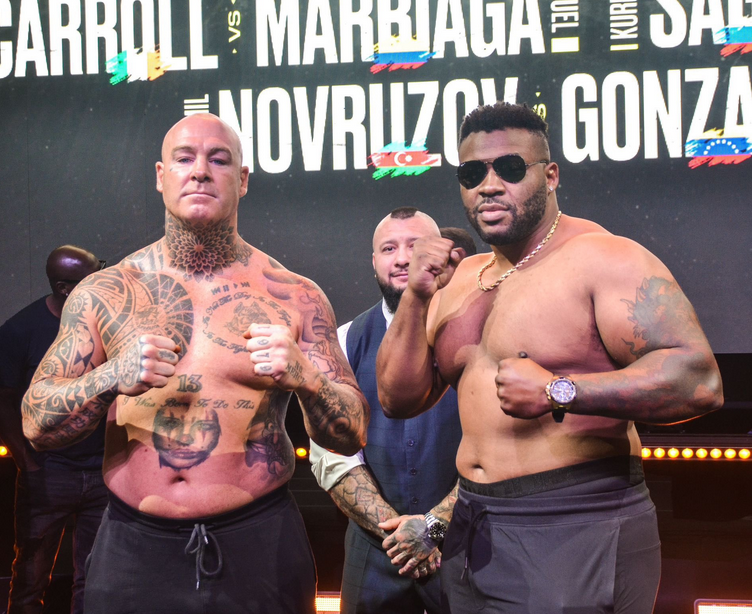 Lucas "Big Daddy" Browne weighed in at a career-high 277 pounds for today's battle in Dubai with Jarrell "Big Baby" Miller, but he was the lighter man by 56 pounds. It figured that one or both would gas out if the bout lasted more than a few stanzas.
It was a war of attrition with both men looking exhausted at times, and when the end came it was Miller, at age 34 the younger man by nine years, who had his hand raised.
Browne was the busier man, but Miller, whose physique invites comparison with a rhinoceros, hardly blinked as he was tattooed with an assortment of punches. He hurt 'Bid Daddy' in round four, but the Aussie held his own in the next frame, perhaps even forging ahead on the cards, but only postponing the inevitable.
In round six, a succession of right hands knocked Browne on the seat of his pants. He beat the count, but another barrage from Miller impelled the referee to intervene. The official time was 2:33. It was the 21st straight win for Miller (26-0-1, 22 KOs). Browne declined to 31-4 and, for his own sake, ought not fight again. All four of his losses have come inside the distance, some brutally.
The consensus of those that caught the livestream was that Floyd Mayweather Jr's commentary was an annoying distraction that marred what was otherwise an entertaining show.
As for what's next for "Big Baby" Miller, that's hard to decipher as he has burned his bridges with the sport's most powerful promoters. One possibility is Mahmoud Charr who, like Miller, has a big gap in his boxing timeline. Now 38 years old, Charr – who has a tenuous claim on a WBA world title (don't we all?) —  has reportedly taken up residence in Dubai.
Other Bouts of Note
In a 10-round cruiserweight affair, Suslan Asbarov, a 30-year-old Russian, advanced to 4-0 (1) with a hard-fought majority decision over Brandon Glanton. The judges had it 98-92, 97-93, and a more reasonable 95-95.
Asbarov was 12-9 in documented amateur fights and 1-0 in a sanctioned bare-knuckle fight, all in Moscow, entering this match. He bears watching, however, as Glanton (18-2) would be a tough out for almost anyone in his weight class. In his previous fight, at Plant City, Florida, Glanton lost a controversial decision to David Light, an undefeated Australian who challenges WBO world title-holder Lawrence Okolie at Manchester, England next week.
A 10-round super featherweight match between former world title challengers Jono Carroll and Miguel Marriaga preceded the semi-windup. Carroll, a 30-year-old Dublin southpaw, overcame a cut over his left eye suffered in the second round to win a wide unanimous decision in a fairly entertaining fight.
It was the sixth straight win for Carroll (24-2-1, 7 KOs) who elevated his game after serving as a sparring partner for Devin Haney. Marriaga, a 36-year-old Colombian, lost for the fourth time in his last five outings, declining to 30-7.
To comment on this story in the Fight Forum CLICK HERE