Don King – 2 Samuel 1:19, 1:25, 1:27 "How are the Mighty Fallen"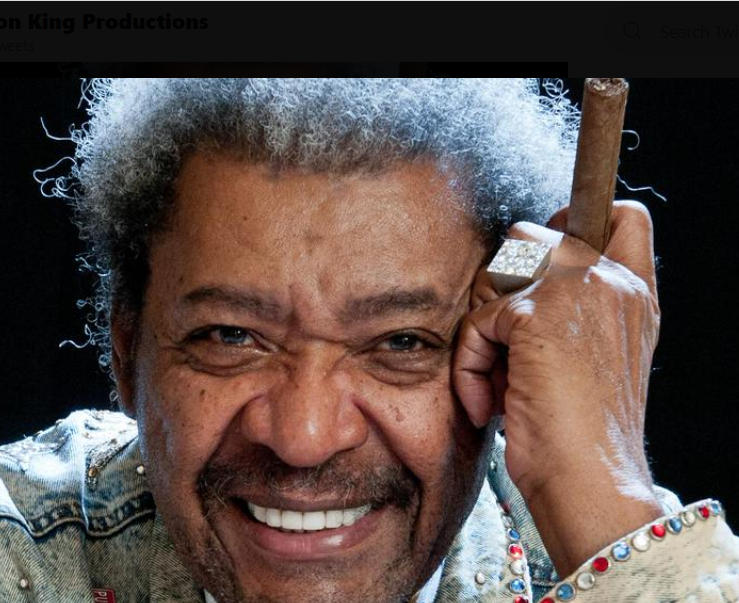 Don King promoted a fight card on January 29 at the Seminole Hard Rock Hotel in Hollywood, Florida. But the more significant story is what happened before the fights began.
There was a time when King was the greatest showman outside the ropes that boxing has ever seen. Time and again, he promoted (and with his persona, added value to) spectacles involving legends like Muhammad Ai, Joe Frazier, and George Foreman that are a treasured part of boxing lore.
Equally important, King was black and from the streets. Rather than try to hide it, he stuffed it in people's faces.
King forced America to accept him as he was on his terms. We're not talking about an athlete, singer, or movie star who made his mark by entertaining people. We're talking about commerce and economic control. At his most powerful, he created magnificent events and made tens of millions of dollars for himself in the process. He still stops any room he enters. But at age 89, he's not a force in boxing anymore.
King is now a caricature of what he once was. His closest tie to power was on display on November 2, 2020 (one day before Election Day), when he issued a long rambling press release that endorsed Donald Trump and proclaimed, "My fellow Americans, we must never forget that God is in the plan.  God works in mysterious ways, his wonders to be performed. We the people prayed to almighty God, asking him to give we the people, the American people, some type of relief from the excruciating pain of oppression brought upon them from the corrupt rigged system's establishment form of government. Almighty God answered we the people's humble prayers to him by anointing Donald J. Trump to become the 45th President of the United States of America. Vote Trump, for a man who is a non-politician, a man who's only obligation is to we the people and God. A man who is fearless, a man who could not be bought, bribed, intimidated or coerced, a man who is brave, courageous and bold.  President Donald J. Trump, our spiritually touched, god-sent leader of faith and hope."
King's January 29 fight card grew out of a purse bid that was ordered by the World Boxing Association for a bout between Mahmoud Charr and Trevor Bryan.
The WBA, at present, is the most shameless of boxing's four world sanctioning organizations. Leading up to January 29, it had four heavyweight "champions." Anthony Joshua (the most notable of the group) is the WBA "super heavyweight champion." Robert Helenius is the WBA "gold heavyweight champion." Charr was the regular WBA "world heavyweight champion" by virtue of beating Alexander Ustinov in his most recent fight on November 25, 2017. Bryan had last fought on August 11, 2018, when he beat B.J. Flores (a blown-up 39-year-old cruiserweight) to claim the WBA "interim" world heavyweight title. Neither Charr or Bryan has ever beaten a world-class fighter.
The WBA ordered a fight between Charr (promoted by Global Sports Management) and Bryan (promoted by King) to determine a mandatory challenger for Joshua. When the Charr and Bryan camps were unable to agree on terms, the sanctioning body ordered a purse bid that was held on March 2, 2020. King won the purse bid with an offer of $2,000,000. The only opposition came from Global Sports Management which bid $1,020,000. As the regular WBA champion, Charr was entitled to 75 percent of the winning bid (a projected payday $1,500,000).
King's paperwork accompanying the purse bid said that the fight would likely be held on May 23, 2020, in Las Vegas, or on May 30, 2020, in Kinshasa, or Qatar, or Saudi Arabia. No knowledgeable observer expected him to make good on the bid. There were several postponements occasioned in part by the pandemic. Then the WBA demanded that King promote Charr-Bryan by January 29, 2021, or be declared in default of his promotional obligations. Things went downhill from there.
King announced that Charr-Bryan would take place at the Seminole Hard Rock Hotel with Beibut Shumenov vs. Raphael Murphy in a WBA cruiserweight title fight as a co-feature. Shumenov has fought once since May 2016. Murphy was knocked out in 2017 by Hugo Trillo (whose record at the time was 2-0-1). Then Shumenov-Murphy fell through and it was becoming clear that Charr-Bryan wouldn't happen either.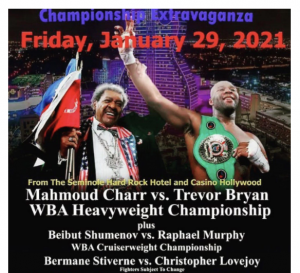 The root of the problem was twofold. First and foremost, it was obvious that, if Charr-Bryan went forward, it would be a financial disaster for King. He had a $2,000,000 purse bid obligation for the main event plus undercard fighters to pay, travel expenses, and other costs. There would be no live gate because of the pandemic, no network license fee, and minimal pay-per-view sales. King simply didn't want to pay $1,500,000 to Charr and $500,000 to Bryan.
Also, King preferred that Bryan fight an opponent who he controlled so, no matter who won, Don King Productions would have the mandatory challenger for Joshua's WBA title under contract.
With these considerations in mind, King threw every roadblock possible in Charr's path.
When a WBA title fight goes to purse bid, each fighters' camp has the option of negotiating a contract with the winning promoter. If an agreement can't be reached, the WBA form contract will govern the event. King sent Charr a contract that was unacceptable to Mahmoud. In response, Pat English (Charr's attorney) sent King two contracts that had been signed by Charr. The first was the WBA form contract. The second was an amended version of the DKP contract. King had the option of signing either contract. Instead, he refused to sign either one (which was a breach of his purse bid obligations).
King also refused to fulfill his obligation to help Charr get a P1 work visa to travel from Germany to the United States for the fight. On January 22 (one week before the scheduled bout), Charr went to a United States consulate in Germany in person and, without paperwork from King, managed to get a visa to come to the United States. But without a signed contract from King, he couldn't get a P1 work visa. Thus, on January 27, Carl Lewis (an attorney for DKP) declared, "What they have is the equivalent of a tourist visa. So, he's more than welcome to come to Florida, see the sights and take in all the attractions he wants. But as far as the fight, that can't happen without the proper documentation."
On January 24 while the visa controversy was unfolding, King filed a request for an exception with the WBA that would grant him relief from his purse bid obligation to Charr and authorize the sanctioning of a bout between Bryan and Bermane Stiverne (another King-controlled fighter) for the WBA world heavyweight championship. Charr, King requested, would be designated as "champion in recess" because of his "unavailability."
That occasioned a scathing letter from Pat English who, on January 26, wrote to Carlos Chavez and Julio Thyme (co-chairs of the WBA Championships Committee) and the other committee members as follows: "The application by DKP for Bryan to fight Stiverne is based upon a lie. Mr. Charr is available and has done absolutely everything he was supposed to do. At this point, he has picked up his visa. He has taken two VADA tests. He has submitted his medicals. He has taken a Covid test so he can fly. The truth here is that King simply does not wish to reach into his pocket and pay the purses he committed to at the time of the bid."
Mahmoud Charr isn't the most sympathetic person one can cast in the role of an aggrieved party. His WBA title came about as a consequence of a deeply flawed process within the sanctioning body. Also, two years ago, a technical ruling enabled him to dodge a bullet after VADA reported a positive test result for the presence of epitrenbolone and drostanolone in his urine. But fighters have short ring careers. And King was putting the finishing touches on wasting a year of Charr's professional life.
Then things got truly bizarre.
On January 29 at 10:35 AM eastern time, Noryoli Gil of the WBA emailed a "resolution" from the WBA Championships Committee to eleven parties with an interest in Charr-Bryan. The resolution gave King everything he wanted. Based on the fiction that Charr had failed to fulfill his responsibilities under the WBA rules, the committee stripped him of his world title and declared him to be the WBA "heavyweight champion in recess." The resolution also requested that the WBA Ratings Committee include Stiverne in its ratings and authorized a fight between Bryan and Stiverne for the regular WBA "world heavyweight championship."
Prior to this ruling, Stiverne was unranked by the WBA, had been knocked out in his two most recent fights, and hadn't won a bout since 2015. He's 42 years old.
Oddly, the resolution was dated January 26. More oddly, eighteen minutes after it was sent, the WBA sent a second email to the same parties that read, "Dear Sirs, Please disregard this communication, it is not valid and it was send by an involuntary mistake."
Then, at 1:26 PM, yet another resolution (also dated January 26) was distributed. This resolution declared that King had "complied with the formalities required in the Purse Bid regulations" and restored the relief he had sought (designating Charr as "champion in recess" and declaring that Bryan-Stiverne would be for the regular WBA "world heavyweight championship").
The resolution also vacated the March 2, 2020, purse bid, but said that Charr would have the right to fight the winner of Bryan-Stiverne by May 30, 2021, pursuant to terms to be negotiated.
The WBA resolution ignored the fact that, after winning the March 2, 2020, purse bid,  King had refused t0 sign the form WBA contract (as required by WBA rules). Had he signed the contract, it would have enabled Charr to get a P1 work visa.
If Charr and his team choose to litigate the matter with competent counsel, King and the WBA could have major problems.
Meanwhile, logistically, the January 29 promotion was in shambles.
This was to be King's first fight card as the lead promoter since August 28, 2015, when he promoted a four-bout card at the D Hotel & Casino in Las Vegas headlined by Bryan vs. Derric Rossy for the "vacant NABF junior heavyweight" title. And there were questions as to whether he was up to the task.
The January 29 fight card had been styled by King as "Return to Greatness" and had an announced pay-per-view price of $19.99. But King – once the unquestioned master of promotion – did nothing to promote the event. No interviews. No promotional appearances. Nothing.
Distribution was also an issue.
King had an agreement in principle with In Demand to distribute the fight on cable, but it fell through because DKP couldn't meet In Demand's technical transmission requirements. Direct TV was already off the table. And when some would-be buyers went to DonKing.com during fight week to order the event, the first thing that popped up on the screen was a warning that cautioned, "This Connection Is Not Private. This website might be impersonating 'donking.com' to steal your personal or financial information. You should go back to the previous page."
That left FITE as King's only reliable pay-per-view distributor. But King dallied in signing their distribution agreement. Two hours before the fight stream began, FITE had only 51 advance buys.
Then came the hour of reckoning. The telecast began at 7:00 PM eastern time. The only way it would have been pay-per-view worthy is if fans had been paid to watch it.
Once upon a time, King promoted events like Larry Holmes vs. Earnie Shavers at Caesars Palace with Ray Leonard, Roberto Duran, and Wilfredo Gomez on the undercard. But he isn't capable of putting the pieces of a big fight card together anymore. And it showed.
Don King Productions had announced that the telecast would include reruns of Larry Holmes vs. Gerry Cooney, the first fight between Julio Cesar Chavez and Frankie Randall, and the rematch between Evander Holyfield and Mike Tyson. Oscar De La Hoya vs. Felix Trinidad was substituted for Holyfield-Tyson II at the last moment. All of these fights are available for free in their entirety on YouTube.
Bob Alexander hosted the event and provided blow-by-blow commentary for the live fights. Nate Campbell was the expert analyst. The live fights were dreadful.
Bantamweight Joahnys Argilagos won a four-round decision over Ernie Marquez (who now has one win in his last thirteen fights). Ring announcer J.D. Lyons announced the score with the proclamation "All three judges score the fight exactly the same at 39-to-40." Then cruiserweight Johnnie Langston won a lopsided 6-round decision over DeShon Webster (winless in his last five outings).
Shortly after ten o'clock, Lyons introduced Stiverne as "making his way to the ring." But Bermane didn't make his way to the ring. That left Alexander and Campbell to filibuster for twenty minutes and raised the issue of whether Stiverne might be engaged in a convivial discussion with someone about money.
Twenty minutes later, Lyons tried again.
"Once again, fight fans. Making his way to the ring . . ."
This time, Stiverne made an appearance followed by Bryan.
Lyons then began the in-ring introductions only to be cut short by an unseen prompt. He then told the handful of pay-per-view viewers around the world, "I guess we're gonna do a national anthem. My apologies."
By this time, Lyons looked like a man who'd be happy if he never announced another Don King fight card again.
The fight that followed was abysmal.
Bryan and Stiverne looked as though they'd trained at Dunkin Donuts. Each man weighed in at a fraction over 267 pounds. Trevor had fought his last fight at 236 pounds and now had a roll of flab hanging over the waistband of his trunks. Stiverne, whose best fighting weight was in the high 230s, looked pregnant.
It wasn't even a good club fight. Stiverne threw one punch at a time and never set anything up, Bryan was a bit busier. His jab (which wasn't all that good) was the difference. Choose your adjectives . . . Messy, sloppy, lumbering, plodding.
By round eleven, Stiverne was gassed. Bryan hurt him with a right hand and dropped him twice. Soon after the second knockdown, referee Frank Gentile stopped the fight.
It's unclear how much each fighter will be paid. But neither fighter is expected to be happy with his purse. FITE is now believed to be projecting a total of under three hundred pay-per-view buys.
Don King was not seen live on camera or heard from throughout the telecast.
Four decades ago, Mark Kram wrote, "Don King is a man who wants to swallow mountains, walk on oceans, and sleep on clouds."
There was a time when King seemed capable of doing all of those things. But not anymore.
Thomas Hauser's email address is thomashauserwriter@gmail.com. His most recent book – Staredown: Another Year Inside Boxing – was published by the University of Arkansas Press. In 2004, the Boxing Writers Association of America honored Hauser with the Nat Fleischer Award for career excellence in boxing journalism. In 2019, Hauser was selected for induction into the International Boxing Hall of Fame.
Check out more boxing news on video at the Boxing Channel 
To comment on this story in the Fight Forum CLICK HERE
The Fight of the Century: A Golden Anniversary Celebration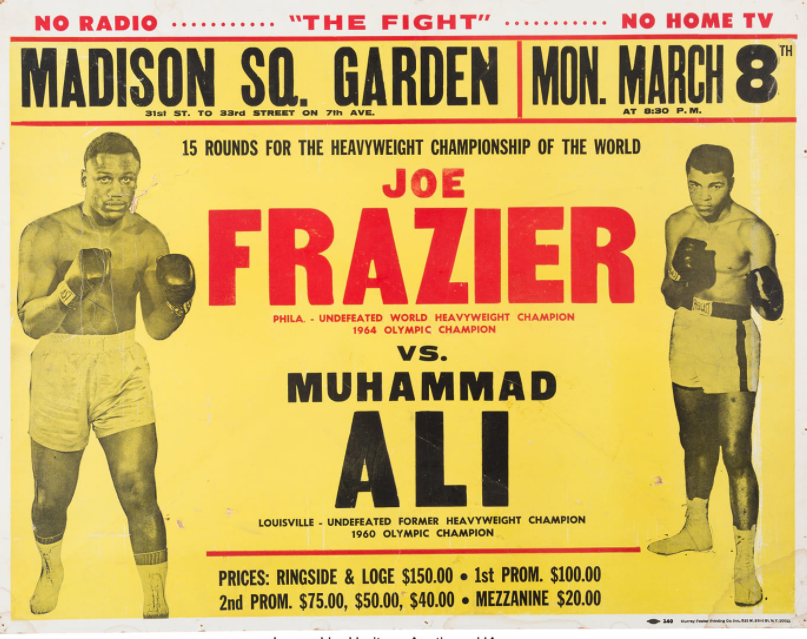 In professional boxing, fights can be rank-ordered as generic fights, big fights, bigger fights, mega-fights, and spectacles. The first fight between Muhammad Ali and Joe Frazier wasn't merely a spectacle, but the grandest spectacle of them all. This coming Monday, March 8, is the 50th anniversary of that iconic event.
Ali-Frazier I was staged at three-year-old Madison Square Garden, the fourth arena in New York to take that name. It drew a capacity crowd: 20,455 (19,500 paid). An estimated 60 percent of all the tickets sold fell into the hands of scalpers.
The fight was closed-circuited to more than 350 locations in the United States and Canada. At some of the larger venues, it established a new record for gate receipts, and this for an attraction that wasn't produced in-house. In Los Angeles, 15,333 saw the fight at the Forum and 11,575 at the nearby Sports Arena.
Bill Ballenger, the sports editor of the Charlotte (NC) News, saw the fight at the Charlotte Coliseum. He reported that the audio – Don Dunphy did the blow-by-blow with Burt Lancaster and Archie Moore serving as color commentators – was loud enough to be heard outside the arena and that many folks, either unable or unwilling to purchase a ticket, loitered outside and followed the action in 30 degrees weather.
An estimated three hundred million people saw the fight worldwide. In England, by some estimates, half the population tuned in, watching either at home on BBC1 or at a theater where one could watch the fight unfold on a movie screen. Now keep in mind that in England the fight didn't commence until 6:40 in the morning on a Tuesday!
Inside Madison Square Garden, the large flock of celebrities included many folks one wouldn't expect to find at a prizefight. Marcello Mastroianni, Italy's most famous movie star, made a special trip from Rome. Salvador Dali was there and Barbra Streisand and Ethel Kennedy, widow of Bobby Kennedy, seated next to her escort, crooner Andy Williams. Frank Sinatra was there working as a photographer for Life magazine. Lore had it that Sinatra wangled the assignment after failing to boat one of the coveted ringside seats.
The scene was made brighter by human "peacocks," the label applied to Harlemites with an outrageous sense of fashion, and the electricity was palpable. When Ali appeared at the back of the arena, making his way from his dressing room to the ring, everyone had goosebumps.
The late, great New York sportswriter Dick Young once wrote that there is no greater drama than in the moments preceding a big heavyweight title fight and that was never more true than on March 8, 1971 at Madison Square Garden.
Ali (31-0, 25 KOs) and Frazier (26-0, 23 KOs) were both undefeated. Both had a claim to the heavyweight title, Ali because the belt had been controversially stripped away from him for his political beliefs. Opinions as to who would win were pretty evenly divided. In Las Vegas, Joe Frazier was the favorite at odds of 6 to 5. Across the pond in England, bookies were quoting odds of 11 to 8 on Ali.
Those that favored Ali were of the opinion that 'Smokin' Joe was too one-dimensional. That much was true. Joe was as subtle as a steam locomotive on a downhill grade. He ate Ali's hardest punches, said Boston Globe reporter Bud Collins, as if they were movie house popcorn and he eventually wore Ali down. There was little doubt as to how the judges would see it after Joe knocked Ali down in the 15th round with a frightful left hook. When Ali arose, it appeared that he had been afflicted with a sudden case of the mumps. The decision was unanimous: 11-4, 9-6, 8-6-1.
This wasn't the greatest fight of all time, but it was a fight that more than lived up to the hype. And, as several people have noted, the event took on a life of its own without modern technology to push it along. The buzz was fueled in a large part by newspapers, the "antiquated" sort of newspapers that a fellow fished from his driveway or purchased at a newsstand on the way to or from work. If twitter and facebook had been around during Muhammad Ali's prime, Ali would have blown the doors off the internet.
A cultural touchstone is an event that remains sealed in our memory. As we slide into old age, if we are lucky enough to live that long, we may not remember what we had for breakfast in the morning, but some long-ago events are as vivid as if they had happened just yesterday.
Boxing historian Frank Lotierzo has written poignantly about how overjoyed he was when he was surprised with the news that his father would be taking him to the fight. "To this day it remains the biggest thrill of my life!" wrote Lotierzo, who was then in the seventh grade. "And it's not even close!"
I didn't see the fight, but I can recall the faces of people that I overheard talking about it, people whose interest in the fight struck me as odd as I knew they had little interest in the world of sports. So, when the fight is replayed in its entirety on Sunday – it airs on ABC at 2 p.m ET and again at 6 p.m. ET on ESPN – I will be watching it for the first time. And it will be bittersweet as I will be reminded that I am in the twilight of my life and my thoughts will inevitably drift to my friends and loved ones that have left this mortal world in the years since that grand night in 1971 when Muhammad Ali and Joe Frazier locked horns in the Fight of the Century.
I get misty-eyed just thinking about it.
Check out more boxing news on video at the Boxing Channel
To comment on this story in the Fight Forum CLICK HERE
Yoka TKO 12 Djeko in France: Claressa Pitches a Shutout on Ladies Day in Flint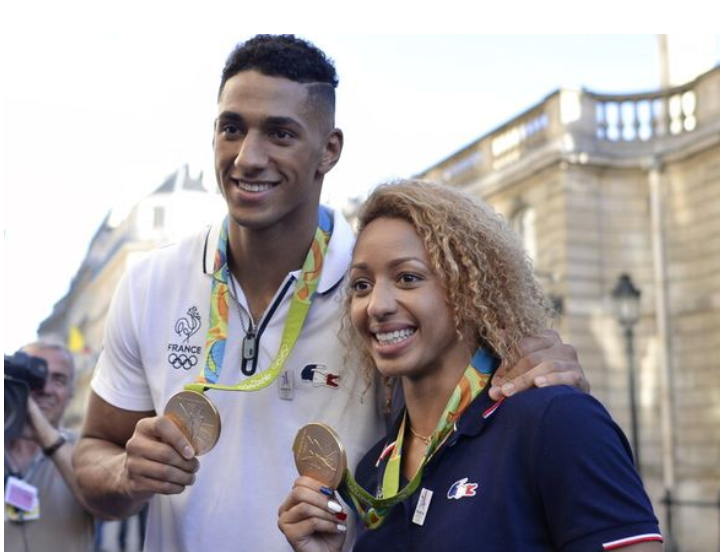 Yoka TKO 12 Djeko in France: Claressa Pitches a Shutout on Ladies Day in Flint
March 8 is International Women's Day which is actually a formal holiday in many parts of the globe. It was somehow fitting that female boxers were on display on the Friday feeding into it, a weekend without a must-see attraction on the men's side.
Today's activity began in the French port city of Nantes where 2016 Olympic gold medal winners Tony Yoka and Estelle Mossely, husband and wife, kept their undefeated records intact, both advancing to 10-0, against European opponents. Yoka (10-0, 8 KOs) was matched against Joel "Big Joe" Djeko (17-3-1), a 31-year-old Brussels native of Congolese and Cuban extraction who had fought most of his career as a cruiserweight. Mossely, a lightweight who now goes by Yoka-Mossely, drew Germany's Verena Kaiser (14-2).
At the Rio Olympiad, Yoka got by Filip Hrgovic in the semis and Joe Joyce in the finals to win the gold, winning both bouts by split decision. Both would be favored over the Frenchman in a rematch fought under professional rules.
Against the six-foot-six Djeko, Yoka controlled the fight with his jab, repeatedly backing his foe against the ropes. Very few of Djeko's punches got through Yoka's high guard. Had the fight gone to the scorecards, it would have been a rout for Yoka, but it didn't quite get there as Djeko turned his back on the proceedings midway through the 12th round after absorbing a sharp jab and it went into the books as a TKO for Yoka. At stake was some kind of European title or a derivation thereof.
Mossely's fight with Kaiser, slated for 10 two-minute rounds, followed a somewhat similar tack, save that it went the full distance. With only one knockout to her credit at the pro level, Mosseley, typical of female boxers, lacks a knockout punch. But she's a good technician and had too much class for the German.
Flint
A Covid-19 limited crowd of perhaps 300 was on hand to watch hometown heroine Claressa Shields oppose IBF 154-pound title-holder Marie Eve Dicaire at a 4,400-seat arena in Flint. There were five bouts on the undercard, three of which were women's bouts.
Shields, a two-time Olympic gold medalist, was seeking to become a four-belt title-holder in a second weight class, having previously turned the trick at 160. Dicaire, a 34-year-old southpaw, brought a 17-0 record but she had never won a fight inside the distance and all of her previous bouts took place in French-speaking Canada.
The self-proclaimed GWOAT, Shields has no peer between 154 and 168 pounds. Heading into this contest, she had hardly lost a round since meeting Hanna Gabriels and tonight was another total whitewash, her fourth overall in 10-round fights.
Claressa Shields, now 11-0 (2) may be too good for her own good. Her fights are so one-sided that they are monotonous. Her TV ratings have actually been falling. Today's show was a $29.99 pay-per-view on FITE when the established networks refused to meet her purse demands. It will be interesting to see how many tuned in.
In another fight of note, 2012 Olympic bronze medalist Marlen Esparza, in her first fight as a bantamweight, dominated Toronto's Shelly Barnett en route to winning a 6-round unanimous decision. There were no knockdowns, but the scorecards (60-54, 60-53 twice) were indicative of Esparza's dominance.
Esparza, who pushed her record to 9-1 (1), came in ranked #1 by the WBC in the flyweight class. Her lone defeat came at the hands of rugged Seniesa Estrada. Barnett declined to 4-4-3.
Check out more boxing news on video at the Boxing Channel
To comment on this story in the Fight Forum CLICK HERE
Brandon Adams Bursts Bohachuk's Bubble in Puerto Rico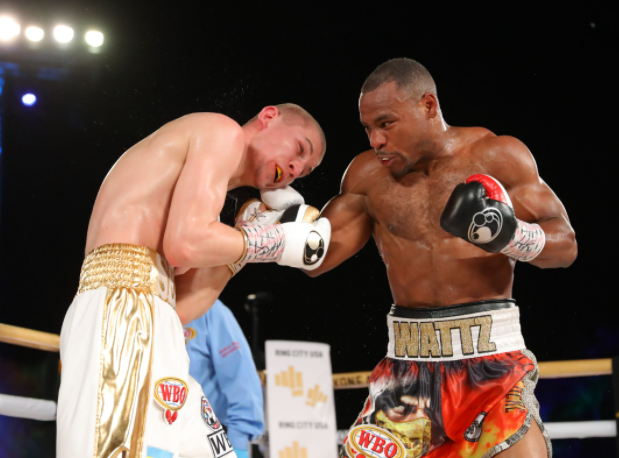 Brandon Adams Bursts Bohachuk's Bubble in Puerto Rico
Ring City USA, a new promotional entity, debuted on Nov. 19, 2020 with a show staged in the parking lot of Freddie Roach's Wild Card Boxing Club in Hollywood, CA. Ring City stayed outdoors for their first offering of 2021, but the company was a long ways from California. Tonight's card was staged on a roundabout near a municipal gym in Guaynabo, Puerto Rico.
The headline attraction was an attractive match between junior middleweights Serhii Bohachuk and Brandon Adams. The bout was originally set for Dec. 3, but had to be pushed back when Bohachuk tested positive for the coronavirus.
Bohachuk, a 25-year-old California-based Ukrainian, had stopped all 18 of his previous opponents. He had never gone past six rounds. Brandon Adams, a former world title challenger, represented a step up in class.
Bohachuk was well on his way to winning a unanimous decision when the tide turned dramatically in round eight. Fighting on a slick canvas, Adams suddenly found a new gear, unloading a series of punches climaxed by a thunderous left hook as Bohachuk retreated. The Ukrainian beat the count, but was teetering on unsteady legs and the referee properly called a halt.
Adams was without his regular trainer, 80-year-old Dub Huntley, who remained back in LA as a health precaution. In winning, he elevated his records to 23-3 (15). It was his best performance since defeating Shane Mosley Jr in the finals of Season 5 of the "Contender" series.
—
In the co-feature, an 8-round featherweight contest, Puerto Rico's Bryan Chevalier improved to 15-1-1 (12) with a third-round stoppage of Peru's Carlos Zambrano (26-2). Chevalier scored two knockdowns, the first a sweeping left hook that appeared to land behind Zambrano's head, and the second a punch to the liver that left Zambrano in severe distress. The referee waived the fight off in mid-count.
The official time was 2:21. Chevalier, a tall featherweight (5'11") made a very impressive showing; he bears watching. This was Zambrano's first fight since April of 2017 when he was knocked out in the opening round by Claudio Marrero in a bout for the WBA interim featherweight title.
—
The TV opener was an entertaining fight between contrasting styles that produced a weird conclusion when Danielito Zorrilla was awarded a technical decision over Ruslan Madiyev. The bout was stopped at the 1:16 mark of round eight after Zorrilla sank to his knees after absorbing a punch to the back of the head. The ringside physician examined him for evidence of a concussion, but ultimately it was Zorrilla's choice as to whether the bout would continue. He declined and was reportedly taken to a hospital for observation.
Madiyev, a California-based Kazahk, was the aggressor. He fought the fight in Zorilla's grill, often bullying him against the ropes. In round five, he had a point deducted for hitting behind the head, squandering what was arguably his best round.
The fight went to the scorecards with Zorrilla winning a split decision (77-74, 77-75, 73-76), thereby remaining undefeated: 15-0 (12). Ironically, Madiyev (13-2, 5 KOs), suffered his previous loss in a similar fashion.
Madiyev's new trainer Joel Diaz reportedly discouraged his charge from taking this fight for fear that he wouldn't get a fair shake in Puerto Rico. Diaz's apprehensions were well-founded.
Photo credit: Tom Hogan / Ring City USA
To comment on this story in the Fight Forum CLICK HERE