Don King – 2 Samuel 1:19, 1:25, 1:27 "How are the Mighty Fallen"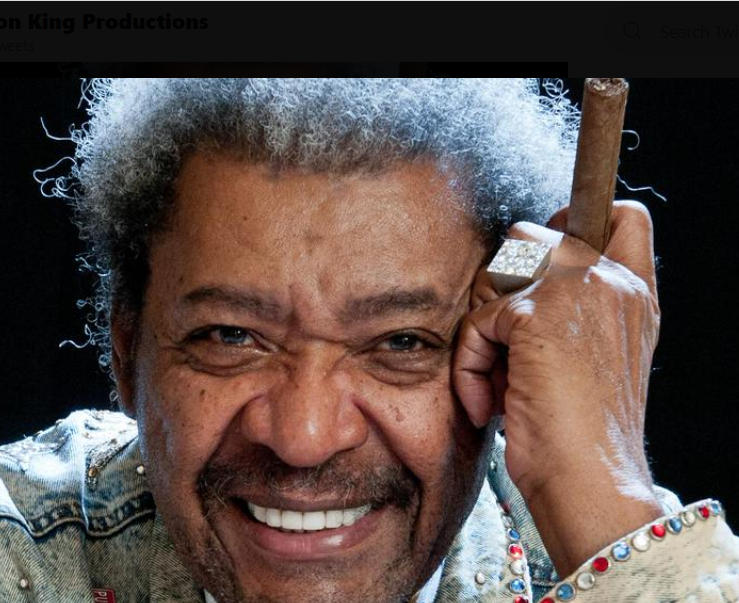 Don King promoted a fight card on January 29 at the Seminole Hard Rock Hotel in Hollywood, Florida. But the more significant story is what happened before the fights began.
There was a time when King was the greatest showman outside the ropes that boxing has ever seen. Time and again, he promoted (and with his persona, added value to) spectacles involving legends like Muhammad Ai, Joe Frazier, and George Foreman that are a treasured part of boxing lore.
Equally important, King was black and from the streets. Rather than try to hide it, he stuffed it in people's faces.
King forced America to accept him as he was on his terms. We're not talking about an athlete, singer, or movie star who made his mark by entertaining people. We're talking about commerce and economic control. At his most powerful, he created magnificent events and made tens of millions of dollars for himself in the process. He still stops any room he enters. But at age 89, he's not a force in boxing anymore.
King is now a caricature of what he once was. His closest tie to power was on display on November 2, 2020 (one day before Election Day), when he issued a long rambling press release that endorsed Donald Trump and proclaimed, "My fellow Americans, we must never forget that God is in the plan.  God works in mysterious ways, his wonders to be performed. We the people prayed to almighty God, asking him to give we the people, the American people, some type of relief from the excruciating pain of oppression brought upon them from the corrupt rigged system's establishment form of government. Almighty God answered we the people's humble prayers to him by anointing Donald J. Trump to become the 45th President of the United States of America. Vote Trump, for a man who is a non-politician, a man who's only obligation is to we the people and God. A man who is fearless, a man who could not be bought, bribed, intimidated or coerced, a man who is brave, courageous and bold.  President Donald J. Trump, our spiritually touched, god-sent leader of faith and hope."
King's January 29 fight card grew out of a purse bid that was ordered by the World Boxing Association for a bout between Mahmoud Charr and Trevor Bryan.
The WBA, at present, is the most shameless of boxing's four world sanctioning organizations. Leading up to January 29, it had four heavyweight "champions." Anthony Joshua (the most notable of the group) is the WBA "super heavyweight champion." Robert Helenius is the WBA "gold heavyweight champion." Charr was the regular WBA "world heavyweight champion" by virtue of beating Alexander Ustinov in his most recent fight on November 25, 2017. Bryan had last fought on August 11, 2018, when he beat B.J. Flores (a blown-up 39-year-old cruiserweight) to claim the WBA "interim" world heavyweight title. Neither Charr or Bryan has ever beaten a world-class fighter.
The WBA ordered a fight between Charr (promoted by Global Sports Management) and Bryan (promoted by King) to determine a mandatory challenger for Joshua. When the Charr and Bryan camps were unable to agree on terms, the sanctioning body ordered a purse bid that was held on March 2, 2020. King won the purse bid with an offer of $2,000,000. The only opposition came from Global Sports Management which bid $1,020,000. As the regular WBA champion, Charr was entitled to 75 percent of the winning bid (a projected payday $1,500,000).
King's paperwork accompanying the purse bid said that the fight would likely be held on May 23, 2020, in Las Vegas, or on May 30, 2020, in Kinshasa, or Qatar, or Saudi Arabia. No knowledgeable observer expected him to make good on the bid. There were several postponements occasioned in part by the pandemic. Then the WBA demanded that King promote Charr-Bryan by January 29, 2021, or be declared in default of his promotional obligations. Things went downhill from there.
King announced that Charr-Bryan would take place at the Seminole Hard Rock Hotel with Beibut Shumenov vs. Raphael Murphy in a WBA cruiserweight title fight as a co-feature. Shumenov has fought once since May 2016. Murphy was knocked out in 2017 by Hugo Trillo (whose record at the time was 2-0-1). Then Shumenov-Murphy fell through and it was becoming clear that Charr-Bryan wouldn't happen either.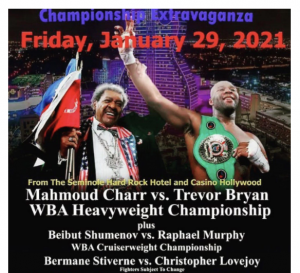 The root of the problem was twofold. First and foremost, it was obvious that, if Charr-Bryan went forward, it would be a financial disaster for King. He had a $2,000,000 purse bid obligation for the main event plus undercard fighters to pay, travel expenses, and other costs. There would be no live gate because of the pandemic, no network license fee, and minimal pay-per-view sales. King simply didn't want to pay $1,500,000 to Charr and $500,000 to Bryan.
Also, King preferred that Bryan fight an opponent who he controlled so, no matter who won, Don King Productions would have the mandatory challenger for Joshua's WBA title under contract.
With these considerations in mind, King threw every roadblock possible in Charr's path.
When a WBA title fight goes to purse bid, each fighters' camp has the option of negotiating a contract with the winning promoter. If an agreement can't be reached, the WBA form contract will govern the event. King sent Charr a contract that was unacceptable to Mahmoud. In response, Pat English (Charr's attorney) sent King two contracts that had been signed by Charr. The first was the WBA form contract. The second was an amended version of the DKP contract. King had the option of signing either contract. Instead, he refused to sign either one (which was a breach of his purse bid obligations).
King also refused to fulfill his obligation to help Charr get a P1 work visa to travel from Germany to the United States for the fight. On January 22 (one week before the scheduled bout), Charr went to a United States consulate in Germany in person and, without paperwork from King, managed to get a visa to come to the United States. But without a signed contract from King, he couldn't get a P1 work visa. Thus, on January 27, Carl Lewis (an attorney for DKP) declared, "What they have is the equivalent of a tourist visa. So, he's more than welcome to come to Florida, see the sights and take in all the attractions he wants. But as far as the fight, that can't happen without the proper documentation."
On January 24 while the visa controversy was unfolding, King filed a request for an exception with the WBA that would grant him relief from his purse bid obligation to Charr and authorize the sanctioning of a bout between Bryan and Bermane Stiverne (another King-controlled fighter) for the WBA world heavyweight championship. Charr, King requested, would be designated as "champion in recess" because of his "unavailability."
That occasioned a scathing letter from Pat English who, on January 26, wrote to Carlos Chavez and Julio Thyme (co-chairs of the WBA Championships Committee) and the other committee members as follows: "The application by DKP for Bryan to fight Stiverne is based upon a lie. Mr. Charr is available and has done absolutely everything he was supposed to do. At this point, he has picked up his visa. He has taken two VADA tests. He has submitted his medicals. He has taken a Covid test so he can fly. The truth here is that King simply does not wish to reach into his pocket and pay the purses he committed to at the time of the bid."
Mahmoud Charr isn't the most sympathetic person one can cast in the role of an aggrieved party. His WBA title came about as a consequence of a deeply flawed process within the sanctioning body. Also, two years ago, a technical ruling enabled him to dodge a bullet after VADA reported a positive test result for the presence of epitrenbolone and drostanolone in his urine. But fighters have short ring careers. And King was putting the finishing touches on wasting a year of Charr's professional life.
Then things got truly bizarre.
On January 29 at 10:35 AM eastern time, Noryoli Gil of the WBA emailed a "resolution" from the WBA Championships Committee to eleven parties with an interest in Charr-Bryan. The resolution gave King everything he wanted. Based on the fiction that Charr had failed to fulfill his responsibilities under the WBA rules, the committee stripped him of his world title and declared him to be the WBA "heavyweight champion in recess." The resolution also requested that the WBA Ratings Committee include Stiverne in its ratings and authorized a fight between Bryan and Stiverne for the regular WBA "world heavyweight championship."
Prior to this ruling, Stiverne was unranked by the WBA, had been knocked out in his two most recent fights, and hadn't won a bout since 2015. He's 42 years old.
Oddly, the resolution was dated January 26. More oddly, eighteen minutes after it was sent, the WBA sent a second email to the same parties that read, "Dear Sirs, Please disregard this communication, it is not valid and it was send by an involuntary mistake."
Then, at 1:26 PM, yet another resolution (also dated January 26) was distributed. This resolution declared that King had "complied with the formalities required in the Purse Bid regulations" and restored the relief he had sought (designating Charr as "champion in recess" and declaring that Bryan-Stiverne would be for the regular WBA "world heavyweight championship").
The resolution also vacated the March 2, 2020, purse bid, but said that Charr would have the right to fight the winner of Bryan-Stiverne by May 30, 2021, pursuant to terms to be negotiated.
The WBA resolution ignored the fact that, after winning the March 2, 2020, purse bid,  King had refused t0 sign the form WBA contract (as required by WBA rules). Had he signed the contract, it would have enabled Charr to get a P1 work visa.
If Charr and his team choose to litigate the matter with competent counsel, King and the WBA could have major problems.
Meanwhile, logistically, the January 29 promotion was in shambles.
This was to be King's first fight card as the lead promoter since August 28, 2015, when he promoted a four-bout card at the D Hotel & Casino in Las Vegas headlined by Bryan vs. Derric Rossy for the "vacant NABF junior heavyweight" title. And there were questions as to whether he was up to the task.
The January 29 fight card had been styled by King as "Return to Greatness" and had an announced pay-per-view price of $19.99. But King – once the unquestioned master of promotion – did nothing to promote the event. No interviews. No promotional appearances. Nothing.
Distribution was also an issue.
King had an agreement in principle with In Demand to distribute the fight on cable, but it fell through because DKP couldn't meet In Demand's technical transmission requirements. Direct TV was already off the table. And when some would-be buyers went to DonKing.com during fight week to order the event, the first thing that popped up on the screen was a warning that cautioned, "This Connection Is Not Private. This website might be impersonating 'donking.com' to steal your personal or financial information. You should go back to the previous page."
That left FITE as King's only reliable pay-per-view distributor. But King dallied in signing their distribution agreement. Two hours before the fight stream began, FITE had only 51 advance buys.
Then came the hour of reckoning. The telecast began at 7:00 PM eastern time. The only way it would have been pay-per-view worthy is if fans had been paid to watch it.
Once upon a time, King promoted events like Larry Holmes vs. Earnie Shavers at Caesars Palace with Ray Leonard, Roberto Duran, and Wilfredo Gomez on the undercard. But he isn't capable of putting the pieces of a big fight card together anymore. And it showed.
Don King Productions had announced that the telecast would include reruns of Larry Holmes vs. Gerry Cooney, the first fight between Julio Cesar Chavez and Frankie Randall, and the rematch between Evander Holyfield and Mike Tyson. Oscar De La Hoya vs. Felix Trinidad was substituted for Holyfield-Tyson II at the last moment. All of these fights are available for free in their entirety on YouTube.
Bob Alexander hosted the event and provided blow-by-blow commentary for the live fights. Nate Campbell was the expert analyst. The live fights were dreadful.
Bantamweight Joahnys Argilagos won a four-round decision over Ernie Marquez (who now has one win in his last thirteen fights). Ring announcer J.D. Lyons announced the score with the proclamation "All three judges score the fight exactly the same at 39-to-40." Then cruiserweight Johnnie Langston won a lopsided 6-round decision over DeShon Webster (winless in his last five outings).
Shortly after ten o'clock, Lyons introduced Stiverne as "making his way to the ring." But Bermane didn't make his way to the ring. That left Alexander and Campbell to filibuster for twenty minutes and raised the issue of whether Stiverne might be engaged in a convivial discussion with someone about money.
Twenty minutes later, Lyons tried again.
"Once again, fight fans. Making his way to the ring . . ."
This time, Stiverne made an appearance followed by Bryan.
Lyons then began the in-ring introductions only to be cut short by an unseen prompt. He then told the handful of pay-per-view viewers around the world, "I guess we're gonna do a national anthem. My apologies."
By this time, Lyons looked like a man who'd be happy if he never announced another Don King fight card again.
The fight that followed was abysmal.
Bryan and Stiverne looked as though they'd trained at Dunkin Donuts. Each man weighed in at a fraction over 267 pounds. Trevor had fought his last fight at 236 pounds and now had a roll of flab hanging over the waistband of his trunks. Stiverne, whose best fighting weight was in the high 230s, looked pregnant.
It wasn't even a good club fight. Stiverne threw one punch at a time and never set anything up, Bryan was a bit busier. His jab (which wasn't all that good) was the difference. Choose your adjectives . . . Messy, sloppy, lumbering, plodding.
By round eleven, Stiverne was gassed. Bryan hurt him with a right hand and dropped him twice. Soon after the second knockdown, referee Frank Gentile stopped the fight.
It's unclear how much each fighter will be paid. But neither fighter is expected to be happy with his purse. FITE is now believed to be projecting a total of under three hundred pay-per-view buys.
Don King was not seen live on camera or heard from throughout the telecast.
Four decades ago, Mark Kram wrote, "Don King is a man who wants to swallow mountains, walk on oceans, and sleep on clouds."
There was a time when King seemed capable of doing all of those things. But not anymore.
Thomas Hauser's email address is thomashauserwriter@gmail.com. His most recent book – Staredown: Another Year Inside Boxing – was published by the University of Arkansas Press. In 2004, the Boxing Writers Association of America honored Hauser with the Nat Fleischer Award for career excellence in boxing journalism. In 2019, Hauser was selected for induction into the International Boxing Hall of Fame.
Check out more boxing news on video at the Boxing Channel 
To comment on this story in the Fight Forum CLICK HERE
Tyson Fury Roared and Deontay Wilder Remained Silent at their L.A. Presser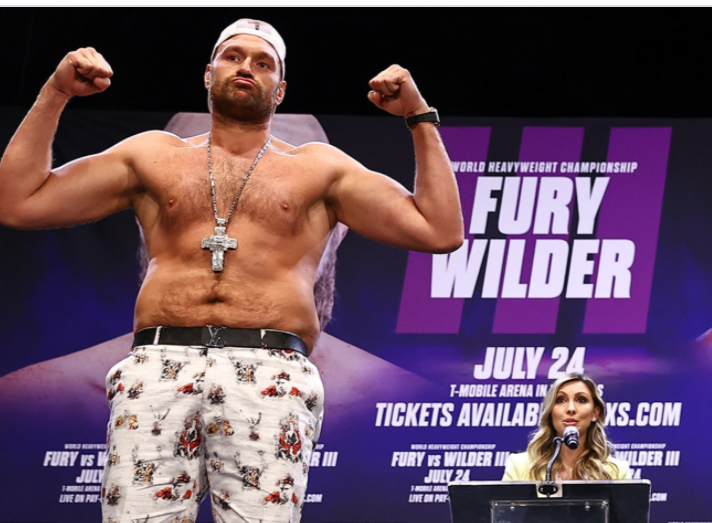 TSS special correspondent LAUREN RODRIGUEZ was on the scene for the Top Rank Promotions press conference in downtown Los Angeles on June 15 at which the third meeting between Tyson Fury and Deontay Wilder was formally announced. Here is her report.
The third fight between Tyson "Gypsy King" Fury (30-1, 21 KOs.) and Deontay "The Bronze Bomber" Wilder (42-1-1, 41 KOs) will go down July 24th in Las Vegas at the T-Mobile Arena. This continued mash-up between the two comes 16 months since their last bout. The first fight, in December 2018, ended in a draw and their second in February 2020, ended in a victory for Fury in the 7th round.
Fury carried the press conference while Wilder remained largely muted.
The WBC champion Fury remains undefeated, a status he is adamant in maintaining. The heavyweight boasted a white suit patterned with images of himself in a crown and wearing the belt he won off Wilder.
"This is a reminder of what happened to him last time, this is a remembrance suit of Deontay Wilder's ass-kicking."
The "Gypsy King," an entertainer, left little words unsaid as he berated his silent opponent.
"It shows how weak a mental person is, it shows the emotional effect the last fight had on his life… I was worried about him after the defeat I gave him," said Fury.
An Alabama native, Wilder has a 93% knockout rate, the highest rate for any heavyweight.
Wilder wanted no part in other questions from Q/A moderator Christina Poncher, or the media, as he remained silent with headphones and sunglasses to shield him from questions.
Wilder's trainer, longtime friend and former heavyweight contender Malik Scott answered very few questions for the fighter as tensions rose.
"He's very stubborn, like most legends and gifted people they have their things with them. As long as he gives me what I want in the gym, I don't care about the stubbornness cause we're going to get this done," said Scott.
If it's one thing Fury and team all agree on, it's that history will repeat itself in this third fight come July.
When it comes to what we can expect this time, Fury's trainer SugarHill Steward stated, "All I have to say is, over time, he [Fury] now has power to knock a man out with one punch. His boxing IQ is one-punch knockout power."
In Gypsy King fashion, we will have an entertaining show come next month. Fury intends on moving his weight all the way to 300, so he can give Wilder a bigger knockout in the ring and fans a bigger show.
"This time I'm hoping to take him out early, one, two, three rounds max."
Check out more boxing news on video at the Boxing Channel
Tokyo-Bound Aussie Heavyweight Justis Huni Stops Rugged Paul Gallen in the 10th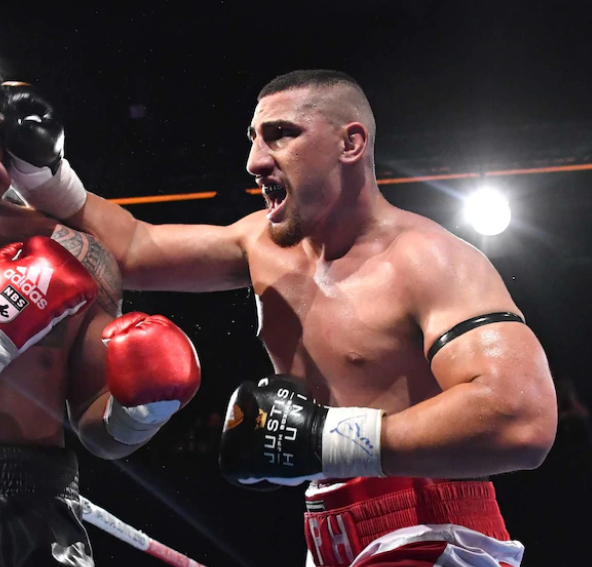 Had Justis Huni fought Paul Gallen two months ago, the match would have been trashed as little more than exhibition. During his record-tying 19 years in rugby, Gallen evolved into one of Australia's most well-known sporting personalities. When Gallen took up boxing in 2014, it was thought that he did it as a lark; as a way of cashing in on his name recognition. And his first 11 opponents were a motley bunch of former rugby players, MMA fighters, 40-somethings, and boxing novices.
Then came the night of April 21, 2021. In a shocker, Gallen demolished former WBA heavyweight titlist Lucas "Big Daddy" Browne in less than two minutes. "Gallen transformed from a rugby league player to a bona fide prize fighter before our very eyes," said prominent Australian sports journalist Andrew McMurtry.
That knocked Lucas Browne out of a lucrative match with Justis Huni and vaulted Paul Gallen, who turns 40 in August, to the head of the queue. They met Wednesday night (Australia time) at a convention center in Sydney and Huni, five-and-a-half inches taller, 15 pounds heavier, and the younger man by nearly 18 years, saddled Gallen (11-1-1) with his first defeat.
Heading into the fight, Gallen conceded that the heavily favored Huni was faster. However, he thought that he could wear the bigger man down. "If I get through those first four to five rounds, I'll be in his face the whole time and I think I can knock him out late," he said.
It proved to be the other way around. Huni dominated the fight and when he knocked Gallen down in the 10th with a big right hook, the referee stepped in and stopped it. But Gallen, who had a bum shoulder from his rugby days and thought that he fought most of the fight with a broken rib, showed tremendous heart.
It was the fifth professional fight for Huni (5-0, 4 KOs) who won the Australian heavyweight title in his pro debut. Of Dutch, Swedish, Samoan, and Tongan heritage, he quit school at age 15 to give boxing his full attention and will represent Australia in the Tokyo Olympics which start next month.
Brisbane-born Huni is already being talked-about as the best-ever Australian-born heavyweight. The rap against him is a lack of one-punch knockout power which won't be a detriment in Tokyo.
—
In undercard bouts of note, Brisbane middleweight Isaac Hardman (11-0, 9 KOs) scored a 4th-round stoppage of Emmanuel Carlos (12-2) and middleweight Andrei Mikhailovich, a Russian residing in Auckland, New Zealand, advanced to 16-0 (9) with a second-round stoppage of previously undefeated Alex Hanan (13-1).
Check out more boxing news on video at the Boxing Channel
To comment on this story in the Fight Forum CLICK HERE
Three Pros are Joining the U.S. Olympic Boxing Team, Ruffling Some Feathers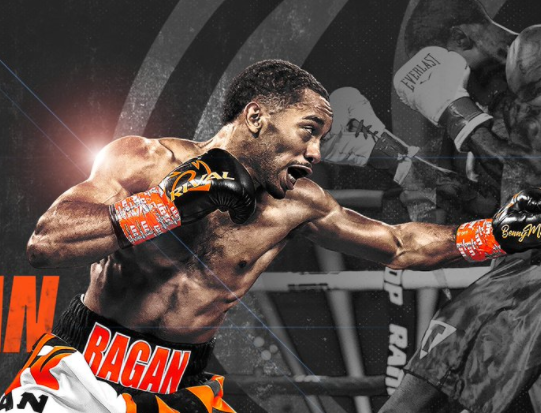 USA Boxing, the agency that controls amateur boxing in the United States, has a rule that prohibits professional boxers from competing in their tournaments. That rule remains in effect, but yet three pro boxers – middleweight Troy Isley, lightweight Keyshawn Davis, and featherweight Duke Ragan – will suit up for the United States in the forthcoming Tokyo Games. The announcement, which fell largely under the radar, came on June 7.
USA Boxing is subservient to AIBA, the sport's international governing body, and to the International Olympic Committee. The Boxing Task Force of the IOC changed the rules to allow Isley, Davis and Ragan to compete and the honchos at USA Boxing are none too happy about it.
Blame the Covid-19 pandemic which forced the postponement and ultimately the cancellation of several qualifying tournaments including the "Americas" tournament in Buenos Aires at which boxers from 42 national federations – including the United States — would be competing for the Olympic slots allocated to this region. A total of 286 boxers from around the world will compete in Tokyo in the eight men's and five women's weight divisions with the coveted slots dispersed among four Continental Regional Divisions.
With no tournament, the Task Force redesigned the quota allocation process using world rankings to determine the national squads. The rankings were formulated using a point system from events held between January 2017 and October 2019.
The re-jiggering opened the door for Isley, Davis, and Ragan to rejoin the team. Isley and Davis had their first pro fight in February of this year. Ragan turned pro in August of 2020.
Team USA protested that the BTF allocation was unfair to the boxers that finished first in the final domestic qualifying tournament (December 2019 in Lake Charles, Louisiana), but their claim was denied. Isley and Ragan were knocked out of that tournament before reaching the finals; Davis finished first when his opponent in the finals took ill and had to pull out, but he was subsequently booted off the team, reputedly for missing too many practices which he attributed to a family health emergency. That unfrocking has been rescinded.
Before he left the team, Keyshawn Davis was considered the U.S. boxer with the best chance of winning a gold medal in Tokyo. A southpaw, he earned his spurs at the Alexandria Boxing Club in North Alexandria, Virginia, which was also the home gym of Troy Isley who lived right down the street.
The common thread between all three of the returnees is Kay Koroma who coached Davis and Isley at the Alexandria club where he was the top lieutenant to the club's patriarch Dennis Porter and at the Olympic & Paralympic Training Center in Colorado Springs where he served as an assistant to Billy Walsh. Duke Ragan, who hails from Cincinnati, is Koroma's nephew.
Koroma came to the fore in 2016 when he earned raves for his work with Olympians Claressa Shields. Shakur Stevenson, Charles Conwell and others. But Koroma, one of the hottest young trainers in the sport, won't be available to work with the 2020/21 team before it heads off to Tokyo. "My plate is too full," he told The Sweet Science.
Koroma, like many of his former pupils, turned pro himself. He continues to work with Shakur Stevenson, whom he has known since Shakur was 13 years old, he assists veteran coach Al Mitchell with Mikaela Mayer and he recently replaced Ronnie Shields as the head trainer of rising heavyweight contender Efe Ajagba.
Isley, Davis, and Ragan comprise three-fifths of the men's Olympic team. Super heavyweight Richard Torrez Jr and welterweight Delante "Tiger" Johnson flesh out the quintet.
USA Boxing released a letter to its membership expressing frustration over the decision of the IOC Task Force which killed the dreams of seven boxers who hoped to snare an Olympic berth at the Buenos Aires tournament or, barring that, the Last Chance tournament in Paris which was also a casualty of the pandemic. The letter can be read at the USA Boxing web site.
The seven boxers who were fenced out are:
Darius Fulgham (heavyweight, Houston, TX)
Rahim Gonzalez (light heavyweight, Las Vegas, NV)
Joseph Hicks (middleweight, Lansing, MI)
Charlie Sheehy (lightweight, Brisbane, CA)
Bruce Carrington (featherweight, Brooklyn, NY)
Anthony Herrera (flyweight, East Los Angeles, CA)
and
women's flyweight Andrea Medina (San Diego, CA).
USA Boxing insists there are no plans to allow professionals to compete for the United States in the 2024 Olympiad and beyond. This is a one-shot exception forced by a unique circumstance. But, needless to say, when it comes to amateur boxing, nothing is etched in stone.
To comment on this story in the Fight Forum CLICK HERE