Muhammad Ali, Major Coxson, and the Mafia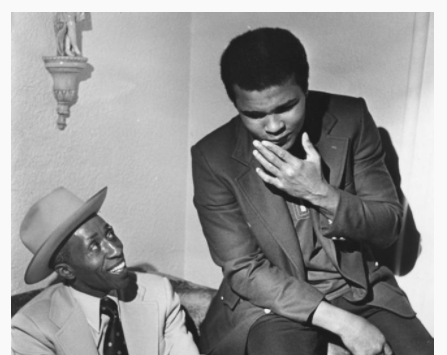 BY SPECIAL CORRESPONDENT RANDY COOK — I never floated like a butterfly or stung like a bee, but I do have one thing in common with The Greatest. We both made Cherry Hill in New Jersey our home. Cherry Hill is a leafy suburb of Philadelphia where residents can escape hectic city life but remain within commuting distance of Philly and New York. Not much happens in Cherry Hill, but the time that Ali lived there left an indelible impression.
Ali was lured to the area by Major Coxson – "The Gangster", as Ali referred to him. Coxson was a board member of a community group known as the Black Coalition- a civic partnership between Philadelphia's white business community and black leadership set up to reduce violence in the city by reducing poverty. The two met when Ali was banned from boxing and was paid to deliver a speech to the group.  They hit it off and soon Ali was a frequent visitor to Coxson's home where he was duly impressed by the trappings of Coxson's success.
Coxson lived in a huge house in Cherry Hill's most exclusive neighborhood and owned a fleet of luxury vehicles including a Rolls Royce, Lincoln and Jaguar. Shortly after Ali's boxing license was reinstated, he used part of his purse from the first Frazier fight to purchase a 6600-square-foot home from Coxson. Coxson then moved a few doors away, and the two neighbors became friends.
To say Coxson was an anomaly in 1970 Cherry Hill is an understatement. His flamboyant lifestyle stuck out like a sore thumb in an otherwise bucolic setting. It would be much like The Wire's Avon Barksdale living in a community of pediatricians, though his attachment to Ali gave him credibility. Coxson was even able to parlay his Ali connection into a mayoral candidacy despite having been criminally convicted for fraud and his known drug running and mafia connections,
In 1970 Coxson announced his candidacy for Mayor of Camden, New Jersey which is a short ride but a world apart from Cherry Hill. Camden was known for corrupt politics and was often referred to as the Murder Capital of the World. Ali attended some of Coxson's campaign events and was an ardent supporter. In fact, after Ali beat Jerry Quarry in Las Vegas, he grabbed the microphone from the ring announcer and proceeded to dedicate the victory to "Major Coxson, the next mayor of Camden, NJ." The fight and Ali's comments (shortly after the 31-minute mark) can be viewed here https://www.youtube.com/watch?v=tNI9KQuJxqw.  Ali also introduced Coxson as his unpaid advisor before his fight with Ken Norton and mentioned Coxson when he appeared on the Tonight Show with Johnny Carson.
When questioned by a reporter about his criminal record, Coxson maintained that "Most politicians end up in jail, I just have a head start." Coxson also boasted that Ali would "add punch" to his campaign.
Unfortunately for Coxson, his mayoral campaign brought unwanted scrutiny. Though he was living the high life, no one could figure out exactly what Coxson did to support his lavish lifestyle. That drew the attention of the IRS which froze most of Coxson's assets and sold off his car collection as a result of unpaid taxes. During that time, Coxson purchased a tandem bicycle and could be seen dressed in a suit and bowtie getting pedaled around town by his chauffeur. Ultimately, Ali donated a Silver Rolls Royce to Coxson who then retired the bike.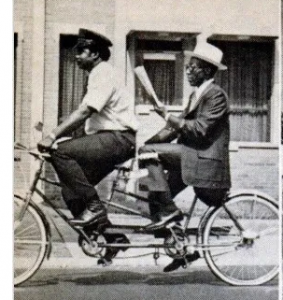 It all came crashing down for Coxson on the night of June 8, 1973 – a night that lives in Cherry Hill infamy. On that night, Coxson, his girlfriend, Lois Lusby and her three children – Lita 17, Toro 14 and Lex 13 – were enjoying a quiet evening at Coxson's Cherry Hill residence. A Cadillac pulled up in front of the home and four men entered. They and Coxson appeared to be having a friendly conversation until it suddenly turned violent. The four men drew guns and bound Coxson, his girlfriend and the children's hands and feet with neckties. They then shot Coxson, his girlfriend and two of the children in the back of the head. Thirteen-year-old Lex escaped by crashing through a sliding glass door and, with hands and feet bound, hopped to a neighbor's house where he used his head to bang on the door and gain entry. The neighbors then alerted police.
Police arrived to find Coxson dead and draped over his waterbed. Lusby and her children were rushed to the hospital. Lusby survived, but her daughter, Lita, did not. Toro survived, but was blinded in one eye. Police initially suspected that it was a robbery gone bad as Coxson was rumored to keep large amounts of cash in the house. Further investigation proved otherwise.
According to Dr. Sean Patrick Griffin, a former Philadelphia police officer and author of several books on the Black Mafia, a major source of Coxson's wealth was tied to his role as a broker connecting the Italian and Black Mafias. He helped broker drug deals between the factions and also helped the Black Mafia launder money through dummy corporations, much of which made its way to a mosque run by Ali's spiritual mentor, Elijah Muhammad.
Griffin's research also revealed that a missing shipment of heroin led to Coxson's demise. As the story is told, about a million dollars worth of the drug was stolen as it was being transported from the Italian to the Black Mafia. The Italian Mafia offered a $300,000 reward for the return of the drug as well as the identity of the thieves.
Coxson took the Mafia up on their offer and solicited the help of some of his Black Mafia cohorts. Coxson agreed that he would keep $100,000 of the reward and turn the other $200,000 over to his so-called subcontractors. For reasons unknown, rather than locate the shipment and the thieves, Coxson's henchman murdered them. As a result, the drugs were never recovered. This put Coxson in an untenable position whereby the Italian Mafia refused to pay, yet Coxson's hired hitmen still expected payment. Allegedly they ran out of patience.
Two suspects, Sam Christian (a founding member of the Black Mafia) and Ronald Harvey were identified as suspects by police. Harvey gained notoriety when he was found guilty of slaughtering seven people in Washington DC, a crime that included the drowning of four infants. All were members of a Sunni Muslim group that considered Elijah Muhammad and his followers in the Nation of Islam to be false prophets and accused them of harming Islam. The Hanafi murders, as they were known, occurred at a home donated by NBA star Kareem Abdul-Jabbar. Harvey died in prison in 1977 while still serving his sentence for the Hanafi and Coxson murders. Christian was later convicted of shooting a New York Police Officer in the arm while robbing a Harlem record store. After being paroled for that crime in 1988, he lived a quiet life until his death in 2016. Charges against him for the Coxson murders were dropped as witnesses either could not or would not identify him.
In the aftermath of the murders, both Toro and Lex were put into a witness protection program as they recognized at least two of their attackers. In an article that appeared in the June 13, 1973, edition of the Philadelphia Inquirer, staff writer Rod Nordland reported that a few weeks prior to Coxson's death a drug supplier notified one of his dealers to collect any money due from Coxson as he had been marked for death. That same source told the paper that there was a contract out on Ali's life. The source claimed he was coming forward to save Ali from Coxson's fate. That same month, Ali abandoned the Cherry Hill home and moved back to Chicago.
Ali's former home in Cherry Hill is now used as an Airbnb and often rented by those who want to party where Ali once lived. According to a September 6, 2019, article in the Philadelphia Inquirer, the home which is nestled among multimillion dollar dwellings, rents for nearly $2000 per night, but draws ire from the neighbors because of the raucous parties it attracts. Police have been called to the location almost 100 times to address complaints. I guess it's fair to say that, even posthumously, Muhammad Ali is still the most exciting thing to happen in Cherry Hill, NJ.
Check out more boxing news on video at the Boxing Channel 
To comment on this story in the Fight Forum CLICK HERE
The Fight of the Century: A Golden Anniversary Celebration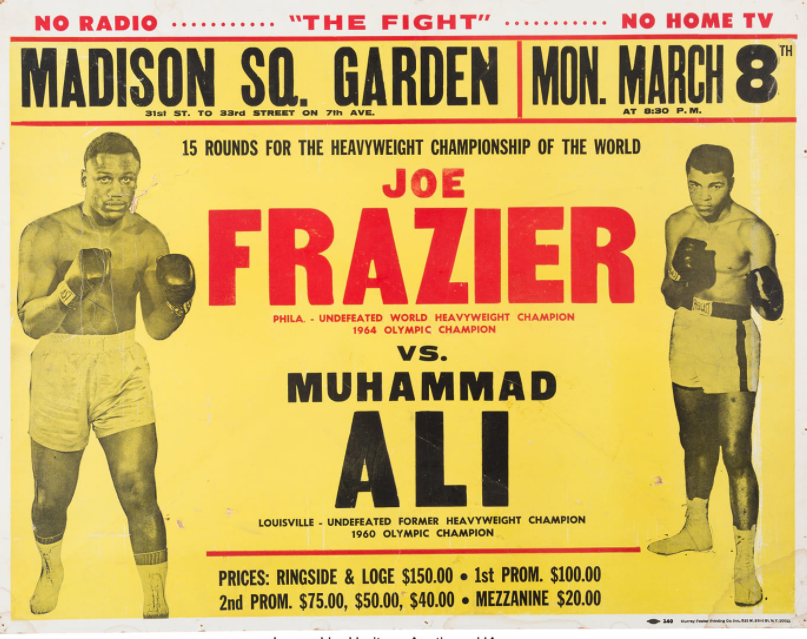 In professional boxing, fights can be rank-ordered as generic fights, big fights, bigger fights, mega-fights, and spectacles. The first fight between Muhammad Ali and Joe Frazier wasn't merely a spectacle, but the grandest spectacle of them all. This coming Monday, March 8, is the 50th anniversary of that iconic event.
Ali-Frazier I was staged at three-year-old Madison Square Garden, the fourth arena in New York to take that name. It drew a capacity crowd: 20,455 (19,500 paid). An estimated 60 percent of all the tickets sold fell into the hands of scalpers.
The fight was closed-circuited to more than 350 locations in the United States and Canada. At some of the larger venues, it established a new record for gate receipts, and this for an attraction that wasn't produced in-house. In Los Angeles, 15,333 saw the fight at the Forum and 11,575 at the nearby Sports Arena.
Bill Ballenger, the sports editor of the Charlotte (NC) News, saw the fight at the Charlotte Coliseum. He reported that the audio – Don Dunphy did the blow-by-blow with Burt Lancaster and Archie Moore serving as color commentators – was loud enough to be heard outside the arena and that many folks, either unable or unwilling to purchase a ticket, loitered outside and followed the action in 30 degrees weather.
An estimated three hundred million people saw the fight worldwide. In England, by some estimates, half the population tuned in, watching either at home on BBC1 or at a theater where one could watch the fight unfold on a movie screen. Now keep in mind that in England the fight didn't commence until 6:40 in the morning on a Tuesday!
Inside Madison Square Garden, the large flock of celebrities included many folks one wouldn't expect to find at a prizefight. Marcello Mastroianni, Italy's most famous movie star, made a special trip from Rome. Salvador Dali was there and Barbra Streisand and Ethel Kennedy, widow of Bobby Kennedy, seated next to her escort, crooner Andy Williams. Frank Sinatra was there working as a photographer for Life magazine. Lore had it that Sinatra wangled the assignment after failing to boat one of the coveted ringside seats.
The scene was made brighter by human "peacocks," the label applied to Harlemites with an outrageous sense of fashion, and the electricity was palpable. When Ali appeared at the back of the arena, making his way from his dressing room to the ring, everyone had goosebumps.
The late, great New York sportswriter Dick Young once wrote that there is no greater drama than in the moments preceding a big heavyweight title fight and that was never more true than on March 8, 1971 at Madison Square Garden.
Ali (31-0, 25 KOs) and Frazier (26-0, 23 KOs) were both undefeated. Both had a claim to the heavyweight title, Ali because the belt had been controversially stripped away from him for his political beliefs. Opinions as to who would win were pretty evenly divided. In Las Vegas, Joe Frazier was the favorite at odds of 6 to 5. Across the pond in England, bookies were quoting odds of 11 to 8 on Ali.
Those that favored Ali were of the opinion that 'Smokin' Joe was too one-dimensional. That much was true. Joe was as subtle as a steam locomotive on a downhill grade. He ate Ali's hardest punches, said Boston Globe reporter Bud Collins, as if they were movie house popcorn and he eventually wore Ali down. There was little doubt as to how the judges would see it after Joe knocked Ali down in the 15th round with a frightful left hook. When Ali arose, it appeared that he had been afflicted with a sudden case of the mumps. The decision was unanimous: 11-4, 9-6, 8-6-1.
This wasn't the greatest fight of all time, but it was a fight that more than lived up to the hype. And, as several people have noted, the event took on a life of its own without modern technology to push it along. The buzz was fueled in a large part by newspapers, the "antiquated" sort of newspapers that a fellow fished from his driveway or purchased at a newsstand on the way to or from work. If twitter and facebook had been around during Muhammad Ali's prime, Ali would have blown the doors off the internet.
A cultural touchstone is an event that remains sealed in our memory. As we slide into old age, if we are lucky enough to live that long, we may not remember what we had for breakfast in the morning, but some long-ago events are as vivid as if they had happened just yesterday.
Boxing historian Frank Lotierzo has written poignantly about how overjoyed he was when he was surprised with the news that his father would be taking him to the fight. "To this day it remains the biggest thrill of my life!" wrote Lotierzo, who was then in the seventh grade. "And it's not even close!"
I didn't see the fight, but I can recall the faces of people that I overheard talking about it, people whose interest in the fight struck me as odd as I knew they had little interest in the world of sports. So, when the fight is replayed in its entirety on Sunday – it airs on ABC at 2 p.m ET and again at 6 p.m. ET on ESPN – I will be watching it for the first time. And it will be bittersweet as I will be reminded that I am in the twilight of my life and my thoughts will inevitably drift to my friends and loved ones that have left this mortal world in the years since that grand night in 1971 when Muhammad Ali and Joe Frazier locked horns in the Fight of the Century.
I get misty-eyed just thinking about it.
Check out more boxing news on video at the Boxing Channel
To comment on this story in the Fight Forum CLICK HERE
Yoka TKO 12 Djeko in France: Claressa Pitches a Shutout on Ladies Day in Flint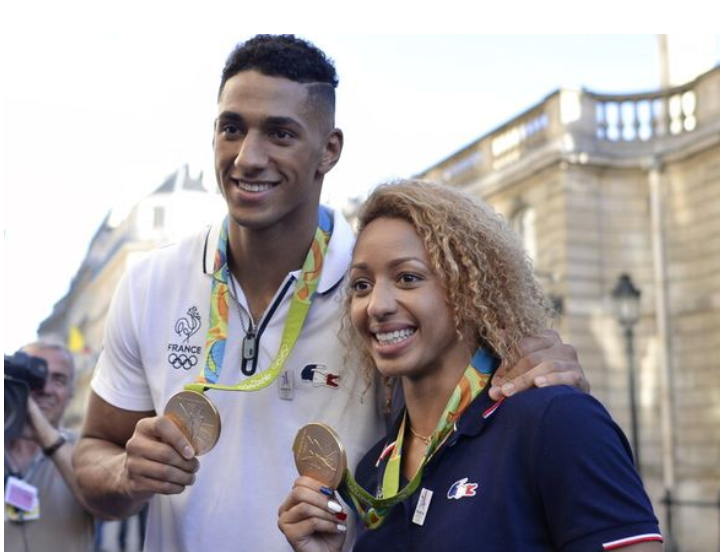 Yoka TKO 12 Djeko in France: Claressa Pitches a Shutout on Ladies Day in Flint
March 8 is International Women's Day which is actually a formal holiday in many parts of the globe. It was somehow fitting that female boxers were on display on the Friday feeding into it, a weekend without a must-see attraction on the men's side.
Today's activity began in the French port city of Nantes where 2016 Olympic gold medal winners Tony Yoka and Estelle Mossely, husband and wife, kept their undefeated records intact, both advancing to 10-0, against European opponents. Yoka (10-0, 8 KOs) was matched against Joel "Big Joe" Djeko (17-3-1), a 31-year-old Brussels native of Congolese and Cuban extraction who had fought most of his career as a cruiserweight. Mossely, a lightweight who now goes by Yoka-Mossely, drew Germany's Verena Kaiser (14-2).
At the Rio Olympiad, Yoka got by Filip Hrgovic in the semis and Joe Joyce in the finals to win the gold, winning both bouts by split decision. Both would be favored over the Frenchman in a rematch fought under professional rules.
Against the six-foot-six Djeko, Yoka controlled the fight with his jab, repeatedly backing his foe against the ropes. Very few of Djeko's punches got through Yoka's high guard. Had the fight gone to the scorecards, it would have been a rout for Yoka, but it didn't quite get there as Djeko turned his back on the proceedings midway through the 12th round after absorbing a sharp jab and it went into the books as a TKO for Yoka. At stake was some kind of European title or a derivation thereof.
Mossely's fight with Kaiser, slated for 10 two-minute rounds, followed a somewhat similar tack, save that it went the full distance. With only one knockout to her credit at the pro level, Mosseley, typical of female boxers, lacks a knockout punch. But she's a good technician and had too much class for the German.
Flint
A Covid-19 limited crowd of perhaps 300 was on hand to watch hometown heroine Claressa Shields oppose IBF 154-pound title-holder Marie Eve Dicaire at a 4,400-seat arena in Flint. There were five bouts on the undercard, three of which were women's bouts.
Shields, a two-time Olympic gold medalist, was seeking to become a four-belt title-holder in a second weight class, having previously turned the trick at 160. Dicaire, a 34-year-old southpaw, brought a 17-0 record but she had never won a fight inside the distance and all of her previous bouts took place in French-speaking Canada.
The self-proclaimed GWOAT, Shields has no peer between 154 and 168 pounds. Heading into this contest, she had hardly lost a round since meeting Hanna Gabriels and tonight was another total whitewash, her fourth overall in 10-round fights.
Claressa Shields, now 11-0 (2) may be too good for her own good. Her fights are so one-sided that they are monotonous. Her TV ratings have actually been falling. Today's show was a $29.99 pay-per-view on FITE when the established networks refused to meet her purse demands. It will be interesting to see how many tuned in.
In another fight of note, 2012 Olympic bronze medalist Marlen Esparza, in her first fight as a bantamweight, dominated Toronto's Shelly Barnett en route to winning a 6-round unanimous decision. There were no knockdowns, but the scorecards (60-54, 60-53 twice) were indicative of Esparza's dominance.
Esparza, who pushed her record to 9-1 (1), came in ranked #1 by the WBC in the flyweight class. Her lone defeat came at the hands of rugged Seniesa Estrada. Barnett declined to 4-4-3.
Check out more boxing news on video at the Boxing Channel
To comment on this story in the Fight Forum CLICK HERE
Brandon Adams Bursts Bohachuk's Bubble in Puerto Rico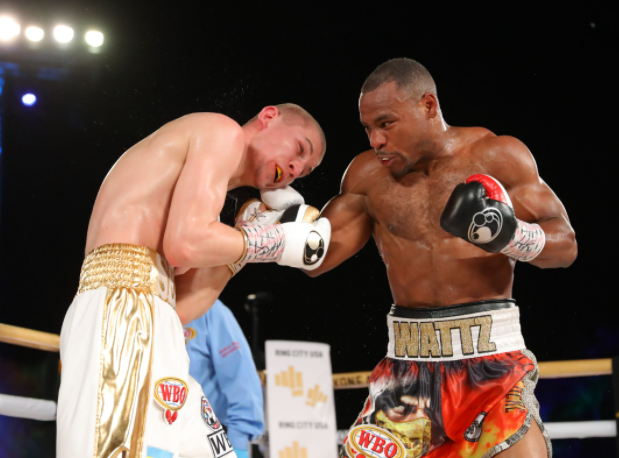 Brandon Adams Bursts Bohachuk's Bubble in Puerto Rico
Ring City USA, a new promotional entity, debuted on Nov. 19, 2020 with a show staged in the parking lot of Freddie Roach's Wild Card Boxing Club in Hollywood, CA. Ring City stayed outdoors for their first offering of 2021, but the company was a long ways from California. Tonight's card was staged on a roundabout near a municipal gym in Guaynabo, Puerto Rico.
The headline attraction was an attractive match between junior middleweights Serhii Bohachuk and Brandon Adams. The bout was originally set for Dec. 3, but had to be pushed back when Bohachuk tested positive for the coronavirus.
Bohachuk, a 25-year-old California-based Ukrainian, had stopped all 18 of his previous opponents. He had never gone past six rounds. Brandon Adams, a former world title challenger, represented a step up in class.
Bohachuk was well on his way to winning a unanimous decision when the tide turned dramatically in round eight. Fighting on a slick canvas, Adams suddenly found a new gear, unloading a series of punches climaxed by a thunderous left hook as Bohachuk retreated. The Ukrainian beat the count, but was teetering on unsteady legs and the referee properly called a halt.
Adams was without his regular trainer, 80-year-old Dub Huntley, who remained back in LA as a health precaution. In winning, he elevated his records to 23-3 (15). It was his best performance since defeating Shane Mosley Jr in the finals of Season 5 of the "Contender" series.
—
In the co-feature, an 8-round featherweight contest, Puerto Rico's Bryan Chevalier improved to 15-1-1 (12) with a third-round stoppage of Peru's Carlos Zambrano (26-2). Chevalier scored two knockdowns, the first a sweeping left hook that appeared to land behind Zambrano's head, and the second a punch to the liver that left Zambrano in severe distress. The referee waived the fight off in mid-count.
The official time was 2:21. Chevalier, a tall featherweight (5'11") made a very impressive showing; he bears watching. This was Zambrano's first fight since April of 2017 when he was knocked out in the opening round by Claudio Marrero in a bout for the WBA interim featherweight title.
—
The TV opener was an entertaining fight between contrasting styles that produced a weird conclusion when Danielito Zorrilla was awarded a technical decision over Ruslan Madiyev. The bout was stopped at the 1:16 mark of round eight after Zorrilla sank to his knees after absorbing a punch to the back of the head. The ringside physician examined him for evidence of a concussion, but ultimately it was Zorrilla's choice as to whether the bout would continue. He declined and was reportedly taken to a hospital for observation.
Madiyev, a California-based Kazahk, was the aggressor. He fought the fight in Zorilla's grill, often bullying him against the ropes. In round five, he had a point deducted for hitting behind the head, squandering what was arguably his best round.
The fight went to the scorecards with Zorrilla winning a split decision (77-74, 77-75, 73-76), thereby remaining undefeated: 15-0 (12). Ironically, Madiyev (13-2, 5 KOs), suffered his previous loss in a similar fashion.
Madiyev's new trainer Joel Diaz reportedly discouraged his charge from taking this fight for fear that he wouldn't get a fair shake in Puerto Rico. Diaz's apprehensions were well-founded.
Photo credit: Tom Hogan / Ring City USA
To comment on this story in the Fight Forum CLICK HERE