The Winning Purse Bid for Teofimo's Next Fight has the Boxing World Buzzing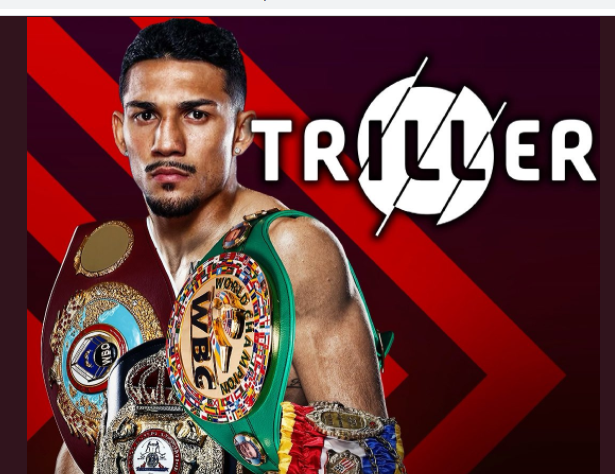 The big buzz this week in boxing was the enormous fee ponied up by the video-sharing, social-networking service Triller to lasso Teofimo Lopez's lightweight title defense against IBF mandatory challenger George Kambosos. Triller didn't merely out-bid Eddie Hearn's Matchroom and Bob Arum's Top Rank, but out-bid them by a whopping margin. Triller's purse bid was $6.02 million compared with $3.51 million for Matchroom and $2.32 million for Top Rank.
Triller's initial venture into boxing was the Nov. 28, 2020 show at the Staples Center in Los Angeles, a three-hour boxing and music festival, the centerpiece of which was an 8-round exhibition between 55-year-old Mike Tyson and 51-year-old Roy Jones Jr. There were four legitimate supporting bouts — legitimate in the sense that the competitors were active professional boxers – plus a freak fight between YouTuber Jake Paul and former NBA point guard Nate Robinson.
When the event was announced, it was panned by hard-core boxing fans, but it was slickly promoted and received a considerable amount of ink from both mainstream sports and gossip magazines. At a list price of $49.99, the event purportedly attracted 1.8 million pay-per-view buys which translated into a gross profit of more than $80 million. The honchos at Triller gambled that folks were still infatuated with Mike Tyson, an astute apprehension, but hedged their bets by conjoining the exhibition with non-traditional boxing fare and they came out a big winner.
Tyson vs. Jones was a pop culture event and the shebang itself, noted Thomas Hauser, was best understood as an infomercial. Triller's core demographic is urbanites aged 15 to 27, the so-called hip-hop generation, and the company is playing catch-up in a fierce two-horse race for market share with China-based TikTok, an Internet phenomenon.
The driving force behind Triller is 47-year-old Hollywood hustler Ryan Kavanaugh who made it big with Relativity Media, a firm that arranged financing for movie projects, but left a few bodies in its wake. The firm filed for Chapter 11 bankruptcy in 2015 and again in 2018.
Kavanaugh's business dealings came under scrutiny again this month when Universal Music Group, the world's largest record company, pulled its catalog from Triller because Triller wasn't paying its artists. In its response, Triller noted that many of the top earners in MSG are shareholders in Triller. Triller's most prominent shareholder is rapper Snoop Dogg whose waggish commentary for the Tyson-Jones exhibition was widely hailed as the highlight of the telecast.
When the Teofimo vs. Kombosos match was announced, it was immediately speculated that it would be hinged to another Mike Tyson exhibition, perhaps against his nemesis Evander Holyfield. Kavanaugh insists that won't happen. As for the date and location, that too is up in the air with the best guess being that it will be anchored in Miami, likely in May. It can't happen in Australia, where Kambosos resides, unless the authorities relax the rule that requires visitors to quarantine for 14 days upon arriving in the country.
The deal with Triller may mark the end of Teofimo's partnership with Top Rank. If so, Bob Arum is nonplussed. By rule, Teofimo Lopez, as the defending champion, is entitled to 65 percent of the purse. He is contractually obligated to give Top Rank 20 percent, nearly $800,000. Lou DiBella, who promotes George Kambosos, also comes out a big winner.
Who is George Kambosos?
The headline in an English-language, on-line publication directed at the Greek community reads "Undefeated Greek boxing sensation…." That's over the top. In the click-bait era, words like "sensation" have wide currency.
Kambosos, born and raised in Sydney, Australia, of Greek ancestry (his grandparents are from Sparta) is indeed undefeated: 19-0 (10 KOs). But until recently he was best known as Manny Pacquaio's sparring partner. He worked in three of Pacquiao's camps and, by his reckoning, sparred about 250 rounds with the Filipino legend.
Kambosos won his last two fights by split decision. On Dec. 14, 2019, he outpointed former IBF world lightweight champion Mickey Bey at Madison Square Garden. On Oct. 31 of last year, he outpointed former IBF featherweight champion Lee Selby at Wembley Arena. Neither bout was the featured attraction. Kambosos vs. Bey was underneath Terence Crawford vs. Egidijus Kavaliauskas. Kambosos vs. Selby was the chief supporting bout to the heavyweight contest between Oleksandr Usyk and Dereck Chisora.
Kambosos punctuated his win over Bey with a knockdown in the final round, but would have prevailed without it. There was no controversy when his hand was raised. Similarly, his triumph over Selby was generally well-received although few fans would have quibbled if the match had been scored a draw.
In a 2019 interview, Freddie Roach said of Kambosos that he was very quick with hand-speed on a par with PacMan. The biggest difference between the two, said Roach, was Pacquiao's superior footwork.
Roach may have been diplomatic when he said that the Aussie had the potential to go all the way as Kambosos will be a big underdog when he steps into the ring against Teofimo Lopez who figures to close in the 12/1 range. And the pre-fight pub will be all about Teofimo, in common with the Tyson-Jones exhibition where all the pre-fight hype was about Iron Mike.
—
This reporter bumped into Mickey Bey yesterday afternoon. Bey noted that he was hampered going into his fight with George Kambosos as he did not have the benefit of a full training camp. He took the fight on three-and-a-half weeks notice and had been out of the ring for 14 months.
The personable Bey, who is transitioning to the role of a trainer, waxed euphoric about Devin Haney who he regards as a once-in-a-generation talent. "I really believe he has a chance to surpass Floyd," he said, referencing Floyd Mayweather's 50-0 mark. "Haney is better right now than Floyd was at the same age."
That's open to debate, but Devin Haney, currently 25-0, is halfway there and he's only 22 years old. Whether he stays at 135 or moves up to 140, he will have to run through a gauntlet to get through the next few years unscathed. Both divisions are brimming with talent.
Check out more boxing news on video at the Boxing Channel
To comment on this story in the Fight Forum CLICK HERE
An Ode to the Polo Grounds on the (Belated) 100th Anniversary of Dempsey-Firpo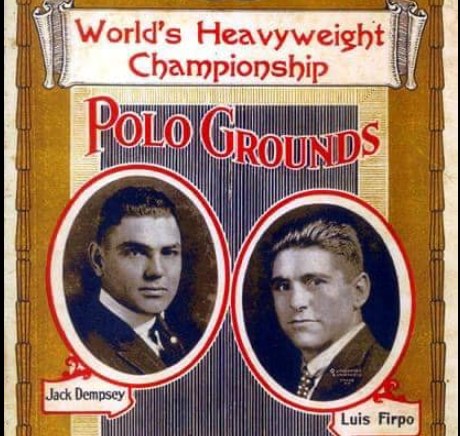 If you happen to be up in Harlem this Saturday, they are holding a little shindig at the Polo Grounds Towers Community Center in honor of the 100th anniversary of the Dempsey-Firpo fight.
Better late than never, as they say. The centennial of this storied fight was actually September 14, a week ago Thursday. But that rubbed up against Mexican Independence Day which prompted little shindigs that would take precedence in a neighborhood where many of the inhabitants speak Spanish.
The Sept. 14, 1923 bout between heavyweight champion Jack Dempsey, the Manassa Mauler, and his Argentine challenger Luis Angel Firpo, the Wild Bull of the Pampas, was staged at the Polo Grounds. The match was slated for 15 rounds, but no one expected it would go that far. "The styles of both," said a Brooklyn Times Union scribe in his pre-fight report, "eliminate the possibility of the affair becoming tedious."
That proved to be an understatement. Dempsey vs. Firpo consumed only three minutes and 57 seconds of actual fighting, but the action was breathtakingly intense and the crowd, estimated at 80,000, was on its feet the whole while.
There were so many knockdowns and they came so fast that there was disagreement among ringside reporters as to the exact number. In the first round alone, Dempsey put Firpo on the canvas at least five times, if not seven, and Firpo returned the favor twice. However, it was the Argentine that scored the most memorable knockdown. With one mighty swing of his vaunted right hand, Firpo knocked Dempsey clear out of the ring, the Mauler landing head first on a table of ringside reporters and their telegraphers with his feet up in the air. The moment inspired one of the most famous paintings in sports, George Bellows "Dempsey and Firpo," on display at the Whitney Museum of American Art in New York since the museum opened in 1931.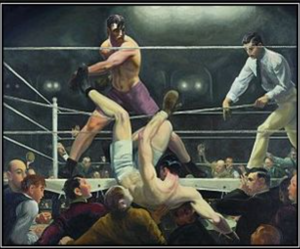 Dempsey was reeling and almost out before the first round ended, but he gathered his senses and ended the contest in the next frame. His final punch, with Firpo bleeding heavily from his mouth, "lifted the Argentine giant from his feet and hurled him headlong to the floor with the crash of a mighty oak falling from great heights." So wrote Grantland Rice.
The Polo Grounds sat in a hollow in the northern reaches of Harlem across the Harlem River from Yankee Stadium. It was the home of the New York Giants of the National League from 1891 until the franchise left for San Francisco at the end of the 1957 season. It also housed the New York Giants football team from its inception in 1925 through 1955 and in its end days, served as the temporary home of New York's two expansion teams, the Mets and the Jets.
Professional boxing was first served up at the Polo Grounds in 1922. There were four boxing shows there in 1923 preceding Dempsey-Firpo, but these were small potatoes by comparison, notwithstanding the fact that each of the four shows included a title fight. Dempsey-Firpo was the first collaboration between Tex Rickard and Charles Stoneham who owned the controlling interest in the baseball team.
Rickard and Stoneham had a lot in common. Rickard ran gambling saloons in mining camps in Alaska and Nevada before making his mark as a boxing promoter and settling in New York where he headed up the boxing department at Madison Square Garden. Charles Stoneham was a gambler too. He made his fortune operating bucket shops, funneling his winnings into a string of thoroughbred race horses and a horse track and casino in Havana. His silent partner in many of his business ventures was purportedly the infamous Arnold Rothstein. (A so-called bucket shop was a business where people could bet on the rise and fall of stocks and other commodities like wheat and oil without taking an ownership stake in any of the companies that comprised the marketplace.)
Rickard died in 1929, opening the door to Broadway ticket scalper Mike Jacobs who supplanted Rickard as New York's most powerful boxing promoter. Jacobs acquired the exclusive rights to stage boxing shows at both the Polo Grounds and Yankee Stadium. Charles Stoneham and his counterpart with the Yankees both profited when a card was held at either property.
Yankee Stadium was more modern and could accommodate a larger crowd, so Jacobs tended to pot his biggest promotions there. Joe Louis had 12 fights at Yankee Stadium, but only two at the Polo Grounds, namely his famous 1941 fight with Billy Conn and his fight later that year with Lou Nova. However, important matches continued to land at the Polo Grounds. Thirty-four boxers who would go on to be enshrined in the International Boxing Hall of Fame had one or more fights at the Polo Grounds.
—
I'm dating myself, but this reporter is among an ever-shrinking cadre of people who once sat in the grandstand of the Polo Grounds. The allurement was baseball. Although born in Brooklyn, I was a Giants fan.
I vaguely remember descending the steep iron staircase that led from the 155th Street subway station to the ticket booths. When one exited the subway, he was on Coogan's Bluff, named for the former Manhattan borough president who owned the land on which the stadium sat. Coogan's Bluff became a euphemism for the Polo Grounds itself, as Chavez Ravine would become a euphemism for Dodger Stadium.
The Polo Grounds had an odd, triangular-shaped configuration. The distance to both foul poles was short whereas centerfield was cavernous, the perfect playland for the wonderful Willie Mays whose range was unsurpassed. In the words of the late, great Jim Murray, Willie's glove was where triples went to die.
When Charles Stoneham died in 1936, the ballclub passed to his son Horace Stoneham who moved the team in San Francisco and eventually sold it to local interests. Stoneham was vilified in New York for abandoning the city, but the park and surrounding neighborhood had deteriorated. The stadium was torn down in 1964 and became the site of a giant, low-income housing project, Polo Grounds Towers, a complex consisting of four 30-story buildings run by the New York City Housing Authority. The Polo Grounds Community Center is housed in Tower #2.
The Dempsey-Firpo fight was an incandescent moment in America's Golden Era of Sports. It was a big deal in South America too. In Buenos Aires, tens of thousands of people reportedly jammed the streets around the newspaper offices to follow the progress of the fight on bulletin boards. The last boxing show at the Polo Grounds was staged on June 20, 1960. Floyd Patterson avenged his loss to Ingemar Johannson with a fifth-round stoppage. The predicted crowd of 40,000 failed to materialize. The official attendance was 31,892.
To comment on this story in the Fight Forum CLICK HERE
—
Arne K. Lang is a recognized authority on the history of prizefighting and the history of American sports gambling. His latest book, titled Clash of the Little Giants: George Dixon, Terry McGovern, and the Culture of Boxing in America, 1890-1910, was released by McFarland in September, 2022.
Avila Perspective, Chap. 253: Oscar De La Hoya Reloading in LA and More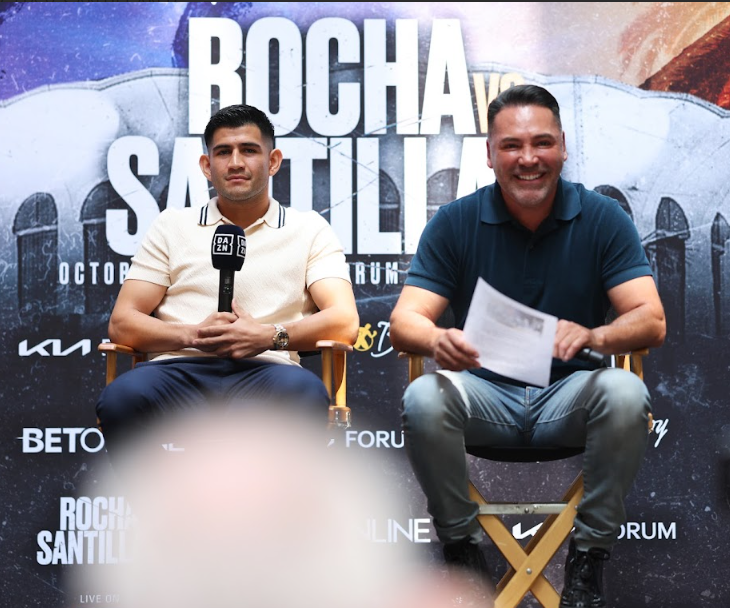 Oscar De La Hoya sat with a satisfied look inside his glittering building on Wilshire Boulevard, unveiling plans to stage a welterweight showdown between southpaw contenders next month.
Lately, the six-division world champion turned promoter from nearby East Los Angeles has attended every boxing show produced by his company Golden Boy Promotions. Big or small, the former fighter who acquired millions as a prizefighter has put full attention on expanding his boxing empire.
Golden Boy Promotions has reloaded.
On Tuesday, De La Hoya discussed plans to match Alexis Rocha with Top Rank's Giovanni Santillan on Saturday, October 21, at the Kia Forum in Inglewood, Calif. DAZN will stream the show.
Rocha (23-1, 15 KOs) seems to have gained his man strength. Five out of seven of his past foes have not heard the final bell. The Orange County fighter's seek and destroy style has made him a crowd favorite throughout Southern California.
Santillan (31-0, 16 KOs) is a different kind of cat. The San Diego-based welterweight was groomed by Thompson Boxing Promotions and then aided by Top Rank. With the loss of promoter Ken Thompson who passed away earlier this year, Top Rank has taken over the reins of the crafty fighter.
Both Rocha (pictured with Oscar) and Santillan are familiar with each other through sparring.
"I feel that I've grown so much over time and now's my moment, and I want to keep just banging on the door for a world title. I know that Giovani is going to be a good opponent," said Rocha who is based in Santa Ana.
San Diego's Santillan expressed excitement about fighting in Los Angeles.
"This isn't the first time that I go into enemy territory," Santillan said. "I think that I will gain the LA fan base after this fight."
It's the kind of fight that would have sold out the Olympic Auditorium down the street. Battles between fighters from rival towns in Southern California resulted in fights like Bobby Chacon versus Danny "Lil Red" Lopez, or East L.A.'s Ruben Navarro versus South L.A.'s Raul Rojas.
Crosstown rivalries made the Olympic Auditorium a legendary venue for decades. And the Los Angeles area has always been a hotbed for boxing talent. Always.
De La Hoya knows that and has lived it.
"As Golden Boy, we know our position, we know exactly what we have to do in order to position that fighter to get them to that world title. Alexis Rocha is knocking on the door. Giovani has an amazing opportunity. So, this is what boxing is all about," said De La Hoya.
MarvNation
Welterweights Eduard Skavynskyi (14-0) of Ukraine and Mexico's Alejandro Frias (14-9-2) headline the main event at Thunder Studios in Long Beach, California on Saturday Sept. 23.
This is Skavynskyi's first time fighting in the U.S. All his previous fights were in Russia and Ukraine.
Also, co-headlining are female minimumweights Yadira Bustillos (7-1) and Katherine Lindenmuth (5-1) in a rematch set for eight rounds.
Bustillos fights out of Las Vegas and Lindenmuth is based in New Mexico and looking to avenge her loss a year ago.
For tickets and information go to: https://www.tix.com/ticket-sales/marvnation/6815/event/1344994?fbclid=paaabuvxlnjny1dafchk0wwkftjganfmww6bayhkj7autu-mhjyz8ll__ycga
Heavyweight Rematch in England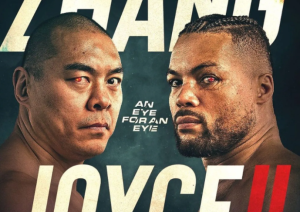 Once again, the United Kingdom presents a heavyweight show and this time a rematch between China's Zhilei Zhang (25-1-1, 20 KOs) and England's Joe Joyce (15-1, 14 KOs) on Saturday, Sept 23. ESPN will stream the Frank Warren boxing card from London.
Zhang stopped Joyce in the sixth round this past April. Can he do it again?
Welterweight showdown in Florida
Jessica McCaskill (12-3) and Sandy Ryan (6-1) meet for several welterweight world titles on Saturday, Sept. 23, in Orlando, Florida. DAZN will stream the Matchroom Boxing card.
Super lightweight Richardson Hitchins (16-0, 7 KOs) test top contender Jose "Chon" Zepeda (37-3, 28 KOs) in the co-main event. Conor Benn is also on the card.
Fights to Watch
Sat. ESPN+ 2 p.m. Zhilei Zhang (25-1-1) vs Joe Joyce (15-1).
Sat. DAZN 5 p.m. Jessica McCaskill (12-3) vs Sandy Ryan (6-1); Richardson Hitchins (16-0) vs Jose Zepeda (37-3).
Alexis Rocha photo credit: Golden Boy / Cris Esqueda
To comment on this story in the Fight Forum CLICK HERE
Conor Benn, a Lightning Rod for Controversy, Returns to the Ring on Saturday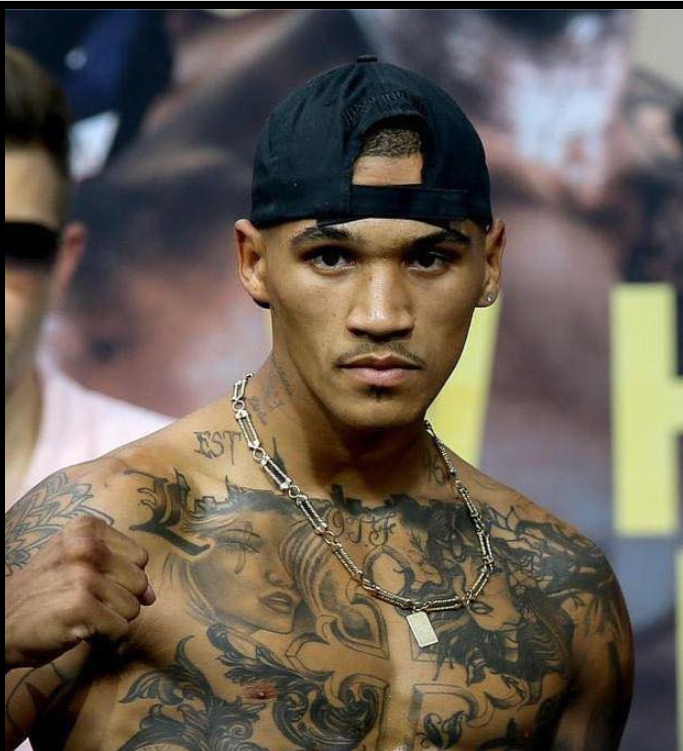 In a surprise announcement, Matchroom honcho Eddie Hearn has announced that Conor Benn will return to the ring this Saturday on the undercard of his promotion at the Caribe Royal in Orlando, Florida. Benn (21-0, 14 KOs) is matched against Mexico's Rodolfo Orozco who is 32-3-3 (24) and has never been stopped. The match is slated for 10 rounds at 154 pounds and will mark the first test for both fighters outside their native countries.
The main event on the Matchroom card is a 12-round contest in the super lightweight division between Richardson Hitchins (16-0, 7 KOs) and Jose Zepeda (37-3, 28 KOs). Hitchins, born in Brooklyn, represented his parents' homeland of Haiti in the 2016 Rio Olympics where he lost his opening round match to amateur nemesis Gary Antuanne Russell. Zepeda, a 34-year-old Mexican-American southpaw, is best remembered for his 2020 rumble with Ivan Baranchyk, the runaway pick for the Fight of the Year. The chief supporting bout pits England's Sandy Ryan against Chicago's Jessica McCaskill with the WBA, WBC, and IBF female welterweight belts on the line. The show will be live-streamed on DAZN.
Conor Benn last fought in April of last year when he TKOed South African veteran Chris Van Heerden in the second round. He was slated to return to the ring on Oct. 8, 2022 against Chris Eubank Jr, but — as is common knowledge – that bout fell to pieces when it came out that Benn had tested positive for a banned substance identified as Clomifene, a fertility drug in women that boosts testosterone in men. Making things worse for Benn, it came out that he had tested positive on VADA-administered tests on two separate occasions spaced several weeks apart. Try as they may, promoter Eddie Hearn and his partner Kelle Sauerland were unable to sway the British Boxing Board of Control into backing off on their edict that prevented the fight from going forward; the authorities wouldn't budge.

As noted in a story that ran on this website, the Benn-Eubank Jr implosion was a particularly infernal shipwreck. The plug wasn't pulled until two days before the fight, by which time all 20,000 seats at London's O2 Arena had reportedly been sold.
Conor Benn predictably insisted that he was innocent, calling it a witch-hunt. The World Boxing Council subsequently lifted its suspension of Benn, citing a report in a medical journal that showed that Clomifene could appear in one's system via an excessive consumption of eggs. With his father Nigel, a former two-division world champion at his side, Conor argued his case on a popular British TV talk show and persuaded many to see him as a sympathetic figure, the victim of a flawed testing process.
Interest in a Benn-Eubank Jr fight dissipated when Eubank was knocked out by Liam Smith, but was then rekindled when Eubank won the rematch in a dominant fashion. Various news reports say that Hearn has begun preliminary negotiations to resurrect the fight with his eye on a date in December.
As noted by several prominent fight writers, notably Dan Rafael, Conor Benn hasn't yet been cleared to resume his career in the UK. An independent National Anti-Doping Panel gave him the green light, but the BBBofC is appealing that decision. Promoter Frank Warren, Eddie Hearn's chief rival, has ventured the opinion that Team Benn is disrespecting the sport by returning to the ring before the process has run its course. In rebuttal, Eddie Hearn says the Benn-Orozco fight has the blessing of the (USA) Association of Boxing Commissioners which made this determination after consulting with the BBBofC.

To comment on this story in the Fight Forum CLICK HERE