"Sparring with Smokin' Joe" is a Great Look into a Great, Complicated Man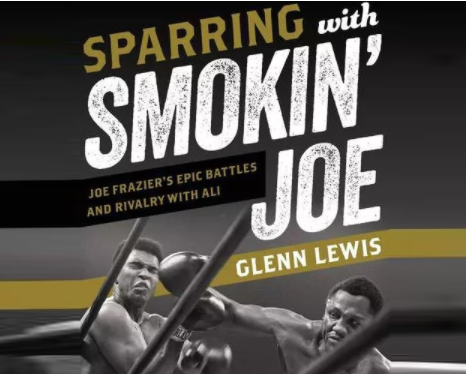 BOOK REVIEW – Some rare moments arrive, as either a blessing or a curse, to cast definitive impressions of how someone might be remembered. As anyone reading this should well know, such a moment occurred 50 years ago today (March 8, 1971) at Madison Square Garden for Joe Frazier and Muhammad Ali.
For Frazier, a punishing 15-round victory became the foundation to his legacy. That leads us to Sparring with Smokin' Joe by Glenn Lewis, the latest biographical volume to focus on Frazier, with a timely release date close to the "Fight of the Century" anniversary that should provide plenty of solid promotional material for the book.
As a piece of literature the book, published by Rowman & Littlefield, stands up quite well on its own, and as a piece of boxing literature it stands out, through previously unpublished situational information on Frazier.
I found it to be a must-read for Frazier fans and a solid plus for most boxing libraries.
Author Lewis is a graduate school professor at the City University of New York (CUNY) and director of journalism at the affiliated York College with decades of expertise on his resume. This project is expertly constructed and reads very smoothly throughout. Beside the many insightful instances regarding Frazier himself, a very thoughtful portrait of his son Marvis Frazier runs through the narrative, which also conjures a vivid depiction of Frazier's Broad Street Gym in North Philadelphia.
The book's unique highlight is the ongoing tale of traveling with Frazier and his all-white band (with multiple Berklee school members) during a tour of southern states.
The first 140 pages or so (out of a listed 256), make up a fascinating memoir of getting to know Frazier and his circle during 1980, around four years after his second crushing defeat to George Foreman. At that point in his life, Frazier was trying to settle into retirement, guide Marvis's culminating amateur career, and transition from boxing superstar to fledgling vocal attraction.
I devoured the opening sections of the book with reader's glee, far more than enough to highly recommend Lewis' book, but toward the end it seemed maybe he should have quit while and where he was ahead.
The last third gets substantially less engaging. The author grew distanced from his subject's proximity and it shows, as the tale becomes far more familiar in relating already well-documented fight data.
There is still some fine perspective from Lewis like Joe's hugely destructive obsession with rushing Marvis into disaster versus Larry Holmes, but for many of the closing segments you could cut and paste the same period of Frazier's career out of Mark Kram Jr's recent book Smokin' Joe (2019) and gain a bit more personal touch.
That's not at all to imply that the boxing writing is weak. Lewis makes an excellent case that Frazier won the rematch with Ali, not only the first fight; which leads to justified speculation on what could have occurred had Frazier gotten the second nod. Back then I shared Lewis' opinion on the scoring, and his detailed analysis inspires taking another look at the replay.
Some minor gym characters or business associates become animated as if they're standing in front of you, but I was disappointed in how a charming, complicated guy like Jimmy Young was overlooked and how larger-than-life characters like Gil Clancy and especially George Benton (a living example of where playwright August Wilson drew inspiration) came across rather subdued compared to the boisterous conversationalists I spoke with many times not long after the year Lewis's story begins.
There are also a couple of minor omissions that, though based on very brief listings, still stick out when considering Lewis's scholarly, journalistic credentials.
James Shuler is mentioned, but there's nothing about his tragic death in a motorcycle accident a week after losing to Tommy Hearns in a minor title fight, nor the touching story about Hearns at the funeral, offering to put the belt in Shuler's coffin. Frazier's restaurant, Smokin' Joe's Corner, is also listed a couple times but there is no mention of the horrible murders that took place there during an inside job robbery and how that tragedy probably put the final nail into Frazier's aspirations in the food industry.
I also hoped for some tidbits from Frazier's thoughtful and wise older brother Tommy who provided me with some rare insights (and had an offbeat sense of humor about his name), a stoic trickster who seemed to lovingly enjoy putting his famous sibling on the spot.
Still, the overall impression I got was fantastic. A memoir should share time, location, emotion, and reflection. Lewis achieves all those things many times over.
Which leads to my primary, personal takeaway of this very worthwhile book. Based on a few of the lengthy encounters I was lucky enough to share with Joe Frazier (boxing and non-boxing related), it's difficult for me to imagine that a canny observer like Lewis didn't emerge from the amazing and enviable access he got with more wild tales, especially from nights on the road.
So, I'd have to guess, and bet, that Lewis let some of the more sensational situations or quotes remain aloft in the mist of the past, which to me is admirable, even more so in these social media dominated days.
Here's a non-controversial quote that is included, which provides a sample of the many fine nuggets to be found:
"I don't think you're less of a man for crying," said Joe, taking me by surprise. "It's healthy for you. I cry if something goes wrong- I'll cry right out. But if I cry out of anger, look out! Somebody's in trouble. Crying shows a man has heart and helps him out of his pressures. Just don't cry for nothing."
I could almost hear Frazier's voice when I read that, and descriptions of places I've been like Frazier's gym read true enough to give the entire book an aura of accuracy.
A dozen excellent photographs serve as a first-class coda.
Fifty years after his biggest triumph, Joe Frazier remains a compelling topic in the discourse of sociological significance. This well written tribute does him plenty of justice.
Check out more boxing news on video at the Boxing Channel
To comment on this story in the Fight Forum CLICK HERE
Ed Odeven's New Book Pays Homage to Sports Journalist Jerry Izenberg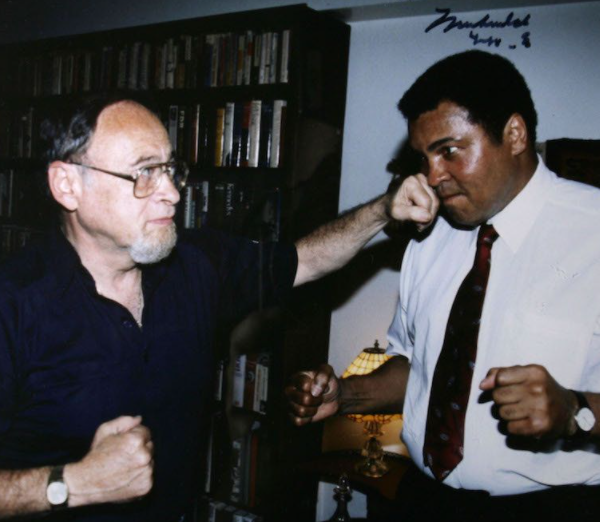 It's one thing to get to the top, but it's something else entirely to remain there for more than half a century. Jerry Izenberg, longtime sports columnist for the Newark Star-Ledger, now semi-retired and living in Henderson, Nevada, has done just that.
Izenberg is the subject of Ed Odeven's book, "Going 15 Rounds With Jerry Izenberg," which was released New Year's Eve and is available at amazon.com.
"By all accounts, he should be recognized as one of the greatest American sports columnists," said Odeven, a 1999 graduate of Arizona State University who has lived in Japan since July 2006 and is the sports editor for the website Japan Forward. "A versatile professional, he was equally skilled at writing books and magazine articles and producing sports documentaries and crafting essays for the groundbreaking 'Sports Extra' television program on Channel 5 in New York in the 1970s."
Odeven went on: "Jerry has seen everything and been seemingly everywhere. He brought gravitas to the newspaper sports section with decades of sustained excellence."
During a seven-decade career in sports journalism, the 90-year-old Izenberg, found time to write 15 non-fiction books and one novel. His affinity for the manly sport is reflected in his 2017 book, "Once There Were Giants: The Golden Age Of Heavyweight Boxing."
"From the 1950s to the present day [including recent years' coverage of Tyson Fury and Manny Pacquiao, for instance, Izenberg has shined in his boxing coverage," Odeven said. "You can't ignore his remembrance pieces on fighters and boxing personalities across the decades [such as a terrific column on the late Leon Spinks in which he weaved a tapestry of the fighter's life and his family's struggles into a powerful piece], either."
One of Izenberg's favorite topics is Muhammad Ali.
"Izenberg first observed the great fighter's infectious personality, popularity and boxing talent on display at the 1960 Rome Olympics," Odeven said. "Cassius Clay was unlike any other famous pugilist in those days and for the rest of his life."
Odeven spoke about the support Ali received from Izenberg: "When very few were publicly taking a stand to support Ali, Izenberg wrote columns that defended his right to fight. He took the boxing establishment to task for stripping Ali of his titles even while Ali's case was making its way through the courts – and ultimately the United States Supreme Court."
Izenberg, a graduate of Rutgers University who covered the first 53 Super Bowls, and Ali were close. "As friends, they were around each other in all corners of the earth," Odeven said. "They shared highs and lows during periods of personal and professional success and disappointment."
Here's Jerry Izenberg talking about Ali's humanity: "I was a single father and when my children came to live with me, they were very nervous. I took them to Deer Lake [Pennsylvania] for a television show I was filming as an advance to the Foreman-Ali fight. After the filming, knowing my situation, (Ali) took my son aside and put his arm around him and said, "Robert, you have come to live with a great man. Listen to him and you will grow to be a great man just like him.
"On the way up my daughter, who was seven, had said, 'I hope Foreman beats him up because he brags too much and you always told me to not brag.' "I told her, 'you are seven and you have nothing to brag about. Both of these men are my friends. When you get there, keep your mouth shut.' When we were packing up the equipment, he saw her in the back of the room and hollered, 'come up here little girl. You with the braids.' She was convinced I had ratted her out about what she said and tried her best to melt into the wall because she was frightened. As she walked toward him, she lost the power of speech and mumbled. He was 6-3 and she was 4-5. He grabbed her and held her over his head. 'Is that man your daddy?' All she could do was nod. 'Don't you lie to me little girl, look at him,' and he pointed at me. 'That man is ugly…ugly. You are beautiful, now gimme a kiss.' On the way home she said, 'I hope Muhammad can win,' and I said, 'you are just like the rest of them. The only difference is your age.' He was one of my five best friends. When he died, I cried."
Odeven offered his slant on why Izenberg was at home at major boxing events: "It was clear that Jerry was in a comfort zone on the week of a big fight, writing the stories that set the stage for the mano a mano encounter and the follow-up commentary that defined what happened and what it meant."
Izenberg, noted Odeven, had worked under the legendary Stanley Woodward, as had Red Smith and Roger Kahn, among others, the latter most well-known for having penned the baseball classic, "The Boys Of Summer." Many insist that Woodward, who read the classics, was the greatest sports editor.
Woodward, Odenven believes, helped shape Izenberg's world outlook. "Izenberg became keenly aware of this human drama at its rawest form that existed in boxing," he said, noting that in decades past the public was captivated by the big fights. "Examples, of course, include the first and third Ali-Frazier bouts and The Rumble In The Jungle [against Foreman]. Let's not forget they were cultural touchstones."
Referencing the third installment of Ali-Frazier in Manila, Izenberg said, "I've probably seen thousands of fights, but I never saw one when both fighters were exhausted and just wouldn't quit…My scorecard had Ali ahead by one which meant if Joe knocked him down in the 15th, he would have won on my card. But there was no 15th because Joe's trainer, Eddie Futch, ordered the gloves cut off after the 14th.
"At the finish, Ali collapsed. Later as Ali walked slowly up the aisle supported by his seconds, he leaned over toward the New York Times' Dave Anderson and me and said through puffy lips, 'Fellas. That's the closest you will ever see to death.'"
Izenberg remembered his lead: "Muhammad Ali and Joe Frazier did not fight for the WBC heavyweight title last night," he wrote. "They did not fight for the heavyweight championship of the planet. They could have fought in a telephone booth on a melting ice flow. They were fighting for the championship of each other and for me that still isn't settled."
What makes Izenberg relevant even today? "His canvas was the global sports landscape and he explored the human condition in each of his columns in some way," Odeven stated. "He recognized what made a good story and sought out individuals and topics that fit that description – and he still does.
"You could read a random stack of columns about any number of topics from the 1960s or '90s and be enlightened and entertained at the same time…He has always had a razor- sharp eye for details that illuminate a column and a source's words to give it added verve." Moreover, added Odeven, Izenberg had a never-wavering commitment to championing a just cause: "Speaking out against racism and religious bigotry, he gave a voice to the voiceless or those often ignored."
Note: Jerry Izenberg was inducted into the International Boxing Hall of Fame in the Observer category in 2015.
To comment on this story in the Fight Forum CLICK HERE
A Boxing Match is at the Heart of David Albertyn's Widely Praised Debut Novel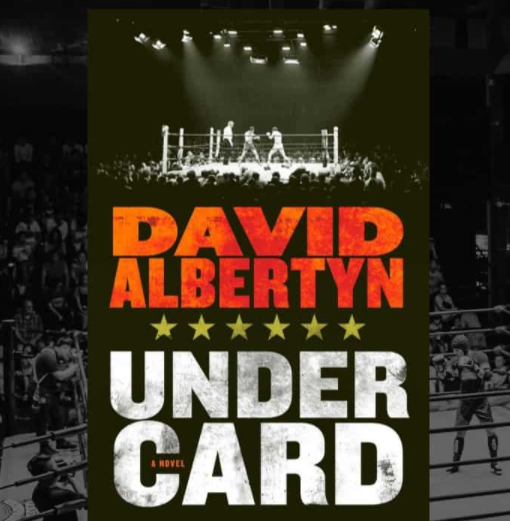 David Albertyn's debut novel, "Undercard," has earned lavish reviews. Released in Canada in 2019 and in the United States last year, the book has already been translated into French and German for HarperCollins, one of the world's leading publishing houses, and the film rights have been sold to Shaftesbury – heady stuff for a first-time author.
"Undercard" is a fast-paced crime thriller with more twists and turns than the Grand Prix of Monaco. There are four central characters, childhood friends unexpectedly united in Las Vegas. The plot, which unfolds over a 24-hour span, revolves around a bout on the undercard of a casino mega-fight.
"It's been hugely rewarding having 'Undercard' out there in the world, and especially with the reception it's been given," said Albertyn, a native of South Africa and a resident of Toronto. "It was a dream come true to finally publish a novel, and it's obviously given me a lot more confidence in my writing, but also confidence in myself…But probably the best part of all is when readers tell me that the book was meaningful to them."
A high-level tennis player and a coach of the sport, Albertyn has always enjoyed sports, including boxing. Why did he choose the sweet science as the backdrop for his novel?
"I knew I wanted to feature sports in "Undercard," as I have an extensive background in sports as an athlete, fan, and coach, and incorporating fields that one is familiar with brings an element of authenticity and uniqueness to one's writing," he pointed out. "I wanted each of my four main characters to be an athlete in a different sport (one of whom, Antoine, is a boxer) and once I chose Las Vegas, home to so many major fights, as the setting, I knew that boxing would be the featured sport."
Albertyn continued: "Having been a fan of boxing since I was a child, and having trained in it at various points in my life, I had familiarity with it to begin with, but I did as much research as I could. I attended amateur and professional fights; I watched a ton of fights on television and online, both contemporary and classic bouts, trying to pick up as many details as I could. I watched documentaries, shows and narrative films about boxing; and I read a number of non-fiction books and articles about the sport and its competitors. I will say that I also drew on my own experiences of competing, even though they came in other sports, as I feel that some aspects of competition are universal to all sports."
Of the three male characters in the book, is there one Albertyn identifies with?
"If I had to choose one, I'd pick Antoine, who is my favorite character in the novel, and the one I wanted to build the story around. I wanted to explore an utterly goal-oriented character, whose entire life is constructed around a single purpose, who can achieve their objectives no matter how much the circumstances are stacked against them," he stated.
In truth, Albertyn had two other novels that were not published, and while this was disappointing, important lessons were garnered.
"I learned an incredible amount from my first two attempts at publishing a novel. Probably the greatest lesson I learned was to write something that was meaningful to me and that would appeal to the publishing industry," he said. "My previous work tended to focus on one or the other. This time I very much tried to do justice to both. So 'Undercard'' engages with various topics that I find interesting and important, and at the same time it's set in Las Vegas, this sexy, exciting setting that is immediately eye-catching for publishers and readers. I also realized that I needed to enlist outside help, as I knew I had been close with my first two tries. So, I took a creative writing correspondence course [with Humber College in Toronto], where an advisor helped me revise my manuscript."
How did Albertyn, who said if he wasn't a writer and tennis player/instructor, he would have chosen to be an actor, come up with the idea for the story?
"The storyline came about gradually. It was really an amalgamation of a lot of ideas that I was ecstatic to find all fit together in one narrative – for instance having the story take place over 24 hours, something I'd always wanted to do; having revenge a key theme, being a fan of revenge stories; having an action scene in the background of a major sports event, an idea that had been with me for years," he pointed out.
While doing background work, what did Albertyn learn?
"My research taught me about the Iraq War, boxing obviously, the WNBA, the history of Las Vegas, the casino industry and casino moguls, how private and state security forces are used in urban spaces, the Black Lives Matter movement (my research largely taking place from 2016 to 2018, so before last summer's protests) and I'm sure other areas that I cannot recall now," he said.
"There were fascinating things I learned on all these subjects, but I'll mention the role of these casino hotel resorts in world politics and business was very interesting. A lot of meetings and deals of all kinds between powerful groups and people take place in these casino resorts, making them play a significant role in world events."
Albertyn wants to continue writing novels, but is certainly open to other genres.
"I might try to write for magazines one day, but I would definitely like to write for film and television," he said. "I majored in Film Studies in university and always hoped that I would do screenwriting. I have several ideas already, but I plan to stick with books for a little bit until I'm more established as an author before I make that push."
"Undercard" isn't as boxing-centric as other novels such as Leonard Gardner's celebrated "Fat City," but boxing fans in particular are bound to find it an enjoyable read.
Check out more boxing news on video at the Boxing Channel 
To comment on this story in the Fight Forum CLICK HERE
Goodbye To All Of That: A Review of Mike Silver's 'The Night the Referee Hit Back'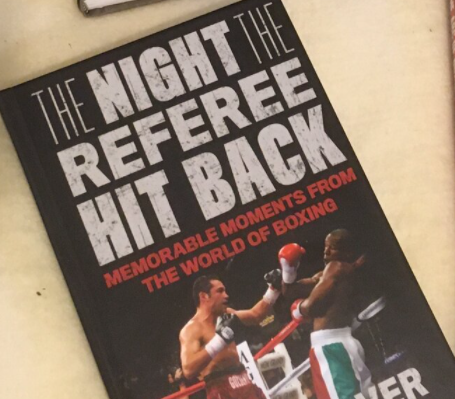 Goodbye To All Of That: A Review of Mike Silver's 'The Night the Referee Hit Back'
Mike Silver has been writing about boxing since the 1970s, which would make him, in the parlance of the youth of today, an "old head," an appellation that carries wildly contradictory meanings depending on its usage. His 2008 book, The Arc of Boxing: The Rise and Decline of the Sweet Science, was a caustic close reading of how boxing, once a mainstream sport that spoke to the masses, became a small, hemmed-in, navel-gazing affair guided by small men and their equally small thinking.
In this provocative book, Silver excoriated some of the most indubitable pillars in the sport, those whose talents and achievements most fans regard as transcendental, beyond reproach. The reader was hit with one long either/or proposition. Either Silver was "clickbaiting," engaging in the worst instincts of hot take culture or he was providing a long-overdue corrective, and depending on your frame of mind or allegiances, the answer was stark clear. Here are a couple of snippets from that book:
"Floyd [Mayweather Jr.] continues to win fights without strategizing because his mostly third-rate opponents haven't a clue as to how to counter his whippet speed. The faux experts praise his 'technical skill' because they cannot differentiate between extreme speed and sophisticated boxing technique."
Of Bernard Hopkins, he writes, "Reviewing tapes of his fights reveals to the knowing eye that Hopkins is an intelligent yet unremarkable boxer possessing decent defensive skills, a professional attitude and a solid punch. While these qualities are more than enough to make him a dominant world champion today, fifty years ago such skills would have been considered commonplace."
There are those, no doubt, who feel that any criticism leveled at Mayweather or Hopkins, as well as Pernell Whitaker or Roy Jones Jr., are grounds for immediate excommunication. But discount Silver at your own peril. You may not agree with everything that he says, but his observations are a net win for a boxing culture that seems to run more and more on a perpetual feed-back loop of self-regarding hype.
In his new collection of essays, The Night the Referee Hit Back, culled from 40 years of material, Silver has somewhat tempered his venom, eschewing the combative stance of Arc for a more celebratory one. But his opinions have not changed. "My observations are based on my particular frame of reference and perspective," Silver writes. "To me, the glory and romance of boxing resides in its past history and I'm content to leave it at that." As Joe Pesci said in The Irishman, "It's what it is."
The Night opens up, appropriately, to a bygone vision of New York City when booze still flowed liberally through Toots Shor's, Jack Dempsey held court at his eponymous watering hole, and boxing "was still an important part of American popular culture." The nerve center of the city's prizefighting ecosystem was on 8th Avenue, not at Madison Square Garden, but at nearby Stillman's Gym, the sweat-caked fighting coop that A.J. Liebling affectionately immortalized as the University on 8th Avenue. The gym, seemingly one of the last connections to Damon Runyon's New York, shuttered in the early 1960s and has left behind virtually zero trace; no distinguishing vestige, no commemorative plaque. In its place today, within the hellscape of an increasingly corporatized Manhattan, stands a sad pocket of residential real estate surrounded by fast-food chains and a TD Bank.
A young, 14-year-old Silver had the good fortune of being introduced to this private world before it was all razed down two years later. Back then, Silver reminds the reader, "Even an ordinary preliminary boxer could make more money in one four-round bout than a sweatshop laborer made for an entire week." His reminiscences are offered with a light touch, without falling into a maudlin trap. As Silver describes what it was like walking up the wooden staircase and passing through the turnstile and chatting it up with Kid Norfolk, the reader can almost smell the thick waft of cigar smoke that hung over the gym in those days.
"Dick Tiger, Gaspar Ortega, Emile Griffith, Jorge Fernandez, Joey Archer, Rory Calhoun, Alex Miteff, Ike Chestnut, and others," Silver recalled, rattling off the fighters he brushed shoulders with on a daily basis. "Is there any other professional sport where a fan can get so close to its star? This was the magic and allure of Stillman's, and I thank my lucky stars I was able to experience it."
But the nostalgic anecdotes are kept to a minimum. Most of The Night features pieces that reflect Silver' analytical nature. "Don't Blame Ruby," one of his most insightful pieces, hones in on the infamous 1962 Benny Paret-Emile Griffith welterweight bout in which Griffith ended up sending a comatose Paret to the hospital – and 10 days later, to the grave. Here Silver takes issue with the long-parroted line of thinking that blames the referee of that bout, Ruby Goldstein, for taking too long to wave off the bout. Actually, Silver argues, the truth was much more complicated. Citing Paret's hellacious fighting schedule – which included an engagement with the deadly Gene Fullmer before his star-crossed meeting with Griffith — Silver points the finger at Paret's handlers and the bureaucrats who were presumably in charge of overseeing the fighter's safety. If any blame can be ascribed to an individual or entity, it is them.
In another piece, Silver deconstructs, step-by-step, round-by-round, the mythology behind the snazzily dubbed "The Thrilla in Manila," the third and final fight between Muhammad Ali and Joe Frazier that is often cited as one of the greatest fights in boxing history. Balderdash, says Silver. Anyone who has seen the fight can attest to Silver's common sense, but that has not stopped the bout from being breathlessly heralded routinely by magazines like The Ring and cable networks like ESPN, which proves the point about boxing being one vast echo chamber. These two pieces alone should quiet those who think Silver has an agenda against contemporary boxing. It turns out his only bias is against uncritical thinking.
But on the topic of modern-day boxing, he has much to say. In "A World of Professional Amateurs," Silver takes his scalpel to what he views as a growing pattern of prizefighters who find no reason to break out of their juvenile shells. In one passage he praises the skill-set of Dmitry Bivol, the current WBA titleholder who amassed more than 300 bouts in the amateur ranks, but laments his professional instincts.
"Forty years ago, Dmitry Bivol would have been labeled a hot prospect and maybe in line for a semifinal in Madison Square Garden," Silver writes. "But as good as he is, Dmitry would not be ready to challenge a prime Victor Galindez, the reigning world light heavyweight champion."
He notes later, in a sharp observation, that "Dmitry won't be required to improve much beyond his current skill level because the line that once separated top amateur boxers from top professional boxers has become blurred."
He also takes to task Sergey Kovalev, regarded as the top light heavyweight of the 2010s but who, in his more recent bouts, has revealed the cavernous limitations in his craft. His rematch against Andre Ward, in which he was stopped controversially by a low blow, and his title defense against Eleider Alvarez, in which he was knocked out, were the major tells.
"A seasoned pro who is knocked down or hurt would have known how to tie up his opponent in a clinch or bob and weave his way out of trouble, or at least make the attempt," writes Silver. "Kovalev, used to knocking out inferior opposition, didn't know what to do when the situation was reversed and it was he who was in trouble."
And then there are the interviews. Archie Moore, Emile Griffith, Carlos Ortiz, Ted Lowry, and Curtis Cokes round out a section of illuminating conversations toward the end of the book. They are like the equivalent of Paris Review interviews, primary documents that preserve the wit and inflection of voices too seldom heard. For example, in his talk with heavyweight Lowry, Silver asks him to describe the punching power of Rocky Marciano, whom he came close to defeating, were it not for the judges' decision. Lowry responds with an illuminating metaphor.
"He hit hard but a smart fighter had no business getting hit by Rocky because he would send you a letter when he's gonna punch," Lowry said.
Speaking of letters, The Night the Referee Hit Back is an eminently fine one.
The Night the Referee Hit Back
by Mike Silver
Rowman & Littlefield, 249 pp., $34.00
Check out more boxing news on video at the Boxing Channel 
To comment on this story in the Fight Forum CLICK HERE