The Hauser Report: Literary Notes and Other Nuggets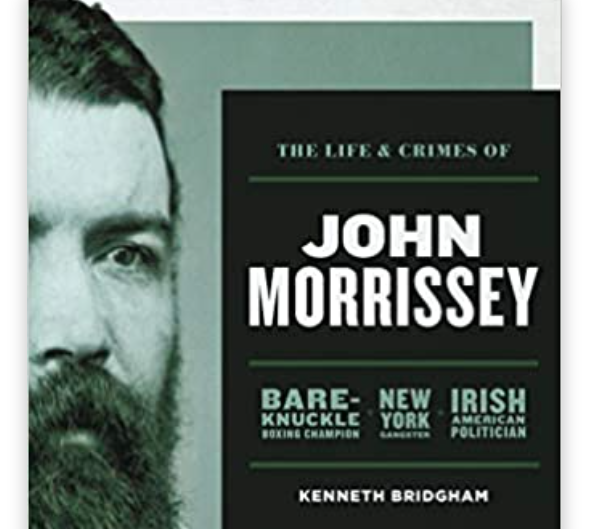 "More than anyone else," Kenneth Bridgham writes, "John Morrissey personified the links between sports, gambling, high finance, politics, and crime in nineteenth-century America."
That's the theme of Bridgham's new book – The Life and Crimes of John Morrissey  – published by Win by KO Publications.
Morrissey was born in Ireland in 1831 and, as a young boy, came to the United States with his parents. He was a thug and a drunk who made his mark as a bare-knuckle prizefighter. Then he became a gaming house owner and was Involved with thoroughbred horseracing at the highest levels. He was, Bridgham writes, "the first true Irish mob boss in American history."
In 1866, backed by New York's corrupt and powerful Tammany Hall political machine, Morrisey ran for Congress. His criminal record at the time included four indictments for assault with intent to kill and three for burglary. Despite his past transgressions, he was elected.
Morrissey was an ineffectual Congressman, largely disinterested in and incapable of performing the job properly. After serving two terms, he had a falling out with his Tammany Hall backers and left the House of Representatives. He subsequently served for three years in the New York State legislature after being elected as an anti-Tammany-Hall candidate.
He died in 1878 and was inducted into the International Boxing Hall of Fame in the "pioneer" category in 1996.
Bridgham recounts Morrissey's transformation from violent thug to mob boss to a millionaire businessman who "doubtless attained a significant portion of his wealth through means that were illegal." The book is thoroughly researched and gives readers a feel for the squalid underside of life in New York as well as bare-knuckle prizefighting in the mid-19th century.
But as Bridgham acknowledges, many of the nineteenth-century tales regarding Morrissey's life are allegorical. Thus, it's sometimes difficult to distinguish fact from fiction. And Bridgham's writing style is a bit heavy.
Despite the book's entertaining storyline, The Life and Crimes of John Morrissey reads slowly at times and never quite catches fire. Still, it's an interesting window onto a bygone era.
*     *     *
Question: What do Leslie Odom Jr (who won a Tony Award for his portrayal of Aaron Burr in the Broadway production of Hamilton), Michael Imperioli (who won an Emmy for his portrayal of Christopher Moltisanti on The Sopranos), and Seanie Monaghan (29-3, 17 KOs) have in common?
Answer: They each have roles in the Amazon biopic One Night in Miami that centers on the hours after Cassius Clay knocked out Sonny Liston in Miami Beach to claim the heavyweight championship of the world.
Monaghan retired from boxing in 2019 and works nights as the supervisor on a construction project. During the past year, he has helped home school his children (Seanie Jr, age 9, and Maria, age 6) during the day because their school was closed as a consequence of the coronavirus.
Monaghan was cast in the film as Henry Cooper after Gerry Cooney recommended him to Hollywood veteran Robert Sale.
"They filmed my scene in New Orleans in February right before the coronavirus hit," Seanie recounts. "I was down there for a week, and it was pretty cool. The first few days, I worked with the stunt coordinator going through the routine. I shared a dressing room with Michael Imperioli and told myself not to annoy him. But he was very nice. And in my free time, I walked around New Orleans to see what it was like."
"Filming the scene where Cooper knocks Clay down was bizarre," Seanie recalls. "At first, I was throwing punches that for a boxer would be correct. And they kept saying, 'Throw them wider so it looks good on camera.' It was the opposite of everything I'd been drilled on for years. Also, I can throw a punch and miss by an inch. But the actor who played Cassius Clay was getting nervous, so they told me to miss by a foot. Throw wide and miss by a foot. So that's what I did, and they'd say, 'That's great, Seanie. That looks great.'"
Will there be more acting in Monaghan's future?
"The stunt coordinator and Robert Sale said they'd like to use me again," Seanie reports. "They even suggested that I move to Los Angeles so I could train actors to box and get more parts. But I'm a Long Island guy. That's where my life is now."
One Night in Miami focuses on the relationship between Cassius Clay, football great Jim Brown, soul singer Sam Cooke, and Malcolm X.
"I'm reading The Autobiography of Malcolm X," Seanie says. "It's a special book. I didn't read as much as I should have when I was young, but I read a lot now. "
*     *     *
Over the years, several feature films about boxing have been entitled Knockout. Recently, I watched the 1941 film of that name.
The plot is typical for its era. Middleweight contender Johnny Rocket (played by Arthur Kennedy) decides to quit boxing and begin a new life with his soon-to-be bride, Angela Grinnelli (Olympe Bradna). Johnny's plan is to become an instructor at a gym and eventually open up a health spa of his own. But his unscrupulous manager, Harry Trego (Anthony Quinn), doesn't want to lose the money that Johnny generates. So, he arranges to have Johnny fired from his new job and makes it impossible for him to find employment elsewhere. With Angela now pregnant, Johnny is desperate for money and returns to the ring. Back in action, he catches the eye of socialite Gloria Van Ness (Virginia Field), whose father owns a major newspaper and has assigned his daughter to write about boxing as a lark.
"Maybe I'll write a story about you one of these days," Gloria tells Johnny.
"Well, maybe I'll give you an interview one of these days," Johnny counters.
Eventually, a love rectangle develops. The evil Gloria seduces Johnny as her boy toy. Angela, who still loves Johnny, leaves him because of his philandering and is pursued by the gentlemanly Tom Rossi (Cornel Wilde) who has a crush on her.
Meanwhile, Johnny gets greedier and more insufferable with each ring victory. Finally, he decides to manage himself, at which point Trego arranges for a "chemically prepared mouthpiece" to do Johnny in. Incapacitated as a consequence of being drugged, Johnny is knocked out. Worse, because of his poor performance, he's accused of taking a dive and barred from fighting by the state athletic commission. At that point, Gloria Van Ness loses interest in him.
Thereafter, Johnny fights under assumed names in small arenas across the country, getting knocked out for short money. Eventually, he suffers a brain bleed and is told that his fighting career is over.
"I guess I've been a fool," Johnny tells Angela after she pays his hospital bill despite their being separated.
But Tom Rossi (remember him?) isn't about to abandon his pursuit of Angela. He confronts Johnny and tells him, "I've thought about it a lot. And I figured, if you ever came back, we'd better have it out. You had your chance with Angela and you threw it away. You haven't any right to ask for another. All you've ever given her is a lot of grief and tears. She trusted you and believed in you, and you let her down. The one decent thing you can do now is get out of her life completely so she can have a little happiness. The only feeling she has left for you is pity."
Johnny decides that Tom is right and takes one more fight, knowing that doctors have told him that one more punch could kill him. Angela finds out about it, rushes to the arena, and throws a towel into the ring to stop the fight as Johnny is being brutalized. Johnny and Angela are happily reunited, and he takes a job working at a camp for children.
If that all sounds corny; well, it is.
The fight scenes in Knockout are cartoonish. The actors who portray the fighters don't look like fighters. And their boxing technique makes Logan Paul look like Andre Ward. The film is mindless entertainment. But there are times when it's fun.
*     *     *
Total Olympics by Jeremy Fuchs (Workman Publishing) is short on boxing. But there's one piece of trivia that might be of interest to fans of the sweet science.
In 1920, a Yale college student named Eddie Eagan won an Olympic gold medal in boxing in the light-heavyweight division. Four years later, he sought to medal again – this time as a heavyweight – but lost in the first round of competition. Thereafter, Eagan hung up his gloves and embarked upon a career as a lawyer. But his competitive fire remained strong. So strong that he took up bobsledding and won a gold medal at the 1932 Winter Olympics as a member of the United States four-man bobsledding team. He later served (from 1945 through 1951) as chairman of the New York State Athletic Commission.
To this day, Eagan is the only Olympian to win a gold medal at both the Summer and Winter Olympic Games.
*     *     *
And a non-boxing literary note . . .
With fewer good fights to watch these days and no press conferences or other boxing-related events to attend, I've been reading more lately.
I love books. At last count, I had roughly 4,500 on floor-to-ceiling bookshelves in my apartment. It's a nice collection and a passageway to the wisdom of the ages.
Some of my books are valuable. There's a nine-volume set printed in 1802 that has all of William Shakespeare's plays. Each volume is 27-by-13 inches in size and illustrated with extraordinary engravings. The great majority of my books are of little monetary worth. But the collection as a whole has enormous sentimental value to me.
Several shelves in my library are devoted to young adult classics, many in editions published in the early twentieth century by Charles Scribner's Sons with illustrations by N.C. Wyeth. These books have a special feel. Their heavy paper, large type, exquisite art, and yellowing pages draw a reader back in time.
Recently, I took Treasure Island by Robert Louis Stevenson off the shelf and began to read.
Stevenson was born in Scotland in 1850. Treasure Island is his most famous work. It appeared in installments in a magazine called Young Folks in 1881 and 1882 and was published in book form one year later. "It was to be a story for boys," Stevenson later explained. "No need of psychology or fine writing."
Treasure Island shaped the image of pirates for generations of young readers. It's a wonderful page-turner and an easy read. There's lots of drama with pitched battles, a map telling the location of buried treasure, and sayings that have become part of the vernacular ("Fifteen men on the dead man's chest. Yo-ho-ho and a bottle of rum").
Jim Hawkins – in his mid-teens at the time the events in question occur – is the story's narrator. He's joined by characters like Dr. Livesey, John Trelawney, Captain Smollett, Ben Gunn, and – most memorably – Long John Silver.
Silver is the tale's primary antagonist and one of the most treacherous, manipulative, greedy, cunning, clever, opportunistic, deceitful, charismatic characters in young adult literature. Sort of like Don King.
Treasure Island carries with it the imprimatur of the ages and is a gateway to earlier times. Stevenson left the date of the adventure open, but indications are that the tale he recounts is set in the late-1700s. The book itself, though written in the early 1880s, was immensely popular with boys through the first half of the twentieth century.
I remember being seven or eight years old and my father reading Treasure Island to me – one chapter at a time – when he put me to bed at night. It was a way of linking his childhood to my own.
Thomas Hauser's email address is thomashauserwriter@gmail.com. His most recent book – Staredown: Another Year Inside Boxing – was published by the University of Arkansas Press. In 2004, the Boxing Writers Association of America honored Hauser with the Nat Fleischer Award for career excellence in boxing journalism. In 2019, he was selected for boxing's highest honor – induction into the International Boxing Hall of Fame.
Check out more boxing news on video at the Boxing Channel
To comment on this story in the Fight Forum CLICK HERE
Tyson Fury Roared and Deontay Wilder Remained Silent at their L.A. Presser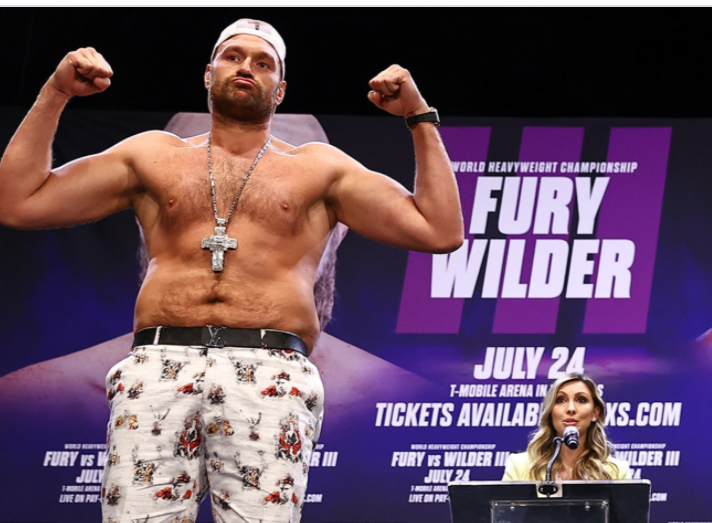 TSS special correspondent LAUREN RODRIGUEZ was on the scene for the Top Rank Promotions press conference in downtown Los Angeles on June 15 at which the third meeting between Tyson Fury and Deontay Wilder was formally announced. Here is her report.
The third fight between Tyson "Gypsy King" Fury (30-1, 21 KOs.) and Deontay "The Bronze Bomber" Wilder (42-1-1, 41 KOs) will go down July 24th in Las Vegas at the T-Mobile Arena. This continued mash-up between the two comes 16 months since their last bout. The first fight, in December 2018, ended in a draw and their second in February 2020, ended in a victory for Fury in the 7th round.
Fury carried the press conference while Wilder remained largely muted.
The WBC champion Fury remains undefeated, a status he is adamant in maintaining. The heavyweight boasted a white suit patterned with images of himself in a crown and wearing the belt he won off Wilder.
"This is a reminder of what happened to him last time, this is a remembrance suit of Deontay Wilder's ass-kicking."
The "Gypsy King," an entertainer, left little words unsaid as he berated his silent opponent.
"It shows how weak a mental person is, it shows the emotional effect the last fight had on his life… I was worried about him after the defeat I gave him," said Fury.
An Alabama native, Wilder has a 93% knockout rate, the highest rate for any heavyweight.
Wilder wanted no part in other questions from Q/A moderator Christina Poncher, or the media, as he remained silent with headphones and sunglasses to shield him from questions.
Wilder's trainer, longtime friend and former heavyweight contender Malik Scott answered very few questions for the fighter as tensions rose.
"He's very stubborn, like most legends and gifted people they have their things with them. As long as he gives me what I want in the gym, I don't care about the stubbornness cause we're going to get this done," said Scott.
If it's one thing Fury and team all agree on, it's that history will repeat itself in this third fight come July.
When it comes to what we can expect this time, Fury's trainer SugarHill Steward stated, "All I have to say is, over time, he [Fury] now has power to knock a man out with one punch. His boxing IQ is one-punch knockout power."
In Gypsy King fashion, we will have an entertaining show come next month. Fury intends on moving his weight all the way to 300, so he can give Wilder a bigger knockout in the ring and fans a bigger show.
"This time I'm hoping to take him out early, one, two, three rounds max."
Check out more boxing news on video at the Boxing Channel
Tokyo-Bound Aussie Heavyweight Justis Huni Stops Rugged Paul Gallen in the 10th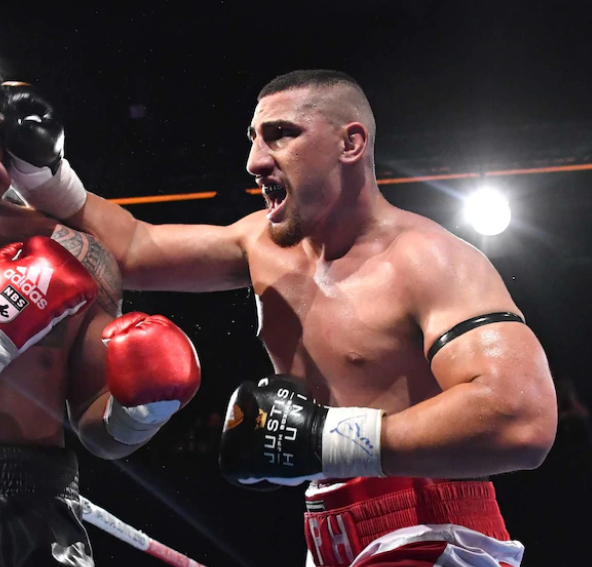 Had Justis Huni fought Paul Gallen two months ago, the match would have been trashed as little more than exhibition. During his record-tying 19 years in rugby, Gallen evolved into one of Australia's most well-known sporting personalities. When Gallen took up boxing in 2014, it was thought that he did it as a lark; as a way of cashing in on his name recognition. And his first 11 opponents were a motley bunch of former rugby players, MMA fighters, 40-somethings, and boxing novices.
Then came the night of April 21, 2021. In a shocker, Gallen demolished former WBA heavyweight titlist Lucas "Big Daddy" Browne in less than two minutes. "Gallen transformed from a rugby league player to a bona fide prize fighter before our very eyes," said prominent Australian sports journalist Andrew McMurtry.
That knocked Lucas Browne out of a lucrative match with Justis Huni and vaulted Paul Gallen, who turns 40 in August, to the head of the queue. They met Wednesday night (Australia time) at a convention center in Sydney and Huni, five-and-a-half inches taller, 15 pounds heavier, and the younger man by nearly 18 years, saddled Gallen (11-1-1) with his first defeat.
Heading into the fight, Gallen conceded that the heavily favored Huni was faster. However, he thought that he could wear the bigger man down. "If I get through those first four to five rounds, I'll be in his face the whole time and I think I can knock him out late," he said.
It proved to be the other way around. Huni dominated the fight and when he knocked Gallen down in the 10th with a big right hook, the referee stepped in and stopped it. But Gallen, who had a bum shoulder from his rugby days and thought that he fought most of the fight with a broken rib, showed tremendous heart.
It was the fifth professional fight for Huni (5-0, 4 KOs) who won the Australian heavyweight title in his pro debut. Of Dutch, Swedish, Samoan, and Tongan heritage, he quit school at age 15 to give boxing his full attention and will represent Australia in the Tokyo Olympics which start next month.
Brisbane-born Huni is already being talked-about as the best-ever Australian-born heavyweight. The rap against him is a lack of one-punch knockout power which won't be a detriment in Tokyo.
—
In undercard bouts of note, Brisbane middleweight Isaac Hardman (11-0, 9 KOs) scored a 4th-round stoppage of Emmanuel Carlos (12-2) and middleweight Andrei Mikhailovich, a Russian residing in Auckland, New Zealand, advanced to 16-0 (9) with a second-round stoppage of previously undefeated Alex Hanan (13-1).
Check out more boxing news on video at the Boxing Channel
To comment on this story in the Fight Forum CLICK HERE
Three Pros are Joining the U.S. Olympic Boxing Team, Ruffling Some Feathers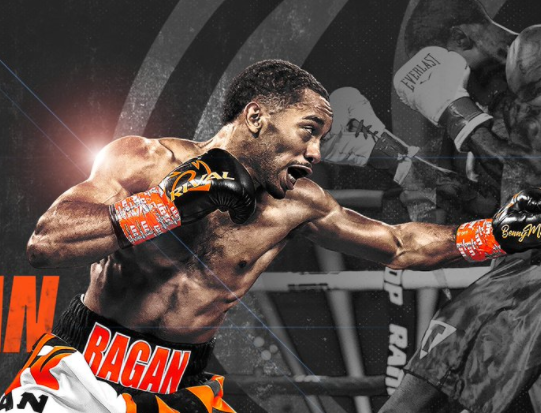 USA Boxing, the agency that controls amateur boxing in the United States, has a rule that prohibits professional boxers from competing in their tournaments. That rule remains in effect, but yet three pro boxers – middleweight Troy Isley, lightweight Keyshawn Davis, and featherweight Duke Ragan – will suit up for the United States in the forthcoming Tokyo Games. The announcement, which fell largely under the radar, came on June 7.
USA Boxing is subservient to AIBA, the sport's international governing body, and to the International Olympic Committee. The Boxing Task Force of the IOC changed the rules to allow Isley, Davis and Ragan to compete and the honchos at USA Boxing are none too happy about it.
Blame the Covid-19 pandemic which forced the postponement and ultimately the cancellation of several qualifying tournaments including the "Americas" tournament in Buenos Aires at which boxers from 42 national federations – including the United States — would be competing for the Olympic slots allocated to this region. A total of 286 boxers from around the world will compete in Tokyo in the eight men's and five women's weight divisions with the coveted slots dispersed among four Continental Regional Divisions.
With no tournament, the Task Force redesigned the quota allocation process using world rankings to determine the national squads. The rankings were formulated using a point system from events held between January 2017 and October 2019.
The re-jiggering opened the door for Isley, Davis, and Ragan to rejoin the team. Isley and Davis had their first pro fight in February of this year. Ragan turned pro in August of 2020.
Team USA protested that the BTF allocation was unfair to the boxers that finished first in the final domestic qualifying tournament (December 2019 in Lake Charles, Louisiana), but their claim was denied. Isley and Ragan were knocked out of that tournament before reaching the finals; Davis finished first when his opponent in the finals took ill and had to pull out, but he was subsequently booted off the team, reputedly for missing too many practices which he attributed to a family health emergency. That unfrocking has been rescinded.
Before he left the team, Keyshawn Davis was considered the U.S. boxer with the best chance of winning a gold medal in Tokyo. A southpaw, he earned his spurs at the Alexandria Boxing Club in North Alexandria, Virginia, which was also the home gym of Troy Isley who lived right down the street.
The common thread between all three of the returnees is Kay Koroma who coached Davis and Isley at the Alexandria club where he was the top lieutenant to the club's patriarch Dennis Porter and at the Olympic & Paralympic Training Center in Colorado Springs where he served as an assistant to Billy Walsh. Duke Ragan, who hails from Cincinnati, is Koroma's nephew.
Koroma came to the fore in 2016 when he earned raves for his work with Olympians Claressa Shields. Shakur Stevenson, Charles Conwell and others. But Koroma, one of the hottest young trainers in the sport, won't be available to work with the 2020/21 team before it heads off to Tokyo. "My plate is too full," he told The Sweet Science.
Koroma, like many of his former pupils, turned pro himself. He continues to work with Shakur Stevenson, whom he has known since Shakur was 13 years old, he assists veteran coach Al Mitchell with Mikaela Mayer and he recently replaced Ronnie Shields as the head trainer of rising heavyweight contender Efe Ajagba.
Isley, Davis, and Ragan comprise three-fifths of the men's Olympic team. Super heavyweight Richard Torrez Jr and welterweight Delante "Tiger" Johnson flesh out the quintet.
USA Boxing released a letter to its membership expressing frustration over the decision of the IOC Task Force which killed the dreams of seven boxers who hoped to snare an Olympic berth at the Buenos Aires tournament or, barring that, the Last Chance tournament in Paris which was also a casualty of the pandemic. The letter can be read at the USA Boxing web site.
The seven boxers who were fenced out are:
Darius Fulgham (heavyweight, Houston, TX)
Rahim Gonzalez (light heavyweight, Las Vegas, NV)
Joseph Hicks (middleweight, Lansing, MI)
Charlie Sheehy (lightweight, Brisbane, CA)
Bruce Carrington (featherweight, Brooklyn, NY)
Anthony Herrera (flyweight, East Los Angeles, CA)
and
women's flyweight Andrea Medina (San Diego, CA).
USA Boxing insists there are no plans to allow professionals to compete for the United States in the 2024 Olympiad and beyond. This is a one-shot exception forced by a unique circumstance. But, needless to say, when it comes to amateur boxing, nothing is etched in stone.
To comment on this story in the Fight Forum CLICK HERE