The Hauser Report: Literary Notes and Other Nuggets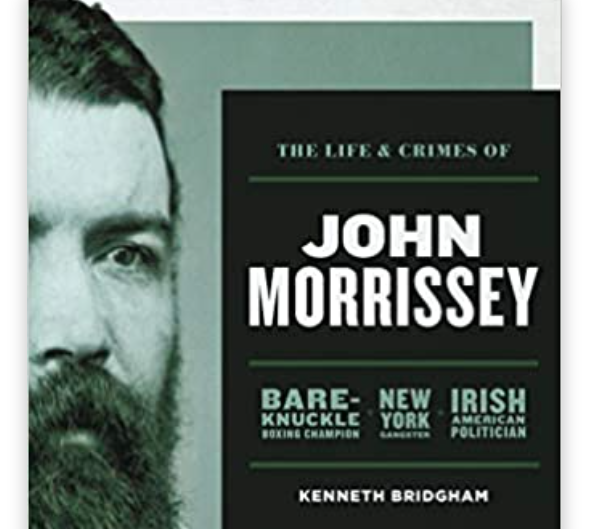 "More than anyone else," Kenneth Bridgham writes, "John Morrissey personified the links between sports, gambling, high finance, politics, and crime in nineteenth-century America."
That's the theme of Bridgham's new book – The Life and Crimes of John Morrissey  – published by Win by KO Publications.
Morrissey was born in Ireland in 1831 and, as a young boy, came to the United States with his parents. He was a thug and a drunk who made his mark as a bare-knuckle prizefighter. Then he became a gaming house owner and was Involved with thoroughbred horseracing at the highest levels. He was, Bridgham writes, "the first true Irish mob boss in American history."
In 1866, backed by New York's corrupt and powerful Tammany Hall political machine, Morrisey ran for Congress. His criminal record at the time included four indictments for assault with intent to kill and three for burglary. Despite his past transgressions, he was elected.
Morrissey was an ineffectual Congressman, largely disinterested in and incapable of performing the job properly. After serving two terms, he had a falling out with his Tammany Hall backers and left the House of Representatives. He subsequently served for three years in the New York State legislature after being elected as an anti-Tammany-Hall candidate.
He died in 1878 and was inducted into the International Boxing Hall of Fame in the "pioneer" category in 1996.
Bridgham recounts Morrissey's transformation from violent thug to mob boss to a millionaire businessman who "doubtless attained a significant portion of his wealth through means that were illegal." The book is thoroughly researched and gives readers a feel for the squalid underside of life in New York as well as bare-knuckle prizefighting in the mid-19th century.
But as Bridgham acknowledges, many of the nineteenth-century tales regarding Morrissey's life are allegorical. Thus, it's sometimes difficult to distinguish fact from fiction. And Bridgham's writing style is a bit heavy.
Despite the book's entertaining storyline, The Life and Crimes of John Morrissey reads slowly at times and never quite catches fire. Still, it's an interesting window onto a bygone era.
*     *     *
Question: What do Leslie Odom Jr (who won a Tony Award for his portrayal of Aaron Burr in the Broadway production of Hamilton), Michael Imperioli (who won an Emmy for his portrayal of Christopher Moltisanti on The Sopranos), and Seanie Monaghan (29-3, 17 KOs) have in common?
Answer: They each have roles in the Amazon biopic One Night in Miami that centers on the hours after Cassius Clay knocked out Sonny Liston in Miami Beach to claim the heavyweight championship of the world.
Monaghan retired from boxing in 2019 and works nights as the supervisor on a construction project. During the past year, he has helped home school his children (Seanie Jr, age 9, and Maria, age 6) during the day because their school was closed as a consequence of the coronavirus.
Monaghan was cast in the film as Henry Cooper after Gerry Cooney recommended him to Hollywood veteran Robert Sale.
"They filmed my scene in New Orleans in February right before the coronavirus hit," Seanie recounts. "I was down there for a week, and it was pretty cool. The first few days, I worked with the stunt coordinator going through the routine. I shared a dressing room with Michael Imperioli and told myself not to annoy him. But he was very nice. And in my free time, I walked around New Orleans to see what it was like."
"Filming the scene where Cooper knocks Clay down was bizarre," Seanie recalls. "At first, I was throwing punches that for a boxer would be correct. And they kept saying, 'Throw them wider so it looks good on camera.' It was the opposite of everything I'd been drilled on for years. Also, I can throw a punch and miss by an inch. But the actor who played Cassius Clay was getting nervous, so they told me to miss by a foot. Throw wide and miss by a foot. So that's what I did, and they'd say, 'That's great, Seanie. That looks great.'"
Will there be more acting in Monaghan's future?
"The stunt coordinator and Robert Sale said they'd like to use me again," Seanie reports. "They even suggested that I move to Los Angeles so I could train actors to box and get more parts. But I'm a Long Island guy. That's where my life is now."
One Night in Miami focuses on the relationship between Cassius Clay, football great Jim Brown, soul singer Sam Cooke, and Malcolm X.
"I'm reading The Autobiography of Malcolm X," Seanie says. "It's a special book. I didn't read as much as I should have when I was young, but I read a lot now. "
*     *     *
Over the years, several feature films about boxing have been entitled Knockout. Recently, I watched the 1941 film of that name.
The plot is typical for its era. Middleweight contender Johnny Rocket (played by Arthur Kennedy) decides to quit boxing and begin a new life with his soon-to-be bride, Angela Grinnelli (Olympe Bradna). Johnny's plan is to become an instructor at a gym and eventually open up a health spa of his own. But his unscrupulous manager, Harry Trego (Anthony Quinn), doesn't want to lose the money that Johnny generates. So, he arranges to have Johnny fired from his new job and makes it impossible for him to find employment elsewhere. With Angela now pregnant, Johnny is desperate for money and returns to the ring. Back in action, he catches the eye of socialite Gloria Van Ness (Virginia Field), whose father owns a major newspaper and has assigned his daughter to write about boxing as a lark.
"Maybe I'll write a story about you one of these days," Gloria tells Johnny.
"Well, maybe I'll give you an interview one of these days," Johnny counters.
Eventually, a love rectangle develops. The evil Gloria seduces Johnny as her boy toy. Angela, who still loves Johnny, leaves him because of his philandering and is pursued by the gentlemanly Tom Rossi (Cornel Wilde) who has a crush on her.
Meanwhile, Johnny gets greedier and more insufferable with each ring victory. Finally, he decides to manage himself, at which point Trego arranges for a "chemically prepared mouthpiece" to do Johnny in. Incapacitated as a consequence of being drugged, Johnny is knocked out. Worse, because of his poor performance, he's accused of taking a dive and barred from fighting by the state athletic commission. At that point, Gloria Van Ness loses interest in him.
Thereafter, Johnny fights under assumed names in small arenas across the country, getting knocked out for short money. Eventually, he suffers a brain bleed and is told that his fighting career is over.
"I guess I've been a fool," Johnny tells Angela after she pays his hospital bill despite their being separated.
But Tom Rossi (remember him?) isn't about to abandon his pursuit of Angela. He confronts Johnny and tells him, "I've thought about it a lot. And I figured, if you ever came back, we'd better have it out. You had your chance with Angela and you threw it away. You haven't any right to ask for another. All you've ever given her is a lot of grief and tears. She trusted you and believed in you, and you let her down. The one decent thing you can do now is get out of her life completely so she can have a little happiness. The only feeling she has left for you is pity."
Johnny decides that Tom is right and takes one more fight, knowing that doctors have told him that one more punch could kill him. Angela finds out about it, rushes to the arena, and throws a towel into the ring to stop the fight as Johnny is being brutalized. Johnny and Angela are happily reunited, and he takes a job working at a camp for children.
If that all sounds corny; well, it is.
The fight scenes in Knockout are cartoonish. The actors who portray the fighters don't look like fighters. And their boxing technique makes Logan Paul look like Andre Ward. The film is mindless entertainment. But there are times when it's fun.
*     *     *
Total Olympics by Jeremy Fuchs (Workman Publishing) is short on boxing. But there's one piece of trivia that might be of interest to fans of the sweet science.
In 1920, a Yale college student named Eddie Eagan won an Olympic gold medal in boxing in the light-heavyweight division. Four years later, he sought to medal again – this time as a heavyweight – but lost in the first round of competition. Thereafter, Eagan hung up his gloves and embarked upon a career as a lawyer. But his competitive fire remained strong. So strong that he took up bobsledding and won a gold medal at the 1932 Winter Olympics as a member of the United States four-man bobsledding team. He later served (from 1945 through 1951) as chairman of the New York State Athletic Commission.
To this day, Eagan is the only Olympian to win a gold medal at both the Summer and Winter Olympic Games.
*     *     *
And a non-boxing literary note . . .
With fewer good fights to watch these days and no press conferences or other boxing-related events to attend, I've been reading more lately.
I love books. At last count, I had roughly 4,500 on floor-to-ceiling bookshelves in my apartment. It's a nice collection and a passageway to the wisdom of the ages.
Some of my books are valuable. There's a nine-volume set printed in 1802 that has all of William Shakespeare's plays. Each volume is 27-by-13 inches in size and illustrated with extraordinary engravings. The great majority of my books are of little monetary worth. But the collection as a whole has enormous sentimental value to me.
Several shelves in my library are devoted to young adult classics, many in editions published in the early twentieth century by Charles Scribner's Sons with illustrations by N.C. Wyeth. These books have a special feel. Their heavy paper, large type, exquisite art, and yellowing pages draw a reader back in time.
Recently, I took Treasure Island by Robert Louis Stevenson off the shelf and began to read.
Stevenson was born in Scotland in 1850. Treasure Island is his most famous work. It appeared in installments in a magazine called Young Folks in 1881 and 1882 and was published in book form one year later. "It was to be a story for boys," Stevenson later explained. "No need of psychology or fine writing."
Treasure Island shaped the image of pirates for generations of young readers. It's a wonderful page-turner and an easy read. There's lots of drama with pitched battles, a map telling the location of buried treasure, and sayings that have become part of the vernacular ("Fifteen men on the dead man's chest. Yo-ho-ho and a bottle of rum").
Jim Hawkins – in his mid-teens at the time the events in question occur – is the story's narrator. He's joined by characters like Dr. Livesey, John Trelawney, Captain Smollett, Ben Gunn, and – most memorably – Long John Silver.
Silver is the tale's primary antagonist and one of the most treacherous, manipulative, greedy, cunning, clever, opportunistic, deceitful, charismatic characters in young adult literature. Sort of like Don King.
Treasure Island carries with it the imprimatur of the ages and is a gateway to earlier times. Stevenson left the date of the adventure open, but indications are that the tale he recounts is set in the late-1700s. The book itself, though written in the early 1880s, was immensely popular with boys through the first half of the twentieth century.
I remember being seven or eight years old and my father reading Treasure Island to me – one chapter at a time – when he put me to bed at night. It was a way of linking his childhood to my own.
Thomas Hauser's email address is thomashauserwriter@gmail.com. His most recent book – Staredown: Another Year Inside Boxing – was published by the University of Arkansas Press. In 2004, the Boxing Writers Association of America honored Hauser with the Nat Fleischer Award for career excellence in boxing journalism. In 2019, he was selected for boxing's highest honor – induction into the International Boxing Hall of Fame.
Check out more boxing news on video at the Boxing Channel
To comment on this story in the Fight Forum CLICK HERE
Mercito Gesta Victorious Over Jojo Diaz at the Long Beach Pyramid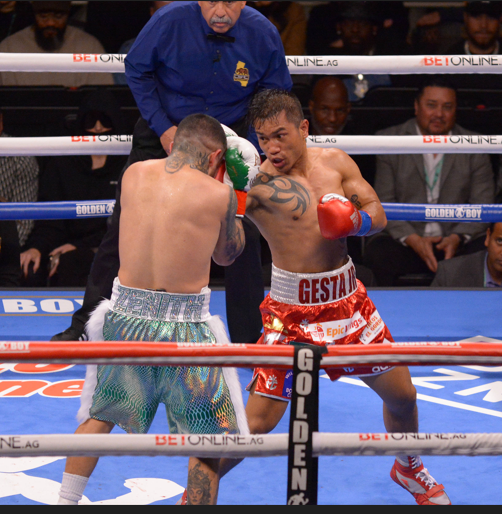 LONG BEACH, CA.-Those in the know knew Mercito Gesta and Jojo Diaz would be a fight to watch and they delivered.
Gesta emerged the winner in a super lightweight clash between southpaws that saw the judges favor his busier style over Diaz's body attack and bigger shots and win by split decision on Saturday.
Despite losing the main event because the star was overweight, Gesta (34-3-3, 17 KOs) used an outside method of tactic to edge past former world champion Diaz (32-4-1, 15 KOs) in front of more than 5,000 fans at the Pyramid.
The speedy Gesta opened up the fight with combination punching up and down against the peek-a-boo style of Diaz. For the first two rounds the San Diego fighter overwhelmed Diaz though none of the blows were impactful.
In the third round Diaz finally began unloading his own combinations and displaying the fast hands that helped him win world titles in two divisions. Gesta seemed stunned by the blows, but his chin held up. The counter right hook was Diaz's best weapon and snapped Gesta's head back several times.
Gesta regained control in the fifth round after absorbing big blows from Diaz. He seemed to get angry that he was hurt and opened up with even more blows to send Diaz backpedaling.
Diaz targeted his attack to Gesta's body and that seemed to slow down Gesta. But only for a round.
From the seventh until the 10th each fighter tried to impose their style with Gesta opening up with fast flurries and Diaz using right hooks to connect with solid shots. They continued their method of attack until the final bell. All that mattered was what the judges preferred.
After 10 rounds one judge saw Diaz the winner 97-93 but two others saw Gesta the winner 99-91, 98-92. It was a close and interesting fight.
"I was expecting nothing. I was the victor in this fight and we gave a good fight," said Gesta. "It's not an easy fight and Jojo gave his best."
Diaz was surprised by the outcome but accepted the verdict.
Everything was going good. I thought I was landing good body shots," said Diaz. "I was pretty comfortable."
Other Bouts
Mexico's Oscar Duarte (25-1-1, 20 KOs) knocked out Chicago's Alex Martin (18-5, 6 KOs) with a counter right hand after dropping him earlier in the fourth round. The super lightweight fight was stopped at 1:14 of the round.
A battle between undefeated super welterweights saw Florida's Eric Tudor (8-0, 6 KOs) emerge the winner by unanimous decision after eight rounds versus Oakland's Damoni Cato-Cain.
The taller Tudor showed polished skill and was not bothered by a large cut on his forehead caused by an accidental clash of heads. He used his jab and lead rights to defuse the attacks of the quick-fisted southpaw Cato-Cain. The judges scored the fight 80-72 and 78-74 twice for Tudor.
San Diego's Jorge Chavez (5-0, 4 KOs) needed less than one round to figure out Nicaragua's Bryan Perez (12-17-1, 11 KOs) and send him into dreamland with a three-punch combination. No need to count as referee Ray Corona waved the fight over. Perez shot a vicious right followed by another right and then a see-you-later left hook at 3.00 of the first round of the super featherweight match.
Photo credit: Al Applerose
Jojo Diaz's Slump Continues; Mercito Gesta Prevails on a Split Decision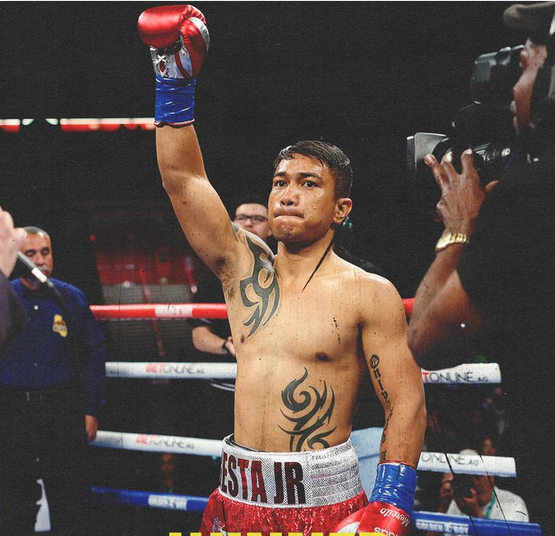 At age 30, Jojo Diaz's career is on the skids. The 2012 U.S. Olympian, a former world title holder at 126 and 130 pounds and an interim title holder at 135, Diaz suffered his third straight loss tonight, upset by Mercito Gesta who won a split decision at the Walter Pyramid in Long Beach, CA.. The scoring was strange with Gesta winning nine of the 10 rounds on one of the cards and only three rounds on another. The tie-breaker, as it were, was a 98-92 tally for Gesta and even that didn't capture the flavor of what was a closely-contested fight.
Originally listed as a 12-rounder, the match was reduced to 10 and that, it turned out, did Diaz no favors. However, it's hard to feel sorry for the former Olympian as he came in overweight once again, having lost his 130-pound title on the scales in February of 2021.
Diaz also has issues outside the ropes. Best elucidated by prominent boxing writer Jake Donovan, they include a cluster of legal problems stemming from an arrest for drunk driving on Feb. 27 in the LA suburb of Claremont.
With the defeat, Diaz's ledger declined to 32-4-1. His prior losses came at the hands of Gary Russell Jr, Devin Haney, and William Zepeda, boxers who are collectively 83-2. Mercito Gesta, a 35-year-old San Diego-based Filipino, improved to 34-3-3.
Co-Feature
Chihuahua, Mexico super lightweight Oscar Duarte has now won nine straight inside the distance after stopping 33-year-old Chicago southpaw Alex Martin in the eighth frame. Duarte, the busier fighter, had Martin on the deck twice in round eight before the fight was waived off.
Duarte improved to 25-1-1 (20). Martin, who reportedly won six national titles as an amateur and was once looked upon as a promising prospect, declined to 18-5.
Other Bouts of Note
New Golden Boy signee Eric Tudor, a 21-year-old super welterweight from Fort Lauderdale, overcame a bad laceration over his right eye, the result of an accidental clash of heads in round four, to stay unbeaten, advancing to 8-0 (6) with a hard-fought unanimous 8-round decision over Oakland's Damoni Cato-Cain. The judges had it 80-72 and 78-74 twice. It was the first pro loss for Cato-Cain (7-1-1) who had his first five fights in Tijuana.
In the DAZN opener, lanky Hawaian lightweight Dalis Kaleiopu went the distance for the first time in his young career, improving to 4-0 (3) with a unanimous decision over 36-year-old Colombian trial horse Jonathan Perez (40-35). The scores were 60-52 across the board. There were no knockdowns, but Perez, who gave up almost six inches in height, had a point deducted for a rabbit punch and another point for deducted for holding.
To comment on this story in the Fight Forum CLICK HERE
'Big Baby' Wins the Battle of Behemoths; TKOs 'Big Daddy' in 6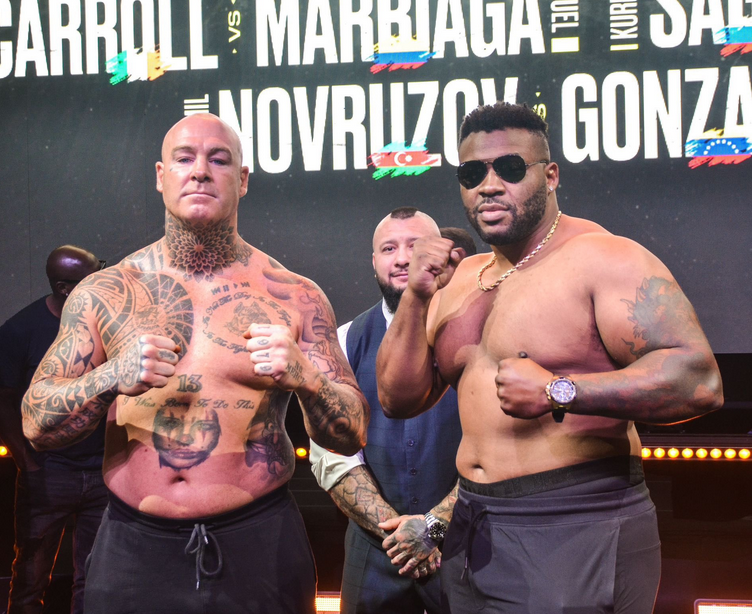 Lucas "Big Daddy" Browne weighed in at a career-high 277 pounds for today's battle in Dubai with Jarrell "Big Baby" Miller, but he was the lighter man by 56 pounds. It figured that one or both would gas out if the bout lasted more than a few stanzas.
It was a war of attrition with both men looking exhausted at times, and when the end came it was Miller, at age 34 the younger man by nine years, who had his hand raised.
Browne was the busier man, but Miller, whose physique invites comparison with a rhinoceros, hardly blinked as he was tattooed with an assortment of punches. He hurt 'Bid Daddy' in round four, but the Aussie held his own in the next frame, perhaps even forging ahead on the cards, but only postponing the inevitable.
In round six, a succession of right hands knocked Browne on the seat of his pants. He beat the count, but another barrage from Miller impelled the referee to intervene. The official time was 2:33. It was the 21st straight win for Miller (26-0-1, 22 KOs). Browne declined to 31-4 and, for his own sake, ought not fight again. All four of his losses have come inside the distance, some brutally.
The consensus of those that caught the livestream was that Floyd Mayweather Jr's commentary was an annoying distraction that marred what was otherwise an entertaining show.
As for what's next for "Big Baby" Miller, that's hard to decipher as he has burned his bridges with the sport's most powerful promoters. One possibility is Mahmoud Charr who, like Miller, has a big gap in his boxing timeline. Now 38 years old, Charr – who has a tenuous claim on a WBA world title (don't we all?) —  has reportedly taken up residence in Dubai.
Other Bouts of Note
In a 10-round cruiserweight affair, Suslan Asbarov, a 30-year-old Russian, advanced to 4-0 (1) with a hard-fought majority decision over Brandon Glanton. The judges had it 98-92, 97-93, and a more reasonable 95-95.
Asbarov was 12-9 in documented amateur fights and 1-0 in a sanctioned bare-knuckle fight, all in Moscow, entering this match. He bears watching, however, as Glanton (18-2) would be a tough out for almost anyone in his weight class. In his previous fight, at Plant City, Florida, Glanton lost a controversial decision to David Light, an undefeated Australian who challenges WBO world title-holder Lawrence Okolie at Manchester, England next week.
A 10-round super featherweight match between former world title challengers Jono Carroll and Miguel Marriaga preceded the semi-windup. Carroll, a 30-year-old Dublin southpaw, overcame a cut over his left eye suffered in the second round to win a wide unanimous decision in a fairly entertaining fight.
It was the sixth straight win for Carroll (24-2-1, 7 KOs) who elevated his game after serving as a sparring partner for Devin Haney. Marriaga, a 36-year-old Colombian, lost for the fourth time in his last five outings, declining to 30-7.
To comment on this story in the Fight Forum CLICK HERE