The Future of Non-Traditional Boxing Events: A New TSS Survey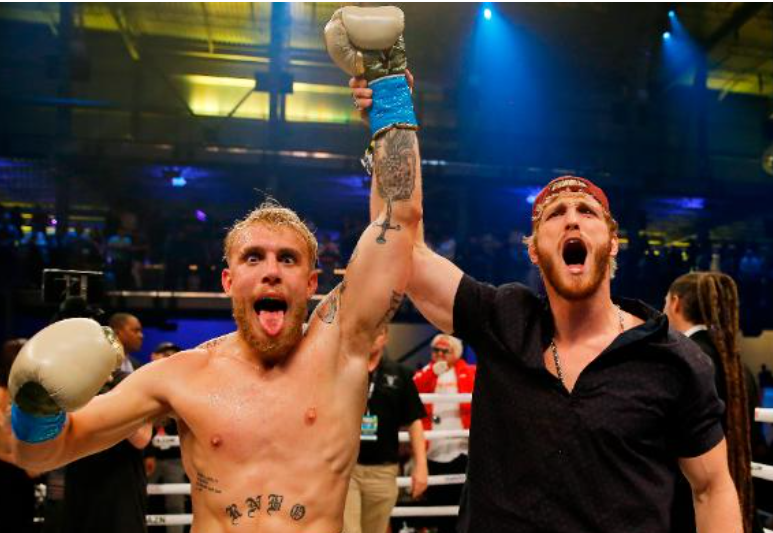 For our latest survey, we came up with this question: "Fights between celebrities, boxing legends, cross-overs, and YouTube influencers have become more and more commonplace. Do you think this will prove to be a passing fad or something that will endure, and why?"
Here's what 34 respondents had to say. They are listed alphabetically.
Russ Anber— elite trainer, cornerman, and owner of Rival Boxing Equipment: I am afraid I don't know what to think anymore! I never would have thought we would have seen what we are seeing now. The reverence and respect for boxing has been lost in a way it may never recuperate from. The facility in which ANYONE can be granted a PROFESSIONAL BOXING LICENSE is beyond insane!! Sadly however, we cannot blame these people, we can't blame the networks or streaming sites, the fact that there is an abundance of people who are paying, and gladly paying, to watch these ridiculous sideshows is truly beyond comprehension!
David Avila– TSS West Coast Bureau Chief: Celebrity boxing has been around forever. It ebbs and flows and will continue to do so as long as boxing exists. It just takes someone willing to step into the ring like this kid Jake Paul. Gotta have the guts to do it.
Joe Bruno — prolific writer; Florida Boxing Hall of Fame inductee: Celebrity fights are akin to the circus coming to town. Will it continue? Of course, if it makes money.
Jeff Bumpus — former fighter; writer: It's an insult to people who have devoted a large chunk of their youth learning the intricacies of the sport, only to have a You Tube fool swoop in and act like all that blood and sweat isn't necessary. Apparently, if you have followers, BS trumps substance. I believe it's a passing fad to be replaced by something even more offensive to purists.
Tracy Callis — noted boxing historian: The fighting of celebrities is interesting now but I believe it will become less so over time. It will become more like other shows that people enjoy very much at first and then the idea will fade. But who knows?
Steve Canton — author; President of Florida Boxing Hall of Fame: I do not like these types of fights in our sport and have to wonder if it's because we have an unexciting era of boxing where the best avoid fighting the best. Fans are starved for good, exciting fights and promoters have tried to cash in by pitting celebrity names or YouTube fighters against each other instead. It ultimately hurts our sport because we no longer have quality fighters who are technically skilled. The more these type fights happen, the worse the situation will become. In addition, older, former top fighters are coming back, tarnishing their reputations and risking serious injury. These type bouts should be outlawed by commissions.
Jill Diamond — International Secretary, WBC: A new and younger audience is always welcome. The question is, does this audience remain with us or are they as fleeting as the interest of the celebrity boxer? The return of our legends is more troubling. My concern for all is safety which is threatened by commissions willing to sanction fights that should not happen.
Rick Farris — President and Founder of the West Coast Boxing Hall of Fame: I believe this is the worst possible situation ever for professional boxing. It is the ultimate low point in boxing history. These "clowns" being matched with ancient boxing champions in sideshow acts has taken boxing to it's lowest form since the Marquis of Queensberry laid down the ground rules in the 1800's. And I don't care what anybody thinks, boxers over 40 should not be licensed! They are too old! Boxing is a young man's game, and these circus act exhibitions are a bad joke.
Bernard Fernandez — lifetime Member of the BWAA; 2020 IBHOF Inductee: I guess, depending on one's point of view, I am a stodgy traditionalist, curmudgeon or anachronism. Maybe I'm all three rolled into one. But I reject the premise that the Paul brothers, and other so-called "YouTube" sensations are good for boxing because they bring new and young fans to the sport that is admittedly hewing older. Having some strange sort of appeal to skateboarders and rasslin' fans who can't tell the difference between a real Sugar Ray (either of them) and a manufactured packet of Sweet 'N' Low is demeaning to legitimately skilled boxers who must recoil in horror at having to appear on one of these clowns' undercards in order to get a half-decent payday. No disrespect to Nate Robinson, the 5"9″ former NBA player who is one of Jake Paul's four "victims," but there had to be at least a half-million everyday Americans who could have starched him just as readily as Jake the Fake. Enough of this nonsense.
Jeffrey Freeman (AKA KO Digest) — TSS writer: It's all a part of the professional wrestlingization of boxing into something more resembling sports entertainment but it's not fair to lump Holyfield-Belfort into that mix because those were real fighters coming to fight and that's better than the future of fake fights no matter what the critics say. Real boxing tells us the truth (Holyfield is utterly, completely shot and Belfort fights to win regardless of his opponent's frailty) while "celebrity" boxing obscures the truth and traffics in lies. The Tyson-Jones "draw" was just such an example of sports entertainment.
                                                 **********
"…When the sideshow draws more than the circus, you're in trouble" Don Majeski
**********
Lee Groves — author, writer: A generation ago, there was a burst of "celebrity boxing" matches involving the likes of Tonya Harding, "Brady Bunch" star Barry Williams and Danny Bonaduce of "The Partridge Family" and so on, and those ran its course before fizzling out. The difference between then and now is money and social media, and these, more than anything, will extend their stay. Its ultimate fate will depend on the two audiences they're trying to serve; boxing people are already sick of it, but it'll be the more casual followers — who are probably larger in number — who will determine how long it lasts. If they tire of it in large enough numbers, which I think will happen, the trend will end.
Henry Hascup — historian and President of the New Jersey Boxing Hall of Fame: I hope it's just a fad, but it will continue until someone gets seriously hurt, then it will be too late!
Jim Lampley — 2015 IBHOF inductee; renowned boxing broadcaster: Fights which are predicated not on proven skill but on sheer social media recognition are the product of social media's growing influence and omnipresence in the global information pool. Are social media a passing fancy whose allure will gradually fade in the face of that which is proven, time-honored and legitimate?? Or will traditional standards of proven legitimacy in every field of endeavor be swamped by clickbait?? I don't know the answer to that question. I only know the question itself is no compliment to our progress as a global community. Boxing is an easy target because it is entrepreneurial and only loosely organized. But at what point will the Rams' starting quarterback be chosen on Twitter or Instagram?? At that juncture we might conclude that legitimacy has lost ALL the games, and popular chaos has won. Right now we are in the first quarter, but I would have to say chaos is leading.
Every popular new technology changes society in ways both predictable and unpredictable. Someday we may look back and say no other technology produced more cataclysmic change than that engendered by social media. It all seemed so innocent back at Harvard when Zuckerberg envisioned a way for students to keep up with their classmates on their laptops. He didn't know he was opening a Pandora's Box that could engulf vulnerable institutions like boxing.
Jimmy Lang — former boxer and promoter: I like it. I am all for someone doing what he has to do to promote himself into position to do what these guys are doing and make the money they're making.
Arne Lang —TSS editor-in-chief, author, historian: The recent Triller card in Miami with Evander Holyfield was an abomination. I'm reminded of something that the late, great British sports journalist Hugh McIlvanney said to Thomas Hauser: "The whole circus approach to boxing that we see so much of these days appalls and depresses me. And the more I see of that show business rubbish, the more I feel I could turn my back on the sport."
Ron Lipton — active referee; inductee into the New Jersey and New York Boxing Halls of Fame: As long as these contests are sanctioned with participants who are not just physically fit or pass a cursory physical exam but prove themselves to be in condition to withstand the impact trauma of a strenuous boxing match then it can be acceptable within limits of experience attained and, of course, age constraints. I refereed Holyfield twice on HBO and PPV at his zenith. What I saw the other night left me as numb as when I watch the film of Joe Louis being knocked onto the ring apron by Marciano. Thank God Evander was not injured badly. The boxing world felt nothing but despair at the spectacle of it.
Great warriors of the past earned a pittance compared to what is available with the right kind of hype today. If you can get the money, OK, but sanctioning a fight where someone is on the periphery of being a senior citizen is a dangerous roll of the dice.
Paul Magno — writer, author, ring official in Mexico: I don't think exhibitions and fluff celebrity fights have ever really gone away. They've always been a part of boxing. This current craze, however, will die down as the bankability of the celebrities getting involved diminishes and as the fan base tires of paying PPV prices for garbage programming. For me, all of this celebrity/legend boxing stuff tells me that the mainstream WANTS to buy into the boxing product, but they're simply not being sold on the actual elite-level fighters on the scene today. This is a clear indication that today's boxing promoters are just not doing their job and that the business model is not conducive to building new stars. The issue needs to be addressed. It's like a one-on-one half-court exhibition between two retired NBA legends out-drawing Game 7 of the NBA Finals. The NBA execs would freak out. Boxing's boss men should be freaking out similarly.
Don Majeski — matchmaker, historian; affiliated with RING 8 and the NYSBHOF: I would hope it is a passing aberration brought on by the forced isolation of the Covid virus and the cancellation of so many cards that has turned the fans into voyeurs of the aberrant and senescent boxers to break out into some weird St. Vitus' dance .If there is no market, there would none of these perverse exhibitions that lure faded names back into the ring for the benefit of no one in long run but the titillation of some in the short. It should run its course — particularly after the Holyfield fiasco. When the sideshow draws more than the circus, you're in trouble 
Gordon Marino – philosophy professor, Wall Street Journal boxing writer, trainer: I am pretty much out of the boxing writing business but for what it is worth… I think boxing has always had its carnival acts — e.g. Wepner vs Andre the Giant. There are more of them now with the Paul bros circus. But I am hopeful that the steam will run out of these spectacles soon. Spectacles are a disgrace to boxing, make boxing look even more like WWE, and alas take the attention away from a multitude of good competitive fights that should be in the offing.
Given all that we know about CTE, I do, however, find the likes of the Holyfield "fight" and the upcoming Toney fight.. absolutely deplorable.. or maybe criminal would be a better word.
Layla McCarter- multi-divisional world champion. I really don't like the trend, i.e. crossover fights, celebrity boxing. I don't think it's safe or meaningful to the sport of boxing. However, I believe this trend will endure because it sells and that's what entertainment is about. They don't care about the "integrity" of boxing or integrity period. It's all about the $$.
                                                  **********
                                     "Enough of this nonsense." Bernard Fernandez
Bob Mladinich — actor, former  fighter, writer, author: You don't have to look past the Holyfield-Belfort  debacle to realize this will pass quickly and end badly. Old fans will be disgusted and potential new fans will be dismayed.
Harry Otty — historian, author: It seems this area of 'boxing' can grow legs and the sport itself may be partially to blame. Too many governing bodies, multiple belts per body, and sub-standard cards and PPV events. With live-stream technology (helped somewhat by COVID-19 lock-downs) Youtubers/influencers have an 'easy in' to multi-million-dollar sales – though they still have to train hard to get in shape at least – and sometimes it's easy for the average fan to get carried away along with it all.
With the same live-stream technology, Holyfield, Tyson et al, have a bigger platform today than they had in their day so it is hard to blame them for getting involved. I know some who have said it is great because they never got to see (for example) Mike Tyson fight live, well – I never got to see the likes of Ken Buchanan fight live either, and I wouldn't want to see him do it now – for his sake.
The bottom line is the almighty dollar. I don't care for media 'celebs' getting involved, but good luck to them while they play boxing. But there should be some kind of regulation against veterans getting into the ring
Joe Pasquale — elite boxing judge: I have worked a few fight cards that featured a celebrity gloved-up. One show included Tanya Harding as the main event. She showed some skills and won her fight. The rest of that show was Pro Boxing but her fight was considered an exhibition. The show was a success. I think that you can look at these fights as Amateur Boxing events, which is almost always the case. If part of a pro Boxing card, the celeb participant helps boost the ticket sales, and now even PPV. Support Amateur Boxing! The sport begins there.
John Raspanti — author, editor, writer, historian: Money drives everything. YouTube guy "Jake Paul" is cashing in. His marketing talent is pretty extraordinary. He'll be around until he loses. Soon, I hope.
Legendary fighters doing a cash dive is understandable but, in many ways, pathetic. I hate it. The recent Evander Holyfield freak show is a perfect example of how LOW some will go for the almighty dollar. I hope that the result and negative publicity will make "them" think twice. My thinking is that this "fad" is fading – but then I remind myself that Riddick Bowe will be fighting soon. It can't be gone soon enough.
Dana Rosenblatt — former world middleweight champion; inspirational speaker– I do not like it at all. Makes the sport look like a side show. Not good
Ted Sares –TSS writer: It's simple economics. The frequency and "popularity" of this new wrinkle will endure as long as "fans" will pay for it. But fans are fickle and Bowe vs. Odom could reverse the current trend.
Iceman John Scully– manager, trainer, commentator, writer, historian, former world title challenger: I have no interests in this and I've never watched it. I have never seen Mayweather versus McGregor or Mayweather against that Japanese kickboxer and I've never seen Jake Paul fight. It is not real.
Peter Silkov—writer at 'The Boxing Glove': I think these Triller promotions and the Paul 'fights' are the last nail in the coffin of sanity for the game. The new eyes are not boxing fans but You Tubers with little appreciation or understanding of the sport and with their main aim being to be entertained by some outrageous trash talk and then a farcical spectacle in the ring. This is the reason why a week before AJ vs Usyk many people don't even know or have forgotten it is even taking place.
Michael Silver — historian, author, writer: Hard to say. The internet has changed everything. I don't know if these sideshow fights would take off like they have without the internet audience and the army of clueless fight fans (not to be confused with boxing fans) who shell out sucker money for the pay-per-view circus. Legitimate professional boxing has been in the toilet for so long and is such a confused mess thanks to the thieves and scumbags who control it. As long as the sideshow bouts can draw they will continue.
Alan Swyer — filmmaker, writer, and producer of the acclaimed El Boxeo: Nonsensical match-ups have long been a part of sports. Think of Jesse Owens racing a horse. In contemporary boxing, however, the combination of over-the-hill fighters in search of one last paycheck, ridiculous crossover mismatches, plus bogus exhibitions featuring pseudo-celebrities has overshadowed the actual sport of boxing. What a world when a bout featuring Jake Paul garners more attention than a Terence Crawford championship fight, and where the Trumps pay homage to 9/11 with gibberish that makes me long for the likes of Merchant, Bernstein, Foreman, Pacheco, or even Howard Cosell. I'm with Jim Lampley, who wisely chose not to sully his Hall of Fame status by participating in the Holyfield/Belfort debacle.
Bob Trieger – fight publicist; President, Full Court Press agency: I hope it's a passing fad because it's disrespectful to real boxers I see today who work so hard for relatively chump change. Old timers should stay retired. Do signings and appearances to make money. And internet "fighters" should just stay online and never lace up a pair of gloves. Boxing is poetic when done properly. This stuff is nothing but a sad joke.
Harold Weston — former two-time world title challenger: Everybody wants to know how to fight. It is something in life that people want to say, that "I can fight, I was a 'fighter.' It's "The World We Live In."
Gary "Digital" Williams–The voice of boxing on the Beltway: Unfortunately, I think this will be something we will have to endure until the real sport of boxing rights its own ship. We can't keep having bad judging and mismatches that hurt the real sport.
Peter Wood — former fighter, author: These mixed-matches aren't new. In 1940 — 81 years ago — a 45-year-old Jack Dempsey knocked out an arrogant wrestler named Cowboy Luttrell. (A brutal fight horribly refereed by Nat Fleischer.) The problem is boxing itself. It is no longer a major sport as it was in 1940. Mixed-matches starring "media sensations" are simply filling the void and people's vapid heads.
Observations: The respondents were almost unanimous in their strong dislike (disgust) for what's going on in boxing. After all the dust has been cleared, Layla McCarter's comment, namely "It's all about the $$", pretty much reflects the consensus.
Ted Sares is a member of Ring 8, a lifetime member of Ring 10, and a member of Ring 4 and its Boxing Hall of Fame. He is an active power lifter in the Master Class. He enjoys writing about boxing and can be reached at tedsares@roadrunner.com
Check out more boxing news on video at the Boxing Channel
To comment on this story in the Fight Forum CLICK HERE
Weekend Boxing Recap: The Mikey Garcia Stunner and More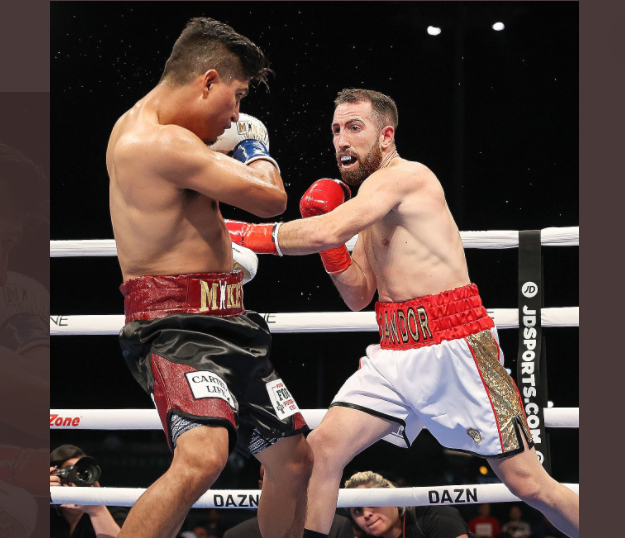 Weekend Boxing Recap: The Mikey Garcia Stunner and More
Boxing was all over the map on the third Saturday of October with many of the shows pulled together on short notice as promoters took advantage of relaxed COVID constraints to return to business as usual. When the smoke cleared, a monster upset in Fresno overshadowed the other events.
Mikey Garcia, a shoo-in to make the Hall of Fame, was on the wrong side of it. Spain's Sandor Martin, in his USA debut, won a well-deserved decision over Garcia at a Triple-A baseball park in Fresno.
Garcia, a former four-division belt-holder, was 40-1 coming in with his only loss coming at the hands of Errol Spence. Martin, a 28-year-old southpaw, brought a nice record with him from Europe (38-2) but with only 13 wins coming by way of stoppage it was plain that he wasn't a heavy hitter. His only chance was to out-box Garcia and that seemed far-fetched.
But Martin did exactly that, counter-punching effectively to win a 10-round majority decision. Two judges had it 97-93 with the third turning in a 95-95 tally.
Neither Garcia nor Martin were natural welterweights. The bout was fought at a catch-weight of 145 pounds. After the bout, the Spaniard indicated a preference for dropping back to 140 where enticing opportunities await.
There was another upset, albeit a much milder one, in the co-feature where Puerto Rico's Jonathan Gonzalez improved to 25-3-1 (14) while shearing the WBO world flyweight title from the shoulders of Mexicali's Elwin Soto (19-2).
Soto was making his fourth defense of the title and rode into the match with a 17-fight winning streak. Gonzalez, a southpaw, had formerly fought for the WBO world flyweight title, getting stopped in seven rounds by Kosei Tanaka in Nagoya, Japan.
One of the judges favored Soto 116-112, but he was properly out-voted by his colleagues who had it 116-112 the other way.
Riga, Latvia
The first major fight on Saturday took place in Riga, Latvia, where hometown hero Mairis Briedis successfully defended his IBF cruiserweight title with a third-round stoppage of Germany's Artur Mann who was on the deck three times before the match was halted at the 1:54 mark.
Briedis (28-1, 20 KOs) was making his first start since dismantling KO artist Yuniel Dorticos in the finals of season two of the World Boxing Super Series cruiserweight tournament. He scored the first of his three knockdowns in the waning seconds of round two when he deposited Mann (17-2) on the canvas with a straight right hand.
Although boosters of fast-rising WBO champ Lawrence Okolie would disagree, the Latvian is widely regarded as the best cruiserweight in the world. His only setback came when he lost a narrow decision to current WBA/IBF/WBO heavyweight champ Oleksandr Usyk in this ring in January of 2018. Now 36 years old, Briedis has yet to appear in a main event outside Europe. That's undoubtedly about to change and a rematch with Usyk is well within the realm of possibility.
Newcastle, England
Chris Eubank Jr, whose fight two weeks ago in London with late sub Anati Muratov was cancelled at the 11th hour when Muratov failed his medical exam, was added to this Matchroom card and his bout with Wanik Awdijan became the de facto main event. A 26-year-old German, born in Armenia, Awdijan was 28-1 and had won 21 straight (against very limited opposition), but he was no match for Eubank Jr who broke him down with body shots, likely breaking his ribs and forcing him to quit on his stool after five frames.
Eubank Jr, 32, improved to 31-2 (23) His only defeats came at the hands of former world title-holder George Groves and BJ Saunders. He dedicated this fight to his late brother Sebastian Eubank who died in July while swimming in the Persian Gulf.
In other bouts, Hughie Fury, the cousin of Tyson Fury, stayed relevant in the heavyweight division with a stoppage of well-traveled German Christian Hammer and Savannah Marshall successfully defended her WBO world middleweight title with a second-round TKO of Lolita Muzeya.
Akin to Eubank-Awdijan, the Fury-Hammer fight also ended with the loser bowing out after five frames. A biceps injury allegedly caused Hammer to say "no mas," but Fury, in what was arguably his career-best performance, was well ahead on the cards.
The Marshall-Muzeya fight was a battle of unbeatens, but Muzeya's 16-0 record was suspicious as the Zambian had never fought outside the continent of Africa. She came out blazing, but Marshall, who improved to 11-0 (9) had her number and retained her title.
Brooklyn
In the featured bout of a TrillerVerz show at Barclays Center, Long Island's Cletus Seldin, the Hebrew Hammer, knocked out William Silva in the seventh round. It was the fifth-straight win for the 35-year-old Seldin, a junior welterweight who was making his first start in 20 months.
Silva, a 34-year-old Brazilian who fights out of Florida, brought a 28-3 record. His previous losses had come at the hands of Felix Verdejo, Teofimo Lopez, and Arnold Barboza Jr. Seldin improved to 26-1 (22 KOs).
In other bouts, junior welterweight Petros Ananyan, a Brooklyn-based Armenian, improved to 16-2-2 (7) with a 10-round majority decision over local fighter Daniel Gonzalez (20-3-1) and Will Madera of Albany, NY, scored a mild upset when he stopped Jamshidbek Najmitdinov who was pulled out after five rounds with an apparent shoulder injury.
Najmitdinov, from Uzbekistan, was making his U.S. debut but he brought a 17-1 record blemished only by former world title-holder Viktor Postol. Madera improved to 17-1-3.
Photo credit: Ed Mulholand / Matchroom
Check out more boxing news on video at the Boxing Channel
To comment on this story in the Fight Forum CLICK HERE
Emanuel Navarrete Retains WBO Featherweight Title in a San Diego Firefight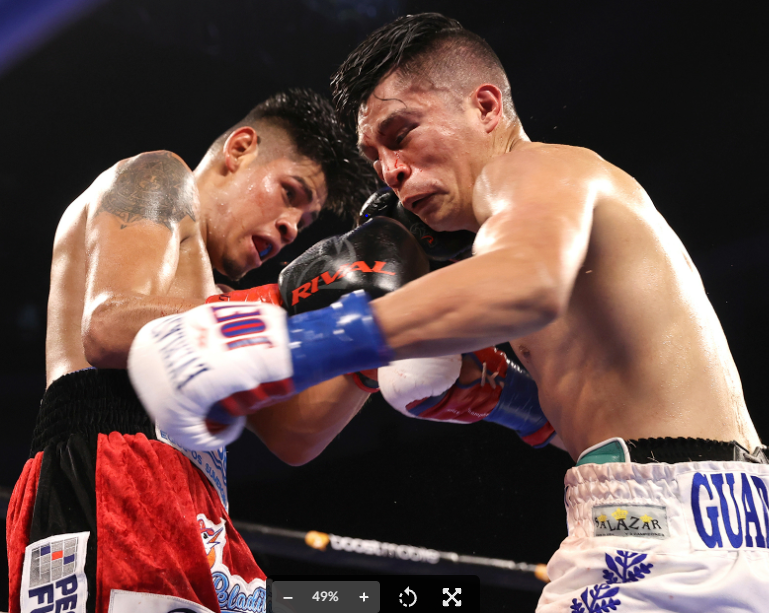 SAN DIEGO-WBO featherweight titlist Emanuel Navarrete won by unanimous decision over Joet Gonzalez in a slugfest that had fans cheering nonstop on Friday night. Fans were mesmerized by the savagery.
More than 2,000 fans saw Mexico City's Navarrete (35-1, 29 KOs) and Southern California's Gonzalez (24-2, 14 KOs) bounce brutal shots off each other for 12 successive rounds at Pechanga Sports Arena.
Both Navarrete and Gonzalez were about equal in height with the champion maybe a slight taller, but not by much. As soon as the first bell rang the two featherweights opened up in furious fashion.
Gonzalez was making his second attempt to grab a world title. His first attempt fell short a year ago. He was eager to atone for the defeat by clobbering Navarrete. Body shots were the weapon of choice.
The Mexican fighter Navarrete was accustomed to battling shorter fighters, this time the two were equal in size and in fury. Blows were flying in bunches and by the third round Gonzalez suffered a cut on his right cheek.
At several points Navarrete would connect with a solid blow and eagerly seek to finish the fight. Each time it happened Gonzalez would fight back even more furiously and beat back the champions attacks.
Gonzalez also connected with big shots and moved in for the kill only find Navarrete take a stand and fire back. Neither was able to truly gain a significant edge. After 12 rounds of nonstop action the decision was given to the judges. One scored it 118-110, two others saw it 116-112 all for Navarrete.
Fans were pleased by the decision and even more pleased by the breath-taking action they had witnessed.
Welterweights
Local fighter Giovani Santillan (28-0, 15 KOs) remained undefeated by unanimous decision after 10 rounds versus Tijuana's Angel Ruiz (17-2, 12 KOs). The two southpaws were evenly matched.
San Diego's Santillan was able to outwork Ruiz in almost every round. Though Ruiz has heavy hands he was not able to hurt Santillan even with uppercuts. It was clear very early in the fight that Santillan was the more technical and busier of the two. No knockdowns were scored.
After 10 rounds two judges scored it 100-90 for Santillan and a third saw it 99-91.
Other Results
Lindolfo Delgado (14-0, 12 KOs) battered and knocked down fellow Mexican Juan Garcia Mendez (21-5-2) in the last round of an 8-round super lightweight bout, but could not score the knockout win.
Delgado, a Mexican Olympian, was the quicker and stronger fighter yet discovered Garcia Mendez has a solid chin. All three judges scored it 80-71 for Delgado.
Puerto Rico's Henry Lebron (14-0, 9 KOs) defeated Manuel Rey Rojas (21-6) by decision after eight rounds in a lightweight match.
Javier Martinez (5-0, 2 KOs) soundly defeated Darryl Jones (4-3-1) by decision after six rounds in a middleweight clash. Jones was tough.
Las Vegas bantamweight Floyd Diaz (3-0) knocked down Tucson's Jose Ramirez (1-1) in the first round but was unable to end the fight early. Diaz won by decision.
Heavyweight Antonio Mireles (1-0) knocked out Demonte Randle (2-2) at 2:07 of the first round.
Photo credit: Mikey Williams / Top Rank for Getty Images
Check out more boxing news on video at the Boxing Channel
To comment on this story in the Fight Forum CLICK HERE
Russell Peltz's "Thirty Dollars and a Cut Eye": Book Review by Thomas Hauser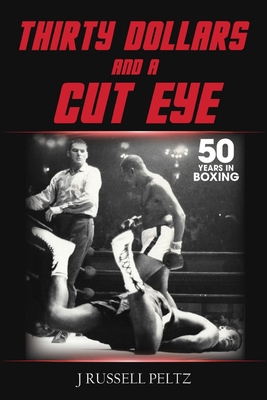 Russell Peltz's "Thirty Dollars and a Cut Eye": Book Review by Thomas Hauser
Russell Peltz has been promoting fights for fifty years and is as much a part of the fabric of Philadelphia boxing as Philly gym wars and Philly fighters. He was inducted into the International Boxing Hall of Fame in 2004 and deservedly so. Now Peltz has written a memoir entitled Thirty Dollars and a Cut Eye that chronicles his many years in the sweet science.
Peltz started in boxing before it was, in his words, "bastardized by the alphabet groups" and at a time when "world titles still meant something."
"I fell in love with boxing when I was twelve," he writes, "saw my first live fight at fourteen, decided to make it my life, and never looked back." He promoted his first fight card in 1969 at age 22.
Peltz came of age in boxing at a time when promoters – particularly small promoters – survived or died based on the live gate. Peltz Boxing Promotions had long runs at the Blue Horizon in Philadelphia and both Harrah's Marina and the Sands  in Atlantic City. His journey through the sweet science included a seven-year stint as director of boxing for The Spectrum in Philadelphia. At the turn of the century, he was a matchmaker for ESPN.
Along the way, Peltz's office in Philadelphia was fire-bombed. He was robbed at gunpoint while selling tickets in his office for a fight card at the Blue Horizon and threatened in creative ways more times than one might imagine. He once had a fight fall out when one of the fighters was arrested on the day of the weigh-in. No wonder he quotes promoter Marty Kramer, who declared, "The only thing I wish on my worst enemy is that he becomes a small-club boxing promoter."
Now Peltz has put pen to paper – or finger to keyboard. "The internet is often a misinformation highway," he writes. "I want to set the record straight as to what actually went on in boxing in the Philadelphia area since the late-1960s. I'm tired of reading tweets or Facebook posts or Instagram accounts from people who were not around and have no idea what went on but write like they do."
Thirty Dollars and a Cut Eye is filled with characters (inside and outside the ring) who give boxing its texture. As Peltz acknowledges, his own judgment was sometimes faulty. Russell once turned down the opportunity to promote Marvin Hagler on a long-term basis. There are countless anecdotes about shady referees, bad judging, and other injustices. Middleweight Bennie Briscoe figures prominently in the story, as do other Philadelphia fighters like Willie "The Worm" Monroe, Bobby "Boogaloo" Watts, Eugene "Cyclone" Hart, Stanley "Kitten" Hayward, and Matthew Franklin (later Matthew Saad Muhammad). Perhaps the best fight Peltz ever promoted  was the 1977 classic when Franklin knocked out Marvin Johnson in the twelfth round.
There's humor. After Larry Holmes pitched a shutout against Randall "Tex" Cobb in 1982, Cobb proclaimed, "Larry never beat me. He just won the first fifteen rounds."
And there are poignant notes. Writing about Tanzanian-born Rogers Mtagwa (who boxed out of Philadelphia), Peltz recalls, "He couldn't pass an eye exam because he didn't understand the alphabet."
Remembering the Blue Horizon, Peltz fondly recounts, ""The Blue Horizon was a fight fan's nirvana. The ring was 15-feet-9-inches squared inside the ropes. No fighter came to the Blue Horizon to pad his record. Fans wanted good fights, not slaughters of second-raters."
That ethos was personified by future bantamweight champion Jeff Chandler who, after knocking out an obviously inept opponent, told Peltz, "Don't ever embarrass me like that again in front of my fans."
Thereafter, whenever a manager asked Peltz to put his fighter in soft to "get me six wins in a row," Russell thought of Chandler. "I enjoyed promoting fights more than promoting fighters," he writes. "If I was interested in promoting fighters, I would have been a manager."
That brings us to Peltz the writer.
The first thing to be said here is that this is a book for boxing junkies, not the casual fan. Peltz is detail-oriented. But do readers really need to know what tickets prices were for the April 6, 1976, fight between Bennie Briscoe and Eugene Hart? The book tends to get bogged down in details. And after a while, the fights and fighters blur together in the telling.
It brings to mind the relationship between Gene Tunney and George Bernard Shaw. The noted playwright and heavyweight great developed a genuine friendship. But Shaw's fondness for Tunney stopped short of uncritical admiration. In 1932, the former champion authored his autobiography (A Man Must Fight) and proudly presented a copy to his intellectual mentor. Shaw read the book and responded with a letter that read in part, "Just as one prayer meeting is very like another, one fight is very like another. At a certain point, I wanted to skip to Dempsey."
Reading Thirty Dollars and a Cut Eye, at a certain point I wanted to skip to Hagler.
There's also one jarring note. Peltz recounts how, when Mike Jones fought Randall Bailey for the vacant IBF welterweight title in Las Vegas in 2012, Peltz bet five hundred dollars against Jones (his own fighter) at the MGM Sports Book and collected two thousand dollars when Bailey (trailing badly on the judges' scorecards) knocked Jones out in the eleventh round.
"It was a tradition from my days with Bennie Briscoe," Russell explains. "I'd bet against my fighter, hoping to lose the bet and win the fight."
I think Russell Peltz is honest. I mean that sincerely. And I think he was rooting for Mike Jones to beat Randall Bailey. But I don't think that promoters should bet on fights involving their own fighters. And it's worse if they bet against their own fighters. Regardless of the motivation, it looks bad. Or phrased differently: Suppose Don King had bet on Buster Douglas to beat Mike Tyson in Tokyo?
Philadelphia was once a great fight town. in 1926, the first fight between Jack Dempsey and Gene Tunney drew 120,000 fans to Sesquicentennial Stadium. Twenty-six years later, Rocky Marciano knocked out Jersey Joe Walcott at same site (renamed Municipal Stadium) to claim the heavyweight throne.
Peltz takes pride in saying, "I was part of Philadelphia's last golden age of boxing."
An important part.
Thomas Hauser's email address is thomashauserwriter@gmail.com. His most recent book – Broken Dreams: Another Year Inside Boxing – was published by the University of Arkansas Press this autumn. In 2004, the Boxing Writers Association of America honored Hauser with the Nat Fleischer Award for career excellence in boxing journalism. In 2019, he was selected for boxing's highest honor – induction into the International Boxing Hall of Fame.
Check out more boxing news on video at the Boxing Channel
To comment on this story in the Fight Forum CLICK HERE