The Roles Have Changed for Caleb Plant Who Isn't Intimidated by Canelo Alvarez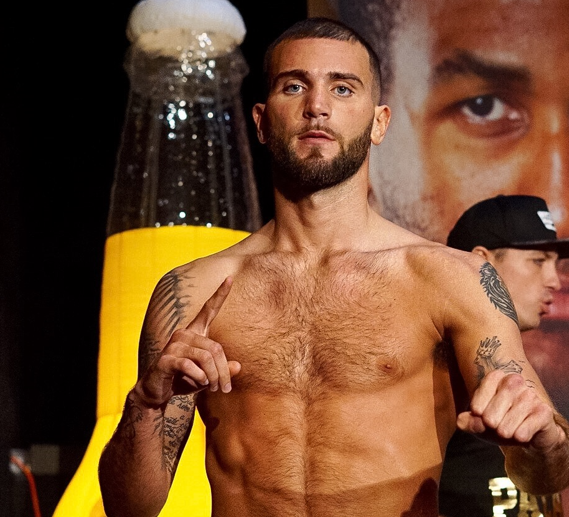 The Roles Have Changed for Caleb Plant Who Isn't Intimidated by Canelo Alvarez
It seems highly unlikely, almost impossible even, for anyone to see certain parallels between Canelo Alvarez, widely considered to be the finest pound-for-pound boxer in the world, and Mike Lee, described by one veteran observer as a "glorified club fighter" who rose faster and higher than his skill level suggested because of an unusual background that for a time made him something of a media darling.
Not that he has said it in so many words, but it does seem possible that Caleb "Sweet Hands" Plant (21-0, 12KOs), who takes on the heavily favored Alvarez (56-1-2, 38 KOs) for the undisputed super middleweight championship of the world Saturday night at Las Vegas' MGM Grand, and who brutally dismissed Lee in an IBF title bout nearly 28 months ago, will draw from the same motivational bubbling well of dislike to achieve the desired result. The only difference is that this time, it is Plant who will be cast in the role of would-be usurper Lee. In some people's eyes, anyway.
Alvarez's WBC, WBO, WBA (super) 168-pound belts will be on the line in the PBC on Showtime Pay Per View telecast, as well as Plant's IBF strap.
Plant, a 29-year-old native of the small town of Ashland, Tenn., who now resides in Las Vegas, considers himself the best super middleweight fighter on the planet, but it is an assertion that can't and won't be verified until the 10-to-1 longshot does what no one other than the great Floyd Mayweather Jr. has been able to do, which is to hang a defeat on the hugely popular Mexican national hero.  Becoming the first man to hold all four belts in his weight class from the most widely recognized sanctioning bodies should be ample enough reason for both parties to put forth their best effort on fight night, but Plant, not surprisingly, had been nursing a spark of resentment that he has since fanned into a raging bonfire.
It began when negotiations to stage the fight on its originally proposed date, Sept. 18, broke down over contractual issues. Alvarez then seemed set on arranging a fight with WBA (super) light heavyweight champ Dmitry Bivol, but that, too, was scrapped and the Alvarez camp circled back toward Plant. But while an accord was finally reached, hard feelings on both sides had intensified, with Plant and his support crew accusing Canelo and his handlers of not only being difficult at the bargaining table, but of downplaying a history of cheating, a reference to Alvarez having served a six-month suspension in 2018 for testing positive for clenbuterol, a banned substance.
Of the protracted wrangling, Plant said, "We tried to sit down with them. They told me what I would get paid, the opportunity that I had in front of me and I said, `Yeah.' There wasn't much haggle room on my end. The opportunity was presented to me, I took it, I wanted it. But they came back asking for even more.  I can't speak for their side for why things fell apart, but it had nothing to do with me. My side had been signed for weeks. When it fell apart, I just tried to be focused on the only thing that I could be in control of, which is making sure I was staying in the gym and doing what I was supposed to be doing. That way, if they came back around or not, I'd still be ready to fight whomever."
And the charge of being a PEDs abuser Plant leveled at Canelo?
"I haven't made any false allegations," Plant said. "Everything I've said is factual. Whether he likes it or not, the facts are the facts. Maybe that's what's gotten under his skin, because he knows it's true."
The potential for some sort of premature skirmish was realized at a Sept. 21 press conference when Alvarez and Plan got nose-to-nose for the obligatory photo-op staredown, which resulted in a brief scuffle which Alvarez initiated with a hard shove to Plant's chest. Plant came away with a cut below his right eye.
"This is new for me," Canelo, who in most instances pays at least complimentary lip service to the guy he is about to fight, said later. "I've never had as much bad blood with an opponent as this one. Yes, this is the most animosity that I've had heading into a big prizefight."
Ring announcer Jimmy Lennon Jr., who had an up-close-and-personal view of what went down, told me "It does seem that things can get out of hand more now at press conferences and weigh-ins. Staredowns, even intense ones, don't have to lead to physical confrontations. I'm always pleased when the fighters shake hands and hug after the photos are taken. Boxing is a sport and you're not supposed to let your focus or emotions out of control then.
"There's so much of this now. And let's be honest; it does sell tickets if something outlandish takes place. With Canelo and Plant, ticket sales definitely went up after that happened. But I don't feel that was forced or staged. There was a lot of tension going on then, words were exchanged and it just got out of hand. So, yeah, it sure felt real."
Not that the lead-up to Plant-Lee prior to their July 20, 2019, bout, the first defense of the IBF belt Plant had won on a 12-round unanimous decision over Venezuela's Jose Uzcategui six months earlier, was any less confrontational on the part of the obviously miffed champion. To Plant's way of thinking, Lee was a manufactured contender who, after logging 21 victorious bouts as a light heavyweight against middling opposition, was awarded a title shot in his first pro outing as a super middle because he was portrayed as unique because of factors that had little or nothing to do with the difficult road trod by most up-by-their-bootstraps fighters. An all-conference linebacker at his parochial high school, Lee began his college career at the University of Missouri before transferring to Notre Dame as a sophomore. While there, he won three consecutive Bengal Bouts intramural championships in addition to graduating with a 3.8 grade-point average in business. He reportedly had job offers from Wall Street which he put on hold to try his hand at boxing, in which he must have seemed like a wayward adventurer temporarily traipsing through a rough trade largely populated by rough customers like Plant.
The media, of course, was quickly drawn to the improbable tale of the personable, well-educated son of privilege who had spent part of his senior year at Notre Dame in Bangladesh, where he taught English and mathematics in addition to raising more than $100,000 that went toward the building of schools and health-care facilities in the Third-World country.
If anything could transform Lee into a prepackaged star upon his return to the U.S., it was the always-whirling Top Rank hype machine. After signing with TR founder Bob Arum, Lee compiled an 11-0 record before his contract expired, but even then he continued to remain firmly in the public eye as the result of his being one of several sports-world endorsers of the Subway sandwich-shop chain, a group that then included, among others, NFL stars Michael Strahan, Ndamukong Suh and fellow Notre Dame alum Justin Tuck, Olympic swimming gold medalist Michael Stewart, baseball slugger Ryan Howard, NBA standout Tony Parker and NASCAR driver Tony Stewart. He even was featured in a Subway ad that was seen by tens of millions of television viewers during Super Bowl Sunday in 2013.
In comparison to Subway's other lineup of star pitchmen, Lee, who to that point had accomplished little of note, must have seemed famous mostly for being famous. In short order grumblers, Plant among them, intimidated that Lee had come onto the scene from Notre Dame's Golden Dome with a silver spoon of caviar stuck in his mouth. The prevailing opinion was that boxing was his hobby, not his vocation, and he would step away from it whenever he decided it finally was time for him to take advantage of his degree, put on expensively tailored suits and head to work every morning carrying an expensive leather briefcase rather than a gym bag.
For his part, Lee tried to depict himself as much the same as other fighters. Yeah, his family had become well-off in monetary terms, but it had not always been so. And he said his paved and seemingly obstacle-free path to success had been marked by years of debilitating pain. His progress in boxing, he noted, was dramatically slowed when he began suffering constant back and joint pain. Eventually he was diagnosed with an auto-immune disease known as ankylosing spondylitis.
"I was told that I would never box again," Lee said. "That really infuriated me because every time someone tells me I can't do something, I want to do it twice. Doctors are smart and know what they are doing. I knew, though, that they didn't know what I had in my heart and I was a different human being. I told them they were wrong, and I would figure it out and get back in the ring."
Eighteen months later, in April 2014, Lee stopped Peter Lewis in six rounds, the start of a 10-fight win streak that got him his shot at Plant.
At the final prefight press conference, Plant listened to Lee's tales of being an everyman who had had endured much in pursuing his boxing dream, and then it was the champion's turn to speak. He immediately made it clear that he was not impressed by anything he had heard. Plant was dedicating the Lee fight to the memory of his late daughter, Alia, who died at 19 months old of an unknown illness which caused seizures, as well as to his mother, Beth Plant, who was shot and killed by a police officer for allegedly brandishing a knife in March 2019. Basically, he was saying, `OK, you just put your headaches and various aches and pain into the pot, so now I'm raising you two deaths in my immediate family.'
"You may have a financial degree, but in boxing I have a Ph.D.," Plant, addressing Lee, said at the final press conference. "And that's something you don't know anything about.
"I've been doing this for 18 years straight – no breaks, no distractions and no Plan B. I commend you for doing this, but there's no college degree for me. No high school sports, no acting gigs, no Subway commercials. Just boxing day in, day out, rain, sleet or snow."
The fight, what there was of it, went as most had expected. Plant floored the overmatched Lee three times officially (four if you include another trip to the canvas perhaps incorrectly ruled a slip by referee Robert Byrd), the last knockdown convincing Byrd there was no need to proceed further. The end came after an elapsed time of one minute, 29 seconds into round three.
Mike Lee has not fought since.
So now Caleb Plant, the honest workman, is back at the same old stand, except that the guy in the other corner on Saturday night is so much more like him than Lee had been. Canelo Alvarez, now 31, turned pro at 15 and also came up the hard way, beating grown men with boundless talent and determination. Maybe he wasn't always this dominant, but he had the potential to be so, and he would someday fulfill his destiny because boxing is not and never has been a hobby for him. He is who and what he is because he took his considerable skills and honed them to a razor's edge, which he is again intent on displaying against someone with a like mindset.
"The media's job is to make (Canelo) seem unbeatable," Plant said. "That's what they're doing. But anyone who knows boxing and has seen him in with some of these high-level fighters – I'm talking about Triple G (Gennadiy Golovikin), I'm talking about (Erislandy) Lara, even Austin Trout – know he was beatable in those fights. There are things those guys were able to capitalize on, and I feel I possess a lot of those same skills, except I'm a full-fledged super middleweight. I'm not a 154-pounder, I'm not a middleweight. I've been fighting at this weight for a really long time. There are things I feel like – I know – I can capitalize on. On Nov. 6, that's what I plan on doing."
Asked for his final thoughts on Mike Lee, Plant said it's not enough to have the benefit of good publicity. No spin doctor can help anyone inside the ropes, where truth is always there to be seen for what it is. "Not only was the media building him up, he was building himself up," Plant opined. "I wanted to show him he wasn't the real deal, that I'm the real deal. But that's not just for him; it goes for any fighter that gets in there with me. I feel that way against anybody that's in front of me. When the bell rings, all the talk stops. Who's going to impose his will on the other man?
"I plan on imposing my will on Canelo and becoming the undisputed super middleweight champion."
Editor's Note: Bernard Fernandez, named to the International Boxing Hall of Fame in the Observer category with the class of 2020, was the recipient of numerous awards for writing excellence during his 28-year career as a sportswriter for the Philadelphia Daily News. Fernandez's first book, "Championship Rounds," a compendium of previously published material, was released in May of last year. The sequel, "Championship Rounds, Vol. 2," with a foreword by Jim Lampley, arrives this fall. The book, published in paperback, can be ordered through Amazon.com and other book-selling websites and outlets.
Check out more boxing news on video at the Boxing Channel
To comment on this story in the Fight Forum CLICK HERE
Mercito Gesta Victorious Over Jojo Diaz at the Long Beach Pyramid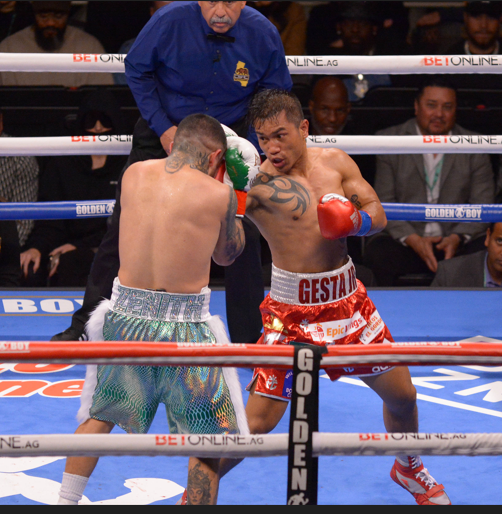 LONG BEACH, CA.-Those in the know knew Mercito Gesta and Jojo Diaz would be a fight to watch and they delivered.
Gesta emerged the winner in a super lightweight clash between southpaws that saw the judges favor his busier style over Diaz's body attack and bigger shots and win by split decision on Saturday.
Despite losing the main event because the star was overweight, Gesta (34-3-3, 17 KOs) used an outside method of tactic to edge past former world champion Diaz (32-4-1, 15 KOs) in front of more than 5,000 fans at the Pyramid.
The speedy Gesta opened up the fight with combination punching up and down against the peek-a-boo style of Diaz. For the first two rounds the San Diego fighter overwhelmed Diaz though none of the blows were impactful.
In the third round Diaz finally began unloading his own combinations and displaying the fast hands that helped him win world titles in two divisions. Gesta seemed stunned by the blows, but his chin held up. The counter right hook was Diaz's best weapon and snapped Gesta's head back several times.
Gesta regained control in the fifth round after absorbing big blows from Diaz. He seemed to get angry that he was hurt and opened up with even more blows to send Diaz backpedaling.
Diaz targeted his attack to Gesta's body and that seemed to slow down Gesta. But only for a round.
From the seventh until the 10th each fighter tried to impose their style with Gesta opening up with fast flurries and Diaz using right hooks to connect with solid shots. They continued their method of attack until the final bell. All that mattered was what the judges preferred.
After 10 rounds one judge saw Diaz the winner 97-93 but two others saw Gesta the winner 99-91, 98-92. It was a close and interesting fight.
"I was expecting nothing. I was the victor in this fight and we gave a good fight," said Gesta. "It's not an easy fight and Jojo gave his best."
Diaz was surprised by the outcome but accepted the verdict.
Everything was going good. I thought I was landing good body shots," said Diaz. "I was pretty comfortable."
Other Bouts
Mexico's Oscar Duarte (25-1-1, 20 KOs) knocked out Chicago's Alex Martin (18-5, 6 KOs) with a counter right hand after dropping him earlier in the fourth round. The super lightweight fight was stopped at 1:14 of the round.
A battle between undefeated super welterweights saw Florida's Eric Tudor (8-0, 6 KOs) emerge the winner by unanimous decision after eight rounds versus Oakland's Damoni Cato-Cain.
The taller Tudor showed polished skill and was not bothered by a large cut on his forehead caused by an accidental clash of heads. He used his jab and lead rights to defuse the attacks of the quick-fisted southpaw Cato-Cain. The judges scored the fight 80-72 and 78-74 twice for Tudor.
San Diego's Jorge Chavez (5-0, 4 KOs) needed less than one round to figure out Nicaragua's Bryan Perez (12-17-1, 11 KOs) and send him into dreamland with a three-punch combination. No need to count as referee Ray Corona waved the fight over. Perez shot a vicious right followed by another right and then a see-you-later left hook at 3.00 of the first round of the super featherweight match.
Photo credit: Al Applerose
Jojo Diaz's Slump Continues; Mercito Gesta Prevails on a Split Decision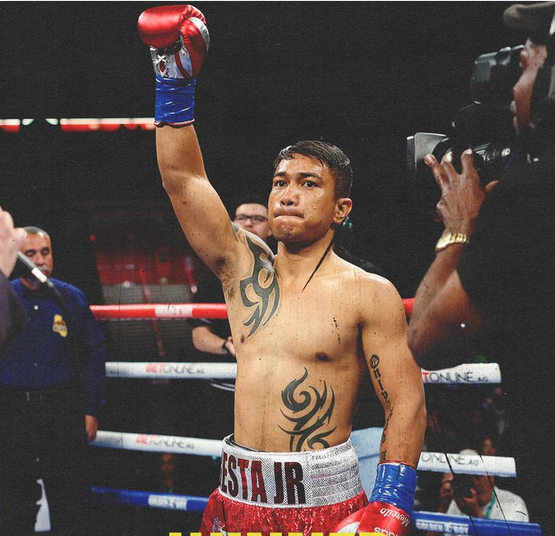 At age 30, Jojo Diaz's career is on the skids. The 2012 U.S. Olympian, a former world title holder at 126 and 130 pounds and an interim title holder at 135, Diaz suffered his third straight loss tonight, upset by Mercito Gesta who won a split decision at the Walter Pyramid in Long Beach, CA.. The scoring was strange with Gesta winning nine of the 10 rounds on one of the cards and only three rounds on another. The tie-breaker, as it were, was a 98-92 tally for Gesta and even that didn't capture the flavor of what was a closely-contested fight.
Originally listed as a 12-rounder, the match was reduced to 10 and that, it turned out, did Diaz no favors. However, it's hard to feel sorry for the former Olympian as he came in overweight once again, having lost his 130-pound title on the scales in February of 2021.
Diaz also has issues outside the ropes. Best elucidated by prominent boxing writer Jake Donovan, they include a cluster of legal problems stemming from an arrest for drunk driving on Feb. 27 in the LA suburb of Claremont.
With the defeat, Diaz's ledger declined to 32-4-1. His prior losses came at the hands of Gary Russell Jr, Devin Haney, and William Zepeda, boxers who are collectively 83-2. Mercito Gesta, a 35-year-old San Diego-based Filipino, improved to 34-3-3.
Co-Feature
Chihuahua, Mexico super lightweight Oscar Duarte has now won nine straight inside the distance after stopping 33-year-old Chicago southpaw Alex Martin in the eighth frame. Duarte, the busier fighter, had Martin on the deck twice in round eight before the fight was waived off.
Duarte improved to 25-1-1 (20). Martin, who reportedly won six national titles as an amateur and was once looked upon as a promising prospect, declined to 18-5.
Other Bouts of Note
New Golden Boy signee Eric Tudor, a 21-year-old super welterweight from Fort Lauderdale, overcame a bad laceration over his right eye, the result of an accidental clash of heads in round four, to stay unbeaten, advancing to 8-0 (6) with a hard-fought unanimous 8-round decision over Oakland's Damoni Cato-Cain. The judges had it 80-72 and 78-74 twice. It was the first pro loss for Cato-Cain (7-1-1) who had his first five fights in Tijuana.
In the DAZN opener, lanky Hawaian lightweight Dalis Kaleiopu went the distance for the first time in his young career, improving to 4-0 (3) with a unanimous decision over 36-year-old Colombian trial horse Jonathan Perez (40-35). The scores were 60-52 across the board. There were no knockdowns, but Perez, who gave up almost six inches in height, had a point deducted for a rabbit punch and another point for deducted for holding.
To comment on this story in the Fight Forum CLICK HERE
'Big Baby' Wins the Battle of Behemoths; TKOs 'Big Daddy' in 6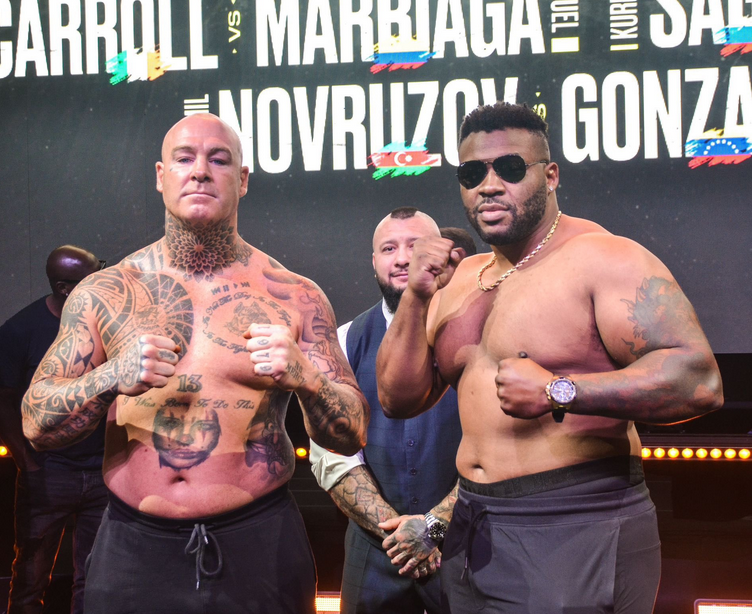 Lucas "Big Daddy" Browne weighed in at a career-high 277 pounds for today's battle in Dubai with Jarrell "Big Baby" Miller, but he was the lighter man by 56 pounds. It figured that one or both would gas out if the bout lasted more than a few stanzas.
It was a war of attrition with both men looking exhausted at times, and when the end came it was Miller, at age 34 the younger man by nine years, who had his hand raised.
Browne was the busier man, but Miller, whose physique invites comparison with a rhinoceros, hardly blinked as he was tattooed with an assortment of punches. He hurt 'Bid Daddy' in round four, but the Aussie held his own in the next frame, perhaps even forging ahead on the cards, but only postponing the inevitable.
In round six, a succession of right hands knocked Browne on the seat of his pants. He beat the count, but another barrage from Miller impelled the referee to intervene. The official time was 2:33. It was the 21st straight win for Miller (26-0-1, 22 KOs). Browne declined to 31-4 and, for his own sake, ought not fight again. All four of his losses have come inside the distance, some brutally.
The consensus of those that caught the livestream was that Floyd Mayweather Jr's commentary was an annoying distraction that marred what was otherwise an entertaining show.
As for what's next for "Big Baby" Miller, that's hard to decipher as he has burned his bridges with the sport's most powerful promoters. One possibility is Mahmoud Charr who, like Miller, has a big gap in his boxing timeline. Now 38 years old, Charr – who has a tenuous claim on a WBA world title (don't we all?) —  has reportedly taken up residence in Dubai.
Other Bouts of Note
In a 10-round cruiserweight affair, Suslan Asbarov, a 30-year-old Russian, advanced to 4-0 (1) with a hard-fought majority decision over Brandon Glanton. The judges had it 98-92, 97-93, and a more reasonable 95-95.
Asbarov was 12-9 in documented amateur fights and 1-0 in a sanctioned bare-knuckle fight, all in Moscow, entering this match. He bears watching, however, as Glanton (18-2) would be a tough out for almost anyone in his weight class. In his previous fight, at Plant City, Florida, Glanton lost a controversial decision to David Light, an undefeated Australian who challenges WBO world title-holder Lawrence Okolie at Manchester, England next week.
A 10-round super featherweight match between former world title challengers Jono Carroll and Miguel Marriaga preceded the semi-windup. Carroll, a 30-year-old Dublin southpaw, overcame a cut over his left eye suffered in the second round to win a wide unanimous decision in a fairly entertaining fight.
It was the sixth straight win for Carroll (24-2-1, 7 KOs) who elevated his game after serving as a sparring partner for Devin Haney. Marriaga, a 36-year-old Colombian, lost for the fourth time in his last five outings, declining to 30-7.
To comment on this story in the Fight Forum CLICK HERE