Renowned Author Leigh Montville Talks About Muhammad Ali, The Myths and The Man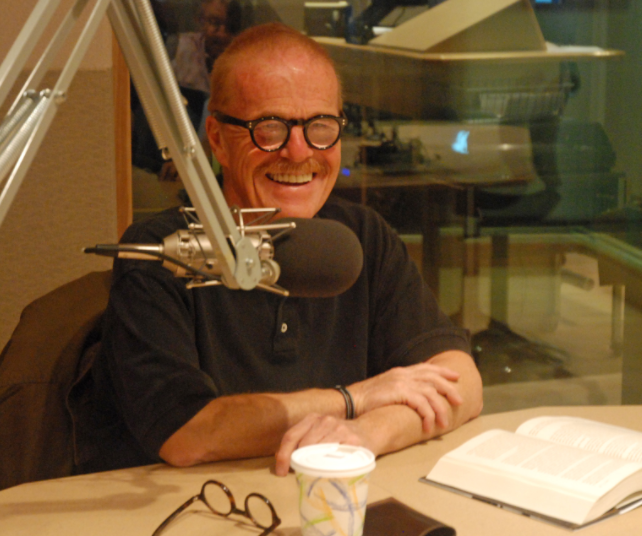 Over the course of five-decades-plus, Leigh Montville has delivered books on the careers of Babe Ruth, Ted Williams, Dale Earnhardt, Jim Calhoun, Manute Bol, Evel Knievel, John Montague and Muhammad Ali. Each is well-written and researched and tells an interesting story, but it's the 2017 book "Sting Like A Bee: Muhammad Ali vs. The United States Of America, 1966 – 1971," that somehow stands apart.
The reason is because it deals with a five-year block when he wasn't boxing and had a legal battle on his hands after refusing to be inducted into the military for religious reasons.
"I was looking for a book topic and floated one to my editor at Random House, Jason Kaufman, but he rejected it. He said I should look for an iconic figure, someone like Ruth or Williams or Earnhardt, who had been previous subjects. I made a list of iconic sports figures, all kinds of people, but felt I was missing someone," explained Montville, whose most recent literary offering is, "Tall Men, Short Shorts: The 1969 NBA Finals: Wilt, Russ, Lakers, Celtics, And A Very Young Reporter." "Bing! It hit me. Muhammad Ali. The most iconic sports figure of our time."
Montville then went searching for everything that had been written about Ali in book form.
"I looked to see what had been done on Ali. The best book was 'King Of The World'' by David Remnick, which I had read. His story stopped when Ali beat [Sonny] Liston and became a member of the Nation of Islam," he said. "I thought that this end was when Ali's most interesting period really began, all of the legal stuff, his time of banishment, his grand return to face [Joe] Frazier in the Fight of the Century. I had no interest in doing a full-scale biography, but this five-year period was fascinating to me."
Montville's time researching that period unearthed several interesting finds.
"A bunch of misconceptions have developed about Ali in the rush to confer a sort of secular sainthood on him. He wasn't a big civil rights guy. He wasn't a great resister of the Vietnam War," he pointed out. "He promoted a sort of segregationist philosophy, the idea that black people should have their own land, their own society, a place away from white people. It was a sort of Give Us Kansas and let us live by ourselves. He never marched once with Martin Luther King. During the war, he went to one rally, and didn't like it. He never went again. He was fighting to keep himself out of the army, not anybody else."
Montville, a sportswriter and columnist at the Boston Globe for more than two decades and a senior writer for a dozen years at Sports Illustrated, added: "He was a kid who had fallen into a cult. His white-guy, businessmen backers in Louisville sent him to Miami and set him up with Angelo Dundee as a trainer, but they didn't set up anything for his down time when he wasn't training," he said. "That was when he fell under the spell of the Nation of Islam's rhetoric."
Views and opinions were extremely varied on Ali then. Where did Montville, who has been honored with the Red Smith Award and the PEN/ESPN Award for Literary Sports Writing, fit in?
"I'm only 18 months younger than Ali and I was going through the worries about the draft at the same time he was," he said. "I joined the National Guard. I thought he had just found a clever way to get out of it, a way that was open if you had money and lawyers. He was never a villain in my mind, just a guy working the angles."
Montville's view is somewhat different more than five decades later. "I give him a bit more credit now," he said. "I think he said a lot of those things that got him in trouble just off the top of his head and then had to back them up. I give him credit for seeing them through. I never thought he was a hero during this time, though his views on Vietnam were a lot like mine. It was a bad war."
During this period the Black Muslims played an important role in Ali's life.
"The Black Muslims ultimately were very good for Ali. They made him who he was. He would have been another boxer – a very good boxer, to be sure, maybe, yes, the greatest – if it were not for the Muslims," Montville said. "The time period of my book, the stretch where he was cast out of boxing, followed by the comeback, was what made Ali different. He became a world figure, not just an athlete. Ali never would have been Ali if it were not for the Muslims. He would have been Cassius Clay, a very good fighter, but not much more."
During the turbulent decade of the 1960s, Ali was front and center and a folk hero to some.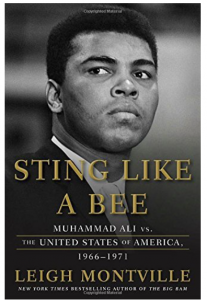 "I think he's been captured forever as the face for the Sixties. No documentary of the time can get more than 30 seconds in without having his image flash on the screen, usually backed by some music by the Doors," said Montville, a graduate of the University of Connecticut. "I don't think this will change. His importance only has grown in recent years and, as memories of the time get reduced to catch-phrases and sound bites, he is perfect. 'I got nothing against them Viet Cong!'"
Was Ali a tool for the Nation of Islam? "I think he was a pawn in the beginning. He was the religion's big catch, the convert brought into the boat and posed in public relations pictures with the Honorable Elijah Muhammad," Montville said. "I think things got sketchy when the Honorable Elijah Muhammad realized that Ali had become bigger than he was, the embodiment of the faith. The pawn became the king. That was the problem."
What period of Ali's storied life appealed most to Montville? "The part of Ali's life I liked best was when he didn't have money and was going around to the colleges, often with his wife, doing his talks, sort of an evangelical minister," he said. "There was a purity about him then. He was young and misguided, for sure, but he believed what he was doing. When he came back to boxing, all of that disappeared. He became much more venal, sometimes nasty, a creature of the world."
Montville continued: "The sainthood all came after he retired, after he became sick," he noted. "I think the sainthood is a myth, but the man underneath, the narcissist, was human and fascinating. You look at his success and he used a lot of the same messaging that [Donald] Trump used. Except he used it first."
If Ali was boxing today, would he stand out?
"No. Not at all. He came along at a time when boxing was much more important than it is now and when network television was much more important," Montville said. "He had a captive audience when only three networks were in operation. He would be competing now with other sports, leagues, the constant stream of games and people and other entertainment. His greatest act has been copied by so many people, it would sound ordinary today, kind of ridiculous. At best, he would be a Colin Kaepernick kind of rebel, but on a smaller stage because boxing is a much smaller stage now."
Is it justified that Ali has been looked at differently since he retired from the ring?
"His years of illness probably did more for Ali's image than anything," Montville said. "He became like one of those celebrities who died young – Marilyn [Monroe], James Dean, whoever – captured in their prime forever. No matter that he was still alive. He wasn't out in the world, living, doing things no one expected."
Montville added: "When he came into the public eye for the last 30 years or so, he was a shambling, Mother Teresa kind of character, beloved by all. If he hadn't been sick, he would have been out in the everyday world, living, falling into the pitfalls of divorce, drink, whatever," he said. "Joe Namath, another idol of that time, does those stupid commercials for Social Security supplement insurance. Ali would have done the same and his star would have been diminished."
Editor's Note: "Sting Like a Bee: Muhammad Ali vs. the United States Of America, 1966-1971," is available via Amazon and found at better bookstores everywhere.
Check out more boxing news on video at the Boxing Channel
To comment on this story in the Fight Forum CLICK HERE
Mercito Gesta Victorious Over Jojo Diaz at the Long Beach Pyramid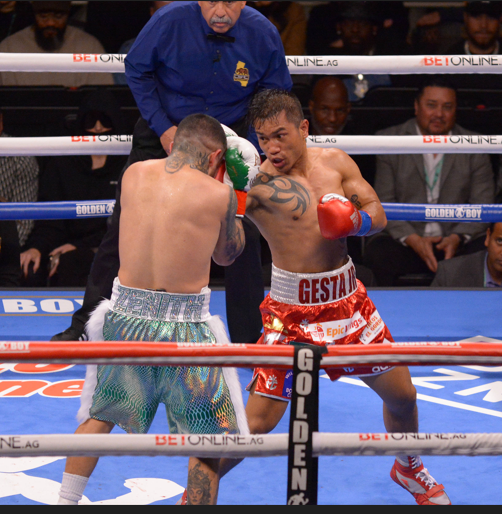 LONG BEACH, CA.-Those in the know knew Mercito Gesta and Jojo Diaz would be a fight to watch and they delivered.
Gesta emerged the winner in a super lightweight clash between southpaws that saw the judges favor his busier style over Diaz's body attack and bigger shots and win by split decision on Saturday.
Despite losing the main event because the star was overweight, Gesta (34-3-3, 17 KOs) used an outside method of tactic to edge past former world champion Diaz (32-4-1, 15 KOs) in front of more than 5,000 fans at the Pyramid.
The speedy Gesta opened up the fight with combination punching up and down against the peek-a-boo style of Diaz. For the first two rounds the San Diego fighter overwhelmed Diaz though none of the blows were impactful.
In the third round Diaz finally began unloading his own combinations and displaying the fast hands that helped him win world titles in two divisions. Gesta seemed stunned by the blows, but his chin held up. The counter right hook was Diaz's best weapon and snapped Gesta's head back several times.
Gesta regained control in the fifth round after absorbing big blows from Diaz. He seemed to get angry that he was hurt and opened up with even more blows to send Diaz backpedaling.
Diaz targeted his attack to Gesta's body and that seemed to slow down Gesta. But only for a round.
From the seventh until the 10th each fighter tried to impose their style with Gesta opening up with fast flurries and Diaz using right hooks to connect with solid shots. They continued their method of attack until the final bell. All that mattered was what the judges preferred.
After 10 rounds one judge saw Diaz the winner 97-93 but two others saw Gesta the winner 99-91, 98-92. It was a close and interesting fight.
"I was expecting nothing. I was the victor in this fight and we gave a good fight," said Gesta. "It's not an easy fight and Jojo gave his best."
Diaz was surprised by the outcome but accepted the verdict.
Everything was going good. I thought I was landing good body shots," said Diaz. "I was pretty comfortable."
Other Bouts
Mexico's Oscar Duarte (25-1-1, 20 KOs) knocked out Chicago's Alex Martin (18-5, 6 KOs) with a counter right hand after dropping him earlier in the fourth round. The super lightweight fight was stopped at 1:14 of the round.
A battle between undefeated super welterweights saw Florida's Eric Tudor (8-0, 6 KOs) emerge the winner by unanimous decision after eight rounds versus Oakland's Damoni Cato-Cain.
The taller Tudor showed polished skill and was not bothered by a large cut on his forehead caused by an accidental clash of heads. He used his jab and lead rights to defuse the attacks of the quick-fisted southpaw Cato-Cain. The judges scored the fight 80-72 and 78-74 twice for Tudor.
San Diego's Jorge Chavez (5-0, 4 KOs) needed less than one round to figure out Nicaragua's Bryan Perez (12-17-1, 11 KOs) and send him into dreamland with a three-punch combination. No need to count as referee Ray Corona waved the fight over. Perez shot a vicious right followed by another right and then a see-you-later left hook at 3.00 of the first round of the super featherweight match.
Photo credit: Al Applerose
Jojo Diaz's Slump Continues; Mercito Gesta Prevails on a Split Decision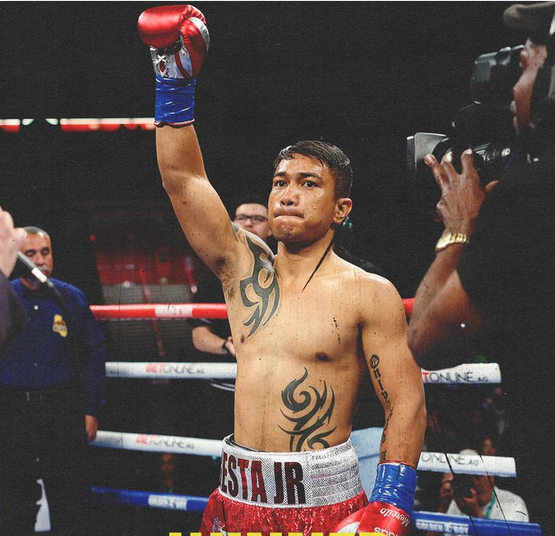 At age 30, Jojo Diaz's career is on the skids. The 2012 U.S. Olympian, a former world title holder at 126 and 130 pounds and an interim title holder at 135, Diaz suffered his third straight loss tonight, upset by Mercito Gesta who won a split decision at the Walter Pyramid in Long Beach, CA.. The scoring was strange with Gesta winning nine of the 10 rounds on one of the cards and only three rounds on another. The tie-breaker, as it were, was a 98-92 tally for Gesta and even that didn't capture the flavor of what was a closely-contested fight.
Originally listed as a 12-rounder, the match was reduced to 10 and that, it turned out, did Diaz no favors. However, it's hard to feel sorry for the former Olympian as he came in overweight once again, having lost his 130-pound title on the scales in February of 2021.
Diaz also has issues outside the ropes. Best elucidated by prominent boxing writer Jake Donovan, they include a cluster of legal problems stemming from an arrest for drunk driving on Feb. 27 in the LA suburb of Claremont.
With the defeat, Diaz's ledger declined to 32-4-1. His prior losses came at the hands of Gary Russell Jr, Devin Haney, and William Zepeda, boxers who are collectively 83-2. Mercito Gesta, a 35-year-old San Diego-based Filipino, improved to 34-3-3.
Co-Feature
Chihuahua, Mexico super lightweight Oscar Duarte has now won nine straight inside the distance after stopping 33-year-old Chicago southpaw Alex Martin in the eighth frame. Duarte, the busier fighter, had Martin on the deck twice in round eight before the fight was waived off.
Duarte improved to 25-1-1 (20). Martin, who reportedly won six national titles as an amateur and was once looked upon as a promising prospect, declined to 18-5.
Other Bouts of Note
New Golden Boy signee Eric Tudor, a 21-year-old super welterweight from Fort Lauderdale, overcame a bad laceration over his right eye, the result of an accidental clash of heads in round four, to stay unbeaten, advancing to 8-0 (6) with a hard-fought unanimous 8-round decision over Oakland's Damoni Cato-Cain. The judges had it 80-72 and 78-74 twice. It was the first pro loss for Cato-Cain (7-1-1) who had his first five fights in Tijuana.
In the DAZN opener, lanky Hawaian lightweight Dalis Kaleiopu went the distance for the first time in his young career, improving to 4-0 (3) with a unanimous decision over 36-year-old Colombian trial horse Jonathan Perez (40-35). The scores were 60-52 across the board. There were no knockdowns, but Perez, who gave up almost six inches in height, had a point deducted for a rabbit punch and another point for deducted for holding.
To comment on this story in the Fight Forum CLICK HERE
'Big Baby' Wins the Battle of Behemoths; TKOs 'Big Daddy' in 6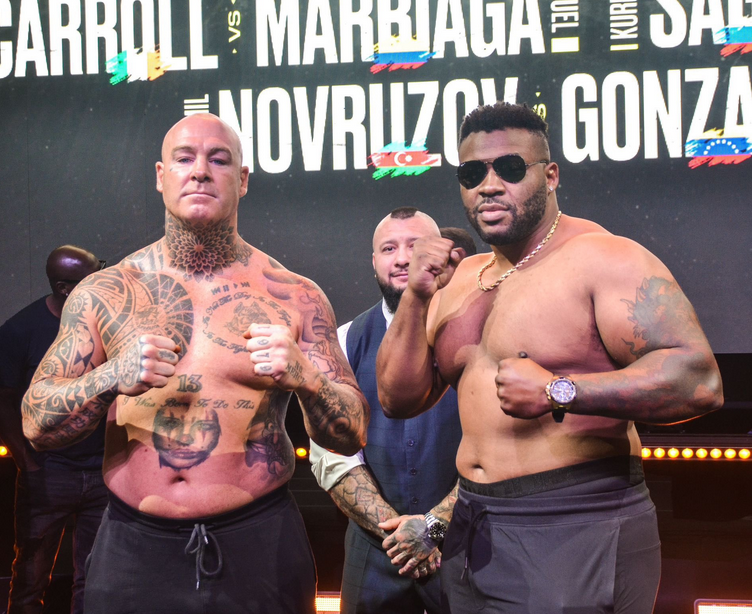 Lucas "Big Daddy" Browne weighed in at a career-high 277 pounds for today's battle in Dubai with Jarrell "Big Baby" Miller, but he was the lighter man by 56 pounds. It figured that one or both would gas out if the bout lasted more than a few stanzas.
It was a war of attrition with both men looking exhausted at times, and when the end came it was Miller, at age 34 the younger man by nine years, who had his hand raised.
Browne was the busier man, but Miller, whose physique invites comparison with a rhinoceros, hardly blinked as he was tattooed with an assortment of punches. He hurt 'Bid Daddy' in round four, but the Aussie held his own in the next frame, perhaps even forging ahead on the cards, but only postponing the inevitable.
In round six, a succession of right hands knocked Browne on the seat of his pants. He beat the count, but another barrage from Miller impelled the referee to intervene. The official time was 2:33. It was the 21st straight win for Miller (26-0-1, 22 KOs). Browne declined to 31-4 and, for his own sake, ought not fight again. All four of his losses have come inside the distance, some brutally.
The consensus of those that caught the livestream was that Floyd Mayweather Jr's commentary was an annoying distraction that marred what was otherwise an entertaining show.
As for what's next for "Big Baby" Miller, that's hard to decipher as he has burned his bridges with the sport's most powerful promoters. One possibility is Mahmoud Charr who, like Miller, has a big gap in his boxing timeline. Now 38 years old, Charr – who has a tenuous claim on a WBA world title (don't we all?) —  has reportedly taken up residence in Dubai.
Other Bouts of Note
In a 10-round cruiserweight affair, Suslan Asbarov, a 30-year-old Russian, advanced to 4-0 (1) with a hard-fought majority decision over Brandon Glanton. The judges had it 98-92, 97-93, and a more reasonable 95-95.
Asbarov was 12-9 in documented amateur fights and 1-0 in a sanctioned bare-knuckle fight, all in Moscow, entering this match. He bears watching, however, as Glanton (18-2) would be a tough out for almost anyone in his weight class. In his previous fight, at Plant City, Florida, Glanton lost a controversial decision to David Light, an undefeated Australian who challenges WBO world title-holder Lawrence Okolie at Manchester, England next week.
A 10-round super featherweight match between former world title challengers Jono Carroll and Miguel Marriaga preceded the semi-windup. Carroll, a 30-year-old Dublin southpaw, overcame a cut over his left eye suffered in the second round to win a wide unanimous decision in a fairly entertaining fight.
It was the sixth straight win for Carroll (24-2-1, 7 KOs) who elevated his game after serving as a sparring partner for Devin Haney. Marriaga, a 36-year-old Colombian, lost for the fourth time in his last five outings, declining to 30-7.
To comment on this story in the Fight Forum CLICK HERE