Boxing Writer Mike Marley Was a Colorful Character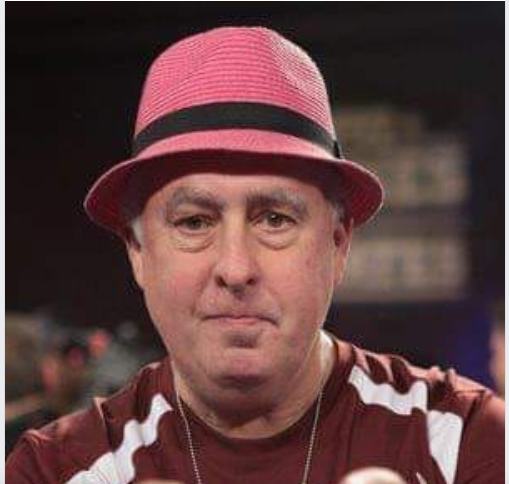 Mike Marley wore many hats during a career in boxing that began when he was 13 years old. At various times, Marley was a PR man, a facilitator in all of its various permutations, a production assistant for Howard Cosell, and a boxing writer for several newspapers, most notably the New York Post. He was also as colorful as many of the sporting characters that he wrote about, a fellow who made friends and enemies in about equal measure. His death this past week from complications of Parkinson's left his friends ruing the loss of a great raconteur.
As a boy growing up in Boston, Marley became infatuated with the boxer then known as Cassius Clay. He started a fan club for the up-and-coming heavyweight, the spawn of which was an annual newsletter he sold for $5.
Marley got to meet his hero when Ali came to Boston in the spring of 1965 to finish up his training for his rematch with Sonny Liston slated for May 25 at Boston Garden. Marley tracked Ali down to the hotel where he was staying and became a regular visitor. Ali took a shine to the 14-year-old fanboy and young Michael became something of a mascot.
Ali-Liston II would be kicked out of Boston — the District Attorney was sending a message to Liston's underworld associates – and re-positioned in the neighboring state of Maine where it played out on the originally scheduled date at an armory in Lewiston. Mike Marley was there as a guest of Ali and he would also have a choice seat at Ali-Frazier I, the Fight of the Century in the new Madison Square Garden.
During his teen years, Marley hooked up with Sam Silverman. Best remembered for promoting the early fights of Rocky Marciano, "Subway Sam" was Mr. Boxing in New England. With an office in Chelsea and an annex in the trunk of his car, Silverman promoted big-budget and low-budget shows, but mostly the latter, during a career that was in its fifth decade when he died in a car crash in 1977.
Marley designed little programs for Silverman's little shows and delivered envelopes to sports editors, honorariums much appreciated, especially by scribes toiling in the hinterland.
Mike Marley ventured a long way from home to attend college. He chose Nevada's flagship university in Reno because of the school's prominent boxing team.
Mike wasn't too bad with the mitts. Competing mostly at 165 pounds, he was purportedly 7-2-4 in inter-collegiate competitions, a record highlighted by a first-round knockout of an opponent from Stanford.
Marley wasn't completely done with fisticuffing when he left college. In 1991, he scuffled with Patrick Flannery, the manager of Hector "Macho" Camacho, in the lobby of Reno's Clarion Hotel. The fracas, which started around 3:00 in the morning, was a nasty little spat. Marley emerged with a swollen forehead and a busted lip. Flannery suffered a broken kneecap.
The scuffle had its roots in a story that Marley wrote for the New York Post following Camacho's loss to Greg Haugen in their first meeting. Marley blamed Flannery. "If he's a manager," he wrote, "then I am an astronaut." But we are getting ahead of ourselves.
At the University of Nevada, Marley wrote a weekly column called "Campus Chatter" for the school newspaper, which led to work with the Nevada State Journal, a paper with a small circulation, and then to the regionally transcendent Reno Gazette-Journal. Like most sportswriters, he initially covered high school sports and then transitioned to covering sports of national interest; in his case, mostly boxing.
From the Gazette-Journal, Marley moved to the Las Vegas Sun, the city's afternoon paper (remember afternoon papers?) where he scored a big coup, by his recollection, when he followed up on a tip that led him to a greasy spoon in Flagstaff, Arizona where Roberto Duran's long-lost biological father was working as a short-order cook. A former seaman, the man was revealed to be of Mexican descent which increased Roberto's popularity 10-fold in the Latino community. (For the record, this story actually originated in a Flagstaff paper. In the pre-internet days, news didn't circulate as freely.)
From the Sun, Marley moved to the New York Post where he had two stints as the boxing writer. He first left the paper to serve as an executive producer with ABC's "SportsBeat." The show, which won an Emmy Award, was hosted by Howard Cosell who was famed for his work on Monday Night Football and for his interviews with Marley's hero Muhammad Ali.
Marley left the paper the second time to work for Don King. His business card may have identified him as King's Public Relations Director but in the company of old friends he snarked to a different title: Minister of Propaganda.
This reporter recalls seeing Marley standing alongside his boss at a boxing press conference where he was reduced to brushing dandruff from the shoulder of King's one-of-a-kind denim jacket. Why he was there was a mystery as no one ever got a word in edgewise when King had the floor.
The scene didn't redound well to Marley who had written a lot of negative stuff about King, but perhaps he and the flamboyant promoter were destined to join forces. As boxing writer Robert Mladinich noted, they had a lot in common: "unlimited energy, tremendous egos, and chutzpah." (Don King wasn't an easy man to work for. He fired many people only to rehire them the next day. But King paid well and a man caught up in his vortex knew he was alive.)
During his days with the Post, Marley somehow found time to earn a law degree. He graduated from Fordham University Law School at age 40 and became a criminal defense attorney. But he never wandered far from boxing.
He took to managing and co-managing fighters, the list of which included Shannon Briggs, Terry Norris, Derrell Coley, and Julian Letterlough. He also wangled a job as a consultant to California's Sycuan Indian tribe which ran occasional boxing shows at their casino near San Diego. And he continued to write, his articles appearing on various boxing web sites.
Mike Marley was at his best, it says here, when he was with the New York Post. The tabloid with its lurid front-page headlines that were calculated to boost sales at newsstands (remember newsstands?) was the perfect fit for him and he amped up his game, his stories becoming breezier and more jaundiced.
Marley was part of Muhammad Ali's inner circle before he was old enough to drive, but in time he came to see the Ali circus in a sobering light. Check out this description of Muhammad Ali's entourage from a 1979 Post story that was picked up by the Atlanta Constitution:
They moved from city to city, from continent to continent, like a plundering herd. They were boxing's version of the Foreign Legion.
They came in two categories – those with a real or imagined function, and the hustlers. From Malaysia to Houston, from Zaire to Lake Tahoe, they went first class. Their brush with fame was purely guilt by association. They ran up outrageous tabs and phone bills and charged gifts to Ali. They flimflammed merchants from Manila to Lewiston.
Good stuff.
Mike Marley was 71 years old when he passed away on March 2 in Cape Cod, Massachusetts. He led a very interesting life. May he rest in peace.
—
Arne K. Lang's latest book, titled "George Dixon, Terry McGovern and the Culture of Boxing in America, 1890-1910," will shortly roll off the press at McFarland's. The book may be pre-ordered direct from the publisher (click here) or via Amazon.
To comment on this story in the Fight Forum CLICK HERE
Rey Vargas: "The featherweight title is absolutely still mine"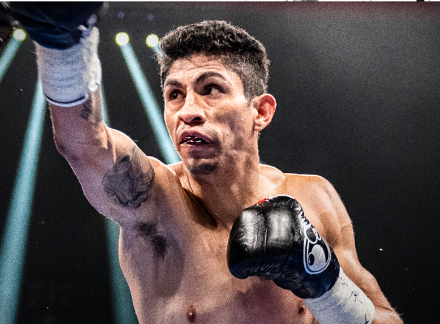 Although there have been many speculations and comments about his boxing future, Mexican Rey Vargas affirms with total conviction that he will only decide after his fight against American O'Shaquie Foster on February 11th at the Alamodome in Texas.
Undefeated and current WBC featherweight champion, Vargas (36-0, 22 KOs) will seek to add the vacant WBC super featherweight belt that American southpaw Shakur Stevenson (19-0, 9 KOs) lost on the scale last September when he beat Brazilian Robson Conceicao (17-2, 8 KOs) by unanimous decision.
Referring to his 126-pound title, Vargas expressed via a translator, "The featherweight title is absolutely still mine, so no worries about that. As far as 130, this is definitely an interesting challenge, an interesting place to be. We haven't really decided what we're gonna do afterwards, but we're focused on the moment right now. Let's focus on this fight, on this great crowd that we're gonna be in front of, and then whatever happens, it will come after this fight."
Born 32 years ago in the Federal District and residing in Otumba, Mexico, Vargas captured the world featherweight belt in February 2017, defeating Gavin McDonnell (22-2-3, 6 KOs) by majority decision at the Ice Arena in McDonnell's hometown of Hull, England.
During the following two years, he made five successful defenses and in November 2021 he was victorious in a 10-round bout against his compatriot Leonardo Báez (21-5, 12 KOs) at the MGM Grand, Las Vegas.
Eight months later, in his second appearance at 126 pounds, Vargas defeated then-undefeated Philippine champion Mark Magsayo (24-1, 16 KOs) by split decision. Magsayo was defending his WBC belt for the first time that night at the Alamodome in San Antonio, Texas.
After beating Magsayo, Vargas's representatives made arrangements to collide with Mexican Leo Santa Cruz (38-2-1, 19 KOs), who at that time was the WBA featherweight super champion.
However, the agreement with Santa Cruz did not materialize and Vargas directed his attention towards the 130-pound belt, which Stevenson lost at the weigh-in in September. Considering his status as champion, the WBC agreed to Vargas' request and ordered him to compete with O'Foster, who is ranked at the top of the category.
In a statement on its website, the WBC specified that the winner between Vargas and Foster has the obligation to make two defenses, according to the rules and regulations of that sanctioning body.
"The Leo Santa Cruz fight is definitely something that we have been meaning to do for years now," Vargas said. "But as the process got more complicated and other stuff just kept getting in our way, this door opened for us where it was definitely an interesting challenge, something that can be as good as the Leo Santa Cruz fight."
"(I'm) in a new division, the super featherweight division, where I can test myself," said Vargas. Yes, it's not my division per se, but I'm always up to new and exciting challenges, and this is definitely one of them. So, even though this isn't the Leo Santa Cruz fight, it can definitely live up to the hype just as that one would."
Foster (19-2, 11 KOs) has nine successive wins, the most recent against Tajikistan southpaw Muhammadkhuja Yakubon on March 18 of last year in Dubai, where they fought for the WBC silver belt.
Born 29 years ago in Orange, Texas, Foster said in an interview that this opportunity to face Vargas for the 130-pound crown "is a dream come true. And I'm so happy I can't even hide it."
Foster continued, "It's something that I've been working for since I was eight years old. I never had a dream to be an Olympian, it was always to be a world champion so I'm feeling great and I'm ready to put on a show for the world.
"I feel like everything is happening at the right time and it's my time to take over. I would love to unify once I get the title and then go undisputed if I can.  I've got big, big, big aspirations coming up.  We're going to make it happen."
Article submitted by Jorge Juan Álvarez in Spanish.
Please note any adjustments made were for clarification purposes and any errors in translation were unintentional.
To comment on this story in the Fight Forum CLICK HERE
Navarrete Overcomes Adversity to TKO Wilson in a Corker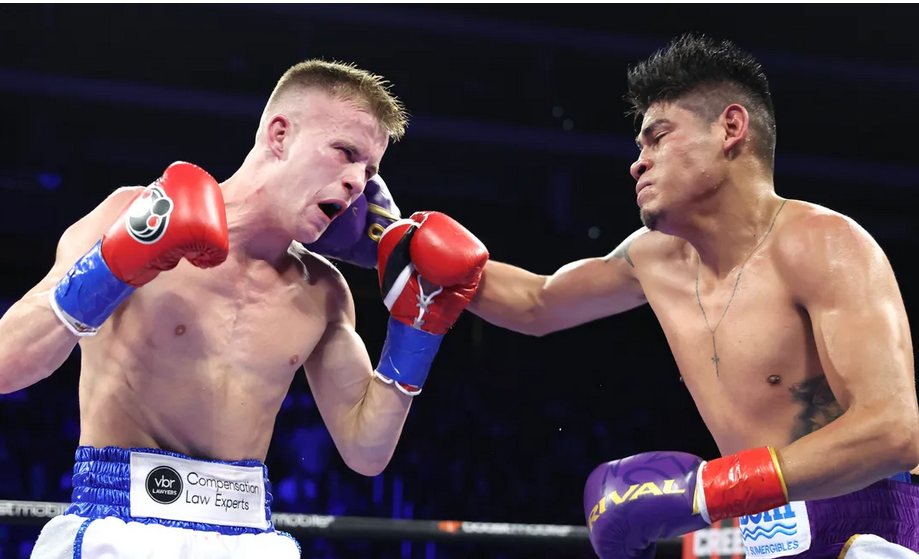 Mexico's Emanuel Navarrete won his 31st straight fight, pushing his record to 37-1 (31) and captured a title in a third weight class tonight at the Desert Diamond Arena in Phoenix, Arizona, but nearly came a cropper himself in a match in which both he and his opponent Liam Wilson were on the deck and hurt on multiple occasions. At stake was the WBO 130-pound belt vacated by Shakur Stevenson.
The obscure 26-year-old Wilson, subbing for Oscar Valdez who had to pull out with a rib injury, was making his U.S. debut and appearing in his first scheduled 12-rounder. The skinny on him was that he had a puncher's chance because of a powerful left hook, but with only 12 pro fights on his ledger he was a massive underdog.
Navarrete got a taste of that left hook in the fourth round which Wilson landed after landing a hard overhand right, and suddenly it appeared that the Queenslander was poised to score the biggest upset in Australian boxing history since Jeff Horn upended Manny Pacquiao. Navarrete hit the deck, lost his mouthpiece and was clearly hurt, but managed to survive the round after precious seconds elapsed as he was getting his mouthpiece re-fitted.
Navarrete fought his way back into the fight and was having a strong sixth round until the final 30 seconds when Wilson hurt him again, this time with a right hook. But the Mexican weathered the storm, winning the next two rounds decisively and closed the show in round nine when he put the intrepid Aussie on the deck with an overhand right, the prelude to an assault that forced the referee to waive it off.
Semi-windup
In a tactical junior welterweight fight that heated up in the final round, LA's Arnold Barboza continued his steady ascent toward a title fight with a narrow but unanimous decision over Puerto Rican veteran Jose Pedraza, a former Olympian and world title-holder in two weight divisions.
Barboza, who fights well off his back foot but isn't a hard puncher, won by scores of 97-93 and 96-94 twice to push his record to 28-0. The 33-year-old Barboza fell to 29-5-1.
Also
In the opening bout on ESPN's main platform, Tulare, California's Richard Torrez Jr, a silver medalist at the Tokyo Summer Games, scored his fifth fast knockout in as many opportunities at the expense late sub James Bryant
Torrez came out like gangbusters, as is his custom, and sent Bryant stumbling back into the ropes with a harsh left uppercut followed by a straight hand in the waning seconds of the opening round. A highly decorated high school football player in Pennsylvania who had a cup of coffee with two NFL teams, Bryant, 37, was saved by the bell but elected not to come out for round two.
Torrez has mentioned that he would welcome a fight with British up-and-comer Frazer Clarke. Both were defeated in the Tokyo Olympics by fearsome Uzbek southpaw Bakhodir Jalolov, the heavy favorite.
ESPN+
Las Vegas super featherweight Andres Cortes (19-0) overcame a deep cut on his left eyelid to keep his undefeated record intact with a lopsided decision over Luis Melendez. The cut was caused by an accidental clash of heads in round six. Cut man deluxe "Stitch" Duran used his magic potion to stem the bleeding and the match continued on its established course. Cortes, the busier fighter, won all 10 rounds on all three cards. Melendez, a Puerto Rican from Hialeah, Florida, declined to 17-3.
Nico Ali Walsh, Muhammad Ali's grandson, advanced to 8-0 (5) with a unanimous decision over a local fighter, Eduardo Ayala (9-3-1), in a six-round middleweight affair. The scores were 60-53 and 59-54 twice.
Walsh, who sparred with Caleb Plant in preparation for this fight, had Ayala on the canvas in round two, compliments of a short right hand, but his durable opponent managed to last the distance.
In an 8-round junior welterweight match, Mexico's Lindolfo Delgado, a 2016 Rio Olympian, advanced to 17-0 (13) with a unanimous decision over Clarence Booth (21-7), a 35-year-old Floridian. The scores were 80-71 and 79-72 twice.
The heavy-handed Delgado, who had Robert Garcia in his corner, scored the fight's lone knockdown, knocking Booth off his pins in the final stanza with a chopping right hand to the ear.
In the ESPN+ opener, 18-year-old Emiliano Vargas (3-0, 2 KOs) won a 4-round unanimous decision over 19-year-old Tex-Mex southpaw Francisco Duque (1-2). Vargas won all four rounds, but Duque had several good moments.
Emiliano Vargas is the youngest and most well-touted of three fighting sons of Fernando Vargas, the former U.S. Olympian and two-time world super welterweight champion.
A 10-round super featherweight fight between Zavier Martinez (18-1) and Yohan Vasquez (25-3) was cancelled when it became obvious that Martinez would not make the contracted weight.
Photo credit: Mikey Williams / Top Rank via Getty Images
To comment on this story in the Fight Forum CLICK HERE
Avila Perspective, Chap. 223: An Act of War Benavidez vs Plant Press Confab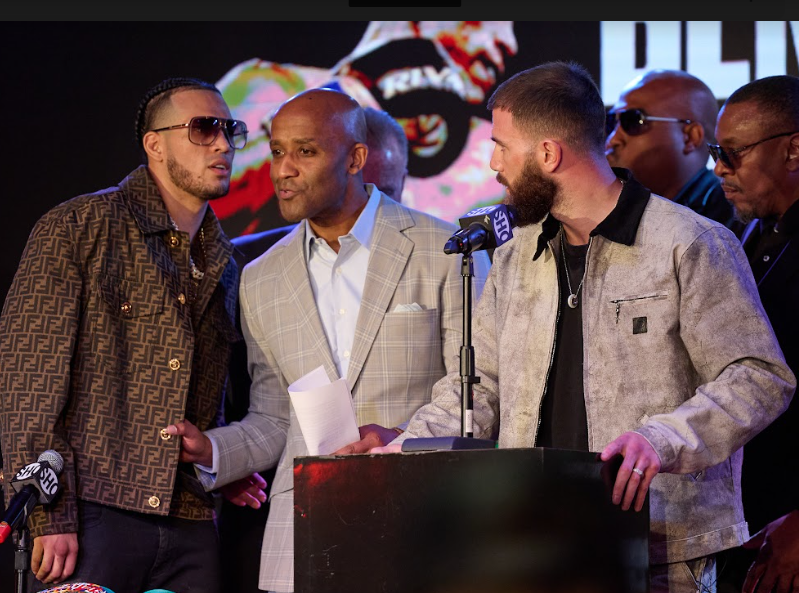 LOS ANGELES-Heated words straight out of a burning furnace filled the cool air in downtown L.A. at the press conference on Thursday for top super middleweight contenders David Benavidez and Caleb Plant.
"Every fighter has one of these grudge matches that brings the best out of them. I don't like Caleb at all, but I want to thank him for bringing the animal out of me. I'm more motivated than ever," said Benavidez. "On March 25, I finally get to put hands on Caleb Plant."
Plant was cool in his response.
"This rivalry only started because we agree to disagree on who's better. And that's fine, he should feel like that. That's how great fighters are supposed to feel. It's slowly built up over time," said Plant.
Both are former world champions and both are ready to engage.
A large media turnout arrived at the Conga Room in LA Live to witness the two opposite style fighters, much like fire and ice.
Fiery Benavidez (26-0, 23 KOs) seemed eager to fight on the stage as the mere presence and cool demeanor of Plant (22-1, 13 KOs) seemed to ignite anger. They have both agreed to meet in the prize ring on March 25, at the MGM Grand in Las Vegas. Showtime pay-per-view will televise the TGB Promotions card.
"If you know anything about boxing, you know this is one of the very best fights that can be made in the sport. The consensus No. 1 and No. 2 contenders in this division," said Stephen Espinoza president of Showtime boxing. "This is a high-stakes matchup, personally and professionally. There's a personal rivalry here. There are bragging rights here. There is supremacy in the division at stake."
Both fighters have held world titles before and for years debates sprung up on who was better.
Benavidez was the youngest super middleweight champion at 20 when he first won the WBC version in 2017 defeating Ronald Gavril. He lost the title for testing positive for illegal substances the next year. In 2019 he faced Anthony Dirrell for the WBC title again and stopped him in nine rounds in Los Angeles. However, he failed to make weight in his next fight and lost the title again on the scales.
He is hungry to regain a world title but even more hungry to defeat Plant.
"I've been wanting to fight him for a long time and now the winner of this fight gets to be the mandatory for Canelo Alvarez. I'm super motivated," Benavidez said.
Plant agrees that their match up is motivating because the winner gets Saul "Canelo" Alvarez and a hefty payday.
"I knew I was next in line to fight the interim champ before that fight, and that meant David Benavidez. I'm in the fight that I want," said Plant who formerly held the IBF title.
Plant's last fight was voted WBA Knockout of the Year when he double-left-hooked Dirrell to unconsciousness last October in Brooklyn. It was a shocking ending. His fight before that saw him lose the world title to Canelo Alvarez by knockout.
No shame in losing to Canelo.
Now the title former world titlists are eager to regain their former status and grab a mega payday fighting Alvarez. It's perhaps the best fight in over a year for men's boxing.
"I believe that this fight between David Benavidez and Caleb Plant will be added to the list of epic brawls between two warriors taking it to the next level," said Tom Brown of TGB Promotions. "This fight will be one of, if not the winner of Fight of the Year this year. This is one you don't want to miss."
Top Rank
Mexico's Emanuel Navarrete (36-1, 30 KOs) challenges Australia's Liam Wilson (11-1, 7 KOs) for the vacant WBO super featherweight title today, Feb. 3, at the Desert Diamond Arena in Glendale, Arizona. ESPN+ will stream the Top Rank card.
Wilson, 26, has never fought outside of Australia but is known for his strength and power. He is also taller than Navarrete.
Navarrete is the former WBO featherweight champion and has not lost a fight in over a decade.
Also, Arnold Barboza (27-0) meets Jose Pedraza (29-4-1) in a super lightweight battle. And several others such as Lindolfo Delgado, Richard Torrez and Nico Ali Walsh will be performing.
Ontario Card
Southern California's hot super lightweight prospect Ernesto "Tito" Mercado (8-0, 8 Kos) fights Jose Angulo (14-4) at the LumColor Center in Ontario, California on Saturday, Feb. 4. RedBoxing Promotions is staging the event.
Doors open at 6 p.m.
Photo credits: Esther Lin / SHOWTIME; Mikey Williams / Top Rank via Getty Images
To comment on this story in the Fight Forum CLICK HERE