A Talk With Rick Telander Who Ruminates on the Marvin Hagler That He Knew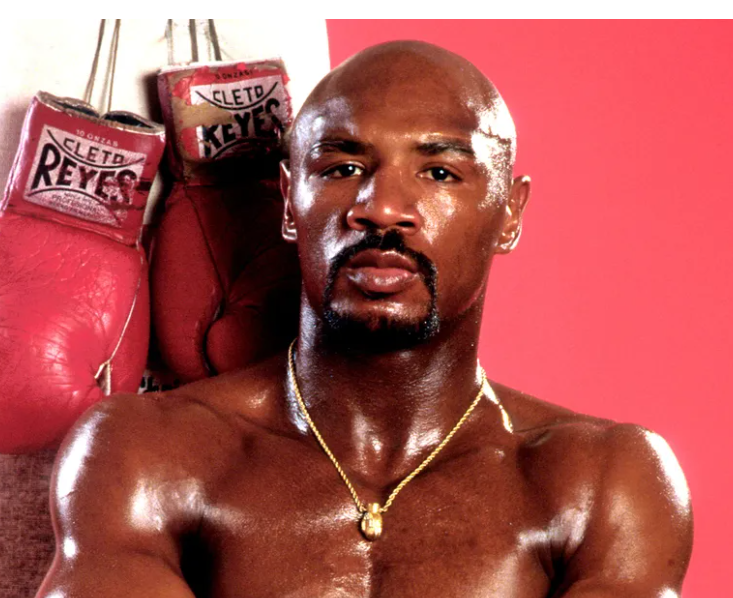 Sunday, March 13, marked the first anniversary of the death of Marvelous Marvin Hagler who was 66 when he passed away at his home in Bartlett, New Hampshire. During a 14-year career as a pro that began in 1973, Hagler had 67 professional fights, winning 62 with three defeats and two draws with 52 wins coming via knockout or stoppage.
Hagler experienced many highs and a few lows, one of which truly stood out. The date was April 6, 1987 and the site was Caesars Palace in Las Vegas when he took on Sugar Ray Leonard, who over the course of 12 rounds, edged Hagler on a split decision.
As it turned out, this would be the last time Hagler, the undisputed middleweight champion from 1980 through 1987, would step into a ring, and it surprised many.
Three years later, Rick Telander, then with Sports Illustrated, paid Hagler a visit in Milan, Italy, where he was living and working.
Telander's story appeared in the July 2, 1990, issue with Hagler smiling on the cover and the headline blaring "It's A Marvelous Life" and the subhead reading "Pugilist-Turned-Actor Marvin Hagler At Home In Milan – Far Away From Sugar Ray."
On the surface, and according to Telander, Hagler seemed at peace with his life. "He was making the best of that necessary transition, that little death we all athletes must experience – the end of a career or dream that is based on and dependent on one's youth," he said.
That middleweight clash with two belts on the line was razor close and had some ringside observers siding with Hagler and others favoring Leonard.
Judge Lou Filippo had Hagler winning 115-113 while Dave Moretti scored it 115-113 in favor of Leonard. The most lopsided score came from JoJo Guerra, who had Leonard claiming a 118-110 victory.
Ron Borges of the Boston Globe, ESPN's Al Bernstein, Jerry Izenberg of the Newark Star-Ledger, and Pat Putnam of Sports Illustrated were among those sitting close to the action who scored the fight for Hagler. They all had it 115-113.
Those who felt Leonard won included ABC's Howard Cosell and Michael Katz of the New York Daily News. Both had it 117-112.
Others who gave Leonard the decision were Sports Illustrated's William Nack (116-114) and Gil Clancy of CBS (115-113).
Some saw it deadlocked including HBO's Larry Merchant and Dave Anderson of the New York Times. Each had it 114-114. Because so many at ringside had differing views, it's clear the fight
could have gone to either man.
In all likelihood, Hagler, born in Newark, New Jersey, and raised in Brockton, Massachusetts, had enough talent, skill and determination that he could have continued to box and perhaps avenge that setback to Leonard. In fact, Top Rank CEO Bob Arum offered Hagler a minimum of $15 million for a rematch, but Hagler declined.
What is Rick Telander's sense of why there wasn't a second fight?
"That remains a mystery. It is possible he actually was content with quitting boxing, with moving on to a new life, a new career, a wholly new chapter in a new land," he offered. "And money had nothing to do with it. Some people must be like that. It seems improbable. Freddie Roach once told me no boxer he ever trained – including, of course, himself – ever left as champion. Perhaps Hagler truly was at peace with his legacy and ambition. It's also possible he knew he was done as a fighter, that he could never beat Leonard or these "pretty boy" fighters coming along."
Telander, the lead sports columnist at the Chicago Sun-Times, continued: "I could never tell," he said. "And I think those that make a declaration about his intentions and mental state are only speculating, devising judgment from their own states of mind and extrapolations."
Still, having to live with that loss, a fight Hagler believed he won, had to have played with his ego?
"I know it was a heavy burden on him. It was the end, or the start, or something powerful in his life," Telander said. "He never went back. Never turned around. Never said he'd kill Leonard in a rematch, never boasted. He just left the fight game. That is some kind of catalyst."
Telander, who has had eight stories included in the Best American Sports Writing anthologies and was the 2020 recipient of the Dan Jenkins Medal for Excellence in Sportswriting, said Hagler seemed to enjoy interacting with people he would meet in Italy.
Had Hagler in fact gone from fierce warrior to gentle soul practically overnight?
"I don't think he was a changed man. I think for the most part he was always that way. I think a kind of "split personality'' in athletes in violent sports is way more common than most fans and observers know," said Telander, a one-time football standout at Northwestern University who was drafted in 1971 by the Kansas City Chiefs in the eighth round.
"I know lots of football players, linebackers, headhunters and the like, who are vicious, what we might call "killers" on the field but are pussycats off it. The athletes who can't turn aggression off, or who are only brutal and nasty in life and everywhere, who aren't able to socialize themselves – those are the ones who get in trouble. Our prisons are filled with them. It's a very thin line to walk. The best do it naturally. Others must work at it. I think Hagler, like many boxers, realized the ring was his special place to become that other thing, and outside it he could turn the rage off.
I could be wrong. George Foreman had a seeming personality change – from a nasty, nonverbal thug to a smiling sweet guy – near the end of his youthful career. Then he got back in the ring and could be aging George Foreman with an attitude, while selling grills on the side. Hagler, I feel, had that in him too. He just never re-entered the ring."
Was it better that Hagler left the big stage fully intact and with a brain that still functioned?
"He may have gotten out to keep his wits intact. Leonard shocked him – he says he never was hurt, and he likely was not. But Leonard also may have shown him how close he was to a serious disaster," Telander said. "He didn't know about CTE back then, but he certainly knew about pugilistica dementia – 'punch drunk.''' Old, pitiable, punch-drunk boxers were everywhere."
Telander, the author or co-author of 10 books including the classic "Heaven Is A Playground," has interviewed some of the biggest names in sports, but said Hagler is one of his favorites.
"I'd put him right near the very top, maybe at the top. That is because I talked to him when he was in an entirely different country, speaking a different language, in a different craft than the one he'd utilized to become rich and famous," he said. "He was a different thing. He was reborn.
He was, in certain lights, a loser on the run. In other ways, he was a big winner on a new adventure. He was in control of his new life, and for many ex-athletes, that is rare."
Like so many, Telander is torn between the violence in boxing and whether it belongs in a civilized society.
"Boxing is a paradox for me. I think it's terrible and should be banned (like MMA) – attempting to kill another man's body and/or brain – what can be right about that? But still I like, even at times love, the sport," he said. "It shouldn't be that way. It's embarrassing to feel this way. But it is such a difficult, primitive, beautiful, hideous, fascinating sport – what can I say?"
Regardless of how one feels on this issue, the manly sport, although often cruel and certainly unforgiving, can also save individuals like Hagler and so many others from a life of poverty and ruin.
To comment on this story in the Fight Forum CLICK HERE
Tyson Fury Returns on Saturday with a Familiar Foe in the Opposite Corner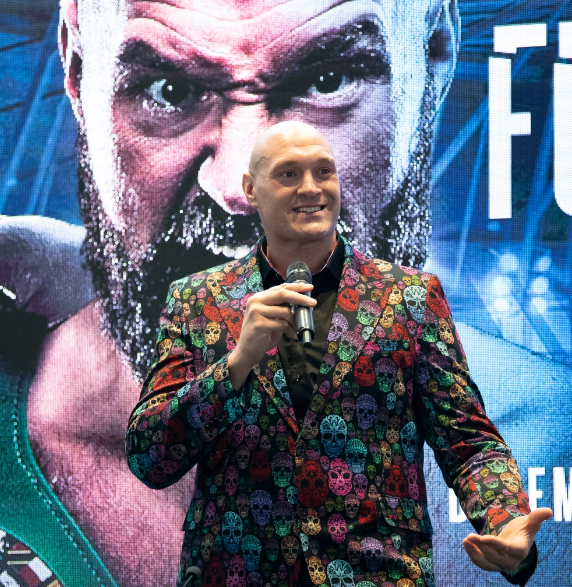 "Tyson Fury made a name for himself last night, one that already has a ready-made ring about it and will be destined to become familiar in boxing." Alan Hubbard, a ringside correspondent for The (London) Examiner wrote those words after Fury wrested the British and Commonwealth heavyweight titles from Derek Chisora with a comprehensive 12-round decision on July 23, 2011.
Those words were prescient. Tyson Fury did go on to become a familiar name in the sport. Indeed, one could argue that at this moment in history no active boxer is more famous.
More than 11 full years have elapsed since Fury toppled Chisora. In the ensuing years, the Gypsy King outpointed Wladimir Klitschko in Germany to win the world heavyweight title, battled personal demons that sidelined him for two-and-half years, returned to the ring with a flourish, ultimately regaining the world heavyweight title, or at least a version of it, in the second chapter of his memorable trilogy with Deontay Wilder, and rising so high in the opinion of boxing enthusiasts that he would be favored over any other boxer on the planet.
Oh, and lest we forget, since defeating Chisora in 2011, Fury whipped Chisora again, stopping him after 10 one-sided frames in 2014. Fury's eight-inch height advantage enabled him to control the distance vs. "Dell Boy" who was never knocked down but who absorbed a great deal of punishment before his chief second said, "no mas."
A third meeting between Fury (32-0-1, 23 KOs) and the soon-to-be-39-year-old Chisora (33-12) would seem to be superfluous. Del Boy, coming off a narrow win over Kubrat Pulev, has lost three of his last four. But on Saturday, Dec. 3, they will go at it again. The venue is London's Tottenham Hotspur Stadium, capacity 62,850, and by all indications, despite a chill in the air (the temperature is expected to hover around 40 degrees), there won't be too many empty seats.
For promoter Frank Warren, Fury vs Chisora is Plan B – he was hoping to match Fury against Anthony Joshua – but he believes that Fury has become so popular that he can make a tidy profit no matter who is in the opposite corner. The Gypsy King, once referenced as the enfant terrible of British boxing, has toned down his rhetoric (one might say that he proactively distanced himself from Kanye West) and become almost cuddly, a source of inspiration for many Brits, the first member of the black sheep Traveler community about whom this could ever be said.
Fury, needless to say, is a heavy favorite. The odds are in the 25/1 range. The co-feature is likewise looked upon as a mismatch. Daniel Dubois, who shares the diluted WBA heavyweight title with Oleksandr Usyk, is a consensus 16/1 favorite over Kevin Lerena (28-1, 19 KOs) who rides in on a 17-fight winning streak. The six-foot-one Lerena carried a career-high 234 pounds for his last assignment against ancient Mariusz Wach, but the South African southpaw has fought most of his career as a cruiserweight.
The undercard includes featherweight Isaac Lowe, Tyson Fury's bosom buddy, and Hosea Burton, Fury's cousin, both of whom appear to be matched soft in scheduled six-rounders, plus 18-year-old phenom Royston Barney Smith in a 4-rounder against a transplanted Nicaraguan.
This is a pay-per-view event in the UK, but U.S. fight fans who subscribe to ESPN+ can see it for free. The ring walks for the main event are expected to go about 4 pm ET.
To comment on this story in the Fight Forum CLICK HERE
What Path will Yokasta Valle Choose Next?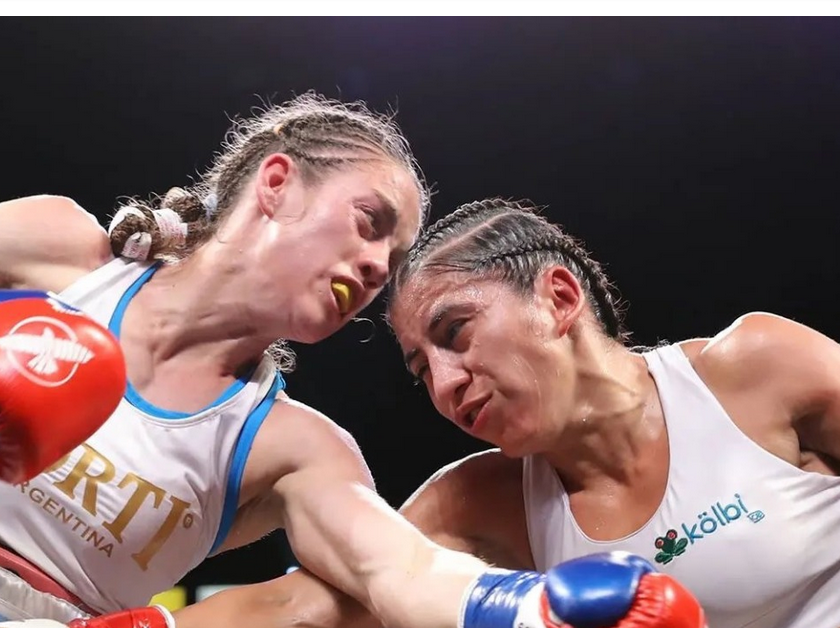 After the recent controversial ruling that made her a world champion in three different divisions, the fans of the Costa Rican Yokasta Valle are wondering: What path will the successful boxer choose next?
On Saturday, November 26th, in a fight of continuous exchanges with the then undefeated Argentine Evelyn Bermúdez (17-1-1, 6 KOs), "Yoka" Valle (27-2, 9 KOs) came out with her arm raised at the Dignity Health Sports Park in Carson, California, where she won the IBF and WBO belts, which Bermúdez was defending for the seventh and second time, respectively.
Although the Costa Rican fighter (pictured on the right) went on the attack for practically the entire 10 rounds, the exchanges were even, give and take, with good moments for both fighters, which made it difficult to evaluate each round. Hence the discomfort of many fans, especially in the Bermúdez camp, with the card of judge Adalaide Byrd (99-91), which apparently had Bermúdez prevailing in only one round. Neither did Judge Daniel Sandoval's card (97-93) represent what transpired in the ring, while Zachary Young's score of 95-95 was more accurate, distributing five rounds for each combatant.
In the case of Byrd, she also received innumerable criticism in the first fight between Saúl "Canelo" Álvarez and Gennady "GGG" Golovkin, which was held in September 2017 at the T-Mobile Arena in Las Vegas and which ended with a favorable scorecard for each boxer and another of 114-114.
At that time, Byrd had judged more than 400 fights over a 20-year span, and her discordant scorecard of 118-110 reflected Canelo winning 10 rounds and GGG only two (the fourth and the seventh). Dave Moretti leaned towards Golovkin (115-113), while Don Trella (114-114) saw it even.
CHAMPION IN THREE CATEGORIES
Born in Matagalpa, Nicaragua on August 28, 1992 and living in Costa Rica since her childhood, Valle made her boxing debut at the age of 22 in the light flyweight category. In that first experience at the pro level, she defeated Mexican María Guadalupe Gómez by unanimous decision in four rounds, on July 26, 2014, in Alajuela, Costa Rica.
Two years later, in her twelfth fight, she conquered the IBF title at 102 pounds by split decision against Ana Victoria Polo in San José, Costa Rica. In December 2017, Valle suffered her first professional failure against the local Naoko Fujioka, who won by unanimous decision at Korakuén Hall in Tokyo where they fought for the vacant WBO light flyweight belt.
Six months later, on June 16, 2018, Valle lost again by unanimous decision against German Christina Rupprecht (11-0-1, 3 KOs) in Munich, a duel that was for the WBO strawweight interim belt. Rupprecht maintains that belt and is again in Valle's sights.
Following those two setbacks, "Yoka" Valle compiled 14 victories, including the one she obtained in Marbella against Spaniard Joana Pastrana in August 2019, which she won by split decision securing the IBF 105-pound belt.
More recently, on September 8th in Costa Rica, Valle became a two-division champion at 105 pounds, by unanimously prevailing (the three judges scored the fight 100-90) over Vietnamese Thi Thu Nhi Nguyen, who ceded the WBO title. And then with her success against Bermúdez last weekend, Valle made history in Costa Rican boxing by adding her third crown in three different divisions (102, 105 and 108 pounds).
WHERE WILL YOKASTA VALLE GO NEXT?
Valle, who now owns two light flyweight titles (IBF and WBO) could next go in search of unification with Mexican Jéssica Nery (WBA super champion) or with Canadian Kim Clavel, who holds the WBC title. (Clavel and Nery collide on Thursday in Laval, Quebec.)
However, a more viable option would be to return to 105 pounds and seek a fight with American Seniesa Estrada (23-0, 9 KOs), who maintains the WBA belt, or with Rupprecht, who remains unbeaten. That seemed to be Valle's immediate objective, as she affirmed it in the ring after defeating Nguyen. In an indirect reference to Seniesa Estrada and Tina Rupprecht, Valle said "I want the belts. I've been saying it from the beginning, I want the WBC and WBA next, whoever has 'em."
At Friday's weigh-in for her fight with Bermúdez, Valle stated "I want to fight the best. I want to be undisputed. When Tina (Rupprecht) and Seniesa (Estrada) were not available, my team and I made the decision to move up in weight and challenge Evelyn for her world title belts. I have to fight. [MarvNation CEO] Marvin Rodriguez presented this fight to me. This is the type of fight I want. It is champion versus champion. I want to give the fans these types of fights."
EDITOR'S NOTE: Kim Clavel caught the flu and pulled out on Wednesday just prior to the weigh-in. Her match with Jessica Nery was rescheduled for Jan. 13.
Photo credit: Tom Hogan / Hogan Photos
Article submitted by Jorge Juan Alvarez in Spanish
Please note any adjustments made for clarification purposes and any errors in translation were unintentional.
To comment on this story in the Fight Forum CLICK HERE
Regis Prograis Knocks Out José Zepeda and Clears the Way for José Ramírez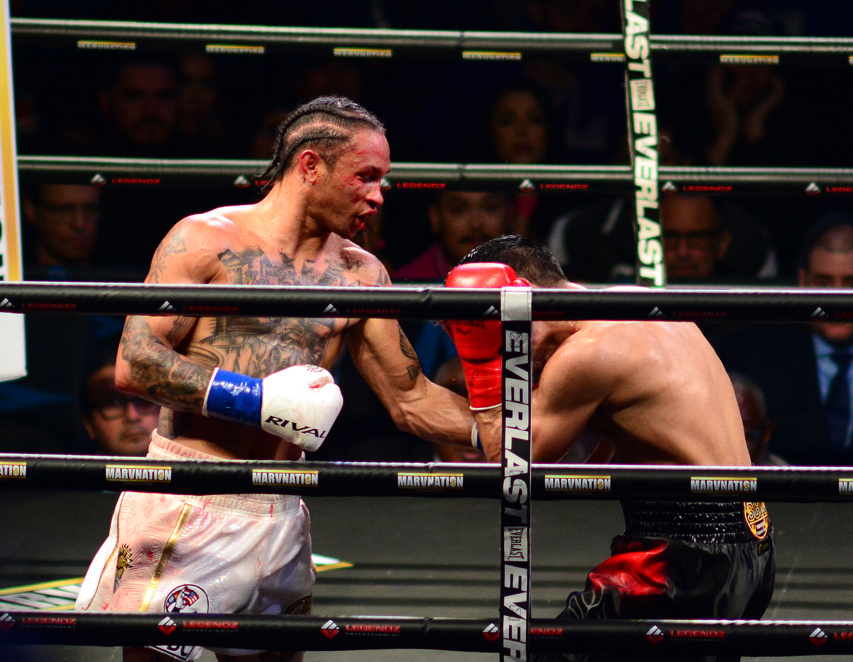 American Regis Prograis had to wait three years and a month for the opportunity to hold a world crown once again. On Saturday, November 26, at the Dignity Health Sports Park, in Carson, California, Prograis faced José Zepeda for the vacant WBC junior welterweight belt. Prograis was victorious by applying chloroform to Zepeda in the eleventh round.
Previously, on October 26, 2019, Prograis (28-1, 24 KOs) had lost the WBA junior welterweight belt by majority decision to Scotsman Josh Taylor at the 02 Arena in England.
Since then, the thirty-three-year-old Prograis who is based in Houston, Texas has obtained four wins (including vs Zepeda), all before the limit, as proof of the devilish power of his powerful fists, especially the left one.
Prior to the duel with Zepeda (35-2, 27 KOs), most experts favored Prograis, who after winning the intense battle, recognized that it was the most demanding fight of his career. "That dude is tough, tough, tough. He came to fight, he probably gave me one of my hardest fights, I'm not even gonna lie," said Prograis. "This dude is tough, bro. I've got so much respect for you. You prepared me to get this belt and hold this belt. I congratulate you. All the best to you, bro. Don't stop, I feel like you can still be a world champion."
Almost from the very beginning of the fight, Prograis showed greater speed with his hands and legs, and a general sense of technical superiority over Zepeda, who in the second round opened up a wound above his left eye with a legal blow.
From then on, Prograis's strong impacts gradually undermined Zepeda's resistance. Zepeda arrived totally exhausted in the eleventh round, where he received a straight left to the face, putting him in poor condition. A run with both fists from Prograis knocked him down and referee Ray Corona called the match with 59 seconds remaining in the round. This is the first setback that Zepeda has suffered by knockout in professional boxing.
On several occasions, Prograis has stated that he wants revenge against the undefeated Taylor (19-0, 13 KOs), but now, by order of the WBC, he must face American José Carlos Ramírez (27-1, 17 KOs).
Ramírez, 30 years old, is currently ranked second by the WBC. In February of 2019, in his second defense of his 140-pound belt, he defeated Zepeda by majority decision.
Twenty-five months later, Ramírez succumbed by unanimous decision to Taylor at the Virgin Hotels in Las Vegas, enabling the Scotsman to become the undisputed king of the category by winning the four most prestigious belts (WBA, WBC, WBO, IBF).
Recently, Ramírez expressed an interest in dueling with the main 140-pound contenders, including a second fight with Zepeda; although he did not rule out clashing with Prograis or Taylor. "Every fighter has the same amount of risk," said Ramirez. "We're a little under-promoted compared to other weight classes but I think that the best fights are at 140. You see guys fighting twice or three times, doing a trilogy. Honestly, I would love to face Regis, because I've never faced him. I would love to make the rematch with Zepeda, because he's such a good fighter. Obviously I want Josh Taylor, man. I want Josh Taylor bad."
Photo credit: Al Applerose
Article submitted by Jorge Juan Alvarez in Spanish.
Please note any adjustments made were for clarification purposes and any errors in translation were unintentional.
To comment on this story in the Fight Forum CLICK HERE