A Cornucopia of Accolades for Venerable Sportswriter Jerry Izenberg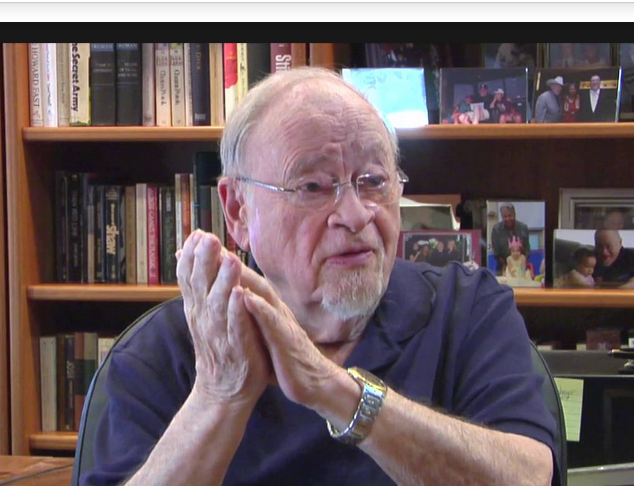 Ponder this for just a moment: Jerry Izenberg has written about sports for seventy-one years. No, this isn't a misprint.
Behind a righteous conscience, a clear mind and a cool hand, the 91-year-old New Jersey native and columnist emeritus for the Newark Star-Ledger has pounded out stories from every venue, both near and far, and on every major sport and that includes boxing which he holds near and dear and has been a great story-telling device.
"Most fans like it but don't understand it. Some writers take  advantage of the fact that because so many fans keep looking and waiting for a knockout. It's the easiest sport for a writer to fake," said Izenberg of the sweet science. "But for serious writers, it's the best…just three people inside the ring and a cut man and a trainer in each corner…when two great fighters meet, they produce at one and the same time the most brutal yet graceful ballet requiring skill, courage and the most determination in all of sports."
Izenberg, the author of more than a dozen books including "Once There Were Giants: The Golden Age of Heavyweight Boxing," has come across many interesting souls while traveling the globe dissecting the fight game, but one fighter in particular, a three-time heavyweight champion, caught his fancy.
"Muhammad Ali was someone I knew from the 1960 Olympics. He was my friend but he became my genuine friend the morning after he won the title from Sonny [Liston]. That was shortly after the press conference when as a world champion for just 24 hours, he announced his belief in a form of Islam then associated with Elijah Muhammad named the Lost Found Nation of Islam and colloquially known as the Black Muslims," he said.
"It was the first time most writers had been exposed to Ali's (then Cassius Clay) membership in the group. I may have been the first to defend his right to whatever religion he followed and whatever name he chose to be called. He respected the fact that I made it a priority to find out who the hell this guy was and that I would be writing about even after the day he died. We became close friends for about 50 years. Before that he had testified at a New York State Legislature hearing about boxing. A bunch of us were ticketed to return to Manhattan on the midnight train."
Izenberg explained how the friendship really took off:
"I was in my hotel room writing my column when he walked in at about 2 p.m."
"Man, I am so tired. Are there any empty rooms in this hotel?"
"Take my bed," I offered. "I promise to type quietly."
"After he beat Sonny, [February 1964], he started to tell everybody, 'This man, this man gave me shelter and his bed when I had no bed.' And I would say, 'that was only because I didn't know who the hell you were.'"
"And then we'd both laugh. It was a great friendship to the point where I still have trouble saying 'was' these days instead of 'is.' I miss him very much."
"I always wrote about the human condition which you would be wise to consider whether it is admirable or deplorable. When I was probably the first to defend Ali's constitutional rights, they broke out my car's windshield with sledge hammers and mailed me dog feces and alarm clocks disguised as bombs," he said. "When I explained the reasons behind [Colin] Kaepernick's Star Spangled Banner kneel we got hundreds of negative emails – none of which noted that I had carefully explained exactly what he said about why he was doing it and it had nothing to do with patriotism. I listened to exactly what he explained about a horrible wave of police brutality and I wrote what he said."
Izenberg, a graduate of Rutgers University Newark, shot back at the critics. "The trouble with these snap decisions by these knee-jerk detractors was that most of them wrapped their criticism in a tsunami of emotions but offered only a scintilla of facts," he said.
John Feinstein, a contributor to the Washington Post and Golf Digest and the author of two of the best-selling sports books of all time, added his two cents on Izenberg: "I think Jerry's done a remarkable job through the years of staying current, of remaining a REPORTER which many columnists – particularly older ones – fail to do," he said. "He rarely falls back on, 'back in the day, when I was a young reporter.' His work always feels as if it's fresh, not a rehash of material from years gone by."
The prolific Feinstein spoke about Izenberg's deft touch: "I always thought of Jerry as, 'the quiet columnist.' He never called attention to himself in press conferences or in the media room at big events," he said. "He'd just sit there, puffing on his pipe, and turn out something which would cause me to say, 'gee, I wish I'd thought of that,' when I read it. I've always said the guys who are the best at what they do don't have to tell you they're the best at what they do. Jerry falls into that category."
Izenberg reflected on his bar mitzvah at age 13, a rite of passage for Jewish boys. "My bar mitzvah ceremony was supervised nearly eight decades ago by a rabbi named Joachim Prinz. He had escaped Nazi Germany, rode a Freedom Bus during the beginning of the civil rights movement and introduced The Rev. Martin Luther King at the National Mall [in Washington, D.C.]," he said. "He was the one who called my attention to the Hebrew phrase "Tikkun Olam" – Hebrew translation: Repair the world." The most modern understanding of the phrase is that you fix the world through the individual human action of each person."
"So, I write what I believe, even if my soapbox is limited to a field of end zones and foul lines and ring posts," Izenberg added. "My work is the residue of my father, who set the standard, my teacher, Stanley Woodward, who gave me the tools and Dr. Prinz, the rabbi who kind of deputized me."
Former New York Times sports columnist Harvey Araton who wrote about the odd coupling of Ali-Liston II and Lewiston, Maine, in a story re-visited on these pages, noted that Izenberg, a longtime friend, wasn't swayed by popular opinion.
"He wrote what he thought. If that went with the wind, fine. If not, too damn bad. On his favorite topics (boxing, football, horse racing, baseball), he knew that he knew more than most and wrote with that level of authority," he said. "In other subjects, his eyes and ears were focused on what he could learn and report. He was old school all the way, not writing for clicks or retweets or to land a TV deal by manufacturing (fake) anger. Come to think of it, Jerry was one of the first crossover print sports guys when he appeared on Sports Extra on Sunday nights on Channel 5 in New York (if memory serves correct)."
"If you knew Jerry, you could actually hear his (cantankerous) voice in his column. When I was in college and grad school, working on the desk of the Staten Island Advance, a sister paper to Jerry's Newark Star-Ledger, we'd run his column," he said. "Much too brash and a  little stupid, I'd ready my editor's pen to see where I could make some changes and prove my worth. Whatever changes I'd make, my boss would undo. He'd tell me, "You don't f*** with a voice and style as distinctive as Izenberg, OK?" Jerry had his pet lines he would use, or overuse, like 'herniated snail' to describe a slow runner, or' Gomorrah-by-the-desert,' meaning Vegas. But you never knew what delightful turns of phrases would turn up in his copy, though seldom, if ever, did they obscure the message."
Araton noted Izenberg's affection for the Garden State: "Many may not remember that Jerry was not only a Jersey guy, though his love for the state in general and Newark in particular was indisputable," he said. "But in the late 70s, his columns were also picked up by the New York Post, in large part because of his friendship with Jerry Lisker, the Post sports editor, who was also a big boxing guy. So, in an era of many mega-bouts, Jerry's voice was heard in what was considered by many to be the city's best sports section."
"One last thing," said Araton. "About 9-10 years ago, I wrote a piece on the failure of the (now defunct) Newark Bears, or at least a remake of the team as an indie baseball team, to thrive despite a lovely little stadium the city and county had built," he said. "The story explores whether soccer was the more realistic pursuit. Jerry had championed the baseball cause in his columns. If you read Jerry's quote, you can see his irascible side but also his honesty; he says that people told him he was living in the past, thereby acknowledging that possibility."
Here is a link to that story.
https://www.nytimes.com/2011/08/22/sports/baseball/did-newark-bet-on-the-wrong-sport.html?smid=nytcore-ios-share
One of Izenberg's biggest fans is Japan Forward sports editor Ed Odeven who penned the well-received "Going 15 Rounds With Jerry Izenberg."
"Jerry's prose," said Odeven, "has never been saturated or bogged down with too many statistics or analytics…His stories are always anchored by human drama and a novella-like structure (with a beginning, middle and end)."
"Jerry was a progressive thinker decades ago in telling the plight of African American athletes and Historically Black Colleges and Universities (his visit to Grambling University, where he chronicled football coach Eddie Robinson's squad, which produced his groundbreaking story in True in 1967). He was far ahead of the curve in recognizing that Black and Latino athletes were rising stars and a significant part of the nation's sports culture," continued Odeven.
Ira Berkow, who spent countless hours ringside with Izenberg, echoed that observation.
"The aspect of the significance of race in sports was late in coming for many sportswriters," noted Berkow, the longtime sports columnist for the New York Times. "Not for Jerry. He was clearly in the forefront of the discussion."
Boxers are more open and introspective than other athletes according to Izenberg. And when the best of the best step into the ring, it can be magical.
Izenberg recounted two classics at which he sat ringside. One took place in 1975 in the Philippines and the other in 1985 at Caesars Palace in Las Vegas.
"I'm 91 now and I would like to say Cain-Abel but a camel died on the highway that day so I was late getting there," he said. "The best fight of any weight – Ali-[Joe] Frazier in Manila…15 rounds of hell.
The best way I can sum it up is with the lead I filed 20 minutes after the fight ended: "Muhammad Ali and Joe Frazier did not fight for the WBC heavyweight title here last night. Nor did they fight for the heavyweight title of the planet. They could have fought inside a telephone booth on a melting ice flow and had all the room they needed. "They fought, instead, for the championship of each other. And as far as I'm concerned, they could fight forever and the issue would never be settled."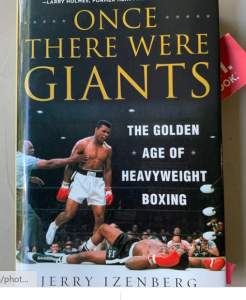 The second classic that stands out in his mind is Hagler-Hearns. "The best first round at any weight," Izenberg said. "Hearns won the explosive round, drawing blood from Marvin's forehead but when Hagler didn't take one step backward, he won the fight then and there."
For Izenberg, there have been some changes in boxing and not always for the good.
"Now when young boxers are told to hit the heavy bag by their trainers, the response is: 'Okay, but will I ever play the guitar again?' Yes, we have a shortage of gifted fighters but so many of the ones we do have are in desperate need of gifted teachers," he said.
And with that, it appears the sport has also lost some of its shine. "Yes, because now it features more self-styled entertainers than fighters. The most exciting moment in all of sports used to be when a slight murmur began from the back of the arena and then a crescendo that grew louder and louder as they approached the ring," said Izenberg of the excitement of a big fight. "It was clear they had come to fight. Now we have smoke and mirrors, fake fog and an army of hangers-on for the walk to the ring large enough to double as extras in a cinematic re-creation of Exodus. The best fighters we have don't need the theatrics. I wish we had more of them."
Izenberg, who turns 92 on September 10, has been honored many times. Is there one that stands above the rest?
"I'm in 15 Halls of Fame but that's not it. I won the Red Smith Award and that's not it because when I was at the [New York] Herald Tribune my desk was next to his and I learned a lot and that was worth more than any award," he said.
"I was, for a time, fairly regular on Irish radio and one day the host interviewed me as what he called an important journalist. He said with all the awards, why is it you never won a Pulitzer? Nobody had ever asked me that.
"I told him that when the Star-Ledger was the eighth largest Sunday paper in the country, we had an audience of over one million. On weekdays it was around 600,000. So, if just one of every six readers read Jerry Izenberg during the week I had an extended family of 100,000. If they came back because they liked what I wrote, well, hell, the Pulitzer doesn't mean much when measured against that."
Hall of Fame boxing writer Thomas Hauser weighed in: "He should have won the Pulitzer Prize for Commentary long ago, but the jury that designates Pulitzer winners is journalism's answer to boxing's world sanctioning organizations with the New York Times playing the role of Don King."
"If we're lucky," said Hauser, "Izenberg will write his memoirs someday. But that would be the crib notes version. To fully appreciate his work, one has to have read his columns; day after day, week after week, year after year. Ten thousand columns crafted over the span of more than four decades," he said.
"Indeed, if the Newark Star-Ledger is interested in performing a true public service," continued Hauser, "it will assemble those columns in multi-volume sets, put the sets in major libraries across the country, and give Izenberg a set to take home with him."
To comment on this story in the Fight Forum CLICK HERE
Jake Paul vs Tommy Fury on Feb. 26 in a Potential Pay-Per-View Blockbuster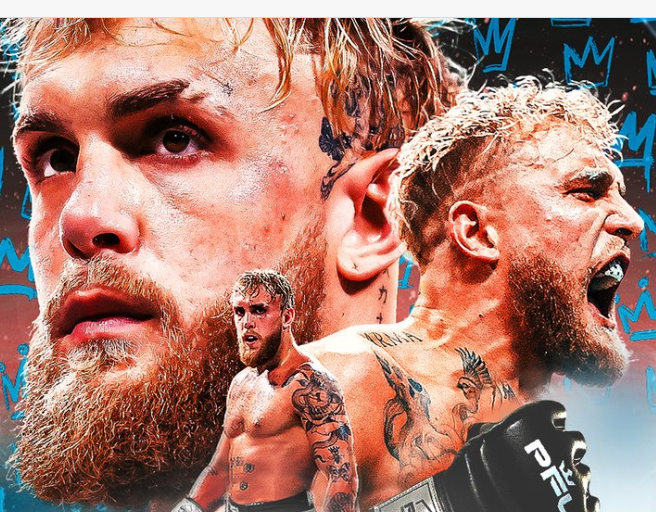 It's now official. The twice-postponed "grudge match" between Jake Paul and Tommy Fury will come to fruition on Sunday, Feb. 26, at Riyadh in the Kingdom of Saudi Arabia. An 8-rounder contested at a catch-weight of 185 pounds, the match and several supporting bouts will air in the U.S. on ESPN+ PPV at a cost of $49.99.
The hook for this promotion – a come-hither that will be hammered home incessantly in the coming weeks – is that Jake Paul will finally touch gloves with a legitimate professional boxer. Paul's previous opponents were a fellow YouTube influencer (AnEsonGib), a retired NBA player (Nate Robinson), and three former MMA champions: Ben Askren, Tyron Woodley, and Anderson Silva. He fought Woodley twice.
Tommy Fury, the half-brother of reigning WBC world heavyweight champion Tyson Fury, made his pro debut in December of 2018 in a four-round bout in his hometown of Manchester. He was two fights into his pro career when he became a contestant on the TV reality show "Love Island." An enormously popular show in Great Britain, especially among the coveted 18-34 demographic, "Love Island" was in its fifth season.
Fury was paired with supermodel Molly-Mae Hague with whom he finished second. They developed a great chemistry, on and off the set, became engaged, and purportedly welcomed a baby girl this week.
What about Tommy Fury the boxer? How legitimate is he?
Fury's record currently stands at 8-0 (4 KOs). His first opponent was a professional loser from Latvia whose current ledger reads 10-113-3. His next six opponents were a combined 4-73-2. Finally, in his last fight, which occurred in April of last year, he met an opponent with a good record, Poland's Daniel Bocianski, who was 10-1. But look closer and one discovers that all but one of Bocianski's 10 triumphs came against opponents with losing records. The exception was a 6-round decision over a fellow Pole whose record currently stands at 18-16-1 and who has been stopped 13 times.
Fury bloodied Bocianski and won a wide 6-round decision, but his performance was underwhelming. "Fury had the Hollywood teeth, tan, and diamante-colored shorts," wrote Chasinga Malata of the London Sun, "leaving only his performance without sheen and sparkle."
There is nothing in Tommy Fury's background, aside from his biological pedigree, to suggest that he has the tools to become a world-class boxer. If he were a member of the Three Stooges, he would be Shemp.
Jake Paul, by contrast, may actually be legit. Those in the know that have watched him train have come away impressed. It says here that Paul isn't moving up in class on Feb. 26; it's the other way around.
In the co-feature, Ilunga Makabu (29-2, 25 KOs) will make the third defense of his WBC world cruiserweight title against Badou Jack (27-3-3, 16 KOs). A Congolese-South African, Makabu is the older brother of heavyweight contender Martin Bakole. Jack, four years older than Makabu at age 39, formerly held world titles at 168 and 175 pounds.
Although Badou Jack was born in Sweden and keeps a home in Las Vegas where he has long been affiliated with the Mayweather Boxing Club, he will have the home field advantage in Saudi Arabia where he has cultivated a loyal following. A devout Muslim, Jack will be making his fourth straight start in the Persian Gulf Region. In his last outing, he outpointed Richard "Popeye" Rivera at Jeddah, winning a 10-round split decision.
To comment on this story in the Fight Forum CLICK HERE
Avila Perspective, Chap. 223: A Lively Weekend in SoCal with Three Fight Cards in Two Days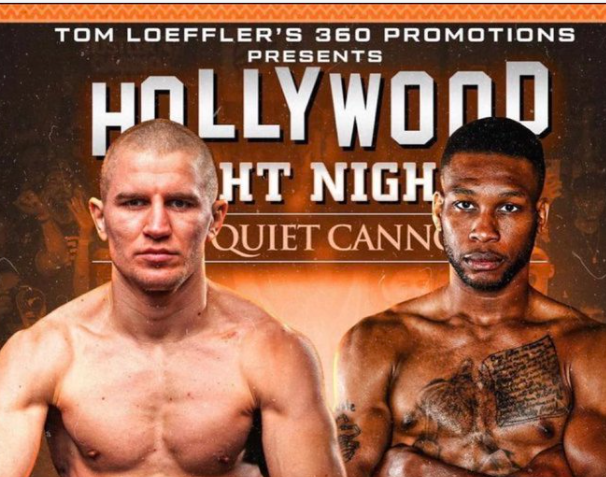 Avila Perspective, Chap. 223: A Lively Weekend in SoCal with Three Fight Cards in Two Days
Big money prizefighting returns to the Los Angeles area with back-to-back shows. First, Serhii Bohachuk heads a 360 Promotions card on Friday and then Alexis Rocha is featured on Saturday in a Golden Boy Promotions production. And on the same day Riverside's Saul Rodriguez fights in his hometown.
Bohachuk, Rocha, and Rodriguez are aggressive big hitters.
Ukraine's Bohachuk seeks to regain footing in the super welterweight division. He was rapidly climbing up the ratings ladder when first he was defeated by Brandon Adams two years ago. And then the invasion of his home country Ukraine stalled him even more.
On Friday Jan. 27, at the Quiet Cannon in Montebello, Calif. Bohachuk (21-1, 21 KOs) meets Nathaniel Gallimore (22-6-1, 17 KOs) in the main event. UFC Fight Pass will stream the 360 Boxing Promotions card.
Few fighters are as well-liked outside of the prize ring as Bohachuk. Always amiable, he's one of the handful of fighters that always smiles. Inside the ring, he's a killer. No one leaves without someone getting knocked out.
Gallimore, 34, is no slouch. He has a knockout win over former world titlist Jeison Rosario and has battled almost all of the top super welterweights. He is a veteran and very crafty.
The Quiet Cannon venue is not very large, but it does have a patio and good food and drink. Most of the crowd ventures from all over Southern California to attend the fights at that venue. It gets packed.
Golden Boy in Inglewood
Welterweight contender Alexis Rocha headlines the Golden Boy Promotions card on Saturday, Jan. 28, at the brand new YouTube Theater in Inglewood, Calif. DAZN will stream the fight card.
Rocha (21-1, 13 KOs) faces George Ashie (33-5-1) in the main event set for 12 rounds. Finally, there is an opponent for the left-handed fighter from Santa Ana. It didn't look like he was going to fight after opponent after opponent fell out for one reason or another.
"You have to be ready for anybody they put in front of you. If it's you or George Ashie, I have to prepare for it. I have to focus on what I can do," said Rocha.
Others on the card include super middleweight Bektemir Melikuziev (10-1) vs Ulises Sierra (17-2-2) set for 10 rounds. Also, good looking lightweight prospect Floyd Schofield (12-0, 10 KOs) meets Alberto Mercado (17-4-1).
Schofield fights out of Austin, Texas and looks like someone to watch.
Doors open at 3 p.m.
Neno Returns in San Bernardino        
Garcia Promotions stages a boxing card on Saturday Jan. 28, at the Club Event Center in San Bernardino. Garcia Promotions is associated with trainer Robert Garcia and family whose training compound is located in nearby Riverside.
A primarily local fight card featuring all fighters from Garcia's gym will be performing.
Headlining is Saul "Neno" Rodriguez out of Riverside, California.
It's been nearly three years since Rodriguez (24-1-1, 18 KOs) last fought and he faces Mexico's Juan Meza Angulo (6-1, 3 KOs) in the co-main event.
At one time Rodriguez was a big fan favorite because of his fast work and knockout ability. Once he got to the top plateau he ran into another knockout puncher in Miguel Angel Gonzalez and lost by stoppage.
Prizefighting is a tricky road. One loss can mean difficulty in finding a big-time promoter or it can mean discovering what you need to do to re-establish your skills. A fighter can go the road of Kermit "The Killer" Cintron and find out other ways to win without a kill-or be-killed style. Or they can travel the road of Marco Antonio Barrera who was knocked out by Junior Jones but adapted a more boxer-puncher style that allowed him to defeat Erik Morales twice and Prince Naseem Hamed.
Rodriguez, 29, still has time to make a good run for a title bid. It all starts on Saturday.
Others on the Garcia Promotions card are fighters who are part of trainer Garcia's stable including Gabriel Muratalla, Leonardo Ruiz, Jose Rodriguez and others.
Doors open at 4 p.m. with amateurs opening the boxing program.
Fights to Watch
Fri. UFC Fight Pass 7 p.m. Serhii Bohachuk (21-1) vs Nathaniel Gallimore (22-6-1).
Sat. ESPN+ 11:30 a.m. Artur Beterbiev (18-0) vs Anthony Yarde (23-2).
Sat. DAZN  5 p.m. Alexis Rocha (21-1) vs George Ashie (33-5-1).
To comment on this story in the Fight Forum CLICK HERE
Artur Beterbiev: "I'd prefer to fight Bivol because he has the one thing I need"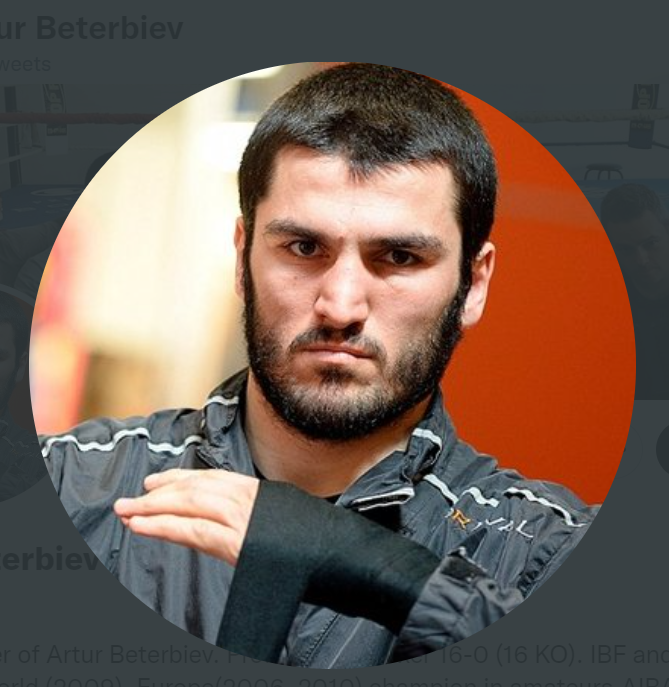 Russian Artur Beterbiev, triple champion of the 175-pound division, is the only current world champion who, thanks to the enormous power he wields in his fists, has won all his fights inside the distance.
Beterbiev has 18 victories by way of chloroform since he debuted as a professional fighter in June 2013 when he anesthetized retired American, Christian Cruz, in the tenth round at the Bell Center in Montreal where Beterbiev currently resides.
Beterbiev, who turned thirty-eight last Saturday, will defend his WBC, IBF, and WBO titles against Brit Anthony "The Beast from the East" Yarde (23-2, 22 KOs) on Saturday, January 28th at the OVO Arena in London.
Beterbiev obtained the WBO belt on June 18th this past year when he defeated American Joe Smith (28-4, 22 KOs) in the second round at Madison Square Garden. This was Smith's second defense of the belt.
Earlier, in November 2017, Beterbiev won the vacant IBF belt after defeating German Enrico Koelling (28-5, 9 KOs) by knockout in the twelfth round in Fresno, California.
Two years later, Beterbiev seized the WBC belt from Ukrainian Oleksandr Gvozdyk (17-1, 14 KOs) in Philadelphia. Three knockdowns in the tenth round forced referee Gary Rosato to stop the lopsided bout with 11 seconds remaining in the round.  Beterbiev maintains that although his intention is to win each fight, in no way does he want to harm his rival and that his greatest wish is for both of them to leave the ring healthy.
Referring to his upcoming matchup, Beterbiev told BoxingScene that "after the fight, I just hope he (Yarde) is okay."
He acknowledged that he does not know much about the British boxer, although he has watched several of his fights: "He's a good fighter, has good experience as a professional and he's a boxer. He's dangerous so I have to prepare for this fight like I always do."
Beterbiev said that his main motivation is to successfully defend the three belts he owns and that is why he will try to be one hundred percent ready and then it will be evident who is the better fighter.
Regarding his knockout streak, Beterbiev emphatically denied that he enjoys knocking out his opponents: "No. There's no pleasure in it. I just hope everything is OK with them. I just want to do good boxing, not hit people."
Beterbiev smiles enigmatically and stares at the horizon when they ask him to what he attributes the strength of his fists to. "I know for sure, 1000 percent, that the secret to my power is somewhere in my boxing gym but I don't know exactly where," he adds. "I don't know which exercise or bag gave me this secret. I don't know where it comes from. I wasn't always like this either, it has come from working every day. But really my dream is to be a good boxer one day."
Aside from the upcoming fight with Yarde, Beterbiev acknowledges in each interview that his goal is to be the undisputed champion of the division, which means facing (and defeating) the undefeated Russian Dmitry Bivol (21-0, 11 KOs), who holds the WBA light heavyweight super championship belt.
"I need Bivol," Beterbiev admits. "I'd prefer to fight Bivol because he has the one thing I need. I hope I fight him in 2023 but the hold-up is not from my side, it's from their side. In the last three years he always says he will fight me next but in this time we've done unification fights against Oleksandr Gvozdyk and Joe Smith. We've done that whereas he has just been talking about it.
Beterbiev recalled that he was with Bivol on the Russian national team where they were amateurs. "I knew him then, but he is younger than me. We haven't talked for 10 years now. He was 75kg back then, too small for me. We were never friends."
Article submitted by Jorge Juan Alvarez in Spanish.
 Please note any adjustments made were for clarification purposes and any errors in translation were unintentional.
To comment on this story in the Fight Forum CLICK HERE