Usyk Turned Away Joshua Again When His Inner Taras Bulba Emerged in Round 10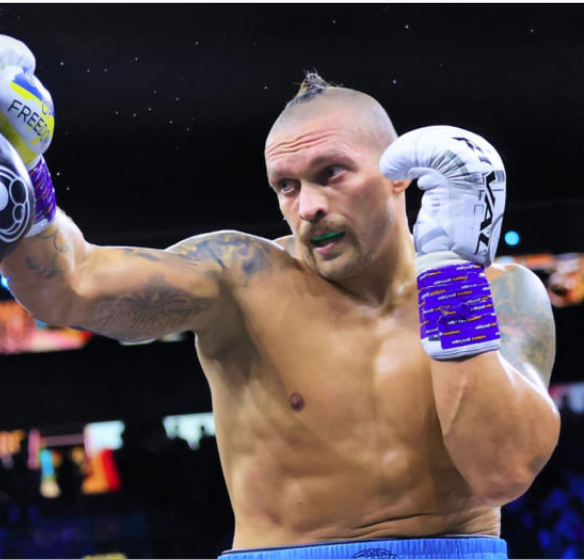 Usyk Turned Away Joshua Again When His Inner Taras Bulba Emerged in Round 10
Few people are apt to remember the 1962 film Taras Bulba, starring Yul Brynner in the title role as a fearless Cossack chieftain in war-torn 16th-century Ukraine. Virtually no one these days, at least non-Ukrainians, has any knowledge of Nikolai Gogol's 1835 introduction of the composite character in a collection of his short stories, or the fleshed-out 1842 novella that became the basis of the moviemakers' decision 120 years later that the Ukrainian steppes would make a dandy setting for an epic adventure with the standard cast of thousands.
In the estimation of Victor Erlich, an early 20th-century scholar of Russian literature, the first version of Taras Bulba was "distinctly Cossack jingoism" while the lengthier treatment presented Bulba as a "paragon of civic virtue and a force of patriotic edification." Now it appears that Gogol's unconquerable leader has been updated, in both forms, in the person of unified heavyweight champion Oleksandr Usyk, 35, whose feats of derring-do in the ring and with padded gloves on his hands are in the finest tradition of past generations' Cossack heroes who defeated their enemies while on horseback and clutching swords.
A strange but not entirely unexpected twist in Usyk's closer-than-expected but hardly shocking split-decision victory over two-time former titlist Anthony Joshua came following the ninth round of the DAZN-televised rematch in Jeddah, Saudi Arabia, in which the much larger Briton had seemingly seized control of a fight that could go either way. AJ, a slight underdog who at 6'6", 244.5 pounds and with an 82-inch reach to Usyk's 6'3", 221.5 pounds and 78-inch reach, had returned to his corner no doubt feeling justifiably confident after he'd out-thrown and out-landed Usyk by a wide margin, connecting on 28 (twice his highest total of his best preceding round) of 67 shots, several of which clearly had a damaging effect on the champion.
"In the ninth round, I ran over," said Eddie Hearn, Joshua's promoter. "I thought we had it. But the 10th round was one of the best rounds I've seen. What Usyk did in the 10th, 11th and 12th was incredible. That was the difference tonight. AJ hurt Usyk badly in the ninth and I felt he was going to come on strong, but Usyk came out like a (runaway) train and that 10th round was the moment that he decided to regain the fight. He's just too good. That 10th round, 11th round and 12th round are why this guy is pound-for-pound No. 1."
It would not be presumptuous to suggest that Usyk, when he needed it most, dug deep inside himself to summon his inner Taras Bulba, and so what if he is unaware or only vaguely so of the mostly fictional Cossack who never found himself in a tight spot on the battlefield that he couldn't turn to his advantage if only by the dint of his indomitable will. Usyk (20-0, 13 KOs) – whose preparation for this fight included wearing his hair in a Taras Bulba-like top-knot that was the height of Ukrainian fashion in the 16th century, as well as being seen for all public events in Cossack-style clothing – closed with a proper flourish over the final three rounds, finding the range on 78 punches to just 29 for the gassed Joshua (24-3, 22 KOs).
It was almost as if Joshua's own words in the lead-up to the fight were coming back to haunt him. "It's a fight," Joshua had offered. "Whoever throws the most punches and lands the most wins."
In no small part because of his three-round late blitz, Usyk finished his night's work by finding the mark on 170 of 712 (23.9%) to 124 of 492 (25.2%) for Joshua, demonstrating yet again that he is a larger and maybe even better prototype at this stage of their respective careers than former three-division world champion and fellow Ukrainian Vasiliy Lomachenko. Both are proponents of the tried-and-true philosophy that hitting and not getting hit back much goes a long way toward securing victories, as well as being devotees of less-conventional training methods designed to take fighters to the outer limits of human endurance.
Joshua, 32, who likely is facing a significant career rebuild if he is to claw back to elite status, had bragged of subjecting himself to the toughest training camp of his career. It very well might be that he wanted to get sweet revenge that would presumably mollify Queen Elizabeth II and all Englishmen as well as himself for his titles-yielding, unanimous-decision loss to Usyk on Sept. 25, 2021, in London's Tottenham Hotspur Stadium. Fighters of all nationalities want to do well on fight night to stay on good terms with their countrymen, but current events and historical perspective heightened Usyk's resolve to drive himself almost to the verge of death, if necessary, to give Ukraine a jolt of much-needed pride. His desert training regimen for the rematch with AJ included swimming 6.2 miles in an Olympic-sized pool in a five-hour session; bicycling 62.1 miles in 110-degree heat on a desert trek outside Dubai and holding his breath underwater for a personal-record 4 minutes, 40 seconds. How tough could Joshua be when measured against potential heat prostration and near-drowning?
Large swaths of Ukraine have been decimated since Russia invaded its neighboring and former Soviet satellite country on Feb. 24 of this year, which prompted Usyk, a married father of three, to risk much, maybe even his own life, to return to his homeland from London and join his local militia. He only returned to boxing after Ukrainian president Volodymyr Zelensky persuaded him he could do more good as a world champion whose successes inside the ropes are a point of pride for modern-day Cossacks who took up arms and have continued to do so as their cultural predecessors often did centuries ago.
"It was extremely important for my country, for my team, and personally for me because I did box for my whole country, and half the world," Usyk said at the postfight press conference.
And at no point in a tight fight he believed he had to win for a cause bigger than himself or even his family was the necessity for total commitment more obvious than after Joshua had seemingly gained the upper hand with that dominant ninth round.
"I'm not sure whether I'm right or not, but I saw in round nine in AJ's eyes that he was feeling victorious already," Usyk said. "I kept telling myself, `I cannot stop.' Some big things were at stake. Thank God, the (WBA, IBF and WBO) belts are coming back to Ukraine. The victory is with us. Ukraine won … Now the whole world knows Ukraine as the country that is defending itself from the second-biggest army in the world. We stand strong."
A former undisputed cruiserweight champion, all that remains for Usyk is to duplicate full unification as a heavyweight. To do that, he will have to meet and defeat WBC champion Tyson "The Gypsy King" Fury (32-0-1, 23 KOs), who at 6'9" and 270 or so pounds makes even Joshua seem relatively small. But if you are in the business of slaying giants, maybe it is best to believe that the old adage that the bigger they are, the harder they'll fall can come true. In the ring after announcer Michael Buffer revealed him as the winner, by scores of 115-113 and 116-112, on the scorecards submitted respectively by judges Steve Gray and Victor Fesechko (Glenn Feldman was the contrarian, seeing Joshua as the winner by 115-113), Usyk said he didn't believe Fury's latest declaration that he was retired and would stay that way.
"I'm sure that Tyson Fury is not retired yet," Usyk said. "I'm convinced he wants to fight me. I want to fight him. And if I'm not fighting Tyson Fury, I'm not fighting at all."
For his part, Fury's recent pledge to quit the ring forever appears to have been written in wet sand on a beach just as the tide is rolling in. In an Instagram video released shortly after Usyk had reprised his earlier conquest of Joshua, Fury vowed that "I will annihilate both of them (Usyk and Joshua) on the same night. Get your f—— checkbook out because `The Gypsy King' is here to stay forever!'"
But as boxing history has so frequently demonstrated, megafights that everyone wants to see can be lost in the haze of protracted contract negotiations. Fury's promoter, Bob Arum, optimistically told ESPN's Mark Kriegel that a Fury-Usyk pairing "won't be a hard fight to make," if both sides are amenable to a 50-50 purse split. To some, such an agreement might seem little more than a speed bump, but to fighters whose opinions of themselves owes in large part to their snagging a larger share of the take, settling on the way the financial pie is sliced can be treacherous as an attempted scaling of Mount Everest.
Perhaps it all will come down to just how badly Oleksandr Usyk wishes to test himself against the Himalayan likes of Fury. Hey, Taras Bulba didn't back away from a conflict with numerically superior forces because that was not the Cossack way in the 1500s. Some traditions might go underground for a time, but they tend to come back around again if circumstances are just right.
To comment on this story in the Fight Forum CLICK HERE
Bernard Fernandez, named to the International Boxing Hall of Fame in the Observer category with the Class of 2020, was the recipient of numerous awards for writing excellence during his 28-year career as a sports writer for the Philadelphia Daily News. Fernandez's first book, "Championship Rounds," a compendium of previously published material, was released in May of last year. The sequel, "Championship Rounds, Round 2," with a foreword by Jim Lampley, is currently out. The anthology can be ordered through Amazon.com and other book-selling websites and outlets.
Tyson Fury Returns on Saturday with a Familiar Foe in the Opposite Corner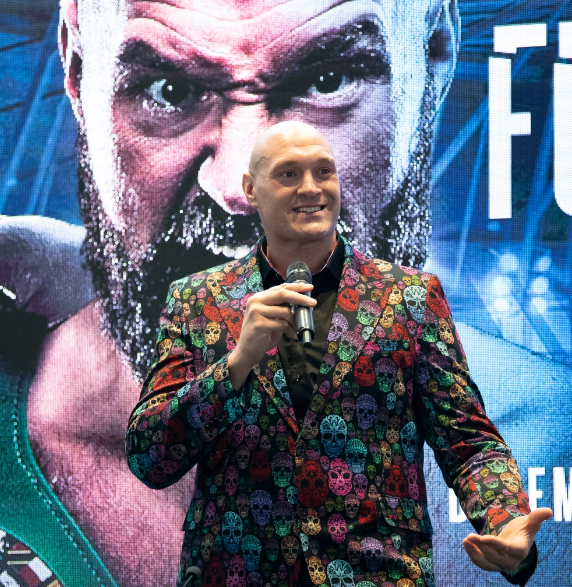 "Tyson Fury made a name for himself last night, one that already has a ready-made ring about it and will be destined to become familiar in boxing." Alan Hubbard, a ringside correspondent for The (London) Examiner wrote those words after Fury wrested the British and Commonwealth heavyweight titles from Derek Chisora with a comprehensive 12-round decision on July 23, 2011.
Those words were prescient. Tyson Fury did go on to become a familiar name in the sport. Indeed, one could argue that at this moment in history no active boxer is more famous.
More than 11 full years have elapsed since Fury toppled Chisora. In the ensuing years, the Gypsy King outpointed Wladimir Klitschko in Germany to win the world heavyweight title, battled personal demons that sidelined him for two-and-half years, returned to the ring with a flourish, ultimately regaining the world heavyweight title, or at least a version of it, in the second chapter of his memorable trilogy with Deontay Wilder, and rising so high in the opinion of boxing enthusiasts that he would be favored over any other boxer on the planet.
Oh, and lest we forget, since defeating Chisora in 2011, Fury whipped Chisora again, stopping him after 10 one-sided frames in 2014. Fury's eight-inch height advantage enabled him to control the distance vs. "Dell Boy" who was never knocked down but who absorbed a great deal of punishment before his chief second said, "no mas."
A third meeting between Fury (32-0-1, 23 KOs) and the soon-to-be-39-year-old Chisora (33-12) would seem to be superfluous. Del Boy, coming off a narrow win over Kubrat Pulev, has lost three of his last four. But on Saturday, Dec. 3, they will go at it again. The venue is London's Tottenham Hotspur Stadium, capacity 62,850, and by all indications, despite a chill in the air (the temperature is expected to hover around 40 degrees), there won't be too many empty seats.
For promoter Frank Warren, Fury vs Chisora is Plan B – he was hoping to match Fury against Anthony Joshua – but he believes that Fury has become so popular that he can make a tidy profit no matter who is in the opposite corner. The Gypsy King, once referenced as the enfant terrible of British boxing, has toned down his rhetoric (one might say that he proactively distanced himself from Kanye West) and become almost cuddly, a source of inspiration for many Brits, the first member of the black sheep Traveler community about whom this could ever be said.
Fury, needless to say, is a heavy favorite. The odds are in the 25/1 range. The co-feature is likewise looked upon as a mismatch. Daniel Dubois, who shares the diluted WBA heavyweight title with Oleksandr Usyk, is a consensus 16/1 favorite over Kevin Lerena (28-1, 19 KOs) who rides in on a 17-fight winning streak. The six-foot-one Lerena carried a career-high 234 pounds for his last assignment against ancient Mariusz Wach, but the South African southpaw has fought most of his career as a cruiserweight.
The undercard includes featherweight Isaac Lowe, Tyson Fury's bosom buddy, and Hosea Burton, Fury's cousin, both of whom appear to be matched soft in scheduled six-rounders, plus 18-year-old phenom Royston Barney Smith in a 4-rounder against a transplanted Nicaraguan.
This is a pay-per-view event in the UK, but U.S. fight fans who subscribe to ESPN+ can see it for free. The ring walks for the main event are expected to go about 4 pm ET.
To comment on this story in the Fight Forum CLICK HERE
What Path will Yokasta Valle Choose Next?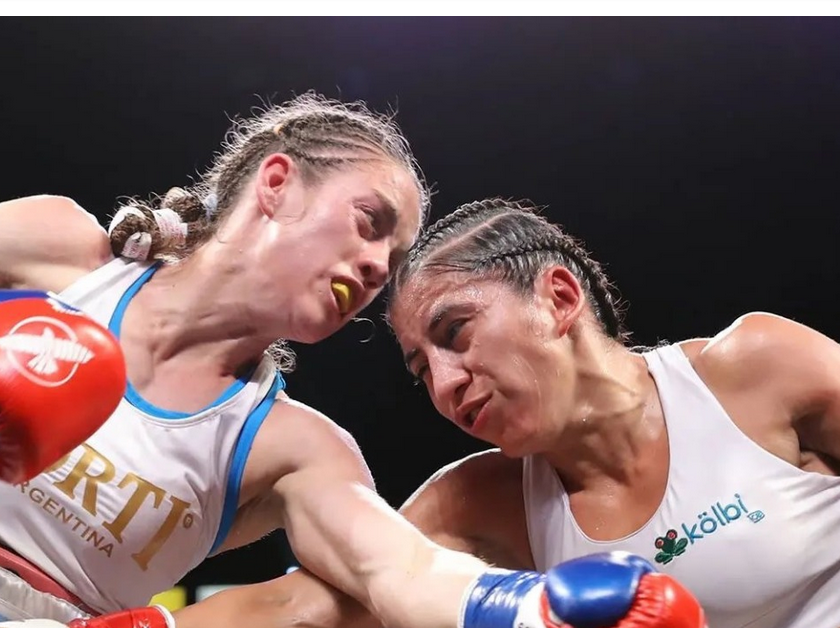 After the recent controversial ruling that made her a world champion in three different divisions, the fans of the Costa Rican Yokasta Valle are wondering: What path will the successful boxer choose next?
On Saturday, November 26th, in a fight of continuous exchanges with the then undefeated Argentine Evelyn Bermúdez (17-1-1, 6 KOs), "Yoka" Valle (27-2, 9 KOs) came out with her arm raised at the Dignity Health Sports Park in Carson, California, where she won the IBF and WBO belts, which Bermúdez was defending for the seventh and second time, respectively.
Although the Costa Rican fighter (pictured on the right) went on the attack for practically the entire 10 rounds, the exchanges were even, give and take, with good moments for both fighters, which made it difficult to evaluate each round. Hence the discomfort of many fans, especially in the Bermúdez camp, with the card of judge Adalaide Byrd (99-91), which apparently had Bermúdez prevailing in only one round. Neither did Judge Daniel Sandoval's card (97-93) represent what transpired in the ring, while Zachary Young's score of 95-95 was more accurate, distributing five rounds for each combatant.
In the case of Byrd, she also received innumerable criticism in the first fight between Saúl "Canelo" Álvarez and Gennady "GGG" Golovkin, which was held in September 2017 at the T-Mobile Arena in Las Vegas and which ended with a favorable scorecard for each boxer and another of 114-114.
At that time, Byrd had judged more than 400 fights over a 20-year span, and her discordant scorecard of 118-110 reflected Canelo winning 10 rounds and GGG only two (the fourth and the seventh). Dave Moretti leaned towards Golovkin (115-113), while Don Trella (114-114) saw it even.
CHAMPION IN THREE CATEGORIES
Born in Matagalpa, Nicaragua on August 28, 1992 and living in Costa Rica since her childhood, Valle made her boxing debut at the age of 22 in the light flyweight category. In that first experience at the pro level, she defeated Mexican María Guadalupe Gómez by unanimous decision in four rounds, on July 26, 2014, in Alajuela, Costa Rica.
Two years later, in her twelfth fight, she conquered the IBF title at 102 pounds by split decision against Ana Victoria Polo in San José, Costa Rica. In December 2017, Valle suffered her first professional failure against the local Naoko Fujioka, who won by unanimous decision at Korakuén Hall in Tokyo where they fought for the vacant WBO light flyweight belt.
Six months later, on June 16, 2018, Valle lost again by unanimous decision against German Christina Rupprecht (11-0-1, 3 KOs) in Munich, a duel that was for the WBO strawweight interim belt. Rupprecht maintains that belt and is again in Valle's sights.
Following those two setbacks, "Yoka" Valle compiled 14 victories, including the one she obtained in Marbella against Spaniard Joana Pastrana in August 2019, which she won by split decision securing the IBF 105-pound belt.
More recently, on September 8th in Costa Rica, Valle became a two-division champion at 105 pounds, by unanimously prevailing (the three judges scored the fight 100-90) over Vietnamese Thi Thu Nhi Nguyen, who ceded the WBO title. And then with her success against Bermúdez last weekend, Valle made history in Costa Rican boxing by adding her third crown in three different divisions (102, 105 and 108 pounds).
WHERE WILL YOKASTA VALLE GO NEXT?
Valle, who now owns two light flyweight titles (IBF and WBO) could next go in search of unification with Mexican Jéssica Nery (WBA super champion) or with Canadian Kim Clavel, who holds the WBC title. (Clavel and Nery collide on Thursday in Laval, Quebec.)
However, a more viable option would be to return to 105 pounds and seek a fight with American Seniesa Estrada (23-0, 9 KOs), who maintains the WBA belt, or with Rupprecht, who remains unbeaten. That seemed to be Valle's immediate objective, as she affirmed it in the ring after defeating Nguyen. In an indirect reference to Seniesa Estrada and Tina Rupprecht, Valle said "I want the belts. I've been saying it from the beginning, I want the WBC and WBA next, whoever has 'em."
At Friday's weigh-in for her fight with Bermúdez, Valle stated "I want to fight the best. I want to be undisputed. When Tina (Rupprecht) and Seniesa (Estrada) were not available, my team and I made the decision to move up in weight and challenge Evelyn for her world title belts. I have to fight. [MarvNation CEO] Marvin Rodriguez presented this fight to me. This is the type of fight I want. It is champion versus champion. I want to give the fans these types of fights."
EDITOR'S NOTE: Kim Clavel caught the flu and pulled out on Wednesday just prior to the weigh-in. Her match with Jessica Nery was rescheduled for Jan. 13.
Photo credit: Tom Hogan / Hogan Photos
Article submitted by Jorge Juan Alvarez in Spanish
Please note any adjustments made for clarification purposes and any errors in translation were unintentional.
To comment on this story in the Fight Forum CLICK HERE
Regis Prograis Knocks Out José Zepeda and Clears the Way for José Ramírez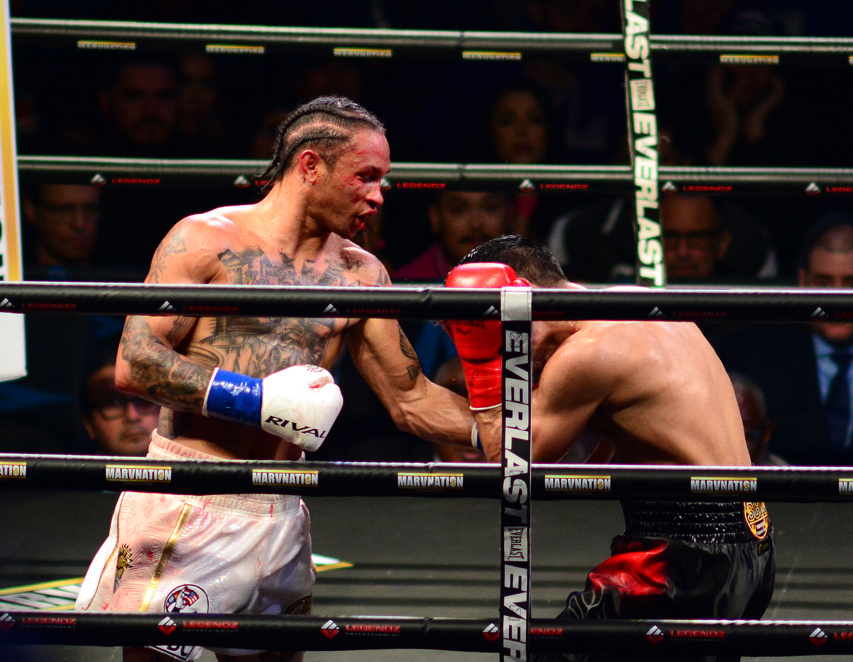 American Regis Prograis had to wait three years and a month for the opportunity to hold a world crown once again. On Saturday, November 26, at the Dignity Health Sports Park, in Carson, California, Prograis faced José Zepeda for the vacant WBC junior welterweight belt. Prograis was victorious by applying chloroform to Zepeda in the eleventh round.
Previously, on October 26, 2019, Prograis (28-1, 24 KOs) had lost the WBA junior welterweight belt by majority decision to Scotsman Josh Taylor at the 02 Arena in England.
Since then, the thirty-three-year-old Prograis who is based in Houston, Texas has obtained four wins (including vs Zepeda), all before the limit, as proof of the devilish power of his powerful fists, especially the left one.
Prior to the duel with Zepeda (35-2, 27 KOs), most experts favored Prograis, who after winning the intense battle, recognized that it was the most demanding fight of his career. "That dude is tough, tough, tough. He came to fight, he probably gave me one of my hardest fights, I'm not even gonna lie," said Prograis. "This dude is tough, bro. I've got so much respect for you. You prepared me to get this belt and hold this belt. I congratulate you. All the best to you, bro. Don't stop, I feel like you can still be a world champion."
Almost from the very beginning of the fight, Prograis showed greater speed with his hands and legs, and a general sense of technical superiority over Zepeda, who in the second round opened up a wound above his left eye with a legal blow.
From then on, Prograis's strong impacts gradually undermined Zepeda's resistance. Zepeda arrived totally exhausted in the eleventh round, where he received a straight left to the face, putting him in poor condition. A run with both fists from Prograis knocked him down and referee Ray Corona called the match with 59 seconds remaining in the round. This is the first setback that Zepeda has suffered by knockout in professional boxing.
On several occasions, Prograis has stated that he wants revenge against the undefeated Taylor (19-0, 13 KOs), but now, by order of the WBC, he must face American José Carlos Ramírez (27-1, 17 KOs).
Ramírez, 30 years old, is currently ranked second by the WBC. In February of 2019, in his second defense of his 140-pound belt, he defeated Zepeda by majority decision.
Twenty-five months later, Ramírez succumbed by unanimous decision to Taylor at the Virgin Hotels in Las Vegas, enabling the Scotsman to become the undisputed king of the category by winning the four most prestigious belts (WBA, WBC, WBO, IBF).
Recently, Ramírez expressed an interest in dueling with the main 140-pound contenders, including a second fight with Zepeda; although he did not rule out clashing with Prograis or Taylor. "Every fighter has the same amount of risk," said Ramirez. "We're a little under-promoted compared to other weight classes but I think that the best fights are at 140. You see guys fighting twice or three times, doing a trilogy. Honestly, I would love to face Regis, because I've never faced him. I would love to make the rematch with Zepeda, because he's such a good fighter. Obviously I want Josh Taylor, man. I want Josh Taylor bad."
Photo credit: Al Applerose
Article submitted by Jorge Juan Alvarez in Spanish.
Please note any adjustments made were for clarification purposes and any errors in translation were unintentional.
To comment on this story in the Fight Forum CLICK HERE