Earnie Shavers' Baseball Connection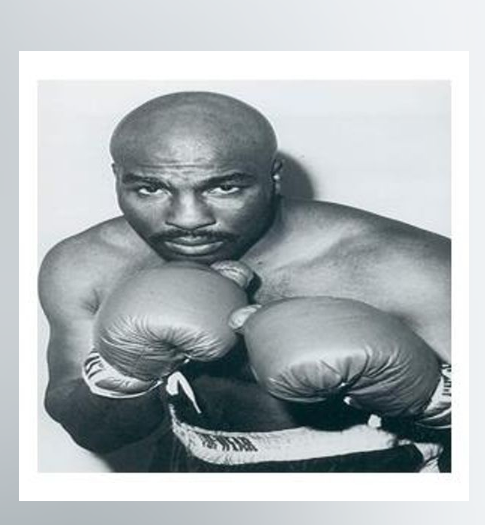 On January 6, 1971, Earnie Shavers, a well-touted heavyweight prospect from Warren, Ohio, fought Lee Estes at the Silver Slipper in Las Vegas. Shavers' team on this particular night – his three cornermen – consisted of Willie Ketchum, Dean Chance, and Bo Belinsky.
Indulge me now. Let me digress.
In his tribute to Shavers, who passed away on Sept. 1, Hall of Fame boxing writer Bernard Fernandez found a common thread between the prizefighter and Babe Ruth. The Bambino's home run blasts were talked about in hushed reverence – his final blast purportedly traveled 600 feet – and, likewise, the punching power of Shavers, who scored 68 of his 74 wins by knockout, became the stuff of legend. "He had a punch that could knock down a brick wall," said one commentator upon hearing the news that Shavers had died.
A keen-eyed reader passed along the note that Babe Ruth was a big fan of boxing and once actually considered a career in the prize ring. He thought that if Fernandez were going to rope the Bambino into a story about Earnie Shavers, he could have embellished his article by pointing this out.
Babe Ruth once threatened to quit baseball for boxing, but this happened while he was embroiled in a salary dispute. It's a stretch to think that he actually gave it any serious thought. However, he was indeed a big fan of boxing and he trained like a boxer in the off-season after he hooked up with fitness guru Artie McGovern, a former flyweight boxer who ran a gym at 42nd Street and Madison Avenue in New York City that was patronized by the rich and famous.
Ruth started visiting McGovern's after missing one-third of the 1925 season with a stomach ulcer. Lore has it that he was a bloated wreck when McGovern first latched hold of him which may not be too far from the truth. Regardless, he was an off-season regular at McGovern's prior to the 1927 season, the year he broke his own single season record for home runs with 60. (A Ruthian feat indeed. Ten years earlier, in 1917, the American League home run leader hit nine.)
Earnie Shavers' baseball connection, as it were, had a more contemporary tone. Willie Ketchum, a Runyonesque character from New York City's Lower East Side, wasn't a baseball guy. A man who was then in his late 60's, Ketchum was a boxing lifer, a jack-of-all trades who had managed fighters, notably pre-World War II lightweight champion Lew Jenkins, and worked primarily as a second on the West Coast after his license was revoked by the New York State Athletic Commission for consorting with the wrong kind of people. But Dean Chance and Bo Belinsky were household names in households that followed the sport of baseball and in many households that didn't.
When folks thought of one, they thought of the other, for although Chance was a former Cy Young Award winner and Belinsky had tossed a no-hitter for the expansion California Angels, they were best known as bosom buddies whose nocturnal adventures harked to Pierce Egan's fictional rakehells Tom and Jerry.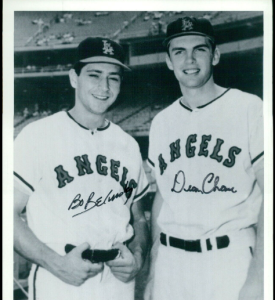 Belinsky, a street kid from Trenton, New Jersey, was a great ladies man who had dated, in his words, many of the best broads in Hollywood. Dean Chance, a farm boy from Wooster, Ohio, was considered something of Belinsky's caddy, a person who went along for the ride when Belinsky prowled the Sunset Strip in his candy-apple-red Cadillac. But of the two, Chance was much more of a slickster. He got involved in the management of prizefighters while still an active baseball player and in retirement ran "games of skill" at carnivals and country fairs.
Dean Chance's first fighter was Ray Anderson, a boxer from Akron that Chance signed while pitching for the Minnesota Twins, the second of his five major league teams. Anderson, who fought Bob Foster for the light heavyweight title, confounding the experts by lasting the 15-round distance, left Chance for Joe Frazier's manager Yank Durham, but by then Chance was heavily invested in Earnie Shavers.
Chance would eventually sell a 50 percent stake in Shavers to a fellow Buckeye State hustler, Don King. In time, King would come to own all of Shavers. It was he, King, who brought Shavers to New York in 1973 for his first TV fight, a bout with former world title challenger Jimmy Ellis at Madison Square Garden. Shavers dismissed Ellis in the opening round with an uppercut, leaving poor Ellis splattered on the canvas "twitching like a paralyzed spider" in the words of New York Daily News writer Bill Verigan. (Shavers' second Madison Square Garden appearance, six months later, didn't go as well. Jerry Quarry knocked him out in the opening round.)
Shavers would go on to fight Muhammad Ali, losing a 15-round decision, and would answer the bell for 23 rounds in two fights with Larry Holmes. But his showing in those fights was out of character. When you went to see Earnie Shavers fight, you could pretty much count on getting home early. Of his 68 knockouts, 41 came in the first two rounds.
Lee Estes, a Minnesota journeyman, survived the first round in his Silver Slipper bout with Shavers, but not the second. It was short night for Earnie and Willie Ketchum and Dean Chance, but a long night for Bo Belinsky who picked up some extra coin making a cameo appearance in the "Wonderful World of Burlesque," the Silver Slipper's bill of fare in its scrubby showroom. There were three shows nightly, the last of which started at 2:45 am. Belinsky was done with baseball, his final season was 1970, but as the husband of former Playboy Playmate of the Year Jo Collins, he could still cash in on his name.
Aside from his no-hit gem, Belinsky's baseball career was undistinguished. The same could not be said of Dean Chance whose 1964 season was among the greatest of any pitcher in baseball history. But Chance, who was only three years older than Shavers, had too many distractions in his life and his career was on the skids when he brought Shavers to Las Vegas in 1971, seizing the gig as an opportunity to hook up with his former teammate Belinsky.
For the record, Bo Belinsky died in 2001 at age 64. A born-again Christian, he spent his end days in Las Vegas doing PR work for an auto dealership. Dean Chance passed away in 2015 at age 74. The organization that he founded, the fringe International Boxing Association which he ran from the basement of his home, died with him.
Historically, many of boxing's most fertile knockout producers – and virtually all who toiled in the boondocks — were manufactured from straw. Utah chicken farmer LaMar Clark, who attracted a lot of attention while running up a string of 41 knockouts, was bogus, as were South Carolina's Don Steele – 40 knockouts in his first 41 fights – and LA's Christopher Lovejoy – 20 straight knockouts to start his career, all in Mexico and all but two in the opening round — to name just three. To be certain, Earnie Shavers fought a bunch of professional losers as he was climbing the ladder, but Shavers was legit. Those other guys couldn't hold his jockstrap. May he rest in peace.
Arne K. Lang's latest book, titled "George Dixon, Terry McGovern and the Culture of Boxing in America, 1890-1910," rolls off the press this month. The book, published by McFarland, can be pre-ordered directly from the publisher (https://mcfarlandbooks.com/product/clash-of-the-little-giants) or via Amazon.
To comment on this story in the Fight Forum CLICK HERE
Mercito Gesta Victorious Over Jojo Diaz at the Long Beach Pyramid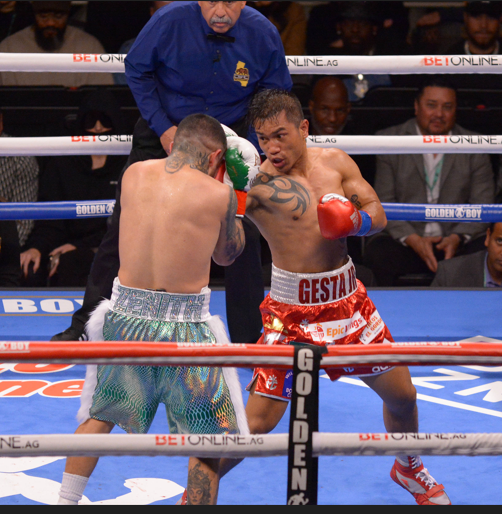 LONG BEACH, CA.-Those in the know knew Mercito Gesta and Jojo Diaz would be a fight to watch and they delivered.
Gesta emerged the winner in a super lightweight clash between southpaws that saw the judges favor his busier style over Diaz's body attack and bigger shots and win by split decision on Saturday.
Despite losing the main event because the star was overweight, Gesta (34-3-3, 17 KOs) used an outside method of tactic to edge past former world champion Diaz (32-4-1, 15 KOs) in front of more than 5,000 fans at the Pyramid.
The speedy Gesta opened up the fight with combination punching up and down against the peek-a-boo style of Diaz. For the first two rounds the San Diego fighter overwhelmed Diaz though none of the blows were impactful.
In the third round Diaz finally began unloading his own combinations and displaying the fast hands that helped him win world titles in two divisions. Gesta seemed stunned by the blows, but his chin held up. The counter right hook was Diaz's best weapon and snapped Gesta's head back several times.
Gesta regained control in the fifth round after absorbing big blows from Diaz. He seemed to get angry that he was hurt and opened up with even more blows to send Diaz backpedaling.
Diaz targeted his attack to Gesta's body and that seemed to slow down Gesta. But only for a round.
From the seventh until the 10th each fighter tried to impose their style with Gesta opening up with fast flurries and Diaz using right hooks to connect with solid shots. They continued their method of attack until the final bell. All that mattered was what the judges preferred.
After 10 rounds one judge saw Diaz the winner 97-93 but two others saw Gesta the winner 99-91, 98-92. It was a close and interesting fight.
"I was expecting nothing. I was the victor in this fight and we gave a good fight," said Gesta. "It's not an easy fight and Jojo gave his best."
Diaz was surprised by the outcome but accepted the verdict.
Everything was going good. I thought I was landing good body shots," said Diaz. "I was pretty comfortable."
Other Bouts
Mexico's Oscar Duarte (25-1-1, 20 KOs) knocked out Chicago's Alex Martin (18-5, 6 KOs) with a counter right hand after dropping him earlier in the fourth round. The super lightweight fight was stopped at 1:14 of the round.
A battle between undefeated super welterweights saw Florida's Eric Tudor (8-0, 6 KOs) emerge the winner by unanimous decision after eight rounds versus Oakland's Damoni Cato-Cain.
The taller Tudor showed polished skill and was not bothered by a large cut on his forehead caused by an accidental clash of heads. He used his jab and lead rights to defuse the attacks of the quick-fisted southpaw Cato-Cain. The judges scored the fight 80-72 and 78-74 twice for Tudor.
San Diego's Jorge Chavez (5-0, 4 KOs) needed less than one round to figure out Nicaragua's Bryan Perez (12-17-1, 11 KOs) and send him into dreamland with a three-punch combination. No need to count as referee Ray Corona waved the fight over. Perez shot a vicious right followed by another right and then a see-you-later left hook at 3.00 of the first round of the super featherweight match.
Photo credit: Al Applerose
Jojo Diaz's Slump Continues; Mercito Gesta Prevails on a Split Decision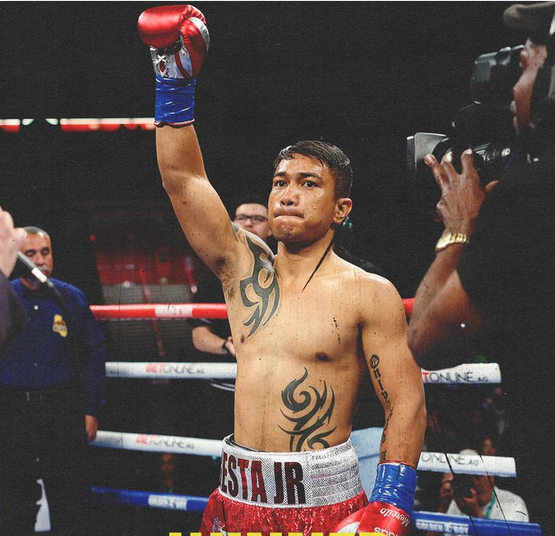 At age 30, Jojo Diaz's career is on the skids. The 2012 U.S. Olympian, a former world title holder at 126 and 130 pounds and an interim title holder at 135, Diaz suffered his third straight loss tonight, upset by Mercito Gesta who won a split decision at the Walter Pyramid in Long Beach, CA.. The scoring was strange with Gesta winning nine of the 10 rounds on one of the cards and only three rounds on another. The tie-breaker, as it were, was a 98-92 tally for Gesta and even that didn't capture the flavor of what was a closely-contested fight.
Originally listed as a 12-rounder, the match was reduced to 10 and that, it turned out, did Diaz no favors. However, it's hard to feel sorry for the former Olympian as he came in overweight once again, having lost his 130-pound title on the scales in February of 2021.
Diaz also has issues outside the ropes. Best elucidated by prominent boxing writer Jake Donovan, they include a cluster of legal problems stemming from an arrest for drunk driving on Feb. 27 in the LA suburb of Claremont.
With the defeat, Diaz's ledger declined to 32-4-1. His prior losses came at the hands of Gary Russell Jr, Devin Haney, and William Zepeda, boxers who are collectively 83-2. Mercito Gesta, a 35-year-old San Diego-based Filipino, improved to 34-3-3.
Co-Feature
Chihuahua, Mexico super lightweight Oscar Duarte has now won nine straight inside the distance after stopping 33-year-old Chicago southpaw Alex Martin in the eighth frame. Duarte, the busier fighter, had Martin on the deck twice in round eight before the fight was waived off.
Duarte improved to 25-1-1 (20). Martin, who reportedly won six national titles as an amateur and was once looked upon as a promising prospect, declined to 18-5.
Other Bouts of Note
New Golden Boy signee Eric Tudor, a 21-year-old super welterweight from Fort Lauderdale, overcame a bad laceration over his right eye, the result of an accidental clash of heads in round four, to stay unbeaten, advancing to 8-0 (6) with a hard-fought unanimous 8-round decision over Oakland's Damoni Cato-Cain. The judges had it 80-72 and 78-74 twice. It was the first pro loss for Cato-Cain (7-1-1) who had his first five fights in Tijuana.
In the DAZN opener, lanky Hawaian lightweight Dalis Kaleiopu went the distance for the first time in his young career, improving to 4-0 (3) with a unanimous decision over 36-year-old Colombian trial horse Jonathan Perez (40-35). The scores were 60-52 across the board. There were no knockdowns, but Perez, who gave up almost six inches in height, had a point deducted for a rabbit punch and another point for deducted for holding.
To comment on this story in the Fight Forum CLICK HERE
'Big Baby' Wins the Battle of Behemoths; TKOs 'Big Daddy' in 6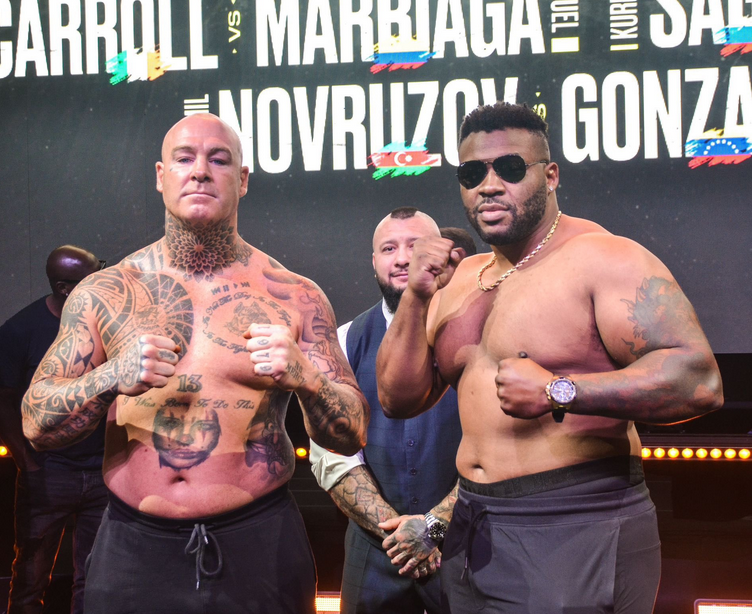 Lucas "Big Daddy" Browne weighed in at a career-high 277 pounds for today's battle in Dubai with Jarrell "Big Baby" Miller, but he was the lighter man by 56 pounds. It figured that one or both would gas out if the bout lasted more than a few stanzas.
It was a war of attrition with both men looking exhausted at times, and when the end came it was Miller, at age 34 the younger man by nine years, who had his hand raised.
Browne was the busier man, but Miller, whose physique invites comparison with a rhinoceros, hardly blinked as he was tattooed with an assortment of punches. He hurt 'Bid Daddy' in round four, but the Aussie held his own in the next frame, perhaps even forging ahead on the cards, but only postponing the inevitable.
In round six, a succession of right hands knocked Browne on the seat of his pants. He beat the count, but another barrage from Miller impelled the referee to intervene. The official time was 2:33. It was the 21st straight win for Miller (26-0-1, 22 KOs). Browne declined to 31-4 and, for his own sake, ought not fight again. All four of his losses have come inside the distance, some brutally.
The consensus of those that caught the livestream was that Floyd Mayweather Jr's commentary was an annoying distraction that marred what was otherwise an entertaining show.
As for what's next for "Big Baby" Miller, that's hard to decipher as he has burned his bridges with the sport's most powerful promoters. One possibility is Mahmoud Charr who, like Miller, has a big gap in his boxing timeline. Now 38 years old, Charr – who has a tenuous claim on a WBA world title (don't we all?) —  has reportedly taken up residence in Dubai.
Other Bouts of Note
In a 10-round cruiserweight affair, Suslan Asbarov, a 30-year-old Russian, advanced to 4-0 (1) with a hard-fought majority decision over Brandon Glanton. The judges had it 98-92, 97-93, and a more reasonable 95-95.
Asbarov was 12-9 in documented amateur fights and 1-0 in a sanctioned bare-knuckle fight, all in Moscow, entering this match. He bears watching, however, as Glanton (18-2) would be a tough out for almost anyone in his weight class. In his previous fight, at Plant City, Florida, Glanton lost a controversial decision to David Light, an undefeated Australian who challenges WBO world title-holder Lawrence Okolie at Manchester, England next week.
A 10-round super featherweight match between former world title challengers Jono Carroll and Miguel Marriaga preceded the semi-windup. Carroll, a 30-year-old Dublin southpaw, overcame a cut over his left eye suffered in the second round to win a wide unanimous decision in a fairly entertaining fight.
It was the sixth straight win for Carroll (24-2-1, 7 KOs) who elevated his game after serving as a sparring partner for Devin Haney. Marriaga, a 36-year-old Colombian, lost for the fourth time in his last five outings, declining to 30-7.
To comment on this story in the Fight Forum CLICK HERE