Elite Trainer Jesse Reid Has Schooled Some of Boxing's Most Mercurial Champions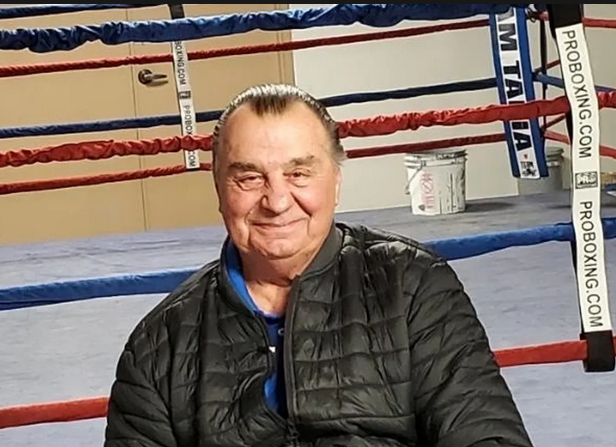 Elite Trainer Jesse Reid Has Schooled Some of Boxing's Most Mercurial Champions
In olden days, the boxing coach of an athletic club was invariably called a professor. To take but one example, the man that taught James J. Corbett the rudiments of boxing at San Francisco's Olympic Athletic Club, Walter Watson, was almost always referenced as Professor Walter Watson.
At Tru Nevins' DLX boxing gym in Las Vegas, there are two professors in residence. Drop in any afternoon and you will most likely find Kenny Adams and Jesse Reid on the premises, each there to pass on his knowledge to the young men (and young women) that walk in the door, many of whom are too young to drive. Adams and Reid are both now in their early eighties and each can boast of having trained more than two dozen world title-holders.
Jesse Reid, the subject of this story, was born in 1942 in East Los Angeles when that densely populated census tract wasn't yet thoroughly Hispanic. Sicilian on his mother's side, Reid played football in high school and at Cal State LA (then called Los Angeles State) before joining the Navy where he first laced on a pair of boxing gloves. In 1968, he was an alternate on the U.S. Olympic boxing team representing the Alameda (CA) Naval Base. In those days, the bulk of America's top amateur boxers were members of the Armed Forces.
Reid had a brief pro career, finishing 5-1-2. His final bout with fellow unbeaten Rudy Robles was the headline attraction of a 1971 show at the Olympic Auditorium. Robles, a future world title challenger who lasted 15 rounds with Rodrigo Valdez, won a lopsided decision.
Reid's manager Jackie McCoy who hung his hat at LA's Hoover Street Gym could see that Reid had a dim future as a pro boxer but saw something in Reid that suggested to him that Reid would make a fine trainer. McCoy had recently acquired the contract of Guadalajara lightweight Rodolfo Gonzalez and Reid started working with him.
On Nov. 10, 1972, Gonzalez challenged WBC 135-pound champion Chango Carmona at the LA Sports Arena. Carmona had won the belt from another Jackie McCoy fighter, Mando Ramos, and would enter the ring a 3/1 favorite. In a major surprise, Gonzalez not only de-throned Carmona but in a dominant fashion, winning virtually every round until Carmona was pulled out after the 12th frame.
Jesse Reid had his first champion.
Reid's work caught the attention of Billy Baxter, a high-stakes gambler who had become smitten with boxing after acquiring the contract of Las Vegas super welterweight Rocky Mosley Jr, a parcel he purportedly won in a poker game. Baxter subsequently purchased the contract of Bruce Curry from Fort Worth, Texas promoter Dave Gorman.
With Reid in his corner, Curry, the half-brother of the brilliant Donald Curry, won the WBC world super lightweight title in 1983 and made two successful defenses before losing the belt to Billy Costello. But what seemed like a healthy relationship turned toxic in a hurry.
Curry was showing signs of paranoia before his match with Costello and the defeat preyed on his mind. On the afternoon of Feb. 3, 1984, five days after losing his title to Costello, Curry confronted Reid at the old Golden Gloves gym in downtown Las Vegas and started punching him. Reid retaliated and opened an old cut between Curry's eyes. The boxer then ran to his car and returned with a handgun, firing a bullet through the front door of the gym. Reid had the presence of mind to have locked it and was out of harm's way.
At Reid's recommendation, Curry was released without bail with the proviso that he return to Fort Worth and seek psychological help. "Bruce went through a lot growing up," says Reid, looking back. "I didn't want him to go to prison, because I knew that someone would kill him in there."
Reid was then involved with Roger Mayweather who had signed with Baxter coming out of the amateur ranks. A multi-belt champion, Mayweather won his first world title in his fifteenth pro bout, unseating Puerto Rican veteran Samuel Serrano in San Juan. Roger would go on to train his famous nephew, applying some of the principles that Jesse Reid had taught him.
The next future champions that Reid helped develop – middleweight Frank Tate, featherweight Calvin Grove, and the Canizales brothers, Gaby and Orlando – represented the fertile but short-lived Houston Boxing Association, an entity founded by Josephine Abercrombie, the heiress to a Texas oil fortune.
"Josephine was a wonderful lady," says Reid, who notes that she sponsored the 1984 U.S. Olympic team that prepared for the LA Games at her 5,000-acre Texas cattle ranch. (Abercrombie, a noted philanthropist, died earlier this year at age 95.)
The under-appreciated Frank Tate won the vacant IBF middleweight title at Caesars Palace in 1987 with a one-sided decision over Michael Olajide. It was a battle between former Olympic gold medalists, both undefeated, and was a particularly gratifying night for Reid as he had worked with Tate from the very onset of Tate's pro career, not to mention the fact that his guy was a 2/1 underdog. "Winning a world title is always sweeter when your guy upsets the odds," says Reid.
The younger Canizales brother, Orlando, and Jesse Reid had one of the most successful runs of any boxer-trainer tandem in boxing history. Canizales, who entered the International Boxing Hall of Fame in 2009, holds the bantamweight record for successful title defenses with 15.
"We never had a formal contract," says Reid. "Orlando was a great guy to work with. A guy with a very high ring IQ and very loyal."
Reid wasn't with Lamon Brewster when Brewster won the WBO version of the world heavyweight title with a fifth-round stoppage of Wladimir Klitschko. But Brewster's performance was lacking in his first title defense – he was lucky to escape with a split decision over unheralded Kali Meehan – and that led him to reach out to Reid who had worked with him in his amateur days.
Brewster brought to Reid what is every boxing trainer's dream, the opportunity to work with a world heavyweight champion. He made two successful title defenses with Reid in his corner, the first a 52-second blowout of Andrew Golota in Chicago.
The late Erie, Pennsylvania promoter Mike Acri would figure prominently in Reid's life. Acri was best known as a re-furbisher; as someone adept at taking a high-profile fighter whose best years were behind him and orchestrating a late-career surge.
Hector Camacho had fallen out of favor after one-sided defeats to Julio Cesar Chavez and Felix Trinidad. Acri picked up his contract for peanuts and navigated him into good paying matches with 45-year-old Roberto Duran and 40-year-old Sugar Ray Leonard, preludes to a more lucrative match with Oscar De La Hoya.
The De La Hoya fight didn't go well (the Macho Man fought a survivor's fight and lost every round) but with Reid on board, Camacho toppled Duran and Leonard, sending Sugar Ray off into a final retirement with a fifth-round stoppage.
Camacho had the reputation of someone who was difficult to handle. That went double for Johnny Tapia who had Reid and the great Eddie Futch in his corner for what was arguably his biggest fight, a match in Las Vegas with Albuquerque rival Danny Romero with two world title belts at stake. Romero, considered the bigger puncher, went to post the favorite. Tapia outclassed him.
Dealing with Tapia meant dealing with Theresa Tapia, Johnny's over-protective wife and manager. "One time I showed up at the gym wearing a Roberto Duran tee shirt," recalls Reid, laughing at the memory. "Theresa didn't appreciate that and made me buy 25 of her Johnny Tapia tee shirts."
Mike Acri, the re-furbisher, proved that he could also "move" a good prospect when he took Paul Spadafora under his wing. Spadafora, who was from McKees Rocks, a rough-and-tumble former iron works town on the Ohio River near Pittsburgh, went from being the house fighter at the Mountaineer Racetrack and Casino in West Virginia to the IBF world lightweight champion.
Spadafora was two fights into his title reign when Acri hired Jesse Reid to assist Paul's longtime trainer Tom Yankello. Five more successful title defenses would follow preceding a 12-round draw with rugged Romanian-Canadian battler Leonard Dorin, the first blemish on Spadafora's record.
Spadafora, dubbed the "Pittsburgh Kid," had his demons. Before turning pro, he was shot in the leg by a policeman while riding in a car that was the subject of a police chase. In his most infamous incident, he shot his girlfriend Nadine Russo in the chest at a McKees Rocks gas station. After that alcohol-infused incident, which he doesn't remember, he was out of the ring for 27 months while serving time in various correctional institutions.
Spadafora reeled off 10 straight wins after returning to the ring, bumping him into a bout with Venezuela's Johan Perez, a match sanctioned for the interim WBA 140-pound title. Perez won the decision, becoming the first and last man to defeat Paul Spadafora who had one more fight before leaving the ring with a 49-1-1 (19) record.
Spadafora would be arrested twice more after his final fight. The catalysts were disturbances at the home of his mother and at a Pittsburgh-area tavern.
Before his next-to-last fight, there had been talk of Spadafora moving up in weight to challenge Floyd Mayweather. They had shared the ring once previously, a 6-round sparring session at Richard Steele's North Las Vegas gym.
Jesse Reid remembers how that came about. "Floyd's father, Floyd Mayweather Sr, came up to me and said, 'Why don't you let that paisan of yours spar somebody good for a change?' Paul felt disrespected and asked me to make it happen."
Ask Jesse Reid and he will tell you that Spadafora had all the best of it. "I told him to get in Floyd's grill and concentrate on the body and he brought out the puppy dog in Mayweather."
Floyd and his dad, needless to say, likely remember things differently. Regardless, talk of a possible fight between Spadafora and Mayweather ceased when Spadafora was upset by Johan Perez.
Jesse Reid has stayed loyal to Spadafora, as has Nadine (a story for another day). Nowadays, you can find Paul and Nadine and their 17-year-old son Geno Spadafora, an amateur boxer, most afternoons at DLX. The erstwhile Pittsburgh Kid, now 46 years old,  isn't merely an observer. He works out ferociously, setting an example for Geno and the other young boxers going through their paces.
"He's doing great," says Jesse Reid, the professor of pugilism who may not be done manufacturing champions.
Arne K. Lang's latest book, titled "George Dixon, Terry McGovern and the Culture of Boxing in America, 1890-1910," has rolled off the press. Published by McFarland, the book can be ordered directly from the publisher (https://mcfarlandbooks.com/product/clash-of-the-little-giants) or via Amazon.
To comment on this story in the Fight Forum CLICK HERE
Mercito Gesta Victorious Over Jojo Diaz at the Long Beach Pyramid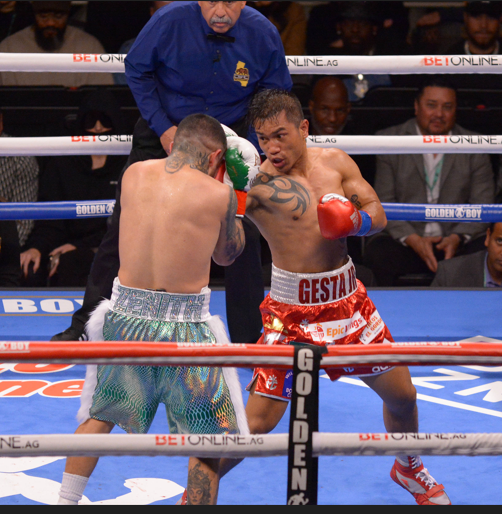 LONG BEACH, CA.-Those in the know knew Mercito Gesta and Jojo Diaz would be a fight to watch and they delivered.
Gesta emerged the winner in a super lightweight clash between southpaws that saw the judges favor his busier style over Diaz's body attack and bigger shots and win by split decision on Saturday.
Despite losing the main event because the star was overweight, Gesta (34-3-3, 17 KOs) used an outside method of tactic to edge past former world champion Diaz (32-4-1, 15 KOs) in front of more than 5,000 fans at the Pyramid.
The speedy Gesta opened up the fight with combination punching up and down against the peek-a-boo style of Diaz. For the first two rounds the San Diego fighter overwhelmed Diaz though none of the blows were impactful.
In the third round Diaz finally began unloading his own combinations and displaying the fast hands that helped him win world titles in two divisions. Gesta seemed stunned by the blows, but his chin held up. The counter right hook was Diaz's best weapon and snapped Gesta's head back several times.
Gesta regained control in the fifth round after absorbing big blows from Diaz. He seemed to get angry that he was hurt and opened up with even more blows to send Diaz backpedaling.
Diaz targeted his attack to Gesta's body and that seemed to slow down Gesta. But only for a round.
From the seventh until the 10th each fighter tried to impose their style with Gesta opening up with fast flurries and Diaz using right hooks to connect with solid shots. They continued their method of attack until the final bell. All that mattered was what the judges preferred.
After 10 rounds one judge saw Diaz the winner 97-93 but two others saw Gesta the winner 99-91, 98-92. It was a close and interesting fight.
"I was expecting nothing. I was the victor in this fight and we gave a good fight," said Gesta. "It's not an easy fight and Jojo gave his best."
Diaz was surprised by the outcome but accepted the verdict.
Everything was going good. I thought I was landing good body shots," said Diaz. "I was pretty comfortable."
Other Bouts
Mexico's Oscar Duarte (25-1-1, 20 KOs) knocked out Chicago's Alex Martin (18-5, 6 KOs) with a counter right hand after dropping him earlier in the fourth round. The super lightweight fight was stopped at 1:14 of the round.
A battle between undefeated super welterweights saw Florida's Eric Tudor (8-0, 6 KOs) emerge the winner by unanimous decision after eight rounds versus Oakland's Damoni Cato-Cain.
The taller Tudor showed polished skill and was not bothered by a large cut on his forehead caused by an accidental clash of heads. He used his jab and lead rights to defuse the attacks of the quick-fisted southpaw Cato-Cain. The judges scored the fight 80-72 and 78-74 twice for Tudor.
San Diego's Jorge Chavez (5-0, 4 KOs) needed less than one round to figure out Nicaragua's Bryan Perez (12-17-1, 11 KOs) and send him into dreamland with a three-punch combination. No need to count as referee Ray Corona waved the fight over. Perez shot a vicious right followed by another right and then a see-you-later left hook at 3.00 of the first round of the super featherweight match.
Photo credit: Al Applerose
Jojo Diaz's Slump Continues; Mercito Gesta Prevails on a Split Decision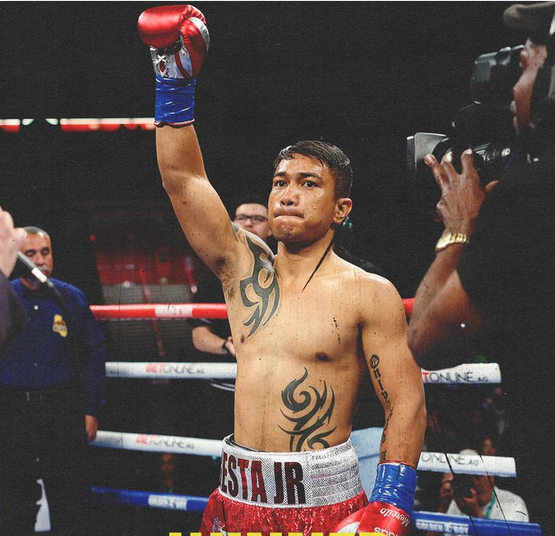 At age 30, Jojo Diaz's career is on the skids. The 2012 U.S. Olympian, a former world title holder at 126 and 130 pounds and an interim title holder at 135, Diaz suffered his third straight loss tonight, upset by Mercito Gesta who won a split decision at the Walter Pyramid in Long Beach, CA.. The scoring was strange with Gesta winning nine of the 10 rounds on one of the cards and only three rounds on another. The tie-breaker, as it were, was a 98-92 tally for Gesta and even that didn't capture the flavor of what was a closely-contested fight.
Originally listed as a 12-rounder, the match was reduced to 10 and that, it turned out, did Diaz no favors. However, it's hard to feel sorry for the former Olympian as he came in overweight once again, having lost his 130-pound title on the scales in February of 2021.
Diaz also has issues outside the ropes. Best elucidated by prominent boxing writer Jake Donovan, they include a cluster of legal problems stemming from an arrest for drunk driving on Feb. 27 in the LA suburb of Claremont.
With the defeat, Diaz's ledger declined to 32-4-1. His prior losses came at the hands of Gary Russell Jr, Devin Haney, and William Zepeda, boxers who are collectively 83-2. Mercito Gesta, a 35-year-old San Diego-based Filipino, improved to 34-3-3.
Co-Feature
Chihuahua, Mexico super lightweight Oscar Duarte has now won nine straight inside the distance after stopping 33-year-old Chicago southpaw Alex Martin in the eighth frame. Duarte, the busier fighter, had Martin on the deck twice in round eight before the fight was waived off.
Duarte improved to 25-1-1 (20). Martin, who reportedly won six national titles as an amateur and was once looked upon as a promising prospect, declined to 18-5.
Other Bouts of Note
New Golden Boy signee Eric Tudor, a 21-year-old super welterweight from Fort Lauderdale, overcame a bad laceration over his right eye, the result of an accidental clash of heads in round four, to stay unbeaten, advancing to 8-0 (6) with a hard-fought unanimous 8-round decision over Oakland's Damoni Cato-Cain. The judges had it 80-72 and 78-74 twice. It was the first pro loss for Cato-Cain (7-1-1) who had his first five fights in Tijuana.
In the DAZN opener, lanky Hawaian lightweight Dalis Kaleiopu went the distance for the first time in his young career, improving to 4-0 (3) with a unanimous decision over 36-year-old Colombian trial horse Jonathan Perez (40-35). The scores were 60-52 across the board. There were no knockdowns, but Perez, who gave up almost six inches in height, had a point deducted for a rabbit punch and another point for deducted for holding.
To comment on this story in the Fight Forum CLICK HERE
'Big Baby' Wins the Battle of Behemoths; TKOs 'Big Daddy' in 6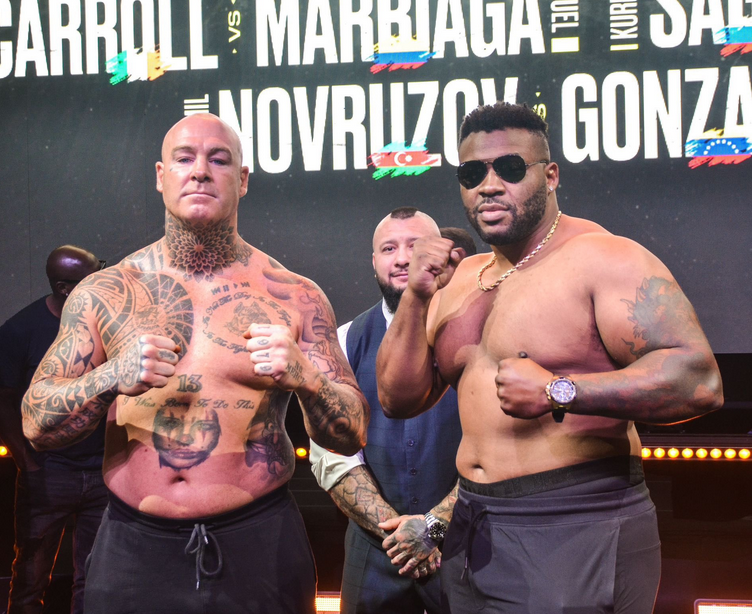 Lucas "Big Daddy" Browne weighed in at a career-high 277 pounds for today's battle in Dubai with Jarrell "Big Baby" Miller, but he was the lighter man by 56 pounds. It figured that one or both would gas out if the bout lasted more than a few stanzas.
It was a war of attrition with both men looking exhausted at times, and when the end came it was Miller, at age 34 the younger man by nine years, who had his hand raised.
Browne was the busier man, but Miller, whose physique invites comparison with a rhinoceros, hardly blinked as he was tattooed with an assortment of punches. He hurt 'Bid Daddy' in round four, but the Aussie held his own in the next frame, perhaps even forging ahead on the cards, but only postponing the inevitable.
In round six, a succession of right hands knocked Browne on the seat of his pants. He beat the count, but another barrage from Miller impelled the referee to intervene. The official time was 2:33. It was the 21st straight win for Miller (26-0-1, 22 KOs). Browne declined to 31-4 and, for his own sake, ought not fight again. All four of his losses have come inside the distance, some brutally.
The consensus of those that caught the livestream was that Floyd Mayweather Jr's commentary was an annoying distraction that marred what was otherwise an entertaining show.
As for what's next for "Big Baby" Miller, that's hard to decipher as he has burned his bridges with the sport's most powerful promoters. One possibility is Mahmoud Charr who, like Miller, has a big gap in his boxing timeline. Now 38 years old, Charr – who has a tenuous claim on a WBA world title (don't we all?) —  has reportedly taken up residence in Dubai.
Other Bouts of Note
In a 10-round cruiserweight affair, Suslan Asbarov, a 30-year-old Russian, advanced to 4-0 (1) with a hard-fought majority decision over Brandon Glanton. The judges had it 98-92, 97-93, and a more reasonable 95-95.
Asbarov was 12-9 in documented amateur fights and 1-0 in a sanctioned bare-knuckle fight, all in Moscow, entering this match. He bears watching, however, as Glanton (18-2) would be a tough out for almost anyone in his weight class. In his previous fight, at Plant City, Florida, Glanton lost a controversial decision to David Light, an undefeated Australian who challenges WBO world title-holder Lawrence Okolie at Manchester, England next week.
A 10-round super featherweight match between former world title challengers Jono Carroll and Miguel Marriaga preceded the semi-windup. Carroll, a 30-year-old Dublin southpaw, overcame a cut over his left eye suffered in the second round to win a wide unanimous decision in a fairly entertaining fight.
It was the sixth straight win for Carroll (24-2-1, 7 KOs) who elevated his game after serving as a sparring partner for Devin Haney. Marriaga, a 36-year-old Colombian, lost for the fourth time in his last five outings, declining to 30-7.
To comment on this story in the Fight Forum CLICK HERE