Catching up with Paul Spadafora: A New Beginning for the 'Pittsburgh Kid'?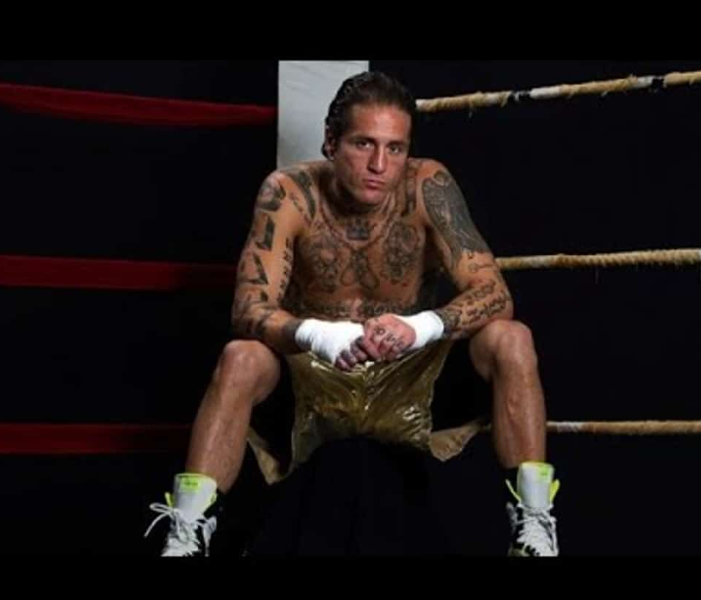 Paul Spadafora finished his career with a record of 49-1-1 that included an 8-0-1 mark in world lightweight title fights. It's a record that smacks of Marciano and Mayweather and yet when someone mentions his name to someone that follows boxing, the first thing that comes to mind is his extensive rap sheet. Many boxers had their demons. Paul Spadafora had them in spades.
Nowadays, Spadafora, the erstwhile Pittsburgh Kid, can be found in Las Vegas where he spends a portion of most afternoons at the DLX Boxing Club tutoring his 17-year-old son Geno in the finer points of the sweet science. "Paul's doing great," says Spadafora's former trainer Jesse Reid who also oversees the training of Geno who has four amateur fights under his belt.
"If it wasn't for boxing, I would be dead by now or spending my life in prison," says Spadafora who turned 47 earlier this month. And, we might add, if he were dead, the circumstances of his demise would have undoubtedly been very messy. But let's start at the beginning.
Spadafora, one might say, had boxing in his blood. His father Silvio was a regional amateur champion as was Paul's older brother Harry who took it a step further. As an amateur, competing as a light middleweight, Harry achieved a #3 national ranking. He was 3-0 with 3 kayos as a pro before quitting the sport to concentrate on raising his family.
Paul Spadafora's maternal grandfather Eugene Pelecritti also boxed and get this: the late Joey Maxim, the former light heavyweight champion who is in the Boxing Hall of Fame, is an uncle.
Scientists will tell you that a thirst for boxing cannot be passed on genetically, but some people are apparently genetically predisposed toward addiction. Paul's father Silvio, a crane operator by trade, was only 33 when he passed away. The papers said he died of a heart attack, but Paul, who was nine years old at the time, is certain it was an overdose.
A younger brother, Charlie, passed away at age 40. Charlie, says Paul, was smoking crack when he died. And Paul says his mother Annie, now 72 years old, has been a drug user most of her adult life.
Paul Spadafora dabbled in cocaine, but his preferred drug was alcohol which his lips first touched at age 6 when he shared some Italian wine with his father. Alcohol was involved in his first serious brush with the law. He and some friends went out drinking. Paul, then 19 years old, was riding in a car that ran a stop sign, begetting a high-speed police chase that ended when the car crashed into a telephone pole, whereupon one of the pursuing officers took out his handgun and fired one shot point-blank into the front passenger side of the car. The bullet lodged in Paul's left calf.
In his fighting days, Spadafora was a binge drinker. When preparing for a fight, he was as abstemious as a monk, but each victory was cause for celebration and when he celebrated the booze flowed freely.
Some drunks are happy drunks and stay happy until they fall down; others go from happy to surly where they are prone to lash out at someone at the slightest provocation, including the gendarmes if someone happens to call the cops. Spadafora once skirmished with a bevy of cops and, needless, to say, he took the worst of it. "I got Rodney Kinged," he told the noted British boxing writer and podcaster Tris Dixon, employing a very clever euphemism.
The year after he took a bullet in his calf, Spadafora was arrested for underage drinking. Other alcohol-infused arrests would follow, including arrests for disorderly conduct and public intoxication. But these were small potatoes compared with an incident in the fall of 2003 that would shadow him for the rest of his life.
Shortly before dawn on the morning of Oct. 26, 2003, at a gas station in the gritty Rust Belt western Pennsylvania town of McKees Rocks, Spadafora shot his girlfriend Nadine Russo in the chest with a handgun that he snatched from Nadine's purse. The incident, of which Spadafora has no memory, was ignited when Nadine drove over a median and flattened two of the tires on his Hummer.
Russo wasn't mortally wounded – the bullet lodged an inch below her right breast – and when she refused to testify against him, the charge against him was reduced from attempted murder to aggravated assault.
Earlier that year, Spadafora had fought a spirited fight with Romanian/Canadian tough guy Leonard Dorin on HBO. The bout was ruled a draw which enabled Paul to keep his IBF belt and his undefeated record. That would prove to be his final title fight. He had two bouts as a junior welterweight while awaiting his sentencing. The last leg of a 16-month period of confinement was spent in a military-style boot camp where Paul and his fellow inmates were required to work toward their high school equivalency diploma and undergo counseling for drug and/or alcohol abuse. While he was away, Nadine gave birth to Geno.
—
Spadafora's reckless behavior outside the ring was incongruent with the dedication he showed to his craft. "You have to throw him out of the gym to get him to leave," said his amateur coach P.K. Pecora. A natural right hander who fought as a southpaw, Spadafora was so obsessed with boxing that he once shadow-boxed for 24 straight hours. "It was just me and the mirror," he told this reporter.
Spadafora believes that the policeman who shot him robbed him of much of his power, but that it was a double-edged sword as it forced him to become more of a pure boxer. His strong suit was defense. Indeed, few were as slippery. "Boxing enthusiasts in the Pittsburgh area began comparing Spadafora's defensive skills to those of the great Willie Pep," said a story in the Pittsburgh Post-Gazette.
Spadafora's lightweight title reign began in August of 1999 with a 12-round decision over Israel Cardona. The title was vacant, having been abandoned by Shane Mosely who left the weight class to chase a fight at 140 with Oscar De La Hoya. In winning, Paul became Pittsburgh's first world boxing champion in more than 50 years, achieving parity, as it were, with the original Pittsburgh Kid, Billy Conn.
The underdog in the betting, Spadafora out-classed Cardona, winning all 12 rounds on one of the cards and 11 rounds on the others. His first title defense against Australia's Renato Cornett was even more one-sided. The Pittsburgh Kid won every round before the fight was stopped in the 11th with the Australian a bloody mess.
Spadafora's bout with Cornett was sponsored by the Pittsburgh Brewing Company which commemorated his achievements by putting the boxer's face on cans of Iron City Beer. Only a handful of local sports celebrities were accorded this honor before him, notably Pittsburgh Steelers legend Jack Lambert, coach Chuck Noll, and the club's iconic owner Art Rooney. (This is a cool collectable. When asked if he had saved any, Spadafora sheepishly said, "nope, I drank 'em all.")
Jesse Reid, who came on board before the Cardona fight, would be the longest-tenured of Spadafora's pro coaches. At various times, other notables – e.g., Emanuel Steward, Buddy McGirt, Pernell Whitaker – assumed the role of head trainer. None, however, left a more indelible impression than P.K. Pecora. The glue of Pittsburgh's amateur boxing scene, Pecora, a World War II veteran, was more than a boxing teacher; he was a surrogate father to Paul and other kids from the school of hard knocks. Sometimes when Spadafora talks about his relationship with Pecora he is reduced to tears.
Pecora passed away in 1997 at age 68 from a stroke. In tribute to him, Paul had the initials P.K. stitched on his boxing trunks. He would later have the initials inscribed on his body. (Paul Spadafora has this thing for tattoos. Journalist Sean Hamill conducted a census for a 2009 story and counted 24. Each tattoo has a story behind it.)
After his release from prison, Spadafora added 10 more "W's" to his ledger before suffering his first and only defeat, a 12-round setback to Venezuela's Johan Perez in a bout framed as a WBA 140-pound eliminator with the winner ostensibly owed a crack at Danny Garcia. One of the judges, Glenn Feldman, had it a draw, but the decision was deemed fair. Paul would have one more fight, leaving the sport on a winning note after winning an 8-rounder on a low-budget show at Pittsburgh's Rivers Casino.
Boxers are by nature notorious alibi-makers. Every defeat has its roots in an extenuating circumstance. When we asked Spadafora what went wrong in the Johan Perez fight – a pre-existing injury, perhaps, or maybe dissension in his camp — we were surprised by his response. "Nothing went wrong," he said. "Everybody did their job right, except me. I just lost, that's all."
Paul Spadafora had one ring engagement that has achieved cult status. In December of 1999, shortly before his match with Renato Cornett, he sparred six rounds in headgear with Floyd Mayweather Jr at a gym in North Las Vegas. The session was recorded and although we have never seen the tape, we will accept as gospel the oft-repeated story that the Pittsburgh Kid was clearly superior.
"I believe that cost me a fight with Floyd," says Paul. "He learned that there were easier options out there." Other potential mega-fights never materialized because, in his words, "I kept self-sabotaging myself."
Is it too late to reprise another Spadafora-Mayweather match-up? How about an exhibition with oversized gloves? If Floyd is going to continue his charade of fighting obscure Japanese MMA fighters and intrepid you-tubers, perhaps he owes it to the fans to man-up once in a while and have a go with someone who just may prove to be in his league. Granted, nobody with any sense wants to see boxers in their mid-40s taking more blows to the head, but Paul and Floyd, steadfast gym rats, are in remarkable shape for their age and there is a precedent for it. When future Hall of Famers Jeff Fenech and Azumah Nelson concluded their trilogy in a legitimate 10-round prizefight, Fenech was 44 and Azumah almost 50.
Our interview with Spadafora accorded him an opportunity to call out Mayweather and potentially get the ball rolling, but he wouldn't take the bait. "It would be a privilege to get back in the ring with one of the best boxers, if not the best, in the history of the sport," he says matter-of-factly, "but I'm not a 'call-out' kind of guy."
—-
Paul Spadafora's travails continued in retirement. In December of 2016, he stabbed his half-brother Charlie in the leg during a fracas at the home of his mother. No one came forward to post his $100,000 bail and he spent Christmas in the Allegheny County Jail. More recently he was arrested following an altercation at a tavern in the blue-collar Pittsburgh suburb of Crafton.
His relationship with Nadine seems to have mellowed after years of tumult. She was in Las Vegas for seven years working in a wellness clinic before Paul quit his job as a tree surgeon and came west to join her. The four of them — Paul and Nadine and Geno and the family dog, a very large pit bull that Paul named Tiny – are living under the same roof once again.
Who knows what the future holds for Paul Spadafora, but at the moment he seems to be in a good place. This story may yet have a happy ending.
To comment on this story in the Fight Forum CLICK HERE
Arne K. Lang's latest book, titled "George Dixon, Terry McGovern and the Culture of Boxing in America, 1890-1910," has rolled off the press. Published by McFarland, the book can be ordered directly from the publisher (https://mcfarlandbooks.com/product/clash-of-the-little-giants) or via Amazon.
Robeisy Ramirez Wins the WBO World Featherweight Strap; Outpoints Dogboe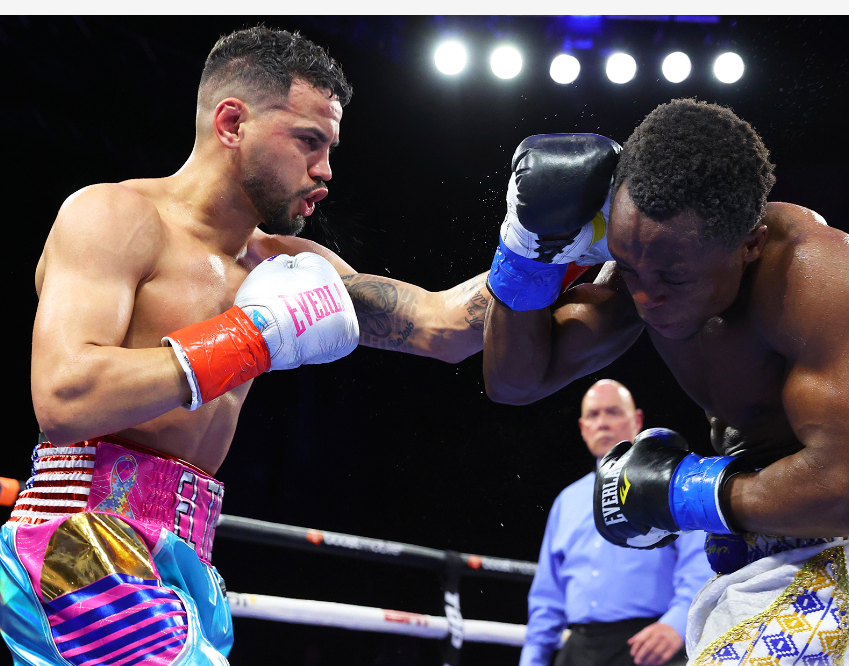 Top Rank was at the Hard Rock Hotel-Casino in Tulsa, Oklahoma tonight with a card that aired on ESPN+. The featured bout was a match between two-time Olympic gold medalist Robeisy Ramirez and former 122-pound world titlist Isaac Dogboe. At stake was the WBO world featherweight title vacated by Emanuel Navarrete.
It was the 13th pro fight for Ramirez, a Cuban defector and the last man to defeat Shakur Stevenson, and his extensive amateur pedigree plus the coaching of his head trainer Ismael Salas translated into a winning performance. In truth, Ramirez didn't do a lot offensively, but he was very elusive and landed the cleaner punches in a tactical fight. The judges had it 119-110, 118-108, and 117-110.
A 29-year-old southpaw, Ramirez sealed the win with a knockdown in the final round, albeit Dogboe wasn't hurt after being caught off-balance with a glancing left hook. It was the twelfth straight win for Ramirez who lost his pro debut in a shocker. Dogboe, who had won four straight after suffering back-to-back losses to Navarrete, falls to 24-3.
Co-Feature
In a featherweight fight characterized by a lot of punches – more than 1500 combined – but actually little in the way of fireworks, SoCal's Joet Gonzalez, a former two-time world title challenger, rebounded from a loss by split decision to Isaac Dogboe with a wide decision over compatriot Enrique Vivas who ended the fight looking as if he may have suffered a broken jaw. The judges had it 99-91 and 98-92 twice.
Gonzalez improved to 26-3 (15). The hard-trying Vivas, who has fought primarily in Northern Mexico, falls to 22-3.
Other Bouts of Note
In an 8-rounder contested at the catchweight of 152 pounds, Jahi Tucker, a 20-year-old Brooklyn-born Long Islander, overcame early adversity and a point deduction for hitting on the break to score a unanimous decision over Nikoloz Sekhniashvili.
Sekhniasvili, from the Republic of Georgia, came out smoking and repeatedly found a home for his left uppercut. But Tucker, who improved to 10-0 (5), weathered the storm and had more gas in his tank. All three judges had it 77-74. It was the second loss for Sekhniashvili who was competing in his tenth pro fight.
In an 8-round heavyweight affair, Jeremiah Milton, a local product advanced to 9-0 (6) at the expense of late sub Fabio Maldonado, a 43-year-old Brazilian. Milton won all eight rounds on two of the scorecards and six rounds on the other, but was yet unimpressive, rarely throwing more than one punch at a time. "He left a lot on the table," in the words of TV commentator Andre Ward.
Maldonado, who has an MMA background, has an interesting record (29-7, 28 KOs) but is only 7-7 (0-6 on the road) since returning to boxing in 2016 after a six-year hiatus. Against Milton, who was profiled in these pages when his pro career was just getting started, Maldonado had two points deducted for rough tactics and did more posturing than boxing.
In an 8-round junior welterweight contest, Delante "Tiger" Johnson, a U.S. Olympian in Tokyo, advanced to 8-0 (5) with a unanimous decision over Alfonso Olvera, 33-year-old father of four from Tucson. Johnson won every round, but Olvera (12-8-3) had his moments and the bout was more competitive that one would have gleaned from the 80-72 scorecards.
Photo credit: Mikey Williams / Top Rank via Getty Images
To comment on this story in the Fight Forum CLICK HERE
Anthony Joshua Outpoints Jermaine Franklin in a Dreary Fight in London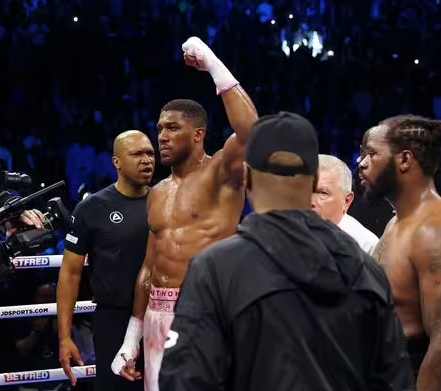 Amid the holding and grappling former heavyweight champion Anthony Joshua got the win by unanimous decision against the shorter Jermaine Franklin to finally return to the win column after more than two years on Saturday.
It wasn't pretty.
"I should have knocked him out, but it's done," said Joshua.
If not for the constant holding allowed by the referee, England's Joshua (25-3, 22 KOs) might have stopped America's Franklin (21-2, 14 KOs) at the O2 Arena in London. Instead, after 12 mostly dreary rounds it ended in a decision win.
"Jermain has a good duck and dive style," said Joshua. "Respect to him. He done well."
The last time Joshua won a fight was December 2020 against Kubrat Pulev by knockout. Since that time the tall, muscular former heavyweight titlist lost twice to Oleksandr Usyk.
Joshua had claimed he would retire if he lost again.
For the first half of the fight both heavyweights used the jab with Joshua snapping off some long right crosses behind it. Immediately Franklin would counter with his own rights and would land.
But most of the first few rounds were from a distance.
"When people come to fight me, they muster up a different kind of energy," said Joshua about Franklin's ability to compete 12 rounds. "He's here to prove himself. He's not here to roll over."
Action really increased around the fifth round with Franklin more intent on getting inside against the much taller Joshua. But every time he charged in the British fighter would grab his arms and hold until the referee broke it up.
Franklin withstood some big shots, especially from Joshua's right uppercuts. But as the rounds mounted up the American fighter's counters became fewer and fewer.
The entire remainder of the fight was Joshua hitting and holding Franklin's attempts to fight inside. Though referee Marcus McDonnell advised both fighters to stop the holding, but he never followed up and that allowed the heavyweight fight to slow to a crawl until the final round.
Joshua would fire off a jab then grab ahold of Franklin's attempts to counter. It became a dreary fight and the referee allowed the contest to continue in monotony.
Franklin shared part of the blame by charging in with his arms extended. If he kept his hands tucked in there would be nothing to hold, but for almost the remainder of the fight hitting and holding was the scenario played out.
In the final round the holding stopped and both fighters exchanged brisk blows. But Franklin seemed more tired than Joshua who stepped in the prize ring heavier than ever. The extra weight did not faze him. Joshua was able to absorb the few big blows from Franklin.
After 12 rounds one judge scored it 118-111, and two others 117-111 all for Joshua.
The win allows fans to dream of an all-British clash between Joshua and Tyson Fury.
"It would be an honor to fight for the WBC title," said Joshua. "You know me I try to provide for the fans. I know who the fans want."
Other Bouts
Ammo Williams (14-0, 10 KOs) needed a few rounds to figure out England's River Wilson-Bent before forcing a stoppage at 1:01 of the eighth round of the middleweight fight. Williams was able to floor Wilson-Bent in the seventh round but overall had a rugged six rounds before figuring out the taller British fighter.
Olympic gold medalist Galal Yafai (4-0, 3 KOs) scored a win by knockout over Mexico's Moises Calleros (36-11-1) in the fourth round in a flyweight match.
In a heavyweight fight, Fabio Wardley (16-0, 15 KOs) won by knockout over American Michael Polite-Coffee (13-4) when referee Howard Foster suddenly stopped a flurry by the British fighter though no knockdown was scored.
Campbell Hatton (11-0, 4 KOs) scored a knockout via body shot over Louis Fielding (10-8) at 1:29 of the first round. The son of boxing great Ricky Hatton used a left hook to the liver to get the stoppage.
To comment on this story in the Fight Forum CLICK HERE
Rest In Peace Ken Buchanan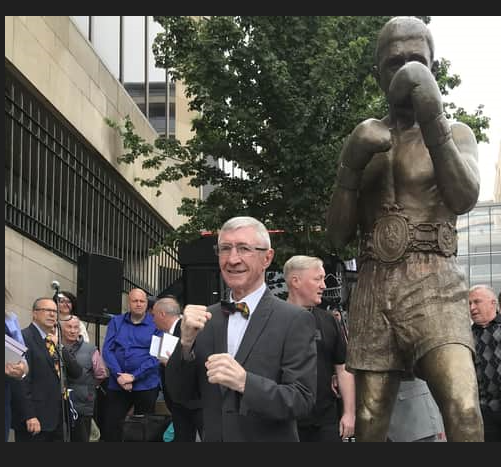 We don't get many great ones in Scotland. Ken Buchanan, who was confirmed to have died today, was one of them, having held the lightweight championship of the world in the highly competitive era of the 1970s, losing it to perhaps the finest champion of them all in the shape of Roberto Duran – and in questionable circumstances at that.
The temptation is to tell the wonderful story of Ken Buchanan in three fights, and I will succumb to that temptation, saying in addition only that the determination and dignity that Buchanan held in his difficult later years impressed me almost as much as his wonderful fighting career. That he did great things in tartan shorts often despite of and not because of a country that failed to support him as richly as he deserved. That the British Boxing Board of Control's failure to recognise him as world champion when literally the whole of the rest of the boxing universe did is the most shameful decision in the history of that storied organisation. Ken had nothing like the financial, administrative, promotional, and sometimes fistic help that he should have had. Buchanan, perhaps more than any of the great British fighters, achieved what he achieved alone.
That is why we find Buchanan at his mother's funeral in the late 1960s essentially retired from the sport before he has even been tested. Buchanan was not a very Scottish fighter. He didn't wade in, workmanlike, "honest", aggressive; that was his lightweight rival, another fine Scottish fighter named Jim Watt, but it was not Ken. Ken boxed with grace and flamboyance, chose distance, and controlled it, he made superfluous moves and eschewed economy. The style hid iron. Buchanan was stopped just once and that loss had absolutely nothing to do with his chin, as we shall see. Motivated by his remembrance of his mother's belief that he was made to do something in the sport of boxing, he set out once again in search of greatness. Almost immediately he was robbed in his attempt to win the European lightweight championship from Miguel Velazquez, out in Spain. The great Scottish sportswriter Hugh McIlvanney wryly noted that the Spaniard would have had to have produced a death certificate to lose a fight that Buchanan clearly deserved to win.
Throughout Ken's career, money men, among them the top British promoter Bobby Neil, tried to change his style, turn him into a workman's puncher, but Ken just calmly turned them away, choosing his moves based upon freedom rather than cash. This is what made the fast turnaround after the Velazquez debacle so fascinating to me. Buchanan was essentially waiting for a stay-busy fight after winning the British title when he was called directly by Jack Solomons, probably the best-connected promoter and fixer in the country at that time.
"How would you like to fight for the world title you Scots git?" was Jack's opening gambit; Ken thought that Jack had called him up as a joke, promoted by his father, Ken's constant companion but a man fond of a joke. Jack explained clearly – the people who handled world champion Ismael Laguna were after a soft touch; a stand-up boxer who wouldn't give Laguna any trouble, a "patsy" in the parlance of the time. Buchanan was furious.
"A patsy?  Is that what they think of me in America? Get me the fight Jack and I'll show these people what us Scottish patsies are like."
Buchanan's date with destiny was set for September 26, 1970 in San Juan, Puerto Rico. To further discomfort the Scotsman the fight would be fought at 2pm with temperatures soaring to 100 degrees Fahrenheit. "I knew there was no promoter in Britain ready to put up money for me to have a shot at the title," he remembered in his 2000 biography The Tartan Legend, "so I'd have to go for this in a big way."
The champion, Ismael Laguna, was a wonderful fighter. In 1965 he had defeated the mighty Carlos Ortiz in a narrow decision that must be seen to be believed. Laguna inverted his combinations, turned square against the lethal Ortiz to lead with his right, a baffling, extraordinary execution. It remains one of the finest maverick performances I've ever seen against a genuine all-time great and although Ortiz avenged himself and reclaimed his title, when Ortiz was out of the picture Laguna once again rose to the top. Buchanan and his father developed an audacious plan that only another maverick could conceive of: they would travel 4,000 miles from home and outbox this man to a 15-round decision.
Buchanan, in many ways, was ahead of his time and that he was undertaking sprints as interval training in the build-up to the San Juan contest may have been the single most important factor (outside of his brilliance) in winning that fight. Bathed in sweat and "unable to fill my lungs with air" Ken battled the oppressive heat as keenly as he did his opposition in the ring. This training mirrored Ken's style in the ring – movement, control of the distance, then lengthy combination punching or a period of infighting under maximum commitment, then back on his toes. Almost as important was may have been the shuffling of the officials prompted by Ken's manager, Eddie Thomas, who had heard that a judge and referee had been imported by Laguna's team for the occasion.
Ken boxed early and was perhaps out-pecked – he stepped in to provide pressure through eight and the fight was balanced on a knife-edge and remained there through twelve. What really made the difference in this fight was not Ken's skills and quickness and what is perhaps the most cultured left hand in the history of British boxing, but his decision in the championship rounds to attack. "By the twelfth round we are both tired.  Really lead-weight tired. But Laguna won't give in…I decide to change my tactics.  I decide to go for him."
It was just enough. Ken Buchanan became the new lightweight champion of the world by split decision, both his eyes closed and "at the limit of [his] endurance."
Buchanan fought his first defence in February of 1971, outpointing Ruben Navarro in LA and fought his second and last defence in a rematch against Laguna. Made in New York, this battle was every bit as torrid as the first, a savage cut to his left eye hampering him throughout and forcing an adjustment that is every bit as much a part of Buchanan's legend for me as his forthcoming meeting with Roberto Duran. His legendary jab hampered by that damage to the left eye, Buchanan fought squarer, just as Laguna had against Ortiz all those years ago, the injury forcing him in to what McIlvanney called the "slugger's stance." I'll bow to his summary of this fight: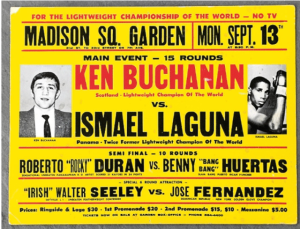 "Most boxers, faced with the demand for such an adjustment, would make a respectable lunge at it for a few minutes, then sag into resignation. The Scottish world champion, whose blindingly sudden and confusingly flexible left jab is not only his most telling weapon but the triggering mechanism for all his best combinations, might have been forgiven if he had gone that way…far from wilting he gained in assurance and authority as the fight moved into the final third of the contest. Time and again he turned back the spidery aggression of Laguna."
For Buchanan, I'm sure it was nice just to have McIlvanney in attendance. Almost no British press had followed him east for his shot at the title and the reception at home was underwhelming, not least by the BBBC's preposterous stand over Buchanan's championship honours. Now, he had earned his status as one of Britain's great champions.
It is a status he enjoyed at the time of his death today at age 77, a year after his diagnoses with dementia, a status he will always enjoy despite his loss of his lightweight title in his next defence against his nemesis, Roberto Duran.
Duran stopped Ken Buchanan in the thirteenth round of their 1972 Madison Square Garden match, but it is time now to be explicit: the refereeing in this fight was questionable. Johnny LoBianco allowed Duran to foul Buchanan throughout. Sports Illustrated adjudged from ringside that Duran "used every part of his anatomy, everything but his knee" in his pursuit of the title.
Buchanan was even more direct: "I thought I signed up for a wrestling match, not a boxing contest.  He hit me in the balls a couple of times without so much as a nod from the referee."  In the thirteenth, Buchanan, trailing on the cards, felt he had one of his better rounds but at the bell, "I turn towards my corner and in the same moment Duran lunges…with a punch that went right into my balls." The punch was so hard that it split Buchanan's protector. Examined by a doctor after the fight he was found to have significant swelling of the testicles. The referee, incredibly, didn't even admonish Duran for throwing a fight-finishing punch after the bell while simultaneously claiming that the punch had been "to the solar plexus."
To be clear, Duran was better than Buchanan. It's almost impossible to envisage Buchanan turning the fight around and however he personally felt about the thirteenth, if he received four rounds on a scorecard, that scorecard would be generous. But it is also wrong to see anyone drop his title in such circumstances and the unfortunate event saw the beginning of Buchanan's slide from relevancy and then, later, mental health. He waited by the phone for far too long for Duran to call him up and offer a rematch. Whatever is to be made of it, Duran had no interest in providing one, and in Buchanan's defence, it's probable that he never fought a fighter as good as Ken during the whole of the rest of his lightweight reign. Buchanan took it badly, so badly he even flew to North America in the 1990s to see if he could track Duran down and have it out with him. Fortunately, Buchanan didn't get much further than some downtown bars where he was still fondly remembered by some of the patrons.
Buchanan's life post-boxing was difficult, but never pitiful.  He was proud and however difficult things got, he remained proud. Last year, and just in time, he was in attendance as a statue of him was unveiled on Leith Walk in Edinburgh where he ran as a boy.
Gone now, he will never be forgotten in Scotland. Blessed with speed and great heart he made of himself what he could and it turned out to be just about as much as a Scottish fighter has ever made of himself. To end I offer a quote from The Fight Game In Scotland, a book written by Brian Donald who himself boxed Buchanan when both were Edinburgh teenagers. Brian ran 0-3 but began a lifelong friendship with Buchanan who was always ready to offer the hand of friendship to his defeated opponents.
"Buchanan, like a top-grade malt whisky, held his own in any foreign environment no matter how distant he was from his native shores…he was and remains one of the most accomplished British fighters to fight in foreign rings. His ring style was in some respects a metaphor for his own personality, elusive and tough, and the soaring singularity of his talent was matched by an equally single-minded determination that nobody, but nobody, knew better than Kenny Buchanan what was good for him."
To comment on this story in the Fight Forum CLICK HERE