Terry McGovern: The Year of the Butcher, Part One – A Man Invincible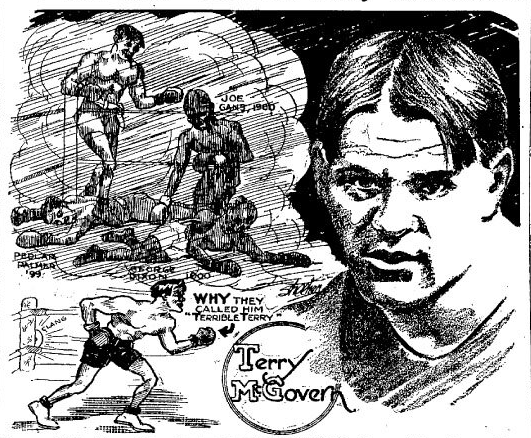 It is the night of September ninth 1899 and Pedlar Palmer is dreaming of home, the pattering of rain against New York glass carrying him back, perhaps, to his native England. Palmer had won the world's bantamweight title in London and had defended it in London turning away both the best of British and the Americans that dared to sail. Now, he had sailed, to defend his status as the very best in the world. The blood that whispered in his veins was fighting blood; his grandfather boxed Abe Belasco, a technician of the bare-knuckle era, and ran with Daniel Mendoza, the godfather of scientific pugilism; his great grandfather boxed the legendary Tom Belcher.
For him, it was always to be the cobbles and history records only a sliver of his combat. It records not a single loss. Palmer slept well the night of September ninth 1899, the sleep of a man invincible.
In the city, Terry McGovern dreamed too. Blood-sodden punches tearing the life from helpless giants. Within the next twelve months he will defeat, by destructive knockout, the reigning bantamweight, featherweight and lightweight champions of the world. It will be easy.
It is the Year of the Butcher.
Just as the wolf does not train to be the wolf, Palmer did not spar in preparation for the looming confrontation but rather honed himself to a vibrating peak under the tutelage of a man from the same pack, former lightweight contender Sam Blakelock. Blakelock spoke little and laughed less, but walked with Palmer before breakfast, ran with him after, read the newspapers with him before lunch, worked with him after, steam billowing from his body just as it steamed from Palmer's when the heat left the day. They were a team, one of the most formidable in the world.
For all that, they were different, both as men and as fighters. Palmer spoke lightly and made friends wherever he went, though he disliked crowds and attention. Where Blakelock had embraced a more direct style in his doomed pursuit of the great Jack McAuliffe, Palmer wore his alias "Box O' Tricks" proudly and was often described as the cleverest man in his division. A deluxe spoiler and multi-range stylist he was adept at solving his opponent over the canvas, and the fact that he had never seen McGovern lift his hands in the ring did not concern him.
"I never fight two men the same way," he explained when pressed by American journalists for strategy. "A man can never tell how he is going to fight until he feels his opponent out."
The press felt sure though that it would be Palmer victory on points or a Palmer loss by knockout.  McGovern was not yet known to be the forefather of every destroyer who would ever box under the Marquis of Queensberry Rules, but he was already regarded by boxing scribe Willie Green as "a miniature John Sullivan" and "the hardest hitting little man in the ring."
He stayed in Brooklyn, close to home, unperturbed by the stream of company that caused Palmer to shift camps although he did insist, unusually, upon a degree of privacy for his training. He did spar, savagely and relentlessly, in the main with the lightweight contender Tim Kearns, and from bright eyes and giddy face he did claim to love to fight, whoever, wherever.
He "took enough wallops to unnerve an ordinary scrapper," reported The New York Sun. "He got it hard on the jaw often, but all the blows did was shake him a trifle."
To take it.  The definitive mission for the true ring savage who would be great, to take it and to prove you could take it, to oneself first and foremost, to the world and everything in it besides.
"Well, you see, I take a punch to give two," McGovern offered.  "I feel out my man to see if he's a hard hitter…the only way to ascertain this is to take one or two you know."
They ran him like a dog and then rubbed him down with witch-hazel. They fed him meat, which he loved and was "given to as much as possible." Then they took turns fighting him and by nine he was in bed and asleep. When he reached the required poundage, everything stopped, he rested, suddenly and preternaturally still, patiently awaiting the removal of the invisible chain.
McGovern opened a narrow betting favourite and the odds widened the nearer came the fight, to the great consternation of newspapermen. "There should be no odds," argued The St. Paul Globe.  "The men are so evenly matched that the betting should be the same…Palmer is far and away the better boxer as far as skill is concerned [and] the Britisher's record is superior."
The great heavyweights agreed to a man, Bob Fitzsimmons picking Palmer to win by experience, John L. Sullivan, James J Corbett and Jim Jeffries all declining to make a pick, calling an even fight. Tom Sharkey stuck out his neck in predicting a late knockout for McGovern.
The day before the combat, Palmer visited with the Westchester Athletic Club in Tuckahoe, New York, and examined the canvas, tightened the ropes. McGovern reclined among newspapers, his eyeballs drying in the stillness of his head, his captivity lengthened by a twenty-four-hour delay enforced by weather. Having risen that morning before the truth of dawn to weigh in comfortably under the 116lb limit, each man bathed in the luxury of a rehydration period close to thirty-six hours after the champion refused to be re-weighed on the fight's new date; they would bring the best of themselves to the ring the next day.
Thirty-six hours trickled by. At the site of the fight, pandemonium. An unexpectedly huge and enthusiastic turnout saw a scrum in the cheap seats that took the best part of an hour to settle and did irretrievable damage to the wardrobe of numerous spectators. Both fighters eschewed the crowd's intensity, McGovern smiling his way to the ring behind his younger brother, who brandished both the American and the Irish flag. Palmer seemed even more relaxed, "all agility" according to one ringsider, moving lightly from one rope to the other, smiling, almost sanguine, once more a man invincible.
He was "the cleverest fighter in the world in the opinion of many" according to one preview and was expected to control McGovern in the early stages even by those that predicted a win for the challenger. He had controlled, after all, the immortal George Dixon some three years earlier in a six round draw at Madison Square Garden. The final round had been tough for the Englishman, but early he easily nullified Dixon's aggression with his dazzling speed, stiff left hand and tactical brilliance. Notably the smaller man in that contest, it was considered unlikely that if Dixon, in his genius, could not place Palmer under control early, McGovern, who was no bigger than Palmer and had but a sliver of Dixon's art, would struggle.
A little over two minutes after the opening bell Palmer was roiling on the canvas in a semi-conscious stupor, lunging for and missing the bottom rope in a heartfelt but futile attempt to rise. McGovern had turned his brain in his head with a devastating combination landed behind punishment that the wire-report called "swift and terrible, his hands working like piston-rods." Palmer was not just beaten but outclassed by an opponent who kept his promise to "take one or two" to measure the champion's artillery, and found it wanting. Palmer, for all his cleverness and experience, was doomed from that moment as McGovern elected merely to walk through him and "batted him to semi-insensibility."
McGovern bared his teeth when Palmer landed those two blows and the whirlwind attack that followed "carried his opponent's cleverness before him like chaff" according to The Brooklyn Eagle.  A right hand to the heart seemed momentarily to stiffen the champion and perhaps even force him to take a belated knee, though he received no count.
"McGovern's body work was simply awful," The Eagle continued, "and the beating on the diaphragm…left Palmer in much the same condition as Corbett [in his fight with Bob Fitzsimmons].  His body was temporarily paralyzed from the blows."
At the crucial moment the surrealism which infused the venue in the presence of the enormous black Kinetoscope and the trampling of the brisling crowd deepened when the timekeeper's hand slipped and the round came to a sudden and premature end after just a minute of action. Referee George Siler waved them back in and a stunned Palmer, clearly shocked by the brutality of the assault surrounding him, attempted to clinch; McGovern fought and writhed his way free and Palmer clinched again – and again.  Finally, McGovern ripped free and landed a whistling hook on or just above the jaw and Palmer was over.
Up at five he tried to stall but finally was cornered by a fighter so bent upon his destruction that he had begun to miss, until at last McGovern found him flush with an uppercut that drove his head up and away. As he reeled the new champion landed the left-hook that was likely the punch most responsible for his victory and as he tried to fall McGovern found him again with a right hand to the temple, turning his brain in a third new direction in just a single second. Not all accounts of the fight have the referee bothering to finish the count before he raised McGovern's hand in triumph.
"What was it hit me?"  the deposed champion asked when at last he could speak.
"Palmer kept falling over," complained Mrs. McGovern as her husband cooed their newborn baby on his knee, his face unmarked. "It wasn't very exciting?"
"It came off much quicker than I expected," McGovern agreed, directing his remarks towards the pressmen that surrounded him. "I thought it would go at least ten rounds and maybe seventeen," he added with disturbing specificity. "But I had no doubt as to the result. I am now ready to meet them as they come. Starting with George Dixon.
"Isn't he big for his age?" he asked, offering the child.
Dixon had instructed his manager to challenge the winner, though he did not attend himself. The two men split around $26,000 in cash and assets, an enormous purse for bantamweights and not something Dixon could ignore any more than he could have ignored the sense that he was about to become a part of another man's destiny. But George Dixon was not so assailed.  He had defended his featherweight title eight times in 1899 and was relaxed about making the latest in a long line of new sensations his first defence of the new century.
"I'll finish him before the tenth," McGovern insisted, still smiling.
To comment on this story in the Fight Forum CLICK HERE
Ryan "KingRy" Garcia Returns With a Bang; KOs Oscar Duarte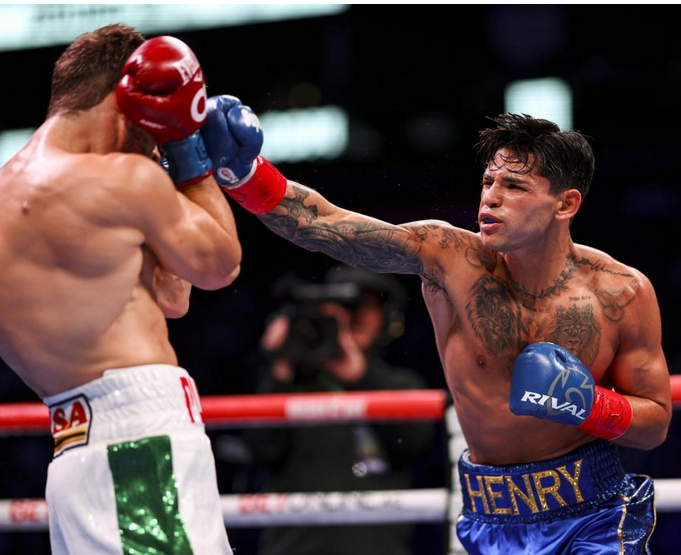 It was a different Ryan "KingRy" Garcia the world saw in defeating Mexico's rugged Oscar Duarte, but it was that same deadly left hook counter that got the job done by knockout on Saturday.
Only the quick survive.
Garcia (24-1, 20 KOs) used a variety of stances before luring knockout artist Duarte (26-1-1, 21 KOs) into his favorite punch before a sold-out crowd at Toyota Arena in Houston, Texas. That punch should be patented in gold.
It was somewhat advertised as knockout artist versus matinee idol, but those who know the sport knew that Garcia was a real puncher. But could he rebound from his loss earlier this year?
The answer was yes.
Garcia used a variety of styles beginning with a jab at a prescribed distance via his new trainer Derrick James. It allowed both Garcia and Duarte to gain footing and knock the cobwebs out of their reflexes. Garcia's jab scored most of the early points during the first three rounds. He also snapped off some left hooks and rights.
"He was a strong fighter, took a strong punch," said Garcia. "I hit him with some hard punches and he kept coming."
Duarte, an ultra-pale Mexican from Durango, was cautious, knowing full well how many Garcia foes had underestimated the power behind his blows.
Slowly the muscular Mexican fighter began closing in with body shots and soon both fighters were locked in an inside battle. Garcia used a tucked-in shoulder style while Duarte pounded the body, back of the head and in the back causing the referee to warn for the illegal punches twice.
Still, Duarte had finally managed to punch Garcia with multiple shots for several rounds.
Around the sixth round Garcia was advised by his new trainer to begin jabbing and moving. It forced Duarte out of his rhythm as he was unable to punch without planting his feet. Suddenly, the momentum had reversed again and Duarte looked less dangerous.
"I had to slow his momentum down. That softened him up," said Garcia about using that change in style to change Duarte's pressure attack. "Shout out to Derrick James."
Boos began cascading from the crowd but Garcia was on a roll and had definitely regained the advantage. A quick five-punch combination rocked Duarte though not all landed. The danger made the Mexican pause.
In the eighth round Duarte knew he had to take back the momentum and charged even harder. In one lickety-split second a near invisible counter left hook connected on Duarte's temple and he stumbled like a drunken soldier on liberty in Honolulu. Garcia quickly followed up with rights and uppercuts as Duarte had a look of terror as his legs failed to maintain stability. Down he went for the count.
Duarte was counted out by referee James Green at 2:51 of the eighth round as Garcia watched from the other side of the ring.
"I started opening up my legs a little bit to open up the shot," explained Garcia. "When I hurt somebody that hard, I just keep cracking them. I hurt him with a counter left hook."
The weapon of champions.
Garcia's victory returns him back to the forefront as one of boxing's biggest gate attractions. A list of potential foes is his to dissect and choose.
"I'm just ready to continue to my ascent to be a champion at 140," Garcia said.
It was a tranquil end after such a tumultuous last three days.
Other Bouts
Floyd Schofield (16-0, 12 KOs) blitzed Mexico's Ricardo "Not Finito" Lopez (17-8-3) with a four knockdown blowout that left fans mesmerized and pleased with the fighter from Austin, Texas.
Schofield immediately shot out quick jabs and then a lightning four-punch combination that delivered Lopez to the canvas wondering what had happened. He got up. Then Scholfield moved in with a jab and crisp left hook and down went Lopez like a dunked basketball bouncing.
At this point it seemed the fight might stop. But it proceeded and Schofield unleashed another quick combo that sent Lopez down though he did try to punch back. It was getting monotonous. Lopez got up and then was met with another rapid fire five- or six-punch combination. Lopez was down for the fourth time and the referee stopped the devastation.
"I appreciate him risking his life," said Schofield of his victim.
In a middleweight clash Shane Mosley Jr. (21-4, 12 KOs) out-worked Joshua Conley (17-6-1, 11 KOs) for five rounds before stopping the San Bernardino fighter at 1:51 of the sixth round. It was Mosley's second consecutive knockout and fourth straight win.
Mosley continues to improve in every fight and again moves up the middleweight rankings.
Super middleweight prospect Darius Fulghum (9-0, 9 KOs) of Houston remained undefeated and kept his knockout string intact with a second round pounding and stoppage over Pachino Hill (8-5-1) in 56 seconds of that round.
Photo credit: Golden Boy Promotions
To comment on this story in the Fight Forum CLICK HERE
Jordan Gill TKOs Michael Conlan Who May Have Reached the End of the Road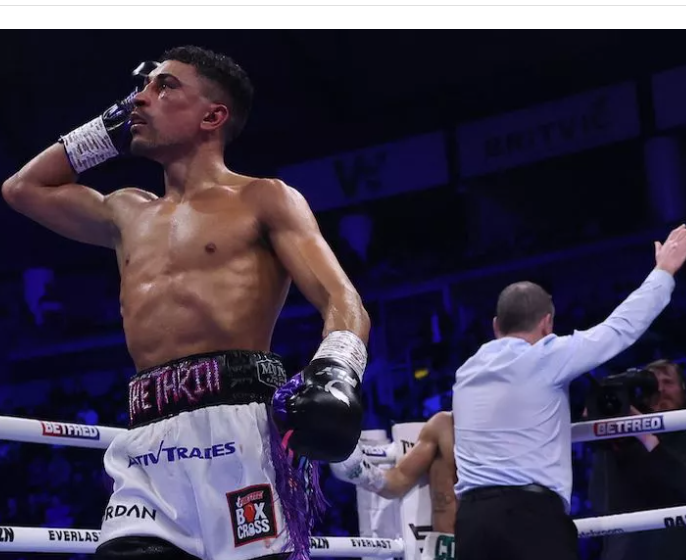 Fighting on his home turf, two-time Olympian Michael Conlan was an 8/1 favorite over Jordan Gill tonight in Belfast, Northern Ireland. Had he won, Matchroom promoter Eddie Hearn was eyeing a rematch for Conlan with Leigh Wood. Their March 2022 rumble in Nottingham was a popular pick for the Fight of the Year. But the 29-year-old Gill, a Cambridgeshire man, rendered that discussion moot with a seventh-round stoppage. It was Conlan's third loss inside the distance in the last 18 months and he would be wise to call it a day. His punch resistance is plainly not what it once was.
It was with considerable fanfare that Conlan cast his lot with Top Rank coming out of the amateur ranks. Tonight was his first assignment for Matchroom and his first fight at 130 pounds after coming up short in two world featherweight title fights. And he almost didn't make it past the second round. Gill had him on the canvas in the opening minute of round two compliments of a left hook and stunned him late in the round with a right hand that left him on unsteady legs.
He survived the round and for a fleeting moment in the sixth frame it appeared that he had reversed Gill's momentum. But Gill took charge again in the next stanza, trapping Conlan in the corner and unloading a fusillade of punches that forced referee Howard Foster to waive it off, much to the great dismay of the crowd. The official time was 1:09 of round seven.
Released by Top Rank, Conlan trained for this fight in Miami, Florida, under Pedro Diaz, best known for rejuvenating the career of Miguel Cotto. But the switch in trainer and in promoter made no difference as Conlan, who won his first amateur title at age 11, was damaged goods before he entered the ring. It was a career-defining victory for Jordan Gill (28-2-1, 9 KOs) who was not known as a big puncher and was returning to the ring after being stopped by Kiko Martinez 13 months ago in his previous start.
Semi-wind-up
In the "Battle of Belfast," undefeated welterweight Lewis Crocker seized control in the opening round and went on to win a lopsided decision over intra-city rival Tyrone McKenna (23-4-1). Two of the judges gave Crocker every round and the other had it 98-92, but yet this was entertaining fight in spurts. McKenna had more fans in the building, but Crocker, seven years younger at age 26, went to post a 7/2 favorite and youth was served.
Other Bouts of Note
Belfast super welterweight Caoimhin Agyarko, who overcame a near-fatal mugging at age 20, advanced to 14-0 (7) with a 10-round split decision over Troy Williamson (20-2-1). The judges had it 98-92 and 97-93 for Agyarko with a dissenter submitting a curious 96-94 score for the 31-year-old Williamson who wasn't able to exploit his advantages in height and reach.
Sean McComb, a 31-year-old Belfast southpaw, scored what was arguably the best win of his career with a 10-round beat-down of longtime sparring partner Sam Maxwell. Two of the judges gave McComb every round and the other had it 99-88. McComb, who has an interesting nickname, "The Public Nuisance, successfully defended his WBO European super welterweight strap while elevating his record to 18-1 (6). The fading, 35-year-old Maxwell, a former BBBofC British title-holder, lost for third time in his last four starts after winning his first 16 pro fights.
Photo credit: Mark Robinson / Matchroom
To comment on this story in the Fight Forum CLICK HERE
Avila Perspective, Chap. 262: Ryan Garcia Reloads and More Fight News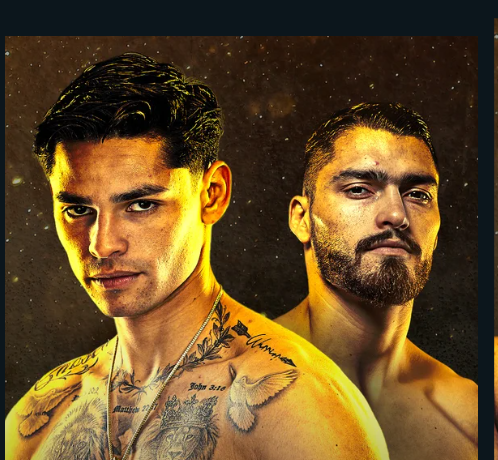 Avila Perspective, Chap. 262: Ryan Garcia Reloads and More Fight News
Nobody is perfect.
That's a mantra that everyone including boxers, promoters and managers should realize. No person is perfect. Everyone makes mistakes.
Ryan "King Ry" Garcia (23-1, 19 KOs) returns to the prize ring to face thunderous punching Oscar Duarte (26-1-1, 21 KOs) on Saturday, Dec. 2, at the Toyota Center in Houston, Texas. DAZN will stream the stacked Golden Boy Promotions card.
A press conference started slowly like a long-lit fuse slowly burning to the stick of dynamite. And when the fire reached the stick, it exploded with everyone in the vicinity burned.
Garcia unleashed pent-up frustration with verbal attacks on his promoters and burned the perimeter with fire. Poor Duarte sat there knowing something happened, but probably needed translation from his people to discover Garcia burned the room.
No survivors.
If that's just a sample of what's coming on Saturday night, well buckle-up and don't miss a second of Garcia and Duarte's confrontation.
Duarte has 11 consecutive knockouts and an 80 percent knockout rate. Garcia recently lost to Gervonta "Tank" Davis by stoppage and is looking to raze the earth. He has an 82 percent knockout rate.
Somebody is going to sleep in front of millions of fans.
"Oscar is a tough opponent. I know he's going to come to fight. But I'm right here to make an example for the 140-division," said Garcia with a death knell stare during the face-off. "This is how I'm coming. This is the Ryan Garcia you are going to get."
Duarte knows he's in the limelight. There's no better place to be. Or is there?
"This is a dream for me. I come very prepared. This Saturday you will see my best version," said Duarte. "I'm going to win."
Maybe he picked the wrong time.
Garcia looked as if he were General Sherman on his way to scorch the earth on his way to Atlanta. No survivors.
It doesn't look good for anyone.
"I'm laser focused" said Garcia with a stare that looked like Superman shooting lasers from his eyes.
The loss to Davis last spring was only on his ledger. In his pocketbook the lean, snap-quick fighter from Victorville, California gained $30+ million. That's what happens when you fight the best and the world wants to see it. Both he and Tank Davis broke the bank and the counting machine for pay-per-views.
But winning still remains important and few know better than promoter Oscar De La Hoya.
"You never know where the mindset is in a fighter after he loses. You have to give it up to Ryan. When you pick a guy who is dangerous and speedy and who has a shot, kudos to Ryan," said De La Hoya on social media in a statement that probably lit the Garcia's fuse that roasted the room.
"When fighters lose they have their emotional rollercoasters. But once you win and you get 30 million bucks everything is friggin good," De La Hoya added.
Others on the card are Shane Mosley Jr., Floyd Schofield, Darius Fulghum and Ryan's younger brother Sean Garcia.
It's loaded. Beware of fire.
SoCal
Amado Vargas, son of the great Fernando Vargas, makes his return.
Vargas (9-0, 4 KOs), a lightweight, meets Ezequiel Flores (4-1) in the main event on Saturday Dec. 2, at C. Robert Lee Center in Hawaiian Gardens, Calif. on the MarvNation Boxing Promotions card
All three of the Vargas brothers have been burning up to boxing ring and all are signed by promoters. Amado and Fernando Vargas Jr. signed with MarvNation and have attracted many fans.
This is the last boxing card of the year for MarvNation. Doors open at 5 p.m. For more information call (562) 713-9026 or (562) 639-3980.
Florida
Don King Productions has its last card of the year and ends it with five title fights including undefeated Antonio Perez (8-0, 5 KOs) versus Haskell Rhodes (29-5-1, 14 KOs) in a welterweight clash at Casino Miami Jai Ali in Miami, Florida.
Perez, 21, is only 5-6 in height and Rhodes is even shorter, but has experience against top competition such as Floyd Schofield and Sergey Lipinets.
Also on the card are Ian Green, Vaughn Alexander, Tre'Sean Wiggins, Chris Howard, Alex Castro, Harry Cruz and more.
The Don King Production card will be streamed at this link: https://itube247.com/
To comment on this story in the Fight Forum CLICK HERE