The Clay-Liston Fight was a Watershed Moment for Journalist and Author Robert Lipsyte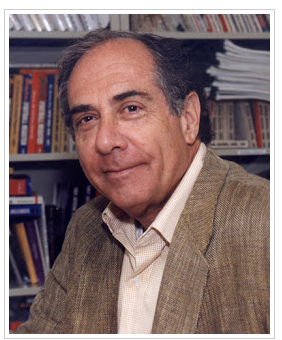 Two lives unknowingly became intertwined on February 25, 1964, at the Miami Beach Convention Center when Cassius Clay faced the reigning heavyweight champion Charles "Sonny" Liston, a 7-1 betting favorite over the brash 22-year-old challenger from Louisville, Kentucky.
Seated ringside was Robert Lipsyte, who was covering the match for the New York Times, seven years after graduating from Columbia University with an English degree.
Clay, who would shortly change his given name to Muhammad Ali, was thought to be in over his head.
"The regular boxing writer, Joe Nichols, terrific guy, also covered horse racing which he was more interested in," Lipsyte said. "His feeling, as was the general feeling, was that Cassius Clay would be knocked out in the first round and he did not think it was worth his time to go all the way down to Miami Beach for less than one round."
Lipsyte, who had two tours at the Times beginning in 1957 and running through 1971, and 1991 through 2003, was looking for his big break.
"He kind of looked around the newsroom and he pointed to me and he said, "the kid on the night rewrite, he's not doing anything, send him." That's a bit of a legend," he said. "The point was they were ready to move me up. The fight was in February. The decision was probably made in October to send me down. Those decisions are certainly made long in advance. And so, I had a number of months to go to every boxing match I could go to, interview fighters, read everything."
Getting this assignment wasn't lost on Lipsyte, who would become one of the vaunted Sports of the Times columnists, and during his long career would be highly decorated, including winning the Margaret A. Edwards Award from the American Library Association for lifetime contribution to Young Adult Literature in 2001. Previously he was a finalist for the Pulitzer Prize for Commentary in 1992 and won the A.J. Liebling Award for Outstanding Boxing Writing from the Boxing Writers Association of America in 1995.
"I was enormously inexperienced compared to Joe Nichols, but I had a little sense of boxing when I went down there. I was very excited. Even if the fight was going to be over in 10 seconds, I had never been to a heavyweight championship fight," he admitted. "Remember this was 1964 when boxing was very important and it was still a major sport in America and really a heavyweight fight held the same prestige as the Super Bowl now. It's hard to believe."
"Think about the excitement of being in the arena for a heavyweight championship fight. The Super Bowl. A Broadway opening. Think of anything that has that kind of crackle and electricity," said Lipsyte, a New York City native. "I was totally thrilled to be there."
Like every writer, Lipsyte, who has published roughly two dozen books of non-fiction and fiction including "SportsWorld: An American Dreamland," "The Contender," and "An Accidental Sportswriter: A Memoir," arrived in South Florida several days before the fight.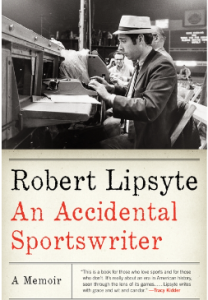 "I had spent a week now down there, most of that time with Clay and I really liked him a lot which was not necessarily the consensus and my thought was that I hoped he wouldn't get hurt too badly because I really liked him," he said. "I hoped he would stay around and I could interview him some more."
At the time, Lipsyte was 26 and part of the younger generation of sportswriters.
"Most of the sportswriters down there were older experienced guys, like Joe Nichols would have been, and then there were the younger guys," he said. "The younger guys gravitated to Clay's camp and hung out there. The older guys went to Liston's camp where his entourage included Joe Louis who was the hero of their young manhood."
On the night of the fight, the overwhelming majority of scribes concurred with the Las Vegas oddsmakers and favored Liston.
"Up until the very moment that the two fighters came into the ring, beside my excitement to be there, was this feeling I really hoped he would be able to dance away enough so he would not get hurt," Lipsyte said. "Then the moment the two fighters came into the ring, I suddenly had this thought that Cassius Clay is much bigger than Sonny Liston."
Lipsyte's concern for Clay's safety quickly dissipated as he dominated the action which resulted in a sixth-round stoppage and technical knockout victory when Liston failed to come out for the seventh round.
"In our minds, we had created this David versus Goliath narrative but actually it's really not quite true," he said. "Clay was taller. He was broader and he took command of the fight almost immediately and it changed everything. I would say only one or two of the 100 reporters at ringside gave him a chance to win."
Compared to many of the veteran sportswriters at the clash, Lipsyte was a pup.
"I was young and inexperienced and I went along with what the experienced big shots were saying," he said of Liston's menacing stare and potent punching power. "I assumed that because Liston was terrifying. He could make you pee in your pants at a press conference."
Looking back on what Clay and later Ali meant to him, Lipsyte is grateful for that time and opportunity.
"I always say that when Cassius Clay beat Sonny Liston it was as much of a career move for him as it was for me. It changed everything. Suddenly I was no longer this young newcomer, a feature writer at the paper," he said. "I was immediately the boxing writer. Being the boxing writer at that point meant the Muhammad Ali writer. That was the biggest story in sports for a long time and I covered it. I got more out of it right away than he did. It absolutely made my career."
Even though Clay had been the newly-minted heavyweight champion, he had tough sledding because of his unpopular stances.
"He was excoriated for becoming a member of the Black Muslims," Lipsyte said. "There were all kinds of rumors that the fight was fixed in some way. It took a while for the Muhammad Ali we think about now. A lot of people and certainly a lot of very important older sportswriters like Red Smith, Jimmy Cannon and Arthur Daley, if they didn't despise him, they certainly wrote as if they did. He refused to go into the Army. He repudiated the Christianity of his parents. At the middle of the civil rights movement in America, he was a segregationist. He was so many things that white America was either afraid of or hated because they were afraid of."
No one is perfect and that includes Ali. Still, Lipsyte recited an example of his kindness.
"He and I had a midnight plane ride back to New York," he recalled. "There was a little old lady and she took a picture. She clicks and he reaches out. "Your lens cap was on," he said. "I wouldn't want her to have missed taking a picture of the champ."
Lipsyte mentioned a second incident of Ai's generosity.
"I pulled up next to him on the plane with an economy ticket," he noted. "I sat down next to him. I told him I had to get back in my seat. He said, "don't worry, you're with the champ," and of course nobody bothered us the whole time. What I remember was his generosity, his spirit, his kindness and his sense of who he was and the world's sense of who he was. It all was encapsulated for me in that little story. That was him."
Another time when Ali seized center stage was at the Atlanta Olympics.
"That moment when he lit the Olympic torch in 1996, it's the first time I have ever cried at a sporting event," Lipsyte remembered, "and later finding out that hot wax was dripping on his hand and burning him but he never let on. He just held that flame in his quivering hand. It was kind of a testament to his gallantry."
Though Lipsyte covered many boxing matches, his favorite sport is baseball, and in a curious way he finds much about the sweet science that he doesn't much care for.
"I never liked boxing. This is something I'm struggling with right now. Boxers are my favorite athletes," he stated. "They're the best athletes to talk to and in the old days you had access. I love boxers. They're fun to write about. I hated boxing."
Asked if he keeps up with boxing, Lipsyte said that he hasn't for a long time.
"I don't follow boxing. The last time I followed boxing was when one of the heavyweight champions, one of the Klitschko brothers [Vitali] was mayor of Kyiv," he said. "I kind of lost interest. The whole thing didn't make sense anymore."
Living on Shelter Island in Long Island, New York, Lipsyte turned 85 on January 16 and has several grandchildren and outside interests to occupy his time.
"I'm very busy. I'm still writing. I have a great family. At my age, I'm playing with the house's money," he said. "I go to memorials for my friends and that's it. The last birthday that really rocked me was 30. That was the end of childhood."
As a wise elder, Lipsyte can lay claim to being present at many unforgettable sporting events, including what Sports Illustrated ranked fourth on its list of greatest sports moments of the 20th century, the night Clay shocked the world, and two iconoclasts were launched.
To comment on this story in the Fight Forum CLICK HERE
Skavynskyi and Bustillos Win on a MarvNation Card in Long Beach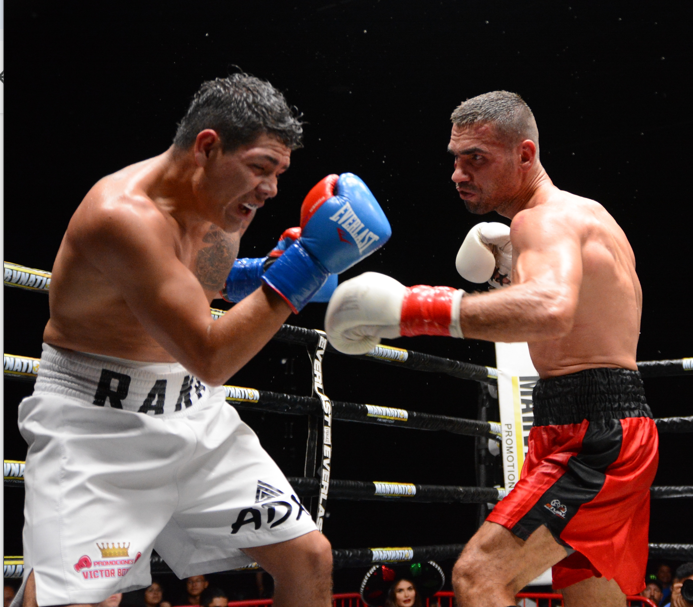 Skavynskyi and Bustillos Win on a MarvNation Card in Long Beach
LONG BEACH, Ca.-A cool autumn night saw welterweights and minimumweights share main events for a MarvNation fight card on Saturday.
Ukraine's Eduard Skavynskyi (15-0, 7 KOs) experienced a tangled mess against the awkward Alejandro Frias (14-10-2) but won by decision after eight rounds in a welterweight contest at the indoor furnace called the Thunder Studios.
It was hot in there for the more than 600 people inside.
Skavynskyi probably never fought someone like Mexico's Frias whose style was the opposite of the Ukrainian's fundamentally sound one-two style. But round after round the rough edges became more familiar.
Neither fighter was ever damaged but all three judges saw Skavynskyi the winner by unanimous decision 79-73 on all three cards. The Ukrainian fighter trains in Ventura.
Bustillo Wins Rematch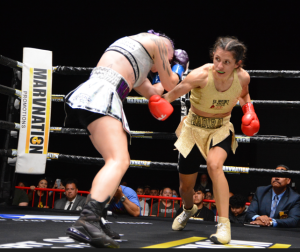 In the female main event Las Vegas' Yadira Bustillos (8-1) stepped into a rematch with Karen Lindenmuth (5-2) and immediately proved the lessons learned from their first encounter.
Bustillos connected solidly with an overhand right and staggered Lindenmuth but never came close to putting the pressure fighter down. Still, Bustillos kept turning the hard rushing Lindenmuth and snapping her head with overhand rights and check left hooks.
Lindenmuth usually overwhelms most opponents with a smothering attack that causes panic. But not against Bustillos who seemed quite comfortable all eight rounds in slipping blows and countering back.
After eight rounds all three judges scored the contest for Bustillos 78-74 and 80-72 twice. Body shots were especially effective for the Las Vegas fighter in the fifth round. Bustillos competes in the same division as IBF/WBO title-holder Yokasta Valle.
Other Bouts
In a middleweight clash, undefeated Victorville's Andrew Buchanan (3-0-1) used effective combination punching to defeat Mexico's Fredy Vargas (2-1-1) after six rounds. Two judges scored it 59-55 and a third 60-54 for Buchanan. No knockdowns were scored.
A super lightweight match saw Sergio Aldana win his pro debut by decision after four rounds versus Gerardo Fuentes (2-9-1).
Photos credit: Al Applerose
To comment on this story in the Fight Forum CLICK HERE
Tedious Fights and a Controversial Draw Smudge the Matchroom Boxing Card in Orlando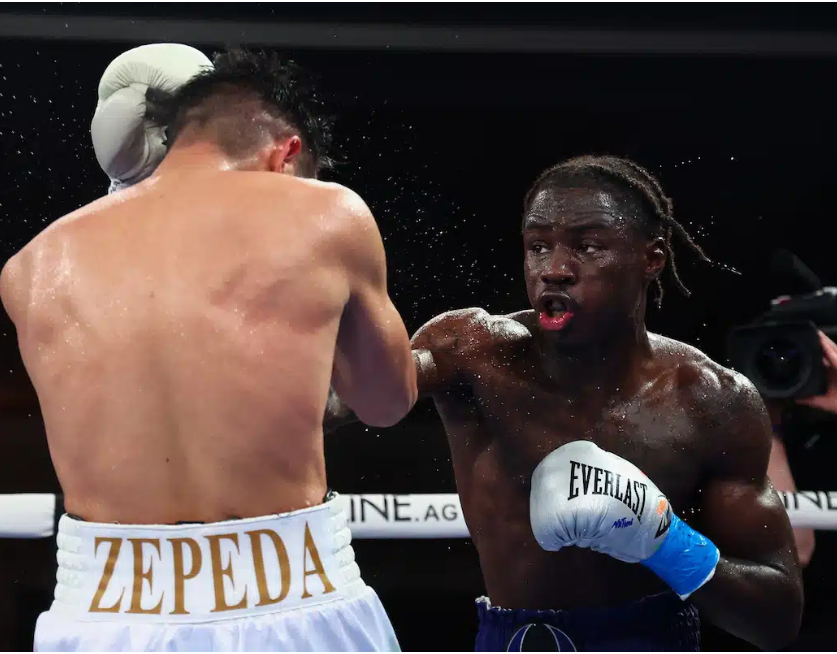 Matchroom Boxing was at the sprawling Royale Caribe Resort Hotel in Orlando, Florida tonight with a card that aired on DAZN. The main event was a ho-hum affair between super lightweights Richardson Hitchins and Jose Zepeda.
SoCal's Zepeda has been in some wars in the past, notably his savage tussle with Ivan Baranchyk, but tonight he brought little to the table and was outclassed by the lanky Hitchins who won all 12 rounds on two of the cards and 11 rounds on the other.  There were no knockdowns, but Zepeda suffered a cut on his forehead in round seven that was deemed to be the product of an accidental head butt and another clash in round ten forced a respite in the action although Hitchins suffered no apparent damage.
It was the sort of fight where each round was pretty much a carbon of the round preceding it. Brooklyn's Hitchins, who improved to 17-0 (7), was content to pepper Zepeda with his jab, and the 34-year-old SoCal southpaw, who brought a 37-3 record, was never able to penetrate his defense and land anything meaningful.
Hitchins signed with Floyd Mayweather Jr's promotional outfit coming out of the amateur ranks and his style is reminiscent in ways of his former mentor. Like Mayweather, he loses very few rounds. In his precious engagement, he pitched a shutout over previously undefeated John Bauza.
Co-Feature
In the co-feature, Conor Benn returned to the ring after an absence of 17 months and won a unanimous decision over Mexico's Rodolfo Orozco. It wasn't a bad showing by Benn who showed decent boxing skills, but more was expected of him after his name had been bandied about so often in the media. Two of the judges had it 99-91 and the other 96-94.
Benn (22-0, 14 KOs) was a late addition to the card although one suspects that promoter Eddie Hearn purposely kept him under wraps until the week of the fight so as not to deflect the spotlight from the other matches on his show. Benn lost a lucrative date with Chris Eubank Jr when he was suspended by the BBBofC when evidence of a banned substance was found in his system and it's understood that Hearn has designs on re-igniting the match-up with an eye on a date in December. For tonight's fight, Benn carried a career-high 153 ½ pounds. Mexico's Orozco, who was making his first appearance in a U.S. ring, declined to 32-4-3.
Other Bouts of Note
The welterweight title fight between WBA/WBC title-holder Jessica McCaskill (15-3-1) and WBO title-holder Sandy Ryan (6-1-1) ended in a draw and the ladies' retain their respective titles. Ryan worked the body effectively and the general feeling was that she got a raw deal, a sentiment shared by the crowd which booed the decision. There was a switch of favorites in the betting with the late money seemingly all on the Englishwoman who at age 30 was the younger boxer by nine years.
The judges had it 96-94 Ryan, 96-95, and a vilified 97-93 for Chicago's McCaskill.
In the opener of the main DAZN stream, Houston middleweight Austin "Ammo" Williams, 27, improved to 15-0 (10) with a 10-round unanimous decision over 39-year-old Toronto veteran Steve Rolls (22-3). All three judges had it 97-93. Rolls has been stopped only once, that by Gennady Golovkin.
Photo credit: Ed Mulholland / Matchroom Boxing
To comment on this story in the Fight Forum CLICK HERE
Zhilei Zhang KOs Joe Joyce; Calls Out Tyson Fury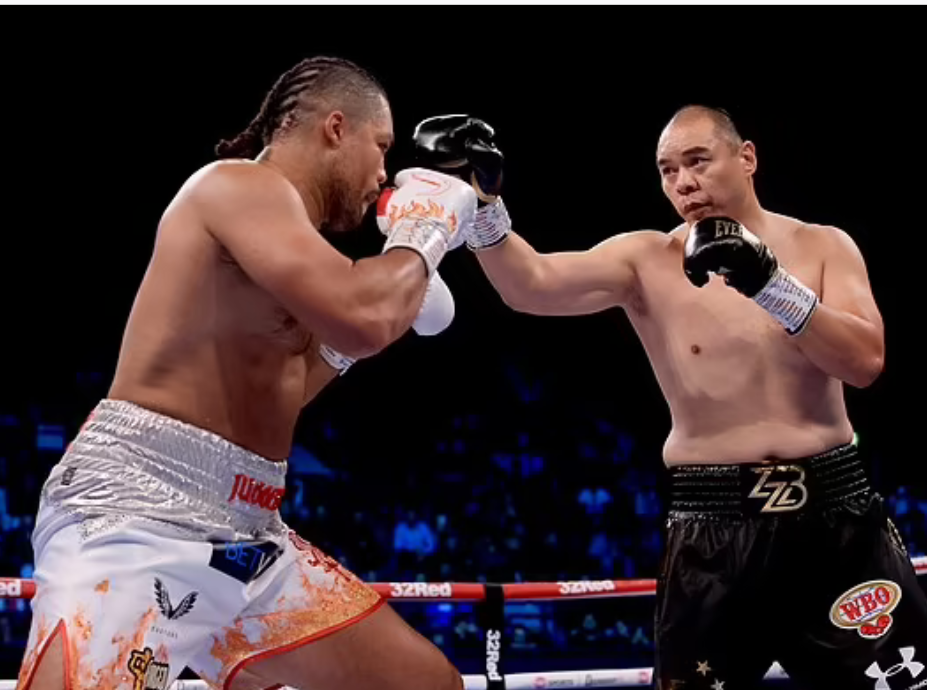 Joe Joyce activated his rematch clause after being stopped in the sixth frame by Zhilei Zhang in their first meeting. In hindsight, he may wish that he hadn't. Tonight at London's Wembley Stadium, Zhang stopped him again and far more conclusively than in their first encounter.
In the first meeting, Zhang, a southpaw, found a steady home for his stiff left jab. Targeting Joyce's right eye, he eventually damaged the optic to where the ring doctor wouldn't let Joyce continue. At the end, the fight was close on the cards and Joyce was confident that he would have pulled away if not for the issue with his eye.
In the rematch tonight, Zhang (26-1-1, 21 KOs) closed the curtain with his right hand. A thunderous right hook on the heels of a straight left pitched Joyce to the canvas where he landed face first. He appeared to beat the count by a whisker, but was seriously dazed and referee Steve Gray properly waived it off. The official time was 3:07 of round three.
Zhang, who lived up to his nickname, "Big Bang," was credited with landing 29 power punches compared with only six for Joyce (15-2) who came in 25 pounds heavier than in their first meeting while still looking properly conditioned. One would be inclined to say that age finally caught with the "Juggernaut" who turned 38 since their last encounter, but Zhang, 40, is actually the older man. In his post-fight interview in the ring, the New Jersey resident, a two-time Olympian for China, when asked who he wanted to fight next, turned to the audience and said, "Do you want to see me shut Tyson Fury up?"
He meant it as a rhetorical question.
Semi-Windup
Light heavyweight Anthony Yarde was matched soft against late sub Jorge Silva, a 40-year-old Portuguese journeyman, and barely broke a sweat while scoring a second-round stoppage. Yarde backed Silva against a corner post and put him on the deck with a short right hand. Silva's body language indicated that he had no interest in continuing and the referee accommodated him. The official time was 2:07 of round two.
A 30-year-old Londoner, Yarde (24-3, 23 KOs) was making his first start since being stopped in eight rounds by Artur Beterbiev in a bout that Yarde was winning on two of the scorecards. Silva, a late replacement for 19-3-1 Ricky Summers, falls to 22-9.
Also
Former leading super middleweight contender Zach Parker (23-1, 17 KOs) returned to the ring in a "shake-off-the-rust" fight against 40-year-old Frenchman Khalid Graidia and performed as expected. Graidia's corner pulled him out after seven one-sided rounds.
In his previous fight, Parker was matched against John Ryder who he was favored to beat. The carrot for the winner was a lucrative date with Canelo Alvarez. Unfortunately for Parker, he suffered a broken hand and was unable to continue after four frames. Tonight, he carried 174 pounds, a hint that he plans to compete as a light heavyweight going forward. Indeed, he has expressed an interest in fighting Anthony Yarde. Graidia declined to 10-13-4.
The Zhang-Joyce and Yarde-Silva fights were live-streamed in the U.S. on ESPN+.
To comment on this story in the Fight Forum CLICK HERE