Literary Notes from Thomas Hauser (Book Reviews)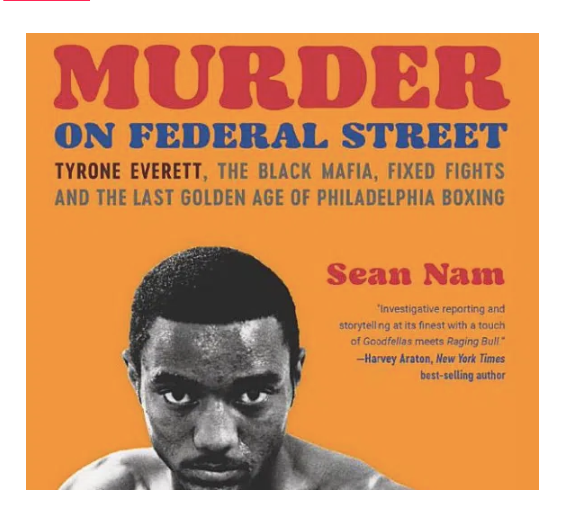 Literary Notes from Thomas Hauser (Book Reviews)
Tyrone Everett was a stylish southpaw who preferred boxing to slugging which made him the antithesis of the typical Philadelphia fighter. Russell Peltz (who promoted Everett for much of the fighter's ring career, observed, "He wouldn't lose a round. But it got monotonous because he wouldn't take chances." Philadelphia boxing writer Tom Cushman noted that Everett fought "with uninterrupted caution."
That ring style made Everett a hard sell. But he was always in shape. He could crack when he set down on his punches. And he was good enough to have a future in boxing when he was shot to death at age twenty-four.
Murder on Federal Street by Sean Nam (Rushcutters Bay Books) recounts Everett's life and death.
Everett turned pro in 1971 and had a 34-0 ring record with 18 knockouts when he challenged Alfredo Escalera for the World Boxing Council 130-pound title on November 30, 1976. The 16,019 fans in attendance at The Spectrum that night set a record that still stands for the largest indoor attendance ever for a fight in Philadelphia.
The consensus among knowledgeable ringside observers was that Everett won at least eleven of the fifteen rounds, probably more. But Ismael Wiso Fernandez (who, like Escalera, was from Puerto Rico) scored the bout 146-143 for his countryman. And in a shocker, Philadelphia judge Lou Tress turned in a 145-143 scorecard in Escalera's favor.
As recounted by Nam, the scoring reeked of mob influence. When Harold Lederman compiled a list of the twelve worst decisions in boxing history, Escalera-Everett headed the list. "This was just highway robbery," Lederman declared. "By far the worst decision I ever saw."
Everett fought twice more after the loss to Escalera, knocking out two sub-.500 opponents. The second of those contests (against Delfino Rodriguez) was on the undercard of Muhammad Ali vs. Alfredo Evangelista in Landover, Maryland. He was shot and killed ten days later, on May 26, 1977.
As for the specifics of the crime; Everett was killed by a single bullet that entered his head through a nostril. The shot supposedly was fired by a woman named Carolyn McKendrick, who claimed that Everett had physically abused her in the past and was threatening to beat her again when she pulled the trigger. The murder occurred in McKendrick's apartment but the murder weapon was never found. McKendrick was tried for the crime, found guilty of third-degree murder (intent to inflict bodily injury without intent to cause death), and sentenced to five years in prison. The fact that she was the estranged wife of druglord Ricardo McKendrick and that 39 packets of heroin were found in the apartment where Everett was killed lent credence to the theory that more than self-defense might have been involved and that Carolyn McKendrick might not even have been the killer.
And oh yes! A transvestite named Tyrone Price (who admitted to dealing drugs that he said he got from Everett and McKendrick) testified at trial that he'd been in the apartment at the time of the shooting. That provided more tabloid fodder.
Nam writes smoothly. Structurally, the book would have been better served and Everett's life would have been seen in context more clearly if material about the "Black Mafia" in Philadelphia had been integrated throughout the story rather than tacked on in fifty pages at the end of the narrative. But Murder on Federal Street is a good slice-of-life story about Tyrone Everett and boxing in the 1970s in Philadelphia.
*          *          *
Eight years ago, William Detloff authored Ezzard Charles: A Boxing Life. His latest book – Matthew Saad Muhammad: Boxing's Miracle Man (McFarland & Company) – spotlights another champion.
Detloff has thoroughly researched his subject. And there are places where he writes evocatively about the sweet science. "Money makes the world go 'round," he notes. "But there's not enough of it in the world to pull a man off the canvas when he's fallen face first or to make him keep punching through a waterfall of blood and bone-deep exhaustion. That comes from somewhere else, some place deep and feral where money has no meaning."
But Matthew Saad Muhammad: Boxing's Miracle Man has more fight reports than needed. There are places where it's not as nuanced as Detloff's knowledge of boxing might have enabled it to be. And Detloff had a mountain in front of him that was hard to climb.
Ezzard Charles: A Boxing Life was the first credible biography of Charles. As such, it constituted a significant contribution to boxing history. But last year, Tris Dixon authored Warrior: Matthew Saad Muhammad (Pitch Publishing). Certain fighters are worthy of more than one biography, and Saad Muhammad is one of them. That said; Dixon's book is simply better.
But let's give the last word to Detloff, who writes of Saad Muhammad, "It must be remembered that, for a time, Matt lived a princely life, traveling the world, bedding beautiful women, making millions, hearing crowds chant his name. The graveyards are full of men who would have given anything to live for one day the way he did from, say, 1978 to early '81. There are few if any times in the life of an average man when he is able to incite the passions of thousands by virtue of his will. One does not let such moments pass unacknowledged."
*          *          *
No one has written about boxing's early gloved champions in greater detail than Adam Pollack. The Iowa attorney has authored in-depth biographies of John L. Sullivan, James Corbett, Bob Fitzsimmons, James Jeffries, Marvin Hart, Tommy Burns, Jack Johnson, and Jack Dempsey. Only Jess Willard is missing from the list. And Pollack covered Willard at length in his biographies of Johnson and Dempsey.
Pollack's latest offering is the second of what will be three volumes devoted to Dempsey. This one covers the years 1919 through 1923. Like Pollack's earlier works, it's meticulously researched, a bit on the heavy side, and an invaluable resource for boxing historians.
Pollack has lived with boxing's early gloved champions in his head for decades. Which of the fights that he has written about to date would he most like to have been at?
"That's a tough one," Pollack answers. "I'd want a fight that was awesome at ringside and one that I've never seen footage of. We have some film of Johnson-Jeffries. The same for Dempsey-Willard. If you put a gun to my head, I'd say Sullivan against Jake Kilrain. It wasn't boxing as we know it today. But there's no film footage of Sullivan fighting. And to be in that moment in Richburg, Mississippi, seventy-five rounds, more than two hours. Yeah; that would have been special."
And which gloved champion that Pollack has written about so far would he most like to go back in time to interview?
"For an extended interview, I'd say Jack Johnson," Pollack answers. "For one question, I'd say Dempsey. Did he throw the Jim Flynn fight [KO by in the first minute of round one]? There's no film of that fight. But the more I read, the more I lean toward the conclusion that Dempsey threw the fight. He was dirt poor and I don't think ethics were his number-one concern at the time."
Thomas Hauser's email address is thomashauserwriter@gmail.com. His most recent book – In the Inner Sanctum: Behind the Scenes at Big Fights – was published by the University of Arkansas Press. In 2004, the Boxing Writers Association of America honored Hauser with the Nat Fleischer Award for career excellence in boxing journalism. In 2019, Hauser was selected for boxing's highest honor – induction into the International Boxing Hall of Fame.
To comment on this story in the Fight Forum CLICK HERE
Reviews of Two Atypical Boxing Books: A 'Thumbs Up' and a 'Thumbs Down'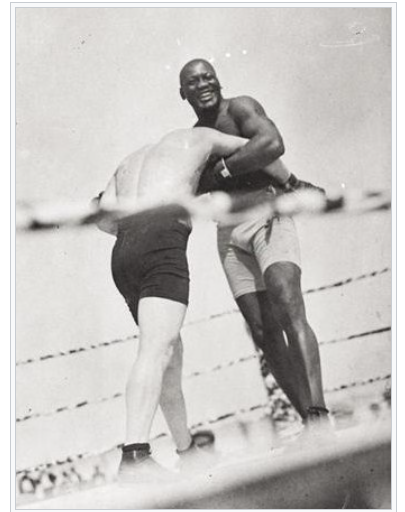 Reviews of Two Atypical Boxing Books: A 'Thumbs Up' and a 'Thumbs Down'
Jack Johnson sheared the world heavyweight title from Tommy Burns in 1908 and lost it to Jess Willard in 1915. Between these two poles he had nine ring engagements, none of which commanded much attention with one glaring exception. His 1910 fight in Reno with former title-holder James J. Jeffries stands as arguably the most sociologically significant sporting event in U.S. history.
Toby Smith, who wrote extensively about Johnny Tapia while working as a sports reporter for the Albuquerque Journal, exhumes one of these forgotten fights in his meticulously researched 2020 book "Crazy Fourth" (University of New Mexico Press), sub-titled "How Jack Johnson Kept His Heavyweight Title and Put Las Vegas, New Mexico on the Map." With 30 chapters spread across 172 pages of text and 10 pages of illustrations, it's an enjoyable read.
The July 4, 1912 fight wherein Jack Johnson defended his heavyweight title against Fireman Jim Flynn, was dreadful. For the nine rounds that it lasted, writes Smith, Johnson and Flynn resembled prize buffoons rather than prizefighters.
Johnson, who out-weighed Flynn by 20 pounds, toyed with the Fireman whenever the two weren't locked in a clinch. The foul-filled fight ended when a police captain decided that he had seen enough and bounded into the ring followed by a phalanx of his lieutenants. "Las Vegas 'Battle' Worst in History of American Ring" read the headline in the next day's Chicago Inter Ocean, an important newspaper.
The fight itself is of less interest to author Smith than the context. How odd that a world heavyweight title fight would be anchored in Las Vegas, New Mexico (roughly 700 miles from the other Las Vegas), a railroad town that in 1912 was home to about nine thousand people. The titles of two of the chapters, "Birth of a Debacle" (chapter 1) and "A Misbegotten Mess" (chapter 27) capture the gist.
Designed to boost the economy and give the city lasting prestige, the promotion was a colossal dud. Fewer than four thousand people attended the fight in an 18,000-seat makeshift wooden arena erected in the north end of town. The would-be grand spectacle was doomed when the Governor sought to have the fight banned by the legislature, giving the impression the fight would never come off, and it didn't help that Johnson and Flynn had fought once before, clashing five years earlier in San Francisco. Johnson dominated that encounter before knocking Flynn out in the eleventh round.
"Crazy Fourth" reminded this reporter of two other books.
"White Hopes and Other Tigers," by the great John Lardner, originally published by Lippincott in 1950, includes Lardner's wonderfully droll New Yorker essay on the 1923 fight between Jack Dempsey and Tommy Gibbons in Shelby, Montana, an ill-conceived promotion that virtually bankrupted the entire community. In the same vein, although more straightforward, is Bruce J. Evensen's "When Dempsey Fought Tunney: Hokum, Heroes, and Storytelling in the Jazz Age."
Johnson-Flynn II was suffused with hokum. Energetic press agent H.W. Lanigan cranked out dozens of puff pieces under multiple bylines for out-of-town papers in a futile attempt to build the event into a must-see attraction. His chief assistant Tommy Cannon, the ring announcer, had an interesting, if dubious, distinction. Cannon claimed to have copyrighted the term "squared circle."
I found one little error in the book. The Ed Smith that refereed the Johnson-Flynn rematch and the Ed Smith that refereed the famously brutal 1910 fight between Battling Nelson and Ad Wolgast, were two different guys.  (It pains me to note this, as I know another author who made the same mistake and I see him every morning when I look in the bathroom mirror.) But this is nitpicking. One doesn't have to be a serious student of boxing history to enjoy "Crazy Fourth."
Knock Out! The True Story of Emile Griffith by Reinhard Kleist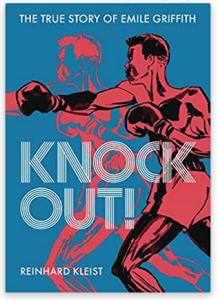 Let me digress before I even get started. Whenever I am in a library in the city where I reside, I wander over to the "GV" aisle and take a gander at the boxing offerings. If, perchance, there is a book there that I haven't yet read, I reflexively snatch it up and take it home.
When I got home and riffed through the pages of this particular book, I was surprised to find that it was a comic book of sorts, one that I would classify as a graphic non-fiction novel.
Emile Griffith, as is now common knowledge, was gay, or at least bisexual. Reinhard Kleist, a longtime resident of Berlin, Germany, was drawn to him because of this facet of his being. Kleist makes this plain in the introduction: "Despite [Berlin] being one of the most tolerant cities in the world, I have suffered homophobic insults and threats while walking hand in hand down the street with my boyfriend."
Born in the Virgin Islands, Emile Griffith came to New York City at age 17 and found work in the garment district as a shipping clerk for a company that manufactured women's hats. The factory's owner, Howard Albert, a former amateur boxer, saw something in Griffith that suggested to him that he had the makings of a top-notch boxer and he became his co-manager along with trainer Gil Glancy. Kleist informs us that in addition to being "one of the greatest boxers ever seen in the ring," Griffith was an incredible hat-designer.
Griffith, who died at age 75 in 2013, is best remembered for his rubber match with Benny Paret, a fight at Madison Square Garden that was nationally televised on ABC. Paret left the ring in a coma and died 10 days later without regaining consciousness. At the weigh-in, Paret, a Cuban, had insulted Griffith with the Spanish slur comparable to "faggot."
The fight – including its prelude and aftermath (Griffith suffered nightmares about it for the rest of his life) – is the focal point of several previous works about Emile Griffith; biographies, a prize-winning documentary, and even an opera that was recently performed at The Met, the crème de la crème of America's grand opera houses. The fatal fight factors large here too.
During a 17-year career that began in 1958, Emile Griffith went to post 112 times, answering the bell for 1122 rounds, and won titles in three weight classes: 147, 154, and 160. At one point, he had a 17-2 record in world title fights (at a time when there were only two relevant sanctioning bodies) before losing his last five to finish 17-7. No boxer in history boxed more rounds in true title fights.
Griffith, who finished his career with a record of 85-24-2 with 23 KOs and 1 no-contest, entered the International Boxing Hall of Fame with the inaugural class of 1990. There is absolutely no question that he belongs there, but to rank him among the greatest of all time is perhaps a bit of a stretch. Regardless, I take umbrage with the sub-title. The "true story" of Emile Griffith cannot be capsulated in a book with such a narrow scope. Moreover, it is misclassified; it ought not have been shelved with other boxing books but in some other section of the library as this is less a story about a prizefighter than about a man who is forced to wear a mask, so to speak, as he navigates his way through a thorny, heteronormative society.
Graphic novels are a growing segment of the publishing industry. The genre is not my cup of tea, but to each his own.
To comment on this story in the Fight Forum CLICK HERE
Christy Martin: Fighting for Survival / Book Review by Thomas Hauser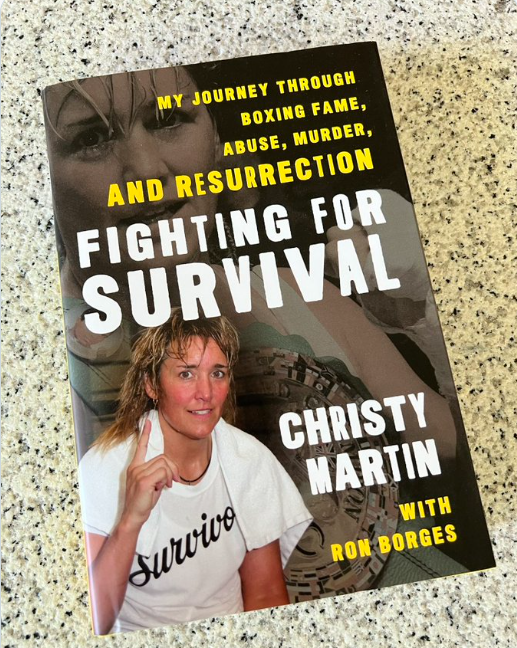 More than any other fighter, Christy Martin was responsible for legitimizing women's boxing in the public eye. She was also a closeted gay woman married to a man who physically and psychologically abused her for years before stabbing her multiple times, shooting her in the chest, and leaving her for dead on their bedroom floor. Fighting for Survival, written with Ron Borges and published by Rowman & Littlefield, is her story.
Martin was born in Mullen, West Virginia, on June 12, 1968, and grew up in the coal-mining town of Itmann. Her father was a miner. "All you need to know to understand the limits of Itmann," Martin writes, "is your cellphone won't work there."
When Christy Salters (her name before she was married) was six, she was sexually molested in the basement of her parents' home by a 15-year-old cousin who forced her to perform oral sex on him. Other than her future husband, she didn't tell anyone about it for 37 years.
She was a troubled adolescent. "I started associating drinking with popularity," she acknowledges. "I was running around with thirty-year-olds when I was still a teenager. I sold speed to friends of my parents. I was a bad kid doing things I shouldn't have done."
She was also gay.
Christy had sex with a girl for the first time when she was thirteen. In high school, she ventured back and forth between the sexes.
"I wasn't together at the time when it came to totally understanding my own sexuality," Christy acknowledges. "Can I be straight if I try? Should I be who I am or try harder to please everyone else? You doubt sometimes the direction you're going. Other times, you're totally sure. I'd been with men and women in high school so I'd say I was bi-sexual at that time. But to me, being in a relationship with a woman was easier. It was always where I was most comfortable."
In towns as small as Itmann and Mullens, people talk," Christy continues. "I knew they wondered about me. It is exhausting hiding who you are from your family and your friends and the world around you. You're always afraid someone knows the truth. You may tell yourself you don't care. But if you really didn't care, you wouldn't be hiding what you're doing or what you're feeling, would you?"
Coming out wasn't an option. Christy's mother was vehemently homophobic, a view shared by many people in that corner of the world. "Put it this way," Christy says. "You weren't coming out in Itmann, West Virginia. Not unless you were planning on leaving the same day."
Then, to further complicate matters, Christy got pregnant at age 21. Chris Caldwell had been her "sort of boyfriend" since they were in fifth grade. As the years passed, they saw each other from time to time.
"One night," Christy remembers, "we went out as friends, had a few drinks, and had drunken sex. I was in love with Bridget [her girlfriend of the moment], so why did that happen? I was selfish, that's why. There's no other explanation. I never told my parents. I didn't want the added pressure of them saying they'd raise the baby while I finished school, which I know my Mom would have done."
So she chose to have an abortion.
"It's one of those things that will always bother me," Christy writes. "But it's the decision I made. I still feel guilty about it. But I made a choice and I had to move forward."
Meanwhile, Christy found a safe haven in sports. Despite being only 5-feet-4-inches tall, she excelled in basketball, averaging 27 points and six rebounds per game during her senior year of high school. In her junior and senior seasons, she was designated first team All-State.
"I had a pent-up rage inside about having to hide that I was gay from the world as I knew it," she recalls. "You're so angry that you can't be who you want to be and you can't change who you are. You're trapped and it makes you mad without understanding what you're really mad about. In sports, it's acceptable to be overly aggressive so you can let some of those emotions out in a safe place. At times it even gets rewarded."
That led to boxing.
"I'd been going to Toughman shows for years with my friends and family," Christy reminisces, "and always wondered what I'd do if the bell rang and I found myself standing all alone in one corner of the ring."
Then, at age nineteen, she saw a poster inviting women to participate in a "Mean Mountaineer" tournament.
"That," Christy recalls, "is how, on October 1, 1987, I found myself standing in the wings at the Raleigh County Armory wearing a pair of 16-ounce boxing gloves and leather headgear, waiting to try something I knew nothing about."
But Christy Salters had an advantage over the other women in the tournament. "Many of them were muscular," she remembers. "They looked stronger than me. But I was in better condition and I was an athlete. Most of them were just tough girls."
Christy won her first fight by decision and, the next night, came back for more. In the finals, she knocked out an opponent who was heavier and five inches taller with a single punch.
"She wasn't staggering around and kind of woozy," Christy recounts. "She was out and the crowd went into a frenzy! It was awesome. I could feel the adrenaline rush from the crowd, and that was it for me. I was hooked on boxing. The first thing I thought of when they gave me the champion's jacket and the $300 [prize] was, 'When's the next one?'"
Soon, a boxing ring was one of the few places where Christy felt safe.
"I won't sugarcoat what boxing is about," she writes. "You don't find too many well-adjusted prizefighters. We all have our demons, something driving us to run toward pain when human nature says run away. You don't find many fighters who weren't spawned out of some kind of dysfunction. If you're normal, whatever that means, you're not likely to choose a sport that involves getting hit in the face."
But Christy continues, "I loved boxing more than anything in my life. The ring was where I could be me. In the ring, who I chose to love didn't matter. I felt able to get out my frustrations and the anger that was locked up inside me. It was okay for me to go in there and be as aggressive as hell and as competitive as I wanted to be. They might laugh at us on the way into the ring. But if we fought hard and did some damage, they'd cheer us on the way out. They didn't care if you were gay or straight. Whatever it was that drove you to fight was fine to the people watching as long as you could fight. I just wanted to be a boxer. It became all that mattered to me. For too long, I didn't have control of anything but the 20-by-20-foot area inside those ropes. Maybe that's why I loved it in there so much."
On September 9, 1989, at age 21, Christy turned pro. "Women's boxing was not yet a truly legitimate sport," she acknowledges. "It was still a freak show, but at the time I didn't give it a thought. I just wanted to fight."
Soon after, her promoter suggested that a man named Jim Martin become Christy's trainer. On March 20, 1992, Christy Salters and Jim Martin were joined together as husband and wife. Much more on that later.
By the end of 1993, Martin had 19 wins as a pro against a single loss and one draw. Then she was brought to the attention of Don King who signed her to a contract calling for five six-round fights a year at $5,000 a fight. Prior to that, she'd been making roughly $500 per fight and her biggest purse had been $1,200.
Christy's inaugural fight with King was a first-round knockout of Susie Melton on January 29, 1994. Five more victories followed. Then, on December 16, 1995, King matched her against a sacrificial lamb named Erica Schmidlin who was making her pro debut. As expected, Martin won on a first-round knockout. That night marked a turning point because Christy's bout was on the undercard of Mike Tyson vs. Buster Mathis Jr.
Martin fought on Tyson undercards six times. Those fights, she says, "were my stepping stones to a world I never knew existed – the big-time side of boxing." Tyson, she writes, was "like a magic carpet ride for me, providing a platform to show my skills and a huge audience that turned me into someone I never thought I could be."
After destroying Schmidlin, Martin defeated a no-hope opponent named Melinda Robinson and Sue Chase (who would end her career with a 1-23-1 record). The Chase fight was significant because it was on the undercard of Felix Trinidad vs. Rodney Moore at the MGM Grand in Las Vegas and was televised by Showtime – the first time that a fight between women boxers aired nationally in the United States. That was followed by a first-round knockout against another no-hoper named Del Pettis.
Then, three weeks later, everything changed. On March 16, 1996, Christy was matched against an Irish boxer named Deirdre Gogarty on the undercard of the rematch between Mike Tyson and Frank Bruno on Showtime-PPV.
Christy was a natural 135-pounder. Two hours before the weigh-in, Gogarty (who would finish her career with 8 wins in 13 fights) weighed 124. After stuffing rolls of quarters into her bra, socks, and underwear, Deirdre tipped the scales at 130.
A 60-53, 60-53, 59-54 beatdown followed. But Martin was about to become famous, not because she won but because Gogarty broke Christy's nose. It gushed blood throughout the fight. Writing for the Associated Press, Ed Schuyler later called it "the most lucrative bloody nose in the history of boxing."
"That fight," Christy says, "turned in a matter of seconds from being an event that was being laughed at and ridiculed in the arena to one that absolutely thrilled people who were watching. That drippy nose and the uniqueness of the story of the husband-and-wife fighting team [by that time, Jim Martin was Christy's husband] turned me into a national phenomenon."
In the weeks that followed, Christy appeared on dozens of national television shows and was on the cover of Sports Illustrated.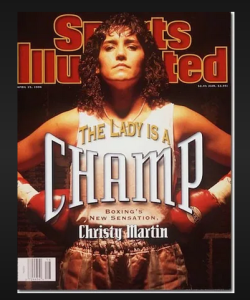 "You could not get any bigger in the world I was inhabiting than to be on a Sports Illustrated cover," she writes. "And there I was, staring back at myself from every newsstand in America. You dream about some things, but other things are so big you don't even think about them happening because just the thought would be ridiculous. That's what being on SI's cover was for me."
After beating Gogarty, Martin defeated Melinda Robinson for the second time followed by a first-round knockout of Bethany Payne. Then she signed a new contract with Don King calling for a minimum purse of $100,000 per fight. All told, she fought 27 times over the course of eight years with King as her promoter. Writing about a memorable moment in their relationship, she reveals, "Don did try to proposition me once in Venezuela at a WBA function. I asked him to go into another room because I needed to talk to him and he came on to me. After he made his pitch, I laughed and told him I only wanted to fight my way to the top. He started cackling and said, 'You're already at the top.' Then he came to hug me and poured his drink down the back of my dress."
After leaving King, Christy fought eleven times over the course of ten years. But the good part of her career was over. Her record in those eleven fights was 5 wins, 5 losses, and a draw. Age and a higher level of opponent had caught up to her.
The worst of the defeats was a fourth-round stoppage at the hands of Laila Ali in 2003. Laila was six inches taller than Christy and outweighed her on fight night by at least twenty pounds. Christy's announced weight of 159 was as phony as Deirdre Gogarty's had been seven years earlier. Why did she take the fight? For a $400,000 purse. And to use her word, she was "massacred." The fight ended when she took a knee and chose not to rise before the count of ten.
Looking back on that night, Christy writes, "I was totally embarrassed and ashamed. I'll never get over it. I'd be more accepting of losing to her if I'd been knocked out or took a beating for six more rounds. To quit on my knees is not who I was."
Virtually all boxer autobiographies focus on a fighter's ring career. This one does it better than most. But what separates Fighting for Survival from other fighter autobiographies is the horrifying nature of Christy's life outside the ring coupled with the brutally honest way in which she recounts it.
When Ron Borges met with her to discuss the possibility of their working together, one of the first things he told her was, "I'm not interested in working on a dishonest book."
Neither was Christy. Later, as she began opening up about the horrors of her life, Borges counseled, "You don't have to tell me everything bad that happened."
But she did.
"I've never dealt with anybody who was more open about her life than Christy Martin," Borges says. "There were times when we had to stop because the memories overwhelmed her. I don't think I could do what she did with me. But Christy really believes that she survived the murder attempt and everything that came before it as part of a larger plan. And her goal now is to reach as many victims of abuse as possible."
Christy's decision to marry Jim Martin (her trainer) was a watershed moment in her life. He was 24 years older than she was. Why did a gay woman marry a man old enough to be her father?
"I have to admit, I was intrigued by him and his boxing stories," Christy writes. "Now that I'm free and looking back thirty years, it makes no sense. But when I remember the girl I was then, a naïve kid from Nowhere, West Virginia, I can understand what I did. I wasn't attracted to him. I was never passionate about him. The night Jim Martin proposed to me, I was ill-prepared to do what would have been best. I wasn't strong enough to declare to the world who I really was."
"When we first got married,' Christy continues, "I was still a little confused about my sexuality. Deep inside, I knew I was gay. I spent a lot of years trying to figure out how I felt about that. But the longer we were together and the better I understood who I really was, the more it weighed on me. So there I was; a closeted gay woman athlete in a sport that barely existed with a boyfriend older than my Dad. All my passion came out in the gym because there was none at home. We got along all right in those days because we had boxing in common and that was our main focus. I'd say, in those years we were married, I was really asexual. It got to the point where I didn't care about sex at all. I wanted to be in love with someone but I replaced that desire with a love for boxing."
Christy's rise to stardom after the Gogarty bout threatened to upend the applecart.
"I was now a gay woman in a phony marriage suddenly under the microscope that is the American hype machine," she recalls. "Thankfully, it was the American hype machine before social media. I have a lot of things to be thankful for. And the absence of things like Instagram, Twitter, Facebook and the like back then are some of them because, had they existed, I would have been 'out-ed' long before Jim put a bullet in my chest and destroyed my hiding place."
Also, Christy reminds readers, "Part of the boxing sell for us was that I was a married woman, trained and managed by her loving husband, so how could I be gay?"
The deception came with a heavy price attached. Christy says that, without her knowledge, her husband skimmed large amounts of cash off the top of her fight purses. There were what she describes as "almost daily emotional beatdowns." And at times, Jim was physically abusive. "But when the abuse is mostly emotional manipulation," she explains, "you see it differently. You question what you can do to fix things. You start to think he's right about you. You're the problem. It often takes a long time before you realize who the victim really is. That's the kind of emotional control someone can have over you. You know you should leave, but you're ashamed of the situation you're in and afraid of the consequences if you go.
"A lot of women end up in similar situations to the one I was in," Christy continues. "We stay out of fear, out of obligation, out of believing it's all we deserve. The brave ones don't stay. But would an openly gay female get the same chances I got if I wasn't hiding who I really was? I hadn't seen anyone who did, and I wasn't about to risk it all to find out. I was a lesbian locked in a sham marriage designed to protect me from a sporting world I'd come to believe would never accept me as I was. [So] you compromise. You lie. You hide. You try to fit into a world that isn't your own creation. You accept things you never thought you'd accept. You replace boxing for love and try to equate financial success with personal happiness."
It didn't work.
Writing about her husband, Christy states, "Protecting his wife never factored into his thinking. I was just a human ATM machine to him. He kept telling me I'd become a star and make him a lot of money but until that happened we needed another way to supplement what the fights brought in. And Jim came up with quite a solution. He wanted me to fight men in their hotel rooms. He said he'd heard there were guys who got off on it and they'd pay me to beat them up. When he first suggested it, I hollered at him, 'Bitch! Get a job!' But it didn't take him long to convince me to do it, like he did with so many things I wish had never happened.
"The first time was in a hotel room in Fort Lauderdale," Christy remembers. "I'm in this guy's room, ready to fight, and all he kept trying to do was grab me and hold while I beat the bejesus out of him. The guy seemed to like it. Go figure. When it was over, we took his money and left. I felt like a prostitute must feel the first time. I felt dirty. I knew that hadn't been about boxing. It was a sex thing from the start for the guy. I said I'd never do it again. But of course, I did. When you need money and all you have to do is go punch some guy around in his hotel room, it's easy to find an excuse to do it again. The second time, it was easier to accept. I still didn't feel right about it but you find ways to justify it. I told myself, whatever it is for the guy, it's just boxing to me. Every time I did something like that, I left a little piece of myself back in that room. A piece of my dignity had disappeared."
Christy's unhappiness and confusion caused her to cross over other lines of propriety as well. Prior to fighting Andrea DeShong, she labeled her opponent a "dyke bitch."
"I said what I said," Christy admits. "I should never have done it. But I did." Making matters worse, she later told DeShong, "I'm going to put something on you that your girlfriend can't get off."
"It was another part of my self-destruction," Christy acknowledges. "I paid a price for those kind of statements and still do to this day with some people in the gay community."
She also got into a fistfight with a woman in a parking lot and wound up paying $30,000 to settle a lawsuit that arose from the incident.
Worse, she got hooked on cocaine.
"My whole life, I'd been against using drugs," Christy writes. "I tried marijuana in high school but I didn't like the high. Same with speed. Tried it. Didn't like it. So I stuck with drinking to excess instead. But as my life and my career unraveled, so did my resolve. One night, Jim came home with a baggie and dropped it on the table in front of me. He said that a fighter announced he was done with cocaine and there was the proof. I took the bait. The bag sat there for a day or two, looking at me. I didn't care about myself and I hated Jim and what my life had become. What did it matter if I tried cocaine just once? I was alone the night I finally grabbed that baggie and opened it. I snorted a line and it was like the first time I knocked someone out and the crowd went crazy. I loved the feeling it gave me. At first, I only did it on Friday nights and weekends. Pretty soon, it was Mondays too. Then it became every day. It took a month until it had me. Pretty quickly, I'd do anything for coke. Jim would do it occasionally with me but mostly it was me, alone in the house. I was also taking pain pills for all the injuries I'd had in boxing and drinking, too. I overdosed so many times I should be dead. Basically, if I was awake in those years, I was high."
Christy was hooked on cocaine for more than three years. Then, through the muddle that her mind had become, she had an epiphany.
"I was walking through my house, high, when I saw my reflection in a mirror and stopped dead in my tracks. I thought, 'You really look like an addict.' At that moment it hit me. What was looking back at me wasn't Christy Martin. It wasn't the Coal Miner's Daughter. It wasn't the WBC world super-welterweight women's champion. It was a drug addict. That's what I'd become. I immediately went and did a line to try and erase that thought but it wasn't the same. By the next day, I'd decided things needed to change and I had to be the one to make the change. That day, I realized if I bent over and did one more line of cocaine, I'd do it until I was dead."
Then Christy told Jim that she was going to leave him.
"Five days later [on November 23, 2010]," she writes, "stone cold sober, I was lying on my bedroom floor with a bullet in my chest, stab wounds all over my body and blood everywhere. I was finally free, if I didn't die first."
Jim Martin was tried and convicted of attempted murder in the second degree and sentenced to a minimum of twenty-five years in prison. He won't be eligible for release until 2035.
After recovering from the attempt on her life, Christy had two more fights and lost both of them. She also suffered a stroke while in the hospital undergoing surgery for a broken hand after the first of those two encounters.
"I stayed in ICU for a week," she recalls. "When I finally left, I couldn't walk right, talk right or see right. My words were slurred and I had double vision which remains a problem for me at times to this day."
She needed a cane to get around. But she was allowed to fight again. "The California State Athletic Commission [which oversaw the bout] didn't have a clue," she notes.
But Fighting for Survival has a happy ending. Martin has steered clear of cocaine for more than a decade. And in 2017, she married Lisa Holewyne. Their marriage is unique in that, on November 17, 2001, they had fought each other at Mandalay Bay in Las Vegas with Christy winning by decision.
"I was one hundred percent sure I wanted to spend the rest of my life with Lisa," Christy writes. "And five years later, nothing has changed. I was surer of that than anything in my life, including my decision to give over my life to boxing. I still love boxing but it isn't my first love anymore. Lisa is."
Fighting for Survival is written the way Christy fought. Straightforward and don't hold anything back. It goes beyond being a boxing book and is as honest as any autobiography I've read.
There's an art to capturing another person's voice, and Borges has it. One never gets the feeling that he's putting words in Martin's mouth. Rather, he's helping her organize her thoughts and putting them on paper. There's no need to over-sensationalize. The facts are lurid enough.
Christy is active today in working to combat domestic violence. She also promotes fights in North Carolina, South Carolina, and Florida. Summarizing her journey, she writes, "Let's be clear about one thing. Trust and believe when I tell you, this is not a victim's story. Although a lot of folks might see it that way, it is not a victim's story at all. It's a survivor's story." And she adds, "I'm not looking for a pity party for Christy Martin. A lot of things that happened in my life before I was free to be me were great and I wouldn't trade them for a different path because this is the path I had to walk to be who I am today. All I'm saying is, you don't have to go as far down that road as I did to be free."
One wishes her well on the journey ahead.
Thomas Hauser's email address is thomashauserwriter@gmail.com. His most recent book – Broken Dreams: Another Year Inside Boxing – was published by the University of Arkansas Press. In 2004, the Boxing Writers Association of America honored Hauser with the Nat Fleischer Award for career excellence in boxing journalism. In 2019, he was selected for boxing's highest honor – induction into the International Boxing Hall of Fame.
To comment on this story in the Fight Forum CLICK HERE
Book Report: Jim Tully's 'The Bruiser,' an American Classic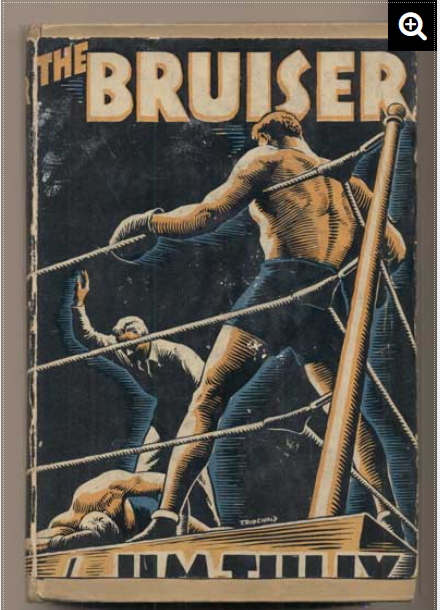 Summertime is reading season. In olden days when the leading Sunday papers had a separate book review section and vacationers carried books in their carry-ons, the advent of summer unleashed a flurry of enthusiastic book reviews. In this spirit, let us submit Jim Tullys' novel "The Bruiser" for your consideration. It's an old book, first published in 1936, but as a panorama of the prize ring — warts and all – it stands up well if you like your fiction with a lot of pulp.
The protagonist is Shane "Wildcat" Rory who claws his way out of hobo jungles to become the heavyweight champion of the world. True, that sounds like a hackneyed Hollywood "B" movie and the comparison is fair, but the book is also chock-full of insights that could have only come from the pen of a man that had been immersed in the prizefighting subculture.
About The Author
The son of a ditchdigger who came from Ireland at the age of 10, Jim Tully was born in 1886 in St. Marys, a former Indian trading post in Western Ohio. Jim's mother died when he was five and he was sent to a Catholic orphanage in Cincinnati. He left there at the age of 11 to work on a farm and then, while still in his mid-teens, he took to wandering about the country, picking up odd jobs here and there. When he hopped a freight, whatever money he had was sewed into different parts of his clothing. In the hobo jungles, his pals called him Cincinnati Red.
Tully's formal education stopped when he left the orphanage, but he was an inveterate reader who spent many hours in public libraries. He was never comfortable with the term "hobo" — folks used it interchangeably with the word "bum" – and in his reminiscences of those days insisted on identifying himself as a "road-kid," his term for an adventurous vagabond.
In Kent, Ohio, where Tully set down roots for a while, he found employment working over a blast furnace in a factory that made chains of the sort that one might find attached to the anchor of a boat. Kent is near Akron where Tully had his first documented prizefight. Lore has it that he heeded the call for a volunteer when one of the boxers on the card was a no-show. Many professional boxing careers actually started this way.
An article in the Philadelphia Inquirer said Tully had 30 pro fights. Boxrec has been able to document only three, the first in 1909 on a card that featured future Hall of Famer Johnny Kilbane, and the last in 1914. The true count is probably somewhere in the middle. In those days, outside the biggest cities, many papers didn't publish on Sundays and, if they did, the paper was put to bed early. A Saturday night boxing show went off too late to make the cut and by Monday, unless one or more of the combatants had a big local following, it had lost its news-worthiness. Fights in the hinterland that made the national news wire rarely included anything about the undercard.
The hero of "The Bruiser" matures into a heavyweight, but Jim Tully, five-foot-three and stocky, was likely in the junior lightweight class. With a mound of red hair straggled in all directions, he looked like many fighters of the period when the great majority of white boxers were Irish. Photographs of Tully as a young man call to mind Mickey Walker, the original Toy Bulldog.
The Book
"The Bruiser" opens on a miserably wet night in a railroad yard. Rory, then eighteen years old, crosses paths with a black boy of about the same age who has just competed in a battle royal. They repair to a saloon before going their separate ways. The boy has adopted the ring name Torpedo Jones and he turns up again later in the book as an opponent that Rory must defeat to earn a shot at the champion.
Shane Rory's manager, Silent Tim Haney, is a stock character in boxing fiction, a wizened ex-pugilist who knows all the tricks of the trade. Silent Tim's great ambition is to take a raw fighter and build him into a heavyweight champion. He had been close on two previous occasions, near-misses that taught him that maneuvering a fighter into a world title is a process "more delicate than assembling a watch."
In an earlier day, Silent Tim had managed Jerry Wayne. In his prime, Wayne had been a great ring artist: "He'd move in the ring like he had wings on his shoulders and ball bearings on his feet." But he had taken too many punches and gone "slug-nutty." (The Jerry Wayne character is plainly based on former lightweight champion Ad Wolgast with whom author Tully purportedly sparred. Wolgast was in and out of sanitariums before he had his final fight and spent the last twenty-eight years of his life locked up in a California insane asylum where he spent his waking hours plotting his comeback.)
When Rory visits Jerry Wayne in the institution where he has been locked away, it preys on his mind and it impacts his performance in his next fight, a loss that sends him back to the drawing board. The fear of winding up like Wayne or like Gunner Maley, another character in the book – "walking on his heels up and down North Clark Street, punchin' shadows" – impels Rory to eventually walk away from boxing in the fashion of Gene Tunney, at the pinnacle of his hard trade with a wholesome girl by his side and with all of his faculties intact. (Tully reportedly wanted a grittier, less formulaic ending but was overruled by his publisher.)
"The Bruiser," Tully's eleventh book, was dedicated to "my fellow road-kid Jack Dempsey." Tully, who wrote dozens of profiles of famous people for serious publications and for cheap Hollywood fan magazines, had written a profile of Dempsey for a 1933 issue of American Mercury and would include a profile of the Manassa Mauler in his final book, "A Dozen of One," portraits of 13 well-known people including the boxer Henry Armstrong and the fabulous raconteur Wilson Mizner who once owned a piece of Stanley Ketchel, the fabled Michigan Assassin.
Tully wrote for the masses but his admirers included many writers whose bent was more highbrow, notably H.L. Mencken, the sage of Baltimore, but also Langston Hughes who introduced Tully to "Hammerin'" Henry Armstrong, and Gerald Early whose 1994 book, "The Culture of Bruising: Essays on Prizefighting, Literature, and Modern American Culture," received a National Book Award.
Early wrote the foreword to the 2010 reissue of "The Bruiser" from Kent University Press. He had this to say regarding Jim Tully: "Few novelists captured the contradictions of his country so simply or so honestly in the metaphor of the pure, fatalistic, and merciless community of bruising. His work deserves to be rediscovered."
The reissue was the handiwork of Mark Dawidziak, a TV critic for the Cleveland Plain Dealer, and Paul J. Bauer, a Kent, Ohio, book dealer who were busy co-authoring a biography of Tully. The book, titled "Jim Tully: American Writer, Irish Rover, and Hollywood Brawler," also published by Kent University Press and with a foreword by Ken Burns, was released in 2011.
Jim Tully had developed Parkinson's disease when he died in 1947 at Cedars of Lebanon Hospital in Los Angeles at age sixty-one.
Arne K. Lang's latest book, titled "George Dixon, Terry McGovern and the Culture of Boxing in America, 1890-1910," will shortly roll off the press. The book, published by McFarland, can be pre-ordered directly from the publisher (https://mcfarlandbooks.com/product/clashof-the-little-giants) or via Amazon.
To comment on this story in the Fight Forum CLICK HERE