Avila Perspective, Chap. 247: Jake Paul, Las Vegas Reflections and More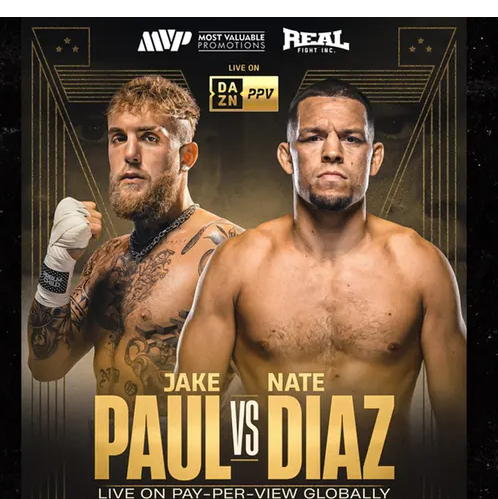 Once again mega influencer Jake Paul has lured a non-boxer into the boxing ring but this time it's MMA's Nate Diaz.
"He's going to get sent home," says Paul. "I'm going to knock him out."
Paul (6-1) faces UFC super star Diaz (0-0) on Saturday, Aug. 5, at the American Airlines Center in Dallas, Texas. DAZN pay-per-view and ESPN pay-per-view will stream the Most Valuable Promotions that also features Amanda Serrano vs Heather Hardy.
It's a 10-round fight set at 185 pounds.
One thing about Paul is he knows what sells. Diaz has a rabid fan base and though he never fought professionally as a boxer, he can box as Boxing Hall of Fame fighter Andre Ward can attest.
Ward sparred with brothers Nate and Nick Diaz on occasion and said they do have boxing skills. That will be important when facing the hard-punching Paul.
In almost every fight Paul has dropped his opponent. It took him two fights to knock out MMA champion Tyrone Woodley. Paul has power.
The first time I saw Paul perform took place in November 2020 when he knocked out NBA star Nate Robinson in two rounds. It was obvious from the opening frame that he possessed power in his right.
Diaz has dominated the MMA landscape while fighting for UFC for years. Fans love his devil-may-care attitude including his win over Conor McGregor. But the gregarious Diaz knows there is a stark difference between MMA and boxing.
"It was one-dimensional working on the one craft," said Diaz. "Every fight I come to win. I'm here to represent me and my team."
Diaz presents a very dangerous challenge.
Paul chose Diaz because of his popularity among MMA fans. Diaz chose Jake Paul over his brother Logan Paul who formerly boxed an exhibition against Floyd Mayweather.
"He's obviously a full-time fighter," said Diaz about choosing Jake over Logan Paul.
Jake Paul said this could be the last MMA fighter he challenges.
"Theres not many of them left to beat. Unless Dana (White) lets Conor fight me," said Jake Paul about possibly facing Conor McGregor.
Paul has made millions on pay-per-views that entice boxing and non-boxing fans including his loss to Tommy Fury by split decision.
"It's definitely pretty surreal. I manifested all this to existence. It's probably one of the biggest fights of the year," Paul said.
And why did he choose Nate Diaz.
"He has that warrior mindset more than anybody. I'm down for a challenge," said Paul.
Las Vegas Revisited
Las Vegas always brings new adventures.
If you were driving on the I-15 last Thursday morning and saw a silver and black car streak by at near 80 miles an hour though the desert landscape, that would be me.
This year prizefighting has ramped up the quality of its matchups. Back in April, we saw Gervonta "Tank" Davis and Ryan Garcia attract a large crowd at T-Mobile Arena in Las Vegas. Their contest established high pay-per-view numbers and drew celebrities from all around the country.
Last weekend, boxing returned on back-to-back nights with Top Rank featuring Seniesa Estrada in the main event at the Palms Casino Resort on Friday.
I arrived early enough to catch the weigh-in at the Palms Casino on Thursday. The room was packed with fighters and their supporters. Among those attending was Mikaela Mayer and her manager George Ruiz. They were talking to someone so I waited.
When they noticed me it was all hugs and handshakes. I immediately could tell Mikaela looked stronger and more vibrant than usual. She mentioned she felt better than ever at the higher weight. She had a glow on her face.
George Ruiz commented that he's about to sign another female fighter. He remarked how he didn't really want to meet Mikaela when she approached him many years ago. Now he is fully committed to Mayer and to the future of women's boxing.
Mikaela does television analysis for ESPN during Top Rank cards. She's a very good analyst and speaks very well. Most of the female prizefighters are very good at talking off the cuff, while most men boxers are not that capable of speaking live on camera. It's a weird fact, but something I've noticed over the 38 years covering boxing.
Seniesa Estrada was headlining a Top Rank card for the first time. In her other cards she was the co-main event. This time she was the lead star and opposing her was Argentina's Leonela Yudica. Both made weight, but surprisingly Yudica weighed 103 pounds. The minimumweight limit was 105.
Yudica is a former flyweight champion with the weight limit at 112 pounds. So, for her to weigh 103 was pretty astounding. Would it cause her to be too weak?
On Friday night they met in the prize ring and Seniesa Estrada was aggressive as usual. She understands that she is in the entertainment world and giving fans a knockout is part of her duty. Yudica, who usually fights bigger and heavier girls, was able to absorb Estrada's biggest blows and deliver her own.
The two women exchanged viciously for 10 rounds with Estrada simply out-landing Yudica for the win.
Sitting in the audience dressed in black hot pants was Costa Rica's Yokasta Valle. She has the IBF minimumweight title and wants to add Estrada's WBC and WBA versions too.
Both have accused the other of ducking.
After the long night of boxing a few of the reporters gathered and met across the street at the Gold Coast Hotel. They have a Chinese eatery Ping Pang Pong that's open late. For the past four years, we've made that one of our go-to places for after-hours dining.
We talked about Seniesa Estrada and Yokasta Valle finally meeting in the ring this year. Estrada is considered by many, including me, to be one of the top five female fighters pound-for- pound.
Valle has improved dramatically since changing trainers and is working out of Los Angeles now. She is an incredible athlete and has picked up the pro style of fighting. But will it all be enough to handle Estrada in the trenches?
Saturday
On Saturday morning I made up my mind to have breakfast at my favorite diner Blueberry Hill. There are several of the eateries to choose from in Las Vegas, so I picked the closest to me on Flamingo. It was packed as usual.
Because I was alone, I sat at the bar and immediately found a spot. Right away the waitress gave me a menu, then forgot about me. I had to wave her down and she apologized. She thought I was waiting for someone.
After eating breakfast, I returned to my hotel on the strip and began to receive calls from other reporters. Not everyone arrives early for big fights. Some come during the day of the fight. I like to get settled and sometimes visit one of the many gyms in Las Vegas.
Years ago, there were very few boxing gyms. Today there are dozens of new gyms all over Clark County.
I stopped visiting gyms because of Covid-19. The boxing gyms were a cesspool for germs and disease. They seldom clean the ropes or canvas or chairs. People in the boxing world were dying left and right. I lost many friends to the pandemic.
Now I carry alcohol wipes and try not to touch anything like door handles, chairs or tables without wiping first.
Several reporter friends warned about the parking situation and how to approach it. My photographer and buddy Al Applerose had attended the weigh-ins the day before and had encountered problems.
Temperatures were only about 115 degrees. The forecast was for 120.
Inside the T-Mobile arena they forced us to walk counter-clockwise to our section. If I had gone to the left I would have arrived 20 minutes sooner. Basically, they made us walk around the entire arena. I think these security guys do that on purpose.
The press row for the fights was down below just above the floor. It's tough on the knees especially when carrying a heavy laptop. I found my seat and discovered I was sitting next to Dan Rafael. I've known him since he first arrived on the boxing scene about 23 years ago. I've been a credentialed boxing writer since 1993. But I was writing about boxing since 1985. My first story was a major fight between Marvin Hagler vs Tommy Hearns. It sold out the small newspaper I was working for at the time.
Most of the crowd did not arrive until the pay-per-view section of the TGB Promotions card. When Nonito Donaire and Alexandro Santiago entered the ring, the fans began to arrive. I could see celebrities like Cardi B and Mike Tyson.
Later, when fighter Isaac Cruz arrived in the ring with Manny Pacquiao and was set to fight Giovanni Cabrera, it was mentioned that Cruz was the first Latino fighter that Pacman helped. I mentioned that he had also helped other Latinos like David Rodela of Oxnard.
Ironically, later that night, I ran into Rodela at the Mandalay Bay Resort and Casino. I was walking into the men's room when he said "hey! What did you think of the Terence Crawford and Errol Spence Jr. fight?
I was shocked to see him. I had just mentioned his name to one of the other reporters and suddenly here he was in the flesh. Rodela was one of Manny's sparring partners and they have remained good friends. One thing about Manny is he was very good to his friends. He bought Rodela a house.
Rodela fought everybody during the early 2000s from Kevin Kelley to Jorge Linares. He even fought Terence Crawford in 2012 at the Hard Rock Casino. He remembers it well.
"Yes, I was knocked out by Terence Crawford but not beat up like that," said Rodela about how Spence looked after the fight.
Spence versus Crawford was one of those matchups on paper that looked to be difficult to decide the winner. But in the ring Crawford was simply too strong.
After the fight was over the scene was like out of a movie set. It was a coronation of the new king of boxing Crawford.
I've been covering pro boxing since 1985 and no other fight result shocked as much as Crawford's domination of Spence. I was at his fight when he won the welterweight title from Australia's Jeff Horn in June 2018 in Las Vegas. He was a small blown-up super lightweight then. Now he's too strong for other welterweights.
After the press conference for Crawford and Spence, photographer Al Applerose and I headed for the New York, New York Casino. Applerose apparently gambled on a 9th round knockout and won. He wanted to collect.
Inside we decided to get some pizza and beer and we ran into Japanese reporter Yuriko Miyata and American reporter Norm Frauenheim. We also sat and gobbled up pizza and beer as people walked by.
All of us were amazed at Crawford's dismantling of Spence. I had first met Crawford way back in 2012 when Tim Bradley was about to face Manny Pacquiao for the first time. Crawford was at Bradley's gym as a sparring partner.
Bradley introduced Crawford to me as the next great fighter. He told me then, "believe me, he is going to be great."
Bradley was right.
On the drive back home, early in the morning, I listened to Miles Davis' "So What." I remembered reading in Miles Davis biography that he used to spar with his friend Sugar Ray Robinson.
It seemed appropriate to listen to Miles while contemplating Terence Crawford's victory.
Fights to Watch
Fri. ESPN+6 p.m. Derrick Cuevas (25-1-1) vs Alberto Mosquera (28-5-2).
Fri. DAZN 5:30 p.m. Elija Pierce (17-2) vs Mike Plania (28-2).
Fri. Showtime 9 p.m. Jordan White (14-1) vs Eridson Garcia (17-0).
Sat. DAZN 3 p.m. Jake Paul (6-1) vs Nate Diaz (0-0), Amanda Serrano (44-2-1) vs Heather Hardy (24-2), Shadasia Green (12-0) vs Olivia Curry (7-1).
To comment on this story in the Fight Forum CLICK HERE
Skavynskyi and Bustillos Win on a MarvNation Card in Long Beach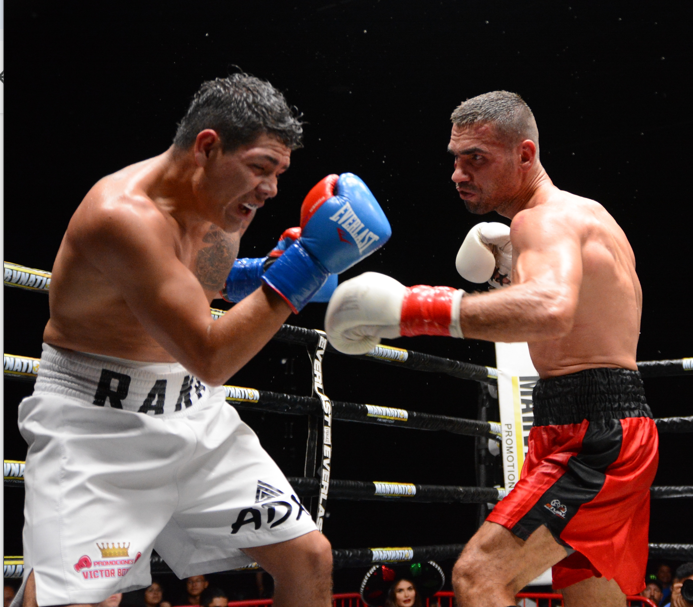 Skavynskyi and Bustillos Win on a MarvNation Card in Long Beach
LONG BEACH, Ca.-A cool autumn night saw welterweights and minimumweights share main events for a MarvNation fight card on Saturday.
Ukraine's Eduard Skavynskyi (15-0, 7 KOs) experienced a tangled mess against the awkward Alejandro Frias (14-10-2) but won by decision after eight rounds in a welterweight contest at the indoor furnace called the Thunder Studios.
It was hot in there for the more than 600 people inside.
Skavynskyi probably never fought someone like Mexico's Frias whose style was the opposite of the Ukrainian's fundamentally sound one-two style. But round after round the rough edges became more familiar.
Neither fighter was ever damaged but all three judges saw Skavynskyi the winner by unanimous decision 79-73 on all three cards. The Ukrainian fighter trains in Ventura.
Bustillo Wins Rematch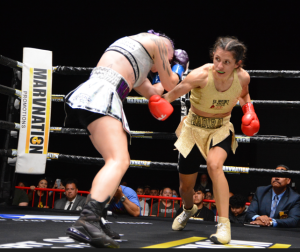 In the female main event Las Vegas' Yadira Bustillos (8-1) stepped into a rematch with Karen Lindenmuth (5-2) and immediately proved the lessons learned from their first encounter.
Bustillos connected solidly with an overhand right and staggered Lindenmuth but never came close to putting the pressure fighter down. Still, Bustillos kept turning the hard rushing Lindenmuth and snapping her head with overhand rights and check left hooks.
Lindenmuth usually overwhelms most opponents with a smothering attack that causes panic. But not against Bustillos who seemed quite comfortable all eight rounds in slipping blows and countering back.
After eight rounds all three judges scored the contest for Bustillos 78-74 and 80-72 twice. Body shots were especially effective for the Las Vegas fighter in the fifth round. Bustillos competes in the same division as IBF/WBO title-holder Yokasta Valle.
Other Bouts
In a middleweight clash, undefeated Victorville's Andrew Buchanan (3-0-1) used effective combination punching to defeat Mexico's Fredy Vargas (2-1-1) after six rounds. Two judges scored it 59-55 and a third 60-54 for Buchanan. No knockdowns were scored.
A super lightweight match saw Sergio Aldana win his pro debut by decision after four rounds versus Gerardo Fuentes (2-9-1).
Photos credit: Al Applerose
To comment on this story in the Fight Forum CLICK HERE
Tedious Fights and a Controversial Draw Smudge the Matchroom Boxing Card in Orlando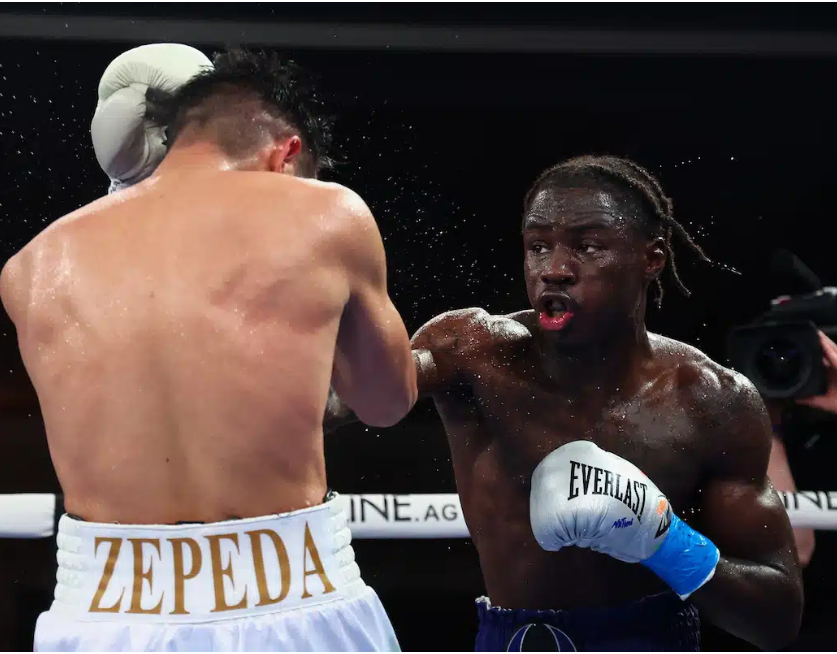 Matchroom Boxing was at the sprawling Royale Caribe Resort Hotel in Orlando, Florida tonight with a card that aired on DAZN. The main event was a ho-hum affair between super lightweights Richardson Hitchins and Jose Zepeda.
SoCal's Zepeda has been in some wars in the past, notably his savage tussle with Ivan Baranchyk, but tonight he brought little to the table and was outclassed by the lanky Hitchins who won all 12 rounds on two of the cards and 11 rounds on the other.  There were no knockdowns, but Zepeda suffered a cut on his forehead in round seven that was deemed to be the product of an accidental head butt and another clash in round ten forced a respite in the action although Hitchins suffered no apparent damage.
It was the sort of fight where each round was pretty much a carbon of the round preceding it. Brooklyn's Hitchins, who improved to 17-0 (7), was content to pepper Zepeda with his jab, and the 34-year-old SoCal southpaw, who brought a 37-3 record, was never able to penetrate his defense and land anything meaningful.
Hitchins signed with Floyd Mayweather Jr's promotional outfit coming out of the amateur ranks and his style is reminiscent in ways of his former mentor. Like Mayweather, he loses very few rounds. In his precious engagement, he pitched a shutout over previously undefeated John Bauza.
Co-Feature
In the co-feature, Conor Benn returned to the ring after an absence of 17 months and won a unanimous decision over Mexico's Rodolfo Orozco. It wasn't a bad showing by Benn who showed decent boxing skills, but more was expected of him after his name had been bandied about so often in the media. Two of the judges had it 99-91 and the other 96-94.
Benn (22-0, 14 KOs) was a late addition to the card although one suspects that promoter Eddie Hearn purposely kept him under wraps until the week of the fight so as not to deflect the spotlight from the other matches on his show. Benn lost a lucrative date with Chris Eubank Jr when he was suspended by the BBBofC when evidence of a banned substance was found in his system and it's understood that Hearn has designs on re-igniting the match-up with an eye on a date in December. For tonight's fight, Benn carried a career-high 153 ½ pounds. Mexico's Orozco, who was making his first appearance in a U.S. ring, declined to 32-4-3.
Other Bouts of Note
The welterweight title fight between WBA/WBC title-holder Jessica McCaskill (15-3-1) and WBO title-holder Sandy Ryan (6-1-1) ended in a draw and the ladies' retain their respective titles. Ryan worked the body effectively and the general feeling was that she got a raw deal, a sentiment shared by the crowd which booed the decision. There was a switch of favorites in the betting with the late money seemingly all on the Englishwoman who at age 30 was the younger boxer by nine years.
The judges had it 96-94 Ryan, 96-95, and a vilified 97-93 for Chicago's McCaskill.
In the opener of the main DAZN stream, Houston middleweight Austin "Ammo" Williams, 27, improved to 15-0 (10) with a 10-round unanimous decision over 39-year-old Toronto veteran Steve Rolls (22-3). All three judges had it 97-93. Rolls has been stopped only once, that by Gennady Golovkin.
Photo credit: Ed Mulholland / Matchroom Boxing
To comment on this story in the Fight Forum CLICK HERE
Zhilei Zhang KOs Joe Joyce; Calls Out Tyson Fury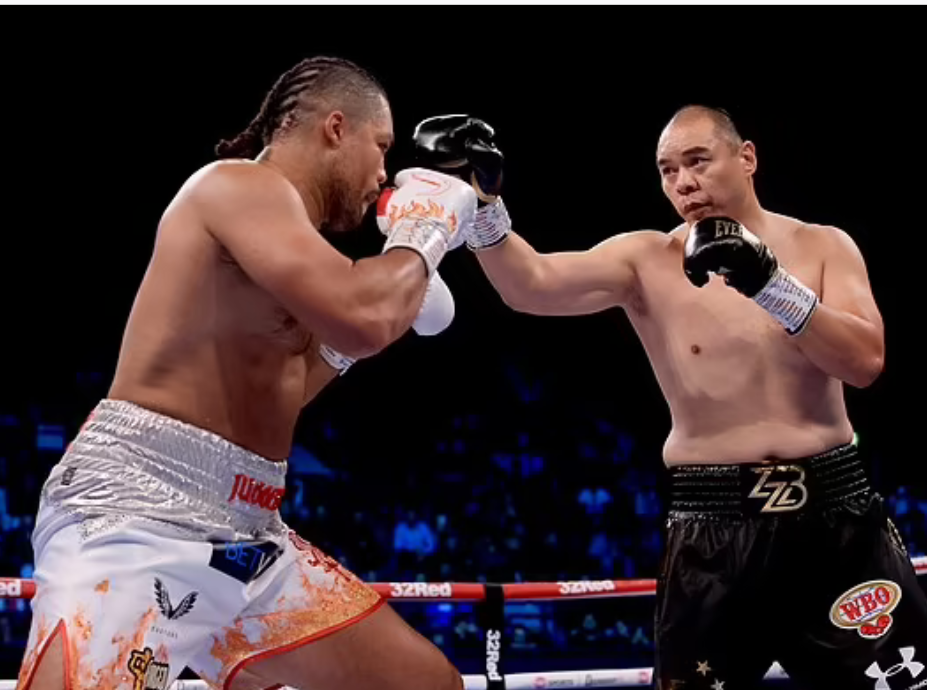 Joe Joyce activated his rematch clause after being stopped in the sixth frame by Zhilei Zhang in their first meeting. In hindsight, he may wish that he hadn't. Tonight at London's Wembley Stadium, Zhang stopped him again and far more conclusively than in their first encounter.
In the first meeting, Zhang, a southpaw, found a steady home for his stiff left jab. Targeting Joyce's right eye, he eventually damaged the optic to where the ring doctor wouldn't let Joyce continue. At the end, the fight was close on the cards and Joyce was confident that he would have pulled away if not for the issue with his eye.
In the rematch tonight, Zhang (26-1-1, 21 KOs) closed the curtain with his right hand. A thunderous right hook on the heels of a straight left pitched Joyce to the canvas where he landed face first. He appeared to beat the count by a whisker, but was seriously dazed and referee Steve Gray properly waived it off. The official time was 3:07 of round three.
Zhang, who lived up to his nickname, "Big Bang," was credited with landing 29 power punches compared with only six for Joyce (15-2) who came in 25 pounds heavier than in their first meeting while still looking properly conditioned. One would be inclined to say that age finally caught with the "Juggernaut" who turned 38 since their last encounter, but Zhang, 40, is actually the older man. In his post-fight interview in the ring, the New Jersey resident, a two-time Olympian for China, when asked who he wanted to fight next, turned to the audience and said, "Do you want to see me shut Tyson Fury up?"
He meant it as a rhetorical question.
Semi-Windup
Light heavyweight Anthony Yarde was matched soft against late sub Jorge Silva, a 40-year-old Portuguese journeyman, and barely broke a sweat while scoring a second-round stoppage. Yarde backed Silva against a corner post and put him on the deck with a short right hand. Silva's body language indicated that he had no interest in continuing and the referee accommodated him. The official time was 2:07 of round two.
A 30-year-old Londoner, Yarde (24-3, 23 KOs) was making his first start since being stopped in eight rounds by Artur Beterbiev in a bout that Yarde was winning on two of the scorecards. Silva, a late replacement for 19-3-1 Ricky Summers, falls to 22-9.
Also
Former leading super middleweight contender Zach Parker (23-1, 17 KOs) returned to the ring in a "shake-off-the-rust" fight against 40-year-old Frenchman Khalid Graidia and performed as expected. Graidia's corner pulled him out after seven one-sided rounds.
In his previous fight, Parker was matched against John Ryder who he was favored to beat. The carrot for the winner was a lucrative date with Canelo Alvarez. Unfortunately for Parker, he suffered a broken hand and was unable to continue after four frames. Tonight, he carried 174 pounds, a hint that he plans to compete as a light heavyweight going forward. Indeed, he has expressed an interest in fighting Anthony Yarde. Graidia declined to 10-13-4.
The Zhang-Joyce and Yarde-Silva fights were live-streamed in the U.S. on ESPN+.
To comment on this story in the Fight Forum CLICK HERE