What Our Grandfathers Knew About Joe Louis
He might not have had the forethought or business acumen to nickname himself "The Greatest," but Joe Louis was the greatest heavyweight prizefighter who ever lived.
Our grandfathers and great grandfathers knew this well. I wish we did, too.
They saw "The Brown Bomber" put together the most impressive championship reign in the history of the sport. They watched him absolutely demolish an opponent who'd previously bested him by exploiting a soon-corrected flaw of dropping his left lead too low in the most important sporting event there could ever be. They marveled at his unparalleled combination of power, speed and technical precision.
But Joe Louis wasn't just the best heavyweight they had seen, he was the best heavyweight anyone has seen — ever.
In 2003, Ring magazine praised him as the greatest puncher of all-time. He was devastatingly accurate. He wielded beautifully mechanical combination punches with frightening ease. He elicited songs of praise and adulation like no fighter before or since. There were even a multitude of songs written about him.
Joe Louis never tried to break anyone's arm or threaten to eat their children, and he didn't float like a butterfly because he didn't need to…he was all sting!
I happen to be of the opinion that God made one perfect prizefighter, and that it was Joe Louis. It's a sentiment shared by many notable boxing historians. Our own resident history buff and TSS expert, Frank Lotierzo, calls Louis "the most faultless heavyweight fighter in history."
In fact, the International Boxing Research Organization ranks Louis the top heavyweight in history according to its most recently updated member poll posted from March 2005.
Joseph Louis Barrow was born in 1914 in Lafayette, Alabama. He was the seventh of eight children in a family of sharecroppers. In his autobiography, Louis remembered the bareness of the red clay soil – its simplicity.
"You would have thought the whole world was red clay," he penned.
When he was only two years old, Joe's father, Munroe Barrow, was committed to an insane asylum. In 1926, his mother remarried a local contractor named Pat Brooks, and the pair moved the family to Detroit in search of a better life.
There, a young Louis took an interest in boxing at the request of a schoolmate. In order to keep his mother off the trail, Joe would sneak his boxing gloves around in a violin case she gave him for music lessons. Instead of making music with his violin, though, Joe made music with his fists, and he quickly earned a reputation as a brilliant fighter. He won fifty of his fifty-four amateur fights and decided to turn pro in 1934 at age twenty.
His professional career took off quickly. He was a paid pugilist for less than a year when he thrashed former champion Primo Carnera in six rounds. He knocked out iron-jawed former champ Max Baer later that year, and was quickly hailed the next great heavyweight champion.
But in 1936 Joe Louis lost to rival and future friend, Max Schmeling. He was hammered repeatedly by right hands from Schmeling who had figured out Louis would leave his left hand too low after delivering his jab. He made him pay for the mistake the entire fight. Louis was knocked out in round twelve after taking just too much punishment.
It was just the lesson he needed.
Two months later, Louis rebounded from the loss by knocking out former champion Jack Sharkey in three rounds. No longer letting his lead hand be lazy, he'd soon become the most dominant force the heavyweight division had ever seen.
Louis won the title in 1937, defeating "Cinderella Man" James J. Braddock in eight rounds. He defended the title three more times until he could get a rematch with Schmeling who, by this time, had become a pawn for Hitler's Nazi party in Germany.
While Schmeling wasn't a Nazi, it didn't really matter. The world saw him in one corner, representing Hitler, fascism and the most vile racism conceivable, and Louis in the other, representing a fierce resistance to the Nazi ideals.
The build-up to the fight was incredible, and it is likely to never be duplicated. Hitler's "master race" would be on display for the world to see. Schmeling was Nazi Germany's unwilling hero – an Aryan superman who would prove the merits of their insane paradigm.
Meanwhile, Louis was cast as an American hero simply out of necessity. He embodied the anti-Nazi.
"Joe, we need muscles like yours to beat Germany," President Roosevelt told Louis before the fight.
If it wasn't the first time a black man had been rallied behind as symbol of hope and freedom in racially divided America, it was by far the grandest and most galvanizing.
The fight itself turned out to be a mismatch. Hitler telephoned Schmeling moments before the opening bell rang and could have likely stayed on the line long enough to hear his fallen hero return from the ring broken and battered.
Louis pulverized his nemesis in just one round, and with him the perception of Hitler's strength, knocking him to the canvas three times in brutal fashion. It was vintage Joe Louis. It was the greatest prizefighter who ever lived at his very best in his biggest moment.
Afterwards, when some hailed Louis as "a credit to his race," one writer profoundly responded, "Yes, Louis is a credit to his race — the human race."
Recalling the historical significance of the event with boxing historian Larry Schwartz for an ESPN special, "The Brown Bomber's" son, Joe Louis Jr., praised his father for being a bridge between white and black America.
"What my father did was enable white America to think of him as an American, not as a black," he said. "By winning, he became white America's first black hero."
In his prime, Joe Louis was without equal. At his peak, as he was against Schmeling in 1938, Louis was the perfect fighting machine. He had everything a fighter could hope to have, and he was both athletically gifted and technically sound.
Arguably the most dominant champion of any weight class in history, Louis wore the heavyweight crown for almost twelve full years. Even taking two years from his reign to serve his country in World War II, he defended his title twenty-five times before retiring in 1949.
Despite his tremendous success, money problems forced him to come back to the ring in 1950 when he was well beyond his best. He lost a unanimous decision to Ezzard Charles, then reeled off eight straight wins before his final bout, a loss to Rocky Marciano (who was ten years his junior) in 1951.
After his retirement, Louis lived a beleaguered life. He battled family issues, mental illness, drug use and the IRS. In 1981, Louis died at age 66 in Las Vegas, where he had been given a job as a greeter at Caesar's Palace.
It's hard to describe the significance of someone like Joe Louis to today's generation. Louis fought before the information age had taken over the world, and storytellers today only tend to spin yarns for those they can romanticize from their youth. If it were up to them, it seems, we'd only hear the tales of Muhammad Ali and Mike Tyson.
I resist the urge to do this, because I'd rather be a truthful boxing historian than a gifted raconteur. Boxing is more important than that to me, so, as much as I love Evander Holyfield, I try not to oversell his place among the pantheon of greats.
There is no such thing as overselling significance when it comes to Joe Louis.
I once tried to pen something to describe Joe Louis in an adequate manner, and all I came up with was a hodgepodge of words pieced together by others' remembrances. One cannot capture something like a dream with mere sounds and letters.
Perhaps, though, the story of Joe Louis is best told as succinctly as his punches were against Schmeling in the rematch all those years ago. I found this scribbled about Joe in one of my old journals. It appears to be an attempt at that.
Joe Louis grew up dirt poor and died the same way. In between that, he became the second African American to win the World Heavyweight championship, the first and only person to defend any world title 25 straight times, the quintessential American hero who fought for his country both inside and outside the ring, and possibly the most feared fighter who ever lived.
Rather, if you're one of those people who only have enough attention span left from your day to keep up with news through twitter (I'm guilty of this myself), here is the TLDR (too long didn't read) version, too.
Erick Ituarte Wins Featherweight Battle in Ontario, Calif.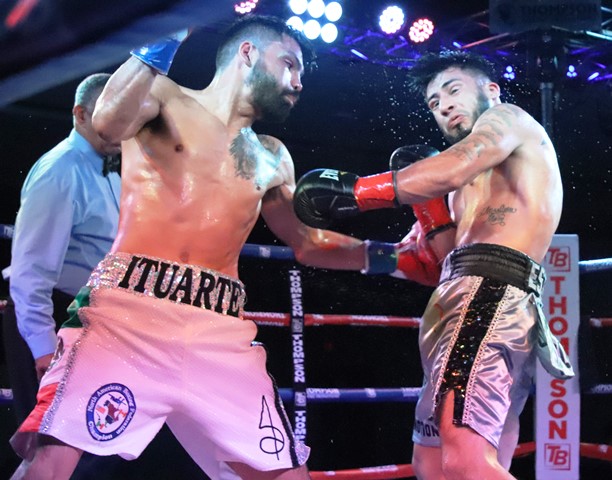 ONTARIO, CALIF.-Looking to make waves as a featherweight, Santa Ana's Erick Ituarte battled Tijuana's Jose Estrella evenly before pulling away in the last third of the fight to win by decision on Friday.
Ituarte (21-1-1, 3 KOs) lacks the big punch but has the long arms that enabled him to keep distance and out-point the shorter Estrella (20-16-1, 14 KOs) in their 10-round bout at the Doubletree Hotel. Thompson Boxing Promotions staged the fight card that saw about 500 fans at the event.
Estrella used his guts and guile to keep the fight close in the first four rounds of the fight. Back and forth they went trading momentum, Ituarte was effective attacking the body and Estrella was good at connecting with big blows to the head.
It wasn't until the seventh round that Ituarte began utilizing his reach and mobility to make Estrella chase and run into pot shots. From that moment on Ituarte was in control of the fight. No knockdowns were scored with one judge scoring it 98-92 and two others 100-89 for Ituarte. Each round was very competitive.
Other bouts
Corona's Luis Lopez (5-0, 3 KOs) powered his way to victory by unanimous decision over Mexico's Daniel Perales (10-17-2, 5 KOs) after four rounds in a welterweight match. Though Lopez won every round with sharper punches he was never able to hurt the super tough Mexican fighter from Monterrey. He recognized that early and used crisp combinations to win each round though Perales had his moments too. All three judges scored it 40-36 for Lopez.
A heavyweight fight saw local fighter Oscar Torres (5-0, 2 KOs) run his record to five wins with a fourth round stoppage over Houston's Thomas Hawkins (4-4) after a barrage of punches. The fight was stopped twice in the fourth round and a final barrage of blows prompted referee Tony Crebs to halt the fight at 1:20 of the round. Torres fights out of Rialto, California and is trained by Henry Ramirez.
Lightweights Davonte McCowen (0-0-1) and Chris Crowley (0-0-1) fought to a majority draw after four torrid rounds. Both were making their pro debuts. McCowen started faster and slowed in the last two rounds that allowed Britain's Crowley to mount a rally in the last two rounds. It was a spirited fight between the two newcomers.
Photo credit: Alonzo Coston
Check out more boxing news on video at The Boxing Channel
To comment on this story in The Fight Forum CLICK HERE
Introducing Australia's Bilal Akkawy who steps in for David Lemieux on May 4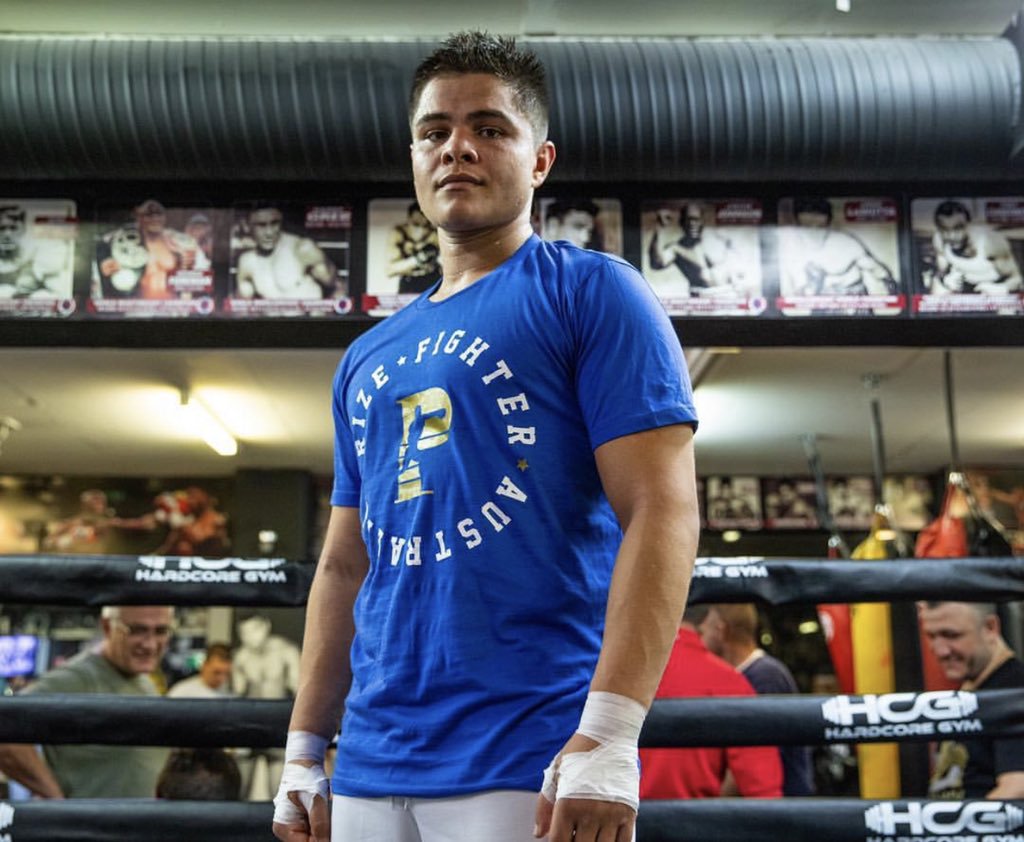 "Big Announcement Coming – Stay Tuned" wrote Bilal Akkawy late yesterday (April 18) on his twitter page. And then the Nevada Athletic Commission went and stole his thunder.
Later that day, the commission released its agenda for its forthcoming meeting on April 24. Among the items on the docket will be the selection of officials for Akkawy's fight with England's John Ryder. The 12-round contest for a "Vacant WBA Interim Super Middleweight Title" is penciled in as the chief undercard bout on the big May 4 show at the T-Mobile Arena topped by the match between Canelo Alvarez and Daniel Jacobs.
John Ryder's original opponent, David Lemieux, was forced to pull out when he suffered a hand injury in training.
Born and raised in Sydney, Australia, the undefeated Akkawy (20-0-1, 16 KOs) has been Canelo Alvarez's chief sparring partner. Canelo's trainer, Eddy Reynoso, hired Akkawy based on a video that Akkary sent him as he was preparing to set up Canelo's camp for the 2018 Cinco de Mayo rematch with Gennady Golovkin.
Two days before Canelo-Golovkin II, which was pushed back until September, Akkawy made his U.S. debut at the Hard Rock Hotel in Las Vegas, scoring an 8-round decision over Christian Olivas. He appeared on the Canelo-Fielding card this past December in New York, scoring a 7th round stoppage over Victor Fonseca, and has had one fight since then, a stay-busy fight buried on a small show in Tamazula, Mexico, in which he didn't stay very busy, dismissing his hopelessly overmatched opponent in the opening round.
Akkawy comes from a fighting family. His father Mahmoud "Mick" Akkawy and two of Mick's brothers were good amateurs. Mick Akkawy was 2-0 as a pro when his career was cut short by a serious car accident. Mick and his brother Ahmad "Al" Akkawy now run a boxing club.
The elder Akkawy, whose roots are in Tripoli, was tutored by Johnny Lewis. To this day, Lewis, now 75 years old, insists that Mick Akkawy was the hardest puncher that he ever coached. Bilal Akkawy, says Lewis, inherited his old man's genes. Lewis rates Bilal the hardest puncher, pound-for-pound, in Australia today.
That's high praise. Inducted into the International Boxing Hall of Fame in 2017, Johnny Lewis has worked with six world title-holders, most notably Jeff Fenech and Kostya Tsyzu.
Bilal Akkawy's power was on display on Oct. 30, 2016 when he stopped fellow Aussie Kerry Hope in the seventh round. Akkawy shattered Hope's jaw – two operations were necessary – and dislodged four of his teeth. His best win since then was a wide 10-round decision over Italian veteran Giovanni De Carolis who had briefly held the WBA world super middleweight title.
Not all of Akkawy's performances were glowing, however. The draw on his ledger is an ugly smudge, notwithstanding the fact that it came in a 4-round bout. His opponent was Joe Rea, a British slug who is currently 11-37-5 after losing 24 of his last 25 fights. Moreover, although he won every round in his U.S. debut vs. Christian Olivas, we were unimpressed. Akkawy had Olivas down in the second frame but was unable to apply the finisher.
Although Akkawy is a second-generation prizefighter, his father discouraged him from pursuing a career in the ring and he entered the pro ranks without the benefit of a single amateur bout. By contrast, John Ryder had 35 amateur fights before turning pro in September of 2010.
Ryder (27-5-1, 15 KOs) is no slouch. A southpaw, the Londoner has won three straight inside the distance since losing a split decision to Rocky Fielding. At age 30, he's five years older than Akkawy and has far more experience, answering the bell as a pro for 187 rounds compared to only 84 for the Aussie.
Akkawy vs. Ryder won't get the juices flowing in the United States where both are obscure. However, it's an intriguing match. It will be interesting to see how the bookmakers price it.
Check out more boxing news on video at The Boxing Channel
To comment on this article in The Fight Forum CLICK HERE
The Avila Perspective, Chap. 43: Welterweight Wars Coast to Coast and More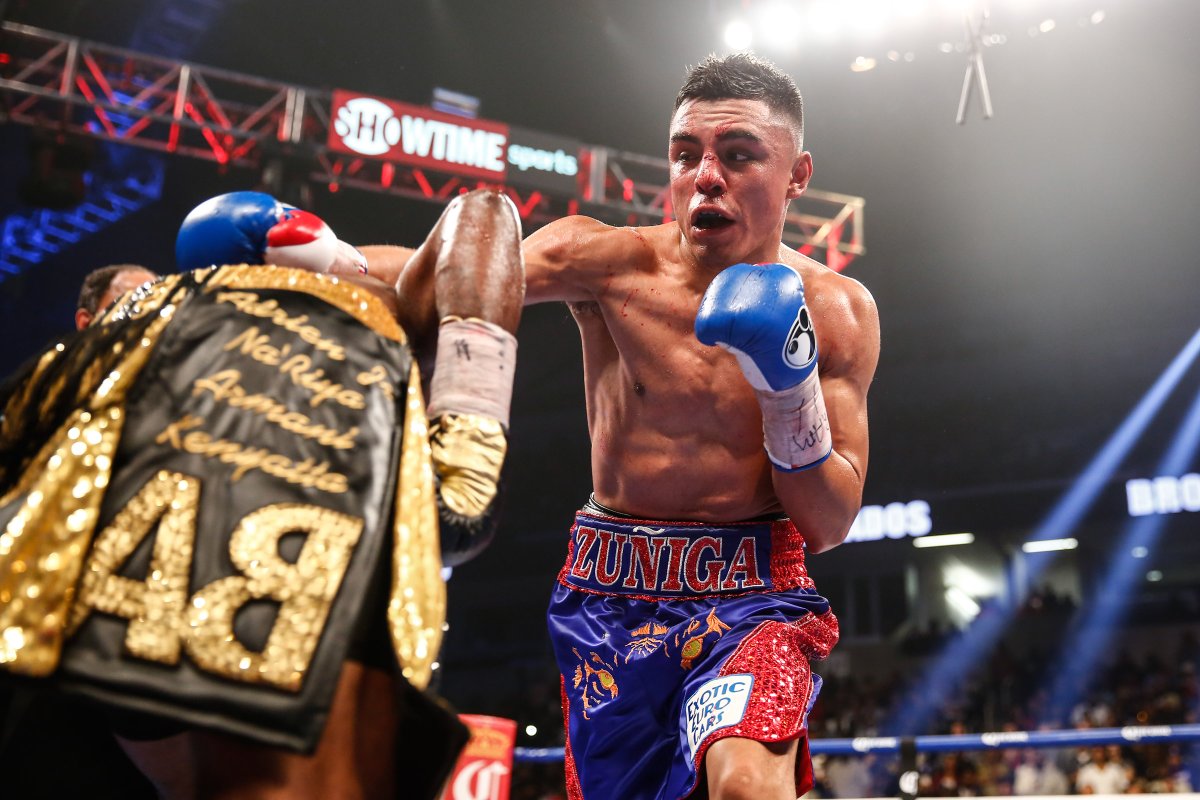 In a twisted development a couple of East Coast guys are headed to Los Angeles to battle while another pair of West Coast guys are headed to New York City.
Makes sense I guess.
Former two-division world champion Danny "Swift" Garcia of Philadelphia faces Adrian Granados of Chicago at the Dignity Health Sports Park in Carson, California on Saturday April 20. The PBC card will be televised by FOX.
Dignity Health is the new name attached to the complex formerly known as the StubHub Center and before that it was the Home Depot Center. Ironically, Dignity Health owns most of the cemeteries in Southern California.
Is that an omen?
Garcia (34-2, 20 KOs) is a counter-punching Puerto Rican who needs someone to fight that's always on attack mode in order for him to shine. When he's matched with another counter-puncher the crowd goes to sleep.
That's where Chicago Mexican Granados (20-6-2, 14 KOs) fits in.
Granados (pictured) has never fought in a snoozer in his life. He probably kicked his way out when he was born. In fights against slow developers like Adrien Broner and Felix Diaz he made them fight for their lives. If this were ancient Roman times he would be fighting in the main event armed with a tooth pick against a lion. Blindfolded.
But he's weary of being labeled as merely an entertaining fighter.
"I'm tired of it," Granados, 29, said. "I want the title or I'm out of here."
World titles are something Garcia knows about. He's held the WBC and WBA super lightweight titles and the WBC welterweight title. In unification clash with Shawn Porter last September he lost by a razor close decision. He feels naked without a strap around his waist.
"I'm going to make a statement," said Garcia about his pending battle with Granados. "I definitely want a rematch with Shawn Porter or Keith Thurman."
Granados eyes Garcia with slight envy whenever they're in the same room.
"I'm trying to cash in baby," said Granados. "I just got to go in there and do my thing."
Another interesting bout on the PBC card includes undefeated Brandon Figueroa (18-0, 13 KOs) a southpaw super bantamweight fighting Venezuela's Yonfrez Parejo (22-3-1) for the interim WBA title. The actual titleholder is Los Angeles fighter Danny Roman who fights next week at the Inglewood Forum.
Other fighters of interest are Andy Ruiz, Alfredo Angulo, Omar Juarez and Carlos Balderas. It's an extremely long card and begins at 3 p.m.
Friday is Thompson Boxing
Headlining a boxing card at the Doubletree Hotel in Ontario, California is featherweight Erick Ituarte (20-1-1) versus Jose Estrella (20-15-1) in a 10-round main event. Ituarte is the stablemate of WBA champion Danny Roman. Estrella hails from Tijuana and has fought some tough customers like Miguel Marriaga and Christopher Diaz.
The Thompson Boxing Promotions event also features a solid looking welterweight Richard Brewart (4-0) against Vincent Morales (2-2-2) in a four round bout. Another interesting fight showcases Uzbekistan's Murodjon Akhmadaliev (5-0) a southpaw slugger trained by Joel and Antonio Diaz in Indio. The lefty faces former world title contender Carlos Carlson (23-5) in a super bantamweight clash.
Thompson Boxing always delivers solid boxing cards and you never know which new boxing jewel will be discovered by them. They have a 20 year history of finding outstanding talent. You can also watch it streamed on Thompson Boxing's page on Facebook.com.
Doors open at 6:30 p.m. For more information call (714) 935-0900.
New York Card
If you plan on staying home on Saturday night a solid fight card at Madison Square Garden features a welterweight world title fight between WBO titlist Terence Crawford and former two-division champion Amir Khan. It will be shown on ESPN pay-per-view at $59.95.
It's a loaded card with Top Rank unfurling its best. Of course the best is Crawford who in my opinion is the top fighter pound for pound. And I was a late convert.
Nebraska's Crawford (34-0, 25 KOs) is based in the Midwest and heads east to fight England's Khan (33-4, 20 KOs) who trains in California. They're fighting for the WBO title and it should be a very good fight.
Khan has always been a favorite of mine. He's blessed with speed and agility and also has a lot of guts. Not just because he fought Saul "Canelo" Alvarez at middleweight, but because he's a true prizefighter looking for the biggest fights in the world. He's been criticized by his own countrymen for not fighting some of his fellow Brits, but Khan looks at everything globally, not nationally. He especially wants fights that Americans want to see. They want to see this fight.
"I wanted this fight because I wanted to fight the best. Terence Crawford presented the greatest challenge to me at this point in my career. Listen, the Kell Brook fight was there, but fighting Terence gives me the opportunity to show I am a pound-for-pound fighter," said Khan.
Of course thousands of Brits will be flying across the Atlantic Ocean for a glimpse of this showdown. First because it's New York, second because it's boxing and Brits love boxing. Gotta love them Brits.
Crawford, like Khan, is blessed with speed and agility too. And he also has several ways to attack. He's not a one-dimensional fighter. He's like a jazz musician; he can take it wherever it needs to go. Whether its hip hop or improvisational he can easily slip into another tempo. That's his magic.
"Amir Khan is undefeated as a welterweight and can't be underestimated. He has great hand speed, movement, and some power as well," said Crawford. "I want to showcase all of my talents in this fight."
Keep your eyes open in this fight.
Other bouts on this high quality fight card:
Top Rank has a couple of their prospects jumping up to face contenders. First you have Shakur Stevenson (10-0) meeting former world title challenger Christopher Diaz (24-1) of Puerto Rico in a 10-round featherweight clash. If it were any other prospect I might say the kid is moving too fast. But Shakur has eye-popping talent.
Another prospect going against a contender is Brooklyn's Teofimo Lopez (12-0) meeting Finland's Edis Tatli (31-2, 10 KOs) in a lightweight match. Lopez, 21, already has fought in three 10-round fights and has the NABF and USBA lightweight belts. Tatli has the EBU lightweight belt. Whose belt means more in this fight?
Puerto Rico's highly touted Felix Verdejo (24-1,16 KOs) lost a year ago to Mexico's Ines Lozada Torres by knockout. Then he returned to win by knockout last November. Now he's back against a tough customer in Bryan Vasquez. It's not an easy fight for either fighter.
Verdejo was Top Rank's golden child a couple of years ago and ran into some personal problems before running into Lozada's fists. Now he has Vasquez, a slick fighting Costa Rican who arguably could have won a world title had he been given the decision after fighting Raymundo Beltran two years ago. Beltran won by majority decision that night in August 2017, then proceeded to win the WBO lightweight title against Paulus Moses. That could have been Vasquez's title.
It's a strong boxing card.
Lights Out
Next Thursday on April 25, former middleweight, super middleweight, light heavyweight, cruiserweight and heavyweight world champion James "Lights Out" Toney will be the honored guest at the Golden Boy Promotions boxing card at Fantasy Springs Casino in Indio, Calif.
Toney spent the last 25 years in Southern California where he first trained at the Wild Card Boxing gym in Hollywood. Over the years he became one of the most popular prizefighters by fans who loved his aggressive style and off-the-charts boxing skills. The Michigan native had more than 90 fights as a professional against some of the best to ever put on gloves.
Many boxing writers, including myself, consider Toney one of the best, if not the best prizefighter in the last 60 years. He's beaten some of the best in the business and performed at a high level for decades in classic fights. Among the gems were his knockout wins against Michael Nunn, Tim Littles, Vassiliy Jirov, and Evander Holyfield.
Toney, 50, will be available to sign autographs and take photos with fans. Be sure to be there and meet the great multi-division champion.
One of the featured fights is Oscar Negrete (18-1-1) in a rematch against Joshua Franco (14-1-1) who fought to a draw last October. It was one of the best fights of the year. The NABF bantamweight title is the prize.
For tickets or information call (800) 827-2946.
Check out more boxing news on video at The Boxing Channel
To comment on this story in The Fight Forum CLICK HERE