Dr. Goodman Kept VADA Off the Ropes in 2012
The Voluntary Anti-Doping Agency (VADA), an independent nonprofit organization founded in 2011 to offer and promote effective anti-doping programs in boxing and mixed martial arts, finished the 2012 tax year, its first complete year of operations, with a 12% budget deficit. In order to cover the deficit, VADA Founder and President, Dr. Margaret Goodman, provided a personal loan of $25,107 to the nonprofit organization.
"Our board/officers, including myself, stand behind a clean sport," Goodman told me. "Administrative and other costs can add up. Sometimes you have to put your money where your mouth is if you believe in clean sport."
Adrian Zapata, a former nonprofit partnership banking officer for BBVA Compass Bank, told me losses were commonplace for any first year business, especially a nonprofit.
"Yes, it can be common for a nonprofit to lose that amount of money, but I would highly suggest looking to see where that money is going and how it's being spent."
Information obtained through the Freedom of Information Act show VADA's expenses were almost $195k in 2012, $170k of which was dedicated to paying professional fees and independent contractors. It appears the bulk of these costs, if not all, were related to specimen collection and lab expenses, though Goodman said there may have also been a small subset related to accounting and legal services.
The remainder of the total, around $25k, was earmarked for other expenses related to overhead costs. Items noted in this category include $11.5k for website costs, almost $8k for insurance and $375 for public relations.
VADA's 2012 highlights included the testing of its first batch of fighters, welterweights Andre Berto and Victor Ortiz, as well as eventual 2012 BWAA Fighter of the Year, Nonito Donaire (pictured above, holding BWAA Fighter of the Year award for 2012), signing up for year-round drug testing with the organization. Donaire is the first professional boxer to undergo advanced year-round random drug testing.
VADA proved effective from the start. Two out of the first six fighters put through a VADA program, Andre Berto and Lamont Peterson, tested positive for banned substances. Each bout was subsequently cancelled.
The year also featured opportunities for VADA to improve.
In the case of Lamont Peterson, VADA was forced to rethink its Results Management policy. The inaugural policy only notified relative athletic commissions after both samples, 'A' and 'B', tested positive for a banned substance. Critics of the policy, including the NSAC's Keith Kizer, argued VADA's approach was unfair to everyone involved, including Peterson's opponent, Amir Khan, as well as fans and promoters.
"The person who really got hurt was Amir Khan, who passed all the tests," Kizer recently told Brent Brookhouse. "The fight got cancelled, and the fans, some of which had non-refundable airline tickets, got really hurt by all this. And if they had told us even a week earlier, Golden Boy would have had time to find a replacement for Peterson, and Khan and his fans would have been satisfied, but unfortunately, they hid the results from us."
VADA has since updated the policy.
"Regarding the unfortunate Lamont Peterson situation, I agree that it would have been preferable had VADA been able to report the 'A' results to the commission…," Goodman told Brookhouse. "However, after the fiasco that occurred, VADA analyzed the real-world application of its policy and changed the policy. Now, the athletes must agree that the relevant commission will be notified of all results, including the preliminary 'A' results, as a condition of entry to the program. Nobody — including the athletes or promoters — is able to contract around this policy of reporting all results to the commission. Since then, everything has run much more smoothly."
By the end of 2012, VADA had established itself one of the premier providers of advanced PED testing programs in the world of combat sports, alongside the United States Anti-Doping Agency (USADA). While USADA operates on a much larger scale and across multiple sports (USADA is recognized by the U.S. Congress as the official anti-doping agency for US Olympic, Pan American and Paralympic sports), VADA specializes exclusively in providing educational resources and testing programs for athletes competing in professional combat sports.
VADA does not have employees, and none of its board members, including Goodman, receive any form of compensation for their work. That means no annual salaries or bonuses, discretionary or otherwise. In comparison, USADA CEO Travis Tygart took home well over $350k in income and other compensation in 2011 alone.
According to its 2011 application for recognition as a nonprofit organization with the IRS, the volunteer status of Goodman and her cohorts has been planned from the very beginning. One might say Goodman and company are putting the 'V' in VADA.
Goodman said there are no current plans for that to change, and that she couldn't foresee an instance where it would change years from now either.
Goodman founded VADA on September 29, 2011 by submitting nonprofit articles of incorporation papers to the secretary of state's office in Nevada. Beginning with just $5k in cash assets, the fledgling organization collected almost $28k in revenue during the three remaining months of the year and finished with net assets totaling just under $2.5k after expenses.
So how is 2013 looking so far?
"I'm not sure, to be honest," said Goodman. "We don't request any more funding from athletes than is necessary to run the program."
Goodman said the current setup was to have athletes find sponsorships or provide payment themselves.
"Sometimes it has been the promoter, sometimes the athlete or his team, sometimes from unrelated donors," she said. "The first year or so, we wanted to demonstrate to commissions that unannounced random, stringent PED testing could work."
Goodman said it was impossible to know whether she'd find herself in the position again of needing to provide another personal loan to VADA. She also said the possibility wouldn't stop VADA from their mission, which includes offering sponsorships to program participants when funding is available.
"In combat sports, the fighters deserve more in terms of protecting their health. It can be expensive, but it's the right thing to do."
Goodman is a practicing neurologist in Las Vegas. Her work in boxing does not appear to be driven by the bottom line of an accounting ledger. The former NSAC medical advisory board chairman said her volunteer work to move boxing and MMA towards safer standards didn't start with VADA. She spent 6 years with the NSAC in a role where she was responsible for reviewing medical tests and dealing with other medical issues, and she did it for free, working as many as 20 hours a week.
"Bottom line, donating my efforts to helping fighters is not a new thing for me. And it is not just me. Many others — like all those involved with the Association of Ring Physicians — do the same. I have respect for the fighters and believe in protecting their health through the promotion of sophisticated and thorough PED testing programs."
Bohachuk KOs Unlucky Number 13 in Hollywood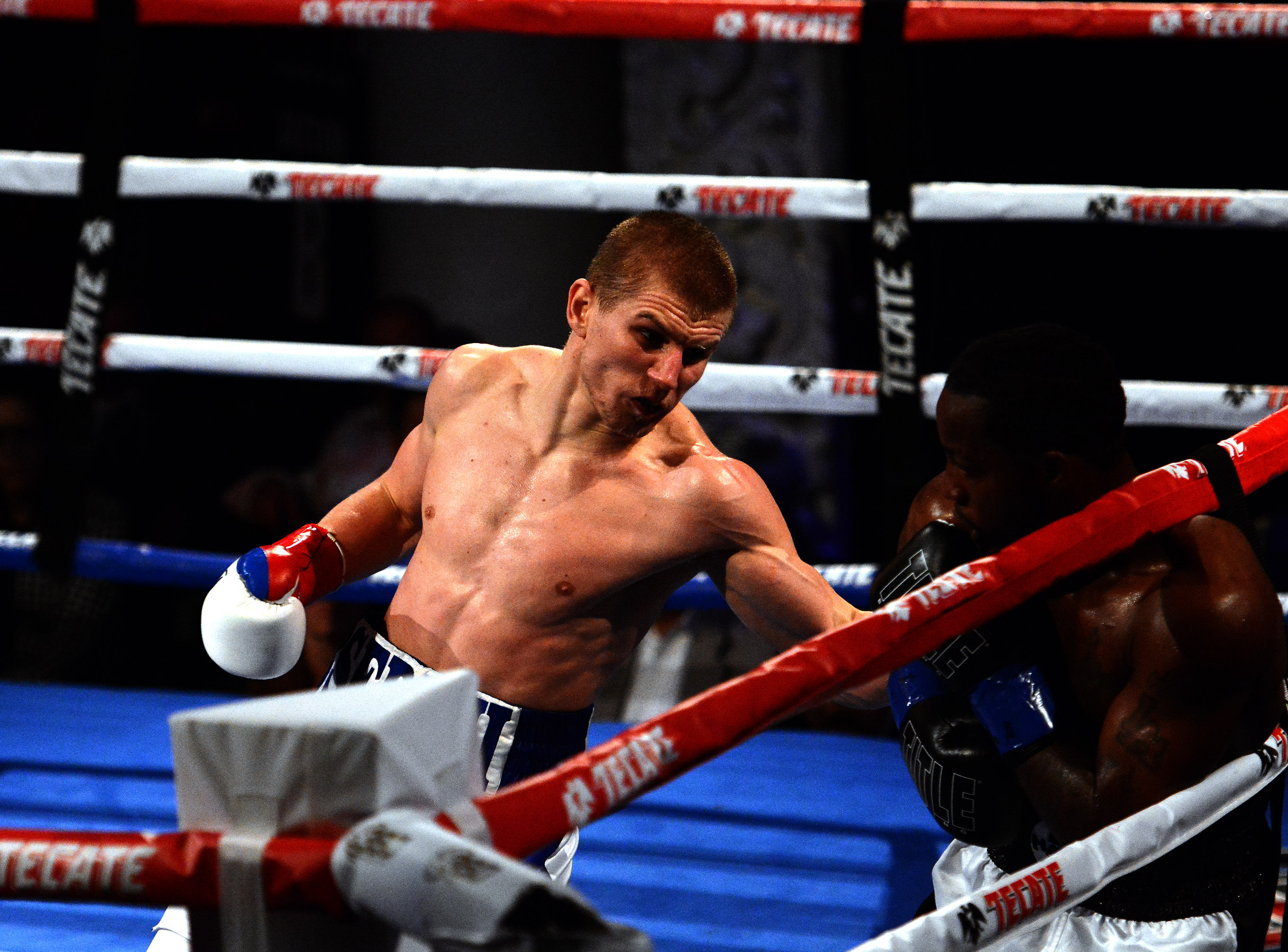 HOLLYWOOD, Calif.-Super welterweight prospect Serhii "El Flaco" Bohachuk (13-0, 13 KOs) disposed of local urban legend Cleotis "Mookie" Pendarvis with nary a sweat in less than four rounds on Sunday evening at the Avalon Theater before a sold out crowd.
Bohachuk remained undefeated and continued his knockout streak with Pendarvis (21-5-2, 9 KOs) the victim. Aside from the main event, the 360 Promotions card was stacked with competitive action.
Bohachuk, 23, trained expecting an easy fight especially knowing that Pendarvis lacked firepower. But sometimes firepower is not all that important.
"He only had nine knockouts," said Bohachuk, who trains with Abel Sanchez and Max Golovkin (Gennady's twin) in Big Bear, Calif. "It was easy fight."
The young Ukrainian felt it was easy but Pendarvis still unleashed several Cracker Jack combinations that caught Bohachuk flush. If only Pendarvis had power there might have been a different result.
Bohachuk floored Pendarvis in the first round with a left hook dug into the liver of Pendarvis and down he went. He resumed the fight but was visibly worried.
In the second round Mookie unleashed some of his magic with a sizzling left uppercut left cross combination that stung Bohachuk for a split second. Then he followed that with a sneaky overhand left and a right hook combination that seemed to come out of the dark. But without power behind those blows, Bohachuk remained in control.
Bohachuk regained total control in the third round and floored Pendarvis with a left hook bomb that immediately dropped him to the ground. The round ended seconds later and seemingly allowed Pendarvis to escape, but at seven seconds into the fourth round Pendarvis told the referee he could not continue and the fight was stopped.
"I wanted the fight to go longer," Bohachuk said.
A super middleweight match saw Ali Akhmedov (13-0, 10 KOs) defeat Sacramento's Mike Guy (9-4-1) by decision after eight rounds. All three judges scored it for Akhmedov who struggled with Guy's stop and go style.
Kazakhstan's Meiirim Nursultanov (11-0, 8 KOs) out-worked Luis Hernandez after eight rounds in a middleweight clash to win by unanimous decision.
Other Bouts
A lightweight clash between Mario Ramos (8-0) and Arnulfo Becerra (7-2) started slowly for two rounds then erupted into a bloody war for the remaining four rounds. Becerra caught Ramos repeatedly with three and four-punch combinations but Ramos always retaliated back. The crowd roared at the action that saw both suffer cuts and bruises to each other's face that did not discourage more blows. Ramos was deemed the winner by decision.
"He pushed me into a war," said Ramos of Becerra. "That's what fans want."
Other winners on the fight card were Devon Lee (7-0), Adrian Corona (4-0), Christian Robles (3-0), George Navarro (5-0-1) and Timothy Ortiz by knockout in his pro debut.
In attendance were actor Mario Lopez, WBC minimum weight titlist Louisa Hawton, European champion Scott Quigg and others.
"They'll be appearing on our future shows this year," said Tom Loeffler of 360 Promotions.
Photo credit: Al Applerose
Check out more boxing news on video at The Boxing Channel
To comment on this story in The Fight Forum CLICK HERE
Fast Results from Oxon Hill: The Peterson Brothers Fail to Deliver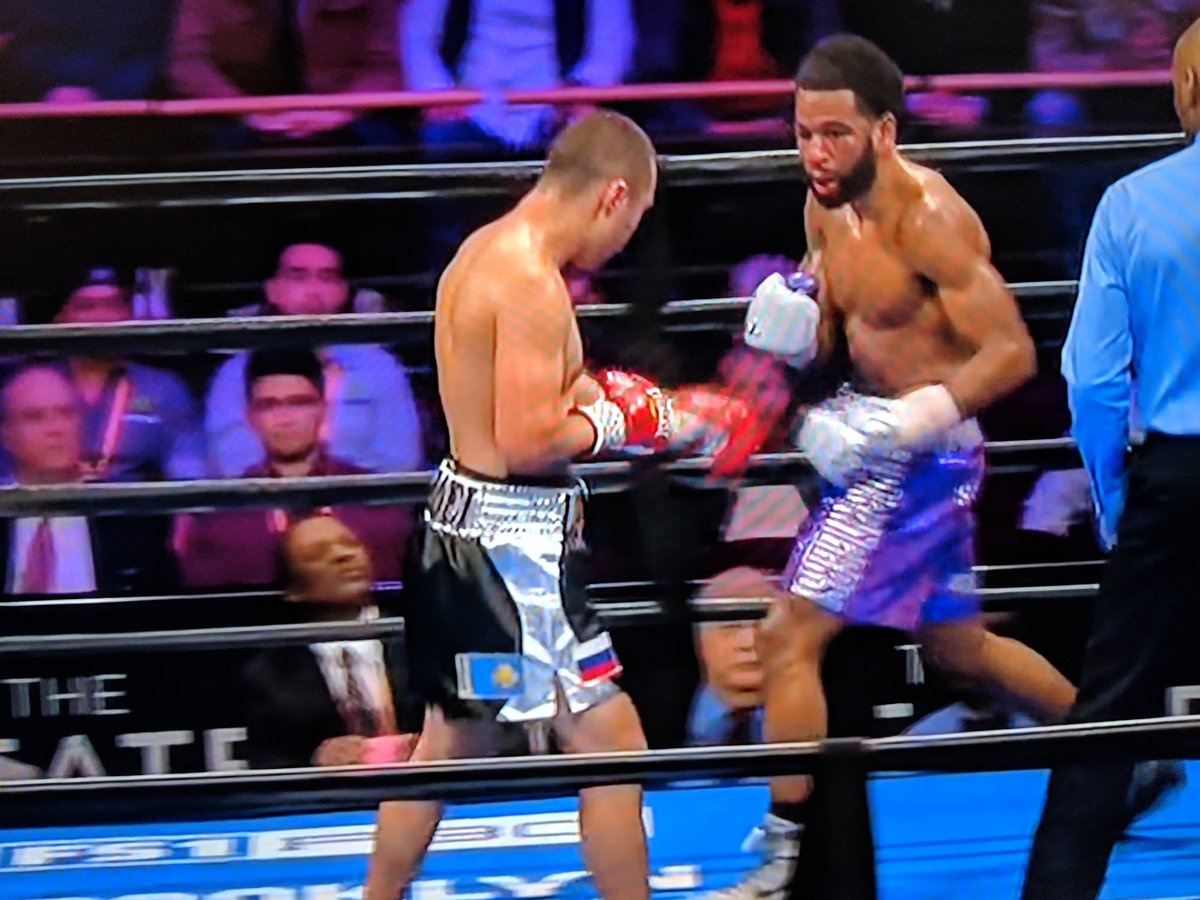 The story of boxing's Peterson brothers, Lamont and Anthony, has been well documented. Growing up in Washington, DC, they were often homeless. Then Barry Hunter came into their life. A carpenter by trade, Hunter coached amateur boxing at a local rec center. He took the brothers in when Lamont, the older by 13 months, was only 10 years old and he's been with them ever since, a rarity in a sport where some boxers seemingly change trainers more frequently than they change their underwear.
Today the brothers, who turned pro on the same card in 2004, appeared in the featured bouts of a Premier Boxing Champions show at the MGM National Harbor casino resort in Oxon Hill, Maryland, a stone's throw across the Potomac from their old stomping grounds. And they were well-matched. Both of their fights were near "pick-'em" affairs with the invaders the slightest of favorites.
Welterweight Lamont Peterson, a former two-division champion coming off a bad loss to Errol Spence Jr, was pitted against Sergey Lipinets, briefly a 140-pound title-holder coming off a loss on points to Mikey Garcia. Peterson was seemingly ahead on the cards through several frames, but one big punch, a straight right hand by Lipinets in round eight, turned the momentum in his favor.
The end came two rounds later when Lipinets hurt Peterson with on overhand right and followed up with an assault that sent the DC man down hard. Peterson arose on spaghetti legs but it was a moot point as his corner tossed in the white flag almost as soon as he hit the canvas. The official time was 2:59 of round 10.
After the fight, in an emotional moment in the ring, Peterson announced his retirement. If he holds tight to this decision, he will leave the sport with a 35-5-1 record. Sergey Lipinets, a kickboxing champion before he took up conventional boxing, improved to 15-1 with his 11th win by stoppage. Overall it was a good action fight with a high volume of punches thrown.
The co-feature, a 10-round junior welterweight contest between Anthony Peterson (37-1-1, 1 ND) and former IBF 130-pound champion Argenis Mendez (25-5-2) ended in a draw. The decision was unpopular with the pro-Peterson crowd but met the approval of the TV commentators and likely most everyone tuning in at home.
Both fought a technical fight. Peterson did most of the leading and seemingly had the fight in hand going into the late rounds where Mendez did his best work. There were no knockdowns or cuts, but Peterson suffered severe swelling over his left eye. The last round was the best with Mendez fighting with more urgency, perhaps out of fear that he would be victimized by a hometown decision.
Anthony Peterson was making his first start since January of last year when he coasted to an easy decision over Eduardo Florez, a decision later changed to a no-contest when Peterson tested positive for a banned substance.
In the swing bout, an entertaining 10-round contest in the 154-pound weight class, Cincinnati's Jamontay Clark (14-1) overcame a rough patch in the third round to score a unanimous decision over Chicago's Vernon Brown (10-1-1). The scores were 95-94 and 96-93 twice. At six-foot-two, the rangy Clark had a 7-inch height advantage.
Check out more boxing news on video at The Boxing Channel
To comment on this article in The Fight Forum CLICK HERE
Pulev Wins Heavyweight Clash and Magdaleno Bests Rico Ramos in Costa Mesa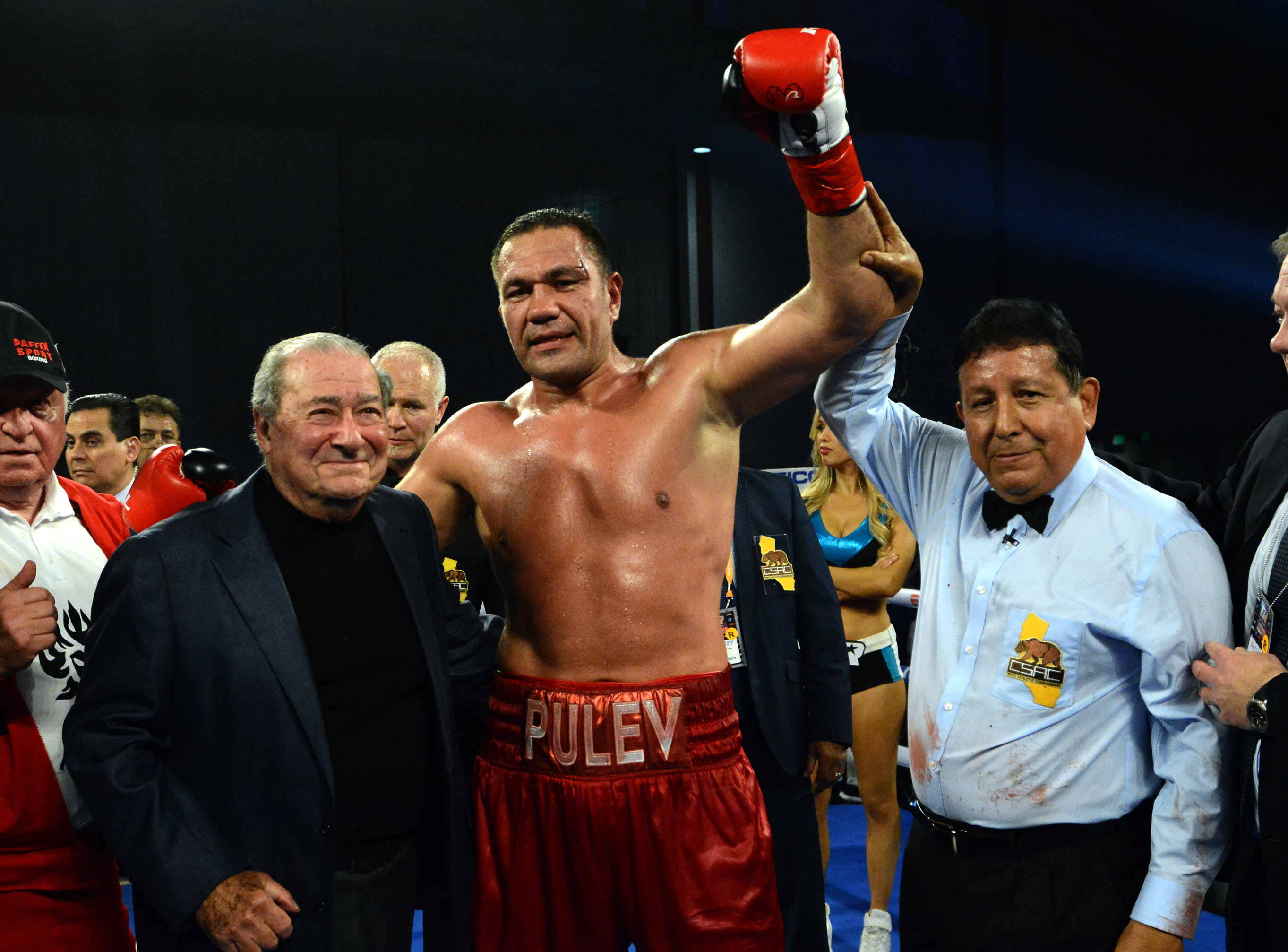 COSTA MESA, Calif.-Eastern European heavyweights slugged it out in Orange County with Kubrat Pulev scoring a knockout win over Bogdan Dinu on Saturday evening. The win keeps him in line for a possible showdown with Top Rank's newly signed Tyson Fury.
After a slow start the Bulgarian heavyweight Pulev (27-1, 14 KOs) scored the knockout win over Romania's Dinu (18-2, 14 KOs) before a large supportive audience who arrived with Bulgarian flags and hats at the OC Hangar in Costa Mesa.
Until the fifth round the action lacked with both heavyweights not eager to fire. But an angry exchange of blows by Dinu saw Pulev emerge with a cut over his left eye. It also opened up the action between the European heavyweights.
Pulev increased the pressure and caught Dinu in the neutral corner where he unloaded right after right on the ducking Romanian fighter who dropped to a knee and was hit behind the head with a blow. The knockdown was ruled down by an illegal punch and a point was deducted from Pulev.
It didn't matter. The Bulgarian heavyweight proceeded to unleash some more heavy rights and down went Dinu again. The Romanian fighter beat the count and was met with more right hand bombs and down he went for good this time at 2:40 of the eighth round. Referee Raul Caiz ruled it a knockout win for Pulev.
"Sometimes its good and sometimes it's bad," said Pulev about his actions in a heavyweight fight. "Sometimes blood makes me very angry."
Dinu felt that illegal blows led to his downfall. But the winner Pulev was satisfied.
"It doesn't matter, I was prepared and really good in this moment. I think I was very good boxing today and showed good punching today," Pulev said.
Former champions
An expected battle between flashy ex-super bantamweight world champions didn't deliver the goods as Jessie Magdaleno (26-1, 18 KOs) defeated Rico Ramos (30-6, 14 KOs) by unanimous decision after 10 rounds in a featherweight contest for a vacant WBC regional title.
A tentative Magdaleno was cautious and deliberate against Ramos who seemed to be stuck in slow motion for the first half of the fight. Behind some lefts to the body and snappy combinations Magdaleno mounted up points for six rounds.
Ramos stepped up the action in the seventh round and began stepping into the danger zone while delivering some threatening combos inside. Magdaleno resorted to holding and moving as the action shifted in Ramos's direction.
But it was never enough as Ramos seemed to lack pep. The last two rounds saw Ramos engage with Magdaleno but neither landed the killing blows. After 10 rounds all three judges saw the fight in favor of Magdaleno 97-93, 98-92, 99-91 who now holds the WBC USNBC featherweight title.
"It was a long layoff and I took a fight against a tough, tough veteran and former world champion," said Magdaleno, whose last fight was the loss of the WBO super bantamweight title to Isaac Dogboe last May. "Got to go back to the drawing board. I boxed as good as I could, he's just a tough fighter."
Other Bouts
Max Dadashev (13-0, 11 KOs) was dropped in the second round by muscular Filipino southpaw Ricky Sismundo (35-13-3, 17 KOs) and had a look of surprise. He turned it up in the third round and caught Sismundo rushing in with a slick counter left-right combination on the button. Sismundo was counted out by referee Tom Taylor at 2:30 of the third round of the super lightweight clash.
Former Olympian Javier Molina (19-2, 8 KOs) had a rough customer in Mexico's Abdiel Ramirez (24-4-1, 22 KOs) who never allowed him space to maneuver in their super lightweight match. After eight close turbulent rounds Molina was given the decision by scores 78-74 twice and 79-73.
South Africa's Chris Van Heerden (27-2-1, 12 KOs) thoroughly out-boxed Mexico's Mahonry Montes (35-9-1, 24 KOs) until a clash of heads erupted a cut over his right eye. The fight was stopped in the sixth round and Van Heerden was given a technical decision by scores 60-54 on all three cards.
Welterweights Bobirzhan Mominov (10-0, 8 KOs) and Jonathan Steele (9-3-1, 6 KOs) slugged it out for six back and forth rounds at high intensity. There were no knockdowns but plenty of high level stuff going on. The bigger Mominov had the advantage and tried to take out Mitchell, but the smaller welter from Texas was just too tough and skilled to be overrun. Judges scored it 59-54 three times. Good stuff.
Detroit's Erick De Leon (19-0-1, 11 KOs) survived a knockdown in the fifth and rallied to win by technical knockout over Mexico's Jose Luis Gallegos (16-6, 12 KOs) in the seventh round of a lightweight clash. A barrage of unanswered blows by De Leon forced referee Ray Corona to halt the fight at 1:55 of the seventh round.
L.A.'s David Kaminsky (4-0, 2 KOs) out-pointed rugged Arizona's Estevan Payan (1-7-1) to win by unanimous decision after four round in a middleweight contest.
Tyler McCreary (15-0-1, 7 KOs) fought to a draw with Mexico's Roberto Castaneda (23-11-2) after six rounds. He got all he could handle from the Mexicali featherweight as both traded blow for blow throughout the contest. It was good experience for the young McCreary who looked good but tried too hard to take out the hard headed Castaneda.
Eric Puente (2-0) beat Alejandro Lopez (1-4) by decision after four rounds in a lightweight match by 39-37 scores all three cards. It was a very close match with little separation between the two.
Photo credit: Al Applerose
Check out more boxing news on video at The Boxing Channel
To comment on this story in The Fight Forum CLICK HERE