Historic Mexican Wars: Will Alvarez & Angulo Make the Grade?
 Bombs away! There's no doubt in my mind that Alfredo "El Perro" Angulo and Saul "Canelo" Alvarez will send blockbusters toward each other from the first bell.
But, will they be able to match some of the gems from the past?
Alvarez (42-1-1, 30 Kos) and Angulo (22-3, 18 Kos) have the entire Mexican nation watching along with an anxious boxing world when they meet on Saturday March 8, at the MGM Grand in Las Vegas. Forget about any world titles. More is at stake, including bragging rights.
It will be televised on Showtime pay-per-view.
Yes, Canelo has better boxing skills but this fight is not about just winning. These are two macho Mexicans entering the boxing ring and knowing their followers expect nothing less than a knockout. You won't see any dancing here.
Mexican legends from the past are the piñata that both Angulo and Alvarez are shooting toward. For more than 100 years Mexicans have been shedding blood and brain cells for the boxing public. Those fighters set some lofty standards especially when it comes to Mexicans fighting Mexicans.
Here's a list of some of the great Mexican vs., or Mexican vs. Mexican-American matchups of the past that sizzled. There's no particular order or ranking. They all were spectacular.
1. Israel Vazquez vs. Rafael Marquez (2008) – It was the third encounter for these two mighty mites from Mexico City. Each had beaten the other at least once when they met at the Home Depot Center in Carson, Calif. That night Vasquez and Marquez put on an electric display of scientific destruction for 12 rounds. But in the final round Vazquez caught Marquez with a perfect left hook to win by split decision in the junior featherweight clash. The 122-pounders were so evenly matched. A fourth fight took place two years later but, Vazquez's eye was not up to the task and he suffered a severe laceration. But the two titans proved that little guys could hit and hit and hit.
2. Diego Corrales vs. Jose Luis Castillo (2005) – Fewer than 6,000 people showed up for this lightweight clash at the Mandalay Bay Resort and Casino in Las Vegas. On that night, Corrales got off the deck twice miraculously in the 10th round and then turned the tables and connected with a vicious right hand bomb. Castillo did not go down but was literally knocked out on his feet as the crowd, the press and several boxers in the audience went delirious with joy at the turnaround. The usually stoic boxing writers couldn't contain themselves at the incredible fight. Champions like James "Lights Out" Toney and Winky Wright were jumping for joy. It was an incredible fight and a great night for boxing.
3. Marco Antonio Barrera vs. Erik Morales (2000) – The junior featherweight bout was the first of three encounters between the proud Mexican warriors and it was the best. When Tijuana's Morales entered the ring he was the favorite over Mexico City's Barrera. Many felt that Barrera did not have the chin to withstand a Morales assault. But on that stormy night in Las Vegas, Barrera and Morales belted each other with such fury that it left the crowd breathless. In the final round Barrera scored a knockdown but when the cards were read Morales won by a very close split decision. It was by no means a robbery, but the memory of their firefight still burns.
4. Michael Carbajal vs. Humberto "Chiquita" Gonzalez (1993) – Arizona's "Little Hands of Stone" Carbajal entered the ring with a title belt. Mexico City's "Chiquita" Gonzalez entered the ring with a title belt. Both were known for explosive knockouts despite their small size and when the bell rang at the Hilton Hotel in Las Vegas, they charged each other like a pair of pit bulls. Carbajal was floored twice in the fight, but got up from the floor and proved to be the more durable fighter when he stopped Gonzalez in the seventh round for a knockout win. It was a fantastic finish and met all expectations when it was finished. It was also the first time junior flyweights had made more than 1 million dollars and headlined a pay-per-view televised event.
5. Bobby Chacon vs. Rafael "Bazooka" Limon – (1982) – The junior lightweight clash between "Schoolboy" Chacon and the southpaw "Bazooka" Limon was the fourth time they fought. This time they fought in Sacramento, Calif. and this time the WBC junior lightweight title was the prize. Once again the two mini-destroyers fought like demons in a 15-round brawl that saw Chacon go down twice and Limon hit the canvas in the 15th round. Chacon won by one point on two score cards to scratch out another close win over his intense rival from Mexico City. Fans were ecstatic at the image of watching these two.
6. Carlos Zarate vs. Alfonso Zamora (1977) – The two Mexico City assassins were both undefeated knockout artists when they met at the Inglewood Forum. Zamora was the smaller but more muscular bantamweight who entered the ring with 29 knockouts in 29 fights. Zarate was a tall skinny bantamweight with 44 knockouts in 45 wins. Nobody was betting the fight would go the distance. At one time both bantamweights trained with the same trainer, Cuyo Hernandez, and there was a blood feud that would play out during the fight. When Zarate finally connected it was lights out for Zamora in the fourth round. A cherry bomb was exploded in the stands, a wrestler jumped in the ring and Zamora's father jumped in the ring to fight trainer Hernandez after watching his son lose. You couldn't make up stuff like this.
7. Rafael Herrera vs. Rodolfo Martinez (1973) – Both fighters would go down a total of five times in this bantamweight collision. Herrera didn't have the knockout resume of his contemporaries but when it came to high level fights, his power ramped up a notch as his opponents quickly discovered. Against the hard-hitting Martinez he proved it when he floored him twice in the fourth round and twice in the 11th round. Herrera was knocked down in the eighth from a powerful Martinez blow. Ultimately, Herrera stopped Martinez in round 12 in the scheduled 15-round fight held in Nuevo Leon, Mexico.
8. Ruben Olivares vs. Chucho Castillo (1970) – It was the first of three confrontations between the two Mexico City warriors. Olivares was the reigning champion and could hit like a Mack truck with either hand. Castillo was little known and not expected to do much. But that night in April, at the Inglewood Forum, he dropped the champion Olivares in the second round and the war was on. For 15 rounds the two bantamweights scrapped like two roosters over food. Olivares emerged victorious but would never have an easy time when meeting Castillo inside the ropes. The fans packed the Forum each and every time they met.
Will Alvarez and Angulo be added to this company of Mexican warriors?
Ulysse, Franco and Marlen Esparza Win at Fantasy Springs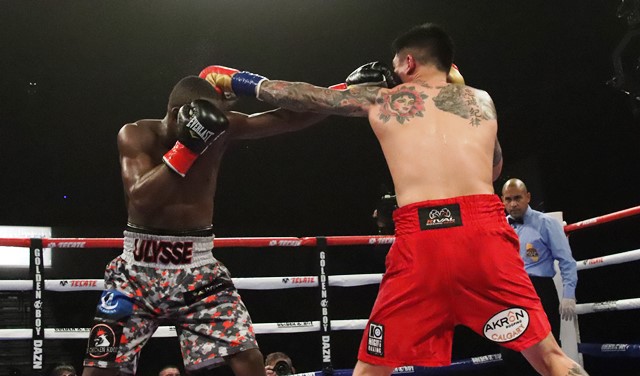 INDIO, Calif.-A Canadian civil war resumed between Montreal's Yves Ulysse Jr. and Calgary's Steve Claggett and this one took place 1400 miles south of their border on Thursday night in the Coachella desert.
It was 100 degrees outside.
Ulysse (18-1, 9 KOs) pulled out the win in this rematch with Claggett (27-6-2, 17 KOs) before a crowd of maybe 1,000 fans at Fantasy Springs Casino. An earlier clash between the two Canadians saw the Calgary fighter emerge with the win in 2017 in Montreal.
It wasn't to be this time for Claggett who was the aggressor throughout the fight but was immediately tagged by slick combinations from Ulysse in the first round. It was a pattern that remained for most of the fight.
Ulysse usually backpedaled from danger but on occasion stood his ground and exchanged blows and deflections with Claggett that was reminiscent of 1950s style in-fighting. It was appropriate that James "Lights Out" Toney was in the audience this night because he's one of the masters of that lost craft. Maybe the best ever.
After 10 rounds of exchanges in an ebb and flow fight the judges scored it 97-93 twice and 96-94 all for Ulysse who wins the vacant WBA interim super lightweight title.
Franco
In another rematch, Joshua Franco (15-1-1, 7 KOs) started slowly but finished strong in winning the NABF International bantamweight title by split decision over former titlist Oscar Negrete (18-2-1, 7 KOs) after 10 rounds.
The last time these two fighters met back in October it was like pouring gasoline to a fire and ended in a draw. This time the title match was more like a slow fuse that got tighter as the rounds mounted. Neither fighter was ever hurt but Franco's combination punches seemed to be preferred over the single big blows by Negrete.
One judge saw it 98-92 for Negrete but the other two saw it 97-93 and 96-94 for Franco who becomes the new NABF titlist.
Return of Marlen
Marlen Esparza (6-0, 1 KO) returned to the boxing ring after having a baby a year ago and powered through Ecuador's Jhosep Vizcaino (9-9, 3 KOs) with a truckload of rights to win the vacant NABO flyweight title by unanimous decision after eight rounds.
Esparza, 28, a 2012 US Olympic bronze medalist, returned to boxing with an immediate attack against veteran Vizcaino who was tentative at first, but mounted a rally in the second half of the fight. But none of the judges felt she did enough to win a round and all scored the fight 80-72 for Esparza.
"I felt really strong," said Esparza, "It was hard to place my shots."
Other Bouts
Santa Ana's Alexis Rocha (13-0, 8 KOs) battled Japan's Shoki Sakai (23-10-2, 13 KOs) for 10 rounds to win by unanimous decision. No knockdowns were scored in the fight that featured the lefty Rocha against the counter-puncher Sakai in a welterweight fight. The Japanese fighter trains in Mexico City with Nacho Beristain but was too defensive to get the decision from the judges who scored it 99-91, 97-93 twice for Rocha who wins the WBC Continental Americas title with the win.
Former title challenger Mike Reed (24-2, 13 KOs) put a steady beating on Yardley Cruz (25-14,15 KOs) of Mexico in the first round and after 1:45 of the second round referee Eddie Hernandez had seen enough and stopped the one-sided super lightweight fight. Reed fights out of Washington D.C. and fought Juan Carlos Ramirez and lost a regional title against the current WBC super lightweight titlist. This was his first fight in more than a year.
Mexico's Raul Curiel (6-0, 4 KOs) won by knockout over Indiana's Andrew Rodgers when he could not answer the bell for the third round. During the first round Rodgers slipped at the edge of the canvas after an exchange of blows and seemed in pain. He hesitated to come out for the second round but managed to survive against Curiel's attacks. At the end of the second round the fight was signaled over by referee Ray Corona.
"I hurt my knee when I slipped," said Rodgers.
Coachella's Anthony Reyes (6-0, 4 KOs) looked like he was knocked down by a left hook from Roberto Pucheta (10-16-1, 6 KOs) but it was ruled a slip in the second round. Reyes then proceeded to use his speed and out-connect the sturdy but slower Mexican fighter. After four rounds all three judges scored it 40-36 for Reyes in the featherweight match.
Photo credit: Alonzo Coston
Check out more boxing news on video at The Boxing Channel
To comment on this story in The Fight Forum CLICK HERE
Abel Sanchez is the Latest Top-Tier Trainer to Be Bruised by a Ruptured Bond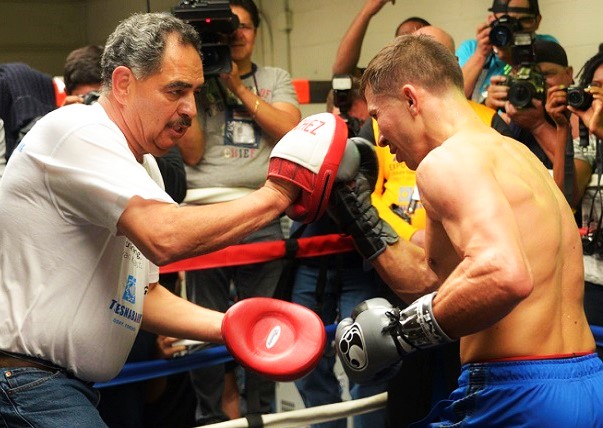 Before his death at the age of 75 on Feb. 3, 2016, Richie Giachetti, the longest-tenured of longtime heavyweight champion Larry Holmes' chief seconds, proudly spoke of the many contributions he had made in helping make the "Easton Assassin" the great fighter that he was. For his part, Holmes agreed with Giachetti's glowing self-assessment, but only to a point. Although Holmes described Giachetti as a "master motivator" who deserves to be inducted into the International Boxing Hall of Fame (something that has yet to happen), he declined to give him nearly as much credit as Giachetti reserved for himself.
"I think a trainer is very important at the beginning of a fighter's career," Holmes once said of his own professional evolution, and that of any champion who lingers long in the game and has used those years of experience to hone his craft to a point where nearly everything is done instinctively. "Over time, you don't really need a trainer. You've got to train yourself. You've got to motivate yourself. And I don't think anybody can put that in you but you. I don't have trainers who want hundreds of thousands of dollars to train me."
The bond between fighter and trainer can be strong and seemingly as unbreakable as forged steel, and it can be as tenuous as a slender and fraying thread. Sometimes, at alternate junctures in a shared journey, it can be both, as again was made evident when long-reigning former middleweight champion Gennady Golovkin chose to end what had been a highly successful and mutually  beneficial nine-year relationship with trainer Abel Sanchez. At first glance, the break seems as shocking as the announcement in April 1970 that John Lennon and Paul McCartney had had a falling out and no longer would be making music together as Beatles.
In a prepared statement that was publicly released on Tuesday, the 37-year-old Golovkin, who on March 12 met with the media to announce that he had signed a lucrative contract with DAZN to fight six times for the subscriber-based streaming service through the end of 2021, said his long run with Sanchez had concluded. Sanchez was at "GGG's" side for that occasion, but it now appears that that was the final time they would ever appear together as teammates, as it were, on a common quest.
"I would like to announce that I have made a major decision for myself and for my career," Golovkin's statement began. "I want to build on what I have already achieved and continue to better myself. Therefore, I will not be training with Abel Sanchez. This was not an easy decision for me and it is not a reflection of Abel's professional abilities. He is a great trainer, a loyal trainer, and a Hall of Fame trainer.
"I will be announcing my new trainer at a later date. But today I want to thank Abel for the lessons he taught me in boxing."
If the kind words of appreciation attributed to Golovkin sounded scripted, it's because they probably were. The cold termination of what had seemed to be a warm and almost familial association is reminiscent of one of those old TV game shows where a departing contestant is handed a "nice parting gift" that isn't really all that nice.
Contacted by RingTV.com, Sanchez said it was his belief that he was jettisoned for the same reason that so many other trainers in similar situations have been handed their walking papers. As Larry Holmes once noted, once you've attained a certain level in your career, why pay hundreds of thousands of dollars to someone who has already taught you all you need to know?
"Money. That's what the nature of it is, money," Sanchez, hardly sounding conciliatory toward his now-former top pupil, said when asked for a reason that might have precipitated a breakup the trainer neither sought nor wanted. He said Golovkin's new deal with DAZN would pay him just one-fifth of the cut of the Kazakhstan native's purses he normally received.
"My dignity and pride wouldn't allow me to do that after nine years of total commitment and taking him to where I've taken him. I don't think I deserved that so I turned it down," continued Sanchez, the Boxing Writers Association of America's 2015 winner of the Eddie Futch Award as Trainer of the Year due largely to his work with Golovkin.
"Everything has been on a handshake basis, on a truthful basis. To be blindsided like this, it's heartbreaking."
Sanchez said that, over a period of about three weeks after the announcement of the deal with DAZN, he had an inkling of what eventually would go down. He said the decision to cut him loose was less GGG's than of some members of the fighter's inner circle.
There are, of course, legitimate and understandable reasons why fighters change trainers. And the reverse is also true, with trainers ditching fighters when it suits their purpose. Teddy Atlas, for one, has walked away from any number of fighters, including champions, because they could or would not adhere to his rigid dictums.  Money is a frequent cause for such professional divorces, as is the question of control.
Here are several examples of instances where well-known trainers were told by their equally or more famous fighters – and sometimes the other way around — that all good things at some point must come to an end:
Angelo Dundee ends long relationship with Sugar Ray Leonard
Leonard was coming off one of the most significant victories of his career, shocking middleweight champion Marvelous Marvin Hagler after a five-year layoff, when Dundee said he'd been vastly underpaid for that fight, for which he didn't have a contract, and would only consent to be a part of the Sugar man's challenge of WBC light heavyweight titlist Donny Lalonde (the vacant WBC super middleweight belt also was on the line) on Nov. 11, 1988, if he had a signed contract and thus would know beforehand what his financial compensation would be.
"Evidently I'm not necessary in the corner," Dundee said of the dispute.  "They were offended because I had the audacity to have my lawyer call Mike Trainer's office asking when I was going to be paid. I left it up to them for the Hagler fight. I depended on their generosity and I got one percent (of Leonard's purse)."
Countered Leonard: "I'll miss him. But what bothers me the most is the fact that I thought we had a special relationship. By the way things happened, I really don't know if that relationship was valid at first. He's like a family member to me. But when you hurt or destroy friendship, you lose it. It's over."
Although Dundee and Leonard never patched things up in a professional sense, they were able to let bygones be bygones. Leonard attended a 90th birthday celebration for Dundee on Aug. 30, 2011, five months before Angelo passed away.
"We talked about life. We talked about the fight game and reminisced about the special moments," Leonard said of the restoration of their deep and abiding friendship. "He was a great guy to hang around with. You didn't have to press a button to get him started, or to pause. Losing him puts into perspective how precious life is. I never thought we'd lose him, even at the age of 90. He had so much zest, so much enthusiasm about life, his next project, next fight or fighter and who he was helping to either remain or become a champion."
Freddie Roach fired by Manny Pacquiao
The relationship of Roach and Pacquiao lasted much longer – almost twice as long, in fact, at 16 years – as that between Sanchez and Golovkin. But "Pac-Man" apparently took umbrage to a suggestion from Roach after he lost a close and disputed unanimous decision, and his WBO welterweight title, to Jeff Horn on July 2, 2017, in Horn's hometown of Brisbane, Australia.  Roach's transgression? Suggesting that Pacquiao's roles as a legendary fighter and a senator in the Philippines each might be so demanding that he could not do justice to both, and thus would be well-advised to choose one or the other.
"Being a prize fighter is difficult, but being a world champion is so incredibly difficult," Roach reasoned. "It takes just about all of your time and focus and energy, and I can't imagine being able to do it and having another job.
"I didn't know Manny was mad about that when I said it. I wish he had said something to me about it so we could have spoken to each other. But I have no complaints because my life is so much better in so many ways because of Manny Pacquiao."
With Roach removed, Pacquiao's good friend, Buboy Fernandez, was his trainer for his next bout, a seventh-round stoppage of Lucas Matthysse. But Roach would not be away for long, nor did many people familiar with their bond anticipate that that would be the case. "They're like a married couple and it's like they had a trial separation," opined Justin Fortune, Pacquiao's strength and conditioning coach. So Roach was back for Pacquiao's most recent bout, a wide points nod over Adrien Broner, but in an advisory role with Fernandez remaining the trainer of record. That again will be the case should the proposed pairing of Pacquiao, the "regular" WBA welterweight champion, and WBA "super" welterweight ruler Keith Thurman be finalized.
Bouie Fisher, Bernard Hopkins clash over compensation
Despite once describing long-enduring middleweight champion Bernard Hopkins as "like my son," veteran Philadelphia trainer Bouie Fisher sided with his actual sons, James and Andre, in a dispute with B-Hop over how much money Fisher should have received for services already rendered or to be rendered in the future.
"Bernard is a difficult person to deal with," Fisher said in 2005, after being fired by Hopkins. "He wants all the glory, he wants all the credit, he wants all the money. It's all about him, him, him."
That is not how Hopkins saw it, and, as was the case with Angelo Dundee's late reconciliation with Sugar Ray Leonard, the fighter was there when his former trainer and father figure was hospitalized and close to death shortly before he passed away, at 83, on June 30, 2011. When Fisher briefly opened his eyes, Hopkins stepped back and began shadowboxing, the older man's eyes suggesting a glint of recognition.
"Even though me and Bouie fell out – me and his sons fell out even more – I had mad respect for what I've been taught (by Fisher)," Hopkins said. "I looked at Bouie Fisher like a father, and I still do. I learned a lot from him. I don't let disagreements and stuff outside of boxing overshadow years, even decades, of the good."
Floyd Mayweather Sr. fired by Floyd Mayweather Jr.
The elder Mayweather had trained his son from an early age, but all that changed when Floyd Sr. was found guilty of illegal drug trafficking in 1993 and sent to prison. Floyd Sr.'s brother, former super featherweight and super lightweight champion Roger Mayweather, took over as Floyd Jr.'s trainer and he guided the 1996 Olympic bronze medalist to the WBC super featherweight  championship, his  first world title, in 1998. But upon Floyd Sr.'s release he resumed the handling of his son's career, and some of past friction between them soon became apparent.
At the beginning of 2000, Floyd Jr. fired his father as his manager. After one more fight together, Floyd Jr. also fired him as his trainer. Not only that, but the son banned his dad from his training facility, evicted him from a home Floyd Jr. owned and repossessed the car Floyd Sr. was driving. They didn't speak again for nearly seven years although, in a sure sign that blood really is thicker than water, they again came together much deeper into Floyd Jr.'s record-setting career as the highest-grossing boxer ever.
Jack Mosley fired by son Shane Mosley
In more than a few instances, the trainer becomes a handy scapegoat, and a handy candidate to get pinned with the blame when a fighter's career takes a downward turn. That can even happen when the trainer is the fighter's father. "Sugar" Shane Mosley had lost three of his four most recent bouts when he decided he needed to go in a different direction, and in March 2004 he dismissed his father, Jack Mosley, as his trainer. Jack had trained Shane from the time he laced up his first pair of gloves at the age of eight.
In a prepared statement, Shane wrote that "I am going to miss working with my father. Together, we scaled many mountains and I would never have had the success I have had if he had not been there to guide and teach me every step of the way. He is, without question, one of the all-time great trainers. More importantly, he is has been a great father who I love very much.
"However, the time has come for my father and I to sever our professional relationship so that I can try some new avenues designed to give my fans the Sugar Shane Mosley they deserve."
Tyson Fury cans his uncle, Peter Fury
Peter Fury, Tyson Fury's uncle, was there for the crowning moment of his nephew's boxing career, on Nov. 28, 2016, when the "Gypsy King" stunned the world by scoring a unanimous decision over IBF/WBA/WBO heavyweight champion Wladimir Klitschko in Dusseldorf, Germany.
"Happiest times of our lives," the uncle said of the conquest of the long-reigning Klitschko.
But Peter's influence didn't extend so far that he could prevent Tyson from going on an epic binge of overeating, boozing and cocaine snorting that turned his moment of glory into an ongoing train wreck. Peter said he did what he could to halt the freefall, but Tyson had fallen under the spell of "unscrupulous mates" who got him drunk and high every night.
Maybe that's why, when Tyson decided to get serious again about boxing, he rid himself of a hundred or so excess pounds, his taste for nose candy and alcoholic beverages, and, oh, yes, the uncle-trainer who had taken him to the top of the boxing mountain.  Peter was replaced as chief second by the much-younger Ben Davison, whom Tyson has referred to as the "Energizer bunny."
"Peter is my uncle and I'll do anything for him," the cleaned-up Tyson Fury said of the change in his corner. "We worked together well, but sometimes a change is as good as anything else. We were maybe getting a bit stale in the gym, going through the same things over. We're still talking, we haven't fell out. I'm just branching out a little bit. For sure, I may work with Peter again. He has the experience, the knowledge. But at the moment, (Davison) is the man in charge."
Mike Tyson fires Kevin Rooney
Tyson was coming off his signature victory, the first-round knockout of Michael Spinks on June 27, 1988, in Atlantic City's Boardwalk Hall, and the trainer who had been with him since the launching of his pro career a little more than three years earlier was there to soak in more of the adulation both had become accustomed to. But little did Rooney know that his giddy ride with Tyson was about to end, ostensibly because Tyson's promoter, Don King, was laying the groundwork to get rid of the trainer – the last link to Tyson's past and his late mentor, Cus D'Amato – and replace him with the tag team of King sycophants Aaron Snowell and Jay Bright.
Rooney didn't help his cause with his determination to fill a bigger cup with the flood of money being generated by Tyson, a not unreasonable expectation that one writer described as his being "financially ambitious." So Rooney and his ambition were soon gone, any hope of his ever being replaced forever shattered when, on Oct. 1, 1996, a court ordered Tyson to pay his former trainer $4.4 million for breach of contract.
Bernard Fernandez is the retired boxing writer for the Philadelphia Daily News. He is a five-term former president of the Boxing Writers Association of America, an inductee into the Pennsylvania, New Jersey and Atlantic City Boxing Halls of Fame and the recipient of the Nat Fleischer Award for Excellence in Boxing Journalism and the Barney Nagler Award for Long and Meritorious Service to Boxing.
Check out more boxing news on video at The Boxing Channel
To comment on this story in The Fight Forum CLICK HERE
The Avila Perspective Chap. 44: GGG, Danny Roman and much, much more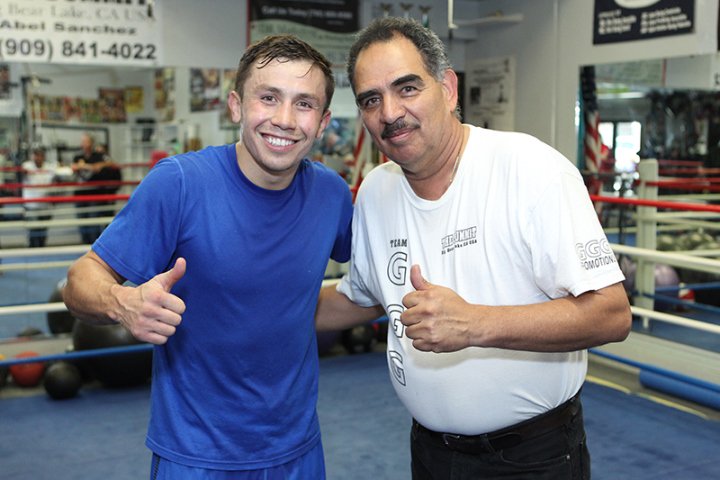 Traveling to downtown Los Angeles can be a perilous journey. When you have 2 million cars battling to go from one direction to another something has got to give. That's where I come in.
My name is David Avila. I don't carry a badge but maybe I need one.
With photographer Alonzo Coston riding shotgun we took off for the heart of the beast LA Live which is located on Figueroa and Olympic Blvd. The Los Angeles Lakers play next door at the Staples Center as do the L.A. Clippers. I don't follow hockey.
One of the most powerful prizefighters of this generation was scheduled to meet with a select few members of the not so secret society known as the boxing journalists at the Conga Room. It's a quasi-nightclub that was originally started by a few Latin celebrities including Jennifer Lopez. That's when the Conga Room was on Wilshire Blvd in the 1990s.
Two days prior was Easter Sunday also known as Resurrection Day. On Tuesday, former middleweight champion Gennady "GGG" Golovkin met with about a dozen reporters at the Conga Room to resurrect his path to the top of the heap once again.
It all will begin with a confrontation against Canadian super middleweight Steve Rolls (19-0, 10 KOs), an undefeated fighter from Toronto, Canada. He once had ties to the late great Emanuel Steward of Kronk Gym in Michigan.
Like most Canadians, he's a nice guy.
Golovkin can be a nice guy too especially outside of the ring. But when they meet on June 8 at Madison Square Garden in New York City, don't count on it. The killer comes out when he steps through the ropes. DAZN will stream.
Did I say Rolls is a nice guy?
On a side note, it was interesting that Golovkin did not respond quickly at a press conference on Tuesday when asked if he would be preparing in Big Bear.
Little did anyone know that Golovkin will no longer be training with Abel Sanchez.  A press release earlier today announced the two had parted ways. It also makes sense why the Kazakh fighter opted to fight Rolls. He will need a little time to adjust to whoever will be picked as his new trainer.
After both fighters talked about their looming encounter in Manhattan I gathered my partner Coston, who was perched in a strategic position holding a zoom lens ready for action. It wasn't to be. We're called into another location near the beaches. We walked back to our car and drove 16 miles through snarling L.A. traffic to Venice Beach.
Forum Fights
The biggest problem any time you travel west of downtown L.A. is finding parking. It gets even worse when you look for parking at the beach. We located some open spaces about 2.5 miles away from our destination. It was a perfect day, not too hot, not too cold. It took us 30 minutes to reach the area known as "Muscle Beach" where a slew of prizefighters were taking turns shadow boxing on the boxing ring set up near the walkway for the public to see.
Danny Roman, the WBA super bantamweight world titlist from Los Angeles was dressed in a bright red workout suit and ready for his turn in the boxing ring. Also nearby was TJ Doheny the IBF super bantamweight world titlist from Ireland.
Both were very courteous and respectful toward each other. I've been around boxing for decades and when fighters are ultra-respectful like these two that can only mean trouble. I know the signs, I'm a boxing writer. Nobody ever accused me of being a cook.
Roman, 28, has the demeanor of a monk going through the ritual of non-communication. His eyes are always looking down as if not trying to show disrespect. He defeated the former WBA titleholder Shun Kubo by knockout nearly two years ago. Then he returned to Japan and beat down Ryo Matsumoto to keep the precious belt. He then beat up a Mexican fighter and a British fighter. I'm not exaggerating when I say beat up. It was virtually assault with a deadly weapon.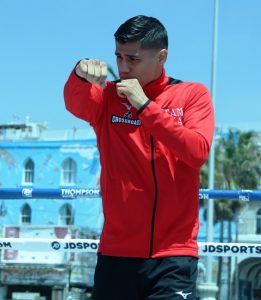 In spite of his quiet demeanor he's one of the best fighters to come out of Los Angeles in a long time. He should be put on wanted posters throughout Southern California. He's that dangerous.
"I've always said I want all the world titles," said Roman in almost a whisper.
Doheny, 32, looks like a guy whose idea of a good time is traveling to gritty pubs in the most dangerous parts of Ireland in search of somebody to punch. He's at home wherever he's at, whether in some part of Australia or on the beaches of California. He pummeled Ryosuke Iwasa to rip the title away last summer. Then he knocked out Ryohei Takahashi who tried to take it away. Bad idea.
Though he looks antsy to fight at the drop of a hat, he's almost hush-like when he speaks about fighting Roman on Friday at the Inglewood Forum on the Matchroom Boxing and Thompson Boxing Promotions card.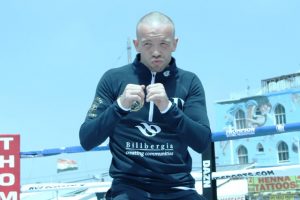 "It's a dream pursuit to be fighting for another title," said Doheny under the beach skies on Tuesday. "No need to be disrespectful. I let my hands do the talking."
Other fighters were gathered at the boxing ring set up near the beach walkway in Venice Beach.
Looking like a male model was former welterweight champion Jessie Vargas a former two-division world champion from Las Vegas. I've known Vargas since he was an amateur. Behind that tight guard and interior toughness one could easily determine he would go on to a successful career in acting. What I most remember is his second pro fight in 2008 at Pechanga Casino in Temecula, Calif. He fought a guy named Trenton Titsworth, no joke, that was his name. The guy fought out of Nebraska and was determined to intimidate Vargas. It didn't happen. So when intimidation failed he resorted to kissing Vargas whenever they got in close. Vargas was shocked as were the several hundred people in attendance. Even the referee David Denkin was abashed. Warnings were given and the fight resumed and then Titsworth did it again and gave Vargas another smooch. What could he do?
Well, the referee decided to end the fight and declare Vargas the winner by smoochification.
Since that October night I've never seen another fight end because of kissing. Biting yes, but not kissing.
Of course Vargas proceeded to have a successful career and has won the super lightweight and welterweight world titles. That's pretty good for a Las Vegas fighter not named Floyd Mayweather.
Facing Vargas on Friday will be another former world champion Humberto Soto of Tijuana, Mexico.
Soto, 38, has a total of 81 pro fights in his career. Just this past February he took on Brandon "Bam, Bam" Rios and used his boxing wizardry to defeat the rugged welterweight from Oxnard. He's like the safecracker from the movie "Asphalt Jungle" or better yet, the guy known as "the thinker" who designs the failsafe plans to crack the safe.
The Tijuana prizefighter will steal your "chones" if you let him. He once hoodwinked a Las Vegas referee into thinking that he was getting hit with low blows and survived a knockout to the belly by feigning a low blow. In his very next fight he tried the same tactic in California but the referee there didn't go overboard. He only deducted one point. Though Soto is weak to the body he knows how to fake a low blow with the best of them. He could teach Stanislavski a thing or two about acting.
Vargas, who looks like someone who has learned method acting, just might not be prepared for Soto and his Oscar Award ways that allowed him to steal a win from Rios.
"I'm very intelligent in the ring and very versatile, it's about me making sure I follow and execute the game plan and stay on my toes, as you cannot give Humberto any chances as he will take advantage," said Vargas.
Another world title fight pits Thailand's superman Srisaket Sor Rungvisai (47-4-1, 41 KOs) in a rematch with Mexico's Juan Francisco Estrada (38-3, 26 KOs) in a battle for the WBC super flyweight world title. The last time these two warriors collided it ended in a majority decision win for Sor Rungvisai otherwise known as Wisaksil Wangek. The Thais like to change their name a lot.
Changing names won't distract Estrada who felt he was badly disrespected by the judges a year ago at the same venue the Forum. He's made adjustments.
Many consider Sor Rungvisai one of the best fighters on the planet pound for pound. After he destroyed former top kingpin Roman "Chocolatito" Gonzalez by knockout he then took his place among the elite.
The entire boxing card ranks among the most powerful ever assembled this year. This is like adding nitro to a stick of dynamite. It might be felonious.
Doors open at 3 p.m. For tickets or information call (800) 745-3000. You can also stream the fight card on DAZN.com
Thursday Fights
Golden Boy Promotions has their monthly DAZN fight card on Thursday April 25, at Fantasy Springs Casino in Indio.
Special guest James "Lights Out" Toney will be in attendance. If you don't know who he is then you are probably a casual boxing fan. He's one of the best ever to lace up.
The main event features a rematch between Oscar Negrete and Joshua Franco in a bantamweight clash for the NABF title. Last October these two committed felony assault against each other for 10 gruesome rounds. They were like two angry roosters who refused to give ground and tore into each other on even terms. The fight ended in a draw and justly so. Now they are doing it again.
I ran into Negrete's manager Cesar Garcia and he hopes there isn't a repeat for the sake of the women and children.
Also on the same card will be former Olympic bronze medalist Marlen Esparza returning to the boxing ring after giving birth last year. She hasn't fought in more than a year, but she will be refreshing her memory against Jhosep Vizcaino in an eight round bout.
Esparza was tabbed to face another Golden Boy fighter Seniesa Estrada in a showdown. But pregnancy stalled that collision so now she's looking to regain traction in this fight. Esparza's opponent fought Estrada and was stopped in three rounds last summer. She then was stopped by Adelaida Ruiz in two last November. But the Ecuadorian fighter returned to her home and grabbed a win to remind her what a win feels like. Now she has Esparza.
Doors open at 4:30 p.m.
We'll be returning on Thursday, my shotgun rider and I. Traffic going in the other direction isn't nearly as bad or perilous as going toward the ocean. A return to the desert can be refreshing though predictions for temperatures in Indio will be 100 plus.
Prograis
Outside of sunny California there's plenty more going on.
On Saturday, April 27, the World Boxing Super Series unveils a red carpet for a clash between world champions Regis Prograis and Kiryl Relikh for the WBC and WBA super lightweight champions. Also, Nonito Donaire and Stephon Young meet for Donaire's WBA world bantamweight title.
It's an enticing lineup that will be streamed by DAZN.
Prograis, 30, a southpaw, trained partly in Southern California for this fight and intends to muscle into the upper echelon of prizefighting. This is another step toward super stardom and a return home to his Louisiana roots. It takes place at the Cajun Dome in Lafayette, La.
A female clash between Selina Barrios and Melissa Hernandez could be streamed if time permits.
Easter on Showtime
In Las Vegas a pair of staunch lightweights battle for the vacant WBA and IBO world titles when former champ Robert Easter Jr. and Rances Barthelemy meet at the Cosmopolitan on Saturday April 27. Showtime will televise.
Easter returns to the ring after suffering the first loss of his career last year against the hands of Mikey Garcia.
Barthelemy, 32, lost for the WBA super lightweight title to Kiryl Relikh who fights on the same day against Prograis. Both Easter and Barthelemy feel naked without a strap wrapped around their waists.
Former super featherweight champ Jezreel Corrales of Panama is also on the Las Vegas fight card but this time in the lightweight division. He lost his title by knockout to Puerto Rico's Alberto Machado who also lost the title to California's Andrew Cancio by knockout. There's a lot of knockouts going on, somebody has to get to the bottom of this.
Again, my name is David Avila. I don't carry a badge but boxing is my game.
Photos of Danny Roman and TJ Doheny by Alonzo Coston
Check out more boxing news on video at The Boxing Channel
To comment on this story in The Fight Forum CLICK HERE