Robert Garcia Chat: Mikey Mulling TR Deal, Rios Wants Marquez
SUNDAY AFTERNON UPDATE: Trainer/brother Robert Garcia said Team Mikey Garcia would be open to fighting Terence Crawford, the pugilistic pride of Nebraska, for his first fight back after more than a year off. Team Crawford responded with a hearty thumbs up.
Take note, Top Rank and HBO.
"You think Mikey wants to take the fight?" asked Crawford trainer/advisor Brian McIntyre. "Push that fight, it's easy work for us."
————————————————————————————————————————
Ace trainer Robert Garcia is like all of us, wondering if #MayPac is going to come off.
The Cali based tutor told me on Friday he thinks it will occur, and likes Floyd to handle Pacman, but that Pac has power and speed and "throws twice as many punches."
Garcia had his guy Marcos Maidana in twice with Floyd, and was up close when Brandon Rios saw Manny's many facets in Macau.
Garcia, the amiable teacher who handles lil bro Mikey, told me he isn't sure what the holdup on the fight is, and he's heard from different people on who and what the impediment might be. Of this he's pretty sure, MayPac would not feature any knockout…so he could see a deal including plans to do a trilogy. Hey, why not…as long as people are sitting down to hash one out, why not go the extra yard and plan further into the future? "If it happens, I see Mayweather getting the decision," he told me.
Now, on to other more tangible things. Brother Mikey, he said, has been talking to promoter Top Rank and will mull over whether to get back to business with them over the weekend, with an answer likely coming Monday. Big bro would like to see Mikey make up for lost time–he last fought in January 2014–and fight three times this year. He'll campaign at 140, but could do 135 for a crown, RG said. A fight against Terence Crawford, going to 140 from 135, would be alluring, he said, even the first one back after Mikey's hiatus. "How Crawford reacts to being hit by someone like Mikey is stilla question mark," RG said.
Ideally, for Rios' next, he would tangle with Juan Manuel Marquez, the Mexican legend who is assessing his fighting future because of injuries. A bad knee hampers his mobility and ability to train; JMM last fought in may 2014.
Tim Bradley is a possibility for Rios and "he has the perfect style, because he exchanges. We'd love that." Plus, both men are Top Rank affiliates..
Also, a fight with Miguel Cotto is something they've pondered, but we both agreed that is a tall hill to climb, as Cotto is a legit 154 now, and probably a bit too bulky for Brandon. "That would be a lot of money, and a helluva fight, though," the trainer said. "It would be a great war. But Marquez would be out first choice."
His man Maidana is still in chill mode, as he's getting married in April, so an August or September bout makes sense, RG stated.
We also yapped about the Haymon takeover, all the new platforms, which means more dates for fighters. "I'd like more guys with Haymon," Garcia told me, and we both agreed we'd like to see the ventures succeed, for the good of the sport.
Follow Woods on the Twitter:
Manny Pacquiao Beats Adrien Broner in Las Vegas Return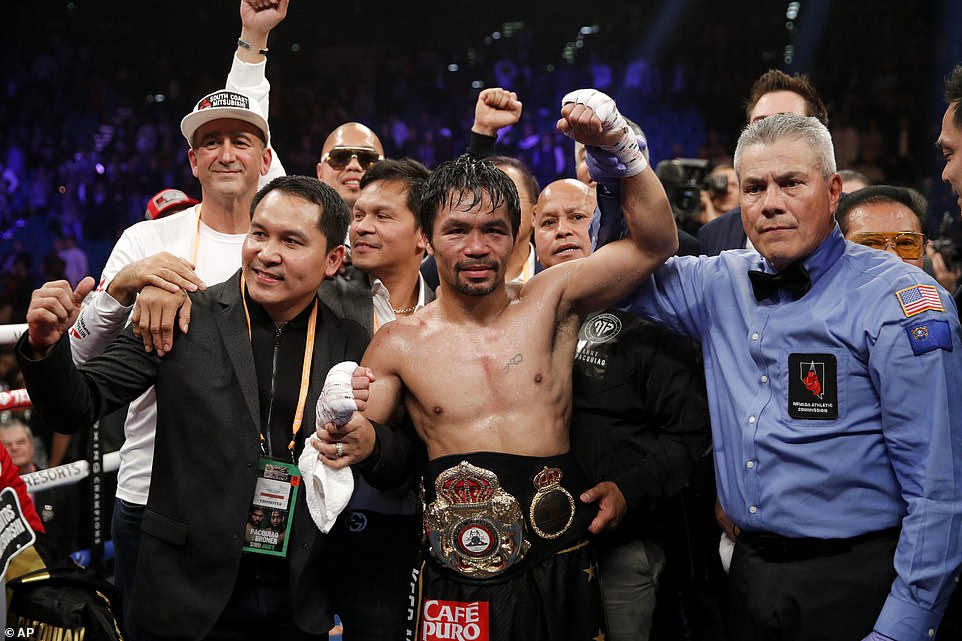 LAS VEGAS-After a slow start the Manny Pacquiao train picked up steam and might have jump started the flooded welterweight division while retaining the WBA world title on Saturday.
Pacquiao (61-7-2, 39 KOs) made his debut for Premier Boxing Champions with a decisive win over Adrien Broner (33-4-1, 24 KOs) before a crowd of 13,025 mostly partisan fans at the MGM Grand.
It was the Filipino superstar's first fight in Las Vegas since November 2016 when he defeated Jessie Vargas. Once again he showed what separates him from other top welterweights.
Pacquiao had problems fighting Broner's style at first. It's the same counter-punching method used by Broner's mentor Floyd Mayweather and it proved effective during the first half of the fight. But the Filipino southpaw slowly found the antidote.
Broner's lead right cross proved effective and when he mixed in jabs it seemed to give Pacquiao pause until the fifth round. Then a one-two combination followed by a lightning three-punch combination seemed to put Pacquiao in the driver's seat temporarily.
Pacquiao finally took charge in round seven when Broner connected with a solid left hook. Immediately Pacquiao retaliated with an overhand left cross that seemed to stagger Broner and that's when the blows came raining down. Pacquiao unloaded a six-punch combination then followed with a 13-punch blitzkrieg that had Broner covering up. Every punch in the Filipino's arsenal came into play. Broner survived.
Although Broner seemed hurt, he was able to transition into a survival mode and allowed Pacquiao to take full control of the fight. From the seventh round until the 11th round Pacquiao steamed ahead.
The Cincinnati fighter Broner mounted a short rally in the 11th round with a one-two combination followed by a left hook. Broner used that combination twice more in the round and capped it with a right cross. It was Broner's best round since the sixth. But it wasn't enough.
All three judges clearly saw Pacquiao the winner 117-111 and 116-112 twice. He retains the WBA world title and he now opens up the welterweight division for some potential blockbuster fights.
"I feel so happy because I did my best in the fight and in training," said Pacquiao. "Thank God for this victory."
Broner was astonished at the scores. Everybody out there knows I beat him," said Broner. "I controlled the fight, he was missing. I hit him clean more times. I beat him."
Now that Pacquiao has signed a promotional contract with PBC, a bevy of potential bouts await such as Errol Spence Jr., Mikey Garcia, Danny Garcia, Shawn Porter and Keith Thurman. And of course Floyd Mayweather is a desired foe and was sitting ringside during the fight.
Other Bouts
Marcus Browne wins
Blood poured in the second half of the fight and Marcus Browne (23-0, 16 KOs) took advantage with a consistent attack against Badou Jack (22-2-3, 13 KOs) that allowed him to take the interim light heavyweight titles by unanimous decision.
A violent clash of heads in the seventh round saw Jack emerge with a three-inch gash and from that point on, blood impeded any hopes of Jack mounting a serious rally. No knockdowns were scored and after 12 rounds all three judges favored Browne 119-108, 117-110, 116-111.
Nordine Oubaali
Frenchman Nordine Oubaali (15-0, 11 KOs) took the WBC bantamweight world title from Cincinnati's Rau'Shee Warren by unanimous decision in a battle of southpaws.
Oubaali found continuous success with the right hook and often doubled it up to score repeatedly throughout the 12 round fight. Warren seemed unable to solve the puzzle and found success with the right jab at first, until Oubaali connected with a sizzling left counter early in the fight.
Warren tried repeatedly to walk down the French bantamweight but was often out-hit during the exchanges. In the seventh round the American southpaw stood his ground and fired furious volleys against Oubaali but was still out-hit by the Frenchman.
It was clear during the last three rounds of the fight that Warren needed a knockout or some knockdowns to turn the momentum, but was stymied through every attempt. Oubaali seemed to always get that last punch in.
All three judges saw it Oubaali's way 115-113, 116-112, and 117-111 for Oubaali the new WBC bantamweight world titlist.
"It's a big night, I'm very, very happy," said Oubaali. "I made my dream come true."
Warren was very cordial despite the loss.
"He wanted it more," said Warren. "Congratulations to Oubaali."
Hector Ruiz
Hector "Cuatito" Ruiz (38-4, 31 KOs) went to work immediately against last minute replacement Alberto Guevara (27-4, 12 KOs, flooring Guevara in the first round of their battle of Mexican featherweights. From there on it was the "flight of the bumblebee" for Guevara who used every trick he knew to survive. After 10 listless rounds Ruiz was deemed the winner by unanimous decision 100-89, and 99-90 twice.
The original opponent for Ruiz was supposed to be Jhack Tepora but he weighed five pounds heavier than the required 126-pound limit. Guevara took the fight on one-day notice.
Off-TV Undercard Results
The off-TV undercard was reduced to five fights when the match between Genisis Libranza and Carlos Buitrago was cancelled. The culprit was Buitrago who came in overweight.
George Kambosos, Manny Pacquiao's chief sparring partner for PacMan's last three fights, improved to 16-0 (9) with an 8-round decision over Rey Perez (24-11). The heavily tattooed Kambosos, from New South Wales, Australia, pays homage to his Greek heritage with images of Spartan warriors inked on his back. He pressed the action throughout en route to winning all eight rounds in what was a monotonous fight.
In an action-packed 8-round welterweight affair, Jonathan Steele (9-2-1) scored a split decision over Jayar Inson (17-2). The scores were 78-73, 77-74, 74-77. Inson, one of several Filipinos on the card, went down hard near the end of the first round but fought his way back into the fight. Steele is part of the burgeoning Dallas boxing scene.
Desmond Jarmon won a majority decision over Canton Miller in a 6-round match in the super featherweight class. The scores were 59-55, 58-56, and 57-57.
In a 4-round welterweight match, Destyne Butler cruised to a unanimous decision over David Payne. Butler won all four rounds on all three cards.
In a 4-round cruiserweight fight, Viddal Riley (2-0, 2 KOs), blew away Sacramento debutant Mitchell Spangler in 35 seconds. Riley, who hails from London, is trained by Jeff Mayweather.
Arne K. Lang contributed to this report.
To comment on this article in The Fight Forum CLICK HERE
The Hauser Report: Friday Night Fights at Madison Square Garden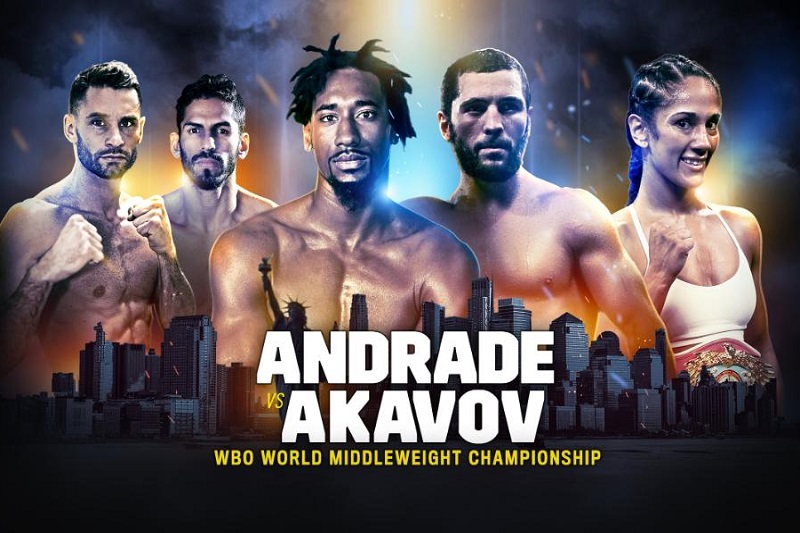 Friday night fights at Madison Square Garden were once boxing's most-anticipated weekly event. On Friday, January 18, Matchroom USA and DAZN teamed up for the latest installment.
There were five fights of note.
Amanda Serrano (35-1, 28 KOs) is one of today's better women fighters and has made a career out of winning belts of questionable provenance against an assortment of opponents who've ranged from competent-but-barely-world-class to inept. By last count, she'd won "world championships" at 130,135, 126, 118, 122, and 140 pounds. Now she was dropping from 138-1/2 pounds in her last outing to 115 pounds in an effort to claim the WBO super-flyweight bauble (which would give her a "world championship" in a seventh weight division).
Eva Voraberger (24-5, 11 KOs), a 25-to-1 underdog, was the designated loser.
One day before the fight, Serrano weighed in at 115 pounds. On fight night, she weighed 133.
Serrano-Voraberger lasted all of 35 seconds. Voraberger had the look of a deer in the headlights from the moment the bell rang and was dropped for the count by the first body shot that Serrano landed.
For more than a century, the term "champion" was synonymous with glory and greatness in boxing. Now it's a devalued marketing ploy, particularly for women boxers.
John Sheppard, who oversees BoxRec.com, reported last year that boxing's world sanctioning bodies have created 110 different women's titles. This means that, assuming each title is available in 17 weight divisions, the sanctioning bodies have belts for 1,870 women's champions. Meanwhile, according to Sheppard, there were only 1,430 active women boxers in the world. Thus, there were approximately 1.3 titles available for each woman boxer.
In the fight immediately preceding Serrano-Voraberger, Reshat Mati knocked out Benjamin Borteye in 66 seconds. That meant, because of TV scheduling, there was a stretch lasting for an hour and five minutes during which fans saw 101 seconds of boxing.
When DAZN and Matchroom announced their alliance last spring, Eddie Hearn pledged to improve the on-site experience for boxing fans in the United States. One presumes this wasn't what he had in mind.
Serrano-Voraberger was followed by Chris Algieri (22-3, 8 KOs) vs. Daniel Gonzalez (17-1-1, 7 KOs).
Algieri, age 34, is willing to go in tough. He showed skill, heart, and determination five years ago in rallying from two first-round knockdowns to decision Ruslan Provodnikov for the WBO 140-pound title. But since then, Algieri had lost three of five fights (to Manny Pacquiao, Amir Khan, and Errol Spence). Gonzalez was expected to pose a lesser challenge. The fight was made for Chris to win.
Algieri-Gonzalez was a much better fight than it should have been, largely because it appears as though Chris can't perform at a world-class level anymore. He started well, but his reflexes aren't what they once were. And for a fighter who has relied on quickness and speed throughout his career, that spells doom.
In round three, Algieri started getting hit with shots that Gonzalez wouldn't have hit him with several years ago. Then Chris tired, and the second half of the bout was an exercise in survival. In an effort to shorten the fight, Algieri circled away whenever possible and held when Gonzalez got inside. Meanwhile, Daniel started throwing more and was cutting off the ring well.
Algieri once said, "Empathy is bad for a fighter. When you win, you can't think about what you've just done to the other guy's life."
That said; everyone in the arena other than Gonzalez and his partisans must have felt empathy for Chris. It appears as though the judges did.
The consensus at ringside was that a draw would have been credible. The judges thought otherwise, giving Algieri a 98-92, 97-93, 96-94 triumph that was booed by the pro-Algieri crowd. The 98-92 scorecard was beyond the pale and was turned in by James Pierce, who has a history of turning in horrid scorecards. One that comes to mind was Pierce's 78-74 verdict last year in favor of Heather Hardy over Iranda Paola Torres.
Next up; Irish-born T.J. Doheny (20-0, 14 KOs), now living in Australia, defended his IBF super-bantamweight belt against Rychei Takahashi (16-3-1, 6 KOs) of Japan. Takahashi evinced the skill level of a club fighter. Doheny wore him down en route to a stoppage at 2:18 of round eleven.
In the semi-final bout of the evening, Jorge Linares (45-4, 28 KOs) moved up to 140-pounds to pit his skills against Pablo Cesar Cano (31-7, 21 KOs).
Linares, age 33, has held belts at 126, 130, and 135 pounds. All of his defeats had come by way of knockout (against Juan Carlos Salgado, Antonio DeMarco, Sergio Thompson, and Vasyl Lomachenko). Cano had compiled a 5-and-6 record with one no contest during the preceding six-and-a-half years.
Linares-Cano was bombs away from the start. Thirteen seconds into round one, Cano dropped Linares to the canvas with an overhand right. Jorge rose and seemed to be okay. But he wasn't. Cano dropped him again with a left hook up top just past the midway point of round one and again forty seconds later. A fourth knockdown seemed imminent when referee Ricky Gonzalez stepped between the fighters and appropriately stopped the bout at the 2:48 mark.
The ease with which Cano dispatched of Linares might lead to a reevaluation of Vasyl Lomachenko's struggle against Linares at 135 pounds in May of last year.
Then it was time for the main event: Demetrius Andrade (26-0, 16 KOs) vs. Artur Akavov (19-2, 8 KOs).
Andrade, who will turn 31 next month, represented the United States as a welterweight at the 2008 Beijing Olympics and lost in the third round to eventual bronze-medalist Kim Jung-Joo of South Korea. He won the WBO 154-pound title by split decision over Vanes Martirosyan in a dreadfully dull fight in 2013; a WBA 154-pound belt via split decision over Jack Culcay in a dreadfully dull fight in 2017, and the vacant WBO 160-pound title by decision over Walter Kautondokwa last year. He has never fought a top-tier opponent.
Evaluating Andrade as a fighter, trainer-commentator Teddy Atlas has opined. "He's like a cake that comes out of the oven looking perfect. But when you eat it, it tastes like something the cake needed was left out."
Akavov, born in Russia and now living in California, was a typical Andrade opponent. A 20-to-1 underdog, he has limited ring skills, limited power, and was out-boxed in his one step-up fight (against Billy Joe Saunders in 2016).
Andrade-Akovov was a boring tactical fight. Andrade used his jab – it's a good one – as an offensive and defensive weapon to control the action. Akavov was outclassed. And if he didn't know it before the fight began, he knew it from round one on. After a few stanzas, he seemed interested primarily in going the distance.
It's hard to knock out a fighter who's trying simply to survive; particularly if you're not trying to knock him out (which Andrade didn't seem intent on doing). Demetrius fights with the urgency of a man who's in the gym, sparring. On this occasion, he seemed content to simply put rounds in the bank.
The crowd thinned noticeably as Andrade-Akavov dragged on. With 24 seconds left in round twelve, referee Arthur Mercante stepped between the fighters and, over Akavov's bitter protest, stopped the contest. It wasn't the worst stoppage in recent memory. But it wasn't the best either. Mercante has been justly criticized in the past for letting fights go on too long. Better too early than too late.
Gennady Golovkin, Canelo Alvarez, or Danny Jacobs might push Andrade to greater heights. That said; Golovkin would have knocked out Akavov in three rounds.
But the buzz at ringside on Friday night wasn't about the then and now. It was about the announcement that Danny Jacobs has just signed a three-fight deal with Matchroom USA and that his first fight under the agreement will be against Canelo Alvarez on May 4 on DAZN.
DAZN subscribers will get their money's worth and then some on that one.
Thomas Hauser's new email address is thomashauserwriter@gmail.com. His most recent book – Protect Yourself at All Times – was published by the University of Arkansas Press. In 2004, the Boxing Writers Association of America honored Hauser with the Nat Fleischer Award for career excellence in boxing journalism.
Check out more boxing news on video at The Boxing Channel
 To comment on this article in The Fight Forum CLICK HERE
Did Jennings' Loss Mark Arum's Last Hope to Again Taste Heavyweight Glory?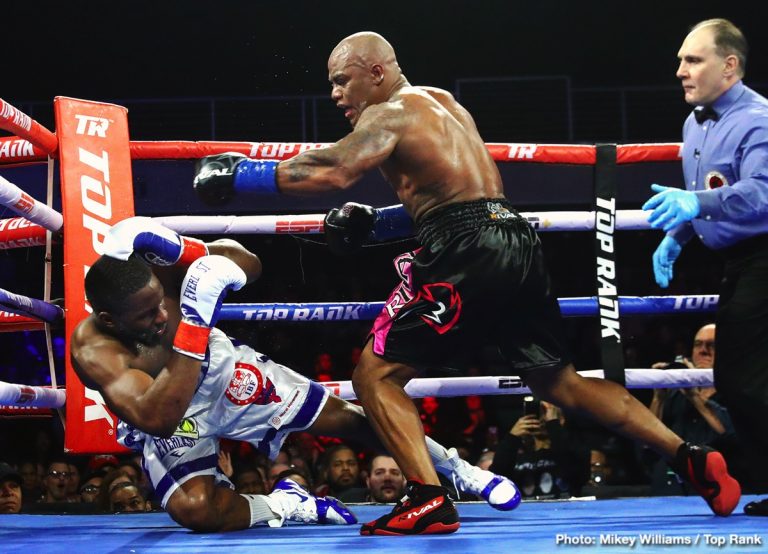 For someone who promotes two fighters who are widely considered to be the world's pound-for-pound best, what took place Friday night at the Turning Stone Resort & Casino in Verona, N.Y., had to be a somewhat bitter pill for Top Rank founder and CEO Bob Arum to swallow.
The good news for the 87-year-old Arum is that his fast-rising featherweight prospect Shakur Stevenson (10-0, 6 KOs), a silver medalist at the 2016 Rio de Janeiro Olympics, took another long stride toward possible superstardom with an impressive fourth-round stoppage of Filipino veteran Jessie Cris Rosales (22-2-1, 10 KOs) in the co-featured bout televised via ESPN+.
But while Stevenson could become a world champion in the 126-pound weight class as early as 2020, the reality is that the highly skilled little lefthander is not and never will be a heavyweight. Neither will lightweight champion Vasiliy Lomachenko or welterweight champion Terence Crawford, the current headliners of the Top Rank stable who already have outgrown a couple of lower-weight divisions but can never be heavyweights except in terms of their prodigious talent. Many knowledgable observers consider Lomachenko and Crawford, in whichever order, to be first and second among all fighters regardless of poundage, and certainly no worse than somewhere in the top three or four.
All of which means that the 12th-round technical knockout of Bryant "By-By" Jennings (24-3, 14 KOs) by underdog Oscar Rivas (26-0, 18 KOs) in the main event could eliminate any chance, however slim it might have been, of Arum having another heavyweight champion before he retires. Jennings, a relatively recent addition (in the summer of 2017) to the Top Rank stable who went in ranked No. 2 by the WBO, No. 7 by the WBA and No. 8 by the IBF, likely will fall out of the top 10 of all three sanctioning bodies. That might have been the case even had Jennings not fallen victim to Rivas' final-round surge. Although it appeared to the ESPN+ broadcast crew that the Philadelphian should have been comfortably ahead on points, he was on the wrong end of two of the three judges' scorecards and would have lost anyway if he somehow made it to the final bell.
Although Jennings  gave a credible account of himself in his only shot at a world title, losing a unanimous decision to IBF/WBA/WBO champion Wladimir Klitschko on April 25, 2015, his age is only one factor working against him now. There are simply too many hungry contenders standing between him and another shot at boxing's biggest prize.
Prior to Jennings' most recent bout before his meeting with Rivas, a ninth-round TKO of Russia's Alexander Dimitrenko last Aug. 18 in Atlantic City, N.J., his trainer, John David Jackson, offered his opinion as to why the Top Rank honcho would ride the "By-By" train as far as it would go before it derailed.
"I think Bob wants one more heavyweight champion," Jackson offered. "Yeah, he has a lot of great fighters, but if you have the heavyweight king, you rule boxing. It's still the most prestigious and marketable division in the sport. That's just how it works. And Bryant represents the last, best opportunity for Bob to get there before he retires."
Arum, a former member of U.S. Attorney General Bobby Kennedy's Justice Department in the early 1960s, has been promoting boxing matches – more than 2,000, and counting — for 52 years, and while some of his greatest successes have come with fighters from featherweight to middleweight, his promotional debut involved a heavyweight who was the biggest of them all. Introduced to Muhammad Ali by football great Jim Brown, Arum started at the very top, staging Ali's winning title defense against rugged Canadian George Chuvalo on March 29, 1966, at Toronto's Maple Leafs Garden. He would go on to promote 26 Ali fights, his most with any heavyweight.
"I didn't know boxing," Arum once said of his almost-accidental introduction to what would become his life's work. "I didn't even really know about divisions other than heavyweight. I only knew there were heavyweights. Then people started contacting me about promoting fighters in other divisions and believe me, it was a good four or five years after I started with Ali."
After Arum's long and fruitful association with Ali ended, he continued to build his company by showcasing such celebrated non-heavyweights as Carlos Monzon, Roberto Duran, Sugar Ray Leonard, Thomas Hearns, Marvelous Marvin Hagler, Julio Cesar Chavez, James Toney, Oscar De La Hoya, Floyd Mayweather Jr., Miguel Cotto and, of course, Lomachenko and Crawford. But Arum pined for another thrill ride with a heavyweight attraction as compelling as had been his heyday with Ali, or as close an approximation to that as possible.
He found it in the unlikely person of George Foreman, who had been retired for 10 years. Arum took a flier on the old and plump Foreman as his improbable comeback gathered momentum, although initially doubting that he and the presumably cheerier version of Big George would click.
"I was not enthusiastic, realizing what a horrid person he had been," Arum said of his expectation that Foreman's personality makeover was false and contrived. "After spending an hour with him I said, `This is the greatest con man in history,' because he was so different from what he had been before. But it wasn't a con. He had really changed."
It was one of Arum's, and Top Rank's, grandest moments when the 45-year-old Foreman, far behind on points, regained the heavyweight title he had relinquished to Ali so many years earlier with a one-punch, bolt-from-the-blue 10th-round knockout of Michael Moorer on Nov. 11, 1994. But Foreman took a pounding in getting a gift nod over Axel Schulz in his next outing, and he retired again after losing a controversial majority decision to Shannon Briggs on Nov. 22, 1997. Arum's dips into the heavyweight pool since then have been infrequent and generally less than satisfying. He has tried his hand to generate some of that old big-man magic with former champs Hasim Rahman and Ray Mercer, to no avail.
Top Rank's relatively low-risk co-promotional signings of Jennings and then-WBO heavyweight champion Joseph Parker, who promptly lost his unification matchup with Anthony Joshua, again have failed to produce the desired results. Last month Arum worked out a co-promotional deal with the management of Bulgarian veteran Kubrat Pulev. More recently he inked a new heavyweight hope in Sonny Conto, a 22-year-old from South Philadelphia who was the silver medalist at the 2018 National Golden Gloves. The 6-foot-4 Conto, who turns pro against the ever-popular opponent to be named on Feb. 8, is being called "a superstar in the making" by his manager, David McWater, and maybe he might turn out to be just that. But it takes time for a newly minted pro to work his way up to champion or even contender status, and by the time Conto gets there – if he gets there at all – it is hardly a given that an already octogenarian Arum will be around to savor the moment.
Until then, we'll all have to imagine what it might be like if there was a machine that could enlarge Lomachenko and Crawford by six or seven inches in height and a hundred pounds of heft.
Photo credit: Mikey Williams / Top Rank
Bernard Fernandez is the retired boxing writer for the Philadelphia Daily News. He is a five-term former president of the Boxing Writers Association of America, an inductee into the Pennsylvania, New Jersey and Atlantic City Boxing Halls of Fame and the recipient of the Nat Fleischer Award for Excellence in Boxing Journalism and the Barney Nagler Award for Long and Meritorious Service to Boxing.
Check out more boxing news on video at The Boxing Channel
To comment on this article in The Fight Forum CLICK HERE