THERE WAS BLOOD! Matthysse Defeats Provodnikov
Fight of the year, they said coming in, can't miss. Warriors personified, two men who were born and bred to inflict violence upon other lesser beings. Who would be the lesser being at the Turning Stone Casino, in Verona, NY, the Siberian Rocky or the banger from Argentina?
Both men had their moments, for sure. Matt was on target, busy and mobile early. He had Ruslan's face looking like a Halloween mask. But Provo came on late, didn't listen to the bruising on his face, and he plugged forward. He landed power shots on a fatiguing Matthysse, and we went to the cards without a certainty who'd have their hand raised.
The scores were 114-114 (Ackerman), and 115-113, 1153, for Matthysse. A majority decision, in a fan friendly tangle.
Ruslan Provodnikov entered with a 24-3 mark, while Lucas was 36-3.
In the first, Lucas was the busier. He was accurate, Ruslan didn't move his head enough. "Use your jab and give me head movement," said trainer Marvin Samodio to Ruslan. In the second, we saw a cut on the left eye of the Russian. "It's target practice right now, Jim," said Bernard Hopkins. Ruslan backed up Matt late. In the third, Matt was fluid with combos. He flurried, moved, was the more mobile man, and he picked off the plugger Ruslan coming. In the fourth, Provod came forward, coming ahead, looking determined, and Matt liked seeing lots of blood streaming. A sharp right upper kicked back Ruslan's head. A Ruslan right wowed the crowd. It was fun round, maybe one for the Rocky. Samodio asked for body work after.
In the fifth, the left to the body worked, and keeping distance helped Matt. Left hooks from Ruslan needed to be thrown in tight. Matt jabbed but was Provod's power speaking louder? In the sixth, a sharp right lead had the crowd grooving for Matt. Blood came from Ruslan's mouth now. His reflexes were getting slower. In the seventh, Matt was landing at will. His face was a mask of blood, was Ruslan's.
In round eight, the length of Matt was helpful of course. Ruslan tagged him and sensed some opportunity late. In the ninth, we saw back and forth work, with Ruslan's power speaking louder. In the the tenth, the jab worked for Matt. Ruslan dipped left and threw the hook, repeatedly. He landed a late right…were the judges digging his power work over Matt's volume?
In the 11th, the power shots for Ruslan were landing. Hooks and the right for the Rocky were nasty. Matt looked to clinch and lost the round. In the 12th, Ruslan came out pressing. He had better energy in the second half of the fight. We went to the cards..
Follow Woods on Twitter:
Fast Results From Corpus Christi: Ramirez Nips Hart to Retain his Title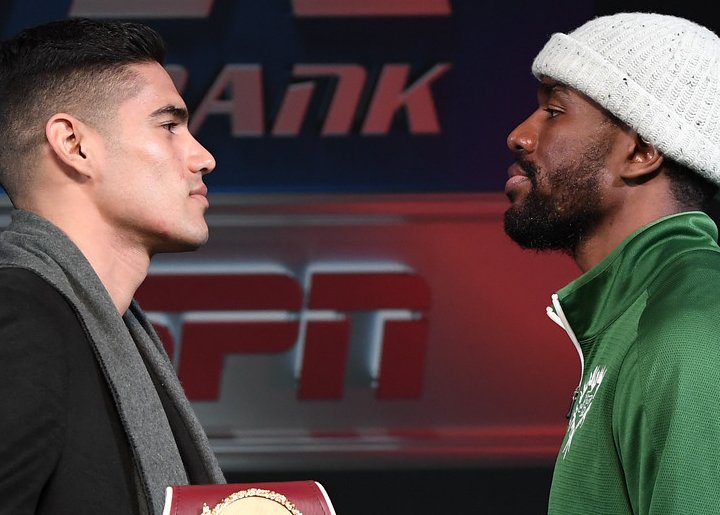 Gilberto "Zurdo" Ramirez put his undefeated record and his WBO world 168-pound title on the line tonight when he faced Jesse Hart at the American Bank Center in Corpus Christi, Texas, in a rematch of their 2016 encounter in Tucson. In that fight, Ramirez, a 27-year-old southpaw from Mazatlan, Mexico, won a unanimous, albeit narrow, decision.
This fight was similar in many respects. Ramirez started fast and was clearly ahead at the mid-point, but Hart, as in the first meeting, fought his way back into the fight. Somewhere around the eighth round, Zurdo appeared to injure his left elbow and it impacted his punch count. But in the final stanza, he reached down deep and turned the tide back in his favor. Two judges scored it 115-113 and the other had it a draw, meaning that Ramirez retained his title via a majority decision while improving his record to 39-0. He is the only fighter to beat Jesse Hart whose record now stands at 25-2.
Ramirez had his eye on a bout with Canelo Alvarez which would be a unification fight at 168 pounds if Canelo performs as expected against Rocky Fielding at Madison Square Garden, but after the bout Zurdo changed his tune and said he intended to move up to 175 pounds. Bob Arum had hinted that he would like to match Zurdo against Gennady Golovkin in a bout that would likely be contested at catchweight (165 pounds or thereabouts).
The semi-windup between junior welterweights Arnold Barboza Jr. of Los Angeles and Denver's Manuel Lopez was a monotonous, one-sided affair. Barboza (19-0, 7 KOs) won all 10 rounds on all three scorecards. Lopez (14-3-1) was game but outclassed. Barboza is highly skilled but doesn't have a high ceiling because his punches don't pack a wallop.
UNDERCARD RESULTS
Chicago super bantamweight Joshua Greer (19-1-1) had no trouble with Daniel Lozano (15-6), hurting Lozano repeatedly until Lozano had no more fight left in him. The contest, slated for 10 rounds, ended in the seventh. Greer has won 15 straight.
In a six-round contest, 18-year-old Gabriel Flores Jr. (11-0, 5 KOs) dominated Uganda's Edward Kakembo (10-6) en route to winning a lopsided decision (60-52 in all three cards). Flores had Kakembo down and hurt in the first round but couldn't finish him off. Bob Arum has big plans for Flores, but the precocious lightweight needs to improve his punching power. His last five starts have gone the distance.
In an all-Mexico affair between junior featherweights, Mazatlan's Jesus Arechiga (7-0) won a four round unanimous decision over Guerrero's David Martino (6-6). The 18-year old Arechiga had won his six previous pro fights by stoppage.
Former U.S. Olympian Mikaela Mayer improved to 9-0 with an eight round unanimous decision over Columbian journeywoman Calista Silgado (17-11-3).
In a lightweight contest, Jamel Herring (19-2) won a lopsided eight round decision over Adeilson Dos Santos. All three judges had it 80-70. Herring had Dos Santos on the deck in the second frame, but the Brazilian lasted the distance. A former U.S. Marine and the captain of the 2012 U.S. Olympic team, Herring, 33, left Al Haymon's PBC operation for Top Rank in January of this year and is currently a stablemate of Terence Crawford. It was the third straight loss for Dos Santos who declined to 19-6.
In a six round affair between super bantamweights, Ruben Vega (11-0-1) and Oscar Mojica (11-5-1) fought to a draw.
In the opening bout of the nine-bout card, a four-round welterweight match, Alcibiade Duran-Galvin (2-0, 2 KOs) needed only 55 seconds to dismiss Brownsville southpaw Leonardo Pena (0-3). Duran-Galvin, 30, who fights out of the Miami area, claims to be the son of Roberto Duran.
Check out more boxing news on video at The Boxing Channel
To comment on this article at The Fight Forum, CLICK HERE
Canelo Finally Ready to Take Manhattan; More Bites of the Big Apple to Follow?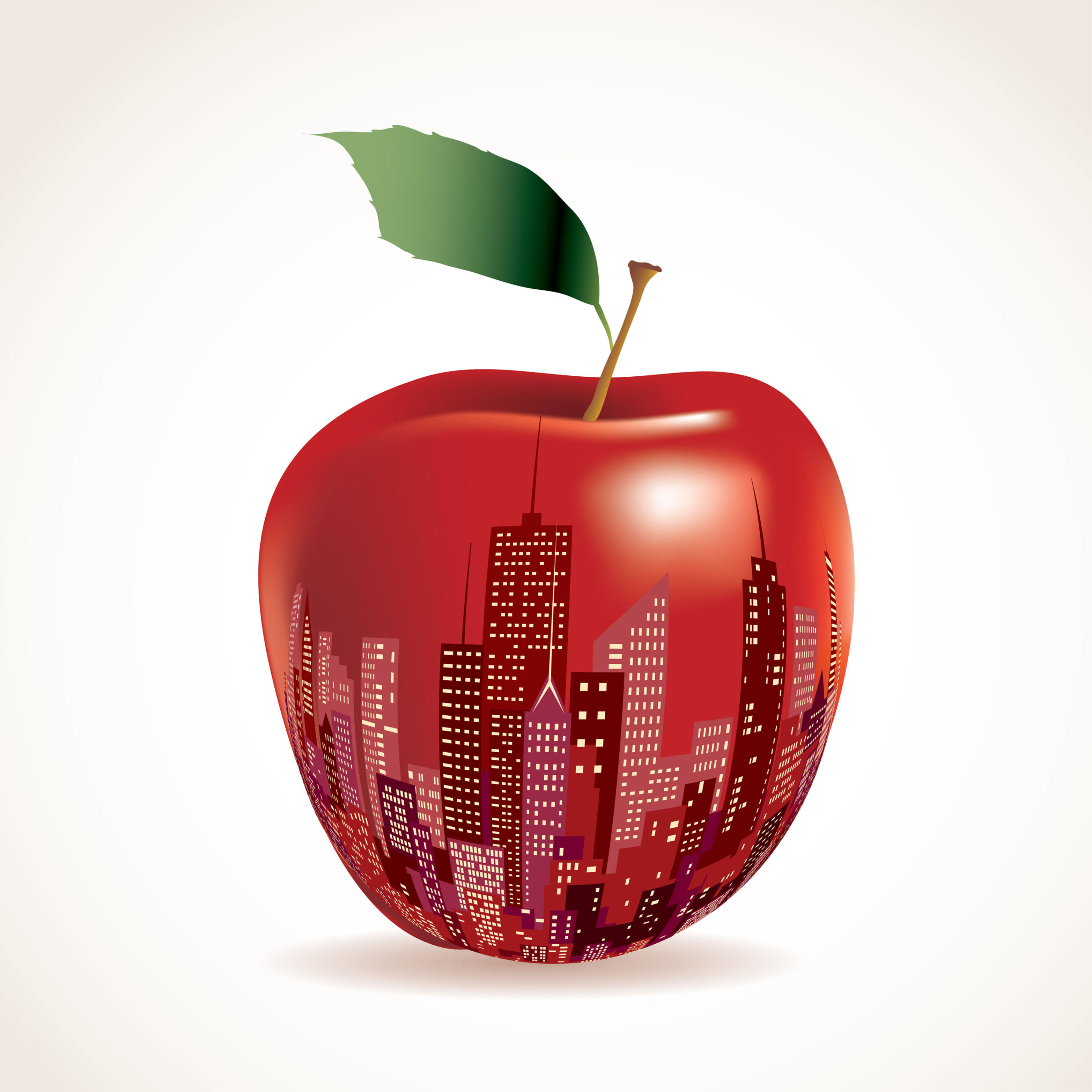 You know the words to the song, written by Paul Anka and most memorably sung by Frank Sinatra. It's a paean to America's glitziest, grittiest, most self-absorbed metropolis, whose citizens have come to believe the city is and always will be the center of the known universe. Everywhere else is, well, Hicksville.
If I can make it there, I'll make it anywhere
It's up to you, New York, New York
Canelo Alvarez, the WBO/WBA/WBC middleweight champion, is only 28 years of age, but the proud son of Guadalajara, Mexico, has been fighting professionally since he was 15. Arguably the most popular and marketable fighter in the world, he has been a creature of habit, fighting almost exclusively in places where his worshiping fans are plentiful and his star power has been allowed to flourish almost unabated. Of his 54 ring appearances as a pro, boxing's red-haired rock star has logged 34 fights in Mexico, 11 in Las Vegas, three in California and three in Texas. The furthest east Alvarez has come to ply his trade in the United States is a single bout in Miami, certain sections of which admittedly might seem like New York with palm trees.
But now Canelo says he is ready – eager, even – to finally make his mark in America's toughest town, and specifically in the famous arena, Madison Square Garden, which fancies itself the "Mecca of boxing." It is a not-undeserved sobriquet when you consider the roster of ring legends who have toiled at the Garden in any of its four incarnations.
Hey, if the historic building in midtown Manhattan, and the three preceding venues bearing its name, were good enough for Jack Dempsey, Joe Louis, Sugar Ray Robinson, Henry Armstrong, Jake LaMotta, Muhammad Ali, Joe Frazier, Roberto Duran, Sugar Ray Leonard, Mike Tyson and Canelo's promoter, Golden Boy CEO Oscar De La Hoya, then it's good enough for someone who considers himself to be the best pound-for-pound fighter in the world today.
But Saturday night's matchup of Alvarez (50-1-2, 34 KOs) — who will be moving up a weight class to challenge WBA super middleweight champion Rocky Fielding (27-1, 15 KOs) of England in a bout which will streamed internationally via DAZN — is not so much a one-off event as the first of many planned Garden parties in which Canelo will be the headliner.
"You know, Canelo's always wanted to fight in New York," said Eric Gomez, president of Golden Boy. "It seems like the last three years he's been talking to Oscar and myself about fighting in New York and, obviously, at the Garden. He's a big fan of Muhammad Ali and idolized Muhammad Ali.
"And to fight at the Mecca of boxing where all the greats have fought … Oscar fought there as well. It's something (Alvarez) always wanted to do. So we're extremely excited that we were able to squeeze in one more fight in December after having such a tough rematch in September with (Gennady) Golovkin."
So what about that, Canelo?
"I would like it to be the first of many fights there," Alvarez replied when asked about the hints he is dropping about possibly making MSG his new pugilistic home instead of Vegas. "To fight in New York is another landmark in my career and is another important story in my career. I want it to be the first of many more."
All well and good, although Fielding, virtually anonymous on this side of the Atlantic Ocean, has no chance of playing the role of Frazier to Canelo's Ali, or vice versa, even if he somehow captures lightning in a bottle. This also is the Briton's first fight in New York, and who can blame him for daring to dream that pulling off the upset will make him a superstar in his own right?
"This is what I'm in boxing for," Fielding, 31, said of the longshot opportunity he hopes to capitalize on. "This is what I've been doing in boxing since I was nine, for these nights. To fight at Madison Square Garden against the biggest name in boxing is unbelievable."
Fielding isn't quite the no-hoper Buster Douglas appeared to be on Feb. 11, 1990, when, as a 42-1 underdog, he pulled off boxing's biggest and most memorable upset with a 10th-round knockout of the seemingly invincible Mike Tyson in Tokyo. But Fielding is an 8-1 outsider for those willing to place a wager on him, and Canelo backers would have to bet $160 to make a 10-buck profit.
Any chance Fielding has of shocking the world lies in the fact that he is noticeably larger than Canelo, at 6-foot-1 to the celebrated challenger's 5-8, and with a 75-inch reach to Canelo's 70½-inch reach. That, and the fact Alvarez is moving up to an unfamiliar weight class, is enough to fuel Team Rocky's belief that they can spoil the star attraction's New York debut.
"We're going to ask (Alvarez) questions," said Jamie Moore, Fielding's trainer. "There's a lot of unanswered questions regarding him moving up to super middleweight. The height and reach advantages that Rocky's got is huge. How is he going to cope with those problems? When they come face to face in the middle of the ring, Rocky's going to be huge, an absolutely huge specimen compared to Canelo."
But there is another saying that seemingly applies here, and that is that it's the size of the fight in the dog, not the size of the dog in the fight, that matters. And the talent gap between Canelo and this Rocky, who is not likely to ever be compared to Marciano, Graziano or Balboa, is of much more consequence that a couple of inches and pounds.
The incentives for Alvarez taking this fight are many. If – when – he wins and becomes a world champion at super middle, he joins fellow Mexican greats Julio Cesar Chavez, Erik Morales, Marco Antonio Barrera and Jorge Arce as three-division champions. OK, so Alvarez has already announced he will be moving back down to middleweight. That itch he wants to scratch as a three-division titlist, even if only temporarily, is satisfied, as is his desire to make more dough before the end of the year and to show New York what he's all about. Who knows, maybe he'll even find time get in a little Christmas shopping at some of Manhattan's trendier boutiques.
If there is a drawback to Canelo's Manhattan adventure, other than the almost-unthinkable possibility of a loss, it's that New York fight fans, whose reputation as a tough lot is deserved, are not disposed to be warmly receptive to an uninspired performance as those who lavished so much love on him in the Nevada desert, Mexico and Texas. Canelo might be cherished elsewhere, but from the opening bell he is going to have to prove himself anew to a rowdy crowd that is as apt to boo as to cheer.
So it's up to Canelo to make New York as much his as it was for Sinatra. He theorized about the unlikely possibility of a rematch with Floyd Mayweather Jr. ("If that fight were to happen again, I would defeat him, no problem") and the presumably more realistic chances of a third go at Golovkin ("If we made two, I'll make a third one"). There are other attractive matchups that could bring him back to the Garden, if his fascination with the place is as genuine as he now claims and Golden Boy accedes to his wishes.
"We're open to doing more fights in New York. No problem," Gomez said. "Everything seems to be going smooth. Ticket sales are great. We're expecting a sellout. If everything goes as planned, why not?"
Bernard Fernandez is the retired boxing writer for the Philadelphia Daily News. He is a five-term former president of the Boxing Writers Association of America, an inductee into the Pennsylvania, New Jersey and Atlantic City Boxing Halls of Fame and the recipient of the Nat Fleischer Award for Excellence in Boxing Journalism and the Barney Nagler Award for Long and Meritorious Service to Boxing.
Check out more boxing news on video at The Boxing Channel
To comment on this article at the Fight Forum, Click Here
Golden Boy Prospects and Contenders Stack DAZN Card in New York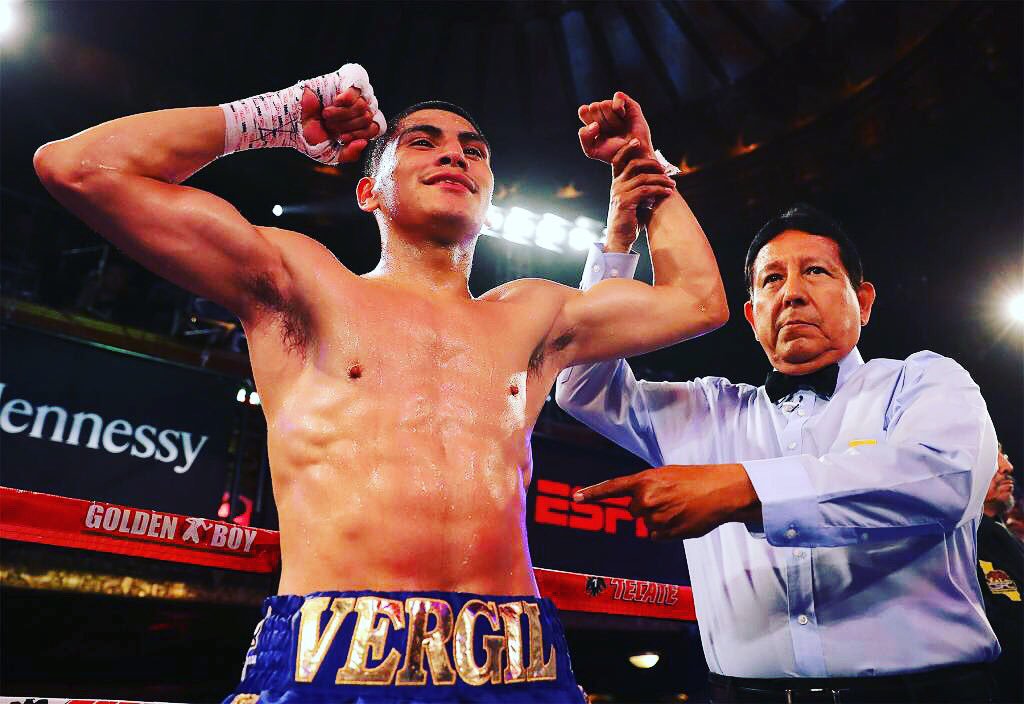 Saul "Canelo" Alvarez leads a wild and rowdy contingent of Golden Boy Promotions prospects and contenders into Madison Square Garden.
They're coming in with guns blazing.
Heavy-hitting youngsters Vergil Ortiz, Ryan Garcia and Lamont Roach are flanked by veteran contenders David Lemieux and Mauricio Herrera. There's also another world title fight on the card.
They represent the best of Oscar De La Hoya's shock troops.
Most fans in the east are familiar with the veterans; it's the youngsters that have not established a reputation that travels beyond the Mississippi River.
Super lightweight prospect Vergil Ortiz has never heard the final bell in any of his previous 11 professional bouts. But the Dallas, Texan faces Mexican fighter Omar Tienda who has only been stopped once in 24 pro bouts and that was almost six years ago.
Still, Ortiz is no ordinary puncher. He's one of those skinny Jack Palance-looking guys that if he touches someone it seems to send 10,000 volts through their body. Their eyes roll and the muscles become paralyzed.
He's a nice guy, but maybe that's how Mr. Death walks among us. It's simply his job. When not sending opponents into comas, Ortiz also plays guitar pretty well.
Don't expect a decision to be rendered in this fight either.
"My opponent (Omar Tienda) has a pretty good record. He's 19-5 with 12 knockouts. He has more knockouts than I have fights. He's only been stopped in one of the five losses. So, there's a pretty good chance he can go the distance, but I'm going to do what I do best," said Ortiz the knockout machine.
Next prospect, Ryan "The Flash" Garcia, hails out of Southern California and has that look of a star and the tools to match. Extremely quick and extremely confident, the super featherweight recently became part of Team Canelo and is training under the tutelage of Eddy Reynoso.
Defense has been the focus for Garcia and who better than Reynoso who prepared Canelo for his two clashes with knockout artist Gennady "Triple G" Golovkin?
The California speedster Garcia is matched against Dominican power hitter Braulio Rodriguez in a super featherweight contest set for 10 rounds.
"I went from fighting guys on a certain level you have to fight, where I was knocking everybody out. Then when you make another step in your career you need experience, you need somebody that's been there before and will teach you the ropes on how to handle things and what better trainer then Eddy Reynoso," said Garcia about his new trainer Reynoso. "He (Canelo) taught me a lot stuff about the business of the game and also stuff in the ring during sparring. I'm a very visual learner so it's what I see when he was sparring and training hard. That's my thing, that's my world."
The Contenders
Philly fighter Lamont Roach (17-0-1) returns to the east for this fight and defends a regional WBO title against Puerto Rico's Alberto Mercado (15-1) in another super featherweight clash.
"Right now I have the WBO international championship. After I defend it hopefully they bump me up into one of those mandatory spots that put me in line for a title eliminator title or a title," said Roach, 23, who fights out of Washington D.C. " My ideal fight, any champion."
Another who wants a title shot is veteran Mauricio "El Maestro" Herrera who was denied the title in a horrible decision four years ago when he fought then super lightweight champion Danny Garcia. Herrera returns to the ring after a year of rest and fights former super welterweight world champion Sadam Ali.
"My last fight was with Jesus Soto Karass. I went the distance. With him, I felt pretty good. Then I took some time off, I had to recover a little bit. I needed to feel the hunger with boxing, and I got it back," said Herrera who fights out of Riverside, Calif. "I got a chance with Sadam, so I'm here to prove something. I know I'm not old. I still feel good, I feel young. We'll see Saturday night how I look. Sadam Ali is a good fighter. He's slick. He's a boxer. He has all the basic skills. I'm going in there with a tough guy."
Ali, 30, is fighting at home against Herrera and returns to the ring for the first time since losing to Tijuana's Jaime Munguia last May.
"I feel like every fight moving forward is going to be a must-win. If you want to be great in your career, you're supposed to think like that. In life you know there's ups and downs, you just have to keep fighting," said Ali.
Canada's David Lemieux lost his middleweight world title in Madison Square Garden to Gennady Golovkin in a brave effort three years ago. He wants another crack and Tureano Johnson stands in his way.
"I have to look spectacular this weekend no matter who's in front of me, and Johnson is front of me," said former IBF middleweight titlist Lemieux. "I'm going to take good care of him."
World Title Fight
One other world champion, Tevin Farmer, performs on the card. He's not part of Golden Boy's troops but fights under the DiBella Entertainment umbrella. The IBF super featherweight titlist Farmer defends against Costa Rica's talented Francisco Fonseca.
Farmer is very confident of a quick victory.
"My goal is to stop him inside four rounds – it has nothing to do with Gervonta Davis (who beat him in eight rounds). This is about me. James Tennyson said he could KO me and I knocked him out in five, so now I want to do it in four," said Farmer who fights out of Philadelphia but likes to hit and run. "I am only competing against myself. The goal is to win the fight, but if I stop him in four rounds, then I've improved on the last fight. If I stop him quicker than Davis, oh well, I've knocked him out before him, it doesn't matter."
Fonseca, 24, lost to Gervonta Davis on August 2017 by stoppage due to several rabbit punches to the back of the neck. The referee did not call the fouls and Fonseca was declared the loser. The Costa Rican fighter's team appealed the referee's ruling but it was denied by the Nevada State Athletic Commission. Since that loss Fonseca has run up three consecutive wins by knockout.
Another on the Canelo-Fielding fight card is Ireland's Katie Taylor defending her lightweight world titles against Finland's Eva Wahlstrom. For more on this fight go to www.ThePrizefighters.com
Check out more boxing news on video at The Boxing Channel
To comment on this article in the Fight Forum Click Here
EDITOR'S UPDATE: On Friday morning, it was announced that David Lemieux and Vergil Ortiz were off the card. Lemieux suffered severe hydration as he attempted to scale down to 160 pounds and was hospitalized. Ortiz was axed because of a NYSAC rule that bars fighters that have had laser eye surgery.