Graduation Night For Anthony Joshua?
If you hail from the United Kingdom, you learn to suffer with your heavyweights.
Bob Fitzsimmons abandoned these shores so young that we can point to him, perhaps, as proof of the British heart and fighting stock even if we must admit that it was not our fighting culture that birthed him. Lennox Lewis was a great, great heavyweight and we clutched him to our collective bosom with a hunger that spoke of the hurt that lay between he and Fitzsimmons, and we still do – but his nationality is a complex issue, a fact betrayed by his accent, his dual British and Canadian nationality, the fact he boxed for the latter as an amateur and his persistent and understandable hailing of his Jamaican roots. Whatever we have to say to one another about the great Lewis now, it is a fact that we at no time counted him a hero in the same way that we did Frank Bruno, not while he was fighting.
Frank Bruno, big Frank, sometime pantomime dame and perennial contender, was a legitimate cross-over star in Britain. Beloved by all, he was brutalised into semi-consciousness while still standing by Lewis, "The Lion" preposterously interrupted in the middle of this ritual slaughter by referee Mickey Vann, who warned Lewis about heeling before letting him lose once more on a Bruno completely incapable of defending himself. Perhaps Vann, like the rest of us, had become used to the site of Frank being harpooned on the ropes by a venomous Pequod, having previously watched Tim Witherspoon, James Smith and most deadly of, Mike Tyson, brutalise him in a similar fashion. It would be hard, hard to call Bruno a failure, especially as he eventually raised a strap, if not the legitimate championship, but it is fair to say he did not do what we expected of him while we pretended to box his opponents in the school playground. Perhaps "glorious failure" is the best way to say it; a man who had the balls to try, try and try again despite his shortcomings.
In fact, by the time Bruno turned professional the glorious failure was the great tradition of the British heavyweight. Think of Welshman Tommy Farr and his spectacular effort versus Joe Louis, the only man to take the Bomber the distance in his first nine title fights. Beaten over the distance, Farr was lauded for his loss in Britain, just as Londoner Don Cockell was eighteen years later for his effort versus Rocky Marciano. Henry Cooper became the king of the glorious failures when he successfully dropped Muhammad Ali with a steaming left-hook before bursting all over him in a bloody geyser, his face torn to a mask of gore not once, but twice, by the man they call The Greatest. These men exceeded our low expectations against great champions.
Since Lewis, the exceeding of expectations is a distant and wondrous dream.
We were burned most badly by Audley Harrison. A six-foot-five Olympic gold-medal winning southpaw with an 86" reach and a line in patter which would have persuaded even the 1940s New York fight press of his credentials as a future world champion, Harrison first destroyed boxing in Britain on free-to-air TV by accepting millions from the publicly funded BBC and then proceeding to fight a series of what can only be described, politely, as total bums, before also undermining pay-per-view with a bizarre non-effort against David Haye on Sky Box Office. Harrison landed literally one punch in that fight. He was paid £1.5m.
Speaking of bizarre non-efforts, David Haye's against Wladimir Klitschko was one of the more embarrassing of recent times. Haye could have just slinked off shamefaced after that fight, offering his physical and technical inferiority as an excuse for the most one-sided loss in HW boxing since Haye-Harrison a few months earlier, but instead he elected to stand on the post-fight press-conference table and display what can only be described as a mildly bruised pinky-toe – the real reason for the loss. Haye was a good fighter, but his confounding attempt at Klitschko failed even to reach the minimum standard of glorious failure during a world-title shot. In combination with Harrison's mad antics it summarised a bleak time for British boxing.
Fortunately, a healing balm was warring its way through the British ranks in Liverpool: 6'8 scouser David Price weighed in at 250lbs and rescued us from Harrison with a first round knockout of that fraud in 2012. A confession: I never bought Harrison, but I bought Price. Massive like bridges are big, Price seemed to loom over the heavyweight division and this laid the scales across my eyes. When he was obliterated twice in back-to-back fights by evergreen veteran Tony Thompson, who stopped him first in two rounds and then in five, it came as quite a shock. When his promoter, Frank Maloney, later announced that he wanted to live as a woman and was to be referred to from then on as Kellie Maloney, I saw it as representative of the affect this final and most humiliating failure by a British heavyweight upon the British boxing establishment. It was enough to make me want to don a dress myself.
With all my hopes pegged upon Tyson Fury I at first refused to believe that Anthony Joshua would be anything other than the latest in a long line of disappointments.
I hope the reader will forgive the late arrival of Anthony Joshua into an article which purports to be about him, but I think a little context is warranted. Further to that, consider this: in no way is the competition matched by Anthony Joshua at this point better than the competition matched by David Price before he was destroyed by Tony Thompson. The creaking Russian Denis Bakhtov (38-9 going in) is his best opponent up until this point, although certainly he looked less than a world beater beating up poor old Danny Williams – another brave British heavyweight who was brutally annihilated in a tilt at a strap against Vitali Klitschko but who nevertheless likely falls into the "glorious failure" category for his one-armed efforts against Mark Potter, and the wonderful night he stopped Mike Tyson.
Bakhtov, at just 5'11, would have slipped neatly alongside the competition that allowed Price to deceive us so. 15-0 puncher Tom Dallas was 6'6 and had knocked out eleven of fifteen victims coming into his dust-up with Price but Price put him away in just two. When Price took on Sam Sexton, he knocked him out much more quickly than the only other man to stop him, Dereck Chisora who had beaten him in six and nine rounds. Chisora, a social cannonball more famous for his freakish February 2012 street-brawl with David Haye ("I will physically shoot you!") than anything he actually did in the ring, is perhaps another brave British underachiever. A human non-sequitur, nothing Chisora says really makes sense, but he was all heart in the ring, taking his lumps from Vitali Klitschko and Tyson Fury alike. Mooted as a future opponent for Joshua, Chisora is more qualified than the man who is facing Britain's latest heavyweight hope this Saturday night in London, Kevin Johnson; Chisora beat Johnson in twelve one-sided rounds early last year.
It was a steady, dull pressure that brought Chisora that win over "Kingpin", as the American did what he did best: survive. Promoters of prospects and comebackers like him because he can't punch (just fourteen stoppages in thirty-six fights, none of them in the world class) but he provides a good work-out in a distance fight (having never been stopped and the likes of Vitali Klitschko and Tyson Fury have both been successfully negotiated). A flicking, fast jab keeps opponents honest, a dipping, furtive head-movement, often in the direction of the inside where he seeks to smother his opponent's best work, keeps him from the worst of the enemy's violent attentions, a cute, mobile guard protects the most tender parts of his anatomy; but he doesn't actually do much of anything. Sometimes he sends in a short right hand, and he can punch to the body well but in general he avoids risk. Technically sure single shots in nothing like the volume necessary to win rounds against competent opponents is the order of the day.
These shortcomings are the question mark in the title of this article; the body of the piece lies in Johnson's ability to go the distance.
Joshua looks the part he is to play. Part Calvin Klein underwear model, part tombstone, the 6'6 245lb Joshua has a body carved from granite and has muscles in all the places that Johnson uses to store food. But those muscles burn fuel. They make demands upon Joshua's intake of oxygen that in turns demands one of two other things: a great engine or an ability to control the pace. So far Joshua shows absolutely nothing of the latter; he is a seek and destroy missile, top tier ballistic offensive weaponry that looks more like it comes straight out of America's cold war machine rather than a product of the British system.
Against the aforementioned Bakhtov he had only the most cursory of looks before he started dropping hurt. He comes square when he wants to kill something, alarming, but given his reach and speed, perhaps he will continue to get away with it; and oh, he is fast. If I take nothing else from watching him, I take that. His hand-speed is absurd for a man of his size and the speed with which the second punch joins a first is legitimately terrifying. He lands a very hard jab, and then before that message of pain is even absorbed by the opponent's nervous system, a message of disaster joins it as the right-hand thunders in. Sometimes it's to the chest – other times it's to the top of the head. Bless poor Bakhtov, sometimes he eats it directly to the face, an experience that appears to me to be as shattering as any that can be enjoyed in a boxing ring. Obscenely, Joshua sometimes smiles as the opponent gives ground, the sound of the world, I'm sure, a distant echo to him.
Joshua is no choir boy, you see. There are dark strains. He talks openly of death. He was involved as a younger man in drug dealing. He sometimes smiles as he brutalises his opponents. He feints with his feet. This last speaks of artistry, not darkness, but it hints at real hope for fulfilment of what is still, at just 12-0, only potential.
Bakhtov went back to his corner at the end of the first, cut, swollen and in some deep cavern far away from the advice of his trainer. Joshua was on his feet bouncing, eight-pack rippling, before the bell for the second. Bakhtov finished the fight on his feet, but his final minute in the ring was disturbing to watch.
Jason Gavern and Konstantin Airich both managed three rounds against him but that's as far as it has gone. In many ways, matching him with Johnson is as ambitious as matching Price with Thompson; Price did not have the naturalistic tendencies to deal with Thompson – Joshua clearly does, but does he have the stamina to do twelve?
The other question, of course, is for Johnson: does he fancy spending twelve rounds in the same ring with this animal; and if he does, can he do it?
In that sense, Joshua and his people are onto a win-win. If Johnson lasts the distance, their fighter has twelve rounds under his belt and a big tick in a very important box; if Joshua stops him, a feat beyond Vitali Klitschko, they know they have a legitimate destroyer on their hands. In that sense, yes, this can be seen as a graduation night for the twenty-five year old – as long as he doesn't gas and fall down.
Of course, Johnson isn't going to answer the other question, the one about whether our latest "future world champion" can get hit on the chin and keep his feet. That people who should know better are already naming him as such without having either of these questions answered is perhaps a little irresponsible but completely understandable, even if it is a little surprising given the lessons that should have been learned in the past decade. Joshua is not just special, he looks incredible; he looks like a fight-rat's dream. Everything – everything a heavyweight should have, he has it. Apart from the most important things. Where those are concerned, sadly, we just don't know yet – and we might get hurt in finding out.
But we British fight fans will chance it. After all, isn't that what love is? Believing, with all your heart, in something that you just can't know – until you do, by which point it is too late to get your hands up?
I'll pick Joshua to stop Johnson in eight.
At which point we'll know more.
But still not quite enough.
Larry Merchant: Spence Should Look Upward to Canelo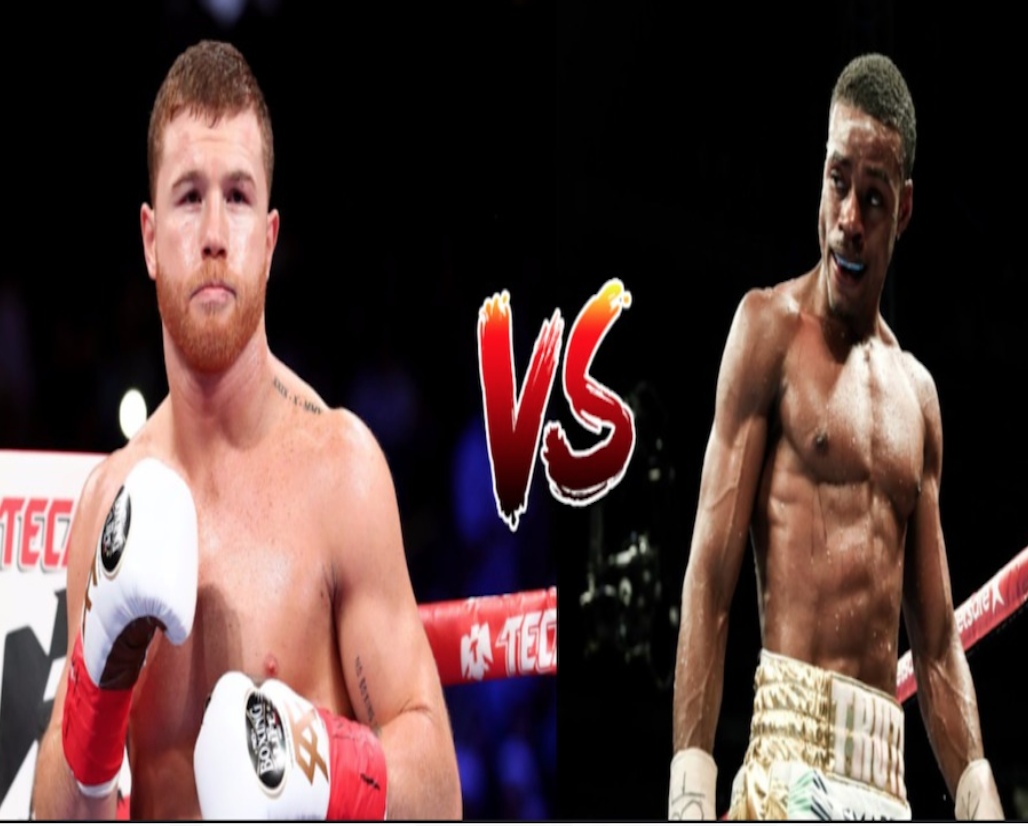 Retired HBO boxing commentator Larry Merchant, like a lot of people, took a keen interest in IBF welterweight champion Errol Spence Jr.'s dismantling of Mikey Garcia, whose decision to move up two weight classes and take on the naturally larger man proved to be ill-advised.
But that doesn't mean that Spence, for whom Merchant has a burgeoning admiration, can't succeed where Garcia didn't. To hear Merchant tell it, the matchup all fans should demand, if not now then sometime in the not-too-distant future, is a bulked-up Spence against WBC/WBA middleweight titlist Canelo Alvarez.
What about Spence (25-0, 21 KOs) in a unification showdown with WBO welterweight champ Terence Crawford (34-0, 25 KOs), the most appealing pairing that can be made at 147 pounds? Both fighters are in the pound-for-pound discussion and it wouldn't surprise anyone if the oddsmakers made the bout a pick 'em proposition when – if – it happens. Shouldn't that fight be atop everyone's wish list for both men? And if more marination is required, shouldn't these terrific champions make full unification of their present division a priority?
Well, yes. Probably. But Merchant, 88, believes the 5-foot-9½ Spence doesn't need some sort of tournament to establish himself as the true king of the welters, even if Crawford is lurking on the horizon. He also thinks it is inevitable that Spence's body will fill out to a point where it eventually will be necessary that he look upward, to middleweight, and the Mexican superstar who would present him with the sternest possible test, as well as the most intriguing and profitable.
"To me, it's a natural progression," said Merchant, who thinks Spence would "wreck" not only anyone he might face at welterweight, but also at super welterweight. "To me, the biggest fight that can be made at some point is Spence and Canelo. Virtually all the great welterweights eventually moved up to middleweight, which is a more glamorous division. That's what great fighters did back in the day, whether it was looking for better competition or for bigger paydays.
"I think it's fair to say Oscar De La Hoya went up too far when he fought Bernard Hopkins, but he took the shot. Carmen Basilio went up to middleweight to fight Sugar Ray Robinson. I covered both of their fights.
"There are many other examples. Emile Griffith fought many good middleweights, including Carlos Monzon twice and Dick Tiger. But that was a time when you could lose a fight and nobody would think you're damaged goods. You could still come back. There's a different economic model now. Everybody says they want big events, but they're more impressed by unbeaten records and so forth."
It should be noted that Spence has had 13 bouts at 147-plus pounds, and was a career-high 156½ pounds, for all intents and purposes a middleweight, when he stopped Chris van Heerden in eight rounds on Sept. 11, 2015. Alvarez (51-1-2, 35 KOs), on the other hand, is 5-foot-8 and has a 70½-inch reach, an inch and a half less than Spence. He also turned pro at 139 pounds and had 21 fights at 147 pounds or less before he won his first world title, as a super welterweight.
"Canelo is not a big middleweight," Merchant said. "If Spence does move up, he might want to test his strength at super welterweight, which would put him in a good spot to get a fight with Canelo."
In addition to the examples cited by Merchant, other welterweights who moved up to middleweight for dare-to-be-great (or greater) fights were Sugar Ray Leonard against Marvelous Marvin Hagler, Jose Napoles against Monzon, Amir Khan against Alvarez and Marlon Starling against Michael Nunn.
"Maybe it's just me, but I think Spence (who's 29) and Canelo (28) could be a gigantic fight someday," Merchant said. "But don't wait too long to make it."
What say you, TSS Nation?
Bernard Fernandez is the retired boxing writer for the Philadelphia Daily News. He is a five-term former president of the Boxing Writers Association of America, an inductee into the Pennsylvania, New Jersey and Atlantic City Boxing Halls of Fame and the recipient of the Nat Fleischer Award for Excellence in Boxing Journalism and the Barney Nagler Award for Long and Meritorious Service to Boxing.
Check out more boxing news on video at The Boxing Channel
To comment on this article in The Fight Forum CLICK HERE
The Avila Perspective, Chap. 39: A Boxing Journey on L.A. Freeways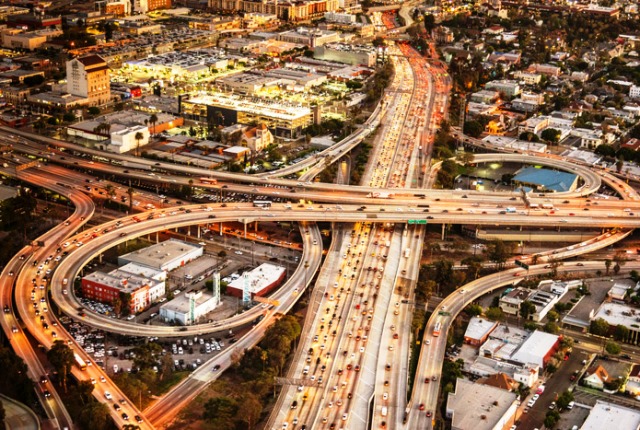 Life as a boxing journalist can be like an Uber driver, especially dealing with the bumper-to-bumper traffic of Southern California.
Prizefighting has leaped to another speed warp since last year and this year makes last year seem like the Griffith Park carousel standing still.
Another barrage of boxing cards sweeps the Southern California region beginning tomorrow in Hollywood, the film capitol of the world, then followed by Saturday and Sunday events. Golden Boy Promotions begins its DAZN deal this Thursday that entails a monthly fight show on Thursday nights.
First up will be gentleman prizefighter Mercito "No Mercy" Gesta the southpaw lightweight contender who trains with the venerable Freddie Roach. The main event takes place at the Avalon Theater and doors open at 4 p.m. DAZN will stream the event.
A.M.
If covering the prizefighting world has appeal, one must realize that waking up early or staying awake late comes with the territory. These are not banking hours.
On Monday, around 3 a.m. the day started for me. Making coffee without waking up our dog (a boxer) has become an art I've learned to master. I proceed to plant myself on a recliner sofa with my laptop and begin the week's work.
Waking up this early allows me to catch up with fighters, promoters and managers in the East Coast before they slip into higher gear. It also provides me time to get stories written before I drive through the heart of Los Angeles. Traffic is your enemy at any time of the day or night. And any time I venture into L.A. it's an all-day affair.
Lawnmower man
First destination on the list: a Premier Boxing Champions press conference took place at the Palm Restaurant near LA Live. Former two-division champion Danny "Swift" Garcia and Adrian Granados met the media at the swanky restaurant that serves $100 steaks. It's an 11a.m. event and for me and photographer Alonzo Coston that means taking off from our location in the Inland Empire at 9:30 a.m. at the latest.
We arrive a few minutes late but just in time to grab a seat as Garcia and Granados walk in dressed in dark suits.
Both are quick-witted guys.
"Your a** is grass and I'm the lawnmower baby," chided Garcia to Granados that immediately ignited laughter from the reporters and others.
That comment was countered.
"Nobody cuts grass better than a Mexican," said Chicago's Granados, a Mexican fighter that elicited more laughter from the crowd.
Anytime you get a Mexican and a Puerto Rican in a prize ring expect an explosion of unusual proportions. Anything can happen as boxing fans saw last month when Mexican-American fighter Andrew Cancio knocked out Puerto Rico's Alberto Machado to take the WBA featherweight title away. Machado had never lost.
Granados, 29, has six losses but has never been beaten decisively despite trading blows with Shawn Porter, Adrien Broner and Felix Diaz. Many could even argue he won each and every one of those fights.
"Adrian Granados could arguably be sitting up here with a record of 27-1, since all but one of his losses have been by split or majority decision, and usually it's in his opponent's backyard," said Tom Brown president of TGB Promotions.
Puerto Rico versus Mexico never disappoints. They meet on April 20 at Dignity Health Sports Park in Carson, Calif.
Norwalk
After speaking with both Garcia and Granados we jumped back in the car and headed to the suburban city of Norwalk, Calif. about 20 miles southeast.
Expected to be at the Legendz Gym but who could not make the media day was Ryan "The Flash" Garcia. Instead, the several dozen reporters at the outdoor boxing complex received their first glimpse of world champion Angel "Tito" Acosta of Puerto Rico who holds the WBO light flyweight belt.
"My goal right now is to keep defending my title, but if the opportunity to unify presents itself, we will take it," said Acosta who is co-promoted by Golden Boy Promotions and Cotto Promotions. "But right now, I'm not thinking about any other opponent. I'm focused on Ganigan Lopez. After that, we can talk about other opponents."
It's another Puerto Rico versus Mexico matchup.
Acosta (19-1, 19 KOs) defends against Mexico's Ganigan Lopez (35-8, 19 KOs) on March 30 at Fantasy Springs Casino in Indio, Calif. DAZN will stream.
Also on the same card will be Ireland's undefeated welterweight Aaron McKenna. The tall prizefighter known as "the Silencer" has spent more than a year in Southern California. In that time he's noticed the difference between Ireland and Southern California.
"There are so many more gyms here. In every gym there seems to be a world champion or contender," said McKenna, 19, from Smithborough, Ireland. "The sparring is brilliant."
Top Rank in OC
Heavyweights and featherweights lead the Top Rank fight card on Saturday March 23, at the OC Hangar in Costa Mesa, Calif. The fight card will be shown on ESPN.
A battle of former super bantamweight world champions finds Rico Ramos (30-5, 14 KOs) meeting Jessie Magdaleno (25-1, 18 KOs) in a featherweight clash set for 10 rounds.
Ramos, 31, trains in Maywood with Rudy Hernandez and has been racking up wins since his last loss back in 2015 against Claudio Marrero. He's beaten some tough guys but has met the enemy and that enemy is making weight. Working with Hernandez is sought to be the remedy for that problem. This is a make or break fight for the slick fighting Ramos.
Magdaleno, 27, fights out of Las Vegas now and like Ramos his enemy is the weight scale. He has not fought since losing the WBO world title to Isaac Dogboe by knockout and that was nearly a year ago. He's a southpaw with serious pop and will need to be sharp against Ramos. It's a very good match between former world champions.
Also, heavyweight contender Kubrat Pulev (26-1, 13 KOs) of Bulgaria meets Bogdan Dinu (18-1, 14 KOs) of Romania in a 10 round fight.
Pulev, 37, has only lost to Wladimir Klitschko and that was back in November 2014. Since then he's beaten Dereck Chisora, Samuel Peter and others.
Dinu, 32, has only lost to Jarrell "Big Baby" Miller and that was this past November in Kansas. He's accustomed to fighting in Eastern Europe and now faces an Eastern European in Pulev. Somebody has got to go.
Doors open at 3:30 on Saturday.
Hollywood Again
Tom Loeffler's 360 Promotions returns to the Avalon Theater in Hollywood for another of its popular shows on Sunday March 24. This time super welterweights lead the card.
Serhii "El Flaco" Bohachuk (12-0, 12 KOs) has an extremely tough assignment facing southpaw speedster Cleotis "Mookie" Pendarvis (21-4-2, 9 KOs) in the main event set for eight rounds.
Bohachuk, 23, is part of the Big Bear crew and is taught by Mexican style trainer Abel Sanchez. This will be his fourth appearance on the Hollywood Fight Night series on Vine Street near Hollywood Blvd. that usually brings a celebrity or two to the party. On paper this might be the Ukrainian's toughest foe.
Pendarvis, now 32, has been around the block and has a defensive style that is tough to crack. He won't be standing still for Bohachuk unless the legs are gone for the lefty speedster who has fought talented foes like Mauricio Herrera, Dierry Jean, and Steve Quinonez. He was often hired as a sparring partner by those facing Floyd Mayweather.
Though talented, Pendarvis never met expectations and after a nearly four-year layoff he was signed by a manager who took him to Mexico where he reeled off four consecutive victories the past two years.
Also on the card will be two other Abel Sanchez proteges from Kazakhstan Ali Akhmedov and Meiirum Nursultanov in separate bouts.
A number of local L.A. fighters fill the card including bantamweight George Navarro whose last fight at the same venue ended in a spectacular knockout win. Another returning fighter will be stylish Adrian Corona a super featherweight from Rialto, Calif.
Doors open at 3 p.m.
The marathon of prize fights continues in Southern California and we're only in March. Imagine once the weather heats up. This year looks to be the busiest in the history of prizefighting in Southern California. It might possibly be the busiest any region has ever been for staging prize fights in history.
I may need a helicopter to get around.
Photo credit: LA Magazine
Check out more boxing news on video at The Boxing Channel
To comment on this story in The Fight Forum CLICK HERE
Looking at Odds for GBP on DAZN This Thursday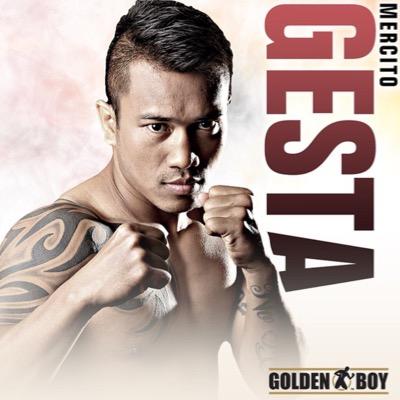 Oscar de la Hoya and his Golden Boy Promotions are set for a full night of fights at L.A.'s Avalon Theater this Thursday night that sees the main events air on DAZN.
The main event is a 10 -round lightweight bout featuring Mercito Gesta (33-2-2) as he faces veteran Juan Antonio Rodriguez. Gesta lost to Jorge Linares in a world title fight in January of 2018 and back in 2012 he lost his first world title shot to Miguel Vasquez. After the Linares loss he returned to win an eight rounder in June and he has been off since then.
Gesta sees himself in the world title picture and will be heavily favored to start a winning streak on Thursday as Rodriguez, 29-7 overall, is coming off a layoff of more than two years. Prior to being on the shelf, he was 3-3 in his last half dozen fights, but that includes losses to Jezreel Corrales and Javier Fortuna, both of whom went on to win world titles.
Featherweight prospect Manuel Avila faces Jose Santos Gonzalez as the 23-1 Avila returns to action after a 15-month layoff. Avila took the lone loss of his career in May of 2017 when he faced GBP top gun Joseph "JoJo" Diaz. He bounced back to win an eight rounder in November of 2017 then he took all of 2018 off. In Gonzalez he is facing a fighter with a 23-7 overall record who has lost five of his last six fights.
A welterweight match-up featuring two undefeated fighters from the Golden Boy roster is set for eight rounds as Ferdinand Kerobyan (10-0) faces Blair Cobbs (9-0-1).  The odds for this one widely favor Kerobyan who hails from Armenia and brings a big amateur resume with him in terms of experience. The pro records look pretty much the same, with this clearly being a step up fight for both men.
Below are the odds at the sportsbooks as they stand a few days before fight time. Check your local listings for start times on DAZN.
 Welterweight 8 rounds – 
Ferdinand Kerobyan -3000 Under 5 ½ +400
Blair Cobbs +1500 Over 5½ -550
Featherweight 8 rounds –
Manuel Avila -1600 Under 5 ½ +525
Jose Santos Gonzalez +1050 Over 5½ -860
Lightweight 10 rounds –
Mercito Gesta -2000 Under 7½ +285
Juan Antonio Rodriguez +1250 Over 7 ½ -375
To comment on this story in The Fight Forum CLICK HERE