Kosei Tanaka: 5-0, But a "World Champion"
The quotation marks need explaining: I, like so many other boxing fans, cannot take the proliferation of alphabet belts seriously. As every seasoned Sweet Science reader knows, a man holding a given trinket is never much better than three or four-to-one on to be the best fighter in the division. Still, even in a case where a youngster is scooping up a vacant strap rather than beating an incumbent champion, the speed with which a prospect is matched for one of boxing's many alphabet belts is telling. It imparts to the fan the confidence in which the would-be-title-holder is held by his management and fistic team. A gym knows a fighter better than a fighter will ever know a gym. Kosei Tanaka's gym showed the confidence to see him matched for a world title in just his fifth outing last weekend, in Aichi, Japan.
The number is not without significance. Naoya Inoue, aka "The Monster", currently a dark horse galloping on the pound-for-pound beach after just eight contests, is a two weight world-champion who must name, already, among the most dangerous fighters on the planet. He was allowed to match for a strap in his sixth contest; Tanaka has just broken his record for a Japanese fighter claiming a strap by a single fight. The fact that Inoue was matched for his second title two weights north, at super-flyweight, just eight months later, leaves him as a distant speck on Kosei Tanaka's horizon, but he has signalled a warning note to his more prestigious countrymen and it is not a discord that will go unnoticed by the former record holder. For all that Tanaka and Inoue are said to like and respect one-another, a future in which they do not meet for every marble the Japanese fight scene can muster does not seem possible.
Tanaka's opponent for his this prestigious occasion was Julian Yedras. Yedras, out of Campeche, Mexico, is at first glance every inch the ABC setup one has come to expect from occasions that see a valuable commodity like Tanaka anointed champion, and to an extent he was; as a challenge, Yedras represents neither the advanced thuggery of Orlando Salido, who derailed Vasyl Lomachenko's early attempt at a strap, nor Inoue's extreme daring in taking on divisional #1 Adrian Hernandez, for his first title outing. But, having now dropped to just 24-2, Yedras brought more than enough to his teenage opponent's table to make things interesting.
A record populated mainly by journeymen and prospects, the Mexican's status is clear, and it is not that of a strapholder – but Yedras had matched one outstanding fighter in Carlos Buitrago, currently ranked the #5 minimumweight in the world. The result was a points loss and perusing the scorecards we can see that it is a wide one (116-113, 118-111, 118-110), but as is so often the case the cards do not tell the story.
Buitrago landed combinations often and they were consistently the better punches, but Yedras had his successes also. Wild-swinging and impossible to discourage, he thundered forwards against his slicker, more experienced opponent, popping out a torqueless jab with persistence, shaping himself around a whipping hook and digging in a right hand to the body. A thudding, rather than a stinging hitter, an apparent lack of power handicaps him but Yedras has at least some of the banditry that made Salido so dangerous, even if he lacks certain elements of style and, shall we say, artistry which his fellow Mexican mastered.
Nevertheless, Yedras looked a handful against Buitrago, and early in the fight he put together a rather frightening rush on the cards. In the mid-rounds Buitrago had mastered him, or so it seemed, until the tenth, when it suddenly looked as though the Mexican's dogged determination and investment in the body might pay off; the round was close, but I scored it for him, making the fight take on a narrow appearance entering the eleventh. Had Yedras taken both remaining rounds he would have made a draw on my card, and according to broadcaster Box Azteca, he would have done enough to win. In the end, I thought that Yedras won the fight quite literally in the final seconds of the twelfth where he rallied and appeared to hurt his man. It was that close.
This fight gave me the impression that Yedras would be dangerous for Tanaka. So it would prove. He was clearly the fresher man in the closing rounds against the more elite Buitrago, and capable of concentrated bursts of consistent pressure yielding consecutive rounds on the scorecards. This is a dangerous combination for a prospect that has yet to do the twelve. Any sudden lapses of will would be exposed; any tiny coughs in his engine would be heard and pounced upon – and any stylistic tics, say, the propensity to exchange unadvisedly or a failure to work to keep a more limited fighter on the outside could be ruthlessly exploited.
As I wrote in profiling Tanaka in February (an article you can read here), Kosei is "a box-mover in the truest sense, a methodology designed to embrace, to the greatest extent, his natural gifts…it works well for a fighter with the necessary speed." Speed, the kid has, in abundance, and he was able to repeatedly get around the corner on the Mexican with his left-hook and counter his opponent's best work in the early rounds. Unsurprisingly to anyone who had seen his fight with Buitrago, however, Yedras was able to match jabs with the young Japanese. As it provided countering opportunities for Tanaka this seemed, perhaps, not to matter; but the plot would shortly thicken.
But before we get to Yedras and his inevitable surge, let's take a moment to appreciate those things that the fledgling Tanaka does so well; the way he can find a three punch combination to the body off a jab to the face; the footspeed that guides him all the way around his back-stepping opponent to find the hook behind the ear without giving up a punching opportunity; the guard-splitting uppercut behind which he vanishes in a cloud of ethereal footwork; the stunning straight, hook, straight combination that sent the granite-chinned Mexican reeling to the ropes in the second. Old men in hard gyms might shed a single tear at seeing such skill demonstrated by an eighteen month professional, but Tanaka already makes them look easy. He is unencumbered by doubt or bulk.
Returning to Yedras and his jab, his surge. While it is true that his jab was absolutely failing to do its most important job, namely keep the spritely Tanaka busy, Yedras embraced this fact which was so detrimental to his scorecard and his face, and slowly, surely, he followed his jab in, and by the middle of the third he found ground zero, his target, the space inside his opponent's rapier left-hook. Showing an immaturity typical of his age or perhaps even a machismo more typical of his opponent's national character, Tanaka elected to stay in the pocket and fight.
It led to some fantastic exchanges, as Tanaka's speed was neutralised by Yedras and his determination to punch regardless of what was coming the other way. It also induced in Tanaka a pause, eschewing the out-fighting at which he was so clearly the better, in favour of infighting, where the competition was hotter. Tanaka was still, clearly, winning the fight and he followed Yedras to the pocket with such savagery in the fifth that it seemed he may be on the verge of stopping him, but he dropped the fourth and perhaps the sixth, as Yedras stepped over the line from heart into sheer bloody-mindedness.
A golden fluidity on offence and defence brought Tanaka firmly back to the box-seat through eight, although fire-fights continued to break out with breath-taking regularity as the Japanese elected to hold his ground rather than move. In the ninth, Tanaka was finally chin-checked by a legitimate counter-right that landed flush and was perhaps momentarily troubled; but within seconds he had brushed the punch off and was back to his foraging attack, his chief weapon that varied, roaming left. Tanaka's swarm is composed of more fast punches than perhaps anyone in the sport right now. It's not that he has the out-and-out fastest hands, it's that he is bringing across the eighth punch in the swarm at the same speed as the first and second; his lack of power is now absolutely confirmed because he was landing so many shots that even a chin like the Mexican's couldn't hold up against these shots in volume from any kind of puncher. I would speculate, though, that his punches may have the disorienting qualities of a Joe Calzaghe, the ability to "mix a man's mind" so aptly described by Muhammad Ali.
While we now know absolutely that Tanaka lacks power, we can confirm, too, that he runs a deluxe engine. This was a fast fight and both men threw many punches but Tanaka is the man on the wrong end of the economy equation; he is a volume puncher who moves a lot, who circles, who forages. This means there will be few fights where he throws fewer punches than his opponent and perhaps none in which he will take fewer steps. Although Tanaka had the look of a tired man come the eleventh, and although he was likely out-worked in that round, he moved more, threw more, landed more, and rather unfortunately, showboated more than an opponent of seeming limitless stamina in the twelfth.
Those who were a little underwhelmed by Tanaka's belt-winning performance might consider this for a moment, as well as the fact that Yedras is a better opponent than has generally been credited. It is also worth considering that of the official scorecards, the two judges scoring 117-111 are far more a reflection of reality than the third card which read 115-113, and which seems close to unjustifiable. Finally, it should never be forgotten that Tanaka was 4-0 at bell. The aforementioned Muhammad Ali was fighting a late substitute by the name of Jimmy Robinson at that point in his career. Robinson, a career light-heavy, amassed a final record of 11-26. Joe Calzaghe on the other hand was fighting a Cypriot named Martin Rosamond. Rosamond, fighting his last fight, dropped to 10-16 and was stopped that night for the tenth time. Tanaka is ahead of the curve based upon this result, not behind it. Unlike Ali and Calzaghe he will learn his trade against ranked men, not journeymen. It seems likely that his opponent in one of his next two fights will be fellow Japanese Katsunari Takayama, inarguably among the three best minimumweights in the world. A victory over Takayama followed by a successful title-tilt somewhere north of 105lbs, a weight Tanaka is happy to acknowledge he won't be able to make forever, and Japan will have another fighter breathing down the neck of the pound-for-pound list before he has even had ten fights.
That is all quite far away, admittedly. But there may be a change of wind coming. It blows from the East.
Lomachenko – Pedraza and More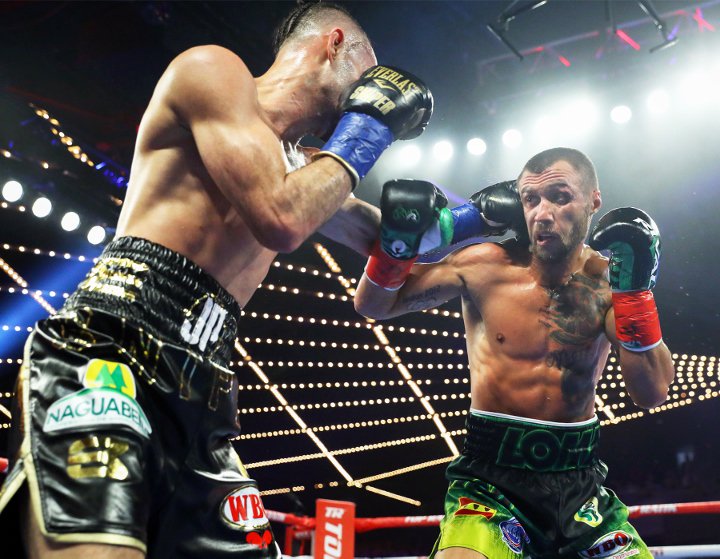 Boxing returned to the Hulu Theater at Madison Square Garden on December 1. Vasyl Lomachenko vs. Jose Pedraza in the main event drew a sellout crowd of 5,312. The non-televised undercard was respectable. And the three-fight telecast that followed the Heisman Trophy presentation on ESPN had moments of drama.
The first televised bout of the evening showcased Teofimo Lopez (10-0, 8 KOs), a 21-year-old lightweight who's rapidly moving from prospect to contender status. Mason Menard (34-3, 24 KOs) was Lopez's designated victim. All three of Menard's losses had been by knockout and this was expected to be the fourth "KO by" on his record.
Lopez has all the confidence and arrogance of a young fighter with a big punch who's on the rise. It took him all of 44 seconds to blast Menard into oblivion.
Next up, 24-year-old Isaac Dogboe (20-0, 14 KOs) sought to defend his WBO 122-pound title against Emanuel Navarrete (25-1, 22 KOs) of Mexico. Dogboe was born in Ghana but grew up in England. He claimed his belt with an eleventh-round stoppage of Jessie Magdaleno in April of this year and was considered a fighter who doesn't need protecting.
Navarrete was fighting outside of Mexico for the first time, which is often a sign of a padded record.
Dogboe entered the bout as a 7-to-1 betting favorite and mounted a two-fisted assault to the head and body in the first stanza. But Navarrete had come to fight and began landing shots of his own in round two, at which point Issaac's chin seemed a bit suspect. As the bout wore on, Dogboe did his best work on the inside. When he gave Navarrete room to punch, Emanuel obliged him.
It was a spirited, back-and forth, action encounter that was even after eight rounds. Then Navarrete picked up the pace and won the final four frames going away. By the end, Dogboe's face was badly swollen; his left eye was almost shut; and he was trying simply to survive. He made it to the final bell but was dethroned by a 116-112, 116-112, 115-113 margin.
Good fight, good decision.
Lomachenko (11, 9 KOs) vs. Pedraza (25-1, 12 KOs) was promoted on the basis of both men having titles, which is a little like promoting a title-unification football game between the Big Ten and Ivy League champions.
Lomachenko's ring prowess has been amply catalogued. Twelve of his professional bouts have been contested for world titles. He's an elite fighter while Pedraza is a good one. In match ups like that, the elite fighter almost always wins.
Top Rank had planned to match Lomachenko (the WBO 135-pound champion) against Raymundo Beltran (the WBA beltholder) as part of an "immigrant-from-Mexico-gets-citizenship" feel-good story. But Pedraza upset the apple cart in August of this year by winning a unanimous-decision over Beltran.
Lomachenko was returning to the ring after surgery to repair a torn labrum suffered in his right shoulder during a May 12 victory over Jorge Linares. Still, Vasyl was an early 12-to-1 favorite over Pedraza and the odds moved as high as 20-to-1 reflecting the fighters' respective ring skills.
The crowd was highly-partisan in favor of Lomachenko. Fighters from Puerto Rico are rarely booed in New York during pre-fight introductions, but it happened here.
It was an interesting exercise for boxing purists. The early rounds were tactically fought. Then Lomachenko figured out what he had to do to beat Pedraza down and did it. Many of the early rounds were close enough that the judges could have given them to whichever fighter they wanted to. But Lomachenko pulled away late, putting an exclamation mark on his performance with two eleventh-round knockdowns that came close to ending matters short of the 119-107, 117-112, 117-112 judges' verdict in his favor.
Lomachenko looked a bit less "high tech" against Pedraza than he has in the past. He didn't exploit angles as effectively and control the range as well as in some of his earlier fights. Part of that was because Pedraza is fast on his feet and spent long portions of the evening jabbing and moving away. Another reason might be that Lomachenko's best fighting weight by his own evaluation is 130 pounds. There were times when he had trouble with Jorge Linares's height and reach when he fought Linares seven months ago. And that was true for stretches of time against the taller Pedraza. Mikey Garcia might be a bit too big for Lomachenko.
Photo credit: Mikey Williams / Top Rank
Thomas Hauser's new email address is thomashauserwriter@gmail.com. His most recent book – Protect Yourself at All Times– was published by the University of Arkansas Press. In 2004, the Boxing Writers Association of America honored Hauser with the Nat Fleischer Award for career excellence in boxing journalism.
Check out more boxing news on video at The Boxing Channel
To comment on this article at The Fight Forum, CLICK HERE
Cecilia Braekhus, Claressa Shields Win at the StubHub plus Undercard Results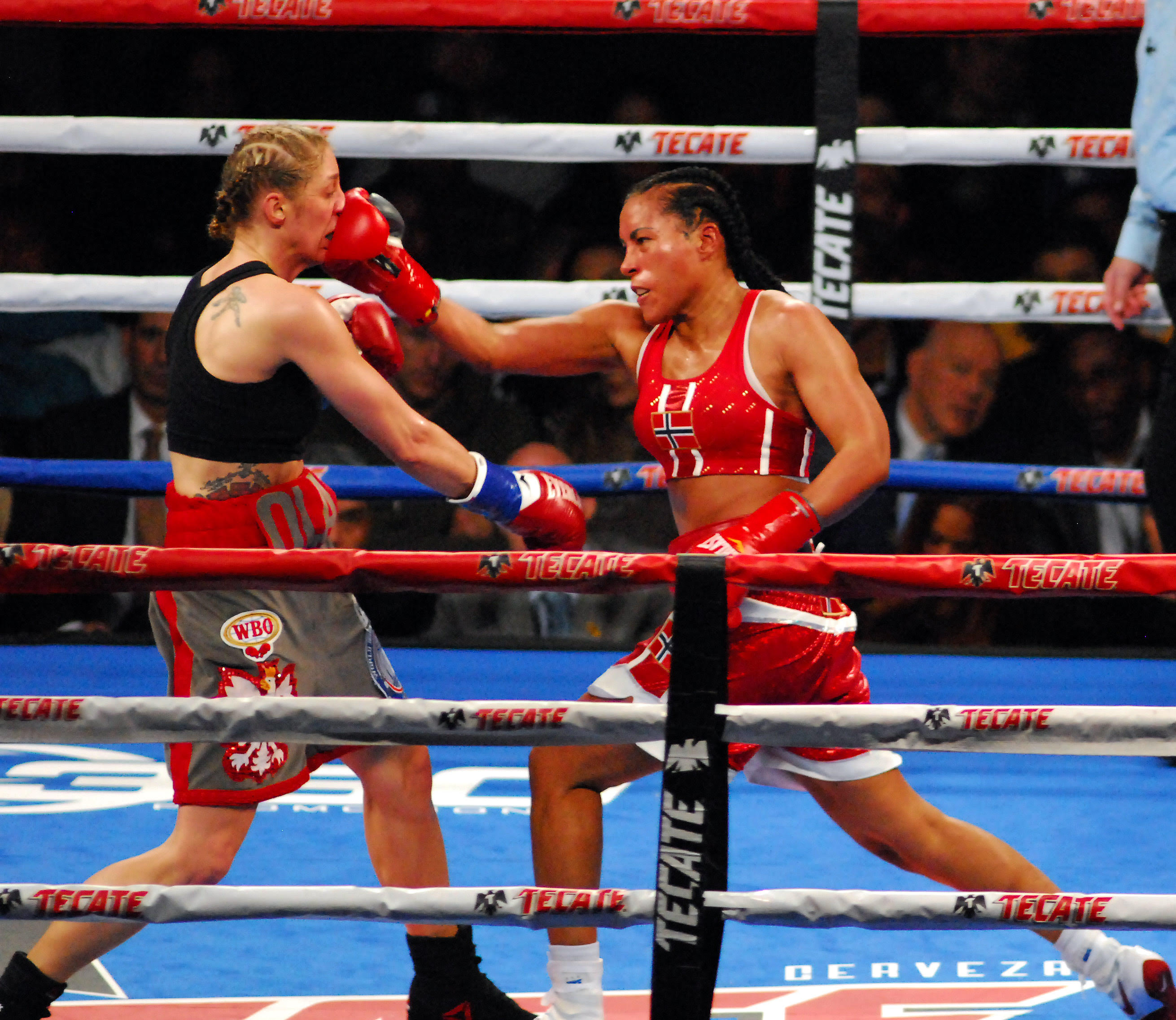 LOS ANGELES-A farewell show by boxing network HBO showcased two dominant women in the boxing world as Cecilia Braekhus and Claressa Shields mowed through their respective opponents with little resistance on Saturday.
Braekhus (35-0, 9 KOs) tried hard to put another knockout on her ledger but Aleksandra Magdziak-Lopes showed enough resistance to go the distance in front of a sparse and cold crowd numbering less than 1,000 at the StubHub Center.
The Norwegian fighter Braekhus won by unanimous decision after 10 rounds and retains her hold on the undisputed welterweight championship that includes the WBA, WBC, WBO, IBF and IBO world titles.
Braekhus started slowly and patiently in the first two rounds but was able to rifle right hands and left hooks through the slower Lopes guard. But she never could put that finishing touch.
In the fifth round a counter right cross staggered Lopes but she remained upright though visibly hurt. A follow up attack proved unsuccessful by the welterweight champion.
"I wanted to knock out the girl who also beat Kali Reis," said Braekhus "I might have pushed it too much. I got a little bit eager. That normally shouldn't happen but this is a historical night."
It was the final show of HBO's 45 year reign as one of boxing's premier networks.
"I'm just so honored to be on HBO," said Braekhus
El Gallo
Mexico's Juan "El Gallo" Francisco Estrada (38-3, 26 KOs) won by stoppage at the end of round seven against fellow hometown fighter Victor Mendez (28-4-2, 20 KOs) at the end of the seventh round in their super flyweight clash.
Both fighters hail from Hermosillo, Mexico but there was no hometown comradery as Estrada broke down Mendez more and more each round. Each round seemed to incite more blows from Estrada who fired five and six-punch combinations with ease to the body and head.
Mendez tried to fight his way out of the onslaught but his blows did not seem to have the effect desired. Instead, Estrada would open up even more with left hook to the body and left uppercut to the chin.
Finally, after one particularly rough one-sided round, Mendez's corner stopped the fight.
Claressa
In less than a month Claressa Shields (8-0, 2 KOs) wiped out another middleweight contender, this time Belgium's Femke Hermans (9-2, 3 KOs) by unanimous decision after 10 one-side rounds.
Three weeks ago Shields had dominated Scotland's Hannah Rankin in similar fashion and had few problems with either European fighter. But sitting front row in the audience was Christina Hammer who holds the WBO version. She will be next.
Shields powered through Hermans with her amped up aggressive style and was especially effective with the check left hook. She also rocked the Belgian fighter with over hand rights but could not drop the European fighter who holds a super middleweight world title.
Hermans learned in the first two rounds she couldn't match the two-time Olympic gold medalist's speed, so she settled into a defensive counter punching style. It did not work.
Though Shields tried luring the European fighter into some traps, the Belgian boxer refused to lead. The fight was Shields to take. She began pummeling the body especially in the fourth and fifth rounds. In one volley she unloaded seven consecutive body shots and easily slipped a counter right.
Shields wobbled Hermans in the ninth round with a left hook and staggered her with a pair of shots in the 10th round. But the Belgian fighter stayed on her feet. All three judges scored the fight 100-90 for Shields who retains the WBA, WBC and IBF world titles.
Now Shields is set to face Hammer who has the WBO middleweight title in the early spring. Showtime will televise.
Hammer spoke to the media before the Shields-Hermans fight.
"I move around very well, I have better movement," said Hammer whose fight with Shields was postponed in November due to a stomach illness suffered by the tall German boxer. "I want to be the undisputed world champion."
Bang Bang
Australia's Louisa "Bang Bang" Hawton (9-2, 3 KOs) stopped Lorraine Villalobos (2-2-1) of Los Angeles at the end of fifth round in an atomweight fight set for 10 rounds.
Hawton and Villalobos exchanged furiously for three rounds with each connecting with big blows. But by the fourth round Villalobos slowed considerably and Hawton took over the fight.
The Aussie fighter was supposed to meet interim WBC atomweight titlist Brenda Flores who won a split decision last September. But Flores was forced to pull out.
Other Bouts
Serhii Bohachuk (12-0, 12 KOs) won by KO in the fifth round of a middleweight bout over Puerto Rico's Carlos Garcia Hernandez (15-19-1)
Mario Ramos (7-0, 7 KOs) knocked out Elliott Brown in the fifth round of a 6-round lightweight fight.
Light flyweight Shukichi Iwata won his pro debut with a fourth round KO of Joel Bermudez (0-2)
Lightweight Reno Moreno floored David Courtney with a body shot to win by KO in round four of a lightweight match.
Photo credit: Al Applerose
Check out more boxing news on video at The Boxing Channel
To comment on this article at The Fight Forum, CLICK HERE
Fast Results From Madison Square Garden: Lomachenko UD 12; Dogboe Upset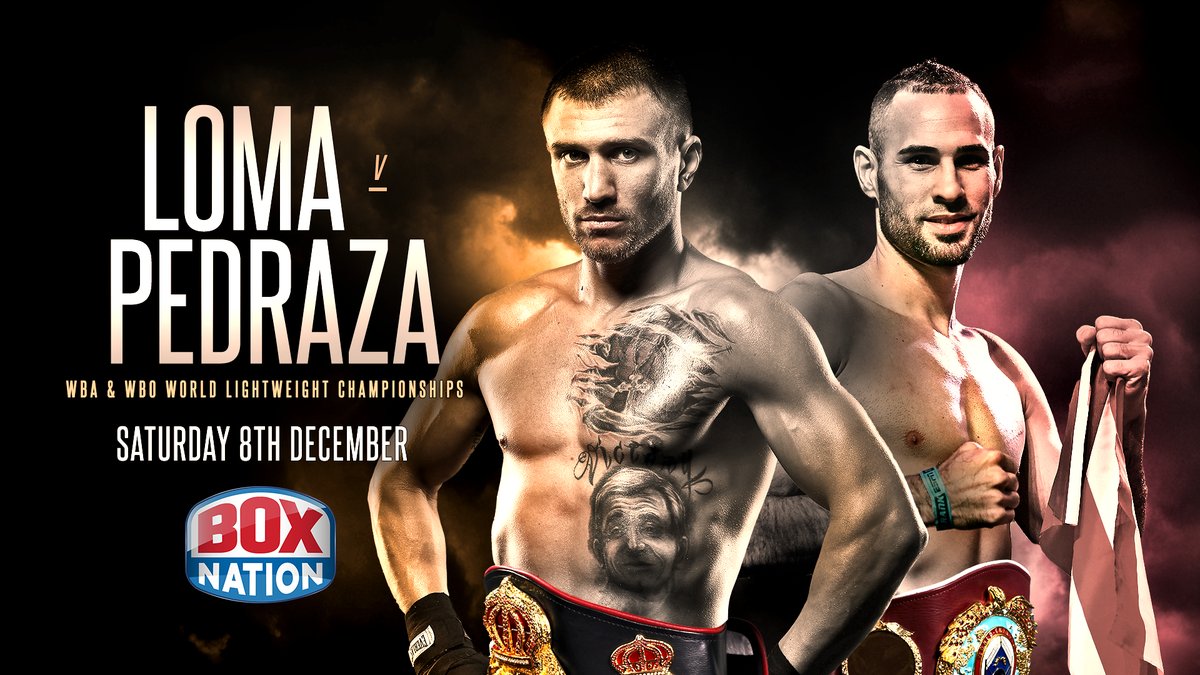 Vasiliy Lomachenko successfully defended his WBA lightweight title and added Jose Pedraza's WBO 135-pound belt with a unanimous decision. The scores were 119-107 and 117-109 twice.
Through the first 10 rounds, the bout was somewhat monotonous. Lomachenko landed the cleaner punches and was clearly ahead on the scorecards. The fight was redounding well to Gervonta Davis who handled Pedraza more handily than what Loma was doing. But then in the 11th, the Ukrainian solidified his reputation as an elite fighter, perhaps worthy of being considered #1 P4P. He strafed Pedraza with combinations to the head and body, landing 42 power punches according to CompuBox, and twice knocked Pedraza to his knees.
Pedraza weathered the storm and made it through the 12th, but when the final bell sounded there wasn't a shred of doubt that Lomachenko had won his 11th consecutive fight, improving to 12-1. Pedraza fell to 25-2.
DOGBOE-NAVARRETE
In a big upset, Mexico's unheralded Emanuel Navarrete, in his U.S. debut, wrested the WBO 122-pound title from previously undefeated Isaac Dogboe with a unanimous decision. The scores (116-112, 115-113 twice) did not reflect Navarrete's dominance. At the end of the fight, both of Dogboe's eyes were swollen and he was bleeding from his nose. In the late stages, the fight became so one-sided that referee Benjy Estevez would have been justified in stopping it. However, Estevez will be faulted in some quarters for missing a knockdown. In round nine, Navarrete went down hard from a punch that glanced off his shoulder and hit him in the face. Estevez ruled it a slip.
Navarrete was somewhat awkward, but he was bigger and stronger, four inches taller with an eight inch longer reach. With the victory, his twenty-first straight, he improved his ledger to 26-1. Dogboe lost for the first time in 25 starts.
LOPEZ-MENARD
In the first TV bout, Teofimo Lopez (11-0, 9 KOs) scored a spectacular one-punch knockout of Mason Menard (34-4). It was all over in 44 seconds.
Lopez, born in Brooklyn and raised in south Florida, tagged Menard on the jaw with a looping overhand right. The fighter from Cajunland fell face first to the canvas and was unconscious before he hit the floor. He was still woozy as he was helped from the ring.
OFF TV
Welterweight Alexander Besputin stepped up in class and made a very strong showing. Besputin (12-0, 9 KOs) took tough Juan Carlos Abreu of the Dominican Republic to school, knocking him down twice en route to winning a lopsided decision. Besputin won every round on all three cards. His showing was far better than that of the more ballyhooed Egidijus Kavaliauskas, the Lithuanian knockout artist who won a hard-fought 10-round decision over Abreu in Abreu's previous bout.
Italian heavyweight Guido Vianello, a policeman in Rome, won his pro debut with a second round stoppage of Luke Lyons. A 2016 Olympian who was 7-5 as a pro-am in the World Series of Boxing, Vianello has been training at Abel Sanchez's compound in Big Bear where he sparred with Tyson Fury. Lyons brought a 5-1-1 record but it was compiled on the disreputable West Virginia circuit.
Twenty-year-old Bronx junior welterweight Josue Vargas, in his first appearance at Madison Square Garden, stopped Panama's John Renteria (16-6-1) at the 32 second mark of round five. It was no contest as Vargas, who improved to 12-1 (8), knocked Renteria to the canvas three times before the bout was halted.
In the opening bout, slated for eight rounds in the junior welterweight class, Mexico's Abdiel Ramirez (24-3-1, 22 KOs) scored a mild upset with a 7th round stoppage of Newark's Michael Perez. There were three knockdowns in all with Perez hitting the deck in rounds one and seven. Ramirez was ahead on the cards at the time of the stoppage.
Check back tomorrow for Thomas Hauser's ringside report.
Check out more boxing news on video at The Boxing Channel
To comment on this article at The Fight Forum, CLICK HERE