ORTIZ DREAMS OF GOING SOMEPLACE CUBAN LEGENDS STEVENSON, SAVON DIDN'T
VERONA, N.Y. – For more than 40 years, some of Cuba's finest athletes, boxers and baseball players, have sought to flee their restrictive island nation for the shimmering promise of a better life in America or elsewhere. If they could just cross 90 miles of open and potentially hazardous water without being detained or apprehended, their dreams of freedom, not to mention the kind of wealth unimaginable in their Communist homeland, might be fulfilled. A few made it, on makeshift rafts or by procuring illegal passage on somewhat more seaworthy vessels. Others simply walked away from Cuban national touring teams and never returned.
But escape was never a sure thing, and there was often a steep price to pay for even making the attempt. Death by drowning was always a possibility for those who took to the sea. So, too, was capture and censure that stripped plotters of what little they had.
"You are a champion, and it means nothing," Guillermo Rigondeaux, a two-time Cuban Olympic champion, said in the Feb. 17, 2014, issue of ESPN The Magazine of his seven failed bids to reach the United States before succeeding on the eighth such try. "We are like dogs. After all your time is over, you end up telling stories on a street corner about how you used to be a star."
For his refusal to accept the impositions placed upon him, Rigondeaux was incarcerated for a time and his most prized possession, a car, was seized. He also was officially stripped of his status as a national hero. But Rigo's persistence served as a tale of reward as well as risk to other Cubans who might dare to follow him; in the U.S., he went on to capture two world professional titles in the super bantamweight division, a distinction unavailable to so many other great Cuban fighters who have been prohibited from turning professional since 1959, when the Fidel Castro's Revolutionary government banned pro sports as being somehow subersive.
In 2009, another Cuban fighter of some renown, heavyweight Luis Ortiz, was faced with a similar decision. Stay or go? Since he was a child, watching fuzzy black-and-white images of Muhammad Ali on his family's small television, he had fantasized of becoming heavyweight champion of the world – the real heavyweight champion. So he bribed his way onto a speedboat captained by a sufficiently shady character, made his way to Mexico and, ultimately, to Miami, Fla., a city with a heavily Cuban section appropriately called "Little Havana."
At 36, Ortiz (24-0, 21 KOs) hardly can be described as boxing's hot new discovery. But, in a way, he is just that. The 6-foot-4, 239-pounder took another step toward becoming the first Cuban to win a widely recognized heavyweight championship as a pro when he scored an electrifying, seventh-round technical knockout of highly regarded Philadelphian Bryant "By-By" Jennings (19-2, 10 KOs) here Saturday night at the Turning Stone Resort Casino.
By virtue of his victory, Ortiz – who is ranked No. 1 by the WBA – retained his virtually worthless WBA "interim" belt, the existence of which seems purely arbitrary when one considers that the WBA already has a "super" heavyweight champion (England's Tyson Fury) and a "regular" heavyweight champion (Uzbekistan's Ruslan Chagaev). But winning as impressively as he did, in the main event of an HBO "Boxing After Dark" telecast, has to move the man known as "The Real King Kong" closer to a title shot at either Fury (25-0, 18 KOs), who also holds the WBO, IBO, The Ring magazine and lineal crowns, or WBC champ Deontay Wilder (35-0, 34 KOs), of Tuscaloosa, Ala.
"I want to fight the best. Line them up. I'll fight them all," said Ortiz, who added he'd be more than pleased to fight Fury or Wilder as soon as possible. "HBO and Golden Boy (Ortiz's promotional company) will decide. But I think I deserve to be there (at the front of the line for either) because I am one of the best out there."
Ortiz's breakthrough performance seems even more significant if stories about his physical condition in the days leading up to Saturday's bout are accurate. To hear Ortiz's trainer, Herman Calcedo, tell it, Ortiz spent six of the 10 days leading up to the fight in bed, battling a flu bug that proved more of an obstacle to be overcome than Jennings presented inside the ropes.
"He was really a mess," Calcedo said of Ortiz, who kept his illness a secret and was determined to go through with the fight no matter what. "He couldn't do anything. He had a fever, congestion, a runny nose and a cough. We went against the doctor's orders and took nothing (by way of medication). But we told everyone we had to (including the Oneida National boxing commission) that Luis was sick."
In addition to overcoming Jennings and that nasty flu bug, Ortiz was determined to restore his reputation as a clean fighter, which took a hit following his Sept. 11, 2014, first-round stoppage of Nigeria's Lateef Kayode, an outcome that was subsequently changed to a no-decision when Ortiz tested positive for the anabolic steroid Nandrolone. Ortiz claimed the test result was the result of having ingested horse meat, which is frequently infused with Nandrolone and is a not an uncommon part of many Cubans' diets.
WBA officials apparently believed Ortiz, for he was allowed to fight again for that organization's "interim" heavyweight title on Oct. 17 and he again claimed it with a third-round knockout of Argentina's Matias Ariel Vidondo in Madison Square Garden, a bout also televised by HBO.
With a reported 343-19 amateur record that includes the 2006 Cuban heavyweight championship and the 2005 Pan American Games heavyweight gold medal, Ortiz had unquestionably established himself at the quasi-elite level before he took a leap of faith and made his way to America. But no one in Cuba or anywhere else was ready to anoint him as the best of the best of Cuban big men, nor are they now. It's just that, well, he appears to be the right guy in the right place at the right time to possibly make history.
With a current population of just 11.27 million, or 0.035 percent of the United States' population of 318.19 million, it can be reasonably argued that Cuba produces more great fighters per capita than any country. Prior to the Cuban Revolution of 1959 that placed Fidel Castro in power, the small Caribbean island had produced six world professional champions, including International Boxing Hall of Famers Kid Gavilan, Eligio "Kid Chocolate" Sardinas, Jose Napoles, Luis Rodriguez and Sugar Ramos.
But, beginning with the 1972 Munich Olympics – the first Olympiad in which Cuba elected to compete – the success of Cuban boxers almost staggers the imagination. Since that time, Cuba has come away with 34 gold medals, 17 silvers and 14 bronzes, numbers which surely would have increased had not Cuba boycotted the 1984 Los Angeles and 1988 Seoul Games for politically motivated reasons.
Of the three fighters to have taken gold medals in three Olympics, two are Cubans – legendary heavyweights Teofilo Stevenson (1972, '76 and '80) and Felix Savon (1992, '96 and '00). Hungary's Laszlo Papp is the other.
In all of boxing history, one only Olympic champion, American heavyweight Pete Rademacher, made his pro debut by fighting for a world professional title. Rademacher, who took gold at the 1956 Melbourne Olympics, was knocked out in six rounds by champion Floyd Patterson on Aug. 22, 1957.
Two of the most intriguing bouts that never happened might have seen Stevenson and Savon achieve what Rademacher didn't. There was some talk of pairing Stevenson against an aging Ali, which would have been a huge global attraction, and it wasn't all idle gossip. Longtime boxing publicist Bill Caplan said the Cuban government was receptive to the idea, provided the fight not take place in the U.S. (the likely landing spot was Rio de Janeiro). But the man who was trying to put the deal together, Ben Thompson, mysteriously vanished and no one stepped forward to take his place.
Similar speculation that Mike Tyson might share a ring with Savon was more of a pipe dream, but that bout also would have been immensely attractive had it come off. Stevenson and Savon could have forced the issue had they joined the ranks of Cuban defectors, but they were committed to Castro's socialist policies and frequently expressed their contentment at remaining in the land of their birth.
While Ortiz is one of several successful Cuban pros in recent years, joining the likes of lower-weight stars such as Rigondeaux, Joel Casamayor and Yuriokis Gamboa, among others, Cuban heavyweights who bolted have been unable to make that breakthrough to the very top. Jorge Luis Gonzalez was knocked out by WBO champion Riddick Bowe in six rounds on June 17, 1995, and Odlanier Solis didn't even make it out of the first round against WBC titlist Vitali Klitschko on March 19, 2011.
Now along comes Ortiz who, he proudly notes, shares the same birthday (March 29) as the legendary Stevenson, who was 60 when he died of a heart attack on June 11, 2012. Upon the occasion of his death, the British Boxing Corporation pronounced Stevenson as "Cuba's greatest boxer, and once its most famous figure after Fidel Castro."
"Yes, of course. They were my idols," Ortiz said when asked if Stevenson and Savon had had an influence on his career. "In Cuba, they're everybody's idols."
The world as it was is changing, and some of those changes could present the kind of opportunities for Ortiz, or maybe some future Cuban heavyweight, that weren't available to Stevenson and Savon. The Obama administration has taken steps to normalize diplomatic relations with Cuba, or at least reduce decades-long tensions, which could mean the end of dangerous flotillas on rafts in shark-infested waters. It could even mean Ortiz fighting for, or even defending, a world heavyweight championship in Havana.
"It's a dream of his," Golden Boy matchmaker Eric Gomez said of Ortiz's desire to return to his homeland as a conquering hero. "Obviously, with the history of heavyweights in Cuba, with Stevenson and Savon, it would be big – and I mean BIG. We've talked about taking him back to Cuba when the time is right. It's not right yet, but it's getting there."
Gamboa (25-1, 17 KOs), a former WBA and IBF featherweight champion, defected while training in Venezuela, making his way to Germany and then on to the U.S. He fought on the Ortiz-Jennings undercard, scoring a 10-round, unanimous decision over Hylon Williams (16-2-1, 3 KOs). But leaving Cuba now does not necessarily mean that Cuban athletes can never go back.
"I trained in Cuba," he noted, a prodigal returning to home, if only for a little while.
Jonathan Esquivel Remains Unbeaten and Raquel Miller Wins NABF Title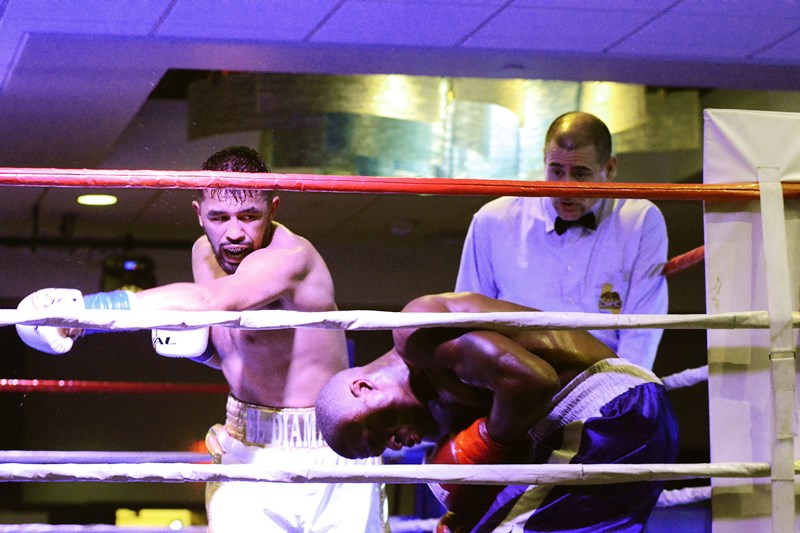 HAWAIIAN GARDENS, Calif.-Undefeated Jonathan Esquivel attracted a large and lively crowd and they weren't disappointed in his knockout win over Tavoris Teague on Saturday.
Esquivel (10-0, 9 KOs) showed the large contingent of fans that sold out the Hawaiian Gardens Casino that the tricky Teague (6-27-4) could not compete for four full rounds in their super middleweight clash.
The fight ended at 2:11 of the fourth when Teague was overwhelmed by Esquivel but remained standing up as referee Zachary Young ended the fight.
Esquivel, who lives in nearby Santa Ana, California, brought more than 200 fans and they saw him struggle a bit with Teague, but after two flat rounds, the southpaw began finding the range and unleashed a barrage of punches that Teague could not avoid. The end came suddenly but the Orange County fighter remains with an unblemished record.
NABF Female Title
Female middleweight contenders headed the main event and former Olympic alternate Raquel "Pretty Beast" Miller (9-0, 4 KOs) showed her professional game is intact with a knockout win over veteran Erin Toughill (7-5-1) to win the vacant NABF middleweight title.
Miller didn't waste time and knocked Toughill down in the first exchange with a short right cross that dropped the veteran fighter who had nearly toppled middleweight contender Maricela Cornejo in her last ring appearance.
Speed was her greatest asset and Miller used it to full advantage as she jabbed her way through Toughill's guard and landed quick three-punch combinations. For the first three rounds Miller was in full control.
Around the fourth round Miller seemed in cruise mode when Toughill rammed several rights against her foe and followed up with more right crosses. All seemed to land flush and Miller was moved backwards with the blows. Though Toughill did not land more punches than Miller, the solid blows were enough to win her first round.
In the fifth round Toughill seemed confident that she had discovered the remedy for Miller's speedy punches and kept ramming rights through the guard. Again Toughill seemed to be able to land the more effective blows, but though they landed they didn't seem to hurt Miller, but rather perplexed her.
Miller seemed more intent to reverse the momentum and launched a quick solid three-punch combination on Toughill who seemed surprised by the blows. After absorbing a Miller right Toughill retaliated with a left hook and another left hook. The change of pace seemed to keep Miller off balance but toward the end of the sixth round a screaming left jab connected followed by a solid one-two combination. Miller had quickly regained the momentum.
The seventh round saw both fighters race toward each other with Miller connecting with a lead right that snapped Toughill's head back. Miller followed up quickly with a snapping jab, jab and left hook that caught Toughill perfectly and dropped her immediately to the floor. She beat the count but when referee Zachary Young asked her to put her hands up:
"She gave me a strange look and I had to end it," said Young of Toughill's response.
When asked what punch caused the knockout Miller was unsure.
"I don't remember what punch I used, I'm just excited to win the title," said Miller who won by knockout at 1:01 of the seventh round.
Miller wins the NABF middleweight title and becomes an automatic contender for the WBC version of the middleweight world title. Claressa Shields is the undisputed middleweight world champion and holds the WBC, WBA, IBF and WBO world titles.
"I'm all about smooth boxing but I can bang if I have to," said Miller.
Yes she can.
Other Bout
Super middleweights Kenny Quach (0-1-1) and Johnny Cisneros (0-0-1) ended in a draw after four closely fought rounds. Cisneros fights out of Riverside and was making his pro debut. Quach fights out of Santa Ana, Calif.
Photo credit: Al Applerose
Check out more boxing news on video at The Boxing Channel
Fast Results from Brooklyn: Wilder Knocks Out Breazeale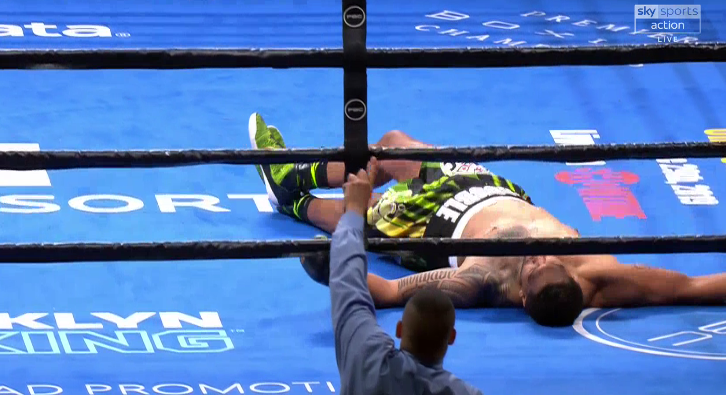 Deontay Wilder vs. Dominic Breazeale figures to be entertaining for as long as it lasts said one pundit and he could not have been more prescient. Entertaining it was although if you were distracted you likely missed it. It was all over in 137 seconds
Wilder, making the ninth defense of his WBC world heavyweight title, stunned Breazeale with a big right hand early in the contest but then walked into a wild right hand by Breazeale and was himself momentarily stunned. He had enough presence of mind, however, to keep his cannon of a right hand unholstered and a few moments later he unleashed it again, leaving poor Breazeale flat on his back. Breazeale made it to his feet, seemingly as referee Harvey Dock reached the count of "10," but he was in dire straits and the bout was waived it off.
This was the same Dominic Breazeale who lasted into the seventh round with Anthony Joshua not quite two years ago. As for Wilder, he remains undefeated with his 40th knockout in 42 pro starts and a match between him and Joshua or a rematch with Tyson Fury looms bigger than ever.
Co-Feature
WBC world featherweight champion Gary Russell Jr. successfully defended his title and completed the hat trick for the Russell Brothers with a fifth round stoppage of Spain's Kiko Martinez. Russell (30-1, 18 KOs) was just too fast for the Spaniard and was on his way to a comfortable win on points when the fight was waived off at the suggestion of the ring physician because of a bad cut over Martinez's left eye. A former IBF 122-pound champion, Martinez (37-9-2) is now 1-4 in world title fights.
Undercard
In the first of the TV fights, North Las Vegas junior welterweight Juan Heraldez remained unbeaten but barely as he was held to a draw by former IBF 130-pound world title-holder Argenis Mendez. One judge had it 97-73 for Mendez but the others had it even. Heraldez (16-0-1) was one of four Mayweather Promotions fighters on the card. Mendez, from Yonkers, New York, via the Dominican Republic, was held to a draw in a second straight fight, bringing his record to 25-5-3.
A previous draw ensued in an 8-round contest between 30-something heavyweights, Robert Alfonso (18-0-1) and Iago Kiladze (26-4-1). Alfonso, a Cuban defector and ex-Olympian who trains with Wilder in Tuscaloosa, weighed in at 254, giving him a 35-pound weight advantage. He had Kiladze fighting off his back foot for much of the contest, but the LA-based fighter from the Republic of Georgia snuck in enough punches to stem a 3-fight losing streak.
Bantamweight Gary Antonio Russell moved to 14-0 with a six-round technical decision over Tijuana's Saul Hernandez (13-13-1). A clash of heads in the sixth round left the Mexican disoriented and the bout went to the cards where Antonio won by scores of 59-55 and 60-54 twice. Hernandez didn't figure to go the distance. In his last three fights, he fattened up his record against opponents who were a combined 0-30.
In a fight slated for eight rounds, junior welterweight Gary Antuanne Russell improved to 9-0 (9) with a fourth round stoppage of Nicaragua's Marcos Mojica (16-4-2) who had the misfortune of being thrust against a former Olympian in a second straight bout. Mojica was on the canvas twice before the referee intervened. He lasted longer than any of Russell's previous opponents, none of whom lasted beyond three frames.
Brooklyn-born Richardson Hitchins, who represented Haiti in the 2016 Olympics, improved to 9-0 (5) when Columbia's Alejandro Munero (4-2-3) was unable to answer the bell for round four. The 21-year-old Hitchins was making his eighth appearance at Barclays.
Dylan Price, a 20-year-old bantamweight from Sicklerville, NJ, improved to 8-0 when the corner of Mexico's Manuel Manzo (4-7-2) stopped the one-sided beatdown midway through the sixth round.
Check out more boxing news on video at The Boxing Channel
To comment on this story in The Fight Forum CLICK HERE
The Tartan Tornado and the Monster Advance in the World Boxing Super Series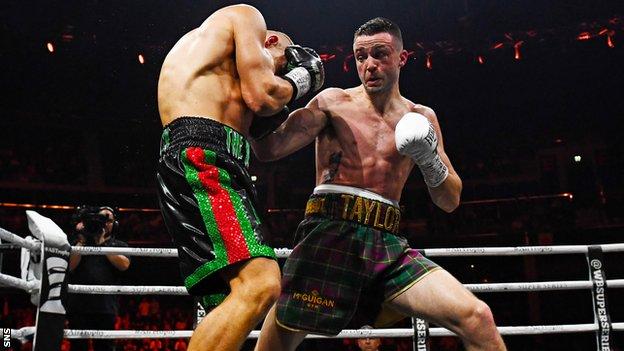 Semifinal matchups in the 118- and 140-pound tournaments of the World Boxing Super Series played out today, May 18, at the SSE Hydro Arena in Glasgow, Scotland. All four participants entered the day undefeated.
In the main go, junior welterweight Josh Taylor, the Tartan Tornado, delighted the home folks by winning a unanimous decision over Ivan "The Beast" Baranchyk. Fighting in the same arena where he won Commonwealth Gold in 2014, Taylor outpointed Baranchyk on scores of 117-109 and 115-111 twice.
Taylor had an anxious moment in the fifth round when Baranchyk landed three unanswered punches that momentarily left Taylor on shaky legs. But in the very next frame, Taylor came up big, knocking Baranchyk to the canvas twice, first with a right hook and then a left to the head followed by a left to the body.
Baranchyk, who pepped for this fight at Freddie Roach's gym in Hollywood, recuperated nicely. Taylor could have played it safe by going on his bicycle in the final round, but he elected to trade with Baranchyk who finished strong, although clearly behind on the cards.
With the victory, Josh Taylor improved to 15-0 and moves on to a contest with Regis Prograis, a bout that will likely land in Glasgow and, if so, will be the biggest fight ever in Scotland. Baranchyk, who was born in Russia but has been residing in Oklahoma, declined to 19-1
The Monster
In the co-feature, Yokohama's baby-faced Naoya "The Monster" Inoue (18-0, 16 KOs) showed that he belongs on everyone's pound-for-pound list with a second round blast-out of Puerto Rico's previously undefeated Emmanuel Rodriguez (19-1). After a fairly even first round, Inoue lowered the boom in the second, decking Rodriguez three times to force an intervention. At stake were the IBF and WBA bantamweight titles. With the win, Inoue earned a date with Filipino veteran Nonito Donaire who was in the building.
Inoue scored his first knockdown with a left hook and that spelled the beginning of the end for Rodriguez. In his previous two bouts, Inoue demolished title-holders Jamie McDonnell and Juan Carlos Payano in the opening round. If he gets past Donaire – and he will be heavily favored – he will be the odds-on choice to be named the 2019 Fighter of the Year.
Check out more boxing news on video at The Boxing Channel
To comment on this story in The Fight Forum CLICK HERE