The Greatest Fighter Alive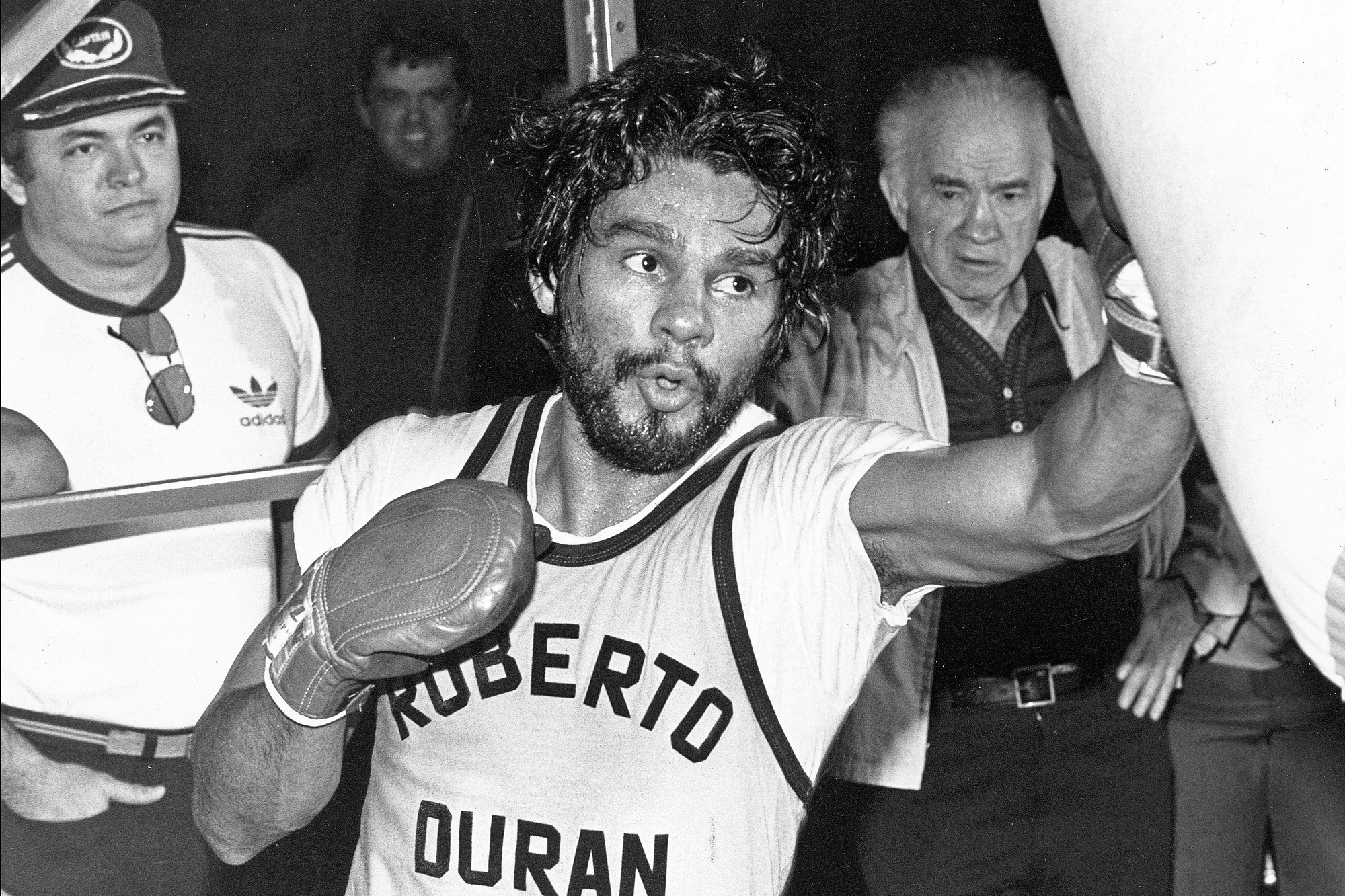 The Greatest Fighter Alive – Forty-four years after swiping Ken Buchanan's world lightweight championship and thirty-six years after shoving Sugar Ray Leonard off a gringo pedestal to take the world welterweight championship, Roberto Durán is back in the limelight. "Hands of Stone" is something of a corrective to 30 for 30's "No Mas" episode (2013) in that it recognizes Durán as something far more than Leonard's straight man, though it only touches the barely-restrained savagery that had become his persona by 1980, a persona that Al Pacino admitted was the model for the Tony Montana character in "Scarface."
Ray Arcel is played by Robert De Niro despite the fact that the rough-hewn actor more closely resembles Duran's "other trainer" Freddie Brown. It was Brown, not Arcel, who was most responsible for streamlining Durán's savagery but if you scan the screen looking for Brown's trademark green sweater you'll get no more than a glimpse. The movie also perpetuates a fable about Leonard's first defeat that is as carelessly tossed around as Durán's shaggy locks at street parties. I borrowed Ray Arcel's comb and straightened things out for the record and with the record, but writer-director Jonathan Jakubowicz never got the memo.
Originally published on TSS as "The Fifth God of War," what follows is closer to the truth than "The Hands of Stone" and carries a new title more to the point.
The Greatest Fighter Alive
A battered and bloodied world welterweight champion glowered at his corner men as the thirteenth round was about to begin. "If you stop this fight," he said, "I'll never talk to you the rest of my life." In the opposite corner, a surging Henry Armstrong sprang out of his corner at the bell. Trainer Ray Arcel, a cotton swab in his mouth, watched the last three rounds with Barney Ross's words echoing in his ears and a prayer on his lips. He prayed not that Ross would win, but that he would survive.
The vanquished champion was brought back to the hotel where Arcel put hot towels on his swollen face and tended to his wounds. He stayed with him four days and four nights.
That was 1938. Arcel had already been in the fight game two decades. He was at Stillman's Gym from the beginning and taught hundreds of young men how to fight, including twenty world champions. His first was in 1923. His last was sixty years later.
Arcel met Freddie Brown at Stillman's. Brown grew up on Forsythe Street in the Lower East Side not three miles from Benny Leonard's house. He began training in the 1920s and had what A.J. Liebling described as the unmistakable appearance of old fighters: "small men with mashed noses and quick eyes" and a chewed-up stogie stuck on his lip that contrasted nicely with the clean cotton swab of Arcel.
Mangos
Twenty-year-old Roberto Durán's American debut was at Madison Square Garden. Thirteen thousand, two hundred and eleven ticket-buyers watched him lay out Benny Huertas like a red carpet in less than a minute. Dave Anderson covered the fight for the New York Times. "Remember the name," he advised.
Arcel was just sitting down when that stone fist crashed on Huertas' temple. As the Panamanian left the ring on his way to the dressing room, he startled the old man again when he kissed him on the cheek. A month later Durán would be introduced to Brown and the triumvirate would be complete.
"When I came into his camp in 1972, he was just a slugger until I taught him finesse," Brown said. A slugger? Durán was worse than that. He was a savage, a Roman wolf-child placed in a civilizing school where ancient masters taught the art of war. Agrippina summoned Seneca to tutor a young Nero. Durán's manager summoned Arcel. Arcel brought in Brown. It took not one, but two eminent teachers to tame Durán, and Brown bore the brunt of it; camping outside his door to chase away the broads, dragging him out of bed at dawn for roadwork, locking up the pantry.
The two old men never did completely civilize their pupil, though they did better than Seneca. Nero, after all, used Christians as torches to light the streets of Rome. Durán listened, and because he listened, he lit up fighters in six weight classes.
In 1972, Durán indecently assaulted lightweight champion Ken Buchanan and snatched his crown. His reign of terror lasted six years and twelve title defenses.
"The only guy we had like him," Brown told Pete Hamill, "is Henry Armstrong." Brown and Arcel knew the combined value of explosiveness and intelligence in the ring. "Boxing is brain over brawn," said Arcel whenever the subject came up. "If you can't think, you're just another bum in the park." Durán was not only "one of the most vicious fighters we've ever had," added Brown, "[he was] one of the smartest."
Durán was destined to invade the welterweight division. When he did, it was as deep as it ever was. Waiting for him were shock punchers in Pipino Cuevas and Thomas Hearns, defensive specialist Wilfred Benitez, technician Carlos Palomino, and the smiling celebrity who lorded over them all —boxer-puncher Ray Leonard.
Malice
By the end of 1979, a clash between Leonard and Durán was almost certain. Durán had already retired Palomino in a dominant performance, while Leonard stopped Benitez and took the title. They fought separately on the Larry Holmes-Earnie Shavers undercard and Leonard's trainer Angelo Dundee watched the Durán bout very carefully. "Durán is thought of as a rough guy, but he's not rough," he observed. "He's smart and slick."
Arcel, eighty-one, and Brown, seventy-three, were watching Leonard as well, though they were very familiar with his style and how to beat it. They had already trained about thirty world champions between them. Fifty-eight-year-old Dundee had trained nine. In fact, Dundee's novitiate was at Stillman's Gym where he handed towels to the two masters he now matched wits with.
The posturing began soon enough. At Gleason's Gym, Leonard was watching Durán skip rope when Durán spotted him and began lashing the rope with uncanny speed, while squatting. At a press conference at the Waldorf-Astoria Hotel in New York City, Durán cuffed Leonard, claiming that Leonard put his hand near his face. Two days before the fight, both men were at an indoor mall in Montreal, and Durán learned just enough English to yell, "Two more days! Two more days!" Leonard blew a kiss, and Durán charged at him and had to be restrained.
Durán was getting mean, but it was Leonard who had every physical advantage. He was younger, faster, taller, and bigger. "I'm not Ali," Leonard insisted to the pundits. "Sure, maybe at the start I was trying to do his shuffle or his rope-a-dope, but not now."
Durán looked pudgy in his last two outings, and the previous three welterweights he faced went the full ten rounds. Never before had three in a row gone the distance with him, and there was chatter about his motivation. Durán himself admitted that he was not always committed to training and his trainers did too, though a warning was attached: "When you're fighting smear cases and you're the best fighter around, it's hard to be interested, but now he's inspired, and when he's inspired, he's relentless," Arcel said. "Leonard can't beat this guy."
The odds makers disagreed. Durán was a nine-to-five underdog.
Leonard was confident enough to ask permission from an aging Ray Robinson to borrow "Sugar," but he couldn't have anticipated how many lumps he'd get from Durán, who had more in common with fighters from Robinson's era than he ever would.
As Leonard made his way toward the ring on June 20, 1980 Roberto Durán shadow boxed his own demons in the red corner. Both were in the best condition of their lives, though Durán exuded something like preternatural malevolence.
Arcel had already promised that we would witness "the darndest fight" we ever saw. And we did.
Durán had promised to use "old tricks" against Leonard. Old tricks. Freddie Brown's fingerprints were all over the place. He trained him at Grossinger's Resort in the Catskills, where he worked with Rocky Marciano in the 1950s and Joey Archer in the 1960s. Brown had more tricks than a cathouse. Durán could be seen holding Leonard in the crook of his arms to stop incoming shots and create the perception that Leonard was doing nothing. Then there was the "Fitzsimmons shift." Dundee himself saw it: ". . . if [Durán] missed you with an overhand right," he observed, "he'd turn southpaw and come back with a left hook to the body." Durán executed it against Leonard in the fifth, seventh, and eighth rounds. Bob Fitzsimmons invented it and used it to implode Gentleman Jim Corbett in 1897. It's a peach of a move.
The Hands of Stone controlled the action in this career-defining bout. His savvy was no less a deciding factor than his savagery but make no mistake, Sugar Ray pushed him almost beyond his limits.
There were over forty-six thousand witnesses. Every now and then, one of them, a thin and solitary Nicaraguan with a mustache could be seen standing up from his seat and waving a little Panamanian flag. It was Alexis Arguello.
Myths
Durán's strategy was drilled into him. He was instructed to be elusive against the jab, close the distance, crowd Leonard, and hammer the body.
Leonard's aggressive strategy made things more—not less—difficult to cope with for precisely the reason that Dundee had alluded to: good little guys don't beat good big guys. "In this fight, Durán's not the puncher," he said. "My guy is." The respective knockout percentages over their previous five fights confirm this: Durán's was forty percent, Leonard's one hundred.
Leonard promised to stand and fight more than expected. "They all think I'm going to run. I'm not," he said to New York Magazine. "I'm not changing my style at all . . . he'll be beaten to the punch . . . those are the facts," he continued. "What's going to beat Roberto Durán is Sugar Ray Leonard."
Dundee substantiated this in his autobiography. His strategy became certain from the moment that he watched the films and deconstructed Durán's style. Dundee said that Durán was a "heel-to-toe guy. He takes two steps to get to you. So the idea was not to give him those two steps, not to move too far away because the more distance you gave him, the more effective he was. What you can't do in the face of Durán's aggression was run from it, because then he picks up momentum. My guy wasn't going to run from him."
So there you have it.
Leonard's strategy in Montreal was deliberate and sound. After it failed, Dundee and Leonard revised history and a willing press has gone along with it ever since. We've been spoon-fed a fable that has long-since crystallized into orthodox boxing lore. It is the archetypal image of the Latin bully who "tricked" our all-American hero into an alley fight, and it sprang from the idea that Leonard "did not fight his fight" because Durán challenged his masculinity.
The problem is that the idea is at complete odds with Leonard and Dundee's statements about Leonard's clear physical advantages and the strategy that would be formed around those advantages. It contradicts Dundee's earlier statements about Durán's high level of skill, and it contradicts statements both had made immediately after the bout before they had time to think about posterity: "You've got to give credit to Durán," Dundee told journalists. "He makes you fight his fight." When asked why he fought Durán's fight, Leonard said he had "no alternative."
Since then, Leonard's loss to Durán has been cleverly spun, re-packaged, and sold at a reduced price. It's time to find our receipt and exchange a fable for the facts. And the facts begin with this: when both fighters were at their best, Durán was better.
Memento Mori
Durán's record stood at 72-1 with fifty-six knockouts. As he simmered down in the aftermath of the fight, the magnitude of it all set in. He knew that Leonard was great. At the post-fight press conference, he was asked if Leonard was the toughest opponent he ever faced. Durán, his face scuffed and swollen, thought for a moment. "Si," he said, ". . . si."
And then something changed. Whatever it was that raged inside Roberto Durán —a legion of devils, his hatred of Leonard, the memory of a child begging on the streets of Chorrillo— faded from that moment. He became more sedate. After thirteen years of pasión violenta and after a victory that is almost without equal in the annals of boxing history, he fell like all who forget that they are mortal, and his humiliation would be so complete that it would obscure everything else.
Old embers would flare up only sporadically after the fateful year of 1980. Three times more he would remind the world of his greatness against men that no natural lightweight in his right mind would challenge. By then the two old men had walked away. Arcel and Brown joined us in the audience and watched a melting legend fight youngsters. As the curtain slowly descended on a career that would span five decades, there was little left that recalled what he was; just some old tricks in an arsenal ransacked by age and an unbecoming appetite.
But what he was should not be eclipsed. It should be remembered. When the splendor that was Sugar Ray Leonard entranced America, Brown and Arcel closed the blinds and applied old school methods in the shadow of Stillman's Gym. They brought a Panamanian to a peak of human performance so perfect in its blend of science and ferocity that it would never be approached again — by Durán or anyone else.
After the final bell, a jubilant Durán leaps into the air. Before he lands he sees Leonard daring to raise his arms in victory and his eyes burn. He shoves and spits at his adversary, then stalks toward the ropes at ringside and grabs his crotch as he hurls Spanish epithets. Arcel tries to calm him down. The announcer shouts "le nouveau!" into the microphone, and victorious, the raging champion is hoisted up above the crowd —above the world— still cursing the vanquished.
 This is Durán.
______________________
Springs Toledo is the author of In the Cheap Seats (Tora, 2016) and The Gods of War (Tora, 2014).
Tyson Fury is the 2018 TSS Comeback Fighter of the Year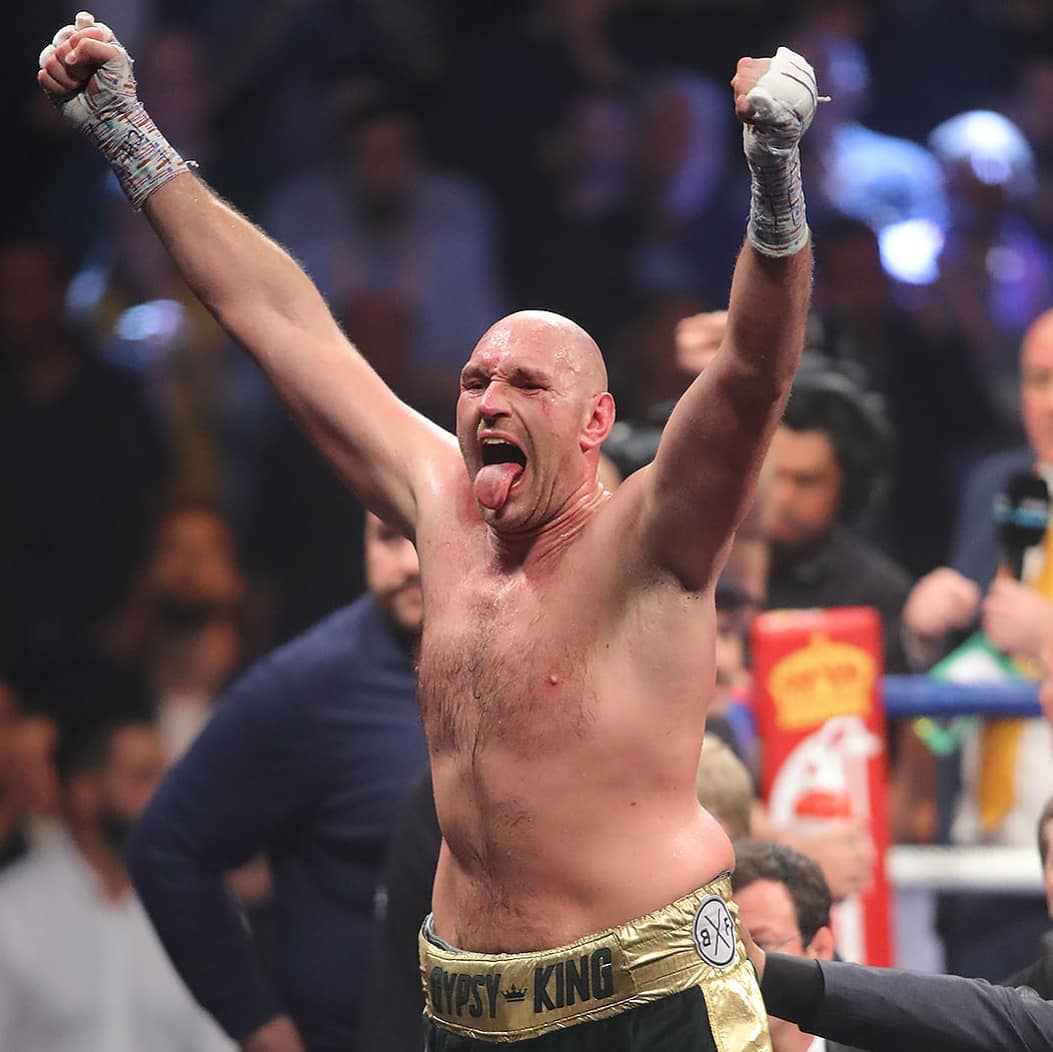 When the TSS year-end award season rolls around, some choices are no-brainers and others are head-scratchers because there are so many worthy candidates. Selecting Tyson Fury as our 2018 Comeback Fighter of the Year was a no-brainer.
When Fury left the sport for what would ultimately be a 31-month layoff, it soon became evident that we might never see him again. It wasn't just that his heart was no longer in the game. He fell to pieces, letting his weight balloon to almost 400 pounds.
We would learn that there was more to the story. Fury was abusing cocaine and alcohol and had mental health issues that he readily acknowledged. He told reporters that he was seeing a psychiatrist who had diagnosed him as bipolar and manic depressive.
But Fury pulled himself together and gradually worked his way back to where he was fit to fight again. He returned to the ring on June 9 in Manchester in a supporting bout to Terry Flanagan's140-pound title defense against Maurice Hooker. In the opposite corner was Sefer Seferi, a 39-year-old puffed-up cruiserweight.
The fight was a travesty. Fury, 11 inches taller and 66 pounds heavier, hardly worked up a sweat and the same could be said of his Albanian opponent who quit after four rounds.
For his second comeback fight, Fury chose a man nearer his own size, former sparring partner Francesco Pianeta. They met on August 18 in Belfast on a show headlined by hometown hero Carl Frampton. Fury won the contest easily in the eyes of the referee who awarded him all 10 rounds, but he wasn't impressive. Indeed, the fight had no indelible moments.
In the post-fight press conference following the Pianeta fight, Fury's promoter Frank Warren announced that the self-styled Gypsy King would fight WBC champion Deontay Wilder next and that the fight would materialize in late November in Las Vegas. As it turned out, the match came to fruition in Los Angeles at the Staples Center on Dec. 1.
It was widely assumed that Warren was blowing smoke. Surely Fury needed more rounds to shake off all the rust after his long spell of inactivity and self-abuse. But to some it made perfect sense that Fury would take on such a daunting assignment at this juncture. The cynics holding this view said that Fury was a certified loon and the longer the wait before he was thrust into a big money fight, the greater the chance that he would do something stupid and it would all fall apart.
The oddsmakers made Wilder a 7/5 favorite. In Las Vegas, there was late money on Wilder. At one large property, the odds shot up to 11/5 on the day of the fight.
After 40 pro fights, Deontay Wilder was still rough around the edges. Fury, it was widely understood, was the better boxer. But Wilder could take a man out with one punch and it figured that he would clock the Gypsy King who figured to tire in the late rounds if he could last that long.
By now every serious boxing fan is familiar with the details of the Wilder-Fury fight. Suffice it to say that Wilder did clock him in the late rounds, not once but twice, the second compliments of a left hook that knocked a staggering Fury down hard in the final round. The punch, wrote London Guardian scribe Kevin Mitchell, would have anaesthetized a horse.
The punch pulled the fight out of the fire for Deontay Wilder. For five long seconds as he lay prone on the canvas, Tyson Fury looked dead as a mackerel.
But hold the phone.
By some miracle, Fury was able to beat the count – just barely – and, more astoundingly, he got the best of the milling during the remainder of the round.
When the decision was announced – it went into the books as a draw – Fury didn't bellyache. He had a look of satisfaction on his face as referee Jack Reiss simultaneously raised his hand and the hand of his opponent. Afterwards, he would say that he was certain that he had won enough rounds to earn the decision, but that if he had ranted and raved it might have started a riot. Indeed, whenever there is an especially large delegation of British boxing fans there is a hooligan element. And the Wilder-Fury fight played out before a large delegation of Brits who left the premises justifiably disgruntled but orderly.
At the post-fight press conference, the Gypsy King did something charming. He burst into song, leading the media in a rendition of Don McLean's "American Pie." Yes, over the years, to his everlasting discredit, Fury has hurt people with words that were misogynistic, homophobic, and even anti-Semitic. But at moments like these the big galoot is so cuddly that it's hard not to love him.
As comebacks go, Fury's was strange. He wasn't coming off a loss and he didn't win. But he emerged from a very dark place and gave a performance that was not only redemptive but inspirational.
The 2018 TSS Comeback Fighter of the Year was a no-brainer.
Check out more boxing news on video at The Boxing Channel
To comment on this article at The Fight Forum, CLICK HERE
Eleider Alvarez Forged the 2018 TSS Upset of the Year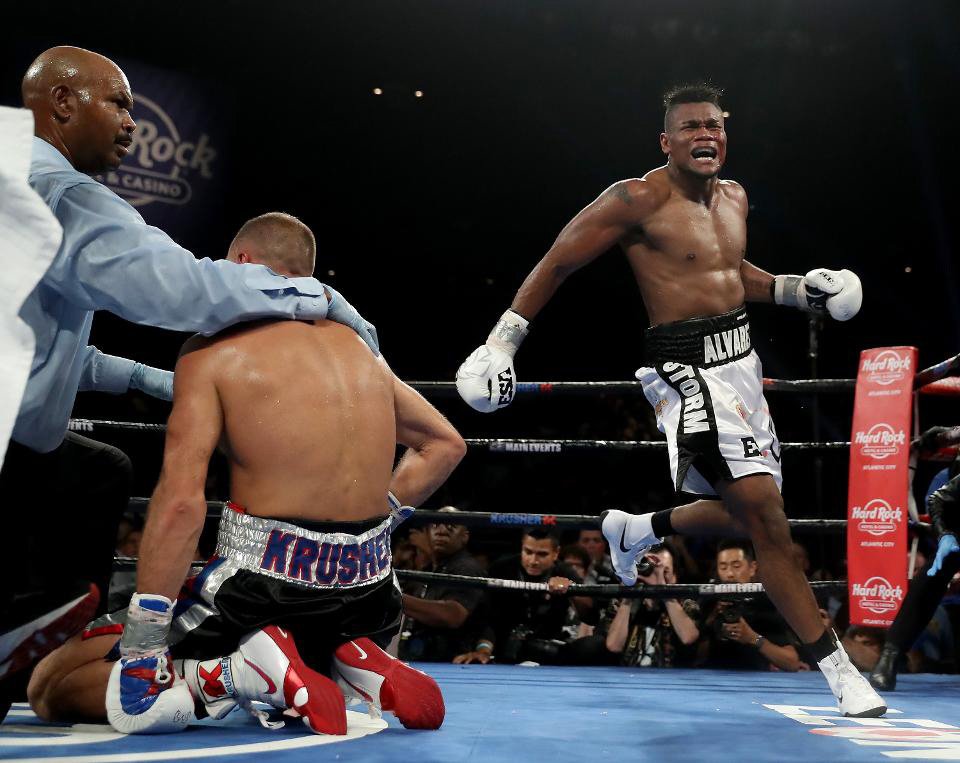 HBO World Championship Boxing called it quits in 2018 but not before airing the Sweet Science (TSS) Upset of the Year: Eleider "Storm" Alvarez's jaw dropping seventh round knockout of Sergey Kovalev to win the WBO light heavyweight title at Atlantic City's Hard Rock Hotel & Casino, formerly President Trump's Taj Mahal.
The legendary cable network that broadcast the Douglas-Tyson shocker in February of 1990 retained its reputation as a theatre of the totally unexpected on that Saturday, August 4. It was supposed to be a return to elite form for the Russian Kovalev (now 32-3-1 with 28 knockouts) and a chance for promoters to make boardwalk boxing great again.
For the 34-year-old Colombian Alvarez, successfully transplanted to Montreal, Quebec, Canada in 2009 by Groupe Yvon Michel, it was the realization of a bold prediction that fell upon mostly deaf ears: "Kovalev will be a very difficult fight but I will be the new WBO champion of the world."
Right on both counts.
Alvarez (booked as a +400 underdog) appeared to gain an early advantage with impressively aggressive boxing skills but Kovalev wasn't going anywhere without a fight and he pummeled Alvarez in the fourth round with his long jab and solid power punches—outlanding him 3 to 1.
Alvarez returned to his corner down on the scorecards.
Max Kellerman may have been able to see what Alvarez was doing to win the first three rounds but ringside judges Carter, Pasquale and Ortiz did not. Regardless, Alvarez pumped his fist in celebration, well aware he'd just taken the best of 'The Krusher' without being too badly hurt by any of it. "I wanted to show him I have a good chin," he said after the fight of the assault.
The fifth and sixth were fiercely competitive with both rounds being won legitimately by Kovalev who presently began showing signs of fatigue while Alvarez (24-0 with 12 knockouts) recovered from the fourth round drubbing he'd proudly endured; his left cheek bloodied. If Kovalev's plan was to outbox Alvarez and win a decision, he lacked the stamina needed to go six more rounds.
Alvarez answered the bell for the seventh ready to make good on his stormy forecast calling for rain on Kovalev's parade. With a minute and twenty seconds left in the frame, Alvarez feinted a left jab to the body; following up full-speed with a looping right hand to the side of Kovalev's unprotected head. Kovalev wobbled backwards onto the seat of his pants, decked by a jabby boxer assumed to be a light hitter with a trio of surgically repaired right knuckles.
Up fast at the count of "four" from American referee David Fields, Kovalev was in the eye of the storm now. Alvarez went for the kill with poise and precision. A right uppercut rocked Kovalev's head back. A left jab had a similar effect. A right cross strafed his face. With 40 seconds left in the round, Alvarez connected with a ferocious left-right combination and Kovalev fell again. And again—Kovalev got up quickly but this time in no condition to continue and he could no longer protect himself. Alvarez walked straight in and landed a clubbing right around Kovalev's guard. Kovalev collapsed onto all fours and Fields immediately waved it off as Alvarez celebrated.
A new light heavyweight star was being born.
Asked if he wanted to face HBO undercard winner Dmitry Bivol in a WBO/WBA unification match-up, Alvarez indicated a willingness to face all comers. "I've been waiting five years to fight the best in the division. I'm now among the best at 175. Whatever comes, I'm ready."
It won't be a long overdue confrontation with promotional stablemate Adonis Stevenson. The 41 year-old "Superman" was beaten into a medically induced coma by new WBC champion Oleksandr Gvozdyk on December 1 in Quebec City. What's coming instead is an immediate rematch with Kovalev, scheduled for February 2, 2019 in Frisco, Texas—streaming live on ESPN. Alvarez probably needs another KO to retain his new title. The three official judges in the first fight did him no favors and Texas is infamous for dodgy officiating and sketchy scoring.
Believing that he needs to be in better shape if he hopes to avenge his latest defeat, Kovalev is fielding yet another new trainer, new International Boxing Hall of Famer, James "Buddy" McGirt. Says Krusher of this 'last chance' sequel: "I'll be ready [this time] and I will take back my title."
Time will tell.
Despite taking an ambulance ride to the hospital after getting his ass officially kicked, Kovalev went on record claiming Alvarez was "lucky" to get the knockout victory. Kovalev's loyal promoter Kathy Duva may have convinced her guy it was a fluke but a result like that is surely no accident. "Sergey was clearly winning when he just got caught," she casually explains. "It happens."
No Kathy, it happened. It happened. The Sweet Science 2018 Upset of the Year. My Alvarez-Kovalev II prediction: It happens again. Alvarez TKO in nine, Kovalev calls it quits.
Other Notable 2018 Upsets: Roberto "Rifle" Ramirez's second round beat down of Dejan Zlaticanin in June, Francis Chua's split decision over Kye McKenzie on the Horn-Mundine undercard Down Under, Emanuel Navarrete's victory against Isaac Dogboe for the WBO 122 lb. title on the Lomachenko-Pedraza undercard at MSG, and as written about by TSS's own Matt Andrzejewski, Hassan Mwakinyo's shocking TKO of Sam Eggington in the United Kingdom.
UPSET PICK POSTSCRIPT
It's funny how "boxing experts" often claim to have picked the surprise winner of a prize fight only after said fight is over. At a packed press conference in New York City to announce the summer title bout between Kovalev and Alvarez, I couldn't find a single media member or industry insider willing to entertain the notion of an upset, much less an Alvarez knockout.
Face-to-face with Kovalev, Alvarez looked and sounded like a sure-fire winner to me. Where Alvarez appeared fit and ready to fight that day if need be, Kovalev struck me as a little too fat and happy for his own good. After Kovalev was knocked down and out on HBO, social media was full of 'I told you so' tweets from ex post facto smart alecks and keyboard warriors.
What I observed in the lead-up to the fight led me to conclude the 35 year-old Kovalev was not taking his relatively unknown opponent as seriously as he should have been. Kovalev's middle finger morphed into a peace symbol. He actually said it wasn't his goal to knock Alvarez out!
Ultimately, I was the only reporter out there who could read the writing on the wall, noting last May what a "high risk, low reward" fight this was for Kovalev; one with the potential to "go all wrong" for him. I couldn't have been more right. While most (if not all) fans and media regarded the result as a foregone conclusion, I wrote that Kovalev would be UPSET by Eleider Alvarez.
He told me, I told you.
It happened.
Check out more boxing news on video at The Boxing Channel
To comment on this article in The Forum, CLICK HERE
Filip Hrgovic is the TSS 2018 Prospect of the Year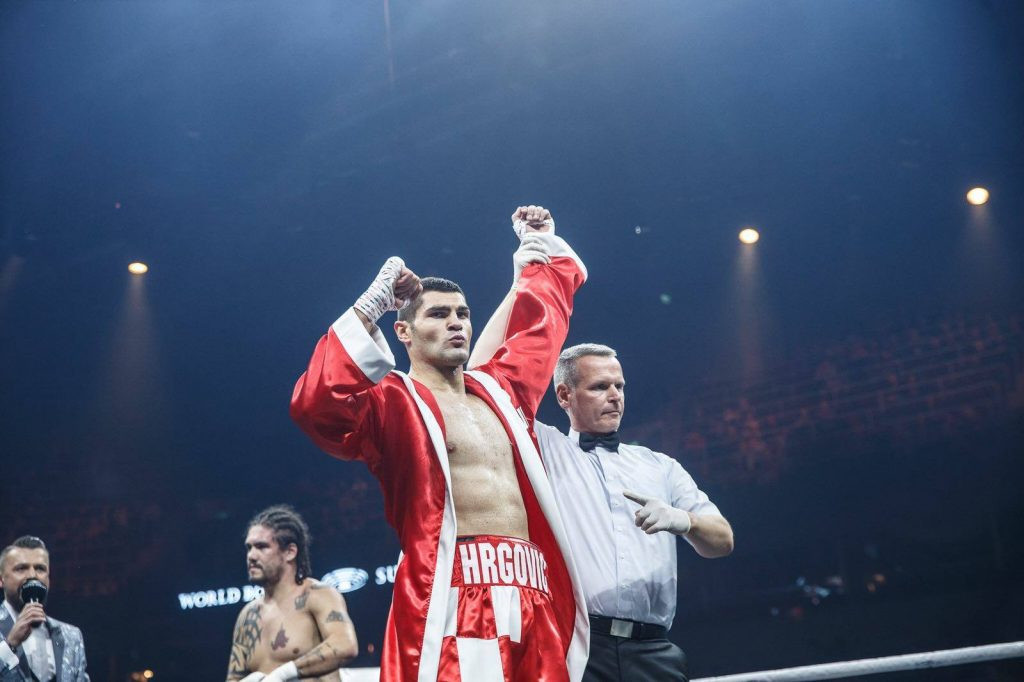 So awash is boxing with prospects currently that picking just one has proved so excruciating that I floated a different idea with The Sweet Science's fearless editor.
"What about selecting a prospect from each division?"
"Egad," he literally replied.  "I wouldn't go that far…would be a good story though. But for now we need to recognize just one fighter for historical continuity."
He's right of course; the Prospect of the Year for The Sweet Science goes back a bit and it's an honor to pitch in. As for that divisional breakdown? I'll have 17 nominees for you in January.  Watch this space.
As for today, I offer you the 6'6 Croatian, "el Animal", 7-0, 233lbs, 26-year-old, Filip Hrgovic.
This is something of a controversial pick, I think. I don't lean towards potentiality in heavyweights as a rule. They're slower, generally less organized, less compact and a questionable chin is a fiercer impediment to a heavyweight of class than the equivalent in any other division. In short, the heavyweight division is a place of hammers and anvils, and if you are shy the latter, journeymen will find you out.
I'm wary, too, of relying upon a fighter's amateur achievements to protect them from professional doubts. Too many times Audley Harrison; too many times David Price. Hrgovic drew the eye in 2010 though, beating up Tony Yoka and Joseph Parker on his way to winning the World Youth Championships. Times have changed too in that the World Series of Boxing offers an amateur/professional crossover, a nursery for the paid ranks and one in which Hrgovic excelled.
That is the past, however.  What of the future?
Trainer Pedro Diaz is clear: "Filip is ready for a title fight," he offered in the build up to his last fight with Kevin "Kingpin" Johnson, "right now.  You can all see it."
Diaz, a late 2018 addition to the Hrgovic camp, is an inspired choice. An eastern European and a tall one, Hrgovic is already being tarred with the "robotic" brush unearned by Vitali Klitschko and questionable even in relation to Wladimir Klitschko, but his fluidity is limited to the jab right-hand. Diaz, a veteran of the Cuban amateur system who has worked with the likes of Miguel Cotto, Guillermo Rigondeaux and the legendary Felix Savon, is the right man to de-program any mechanical tendencies in a charge young and hungry enough to learn. Hrgovic will never be Eusebio Pedroza but already he punches to the body more smoothly than was the case a year ago.
Promoter Nisse Sauerland, too, thinks that Filip is in for "a big 2019." Croatia Week after discussions with the heavyweight prospect claim that a title fight is possible as early as next year.
That seems ridiculous for two reasons, which I'll get to momentarily, but first, what does the man himself say about it?
"I go really, really fast," he told press in his vastly improved English this December.  "They put me in the fast track."  A smile, then: "I enjoy it."
"In 2019," he adds, "I am coming for all the belts."
In 2018, Hrgovic ran 5-0 and there was a discernible step up in his two most recent contests.  First he met Amir Mansour, the New Jersey fringe contender who had lost just twice, once on a freak cut (Mansour bit his tongue while beating up Dominic Breazeale and could not continue due to breathing difficulties) and once in being out-pointed by the skilled Steve Cunningham over ten rounds. Hrgovic stopped him in less than nine minutes. As I wrote at the time covering that fight "Hrgovic looked nothing less than a natural fighter and a special one. He cracked an elite jaw and solved a singular puzzle with no more effort than if he had been sparring a straight-backed amateur."
Next up was Johnson, and again Hrgovic impressed but this time he did not dazzle. Variety is not a strong point and Diaz will know now that his man needs work on his left hook and serious work on his feinting, which is almost non-existent.
Hrgovic likes one plane of attack, one-two, at distance. This combination is highly evolved, however. He goes up and down, he has a short cross, a wild looking overhand right in the style of Deontay Wilder and a straight right-hand down the pipe behind that busy jab. People have derided this final punch as "slow". This is not entirely accurate and while his hand speed is not dizzying, his mechanics are excellent and therefore the right hand is heading in as near behind the jab as is technically possible. This is important because it barracks his greatest asset: his accuracy.
Hrgovic is already wasting very little. Johnson is no longer the fighter that extended Vitali Klitschko the full distance back in 2009 but equally, Hrgovic was clearly landing at a higher rate than the deadly Vitali. Hrgovic hardly missed Johnson with a serious punch. The fighters who were his equal in this attribute after seven professional fights who are currently active are also both on the pound-for-pound list.
Stylistically, he's going to struggle with someone really good at closing the distance to mid-range, say a Luis Ortiz type, and he is fortunate that modern interpretation of the rules has all but eliminated the great in-fighter, but anyone who remains at his preferred range, outside, is going to be in for a tough night. The very best would be able to outbox him though, and the very best are in possession of the titles and the top contender spots.
This is the big problem with Hrgovic's "I'm coming for all the belts" statement.  His ambition is to be admired and by December 2019 he could be 10-0 and ranked among the ten best heavyweight on the planet; indeed, he has already started to pop up on some of the less reputable ABC rankings. But however many times he fights next year the heavyweight timeline for 2019 basically looks like Wilder-Fury II and Joshua against the winner of Whyte-Chisora in the first part of the year, with the winners from those fights squaring off in London around November.
Whatever kind of 2019 Hrgovic has, he's beginning it behind both Oleksandr Usyk and Jarrell Miller and, when the dust settles, is likely to remain so given the way Eddie Hearn continues to corner the market.
So a title shot in 2019 is not just premature physically – Hrgovic needs to work on the left hand, defense and feinting as well as stamina, never having gone past the eighth – but politically.  March 2020 is the earliest he could hope to visit a title ring and even then probably only if Wilder emerges on top of the pile.
What Hrgovic should be gunning for by the end of 2019 is the loser of Chisora-Whyte, perhaps on a London undercard.  If he prefers the United States, his eventual target should be Jarrell Miller and that would be obtainable come the end of next year.
The main reason I make Hrgovic the one to watch however, is that in 2019 we are going to find out about him. It might not be "his year", it really might not be, but, it will be the year we find out if he can take a punch.
If he has the heart to carry him to the top.
If he's real.
And that's a prospect I'm rather looking forward to.
Check out more boxing news on video at The Boxing Channel
To comment on this story in the Fight Forum, CLICK HERE