1,501 Tests, One Reported Positive? What's Going On with USADA and Boxing?
On October 18, 2012, Halestorm Sports reported that Erik Morales had tested positive with the United States Anti-Doping Agency (USADA) for clenbuterol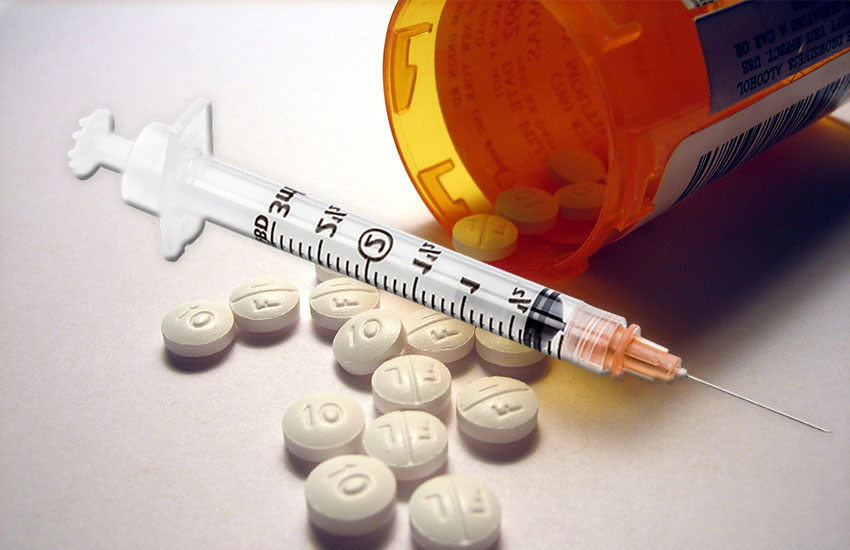 By THOMAS HAUSER — On October 18, 2012, Halestorm Sports (a small website that no longer exists) reported that Erik Morales had tested positive with the United States Anti-Doping Agency (USADA) for clenbuterol, a banned substance. Morales was scheduled to fight Danny Garcia at Barclays Center in Brooklyn on October 20. More significantly, it was later confirmed by the New York State Athletic Commission that USADA hadn't reported the violation to the NYSAC until after the internet disclosure.
USADA has been testing professional boxers for performance enhancing drugs since 2010. Its website states that it has administered 1,501 tests on 128 professional boxers through August 22 of this year. Yet it appears as though, in all these years, USADA has reported only one adverse finding regarding a professional boxer (its belated report of Morales to the NYSAC) to a governing state athletic commission.
Is it possible that USADA has administered 1,501 tests to 128 professional boxers and that only one of these tests has come back positive? Yes. It's also possible that a giant asteroid will obliterate life as we know it on earth tomorrow. But it's statistically implausible and highly unlikely.
In the past, I've written extensively about USADA's involvement with professional boxing. Most notably, in a 2015 article entitled "Can Boxing Trust USADA?", I explored how the agency handled the intravenous administration of what was said to be a mixture of saline and vitamins to Floyd Mayweather hours after Mayweather weighed in for his May 2, 2015, fight against Manny Pacquiao. As outlined in this article, the evidence strongly supports the conclusion that USADA's actions with regard to Mayweather's IV violated both Nevada State Athletic Commission protocols and the World Anti-Doping Code. The article can be found at:
https://www.sbnation.com/longform/2015/9/9/9271811/can-boxing-trust-usada
USADA responded to these allegations with a lengthy media release:
https://usada.org/wp-content/uploads/USADAs-Detailed-Correction-to-SB-Nation-Article-by-Tom-Hauser.pdf
My response to the USADA media release can be found at: https://www.boxnation.com/boxing-news/was-floyd-mayweather-really-dehydrated-the-fallout-from-can-boxing-trust-usada/
Now, in 2018, there's still reason to question USADA's commitment to "clean sport" insofar as professional boxing is concerned. As noted above, USADA reports having conducted 1,501 tests for banned substances on 128 professional boxers from January 1, 2010, through August 22, 2018. Yet it appears as though only one of these tests (that of Erik Morales) resulted in an adverse finding that was communicated to a state athletic commission.
By way of comparison, Dr. Margaret Goodman (president of the Voluntary Anti-Doping Association, which is widely regarded as the most credible testing organization in professional boxing) reports that close to four percent of the tests for illegal performance enhancing drugs conducted by VADA come back positive. Using the four-percent benchmark, one would expect that 60 of the 1,501 tests conducted by USADA from 2010 to date would have yielded a positive result.
Broken down by year, the numbers reported by USADA on its website are as follows:
| | | |
| --- | --- | --- |
| YEAR | BOXERS | TESTS |
| 2010 | 2 | 16 |
| 2011 | 2 | 29 |
| 2012 | 9 | 113 |
| 2013 | 11 | 181 |
| 2014 | 28 | 310 |
| 2015 | 35 | 446 |
| 2016 | 16 | 171 |
| 2017 | 12 | 105 |
| 2018 thru 8/22 | 13 | 130 |
| TOTAL | 128 | 1,501 |
Virtually all of these tests were administered in conjunction with fights in which companies controlled by Al Haymon had a vested financial interest.
The most common venues for the fights in question were Nevada, California, and New York.
On August 21, 2018, Bob Bennett (executive director of the Nevada Athletic Commission) told this writer, "I don't recall ever being advised that a boxer who was tested by USADA for one of our fights tested positive for a banned substance. MMA combatants, yes; but no boxers."
One day later, Andy Foster (executive officer for the California State Athletic Commission) acknowledged, "I can't recall an instance when USADA reported a positive test finding for a professional boxer here in California. I know that VADA has, but not USADA."
Multiple sources at the New York State Athletic Commission say that they are unaware of USADA communicating any adverse finding with regard to a professional boxer to the NYSAC other than its belated reporting of Erik Morales for the presence of clenbuterol in his system in 2012.
It should be further noted that three of the professional boxers who tested clean with USADA during the period in question – Andre Berto, Lamont Peterson, and Canelo Alvarez – tested positive with VADA on other occasions. Indeed, it was VADA's finding that Alvarez had clenbuterol in his system that forced the rescheduling of his rematch against Gennady Golovkin from May 5 to September 15 of this year.
Despite its name, USADA is neither a government agency nor part of the United States Olympic Committee. It's an independent "not-for-profit" corporation headquartered in Colorado Springs that offers drug-testing services for a fee. Most notably, the United States Olympic and Paralympic movement utilize its services. Because of this role, USADA receives in excess of ten million dollars annually in Congressional funding.
Travis Tygart, USADA's chief executive officer, spearheaded his organization's expansion into professional boxing. That opportunity arose in late-2009, when drug testing became an issue in the first round of negotiations for a proposed fight between Floyd Mayweather and Manny Pacquiao. Thereafter, Tygart moved aggressively to expand USADA's footprint in professional boxing and forged a working relationship with Richard Schaefer, who until 2014 served as CEO of Golden Boy Promotions. USADA also became the drug-testing agency of choice for fighters advised by Al Haymon.
At present, no state requires as a matter of course that drug testing contracts entered into by USADA or VADA be filed with the state athletic commission. In some states, USADA and VADA aren't even required to report positive test results (although VADA always does).
By and large, state athletic commissions tend to defer to USADA and VADA because of their expertise and because it saves the governing commission money if someone else does the PED testing.
Often, when USADA sends reports to a state athletic commission, it sends only test summaries, not full laboratory test results.
Even when USADA and VADA are uninvolved, some states still don't test for performance enhancing drugs.
It's a haphazard system that's ripe for abuse. And it leads to the question, "How can USADA administer 1,501 tests for banned substances to professional boxers and report only a single violation of anti-doping rules to a governing state athletic commission?"
USADA has shown that it knows how to catch drug cheats. In 2015, it entered into a contract to test mixed martial arts combatants for UFC. UFC wanted USADA to catch the drug cheats. In part, that might have been because a multi-billion-dollar sale of UFC's parent company was in the works and prospective buyers wanted a clean sport. It's also possible that Dana White and the rest of the UFC leadership understand the difference between right and wrong when it comes to illegal PED use in a combat sport.
Since then, some of the biggest names in UFC have been suspended pursuant to tests administered by USADA. This includes Brock Lesnar, Chad Mendes, Junior Dos Santos, Francisco Rivera, Anderson Silva, Jon Jones, Josh Barnett, and Nick Diaz.
Similarly, USADA has issued numerous press releases with regard to positive test results and the resulting suspension of amateur boxers (for example, Paul Koon, Michael Hunter, Damon Allen Jr, Jesus Gomez, and Jerren Cochran).
So why the absence of reported positive test resuts with regard to professional boxers?
Let's start with the fact that USADA is often hired by, and contracts with, representatives of the very boxers it's supposed to be testing.
A Major League Baseball team or National Football League player can't choose the drug-testing agency that will conduct tests and then negotiate a fee with that agency. But this is what happens frequently with USADA. Indeed, there are times when it seems as though USADA collects drug-testing payments the way boxing's world sanctioning organizations collect sanctioning fees. It has been known to charge as much as $150,000 to administer tests for a particular fight. By contrast, VADA charges as little as $16,000 for a complete drug-testing program for a given fight.
Also, if one is looking for loopholes, there are many ways to rationalize throwing out an adverse test result: "The collection process was flawed . . . The chain of custody for the sample was improper . . . The sample was somehow contaminated . . . The boxer tested positive for clenbuterol because he ate contaminated beef . . . I know he tested positive, but we're granting him a retroactive therapeutic use exemption."
Judgments regarding mitigating circumstances are properly left to governing state athletic commissions. USADA should test and report the results of these tests to the governing state athletic commission and certain other contractually-designated parties. It should not adjudicate or grant retroactive therapeutic use exemptions. That's what got it in trouble in Nevada in 2015 when it unilaterally granted a retroactive therapeutic use exemption to Floyd Mayweather and later conceded that, without this retroactive TUE, Mayweather would have been in violation of the World Anti-Doping Agency code.
But it appears as though some of USADA's PED-testing contracts for professional boxers don't require it to report violations to the governing state athletic commission. And some of its contracts allow it to adjudicate matters that should be left to other decision-makers.
Here, the contract for PED testing entered into by USADA with Floyd Mayweather and Manny Pacquiao is instructive. Paragraph 30 of this contract states, "If any rule or regulation whatsoever incorporated or referenced herein conflicts in any respect with the terms of this Agreement, this Agreement shall in all such respects control. Such rules and regulations include, but are not limited to: the Code [the World Anti-Doping Code]; the USADA Protocol; the WADA Prohibited List; the ISTUE [WADA International Standard for Therapeutic Use Exemptions]; and the ISTI [WADA International Standard for Testing and Investigations]."
In other words, USADA was not bound by the drug testing protocols that one might have expected it to follow in conjunction with Mayweather-Pacquiao.
Indeed, at one point in the negotiations, USADA presented the Pacquiao camp with a contract that would have allowed USADA to grant a retroactive therapeutic use exemption to either fighter in the event that the fighter tested positive for a prohibited drug. And this TUE could have been granted without notifying the Nevada State Athletic Commission or the opposing fighter's camp. Team Pacquiao thought this was outrageous and refused to sign the contract. Thereafter, Mayweather and USADA agreed to mutual notification and the limitation of retroactive therapeutic use exemptions to certain circumstances.
On August 14, 2015, in the aftermath of the Mayweather IV controversy, Annie Skinner (then a public relations spokesperson for USADA) acknowledged, "At this time, the only professional boxer under USADA's program who has been found to have committed an anti-doping rule violation is Erik Morales."
At that time, USADA, by its own count, had administered 915 tests to professional boxers. Think about that for a minute! VADA's four-percent positive-test-result rate would have yielded 36 positive test results at that point in time. And since then, there appear to have been zero reports by USADA of adverse findings regarding a professional boxer to a governing state athletic commission.
Here it should be noted that, as stated earlier in this article, the USADA website says that USADA conducted 105 tests on professional boxers in 2017. But USADA's 2017 annual report states that USADA conducted 109 tests on professional boxers in 2017.
Drug-testing is a detail-oriented endeavor. Statistics have to be precisely calculated. How does USADA account for the four missing tests?
Victor Conte was the founder and president of BALCO and at the vortex of several well-publicized PED scandals. He spent four months in prison after pleading guilty to illegal steroid distribution and tax fraud in 2005. Since then, Conte has become a forceful advocate for clean sport. What makes him a particularly valuable asset is his knowledge of how the performance enhancing drugs game is played.
Asked about USADA's PED test numbers for professional boxers, Conte declares, "Numbers like this for professional boxing don't make sense. It's just not credible. You have to ask whether there's a genuine interest on the part of USADA in catching these athletes."
"One reason VADA testing is effective," Conte continues, "is that Margaret Goodman uses CIR [carbon isotope ratio] testing on every urine sample that VADA collects from a boxer. CIR testing can increase the number of positive tests in a given situation from one percent to five percent. To my knowledge, USADA doesn't use CIR testing on every sample. But it's common sense. To be successful in any endeavor, you do more of what works and less of what doesn't work."
On multiple occasions in August, this writer requested of USADA that it provide answers to the following questions:
(1) Other than Erik Morales in 2012, has USADA ever reported a positive drug test result with regard to a professional boxer to a state athletic commission? And if so, on how many occasions and to which commission(s).
(2) On how many occasions has the "A" sample of a professional boxer tested by USADA come back positive for a prohibited substance?
(3) On how many occasions has the "B" sample of a professional boxer tested by USADA come back positive for a prohibited substance?
On August 28, Danielle Eurich (a media relations specialist for UDADA) responded as follows: "Hi Thomas, Given your previous inaccurate reporting on USADA's role in professional boxing and refusal to correct the record when given the opportunity, our only comment at this time is that we will not be providing you with the requested information as we have no confidence that anything we offer in response to your questions would be used accurately. We believe readers deserve an honest, fact-based account of the state of anti-doping in boxing, but regrettably that need has not been met with your past reporting. We're sure you understand the reasons why we are unable to offer any further comment at this time."
This is known as avoiding the issue. Other writers, news organizations, and government entities (including the Association of Boxing Commissions) are urged to press USADA for answers to the questions above.
Meanwhile, where should boxing go from here?
As I wrote three years ago, the presence of performance enhancing drugs in boxing cries out for action. To ensure a level playing field, a national solution with uniform national testing standards is essential. A year-round testing program is necessary. It should be a condition of being granted a boxing license in this country that any fighter is subject to blood and urine testing at any time. While logistics and cost would make mandatory testing on a broad scale impractical, unannounced spot testing could be implemented, particularly on elite fighters.
Without additional federal legislation, the Association of Boxing Commissions can't require PED testing. But the individual states can. Each state should require that:
(1) All contracts for drug testing be filed with the governing state athletic commission within seven days of execution.
(2) All test results be forwarded to the governing state athletic commission within three days of receipt by USADA, VADA, or any other testing agency. Such filings should include (a) the name of the boxer who was tested; (b) a summary of the results from each test; and (c) copies of the complete test results. A commission doctor should review all test results as they come in.
The Association of Boxing Commissions could serve as a repository for this information as it's received by the individual states. In today's computer age, that wouldn't be hard to do. This registry would ensure the free flow of information from state to state and also provide a baseline against which future tests for performance enhancing drugs could be evaluated.
Given the amount of money that USADA receives annually from the federal government, it would also be appropriate for Congress to conduct an inquiry into USADA's practices with regard to professional boxing.
Meanwhile, the point can't be made often enough. This isn't about running faster or hitting a baseball further. It's about hitting someone in the head harder in a sport where the aim is to knock an opponent unconscious.
Thomas Hauser can be reached by email at thauser@rcn.com. His next book – Protect Yourself at All Times – will be published by the University of Arkansas Press this autumn. In 2004, the Boxing Writers Association of America honored Hauser with the Nat Fleischer Award for career excellence in boxing journalism.
Check out more boxing news on video at The Boxing Channel
Gervonta vs. Shakur: Street Fight or Boxing?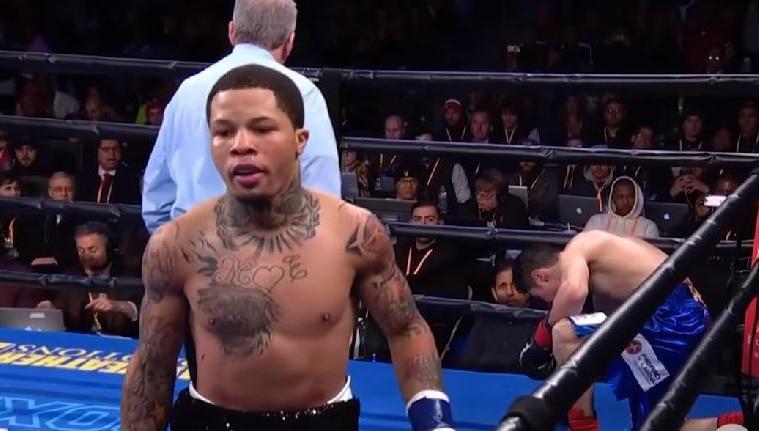 Gervonta "Tank" Davis — out of Baltimore — is a fan-friendly, undefeated (21-0, 20 KOs), two-time super featherweight champion. An all-action fighter, he brings the heat whenever and wherever he fights, operating like a mini-Tyson.
Shakur "Fearless" Stevenson—out of Virginia by way of Newark, NJ—won a Silver Medal at the 2016 Summer Olympics and is also undefeated as a pro (11-0, 6 KOs). In a moment of "unbridled" modesty, Floyd Mayweather Jr. called him "the next Mayweather."
Davis (pictured) and Stevenson used to be good friends but apparently no more. The two have been feuding on twitter.
Shakur, a featherweight, has now called out Tank, saying he wants him at 130—and with his win against Christopher Diaz on the Crawford-Khan undercard, the call-out quickly becomes more meaningful and likely will reignite their twitter war.
What's not quite clear is whether such a fight would be held in the ring or out in the street because of the many, many things they have in common, one, allegedly, is engaging in nasty street fights.
A recent and widely viewed video appears to show Stevenson, accompanied by fellow boxer David Grayton, in the middle of a parking garage brawl in Miami Beach in an incident that occurred nearly a year ago. Stevenson was in Miami Beach to celebrate his 21st birthday. It was not so much a brawl as it was a beatdown by the two boxers including a vicious kick at the end on a downed victim who already had received several flush shots to the face. A woman with the victim was also assaulted, suffering cuts and bruises. Afterwards, the two grabbed each other's hands in a somewhat bizarre scene and fled to their hotel where they were arrested.
The video was first posted by slaterscoops.com which revealed that Stevenson and Crayton were arrested on July 1 and charged with misdemeanor battery. By the time the video came to light, the matter had quietly been resolved. Stevenson's promoter Bob Arum seemed to have been involved in the resolution.
Here is what Arum said according to an article by Niall Doran in Boxing News: "We knew the facts and we knew that he was in a place that he shouldn't have been at. We had a long talk with him and luckily the people around him, his grandfather who raised him, coach Kay (Koroma) who has a big influence on him and Andre Ward and James Prince who are his managers, took him aside and talked to him. It will never happen again I assure you. He is a great, great kid and he understands what his responsibilities are. He's not a wild kid and he's going to be fine. I'm very comfortable with how he's being raised."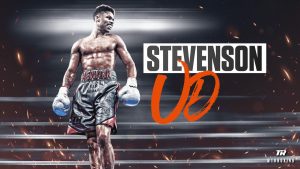 Let's hope Arum is correct.
Gervonta Davis
On August 1, 2017, an arrest warrant was issued for Gervonta Davis for an alleged assault. The charge was later reduced from first-degree aggravated assault to misdemeanor second-degree assault.
At the court, Anthony Wheeler, a long-time friend of Gervonta, complained that he was diagnosed with a concussion after Davis punched him on the side of the head with a 'gloved fist.' Wheeler subsequently dropped the charges. The Baltimore Sun reported that Tank and Wheeler both shook hands, embraced, and walked out of the courtroom together. All's Well That Ends Well.
But there's more.
According to TMZ, Davis was arrested in Washington, DC, in the early morning of Sept. 14, 2018, and charged with disorderly conduct after a dispute over a $10,000 bar bill. And then on February 17 of this year, according to TMZ and other sources, Davis was involved in an incident that began inside an upscale shopping mall in Virginia.
As things heated up, Tank and the other man took it to the streets and engaged in a fistfight with closed-fist punches being landed around the upper body. As people tried to break it up, both men fled but the police arrived and arrested them for disorderly conduct. They were booked and processed at a nearby station. Ten days after the incident, a warrant was issued for Davis's arrest.
Leonard Ellerbe of Mayweather Promotions, which promotes Davis, told ESPN "We'll let the judicial system play out….Obviously, this is just an allegation…Again, it just seems odd to me that a black man, allegedly, pushes or shoves — and I'm just reading what the TMZ article says — a police officer and he doesn't get arrested on the spot, then a couple of weeks later, then they issue an arrest warrant based on their internal investigation. That just seems a little odd to me."
The police reportedly made numerous attempts to contact Davis by telephone to serve the warrant but received no response.
Tank recently tweeted "Lies lies lies" (9:16 AM – 5 Mar 2019).
The case is still ongoing. Gervonta could well be exonerated and hopefully he will be, but these incidents, whether expunged, dismissed or dropped, are not good for boxing. The recent birth of a daughter seems to have grounded Tank and his recent tweet to wit: LOVE IS LOVE is not the tweet of someone who is in the wrong lane.
Let's wrap this up with a quite from Showtime Sports president Stephen Espinoza: "I think the sky is the limit for Gervonta Davis…You put those two elements together — the likability and charisma outside the ring and the entertainment value inside the ring — and he has the potential, if he stays on this track, to be one of the biggest names in the sport."
Ted Sares is a lifetime member of Ring 10, and a member of Ring 4 and its Boxing Hall of Fame. He also is an Auxiliary Member of the Boxing Writers Association of America (BWAA). He is an active power lifter and Strongman competitor in the Grand Master class and is competing in 2019.
Check out more boxing news on video at The Boxing Channel
To comment on this story in The Fight Forum CLICK HERE
Philadelphia's Danny Garcia Wins in LA (is Manny Next?) and Undercard Results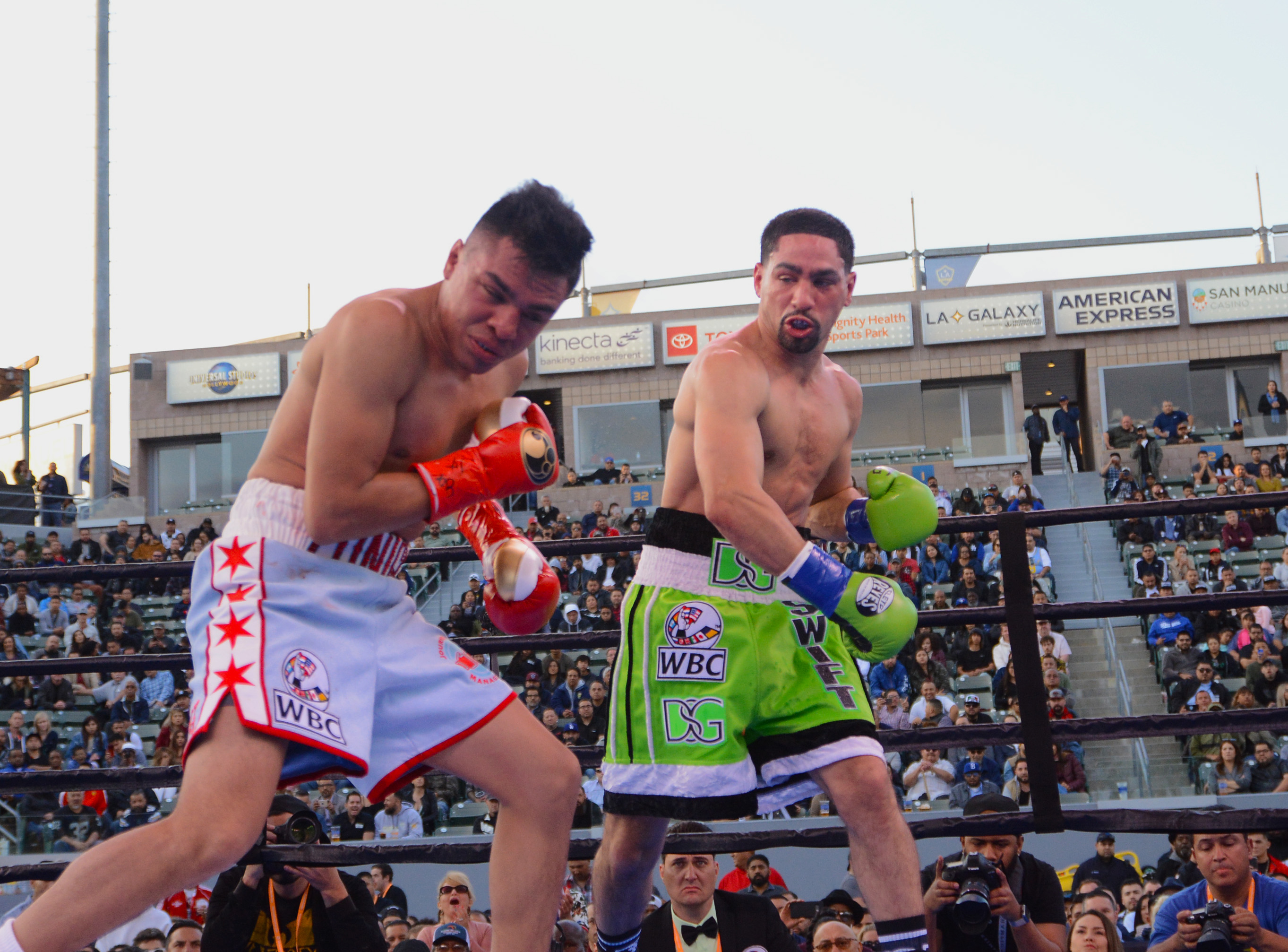 CARSON, Calif.-Former two division champion Danny "Swift" Garcia had too much firepower for Adrian Granados and simply overwhelmed the gritty fighter from Chicago before winning by knockout on Saturday.
No world title was at stake but future prizes were.
Philly fighter Garcia (35-2, 21 KOs) had predicted he would mow through Granados (20-7-2) who was moving up in weight again for this fight and was just too heavy handed before a crowd of more than 6,000 at the Dignity Health Sports Park. The PBC card was televised by FOX.
After a casual exchange of punches in the first round Garcia started bringing the thunder in the second round and connected with a double left hook to the body and a left hook to the head of Granados. The blows resounded throughout the arena and drew oohs from the crowd. Then Garcia caught Granados with a counter left hook that sent Granados sprawling across the ring. He got up and beat the count. Another exchange saw Garcia land a counter right cross and down went the Chicago fighter. He beat the count again but looked hurt. He survived the end of the round.
Garcia stalked Granados who moved more cautiously for the next two rounds but was still catching rights.
In the fifth round a straight right floored Granados while he was against the ropes. He survived the round again.
Granados tried every move he could think to change the momentum but nothing seemed to work. In the sixth both fought inside but Garcia soon began pummeling Granados with the referee looking closely. He allowed the fight to continue into the seventh round but checked with the corner twice.
With the crowd murmuring, Garcia gave chase to Granados and caught him near the ropes with a lead right and another right before unleashing a four-punch barrage. Referee Tom Taylor jumped in and stopped the beating at 1:33 of the seventh round to give Garcia the win by knockout.
Philadelphia's Garcia had won in Southern California once again. He had beaten Robert "The Ghost" Guerrero by decision three years ago in Los Angeles.
"This is what makes Danny Garcia one of the best fighters in the world," said Garcia. "I had to be the first man to stop him and I did that today."
The win puts Garcia as a strong candidate to face multi-divisional world champion Manny "Pacman" Pacquiao who now holds the WBO welterweight world title.
"I hope I didn't scare him away. Frankly I would love that fight or Keith Thurman or Errol Spence," Garcia said.
Other Bouts
Brandon Figueroa (19-0) of Texas rumbled to a knockout win over Venezuela's Yonfrez Parejo (22-4-1) to win the interim WBA super bantamweight title. The battle was fought mostly inside, forehead to forehead, but surprisingly, neither fighter suffered cuts from butts.
Figueroa and Parejo slugged it out inside until the sixth round when Parejo took the fight outside and scored well from distance. But Figueroa kept hunting him down and digging to the body and head. Finally, in the eighth round Figueroa began catching the moving Parejo with digging shots that seemed to affect the Venezuelan boxer. At the end of the round Parejo signaled he had enough.
Figueroa was deemed the winner by knockout.
"Honestly I thought I was going to finish him the next round," said Figueroa.
California's Andy "the Destroyer" Ruiz (32-1) won by knockout over Germany's much taller Alexander Dimitrenko (41-5) in a heavyweight fight set for 10 rounds. Despite the size disparity Ruiz was the aggressor throughout and attacked the body with punishing blows. In the third round Ruiz almost ended the fight when Dimitrenko was severely hurt. After the end of the fifth round Dimitrenko's cornered signaled the fight was over and referee Ray Corona waved it off. Ruiz wins by knockout as the crowd cheered loudly.
Ruiz was recently signed by PBC and may have found a home more suited for his weight division. It was his first fight under the PBC banner.
"I'm ready for the next one, I kind of seen that coming," said Ruiz who admitted to eating a Snickers for energy. "The game plan was dropping the body down."
Alfredo "El Perro" Angulo (25-7, 21 KOs) used the trusty knockout to win for the first time in four years. The victim was Evert Bravo (24-10-1) a super middleweight from Colombia who had his own losing streak like Angulo.
Both punished each other with hard combinations the first round, but in the second frame Angulo found his rhythm and fired a barrage of blows that left Bravo slumped along the ropes. Referee Rudy Barragan stopped the fight at 1:23 of the second round to give Angulo his first victory since he defeated Hector Munoz at the Staples Center on August 2015. He now trains with Abel Sanchez in Big Bear.
"I found a good coach," said Angulo.
More than 1,000 fans remained to see Angulo perform long after the Garcia-Granado's main event. He's still a draw, especially in Southern California.
Former US Olympian Carlos Balderas (8-0, 7 KOs) stopped Luis May (21-14-1) with a barrage of blows in the fourth round of their lightweight clash. Balderas knocked down May several times but the crafty May used every means to survive including multiple low blows. Finally, at 1:07 of round four, Balderas unleashed several blows that saw May go down and a towel was thrown from his corner. Referee Ray Corona stopped the fight.
Fontana, California's Raymond Muratalla (7-0) floored Mexico's Jose Cen Torres (13-12) three times in the third round to win by knockout at 2:58 of the round in a super lightweight bout. Muratalla dropped Torres with a short right uppercut for the first knockdown. A right to the body sent Torres down a second time. A double right cross delivered Torres down a final time as referee Ray Corona immediately stopped the fight.
Las Vegas fighter Rolando Romero (9-0, 8 KOs) knocked out Colombia's Andres Figueroa (9-5, 5 KOs) with a left hook during an exchange of blows at 1:27 of the fourth round in their lightweight scrap. Figueroa landed with a thud and was unconscious for several minutes and sent to the hospital.
Denver's Shon Mondragon (2-0) battered Mexico's Hugo Rodriguez (0-4) in the third round forcing referee Eddie Hernandez to end the fight at 1:55 of round three in a super bantamweight match.
Nelson Hampton (5-2) of Texas beat Phillip Bounds (0-3) by decision after lightweight fight.
Other winners were Jeison Rosario by split decision over Jorge Cota in a super welterweight fight. Omar Juarez beat Dwayne Bonds by decision in a super lightweight bout. Featherweights Ricky Lopez and Joe Perez fought to a draw after 10 rounds.
Photo credit: Al Applerose
Check out more boxing news on video at The Boxing Channel
To comment on this story in The Fight Forum CLICK HERE
Fast Results From NYC: Crawford TKOs Khan but not Without Controversy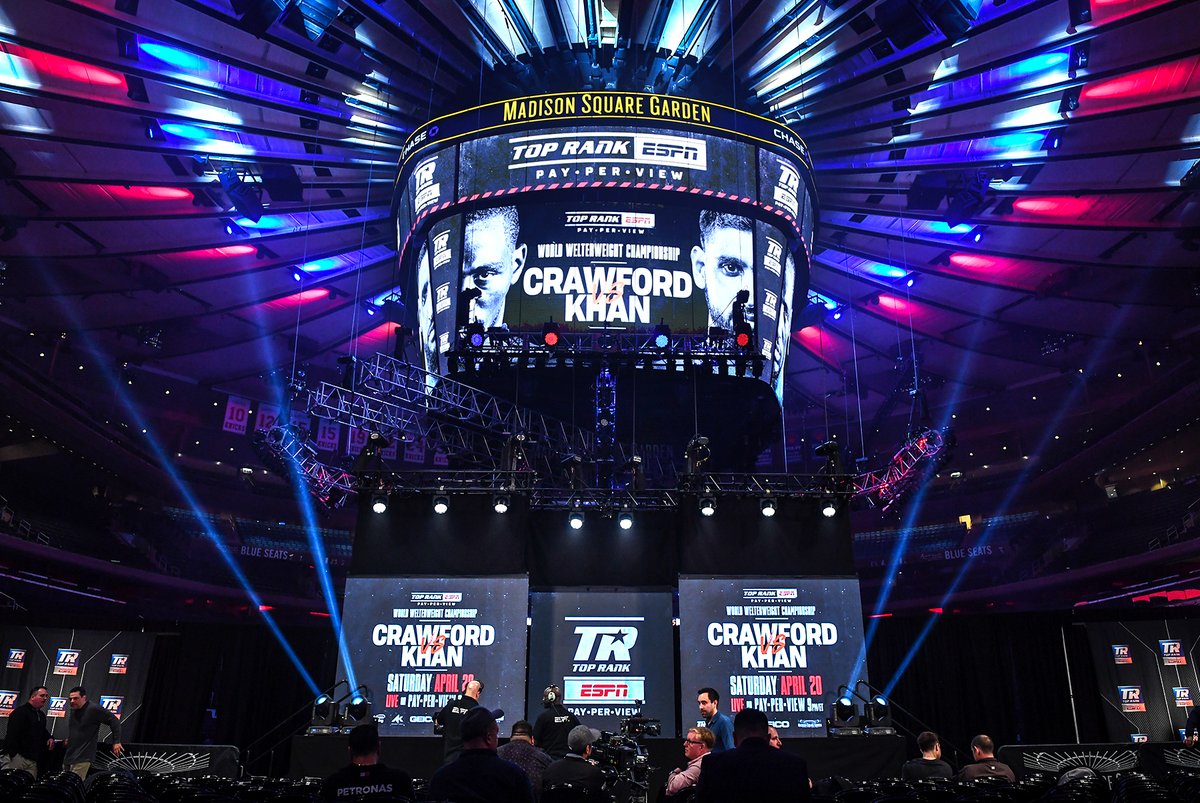 Amir Khan, who doesn't shy away from tough assignments, was in New York tonight opposing WBO welterweight champion Terence Crawford, a man who is on everyone's short list of boxing's top pound-for-pound fighters. The general assumption was that Khan had the slickness to win a few rounds but that his chin would ultimately betray him.
Khan won one round at the most — and that's being generous – before the bout was stopped after 47 seconds of the sixth frame with Khan in pain from a low blow. Referee David Fields stopped the action to allow Khan to recover and then stopped the fight on the advice of the ring doctor with the apparent encouragement of Khan's trainer Virgil Hunter. Because the low blow was accidental, Crawford was declared the winner by TKO.
It appeared that this fight would end in a hurry. In the opening round, Crawford decked Khan with an overhand right. Khan got to his feet but was in distress and for a moment it didn't appear that he would last out the round. But Crawford did not press his advantage in round two and Khan regained his composure.
Crawford was in complete control when the fight ended, having raked Khan with combinations and a series of body punches in the fourth and fifth stanzas. Although the final punch of the fight was way south of the border, Khan's refusal to continue was widely seen as an act of surrender. After the bout, Crawford called out Errol Spence.
PPV Undercard
Lightweight Teofimo Lopez, whose highlight reel knockouts and brash demeanor have made him arguably the most exciting young prospect in boxing, found a new way to conclude a fight tonight, collapsing Edis Tatli in the fifth round with a body punch. Lopez, who was born in Brooklyn and raised in a suburb of Miami (his parents are from Honduras and Spain), improved to 13-0 with his 11th knockout. Tatli, a Kosovo-born Finn making his U.S. debut, suffered his third loss in 34 starts. A two-time European lightweight champion, Tatli hadn't previously been stopped.
Fast rising featherweight contender Shakur Stevenson, the 2016 Olympic silver medalist from Newark, simply outclassed former world title challenger Christopher Diaz, winning the 10-round bout on scores of 100-90, 99-91, and 98-82. The 21-year-old southpaw, now 11-0, was too fast and too busy for his Puerto Rican adversary who fell to 24-2.
In the first of the four PPV bouts, lightweight Felix Verdejo won a unanimous 10-round decision over Bryan Vasquez. Verdejo, a 2012 Olympian for Puerto Rico once touted as the island's next Felix Trinidad, was returning to the site where he suffered his lone defeat, succumbing to heavy underdog Antonio Lozada whose unrelenting aggression ultimately wore him down, resulting in a 10th round stoppage.
Vasquez appeared to injure his left shoulder near the midpoint of the battle, an advantage to Verdejo, now 25-1, who started slowly but outworked Vasquez down the stretch, winning by scores of 98-92 and 97-93 twice. Costa Rica's Vasquez, the husband of prominent boxer Hanna Gabriels, falls to 37-4.
Other Bouts
 Super welterweight Carlos Adames, who hails from the Dominican Republic but has been training with Robert Garcia in Riverside, California, made a strong impression with a 4th round stoppage of Brooklyn's Frank Galarza. The undefeated Adames, now 17-0 (14 KOs), knocked Galarza (20-3-2) to the canvas with a hard left hook and then went for the kill, pinning Galarza against the ropes with a series of unanswered punches that compelled referee Benjy Estevez to intervene. The official time was 1:07.
 Super welterweight Edgar Berlanga, a 21-year-old New Yorker of Puerto Rican descent, needed only 46 seconds to dismiss 38-year-old Brazilian trail horse Samir dos Santos. Berlanga, who began his pro career in Mexico, has now knocked out all 10 of his opponents in the opening round.
Super welterweight Vikas Krishan, a two-time Olympian, improved to 2-0 with a 6-round unanimous decision over Noah Kidd (3-2-1). The scores were 59-55 and 60-54 twice.
A 27-year-old southpaw who as a job waiting for him as a police officer, Krishan is the second notable boxer to emerge from India, following on the footsteps of Top Rank stablemate Vijender Singh.
Bantamweight Lawrence Newton, a Floridian who has been training at Terence Crawford's gym in Omaha, won his 12th straight without a loss with a 6-round unanimous decision over Jonathan Garza (7-3). The scores were 60-54 and 59-55 twice.
In a 6-round junior welterweight match that was one-sided but yet entertaining, Lawrence Fryers won a unanimous decision over Dakota Polley. Fryers, wh is from Ireland but resides in New York, improved to 10-1. The 20-year-old Polley, from St. Joseph, Missouri, fell to 5-3.
Check out more boxing news on video at The Boxing Channel
To comment on this story in The Fight Forum CLICK HERE