Who can Provide the Thrill Rides Today?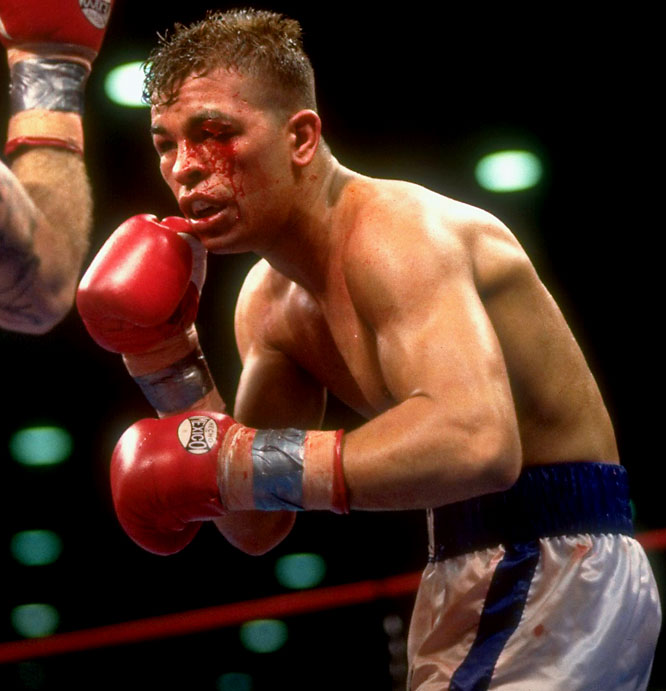 Back in the day, work went by faster on Friday knowing that you'd be seeing Danny Lopez, Arturo Gatti or Matthew Saad Muhammad fight on TV over the weekend. On Monday, another one of boxing's ultimate thrill rides, James "The Outlaw" Hughes, would be the subject of much discussion around the office coffee machine. The common thread of such warriors was their mind-boggling ability to snatch victory from certain defeat right up to the last second of the last round, and more importantly, the unwavering faith in their ability to do this.
Danny "Little Red" Lopez's stoppage of Juan Malvarez was typical of Danny's come-from-behind dramatics. Danny had been beaten badly for three minutes and forty-four seconds and seemed on the brink of going down for good when he unleashed a right to Juan's jaw that spelled "Finito." Time and again, Little Red worked his magic and gave fans something special.
Heck, Danny was Matthew Saad Muhammad before Saad did his incredible thing.
What Saad did against Marvin Johnson, Yaqui Lopez, Billy Douglas and others during the Era of the Great Light Heavyweights could not have been scripted better in Hollywood. But then in December of 1981, all of the wars and a buzzsaw from Camden, New Jersey named Dwight Muhammad Qawi caught up with him and the remaining ride became a tragic one.
Saad, however, was Arturo Gatti before Gatti.
Gatti, an Italian-Canadian nicknamed "Thunder," launched his career just as Saad was moving down the wrong side of the bell-shaped curve. In three consecutive years, beginning with his come-from-behind knockout of Wilson Rodriguez in 1996, Gatti (pictured) had fights that came to be cited as candidates for "Fight of the Year." In October of 1997, he sedated Gabriel Ruelas (44-3) with a left cross from hell after having absorbed an ungodly number of consecutive punches. To no one's surprise, the bout was named "Fight of the Year" by The Ring magazine. He would participate in three more Ring "Fight of the Year" affairs, cementing his legacy as one of the most exciting fighters ever–and the excitement he generated eventually put him into the International Boxing Hall of Fame.
Carl Froch also had the knack and his last second demolition of Jermaine Taylor was a classic illustration of his ability to generate drama in a come-from-behind fashion.
Today
Today's top fighters seem to be more methodical and predictable in getting their wins with Mikey Garcia or Donnie Nietes being the prototypes of a fighter who will break down his opponent and/or take a knockout if the opportunity presents itself.
Terence Crawford arguably might be an exception—or a potential exception– as he is capable of making mid-fight adjustments when things aren't going his way. Undefeated Yuriorkis Gamboa found this out the hard way.
One fight, however, does not make a Saad.
Jarrett Hurd, with his late power, has the makings but needs more time, and a now more vulnerable Roman Gonzalez perhaps meets the thrill ride standard.
Two other names come to mind.
When Francisco Vargas came back to stop Takashi Miura after being decked in the fourth round of their WBC super featherweight title fight in 2015, some said it was the the most dramatic comeback since Chico Corrales's 10th round stoppage of Jose Luis Castillo in 2005. It was a FOTY type affair.
Vargas, from Mexico City and known as "El Bandido," delivered another rousing "Fight of the Year" performance in 2016 when he fought to a draw against Orlando Salido.
Vargas was badly cut in both of the aforementioned fights and these cuts reopened against rugged fellow Mexican Miguel Berchelt leading to "El Bandido" being stopped in round 11. He was cut on the bridge of his nose in round three and was cut over each eye in round four, the second a nasty cut from an accidental headbutt making his face a symmetrically bloody mess. He is now on the comeback trail with a record 25-1-2 and with guaranteed thrills whenever he fights.
Deontay Wilder's performance against Luis Ortiz warrants mention as the kind of comeback fans have come to miss in recent years. And as he proved against Tyson Fury, no matter whom he fights or where he fights, he could win it with one second remaining in the last round. Friday will go by a bit faster waiting on the "The Bronze Bomber" to do his thing again.
Ted Sares is one of the world's oldest active power lifters and Strongman competitors. He is a lifetime member of Ring 10, and a member of Ring 4 and its Boxing Hall of Fame. He also is an Auxiliary Member of the Boxing Writers Association of America (BWAA).
Check out more boxing news on video at The Boxing Channel
To comment on this article at The Fight Forum, CLICK HERE
"King Kong" Ortíz Battles Against Time and the Demands of his Rivals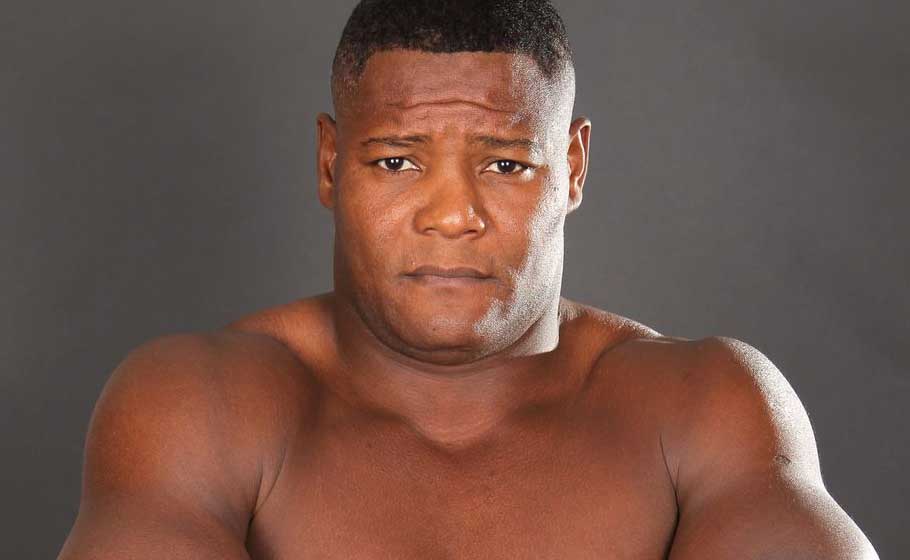 About to turn 40 years old on the 29th of March, the giant Cuban Luis Ortíz is pressured equally by both his age and the demands of his potential adversaries. Even though he currently possesses the abilities necessary to achieve his dream of becoming the first Cuban heavyweight world champion, just like any mortal, his time in the sport is running out.
But "King Kong" Ortíz (30-1-0, 26 KOs) is a victim of his own quality, that which he has demonstrated against all of his adversaries, including the current world champion, American Deontay Wilder.  On March 3rd of last year at the Barclays Center in Brooklyn, New York, Ortíz was defeated by Wilder by technical knockout in the 10th round, after having previously been knocked down in the 5th.
The outcome made it seem as if "The Bronze Bomber" Wilder had made significant progress in terms of his skill. But this is far from the truth. Ortíz pushed the champion to his limits but didn't succeed in capturing victory due to a lack of "killer instinct". When the fight was in his favor, he hesitated to go in for the finish.  In the 6th round, Ortíz landed powerful blows against Wilder, who attempted to evade them to the best of his abilities, and there seemed there would be a knockdown. But the final blows were too close to the bell and Ortíz didn't take advantage of the situation. He was far too conservative in the 7th round, never going all in and allowing Wilder to catch a second wind. What could have been was no more. The power punches of the North American pulverized the Cuban, and in the 10th round it was all over.
Now Ortíz will face the Romanian Christian Hammer (24-5-0, 14 KO's) on the 2nd of March (just 27 days before he turns 40 years old) at the Barclays Center, the same place where he fell victim to the power of Wilder one year ago. Ortíz opens as the favorite against the Galanti born fighter, who has compiled a few knockout victories, with the most recent being against the German Michael Wallisch in the 5th round on the 15th of December in the German city of Hamburg.
Almost immediately after his fight against Wilder, Ortíz requested an opportunity for a rematch through social media and in all of his interviews. But due to his tremendous ability, there have been many obstacles in terms of negotiation.
And it hasn't only been an obstacle for the rematch with Wilder, the other fighters in the heavyweight division make exorbitant demands in order to face the Cuban, who doesn't care about the trajectory, age, or record of those whom he will face in the ring. "Who's looking for me, will find me. I'm ready for anybody", said Ortíz on various occasions.
"Its crazy, something unthinkable, fighters with a name who want to fight (against Ortíz) are asking up to $60 million" stated the Cuban's trainer Germán Caicedo, to a Miami newspaper. "That's not possible. Luis still hasn't had a pay-per-view fight, so we will continue to face the top talent in the division that we have access to".
Since his loss against Wilder, Ortíz has scored two consecutive knockouts. In July he stopped the Romanian Razvan Cojanu in the 2nd round. In December at the Staples Center in Los Angeles, Ortiz needed 10 rounds to put the nail in the coffin against the American Travis "My Time" Kauffman, after knocking him down in the 6th and 8th round, the referee Thomas Taylor was prompted to finally stop the onslaught, with no chance of victory for the local.
Even though he didn't mention Wilder directly, the trainer Caicedo affirmed, "We aren't going to wait for anybody, we aren't going to waste time for this or that to get decided. We will continue fighting. But if at the end the opportunity for a title does not present itself, which remains to be Luis's primary objective. He has lived and lives in boxing. He has also brought his family, he has a daughter that is recovering from an illness, he created a new life and for him, that's all a great accomplishment".
Joe Joyce and Oleksandr Usyk: Nothing But Words.
Ortíz in the beginning, before signing to fight Hammer, pondered the challenge proposed by the British Joe "Juggernaut" Joyce (7-0-0, 7 KO'S), who on the same night of the Cuban's defeat of Kauffman annihilated the American Joe Hanks (23-3-0, 15 KO'S) in the 1st round. Euphoric in victory, the "Juggernaut" challenged the other contenders and specifically Ortíz.
"I'm ready for any opponent and I want to fight those at the highest level", said Joyce after defeating Hanks. "I have a lot of experience and I only have to improve my strength and speed. I'm ready to show everybody what I can do. Ortíz is on my list"
Ortíz's response to the "Juggernaut" took no time: "I don't turn down fights, it's the first time I've been challenged this way, so say no more, challenge accepted, we're going do this". But after ludicrous monetary demands were made by the British side, which were impossible to accept, conversations ceased.
Another surprising turn in Ortíz's future came with the offer of a high-profile fight against The Ukrainian southpaw Cruiserweight World Champion Oleksandr Usyk, who stated that he would move up in weight. Usyk has been recognized as one of the best pound-for-pound fighters in the world and for many publications –including Zona de Boxeo – the best boxer of 2018.
The only actual champion with the four most prestigious titles (WBA, WBC, IBF, and WBO), Usyk (16-0-0, 12 KOs) signed a co-promotional contract last year with Matchroom, a company that represents various heavyweight fighters, including Dillian Whyte, Jarrell Miller, Dereck Chisora and Anthony Joshua, the current WBA, IBF, and WBO champion.
"At this moment we aren't negotiating with anyone," stated Usyk's promoter Alexander Krasyuk. "I can confirm that we are experiencing problems finding an opponent of the adequate level and skill of our boxer".
Krasyuk explained that both Joseph Parker and Jarrell Miller turned down the fight against Usyk. Meanwhile, Carlos Takam is trying to confirm a fight against Chisora and Dillian Whyte hopes to do the same with Dominic Breazeale.
"Therefore, our only options are Luis Ortíz and Alexander Povetkin. Both are top level heavyweights, with real chances of being Usyk's first opponent at heavyweight", said Krasyuk, who added that if those options were to fall out, they could accept an obligatory defense against Denis Lebedev in March.
With three victories last year, Usyk defeated the Latvian Mairis Briedis in January, the Russian Murat "Iron" Gassiev during the final season of the World Boxing Super Series (WBSS) in July, and the Englishman Tony Bellew in November.
Later not much else was said about "Usyk-Ortíz" and like the previous potential fights, it never came to fruition. At that point, Hammer turned out to be the saving grace in stopping Ortíz's clock of competitive inactivity.
Translated by E.G. for J.J. Alvarez of Boxeo.tv
Check out more boxing news on video at The Boxing Channel
To comment on this article at The Fight Forum, CLICK HERE
Where Goeth the World Boxing Super Series?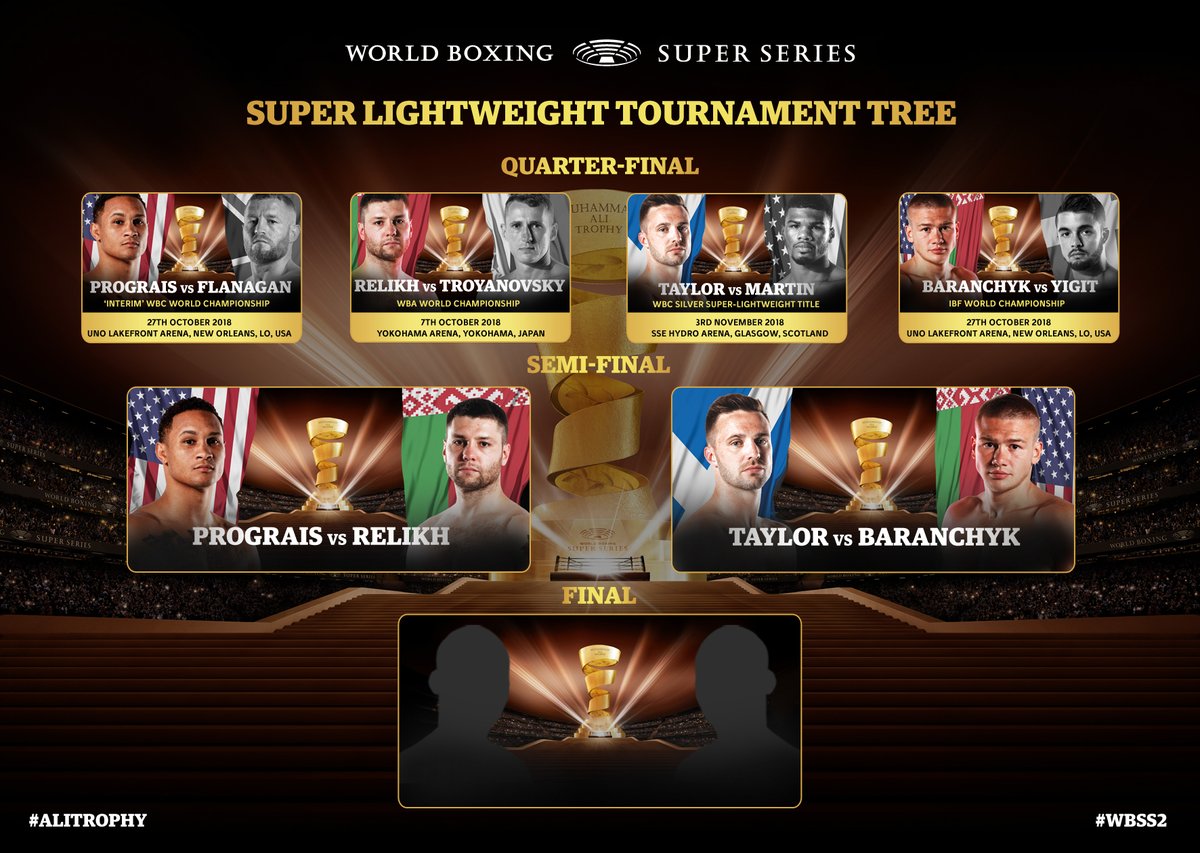 The first edition of the World Boxing Super Series was a mixed bag. Season Two appears to be hanging on by a thread.
The inaugural World Boxing Super Series (henceforth WBSS) consisted of two eight-man single elimination tournaments featuring boxers in the super middleweight and cruiserweight divisions. The nuts-and-bolts of the tournament were laid out at a hastily arranged press conference in New York in March of 2017. The kick-off event was a glitzy gala in Monaco on July 8 of that year. All 16 participants were present.
Historically, pro boxing tournaments never play out as planned; something always goes wrong. The WBSS 168-pound tournament, to no great surprise, was messy. Nor was the cruiserweight tourney free of hiccups.
German veteran Juergen Braehmer looked good in dispatching Rob Brant in his quarterfinal match in the 168-pound competition. That boosted him into a fight with top seed Callum Smith, but Braehmer was a late scratch, reportedly suffering from a severe case of the flu. That opened the door to an obscure Dutch fighter named Neiky Holzen when both of the alternates – Germany's Vincent Feigenbutz and Denmark's Patrick Nielsen — were unavailable.
Holzen lasted the distance with Smith but was widely outpointed in a humdrum fight.
The other semifinal matched George Groves against Chris Eubank Jr. In a mild upset, Groves outclassed Eubank. But during the fight he dislocated his shoulder. That pushed back his fight with Callum Smith. It didn't come off until Sept. 28, by which time it was something of an afterthought. The tournament, as initially scoped out, was supposed to have concluded in May.
The cruiserweight tournament was an artistic success. The organizers succeeded in boating all four of the significant title-holders. The finale between #1 seed Oleksandr Usyk and #2 seed Murat Gassiev was arguably the most eagerly anticipated cruiserweight fight since Evander Holyfield fought Dwight Muhammad Qawi in 1986. The fight didn't live up to its billing — Gassiev, a fierce puncher, had difficulty laying a glove on the slick Usyk — but produced the first unified cruiserweight champion in the four-belt era.
It was an artistic success, yes, but was it an economic success? The organizers had difficulty locking in venues (the match between Yunier Dorticos, a Miami-based Cuban, and Russia's Dmitry Kudryashov was planted in San Antonio, of all places), with the consequence that the cruiserweight tournament also ran late, concluding on July 21.
More damaging from a bottom line standpoint, the organizers were unable to secure a U.S. TV partner. The cruiserweight finale between Usyk and Gassiev eventually aired in the U.S. on KloudTV, a fledgling live-streaming subscription service based in Alexandria, Virginia.
The money behind the WBSS comes from Comosa AG, a subsidiary of a larger entertainment company based in Switzerland. Kalle Sauerland and Richard Schaefer hold key executive positions. Sauerland oversees the boxing division of German powerhouse Sauerland Event, the firm founded by his father Wilfried Sauerland, a 2010 inductee into the International Boxing Hall of Fame. Schaefer, a Swiss national with a background in investment banking, founded Ringstar Sports in 2016 and was formerly the CEO of Golden Boy Promotions.
The WBSS backers purportedly ponied up enough money to ensure that the WBSS would have at least a three-year run. They added a third tournament for the 2018/19 season, seemingly a statement that everything was hunky-dory. The new 140-pound tourney is especially strong. It's a weight class brimming with good young talent with Regis Prograis and Scotland's Josh Taylor leading the pack. But cracks have appeared in the WBSS armor and there's concern that the entire shebang may implode.
In the 140-pound tourney, Prograis, Taylor, Ivan Baranchyk, and Kiryl Relikh advanced. The matchups for the semis are Prograis vs. Relikh and Taylor vs. Baranchyk. But Prograis and Baranchyk are threatening to pull out.
Both are frustrated with the slow pace of the tournament but there is more involved. Prograis advanced to the semis and a date with Kiryl Relikh when he outpointed Liverpool's Terry Flanagan at New Orleans on Oct. 27. That fight, held in Prograis's hometown, reportedly drew only 2,000 paid, roughly half as many as turned out at the same venue to see his previous fight against a lesser opponent, Argentina's Juan Jose Velasco. Top Rank was the lead promoter for his bout with Velasco. Prograis feels that the WBSS did a poor job of promoting his match with Flanagan.
The WBSS is reportedly trying to make the Prograis-Relikh fight for New Orleans on May 18, but that's still three months away. Winning the Muhammad Ali Trophy that goes to the victor of a WBSS tournament would be a nice feather in his cap, but Prograis is anxious to get on with his career. There are other lucrative matches out there for him, especially if he is willing to move up to 147.
David McWater, the manager of Ivan Baranchyk, says his fighter will drop out unless the WBSS gets its finances in order. In a tournament match, both fighters are paid the same with the winner receiving a bonus. McWater says that Baranchyk had to wait two months to receive the bonus that was owed him. But that hasn't stopped the WBSS from ballyhooing the Baranchyk-Taylor fight on their web site. They say it will come off in Glasgow on May 18 with the bantamweight semi-final between Naoya Inoue and Emmanuel Rodriguez serving as the co-feature.
Prograis and Baranchyk aren't the only boxers with a gripe against the WBSS. Nonito Donaire is penciled in against Zolani Tete in a semi-final match in the bantamweight tournament, but the date and venue are as yet undecided. The cruiserweight semifinal between Yunier Dorticos and Andrew Tabiti is likewise in limbo.
Will season two of the World Boxing Super Series make it to the finish line? Your guess is as good as mine.
Check out more boxing news on video at The Boxing Channel
To comment on this story in The Fight Forum CLICK HERE
AJ vs. Big Baby Confirmed for June 1: Will Wilder-Fury Steal the Thunder?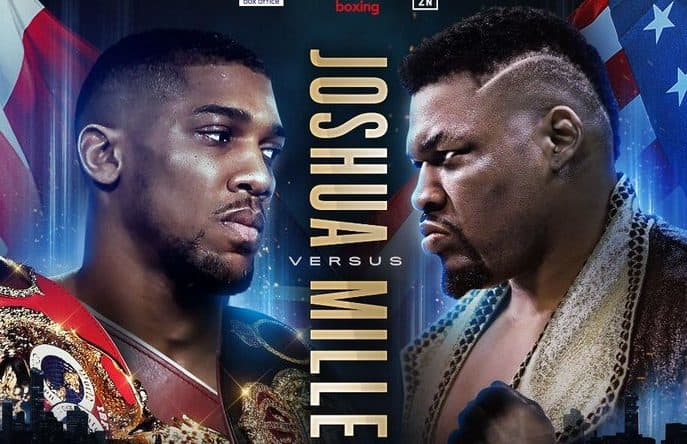 Today Eddie Hearn, the head of the boxing division of Matchroom Sport, the firm founded by his father, and the promoter of WBA/WBO/IBF heavyweight champion Anthony Joshua, confirmed what had been widely speculated: Joshua (22-0, 21 KOs) will defend his belts against Jarrell "Big Baby" Miller (23-0-1, 20 KOs) at New York's iconic Madison Square Garden on Saturday, June 1. The good news for U.S. fight fans is that the bout will stream on DAZN. It won't be pay-per-view.
AJ last fought on Sept. 22, 2018. He stopped Alexander Povetkin in the seventh round at Wembley Stadium. Big Baby was in action more recently. On Nov. 17, he stopped undefeated but inadequate Bogdan Dinu in the fourth round at the Kansas Star Arena on the outskirts of Wichita. Miller's last four fights (against Mariusz Wach, Johann Duhaupas, Tomasz Adamek and Dinu) were co-promoted by Hearn.
Big Baby has lived most of his life in Brooklyn, but one can't say he will have a home field advantage as the event will inevitably attract many Brits who are louder and more demonstrative than their American counterparts. As an amateur he reached the finals of the New York Golden Gloves tournament (losing to Tor Hamer) but he began his career in combat sports as a kickboxer where he reportedly had a record of 23-2.
Joshua, 15 months younger than Miller at age 29, stands two inches taller at six-foot-six and will have a 4-inch reach advantage. However, he figures to be outweighed by more than 50 pounds. Miller weighed in at 315 ¼  for his stay-busy fight with Dinu, 60 pounds more than he carried in his pro boxing debut in 2009.
He carries the weight well. One wouldn't describe Big Baby as lumbering. However, as Thomas Hauser noted, "fast twitch muscle fiber isn't his thing." He's heavy handed and tends to club his opponents into submission after wearing them down.
One thing Miller doesn't lack is confidence. "I'm the best out there; it's just a matter of time for the whole world to see it," he told Hauser in a 2016 interview. More recently, while attending the Whyte-Chisora fight in London, he said, "I'm a monster man. I heard Joshua was a little nerd in school…Of course I rate him highly, but I wear the pants in this game." He met up with Joshua there and they met up again at the Canelo-Fielding fight at Madison Square Garden on Dec. 15.
 For a time it appeared that as official announcements go, the rematch between Deontay Wilder and Tyson Fury would get there first. The WBC mandated that the two camps come to terms by Feb. 6 or the fight would go to a purse bid. They later granted a one-week extension and just today, Feb. 13, extended it again because the two sides were said to be ever-so-close to finalizing the deal.
Wilder-Fury II will reportedly take place in New York or Las Vegas. The best guess, according to various reports, is that the fight will come to fruition at Madison Square Garden on May 18. And wouldn't that be a bonanza for the Big Apple!
With two world heavyweight title megafights spaced only two weeks apart, New Yorkers could boast once again that their city was the Mecca of prizefighting.
Check out more boxing news on video at The Boxing Channel
To comment on this story in The Fight Forum CLICK HERE