The Hauser Report: Jermell and Jermall Charlo on Fox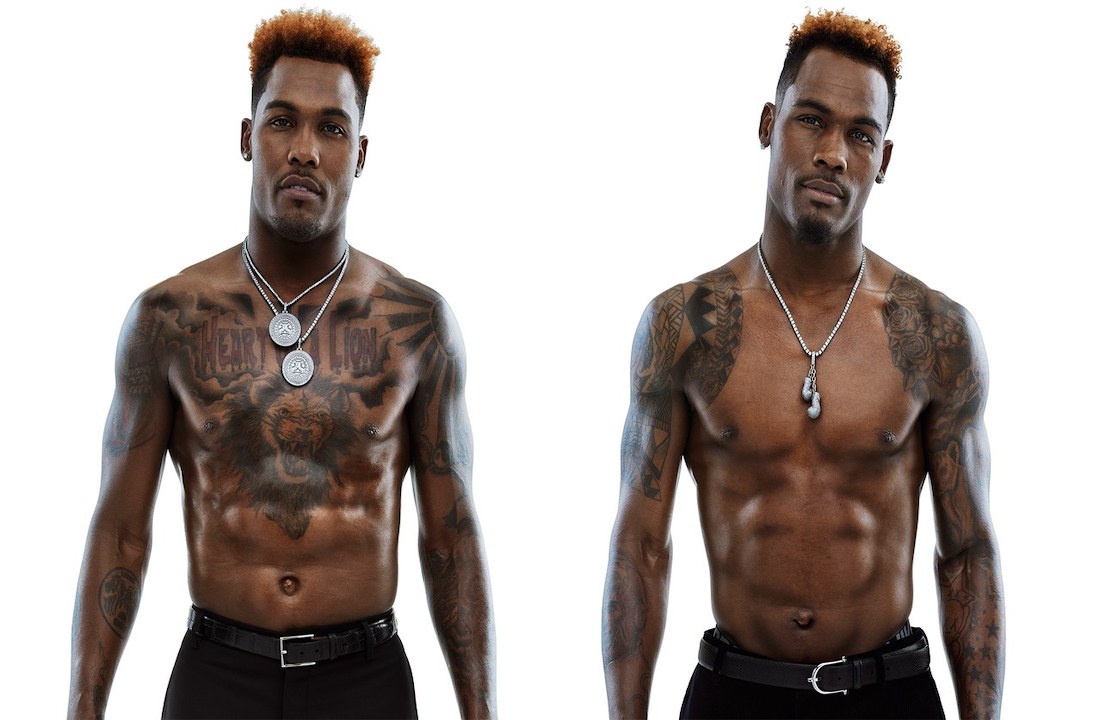 On December 22, the Charlo twins – Jermell and Jermall – fought Tony Harrison and Matt Korobov at Barclays Center in Brooklyn.
The Charlos are 28 years old and have been fighting professionally for ten years.
Jermell entered the ring with a 31-0 (15 KOs) record and was the reigning WBC 154-pound beltholder. He shone brightly in a first-round demolition of Erickson Lubin last year.
Jermall had compiled a 27-0, (21 KOs) record. He previously held the IBF 154-pound title and now campaigns as a middleweight. A 2016 decision over a faded Austin Trout was the most notable victory on his ring ledger.
Everything seems personal for the Charlos. It's hard to imagine either brother outsourcing revenge to the other (as Vitali and Wladimir Klitschko did on several occasions) and finding satisfaction in payback that wasn't beaten out with his own fists.
Jermell vs. Tony Harrison and Jermall vs. Matt Korobov were thought to be stay-busy Christmas presents for the Charlos. Neither brother gives an opponent much to work with. They're good defensive fighters who strike swiftly when opportunity beckons. Jermell was a 10-to-1 betting favorite over Harrison while Jermall was listed at 20-to-1 over Korobov.
Several disquieting themes underlay the promotion. The first of these revolved around the fact that, on November 1, both Charlos "missed" tests that were to be administered by the Voluntary Anti-Doping Association (VADA) pursuant to the WBC Clean Boxing Program. Initially, the New York State Athletic Commission sought to distance itself from the issue, saying that the WBC-VADA tests were "separate from the New York State Athletic Commission's Rules & Regulations." But that was an untenable position.
Piecing together from multiple sources what happened next, the NYSAC then asked the Charlos for a more detailed explanation of why they'd missed their tests and failed to answer their cellphones on November 1. Previously, Jermall had tweeted that the brothers had been doing "promotional stuff." But the commission didn't get an adequate response. Instead, it was suggested from above that the commission back off on requiring the Charlos to document the reason why they'd missed the tests and, instead, administer new tests. In today's world of microdosing, this passes for a bad joke. And the joke became even less funny when the NYSAC had one brother's test administered by Quest Diagnostics and the other brother's test administered by Lab Corp.
Quest Diagnostics and Lab Corp can tell the difference between blood and urine. But they don't do state-of-the-art testing (such as carbon isotope ratio testing) for banned performance enhancing drugs.
On December 14, Greg Leon of Boxing Talk interviewed Tony Harrison and told him, "I've got to ask what you think about the Charlo's, who have two different coaches, missing drug tests on the same day?"
Harrison gave a vague response.
"Allow me to ask the question in a different way," Leon pressed. "If you were the champion, would you ever defend your title against a challenger who missed a drug test?"
"No," Harrison answered. "Honestly, I would not. It leaves too much of a gray area. I wouldn't do it, but it's out of my hands. There's literally nothing I can do. I just have to take it for how it is, man, the life of being a B-side fighter."
Then, on December 15, it was revealed that Willie Monroe Jr, who'd been scheduled to fight Jermall Charlo on December 22, had tested positive after taking a banned supplement called Nugenix (a testosterone booster). Monroe was removed from the card and replaced by Matt Korobov, which sent the message that, in New York, fighters who might be dirty should simply miss tests and they'll be allowed to fight.
Four years ago, the New York State Athletic Commission said that it wouldn't license Korobov to box because of what it termed a congenital brain condition. Some other jurisdictions don't consider this particular condition to be a potential danger and, subsequent to New York's decision, granted Korobov a license to box. To date, the NYSAC has refused to explain when it changed its standard on this issue and the reason for the change.
Finally, when asked about Monroe at a December 19 media workout, Jermall and Jermell Charlo engaged in what one might consider an exercise in hypocrisy.
"Cheaters never win," Jermall offered.
Jermell was more expansive, proclaiming, "They should suspend him from boxing. Monroe shouldn't be allowed to come back. I'm glad they was able to catch this beforehand. It sucks that someone would cheat, and they know that they're cheating. We need the sport to be cleaned up. Take all his bread. Take them away from the sport. They shouldn't be allowed back. They should be banned for life and probably sentenced to a jail sentence or something. Yeah, send their ass to jail!"
Bottom line: Jermall Charlo vs. Matt Korobov at Barclays Center on December 22 matched a fighter who missed a PED test in November under questionable circumstances against a fighter who, four years ago, was unable to obtain a license to box in New York because of a congenital brain condition.
When fight night arrived, Jermell Charlo vs. Tony Harrison was a tedious tactical encounter. Harrison fought much of the bout like a man who would be happy to survive for twelve rounds, pick up his paycheck, and go home. The general consensus was that Jermell won nine of the twelve rounds. Jimmy Lennon Jr. announced that there was a unanimous decision and read the three judges' scorecards: 116-112 (Robin Taylor), 115-113 (Ron McNair), and 115-113 (Julie Lederman). That left people wondering how two judges could each have given Harrison five rounds. The wonderment then turned to disbelief when Lennon uttered the words "And the new WBC super-welterweight champion of the world . . ."
Ironically, the Charlo-Harrison decision went against the house fighter. This suggests that poor judging rather than corruption was at its core.
In the nightcap, Jermall Charlo pounded out a unanimous decison victory over Matt Korobov by a 119-108, 116-112, 116-112 margin. Jermall won the fight, but 119-108 was off the mark.
Perhaps the most notable thing about the December 22 fight card was that it marked the inaugural telecast of boxing under a recently-negotiated contract between Premier Boxing Champions and Fox.
On September 5, 2018, PBC and Fox announced a four-year-deal that calls for the Fox broadcast network to air ten "marquee" fight cards per year with an additional twelve cards being shown annually on FS1 and Fox Deportes. The announcement held out the promise of championship-caliber boxing on a free platform. Thus, a lot of fight fans were disappointed on November 13 when Fox announced its fight schedule through March 16, 2019.
The two Charlo fights were joined on December 22 with a 20-to-1 match-up between Dominic Breazeale and Carlos Negron. January 26, 2019, will feature Keith Thurman vs. Josesito Lopez with the odds currently favoring Thurman by 10-to-1. Virtually all of the PBC-Fox main events announced to date have what amounts to a designated winner and a designated loser.
Let's draw an analogy to another sport. Fox televises Big Ten college football. The schedule for the first four months of its boxing series is equivalent to televising Michigan vs. Rutgers and Ohio State vs. Minnesota again and again and never getting to Penn State vs. Wisconsin or Michigan vs. Ohio State.
The core of the Fox commentating team handled itself well during the first telecast. There were too many voices. But Kenny Albert handled blow-by-blow chores smoothly. Joe Goossen and Ray Mancini have been in the trenches. And Lennox Lewis adds dignity and class to anything he touches.
The use of Larry Hazzard as Fox's "rules expert and unofficial scorer" raises an interesting issue. Harold Lederman resigned as a ring judge in New York when he took a commentating position with HBO. So did Steve Weisfeld when Weisfeld worked as a rules expert for HBO. Hazzard is commissioner of the New Jersey State Athletic Control Board. And his son, Larry Hazzard Jr, was the judge who scored Charlo-Korobov 119-108 in favor of Jermall.
But for boxing fans, the more important issue is this:
For all the money that's being put into the system now by Fox, ESPN, DAZN, and Showtime, we should be seeing better fights than we're seeing. Each of the networks maintains that quality control is built into its respective output deal with its favored promoter or promoters.  But in today's world, when "quality control" is measured in terms of "championship" belts and top-ten rankings, it means nothing.
Championship belts are dispensed today like chocolates from a vending machine. There's a never-ending supply of bogus beltholders and undeserving "mandatory" challengers for elite fighters to fight.
Thus, 2018 is ending on a bittersweet note. There's more boxing on television and streaming video now than ever before. But sadly, there are fewer great fights. And that's unlikely to change in the near future. Every promoter, TV network, and sanctioning body of note has its own fiefdom (or "league," if you will) that it's anxious to protect to the overall detriment of the sport. If baseball were run like boxing, there wouldn't have been a World Series this year. Instead, the Boston Red Sox would have been declared "American League World Champions," the Los Angeles Dodgers would have been designated "National League World champions," and baseball would be a niche sport.
Thomas Hauser's new email address is thomashauserwriter@gmail.com. His most recent book – Protect Yourself at All Times – was published by the University of Arkansas Press. In 2004, the Boxing Writers Association of America honored Hauser with the Nat Fleischer Award for career excellence in boxing journalism.
Check out more boxing news on video at The Boxing Channel
To comment on this article in The Fight Forum, CLICK HERE
More Heavyweight Boxing On Tap This Weekend (Odds Review)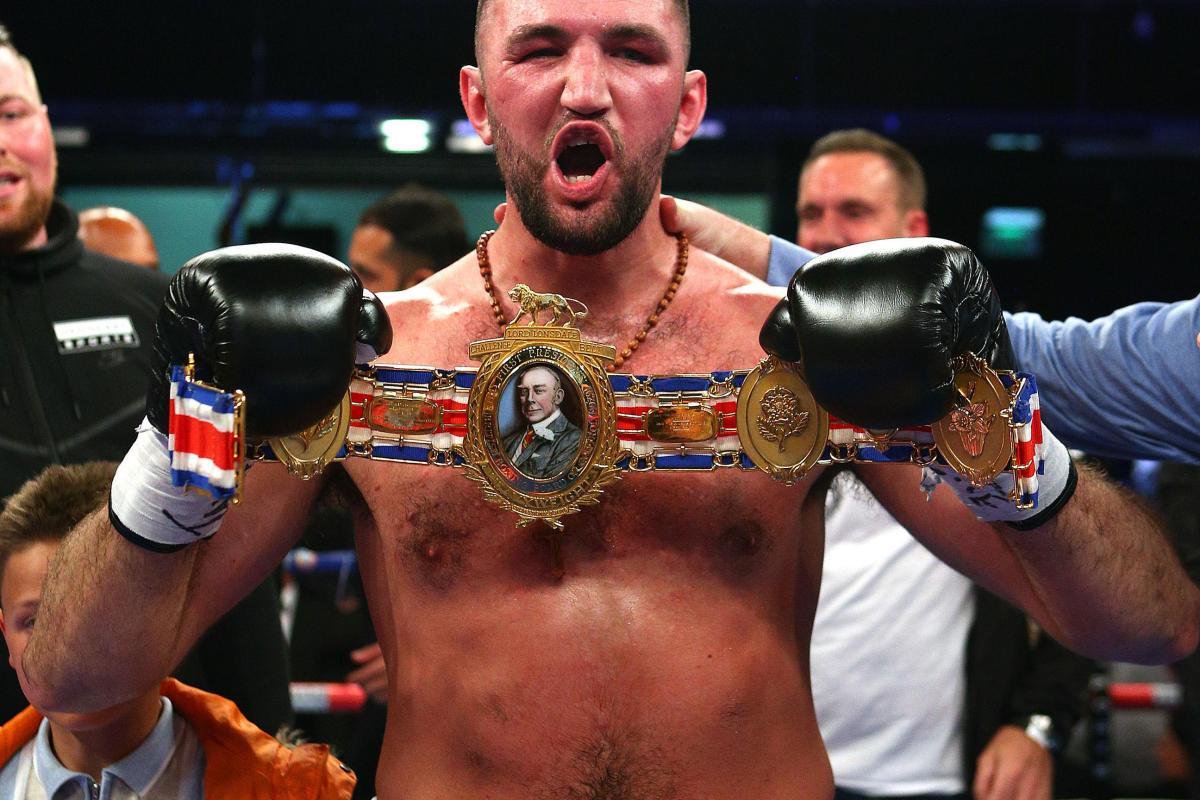 The heavyweights are out there bucking for position as the weight class has more possibilities than we have seen in years. Three heavyweight fights have gotten attention at the sports books for this coming Saturday, May 26.
Manchester hosts the return of Tyson Fury's cousin Hughie Fury (21-2). Fury (shown displaying his Lonsdale belt) is smaller, less technical and less interesting than his bombastic cousin, but at 24 years old there is still plenty of time for him to become a player.
September of 2017 saw Hughie Fury lure WBO world champion Joseph Parker to Manchester. Fury was coming off a 17 month layoff and lost a majority decision where one judge called the fight a draw. Fury went 1-1 in 2018, losing an October outing to Bulgarian contender Kubrat Pulev in Sofia. Having gone 1-2 in his last three outings puts Fury in the "dire need of a win" category and from the look of the odds for this fight, the matchmakers have not made a mistake in choosing an opponent.
Providing the opposition is Canada's Chris Norrad who is 17-0 but is stepping up onto a much bigger stage than he is used to. Norrad has never fought outside of regional shows in central Canada, and with just 8 KO's, he doesn't seem to pose much of a threat. There are levels to this game and Fury and his training level and partners are enough reason to count Norrad out. The odds are below.
Victoria Warehouse – Manchester, England – Saturday, May 25, 2019
Heavyweight 12 rounds –
Chris Norrad  +2000
Hughie Fury  -5000
DAZN is at the MGM in Oxon Hill, Maryland and two heavyweight 10-rounders on that card are also worth keeping an eye on despite the odds indicating complete crush matches.
Former cruiserweight contender Michael Hunter (16-1) gets his fifth bout in as a heavyweight when he faces 26-2 Brazilian Fabio Maldonado.
Hunter's name emerged as one of the front runners to replace Jarrell Miller against Anthony Joshua on June 1st, but Joshua and company opted to face Andy Ruiz Jr instead.
Maldonado built his record up to 26-0 before dropping his last two. The Brazilian workhorse also has a 26-13 record in MMA and UFC fans may remember the gritty Maldonado as a guy who always gave his all and wound up bloody. He last fought MMA in December of 2018, so he still qualifies as a two sport athlete, but as he approaches 40 with a lot of wear and tear on his body, he appears to just be grabbing paydays at this point in both sports.
MGM National Harbor – Oxon Hill, Maryland – Saturday, May 25, 2019
Heavyweight 10 rounds –
Fabio Maldonado  +1600
Michael Hunter  -4000
Also scheduled for a 10-round bout is Croatia's 26-year-old prospect Filip Hrgovic (7-0), who faces 15-1 Gregory Corbin of the USA. Hrgovic won an Olympic Bronze Medal at the 2016 games in Rio and he boasts an amateur background of nearly 100 fights. A good sign that he is trying to fast track his career is the fact that he has never faced a fighter with a losing record as his opponents are a combined 147-34-3.
Corbin's lone loss came this past March when he was DQ'd for hitting Charles Martin with too many low blows. Prior to that, the Texan had faced largely regional competition and the books have made him a huge underdog against Hrgovic.
Heavyweight 10 rounds. –
Gregory Corbin  +2000
Filip Hrgovic  -5000
Check out more boxing news on video at The Boxing Channel
To comment on this story in The Fight Forum CLICK HERE 
Looking at the Heavyweight Calendar (Odds Review)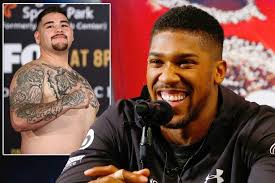 This past Saturday night saw Deontay Wilder's WBC world heavyweight title defense against Dominic Breazeale go down on Showtime. The fight lasted just 137 seconds as Wilder floored Breazeale with a cannonball of a right hand to end the night early.
With Wilder out of the way, Anthony Joshua vs Andy Ruiz Jr is up next. They meet June 1st at Madison Square Garden. Two weeks later, on the 15th of June, ESPN+ will deliver Tyson Fury vs Tom Schwarz, so fight fans will get a look at all three members of the "Big Three" all in a month's time.
Wilder's erasure of Breazeale this past weekend sent a message to the rest of the division as well as giving him a highlight reel to show during upcoming negotiations. Wilder entered a strong -1000 favorite at the sportsbooks for this fight.
Check out our pre-fight review of the Wilder vs Breazeale odds right here at TSS –
http://tss.ib.tv/boxing/featured-articles/57588-wilder-vs-breazeale-odds-review
Looking forward, the odds posted for Joshua and Fury's upcoming tussles are even less competitive. Let's take a look at what the books are giving us as we await the two big Brits fighting in the USA.
Madison Square Garden – New York City – Saturday, June 1, 2019
Heavyweight 12 rounds –
Andy Ruiz Jr +1500 Over 6½ +100
Anthony Joshua -3000 Under 6½ -130
Ruiz Jr is 32-1 overall with his lone loss coming at the hands of Joseph Parker in a failed WBO world title bid. That same WBO belt is now in the hands of Joshua as are the WBA and IBF belts.
Joshua was a big favorite over Jarrell Miller, his original opponent, who was denied a license in New York after testing positive for a buffet of steroids. Ruiz Jr took the fight with less than a full training camp, but you have to believe that he is going to come in highly motivated. Ruiz Jr has been caught at a different type of buffet, the all-you-can-eat kind, but even when in the best of shape his body type isn't "poster boy material." Miller was big and bulky as well, but he was a near 300 pounder whereas Ruiz Jr will come in between 250 and 260 pounds, which is right around Joshua's size. Rather than slaying a 300-pound giant, he is facing a guy who is shorter and fatter than him, making it very hard for Joshua to look great on paper.
At +1500 will people bite on Ruiz Jr? He is more experienced than Miller and he is probably a better fighter overall and though he is facing a formidable champion, Joshua is not a finished product. Perhaps Joshua will be chasing an early finish, feeling the pressure of Wilder's performance, and if so will he make a mistake that Ruiz can exploit? We are roughly 10 days from finding out.
MGM Grand Garden – Las Vegas, Nevada – Saturday, June 15, 2019
Heavyweight 12 rounds –
Tom Schwarz +1800 Over 9½ -105
Tyson Fury -3600 Under 9½ -125
Tyson Fury closes out the run of top heavyweights with a very deliberately chosen showcase fight against Tom Schwarz. Schwarz is 24 years old and 24-0 but he is a fighter who has come up on the regional German scene and as the old boxing cliche goes, there are levels to this game.
Former contender David Haye mounted a 2016 comeback, booking fights against Mark De Mori (30-1-2) and Arnold Gjergjaj (29-0). It took Haye precisely 6:42 to dispose of both of them, and though Fury is a completely different beast than Haye, the level difference between he and Schwarz may be even as striking.
Wilder has gotten through his "challenge" and if Fury and Joshua also emerge as winners as expected, it will leave several open questions –
– Will Fury vs Wilder 2 happen first, or will Wilder vs Joshua go down first? Could Joshua and Fury meet and freeze Wilder out?
And….
– Will we see any of these fights take place in 2019?
If Joshua or Fury stumble, it will only add to the chaos in the heavyweight division. But if the professional oddsmakers know anything, it isn't likely to happen.
Check out more boxing news on video at The Boxing Channel
To comment on this story in The Fight Forum CLICK HERE
Three Punch Combo: An Early Look at Inoue-Donaire and Under the Radar Fights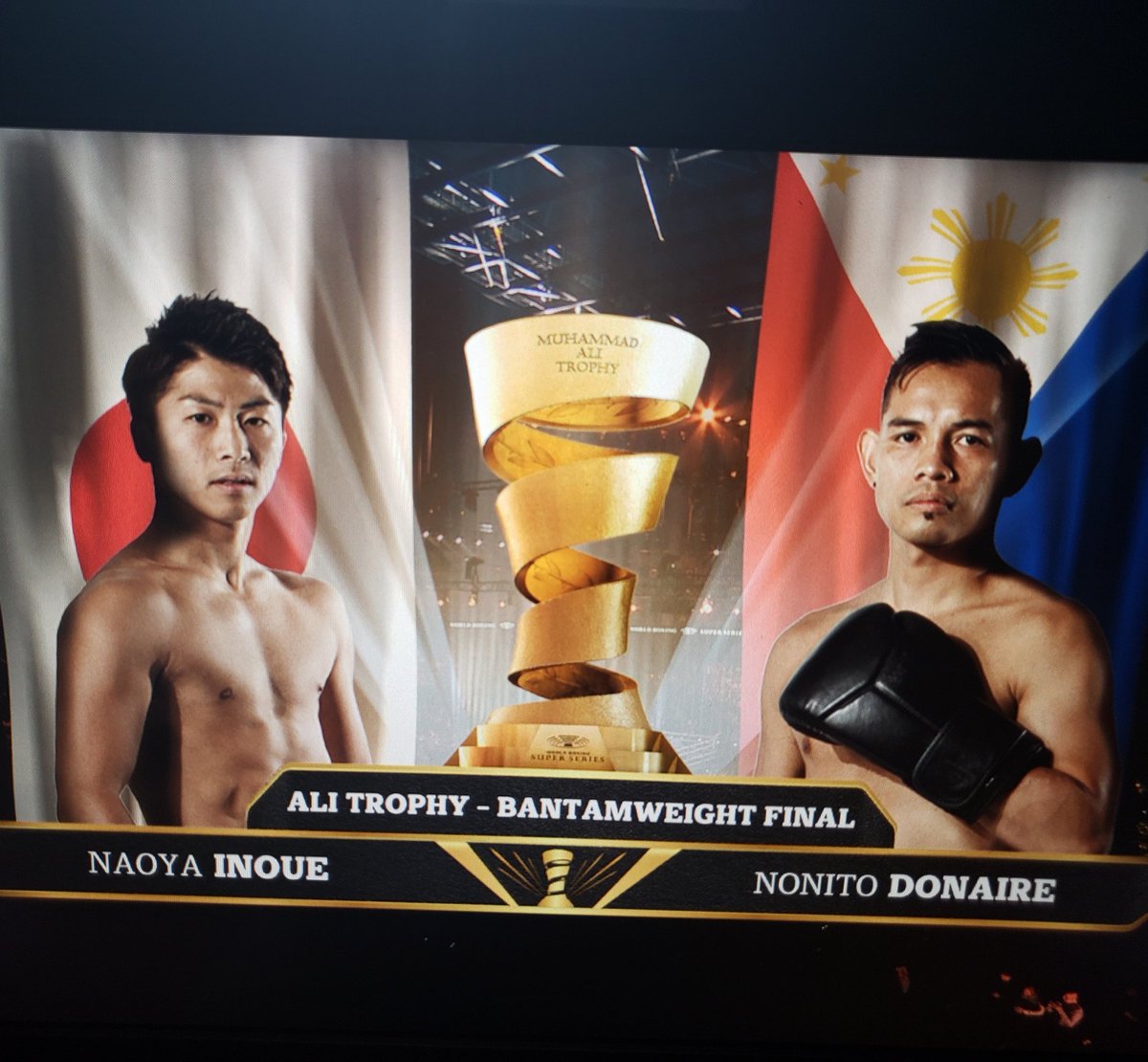 THREE PUNCH COMBO — This past Saturday, Naoya Inoue (18-0, 16 KO's) punched his ticket to the bantamweight final in the World Boxing Super Series when he impressively knocked out Emmanuel Rodriguez in the second round of their scheduled 12-round fight. The win sets up a showdown with veteran Nonito Donaire (40-5, 26 KO's) who punched his ticket to the final with an impressive knockout of Stephon Young last month.
As expected, Inoue has opened as a monstrous favorite in the betting markets. While this suggests a one-sided wipeout, I have some other thoughts.
Inoue is pound for pound one of, if not the, hardest puncher in the sport today and put that power on full display in his destruction of Rodriguez in the semi-finals. But having enormous power does not make him indestructible.
In watching that fight against Rodriguez, there were clearly flaws on display on the defensive side of Inoue's game. For one, Inoue does not move his head at all and as such can be hit. Rodriguez landed several clean punches on Inoue in the first round. And Inoue frequently keeps his hands low looking to bait opponents into throwing to set up counter opportunities. It has worked so far but could be something he pays for down the road.
Donaire is a smart and skilled fighter and though he is 36, his last few fights have shown that he still has plenty left in the tank. Moreover, he possesses one thunderous left hook and has always been at his best when fighting below 122. He has all the capabilities to expose Inoue's flaws and a left hook that can alter the course of a fight as we have seen him doing plenty of times in the past.
Unlike a lot of people, I do not consider Donaire to be another layup for Inoue. There is real danger in this fight for Inoue if he does not make changes to his game. Donaire has starched big punching rising stars before and I would not discount his chances to expose the significant defensive flaws in Inoue's game.
 Under The Radar Fight
Boxing returns to ESPN on Saturday with a card from Kissimmee, FL headlined by 130- pound champion Masayuki Ito (25-1-1, 13 KO's) who is making the second defense of his title against former US Olympian Jamel Herring (19-2, 10 KO's). While I think this should be an excellent fight, the co-feature, which is flying deep under the radar, should be even better.
In this fight, former two division world champion Jose Pedraza (25-2, 12 KO's) makes his return to the ring after losing his lightweight title to Vasiliy Lomachenko in December to face Antonio Lozada (40-2-1, 34 KO's). Given their respective styles, this fight at the very least will provide plenty of sustained action.
Appropriately nicknamed "The Sniper," Pedraza at his best is a precision puncher. A boxer-puncher by trade, he uses subtle movement inside the ring to create angles that are used to land sharp power shots on his opposition. He is also a very good inside fighter and will shift around on the inside to once again set up just the right angle to land his power shots with maximum efficiency. But despite being a good inside fighter, Pedraza has a tendency to stay in the pocket a bit too long which leaves him open to getting hit.
Lozada is best known for his upset TKO win against one-time blue-chip prospect Felix Verdejo in March of 2018. However, he failed to build momentum off that win and is coming off a lackluster split draw his last time out to 12-7-1 journeyman Hector Ruben Ambriz Suarez.
Lozada certainly does not have the technical proficiency of Pedraza. He is slow and plodding. But what he does bring to the table is relentless pressure combined with a high volume of punches. He will press forward, recklessly at times, winging punches consistently hoping to wear down his opposition through attrition.  As such, he tends to get hit a lot and can be involved in shootouts.
Cleary, Pedraza is the more skilled fighter, but given Lozada's all-offensive mindset as well as Pedraza's willingness to stay in the pocket, the leather is all but guaranteed to be flying from the opening bell. Neither are big punchers either so I suspect we see a fight that goes rounds providing many exciting exchanges and one that could certainly steal the show on Saturday.
Another Under The Radar Fight
Also on Saturday, Fox Sports 1 will televise a card from Biloxi, MS featuring a crossroads fight between former 154-pound champion Austin Trout (31-5, 17 KO's) and former US Olympian Terrell Gausha (21-1, 10 KO's). But it is another 154-pound fight on the undercard that is receiving almost no coverage that I want to highlight. It pits Chordale Booker (14-0, 7 KO's) against Wale Omotoso (27-3, 21 KO's).
Booker turned pro in 2016 after a successful amateur career and has kept up a fairly busy schedule. He is coming off a dominating 8-round unanimous decision over veteran Juan De Angel in January and now is taking a big jump up in his caliber of opposition in facing Omotoso.
Booker, a southpaw, likes to press forward behind a stinging right jab. He possesses elite level hand speed and likes to use that jab to set up quick power punching combinations. Booker is also an excellent counter puncher and possesses a very potent right hook coming from that southpaw stance. He will often hold his left low to bait his opponents into opening up to set up counter opportunities. However, he has also been clipped by his share of left hooks fighting in this manner and this is something he will need to tighten up against Omotoso. So just how will Booker respond to Omotoso's pressure and heavy handed body attack? Depending on the answer, we will either see Booker step up to the next level or get exposed. And that's what makes this fight so intriguing to me
Check out more boxing news on video at The Boxing Channel
To comment on this story in The Fight Forum CLICK HERE